Guide to Range Boiler Water Heaters for Making Domestic Hot Water

Definition of range boiler & a guide to range boilers & side arm coil water heaters

Pressure relief valves needed on some range boiler tanks
Use of an overflow pipe instead of a relief valve on boilers or range boilers
Attic-located antique steel tank: identification procedure
How to obtain more hot water quantity, pressure, flow, at less cost
Sketches and photographs of range boiler water heaters in building basements and attics

Questions & Answers about installing, using, & repairing range boilers used for hot water supply in buildings
InspectAPedia tolerates no conflicts of interest. We have no relationship with advertisers, products, or services discussed at this website.
Range Boilers for making domestic hot water: in this article we define range boilers, and we explain the operation of range boilers used for making domestic hot water for washing and bathing. We provide photos and sketches as well as text to help identify the types of tanks found inside old buildings.
Green links show where you are. © Copyright 2013 InspectAPedia.com, All Rights Reserved. Author Daniel Friedman.
How a Range Boiler Makes Domestic Hot Water from a Heating Boiler
A range boiler is an older type of domestic hot water heater which uses a separate hot water tank which is connected to a heating boiler as well as to domestic hot water piping in the home. Thanks to Carson Dunlop, a Toronto Home Inspection Firm and Home Inspection Educator, for permission to use sketches shown in this article. Below we describe some alternative ways to make hot water, either to replace or to supplement an existing hot water supply system. After knowing what the hot water problem really is, there are steps we can take to get more hot water or to increase hot water pressure.
How does a Range Boiler Work?
Water circulates from inside the range boiler tank through a heat-exchanger coil that may be inside the heating boiler or it may be external, such as a Side Arm Coil. Heat inside of the physically separate heating boiler warms water that circulates, usually by gravity (or convection) between the range boiler and the heating boiler.
Modern indirect-fired water heaters use the same principle as the range boiler but add heat controls and a circulator pump, as we discuss in detail at Indirect-fired Water Heaters.
In our photo at page top you can see the old galvanized steel range boiler in the far corner of the basement. A newer (but still quite old) gas fired water heater has been installed in front of our old range boiler.
See WATER HEATERS for details about conventional direct-heated residential hot water systems.
Plumbing Connections for a Range Boiler
You'll find at least four pipes connected to a range boiler tank, possibly five if the tank uses an overflow line in an attic instead of a pressure relief valve.
Don't do what we did early in our HVAC career: some of those many connections on the range boiler seemed to have no purpose so we eliminated and capped off a pipe that seemed unnecessary. It was a mistake. All four pipes which we describe here are needed:
Cold water into the water tank, coming from the building water supply. Cold water would typically enter at the bottom of the tank.


Hot water leaving the water tank headed for plumbing fixtures. Hot water would leave from the top of the tank.


A gravity line from near the bottom of the range boiler heater which by gravity permits cooler, heavier water in the tank to flow into a loop of heating pipe or into a side-arm coil which heats the water. Cold water would flow from tank bottom down to the heating location.


Hotter water rises by convection or "gravity" and flows back to the range boiler water tank.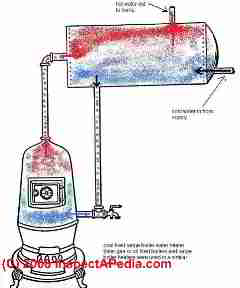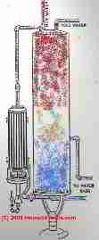 In their earliest use range boilers were heated by a coal or wood stove as we show at far left.
In a later design range boilers may have included their own little gas or coal heater as we show in the sketch at left.
Later the same design was used in combination with a side arm coil to heat water in the range boiler tank using a coal or oil or gas fired heating boiler.
Range Boiler Operating Characteristics
Range boilers can provide a large volume of hot water, depending on the tank size. But they have a slow recovery rate once the hot water from the range boiler tank has been consumed.
It would be unusual to find a range boiler installed as new equipment in a modern building.
Range boilers are vertical or horizontal hot water systems whose water is heated by circulating the water from within a water storage tank (the range boiler) through a heat exchanger which is inside or connected to the exterior of a heating boiler. The water in the hot water tank range boiler is heated by circulating its water through the heat exchanger which itself is heated by the water inside or from the heating boiler.
The sketch illustrates how a very early type of coal-fired water heater range boiler worked. As homeowners shifted fuels from coal to oil or gas and installed central heating boilers, often the range boiler water heater was adapted to work with these systems as well, as you can see in the photograph.
As with the indirect-fired boiler described next, range boiler water heating tanks are usually located close to the heating boiler and will have both cold and hot water lines leaving the tank to supply the building with domestic hot water and a loop of piping that runs between the bottom of the hot water tank and a nearby heating boiler. Follow the pipes to see which pipes are performing which function. Our photo shows a silver steel range boiler hiding back in the corner behind the newer (though pretty old) gas fired water heater. (Notice also the efflorescence on the masonry block foundation, where the downspout has been spilling by the house foundation?)
The difference between Range Boiler Water Heaters and Indirect-fired Water Heaters is in the details. The heat exchanger that heats water in the range boiler is in or at the heating boiler. The water in an indirect fired water heater such as the SuperStorTM unit is heated by a finned copper coil located inside the hot water tank. The internal coil is in turn heated by circulating water inside the coil to and from the heating boiler. The range boiler is an old concept in use for about 100 years. Indirect fired water heaters are a modern system and are in current sales and use.
Because you might also encounter other smaller steel tanks connected to hot water heating boilers and found in building basements or attics see EXPANSION TANKS for a guide to these tanks that absorb pressure increases on hot water heating systems.
CONTACT us with comments about this attic tank.
Range Boiler Safety
Unless the range boiler is vented to an overflow pipe like the attic tank in our discussion below, range boiler tank should be protected by a pressure/temperature relief valve just as any pressurized tank. If none is installed your range boiler does not meet modern safety standards - it is unsafe, and a relief valve should be installed promptly.
See RELIEF VALVES - Water Heaters for details.
The characteristics of various water heaters such as life expectancy, cost, safety, and capacity are discussed at WATER HEATER PROBLEM DIAGNOSIS
WATER HEATER PROPERTIES

Ways to improve hot water quantity, pressure, and flow are discussed beginning at HOT WATER IMPROVEMENTS and continuing at HOT WATER QUANTITY IMPROVEMENT.
Attic Range Boiler - Photos, Pipes, Insulation, & Measurements Help Identify a Large, Antique, Insulated Steel Tank Found in an Attic
Question: Can You Identify This Old Tank in the Attic of our 1917 Home?
My wife and I purchased our 1917 home in downtown Riverside, California in 1984. In a few more years this house will be 100 years old.
To celebrate its coming birthday, I have started working on a small book about the history of the house.
When we bought the house we were told we were only the third owners, and the women we bought the house from (in her nineties) had her daughter (in her seventies) sell it to us.
The daughter told us her parents lived in the house for over fifty years and that they had not really done much to the house over all those years.
A few weeks ago the grandchildren of the second owners (in the fifties) stopped by the house from out of town to look at their grandparent's house, which they had many fond memories of, and we invited them in for a tour. They are going to contribute stories and old photos for my project.
Now that I'm starting this history project, I want to try and solve the big mystery of identifying "what the THING in my attic is. Over the years I've asked a number of people: plumbers, insulating contractors, etc., but no one knows what it is, or what it was for. It has baffled me for years.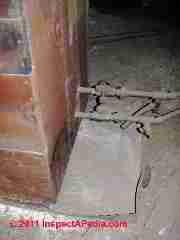 Whatever it is, I'm assuming it's somehow part of the plumbing, but I could be wrong.
The THING is a large wooden structure in the center of my attic right under the peak [photo above left] and goes from the attic floor all the way to the top of the roof.
The wooden structure sits on a metal trough with a 3 inch lip all the around the outside of the wooden structure, and on one side the trough protrudes out about one foot. [See photo at left]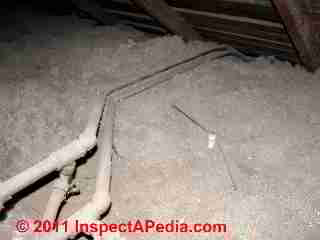 Two pipes are coming from where the roof meets the attic floor ( they elbow down the top of a wall I guess and maybe go down to my basement or maybe go to the water source, I really don't know where it comes from ).
These two pipes come across the attic floor and go inside the wooden structure near the bottom.
[Photo, left]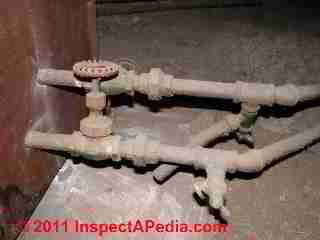 Each pipe has a very old, round shutoff valve, and both pipes also have a hose bib. The valves and bib are located over the protruding trough.
[Photo, left]
There are two very short, capped-off pipes on the opposite side, and a third pipe coming out has an elbow, then goes all the way to the sidewall of the attic and goes through to the outside about 10 inches and is not capped ( maybe like an overflow ).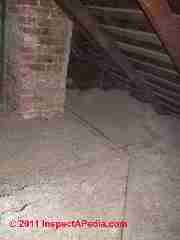 On the side of the wooden structure, there are two pipes coming out and going to the corner of the attic where they go down.
This is near a brick chimney flue which is not for a fire place, but is a flue for the stove exhaust in the kitchen and the hot water heater in the basement.
Since I was taking photos of this THING, I decided to pry a couple of wooden boards off to see what was inside it. I took off a board near the top, and there was a heavy paper underneath.
I poked it and broke a small hole and some white powder came out. I started to pry off the board above and as I did, the whole paper tore and a lot of white powder pored out onto the floor.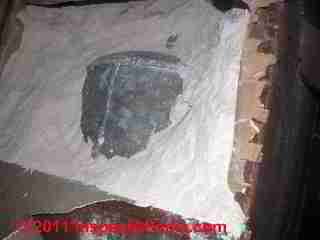 This revealed the top of a galvanized cylinder tank. The tank is sitting in the middle of the structure, and has this white powder packed around it. The powder is very fine and similar to talcum powder. The tank is not open at he top, it is curved and sealed closed. The tank is about a foot in diameter.
I showed the photos to a man here in Riverside who is part of the "Old Riverside Foundation." He said he's been inside about 90% of the vintage homes in Riverside and surrounding communities and has only seen one other contraption in an attic like the one in my attic.
The other one is in a 1913 home, later purchased by William Boyd, the actor who played Hopalong Cassidy in the 1950's western television series. It is configured and constructed just like mine and the tank is packed in white powder just like mine. However this man does not really know what the tank is or what it does, and has no clue what the powder is or what its purpose is.
Do you have any idea what this THING is or was? I believe it is still tied into my plumbing? Do you have any idea what kind of powder this is and what its purpose was? I did a quick research and I don't believe the powder is white asbestos from the pictures I've seen on the internet, but I don't know that for sure.
Thank you some much for taking a look at this, C.J. & B.J., Riverside CA
Reply: Clues for Sorting Out Attic Tanks in Older Homes
Watch out: I'm worried that someone may have poured loose fill asbestos around that tank to serve as insulation. If the material is firm and foam-like and pale yellow, and collapses to powder on touch it may be UFFI and not so harmful. But if this is a white, loose, dry powder, watch out - seal it off with plastic until we know what you're dealing with.
Obtain advice from an expert, or in an emergency, clean up a tiny spill with a HEPA vacuum, and don't track this material through the house, or you may create a more costly cleanup job.
UFFI was blown in to building walls during the energy worries of the 1970's oil embargo. Your antique attic tank installation with the paper and pit-saw cut boards (FRAMING MATERIALS, Age, Types) looks much older, probably from the time of original construction of the home back in 1917.
How to Identify Heating Boiler Expansion Tanks in Attics
It looks from the partial exposure as if the tank is in a location where people used to put expansion tanks on hot water heating boilers - instead of a relief valve, if pressure in the system got too high, water would push into the tank and if the tank got too full, water would flow out of a drain into an outdoor location, sometimes even a roof gutter or downspout.
But this is probably something else. Usually an expansion tank has just one inlet pipe that feeds water from the hot water heating system, and for attic-located expansion tanks, an overflow drain line.
What Makes This Old Steel Tank in the Attic Not a Heating Boiler Expansion Tank?
But if your heat is or was steam heat, this isn't an expansion tank.
If the tank is a large one, it's probably not an expansion tank for that reason either.
Because the tank is insulated, it's not likely to be an expansion tank and probably not an attic cistern - people didn't bother to insulate those containers.
And most compelling, as your tank has so many pipes connected to it, we have talked ourselves out of the expansion tank theory entirely.
A hot water tank such as a range boiler would have water coming in from a boiler or supply, water going out to plumbing, possibly heating by gravity or convection. More pipes and connections, a least five for an attic tank:
Cold water supply into the water tank, coming from building water supply piping
Hot water supply out of the water tank, connected to building hot water piping routed to sinks, tubs, etc.
Cold water drain out of tank bottom that drops cold water down to a heating boiler or side-arm coil where water from the tank is heated
Hot water supply into the tank that feeds hot water, heated by the boiler, perhaps by convection alone, back up into the hot water tank or range boiler
An overflow pipe that drains to daylight and is used to prevent overpressure inside the tank may be present on an attic range boiler (or on an attic expansion tank).
Also see Plumbing Connections for a Range Boiler above.
Control valves may have provided for manual filling or draining of the tank. One might try arguing that the insulation was to avoid freezing, but that wouldn't explain why you saw no insulation on the pipes connected to the tank - or was it drained in winter and the system left dry? If the tank was intended to be drained at times, for service or freeze protection, that little hose and drain pan may have been there to permit leaving the drain line open and to catch the last few drips of water from inside the tank after it was drained through its drain line (over by the chimney perhaps).
Guessing at An Attic-Mounted Range Boiler Tank
A reasonable guess considering size, location, and insulation is that the tank was for storing hot water from a boiler for example, feeding hot water down into the house by gravity and perhaps heating the water in the tank by natural convection to and from a basement boiler or even a separate water heater that could even have been down in the basement. If you can give me tank dimensions (and don't have an asbestos problem) that'd be helpful.
We need to look more closely at where piping comes and goes.
Watch out: if the covering boards were removed (DONT MESS before we know the asbestos question) you'd find hat those four pipes are connected to different heights on the tank.
It's unusual in my experience to put a range boiler in an attic, so remote from the heating boiler, but someone may have done so thinking that they would get better hot water delivery pressure in the home.
And I'd like to know the full measurements of the tank or if you leave it boxed in pending the asbestos question, just the dimensions of the wooden framed box would help.
Keep me posted on the asbestos worry and about to where you can trace piping - that asbestos question is TOP Priority.
Frequently Asked Questions (FAQs)
...
Ask a Question or Search InspectApedia
Questions & answers or comments about installing, using, & repairing range boilers used for hot water supply in buildings.
Ask a Question or Enter Search Terms in the InspectApedia search box just below.
Technical Reviewers & References
Related Topics, found near the top of this page suggest articles closely related to this one.
Mark Cramer Inspection Services Mark Cramer, Tampa Florida, Mr. Cramer is a past president of ASHI, the American Society of Home Inspectors and is a Florida home inspector and home inspection educator. Mr. Cramer serves on the ASHI Home Inspection Standards. Contact Mark Cramer at: 727-595-4211 mark@BestTampaInspector.com
John Cranor is an ASHI member and a home inspector (The House Whisperer) is located in Glen Allen, VA 23060. He is also a contributor to InspectApedia.com in several technical areas such as plumbing and appliances (dryer vents). Contact Mr. Cranor at 804-747-7747 or by Email: johncranor@verizon.net
Carson, Dunlop & Associates Ltd., 120 Carlton Street Suite 407, Toronto ON M5A 4K2. (416) 964-9415 1-800-268-7070 info@carsondunlop.com. The firm provides professional home inspection services & home inspection education & publications. Alan Carson is a past president of ASHI, the American Society of Home Inspectors. Thanks to Alan Carson and Bob Dunlop, for permission for InspectAPedia to use text excerpts from The Home Reference Book & illustrations from The Illustrated Home. Carson Dunlop Associates' provides:

Commercial Building Inspection Courses - protocol ASTM Standard E 2018-08 for Property Condition Assessments
Home Inspection Education Courses including home study & live classes at eleven colleges & universities.
Home Inspection Education Home Study Courses - ASHI@Home Training 10-course program.
Special Offer: Carson Dunlop Associates offers InspectAPedia readers in the U.S.A. a 5% discount on these courses: Enter INSPECTAHITP in the order payment page "Promo/Redemption" space. InspectAPedia.com editor Daniel Friedman is a contributing author.
The Home Reference Book, a reference & inspection report product for building owners & inspectors.
Special Offer: For a 10% discount on any number of copies of the Home Reference Book purchased as a single order. Enter INSPECTAHRB in the order payment page "Promo/Redemption" space. InspectAPedia.com editor Daniel Friedman is a contributing author.
The Home Reference eBook, an electronic version for PCs, the iPad, iPhone, & Android smart phones.
Special Offer: For a 5% discount on any number of copies of the Home Reference eBook purchased as a single order. Enter inspectaehrb in the order payment page "Promo/Redemption" space.
The Illustrated Home illustrates construction details and building components, a reference for owners & inspectors.
Special Offer: For a 5% discount on any number of copies of the Illustrated Home purchased as a single order Enter INSPECTAILL in the order payment page "Promo/Redemption" space.
The Horizon Software System manages business operations,scheduling, & inspection report writing using Carson Dunlop's knowledge base & color images. The Horizon system runs on always-available cloud-based software for office computers, laptops, tablets, iPad, Android, & other smartphones.
Books & Articles on Building & Environmental Inspection, Testing, Diagnosis, & Repair
The Home Reference Book - the Encyclopedia of Homes, Carson Dunlop & Associates, Toronto, Ontario, 25th Ed., 2012, is a bound volume of more than 450 illustrated pages that assist home inspectors and home owners in the inspection and detection of problems on buildings. The text is intended as a reference guide to help building owners operate and maintain their home effectively. Field inspection worksheets are included at the back of the volume. Special Offer: For a 10% discount on any number of copies of the Home Reference Book purchased as a single order. Enter INSPECTAHRB in the order payment page "Promo/Redemption" space. InspectAPedia.com editor Daniel Friedman is a contributing author.

Or choose the The Home Reference eBook for PCs, Macs, Kindle, iPad, iPhone, or Android Smart Phones. Special Offer: For a 5% discount on any number of copies of the Home Reference eBook purchased as a single order. Enter INSPECTAEHRB in the order payment page "Promo/Redemption" space.