Installation Specifications, Inspection & Testing Plastic Plumbing Piping & Connectors
Properties, Failures, & Standards for ABS CPVC PB PEX PVC Piping
InspectAPedia tolerates no conflicts of interest. We have no relationship with advertisers, products, or services discussed at this website.
Plastic plumbing pipes:
Beginning here, this article series describes the properties of all types of plastic piping and tubing used in buildings for water supply, drainage, or gas or oil fuels, including ABS, CPVC, PB, PEX, PVC. We include information about failures and problems with some generations of plastic pipes (ABS, polybutylene) and we describe good building practice installation details where plastic piping is being installed.
Included is information about ABS, PB, Polybutylene, PEX, PVC polyvinyl chloride and other plastic piping materials. We discuss problems and class action claims for plastic pipe product failures including both the piping itself and its connectors or fittings for each of these materials where trouble has been found.
We also discuss ongoing or previous health & safety concerns raised for some plastic piping products. The articles at this website will answer most questions about plastic building water supply and building drain piping products, failures, and claims as well as many other building plumbing system inspection or defect topics.
We also provide a MASTER INDEX to this topic, or you can try the page top or bottom SEARCH BOX as a quick way to find information you need.
Plastic Water Supply & Drain Piping Types, Failures, Inspection, Diagnosis, Repair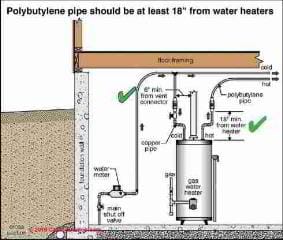 Article Series Contents
As Carson Dunlop Associates point out in the Home Reference Book, as currently used in buildings:
Plastic water service piping may be made of
Plastic building drain piping may typically be made of
ABS - ABS PLASTIC PIPE FAILURES (black plastic drain piping or some water supply piping)
PVC - polyvinytlchloride pipe and pipe fittings (white plastic)
PB - polybutylene pipe and acetal plastic insert pipes - "PB plumbing"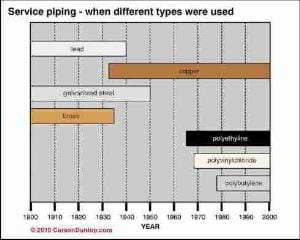 Most plastic piping used outdoors is buried at least 18 inches deep. Exposed piping may be subject to mechanical damage and deterioration from sunlight.
Plastic supply piping is popular because it is less expensive and easier to work with than copper.
There are many types available including cross-linked polyethylene (PEX), polybutylene (PB), and chlorinated polyvinyl chloride (CPVC). - Home Reference Book, used with permission.
[Click to enlarge any image]
Contributions or comments are invited. CONTACT us to contribute.
As Carson Dunlop's sketch (above left) shows, plastic piping entered widespread use in North American beginning around 1965 and continues to the present.
ABS Plastic Pipe Failures, Leaks, Claims, Settlements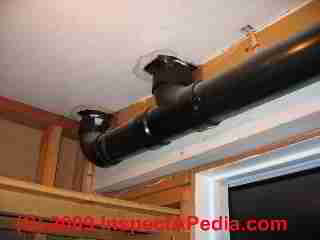 Complete details are at ABS PLASTIC PIPE. Excerpts are below.
As our black ABS drain piping photo shows (above), some drain line leaks having nothing to do with product defects can occur in this system if the piping is not properly installed.
Field investigations of leak stains (as in our photo) as well as investigations of sewer gas odors (SEWER GAS ODORS) have traced these problems to failure to properly clean, prime, and glue the pipe joints during construction.
However, "All Black -hit," defective black ABS plastic waste pipe manufactured in the mid 1980's failed by cracking, as Cranor's photo below illustrates.
"All Black -hit," defective black ABS plastic waste pipe manufactured in the mid 1980's failed by cracking. The result was litigation and some damage settlements, but currently it is unlikely that a homeowner will find legal relief for newly-discovered ABS drain waste vent piping cracks and failures.
ABS Plastic Drain/Waste/Vent (DWV) pipe failure Brands
ABS drain pipe material failures were reported for pipe made between 1985 and 1988. [1][2][5][6][7] below
Apache ABS pipe failures: Apache Plastics defective piping was produced due to use of defective raw materials to make ABS DWV between January and May 1985. Not all Apache ABS DWV suffers the cracking failure problem, and less Apache ABS pipe defects are found than among the other manufacturers listed below.
Centaur ABS pipe: Centaur black ABS pipe was labeled with the company's name and was made between February and August 1985. Decoding for the date in data stamped on Centaur pipe: look at the production code found just past the UPC on the pipe, beginning with an "S"(1985) followed by 5 characters YMDDDP as follows:

Character 1: Year of manufacture: E=1971, F=1972, G=1973, etc. - an "S" = 1985 and a "T" =- 1986 - key problem years for ABS DWV piping defects.
Character 2: and Month of manufacture: D=Jan, E=Feb, etc. through O=Dec.
Characters 3, 4: Day of manufacture (2 characters) encoded as digits 1-0 corresponding to D-M respectively
Character 5: Production shift or Resin Lot code.
Character 6: used only for third party sales: Centaur also produced ABS piping for sale under other trade names. In that case Centaur advised that the company printed a "C" suffixed to the end of the product date code.

Gable ABS pipe failures: Gable plastics defective ABS piping was made during 1985 and 1986 and is very prone to cracking failures and leaks, again due to use of defective plastic raw materials.

Gable ABS pipe date of manufacture is stamped un-encoded onto the pipe

Phoenix ABS pipe, successor to Centaur Corp. issued defective, crack-prone ABS piping from January 1986 - October 1986. Phoenix used the same production codes (but the year will indicate it's Phoenix not Centaur).
Polaris ABS pipe, manufactured defective ABS piping between February 1985 and July 1985. Not all Polaris ABS piping made during this interval suffers the cracking failure, depending on variation in batches of purchased raw material.

Polaris ABS Pipe Date Encoding: nnnYY where
nnn = the numeric day of the year (001-365) and YY = the year in digits, such as 10085.

Spartan ABS pipe
More information: U.S. CPSC Hot Line: 800-638-8270
ABS Plastic Pipe Leak Failures Still Being Discovered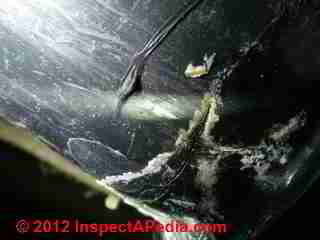 ABS plastic drain and vent line failures are still being discovered, as John Cranor's photo from 2011 illustrates.
Home inspector John Cranor provided the photo at left of a cracked ABS drain line, commenting:
This photo of cracked ABS is damage that I feel has to be related to the defective ABS that was reported years ago. I am in VA and have inspected close to 6000 homes and this was the first I have seen this issue here. I saw at least six spots on the drain pipe in the crawl space that had similar cracking and white crusty residue like shown in photo.
I know there was once a lot of information out there about this issue but now I cannot find hardly anything. The website abspipes.com is now owned by some plumbing contractor and it has no useful information about ABS or its issue.

The seller of the property where I took this photo has some plumber saying there is nothing wrong and that he has never heard of a problem as I described. He claims the white residue is mud and that he could see no crack.
Spotting ABS plastic pipe cracking failures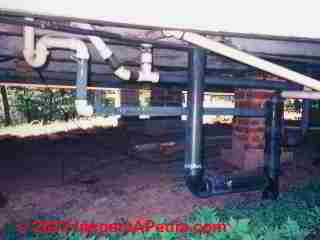 Although the cracked ABS drain line is quite visible in Mr. Cranor's photo (above), or in some areas where piping is exposed (photo at left) there may not be ready access for visual inspection of all surfaces of all of the plastic ABS drain lines in a building.
Here are some tips that can reduce (not eliminate) the chances of missing faulty black ABS plastic drains:
For houses built between 1985 and 1988, perhaps extending into 1993 or even later (to allow for use of in-stock older ABS piping), inspectors, building owners, and building buyers should be particularly alert for leaks in ABS black plastic drain, waste or vent piping. As we noted above, for buildings constructed outside of this time window drain lines may have other leaks and defects, regardless of faulty materials themselves.
Look for visible damage, leaks, leak stains, or loose pipes or fittings that may be moving due to breaks or cracks in the DWV piping. Remember to include inspection of the vent piping system, from on-roof, in the attic, and in other accessible areas. Keep in mind that if you find even one leak there is a high risk that there may be additional hidden leaks as well as future failures and leaks.
Look for product dates & manufacturer's codes indicating the problem brands of ABS piping, listed above. Experts report defective ABS piping products based on manufacturer's product codes and dates even if no leaks are observed at the time of inspection.
Look on the under-side of lateral drain line runs through the building for evidence of leak stains on the ABS piping itself - the actual crack may be difficult to spot but leak stains may be more obvious (see the photo above)
Look for water leak stains on building walls, ceilings, floors below ABS drain pipes on nearby building surfaces
Look for ABS drain line cracks at the glue-line joint in and look for mixed plastic types (white PVC, black ABS) on older buildings. Cracking ABS failures often occurred close to glued unions. Modern plastic pipe glues can handle and even joint both types of plastics, but at an older installation such as at the home above, where we see mixed plastics we pose the possibility that none of the mixed-type plastic pipe joints may be properly glued. This is not a problem peculiar to defective ABS but the two conditions may be found together.
Look for evidence of repeated prior repairs that may indicate recurrent cracking and leak failures in the piping system
Pressure test drain, waste, vent piping systems: for a system that is in doubt or where a hidden leak is suspected (perhaps where there are undiagnosed sewer gas odors), consider pressure testing the DWV piping. Pressure testing can also detect improper pipe joints such as failure to glue the joints properly.
ABS Class Action & Litigation
The prior class action litigation involved five of the six ABS pipe manufacturer's brands listed above: Centaur, Phoenix, Polaris, Gable, and Apache. (Spartan was excluded). We have not found evidence of an class action (June 2012). The attorney involved in prior actions, David Birke-White, indicated (paraphrasing) that defective ABS piping failures are a progressive problem and that piping that had not already failed will do so in the future.[1]
ABS DWV pipe failure references
PEX TUBING: Cross-Linked Polyethylene (PEX)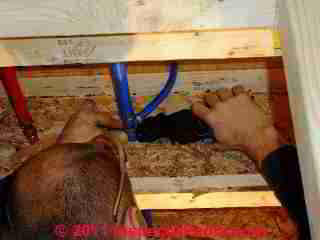 Complete details about PEX are at PEX PIPING INFORMATION, Excerpts are below.
PEX and PB plastic pipe are used for water supply in buildings use mechanical fittings (crimp and compression type) and we have found some installers using PEX tubing in low temperature heating applications (see below). PEX piping is also referred to as "cross-linked polyethylene" piping or just "PEX".
Our photo (left) illustrates PEX water supply piping being installed in a New York home. Photo courtesy Galow Homes. Installing both building water supply piping and heating supply piping (and radiant heating) can be significantly faster using PEX tubing because of its ability to bend around turns, avoiding some elbows, 45's and other fittings.
PEX piping is used in both hot and cold water applications (see the blue and red colors below). By convention the builder uses blue PEX for cold water and red PEX for hot water supply piping lines.
Generally you will find PEX piping or tubing marked with the nominal pipe size, wall thickness, and pressure rating and other information (see the illustration just below).
Temperature and pressure ratings for PEX, according to Zurn Manufacturing's engineering specifications is 160 PSI at 73°F, 100 PSI at 180°F, and 80 PSI at 200°F.

Illustration of PEX tubing markings - courtesy Zurn Manufacturing (permission requested 12/2010).
[Click any image or table to see an enlarged, detailed version.]
When installing PEX piping, care must be taken that the pipe does not contact heating ducts. If the pipe freezes, it is less likely to burst than and copper piping. Also, most types of plastic water pipe tend to sag and should be well supported by hangers.
Watch out: PEX plastic water piping should not be installed outdoors or exposed to sunlight for long periods. The red and blue PEX piping shown below (right) were delivering hot and cold water in a newly-constructed home. The larger black ABS plastic pipe is probably a drain line.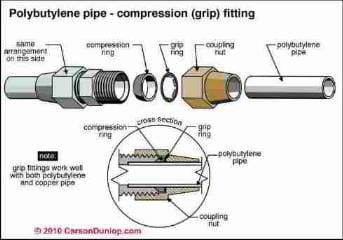 Watch out: do not use plastic piping nor any other type of piping in applications for which it was not intended, or the result could be dangerous. For example, do not use PEX tubing for LP or natural gas piping.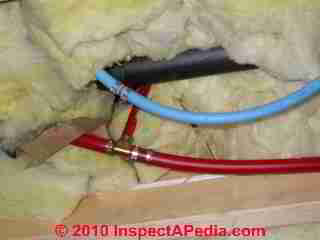 PEX Tubing Connectors: Types, Tools, Requirements
Watch out: a variety of patented PEX tubing push-fit and clamp connecting fittings (at least six types) and connector crimping tools are on the market. You may not obtain a proper and secure PEX connection if you mix tubing connector fittings and crimping tools improperly. We recommend choosing a specific connector type and crimping tool and using it consistently at a given plumbing installation.
See PEX BRASS CONNECTOR LEAKS for an update on field reports of de-zincification corrosion and leaks at brass PEX pipe connectors, elbows & tees.
Examples & Photographs of the various types of PEX fittings and the special tools used include: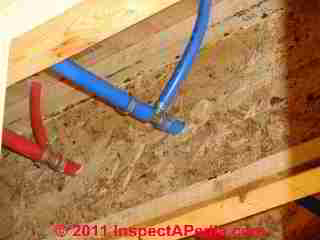 Clamp type PEX fittings (photo at left) using a brass connector and stainless steel clamp-rings (e.g. Hydro-Pex clamping tool). These connectors were in use in our PEX installation photograph above. Popular, easy to use.

Note in our PEX photo at left that on the cold water (blue) Tee fitting one of the clamp fittings remains to be completed. (Photo courtesy Galow Homes).
Crimp type PEX fittings (photo at left - Crimp type PEX fittings in a Haddonfield New Jersey home) (e.g. Watts Radiant PEX cramping tool) using Hydro-Pex fittings.

The copper crimp rings are used with most PEX connectors.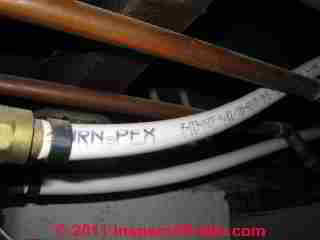 Compression type PEX fittings (photo at left) (radiant heating and other applications) uses three parts (connector, compression ring or ferrule, threaded nut) to connect PEX tubing to a radiant heating manifold.

Threaded nut and ferrule are used with an insert to prepare the tubing for connection to the manifold.

No special tools are needed and compression type PEX fittings work with standard and Pex tubing.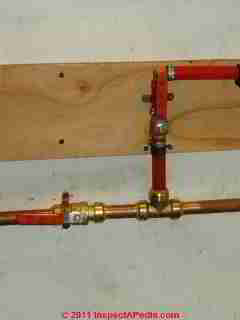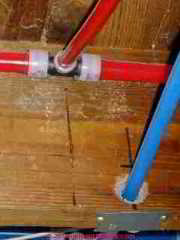 Expander type PEX fittings (photo at left, Expander type PEX fittings in a Tivoli NY home), e.g. ProPEX brass connecting fittings and the ProPEX expander tool from Uponor (formerly Wirsbo PEX fittings).

The expander tool actually expands or "stretches" the PEX tubing to accept the connecting fitting. A ProPEX ring of larger diameter covers and completes the expanded fitting connection. Popular with professional plumbers.

Our PEX tubing photo (left) illustrates three PEX installation details: use of expander-type PEX fittings, and at the photo bottom (blue cold water piping) a protective sleeve or bushing at the floor joist penetration, and a steel nail plate to protect the tubing from puncture by ceiling drywall (to be installed).

Watch out: use only with PEX A-quality fittings. lower quality tubing will not make secure PEX connections with this method.

Note: in best construction practices all holes drilled through structural floor joists (shown at left) would be made in the center of the joist, not near the bottom as in our photo.
Press-fit type PEX fittings from Wirsbo, Mr. PEX, and Viega. (do not assume you can mix fittings and tools among these three manufacturers). Use the Viega PEX press tool requires using Viega fittings, for example.

The Viega press PEX fittings are sold separately from the required stainless steel press PEX rings OR you can buy Viega pex press fittings that include the crimp ring already combined with the fitting.

When using the Viega method with the integrated fitting and crimp ring you'll need to look closely to assure that you have inserted the fitting fully into the tubing before crimping the sleeve using the Viega tool. Works with standard and Pex tubing.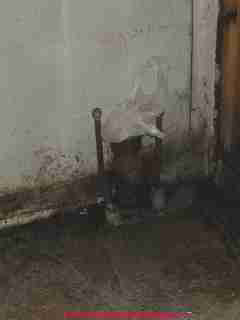 SharkBite PEX push-fit fittings (photo at left) - push-in fittings (also work with copper and CPVC). No tools or rings are required.

We used the SharkBite fitting shown at left to temporarily cut and discontinue active hot and cold water plumbing lines during a building renovation/addition project. The fittings avoided having to drain piping and solder end caps onto pipes that were later to be further cut back, excavated, and permanently capped below the slab.


PEX Tubing cutter - used to make a clean end-cut, e.g. Wirsbo (now Uponor) PEX cutter
Standards, Listings and Approvals for PEX Plumbing Systems
The following standards and building codes list at least some elements of PEX plumbing systems.
ANSI/NSF Standard 14 (NSF International)
ANSI/NSF Standard 61
ASTM F876 (American Society for Testing & Materials)
ASTM F877
ASTM F1807
CAN/CSA B137.5 (Canadian Standards Association)
California Plumbing Code - 2010
IPC (International Plumbing Code)
IRC (International Residential Code)
UPC (Uniform Plumbing and Mechanical Code)
U.S. State & Local Regulations or Canadian Provincial or Local Regulations
Plumb-PEX Plumbing System Class Action Settlement - PEX piping leaks
In March 2012 the U.S. District Court for the District of Minnesota court-ordered homeowner notification program was scheduled to begin. People who own or previously owned a building where Plumb-PEX plumbing components were installed are notified of a proposed class action settlement involving Radiant Technology, Inc. and Uponor, Inc who sold Plumb-PEX insert fittings and stainless steel PEX tubing clamps.
Those components may have leaked, or may leak, causing building damage. The defendants denied all claims of the lawsuit but have agreed to settle the case. [14][15]
Plumb-PEX Settlement Details
RTI Plumb-PEX Plumbing System fittings and components including
ASTM Standard F1807 brass insert fittings
Stainless steel clamps used with the installation of these components
Installed on or after 15 May 1999
Where a leak in the system [using those components] occurred or
Where water flow differential of 50% is found between hot and cold water supply lines feeding one or more fixtures
or
People or "entities" whose structure has already suffered a qualifying leak and have already paid for repairs
Plumb-PEX Settlement Provisions
The settlement reimburses for property damage caused by a qualifying leak in the Plumb-PEX installation, and it provides for possible repair or replacement of the RTI Plumb-PEX installation in structures suffering two or more "qualifying" leaks.
Watch out: If you are eligible for a claim under the Plumb-PEX settlement, you must file your claim within 18 months of the notification date of 22 March 2012
Also see PEX vs. Copper Water Supply Piping - health & other questions found below in the FAQs section of this article.
PB Pipe: Polybutylene Plumbing Plastic Pipe Use, Installation Specs, Failures, Leaks, Claims, Settlements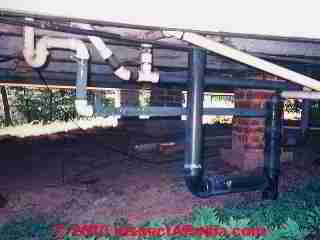 Complete details are at PB Polybutylene (PB) Pipes. Excerpts are below.
Thumbnail: Polybutylene (Polybutylene) Plumbing (plastic pipes): gray plastic water supply piping cracked, leaked, and resulted in a class action and settlement.
PB or Polybutylene pipe material (photo at left, center horizontal piping) is gray plastic water supply piping that racked, leaked, and its early use resulted in a class action and settlement.
In 1995 a $950 million class action settlement, Cox v. Shell Oil Company, provided relief for damage due to leaks in Polybutylene plumbing (PB Plumbing) within certain age constraints. Periodic notices were to be provided to homeowners over a 12-year period (ending ca. 2007) as follows:
Owners who purchased a house, mobile home, or other structure in the United States after August 21, 1995, provided that the structure contained polybutylene piping with plastic or metal insert fittings when they purchased it, are included in the class. These individuals may have been entitled to free replacement of their plumbing if it leaked previously or in the future.
The Polybutylene Pipe Settlement case is now closed. Homeowners whose structures still contain problematic versions of PB plumbing may nevertheless find that their building or mobile home is damaged by leaks and needs repairs. However there is no longer relief provided under the class action suit.
By 2010 it would be uncommon to find problematic plastic piping in buildings as we expect that where leaks were a problem, they have in many if not most installations, been discovered and repaired by now.
However home inspectors and home buyers as well as building maintenance staff need to be alert for discovery of older problematic or leaky plastic piping in buildings.
When we see several types (colors) of plastic piping mixed together, especially on older renovation or handyman plumbing jobs we worry that amateur work may have omitted use of the proper pipe glues and sealants.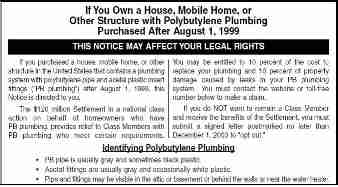 But the majority of leak problems with polybutylene supply lines involve failure of plastic fittings. Fitting failure may lead to the need for system replacement.
This type of fitting was commonly used from the late 1970s until the late 1980s. Copper fittings were used in most installations from the late 1980s until the late 1990s. Failure of copper fittings is rare.
Failure of the actual polybutylene piping also seems relatively uncommon.
For at least some of the extensive plastic pipe failure claims, an important factor in the PBS pipe failure mechanism included water that contained significant levels of chlorine.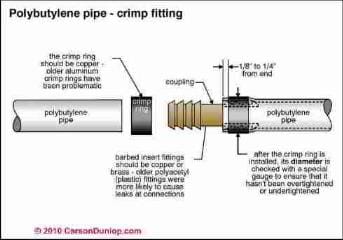 See Chlorine - sources in drinking water for related information.
Connections for PB or polybutylene water piping can be made without soldering, and the pipe is easy to work with, as Carson Dunlop's illustration (left) shows.
Our photo (below) shows hot and cold water piping using these materials and fittings in a new building.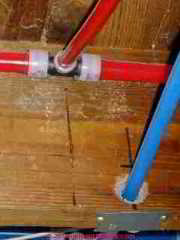 Polybutylene Piping failures: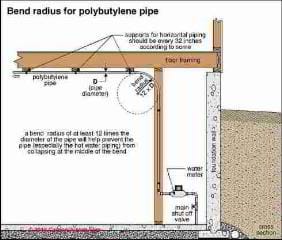 Polybutylene piping has been (PB) the source of considerable controversy due to failed fittings, especially first generation plastic fittings.- Home Reference Book, used with permission.
In this article (below) we include links to information about PB piping failures, claims, and litigation. -DF
PB Pipe: Polybutylene Pipe Failures, Claims, Litigation, Contact Information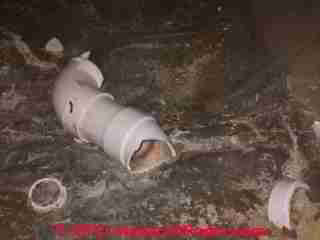 Our photograph of a broken white Schedule 40 PVC sewer line in a crawl area (left) illustrates what can happen to this material if a sewer line is blocked and exposed to freezing.
PB (polybutylene with mechanical fittings) Piping leaks: especially in mobile homes and in the U.S. South, for example trailers and double-wides throughout Florida that were piped with this material - per M Cramer. See "Polybutylene Piping: Time Bomb?" Daniel Friedman, Journal of Light Construction, August 1996 [Technical Q&A].
Plastic Supply and Drain Piping Failures: leaks,
lawsuits, settlements
If plastic water piping is installed, such as polybutylene water supply piping, it should be at least 18" from the water heater.
New mobile home and trailer units: 3/4" supply piping, must be installed a minimum of 6" off the ground; a shutoff valve is required. Also
see WATER SHUTOFF VALVE LOCATION, USE where to find and how to turn off the main water valve in buildings
Recommendations (Specifications) for PB Polybutylene Water Pipe Installation
Industry associations, including the Polybutylene Product Line Committee of the Plastic Pipe & Fittings Association have made recommendations for successful installation of polybutylene piping systems, including those listed below. Frankly by 2010 we were never seeing PB installations in buildings at which all of the recommendations below were followed and OPINION it may be that industry experts no longer consider all of the 1990 recommendations necessary. [Feedback invited - CONTACT us.]
Piping shall comply with ASTM D 3309 (gray piping) Hot and Cold;
Stored PB piping may be loosely coiled or bundled but should not be taped
Use annealed copper crimp rings (note this may have changed since 1990)
Use copper or brass insert fittings
Compression fittings are permitted if of a type recommended for PB
Manifold connections (such as for radiant heating) must be of a type recommended for PB
PB piping should be free of cuts, gouges, or deep scratches, tar, kinks, grease, soldering flux, and should not be faded or discolored
PB piping end cuts should be square and free of burs (use an approved PB pipe cutting tool)
PB pipe crimp rings should be 1/8" to 1/4" from the end of the tubing and do not use multiple crimp rings at an individual fitting connection
PB Crimp rings shall be perpendicular to the centerline of the pipe or tubing (not askew)
Each PB crimp connection should be checked with a GO-NOGO gauge and any fitting that does not pass should be cut out and replaced.
In making a run of PB piping allow 1/8" of slack per 12" of run
The radius of a PB pipe bend should be 12 x the tubing diameter (or more).
Protective sleeves or bushings should be installed at the beginning and end of straight runs of PB piping when penetrating studs
Supports for PB piping shall be used at significant changes in direction
Horizontal support for PB piping should be 32" o.c. for pipes from 3/8" to 3/4" diameter, and at 48" o.c. for pipes from 1" to 1 1/2" in diameter.
Vertical pipes should be supported at every floor and at the mid-point between floors for pipes smaller than 1" in diameter
Piping supports should not restrict the horizontal movement of piping
With PB pipe use only hangers or supports recommended specifically for PB pipes
Do not connect a hose bib directly to PB piping. Use anchored metal pipe for this transition to avoid strain on the PB pipe
Transitions should be made with fittings approved for that use
Keep PB piping at least 6" horizontally and 12" vertically from high heat sources such as heating flues or heating pipes
Do not use PB piping in recirculating hot water plumbing loops; keep PB piping branch lines at least 36" off of recirculating hot water pipe loops; Hot water heater connections should be at least 18" away from the water heater (and separated by metal piping); do not install PB piping downstream from a demand-type or instant or "tankless" hot water heater.
Test pressure for PB piping systems should be at least equal to normal system working pressure but also must be not less than 40psi nor more than 225 psi. NOTE that some plastic piping is marked with other maximum pressure ratings that must be respected when testing too.
Pressure test piping for at least 15 minutes. Note that a light pressure drop in two hours is normal (due to slight expansion of the piping, not due to leaks).
PVC Piping: CPVC Chlorinated Polyvinyl Chloride Water Piping in buildings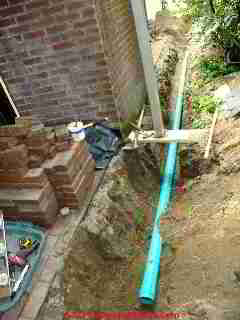 Complete details are at CPVC & PVC PLASTIC PIPING. Excerpts are below.
Chlorinated polyvinyl chloride (CPVC) pipe is not as flexible as PB or PEX and the fittings are solvent welded (glued) rather than press-on. This pipe is likely to split if freezing occurs. CPVC pipe is suitable for use on both hot and cold water lines.
Our photo (left) illustrates Royal brand PVC sewer piping being installed at a New York Home. Photo courtesy Galow Homes.
Watch out: PVC polyvinyl chloride pipe produced by JM Eagle Corp. is reported to be defective, leaking or breaking as early as in the first year after installation. Details are at PLASTIC PIPE LEAK CAUSES.
See WATER HEATER DEBRIS FLUSH for an example of a deteriorated plastic water heater dip tube debris that clogged the building water supply piping, faucets, fixtures.
Watch out: Using the wrong solvent adhesive, or not using it properly (including pre-cleaning the pipe joints) not only results in leaky plumbing, also the purple solvent cement makes permanent stains, as Oatey Plumbing points out:
The pigments or dyes in Oatey Purple Primer and Oatey Purple Primer/Cleaner are permanent. Depending on the type of material stained, its porosity and the length of time the stain has set, it may be possible to remove or lighten the stain.
We recommend blotting a clean, dry towel with Oatey Clear Cleaner to attempt to remove the stain. It may not be possible to remove the colorant from particular fabrics or surfaces. The finish and/or color of certain fabrics or materials may be dulled or discolored when in contact with solvents in Oatey Clear Cleaner.
You may want to try the cleaner on an inconspicuous spot before using on the stained area. Please use our purple primers and colored cements with caution.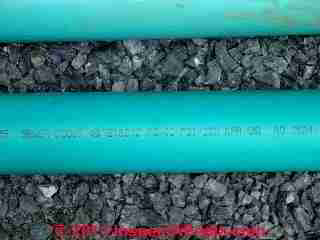 PVC is Poly(Vinyl) Chloride, CPVC is Chlorinated Poly(Vinyl) Chloride and ABS is Acrylonitrile-Butadiene-Styrene.
PVC and ABS pipe are normally used for drain, waste and vent (DWV) systems.
CPVC is used for water distribution systems. It is important to choose the correct solvent cement or pipe glue based on the type of plastic pipe being used.
Our photo (left) shows a close-up of markings on PVC sewer piping. Note that we took this picture of pipes resting on a gravel driveway.
You should not bury plastic sewer piping in sharp rocks but rather it should be bedded in sand and located 18" below the ground surface or deeper to reduce chances of damage from rocks or from vehicles passing overhead. Photo courtesy Galow Homes.
PLASTIC vs. COPPER PIPES in BUILDINGS
Complete details are at PLASTIC vs. COPPER PIPES in BUILDINGS. Excerpts are below.
Many plumbers prefer to work with copper and, although plastic pipe is less expensive than copper, the fittings are expensive. Some areas do not allow plastic pipes based on environmental concerns. Some questions have been raised about the chemicals used in the adhesives used to join sections of piping, and the toxic gases given off from plastic piping during a fire.
Polyethylene (PE) and polyvinyl chloride (PVC) are only suitable for waste, underground water service pipes or cold water piping systems.

Our photographs of plastic water supply piping connections show a new water main (below left) and building supply pipe being connected to copper piping entering a building (below right) in San Miguel de Allende, Guanajuato, Mexico in 2010.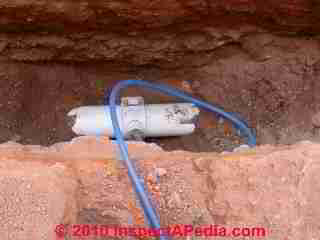 - Adapted with permission from Carson Dunlop Associates' The Home Reference Book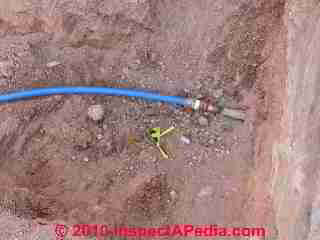 Reader Question: Do Rodents Attack Plastic Tubing or Piping? Does the tubing color make a difference in rodent resistance?
This might seem a strange question but we have blue plastic used for the connection from our gas tanks to our cooker. We have just had it serviced and have been advised that it should be yellow plastic. We have had the blue plastic for a lot of years and have been told it must be changed because the yellow tubing is not susceptible to vermin.
Since we have never had a problem with vermin and the blue tubing – I was wondering how true this is and why do the vermin not like the yellow tubing. It would be good to get some advice before we start doing unnecessary work. Thank you for your help - D.M.
Reply: Yes, No, and maybe
We have indeed had reports of rodents chewing on plastic piping of various types, colors, brands, and application (water piping and gas piping for example). And rodents will gnaw on other plastic piping too, not just PEX.
You didn't say exactly what kind of plastic piping you are using nor its brand - that information would let us check with the manufacturer for recommendations about rodent proofing the piping. Certainly we don't want a rodent-chewed hole in any piping but in gas piping it would be particularly dangerous.
I am doubtful that changing from one color piping to another would make much difference in rodent resistance if the piping brand and material is the same; but if the color change includes a change of material, the new material might be more rodent resistance.
In a New York installation I have seen yellow plastic-covered flexible copper tubing used for both gas piping (not through walls and ceilings or hidden locations) and heating oil piping. A mouse that chewed the outer plastic cover would most likely not get through the copper, but you'd lose the protective coating at that spot. At that same installation, we used threaded black pipe for gas piping where it runs through hidden locations such as ceilings and walls.
If your pipe damage is occurring indoors you need the services of a pest control expert - an "exterminator" too.
If you can send along details about the pipe type and brand we'll research further. See the CONTACT link on our pages.
Question: Pex vs. Copper Water Supply Piping - which should I use?
Question: my daughter is doing extensive renovations on her house and the question has come up whether to use PEX or copper in the plumbing. ... Any thoughts would be helpful. Thanks
Reply: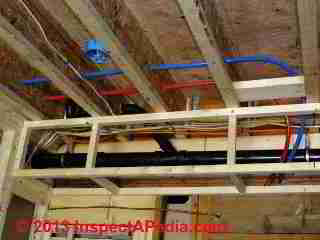 Elisha I've moved this discussion to its own article found at
PLASTIC vs. COPPER PIPES in BUILDINGS
We will continue to monitor the PEX health and contamination question and will update here. CONTACT US by email to send field reports or to report on new studies.
Copper Water Supply Piping
The same PLASTIC vs. COPPER article above lists propertie of copper water supply pipes when used in buildings and compares copper pipe performance with that of plastic.
Each plumbing pipe material has its own vulnerabilities as well as advantages & disadvantages.
Copper Water Supply Piping
Copper piping is something that I personally love aesthetically
Copper supply piping is possibly familiar to more installers
Copper pipe fittings & connectors are less confusing than plastic - standard, old, known to old-timers
If all of the supply or drain piping in a building are continuous metal, then grounding the piping system increases electrical safety - a toaster dropped into a sink should blow a fuse or trip a breaker. This is a somewhat subtle safety point for which we have opinion, not data.
Copper Supply & Drain Piping Caveats
Copper piping too is at risk of leaks, even long-standing clandestine in-building-cavity leaks (when the leak is tiny) if each fitting is not installed properly
More than plastic water supply piping, copper piping is more vulnerable to leaks caused by aggressive water chemistry, or by an electrical ground mistake as well as leaks due to galvanic corrosion if piping is mixed with steel in an older home (unless you use proper dielectric fittings at those joints). Also
see GALVANIC SCALE & METAL CORROSION
More easily than plastic water supply piping, copper pipes can be damaged by vibration (OPINION),
An amateur installation during copper fitting sweating (soldering) sometimes pushes too much copper into the joint leading to a very hard-to-find flow restriction.
We discuss types of copper piping and their intended uses and copper fittings beginning
at COPPER PIPING in BUILDINGS.
In sum, I don't believe there is a single "right" answer, and each material has some advantages and features that may make it fit a particular installation best. But when I ask my buddy Eric Galow, who is a full time builder, he's a PEX man all the way.
Question: is PEX the same as Kitec® ?
Is PEX the same as Kitec? How does one tell distinguish between Kitec and PEX? - Anon
Reply: Kitec was one brand of PEX piping or tubing.
Anon,
PEX (cross-linked polyethylene piping) is a general term for a type of plastic piping used in water supply, heating, and other applications.
Kitec® is a specific brand of PEX tubing that was subject of a class action settlement with an end-date for filing claims of 31 March 2012.
You can read about Kitec failures at Kitek® plastic piping leaks, class action settlement
There you'll see how to tell the difference between Kitec and other PEX piping brands by color and markings that may be on the tubing.

Also read about Vanguard or Viega Brass Fitting Leaks & Class Acrtion Settlement
Details about PEX piping are at PEX PIPING INFORMATION


...
Continue reading at ABS PLASTIC PIPE or select a topic from closely-related articles below, or see our complete INDEX to RELATED ARTICLES below.
Or see PLASTIC PIPE LEAK CAUSES
Suggested citation for this web page
PLASTIC PIPING ABS CPVC PB PEX PVC at InspectApedia.com - online encyclopedia of building & environmental inspection, testing, diagnosis, repair, & problem prevention advice.
Or use the SEARCH BOX found below to Ask a Question or Search InspectApedia
...
Frequently Asked Questions (FAQs)
Try the search box below or CONTACT US by email if you cannot find the answer you need at InspectApedia.
Question:
(June 15, 2014) Anonymous said:
is there any on going litigation or settlement remedies available to a homeowner with repetitive interior bursting of plastic water lines in the interior of the home, home built in 1998 in Murphreesboro Tn.
Reply:
Anon I think we need to start by identifying the type of piping involved. Then you can find its status in the links in the article above.
Question:
(Oct 1, 2014) Anonymous said:
Linda in Cape Coral Florida. I just had some major water leaks and Found out that the water pipes were defective. Can I still get help with this.
(Dec 4, 2014) Don in central fl said:
I have a 2006 fleet wood home and I just came home to my home filled with water. The problem was the white push button type shut off valve under the sink. Is there anything I can do to get help with all the repairs? My insurance company said they won't cover the damage. I also found another one that is leaking in the wall that supplies the washing machine.

Reply:
Don, ugh! Sorry you got flooded.
Check over your insurance policy with an attorney or an insurance adjuster to be sure you are being treats fairly.
See The article giving advice at FLOOD DAMAGE ASSESSMENT SAFETY &CLEANUP
Found at the upper left of this page. There you will find advice on minimizing damage, safety, etc.

Question:
Rebekah said:
We live in Colorado with decently cold winters. We have orangeburd pipe that is starting to squish into an oval pipe and the tree roots are begining to penetrate. Which type of pipe is better, will last longer, for main sewer line replacement? PVC, Schedule 40, HDPE,any others you could recommend?
Reply:
In my OPINION Schedule 40 PVC plastic sewer piping is quite durable (quoting from Harvel's specifications: Produced rigid polyvinyl chloride (PVC) compound, Type I Grade I, with a Cell Classification of 12454 as defined in ASTM D1784, trade name designation H707 PVC ... and meeting the requirements of ASTM D1785 and ASTM D2665.)
But keep in mind that installation details are important: proper trench excavation to compacted soil, bedding pipe on and in sand, avoiding backfill with sharp rocks &c.
If piping is to be buried where it may be driven-over by vehicles or heavy equipment, you might even consider Schedule 80 pipe for that location or pipe run.
...
Ask a Question or Search InspectApedia
Try the search box just below, or if you prefer, post a question or comment in the Comments box below and we will respond promptly.
Search the InspectApedia website
Technical Reviewers & References
Click to Show or Hide Citations & References
Eric Galow, Galow Homes, Lagrangeville, NY. Mr. Galow can be reached by email: ericgalow@gmail.com or by telephone: 914-474-6613. Mr. Galow specializes in residential construction including both new homes and repairs, renovations, and additions.
Mark Cramer Inspection Services Mark Cramer, Tampa Florida, Mr. Cramer is a past president of ASHI, the American Society of Home Inspectors and is a Florida home inspector and home inspection educator. Mr. Cramer serves on the ASHI Home Inspection Standards. Contact Mark Cramer at: 727-595-4211 mark@BestTampaInspector.com
John Cranor is an ASHI member and a home inspector (The House Whisperer) is located in Glen Allen, VA 23060. He is also a contributor to InspectApedia.com in several technical areas such as plumbing and appliances (dryer vents). Contact Mr. Cranor at 804-747-7747 or by Email: johncranor@verizon.net
[3] PB (polybutylene with mechanical fittings) Piping leaks: especially in mobile homes and in the U.S. South, for example trailers and double-wides throughout Florida that were piped with this material - per M Cramer. See "Polybutylene Piping: Time Bomb?" Daniel Friedman, Journal of Light Construction, August 1996 [Technical Q&A].
[4] ABS Plastic Pipe: "All Black -hit," defective black ABS plastic waste pipe manufactured in the mid 1980's failed by cracking. Additional information: www.abspipes.com
[5] Polybutylene Plumbing (plastic pipes): gray plastic water supply piping cracked, leaked, and resulted in a class action and settlement.
[6] ABS Plastic Drain/Waste/Vent (DWV) pipe failures: reported for Centaur, Phoenix, Polaris, Gable, and Spartan pipe mfgs. for pipe made between 1985 and 1988. CPSC Hot Line: 800-638-8270 or ABS Drain Leaks/Failures-Class Action Settlement COX settlement through Shell Oil set up by a contractor involved in the settlement Plumbing Failures: Spencer Class settlement. 10% of replacement cost/damages, only for acetal (plastic)fittings Polybutylene plumbing info at U. Arizona Polybutylene piping lawsuit settlement website Polybutylene plumbing lawsuit proposed settlement-old site
Eric Galow, Galow Homes, Lagrangeville, NY. Mr. Galow can be reached by email: ericgalow@gmail.com or by telephone: 914-474-6613. Mr. Galow specializes in residential construction including both new homes and repairs, renovations, and additions.
[7] PB Technology Center (information about PB Pipes) Tel: 800-338-7732, also see the 1990 PB Pipe recommendations published by the Polybutylene Product Line Committee of the Plastic Pipe and Fittings Association.
Polybutylene Plumbing Failures: Spencer Class settlement. 10% of replacement cost/damages, only for acetal (plastic)fittings
[10] Polybutylene plumbing lawsuit proposed settlement-old site
[11] Polybutylene Plumbing Failures, Lots of Info about, but slow-loading busy site
[12] Zurn Manufacturing, Zurn Pex, Inc., Highway 11 East, Commerce, TX 75428, Tel: (903) 886-2580 provides information about installing and using PEX piping including Type b PEX through their website. Quoting from the company's website
Zurn was founded in 1900 in Erie, PA. It originally manufactured a patented backwater valve, and it now manufactures and distributes one of the largest plumbing products packages in the world! Zurn includes: the Specification Drainage Operation, AquaFlush flush valves, AquaSense sensor-operated plumbing products, AquaSpec commercial faucets, Wilkins, Zurn Light Commercial, Flo-Thru, the Chemical Drainage Systems, Zurn PEX Plumbing Systems and Zurn Radiant Heat.
[13] Zurn PEX Plumbing Design and Application Guide (PDF) - web search 12/23/2010, original source http://www.zurn.com/operations/pexrh/pdfs/installation/PEXDesApplGuide.pdf
[14] Zurn Pex Plumbing Products Liability Litigation, United States Court of Appeals FOR THE EIGHTH CIRCUIT, No. 10-2267, Filed 6 July 2011, Quoting:
Minnesota homeowners brought this action1 against Zurn Pex, Inc. and Zurn Industries, Inc (Zurn) alleging that brass fittings used in the company's cross linked polyethylene (PEX) plumbing systems are inherently defective. In pretrial motions the homeowners sought class certification for their consumer protection, warranty, and negligence claims, and Zurn moved to strike the testimony of two of the homeowners' experts. After denying Zurn's motion to strike the expert testimony, the district court2 granted the homeowner requests for class certification for their warranty and negligence claims, but denied it for their consumer protection claims. Zurn appeals from the district court's certification order. We affirm.
Web search 4/12/12, original source: www.ca8.uscourts.gov/opndir/11/07/102267P.pdf
[15] Uponor, Inc., F1807 Plumbing Court File No. - United States District Court, District of Minnesota, In Re: Uponor, Inc., F1807 Plumbing Court File No. 11-MD-2247 ADM/JJK Fittings Products Liability Litigation, "
Order Granting Motion to Certify Class for Settlement Purposes and for Preliminary Approval of Class Action Settlement and Form and Dissemination of Notice to the Class" Quoting:
The Motion for Preliminary Approval of Class Action Settlement was heard on January 12, 2012. After review of pleadings and briefing, and having heard the arguments of counsel for good cause shown, it is hereby ORDERED that: (1) the Motion for Preliminary Approval of Nationwide Class Action Settlement Agreement; (2) preliminary and conditional certification of a settlement class; (3) approval of the form and content of Notice and Settlement; (4) an injunction and stay of all claims and actions against the RTI Defendants
Web search 4/12/12, original source: http://www.mnd.uscourts.gov/MDL-Uponor/
[16] Bonnie Ransom Stern & Gustavo Lagos, "Are There Health Risks from the Migration of Chemical Substances from Plastic Pipes into Drinking Water? A Review", Human and Ecological Risk Assessment: An International Journal Volume 14, Issue 4, 2008, Abstract:
Plastic pipes used to convey hot and cold drinking water are synthetic polymers containing numerous additives that enhance durability, impact strength, and toughness, and resist material degradation. Although some research studies have been conducted to evaluate the type and levels of chemical substances migrating from polymeric materials into drinking water, the potential adverse health effects associated with these compounds in potable water have not been described. This review evaluates the literature on the occurrence of regulated and unregulated substances in drinking water related to the use of plastic pipes, characterizes potential health hazards, and describes uncertainties associated with human health and exposure in need of further research. Of particular public health concern is the potential for sensitive populations to be exposed to short-term elevations in leachates during critical periods, and for co-occurring leachates targeting the same organ(s) and/or sharing a common mode of toxic action to have additive or synergistic effects. Contaminants are measured in the distribution system, not at the tap where human exposure actually occurs. For increased health protection, it is important to identify compounds that migrate from plastic pipes into drinking water and to better quantify human exposures and health hazards to these substances and their degradates.
[17] Andrew J. Whelton, Andrea M. Dietrich, Daniel L. Gallagher, "Chapter 6 Impact of Chlorinated Water Exposure on Chemical Diffusivity and Solubility, Surface and Bulk Properties of HDPE and PEX Potable Water Pipe", in Advancing Potable Water Infrastructure through an Improved Understanding of Polymer Pipe Oxidation, Polymer–Contaminant Interactions, and Consumer Perception of Taste, Andrew James Whelton Dissertation submitted to the Faculty of the Virginia Polytechnic Institute and State University In partial fulfillment of the requirements for the degree of DOCTOR OF PHILOSOPHY In Civil Engineering Andrea M. Dietrich, Chair Daniel L. Gallagher Marc A. Edwards Brian J. Love James M. Tanko, April 2, 2009 Blacksburg, Virginia. Abstract: While more than 100 years of research has focused on removing acute and chronic health
threats from water, substantially less study has focused on potable water infrastructure and water
quality deterioration, monitoring technologies, and relationships between water taste and
consumer health. These knowledge–gaps have left infrastructure users, owners, regulators, and
public health professionals largely unaware of how premise and buried polymer water pipes
deteriorate and sorb/ desorb organic contaminants during normal operations and following water
contamination events. These knowledge–gaps also prevent infrastructure managers from
producing drinking water that optimizes mineral content for both water taste and health benefits,
and employing a monitoring tool capable of immediately detecting water contamination or
equipment failures.
Research was conducted to address these challenges using analytical chemistry,
environmental engineering, food science, polymer chemistry, public health, and material science
principles. This work was enhanced by collaborations with sixteen American water utilities and
the National Institute for Standards and Technology. These efforts were funded by the National
Science Foundation, American Water Works Association, and the Water Research Foundation.
Research results are unique and provide important scientific contributions to the public
health, potable water, and material science industries. Particular achievements include the: (1)
Evaluation of linkages between minerals, water palatability, and health useful for water
production and public health decisions; (2) Creation of a novel infrastructure and water quality
surveillance tool that has begun water utility implementation in the USA; (3) Development of an
accelerated chlorinated water aging method with stable water pH, free chlorine, and alkalinity
concentration that enables interpretation of polymer pipe surface and bulk characteristic changes;
(4) Discovery that polar compounds are 2–193% more soluble in PEX than HDPE water pipes;
(5) Finding that several polymer and contaminant properties can be used to predict contaminant diffusivity and solubility during sorption and desorption in new, lab aged, and water utility PE
pipes; and the (6) Discovery that chlorinated water exposure of HDPE and PEX pipes increases
polar contaminant diffusivity during sorption by 50–162% and decreases diffusivity during
desorption as much as 211%. Outcomes of this work have domestic and global significance, and
if engaged, can greatly improve public health protection, potable water infrastructure operations,
water quality, sustainability, and regulation.
[18] Chemax, "Cross-Linked Polyethylene Tubing and Water Contamination", retrieved 2/17/2013, original source: http://www.chemaxx.com/polytube1.htm [copy on file as [Water Contamination chemical investigation.pdf]
[19] Ingun Skjevrak, Anne Due, Karl Olav Gjerstad, Hallgeir Herikstad "Volatile organic components migrating from plastic pipes (HDPE, PEX and PVC) into drinking water", Water Research Volume 37, Issue 8, April 2003, Pages 1912–1920
Abstract: High-density polyethylene pipes (HDPE), crossbonded polyethylene pipes (PEX) and polyvinyl chloride (PVC) pipes for drinking water were tested with respect to migration of volatile organic components (VOC) to water. The odour of water in contact with plastic pipes was assessed according to the quantitative threshold odour number (TON) concept. A major migrating component from HDPE pipes was 2,4-di-tert-butyl-phenol (2,4-DTBP) which is a known degradation product from antioxidants such as Irgafos 168®. In addition, a range of esters, aldehydes, ketones, aromatic hydrocarbons and terpenoids were identified as migration products from HDPE pipes. Water in contact with HDPE pipes was assessed with respect to TON, and values ⩾4 were determined for five out of seven brands of HDPE pipes. The total amount of VOC released to water during three successive test periods were fairly constant for the HDPE pipes. Corresponding migration tests carried out for PEX pipes showed that VOC migrated in significant amounts into the test water, and TON ⩾5 of the test water were observed in all tests. Several of the migrated VOC were not identified. Oxygenates predominated the identified VOC in the test water from PEX pipes. Migration tests of PVC pipes revealed few volatile migrants in the test samples and no significant odour of the test water.
[20] Andrew J. Whelton, Ph.D., M.ASCE; Andrea M. Dietrich, Ph.D., Aff.ASCE; and Daniel L. Gallagher, Ph.D., P.E., M.ASCE, "Contaminant Diffusion, Solubility, and Material Property Differences between HDPE and PEX Potable Water Pipes." J. Environ. Eng., 136(2), 227–237. doi: 10.1061/(ASCE)EE.1943-7870.0000147
Abstract: the objectives of this work were to identify differences between the composition, bulk properties, contaminant diffusivity and solubility for new high-density polyethylene (HDPE) pipe and crosslinked polyethylene (PEX) pipe, as well as determine which contaminant and polymer properties are useful for predicting contaminant fate in water pipe. Variations in PE pipe density (0.9371–0.9547 g/cm3) , crystallinity (69–72%), crosslinking (60 and 76%), and oxidative induction time (33 to >295 min .) were detected. While numerically these differences seem minor, results show that slight material differences have a notable effect on contaminant diffusivity and solubility. Nonpolar contaminant diffusivity and solubility were best predicted by bulk density. Polar contaminants were more soluble and diffused faster through PEX than HDPE pipes because PEX pipes contained a greater amount of oxygen. For all materials, dipole moment and Log Kow were good predictors of contaminant fate and molecular volume was only useful for predicting diffusivity and solubility values for haloalkane and nonpolar aromatic contaminants.
[21] Jia Tang, Daniel L. Gallagher, and Andrea M. Dietrich. (2013) Predicting Permeation of Organic Contaminants into Polyethylenes. Journal of Environmental Engineering 139:2, 205-212 Online publication date: 1-Feb-2013.
Abstract:
A model was developed and validated for predicting solubility and diffusion coefficients for contaminants permeating polyethylene (PE) materials used for water pipes and geomembranes. Model development was based on diffusivity and solubility of 13 contaminants and six PE materials that were new and/or aged in chlorinated water. Physical and chemical properties of the contaminants and PEs were included as variables in the model. Tree regression was used to select variables, and multiple linear regression was used to develop predictive equations for contaminant diffusivity and solubility in PE. Organic contaminant properties, especially dipole moment and octanol-water partition coefficient, had greater predictive capability than PE properties. Coefficients of determination (R2)>0.8 were obtained for the multiple linear regressions. Model coefficients changed slightly between new PE materials and chlorine-aged PE, but these changes were not statistically significant. Good agreement was demonstrated between model predictions and measured data from an independent data set. These results provide guidance for material selection for both water pipes and geomembranes and assessing contamination potential.
[22] Andrew J. Whelton, Andrea M. Dietrich, and Daniel L. Gallagher. (2011) Impact of Chlorinated Water Exposure on Contaminant Transport and Surface and Bulk Properties of High-Density Polyethylene and Cross-Linked Polyethylene Potable Water Pipes. Journal of Environmental Engineering 137:7, 559-568 Online publication date: 1-Jul-2011. Abstract:
The aim of this work was to determine if the aging of polyethylene (HDPE, PEX-A and PEX-B) water pipes by exposure to chlorinated water altered polar and nonpolar contaminant diffusivity and solubility by analyzing new, laboratory-aged, and exhumed water-distribution system polyethylene (PE) pipes. After 141 days of aging in pH 6.5 water with 45  mg/L free chlorine, the surface chemistry and bulk properties of PEX-A pipe were unaffected. Carbonyl bonds (σ=1,713  cm−1) were detected on the surfaces of HDPE and PEX-B pipe, and these oxygenated surfaces became more hydrophilic, resulting in statistically significant increases in diffusion rates. All 10 contaminant and four pipe material combinations had diffusivity increases on average of 50% for polar contaminants and 5% for nonpolar contaminants. Contaminant solubility was slightly increased for aged PEX-A and slightly decreased for PEX-B pipes. Toluene and trichloromethane diffusivity and solubility values for 7- to 25-year-old buried water utility pipes were similar to values for new and laboratory-aged HDPE-based materials. Because chlorinated water exposure alters how polar contaminants interact with aged PE pipes, results of this work should be considered in future health risk assessments, water quality modeling, pipe performance, and service-life considerations.
[23] ANDREW J. WHELTON & TINH NGUYEN, "Contaminant Migration from Polymeric Pipes used in Buried Potable Water Distribution Systems: A Review", Critical Reviews in Environmental Science and Technology, February 2012 posted online,
Abstract: Polymeric pipes are increasingly being installed in water distribution systems because of their many advantages. Contaminant migration from polymer pipes into drinking water is a growing concern in the United States and environmental engineers are evaluating the role of these materials on water quality, system operation, and regulatory compliance. To aid these efforts and serve as a source of background information, this paper critically reviews available literature on polymeric potable water pipes in use, known contaminants released from in–service and new piping, their perceived sources, and outlines future challenges in the U.S. and abroad.
[24] Andrew James Whelton, "Advancing Potable Water Infrastructure through an Improved Understanding of Polymer Pipe Oxidation, Polymer–Contaminant Interactions, and Consumer Perception of Taste", Dissertation submitted to the Faculty of the Virginia Polytechnic Institute and State University In partial fulfillment of the requirements for the degree of DOCTOR OF PHILOSOPHY In Civil Engineering, April 2, 2009 Blacksburg, Virginia, retrieved 2/17/2013, original source http://scholar.lib.vt.edu/theses/ available/etd-04162009-113815/unrestricted/ FINALWheltonDissertationMay09.pdf#page=158
[25] Website: GreenBuildingAdvisor.com, "PEX vs Copper", retrieved 2/18/2013, original source: http://www.greenbuildingadvisor.com/ community/forum/green-products-and-materials/ 16256/pex-vs-copper [copy on file as PEX vs Copper _ GreenBuildingAdvisor.pdf]
[26] Website: GreenBuildingAdvisor.com," How Safe is PEX tubing?", retrieved 2/18/2013, original source: http://www.greenbuildingadvisor.com/ blogs/dept/qa-spotlight /how-safe-pex-tubing [copy on file as How Safe is PEX tubing_GreenBuildingAdvisor.pdf]
[27] Lauren Hunter, "California's PEX Battle Continues", Remodeling Magazine, June 2010, Website: Builderonline.com, "x", retrieved 2/18/2013, original souirce: http://www.builderonline.com/legislation/californias-pex-battle-continues.aspx [copy on file as California's PEX Battle Continues - Plumbing, Legal Issues, Legislation - Builder Magazine.pd]
[28] Contractor Magazine, "California approves PEX for plumbing — again- Contractor Magazine.pdf", retrieved 2/18/2013, original source: http://contractormag.com/news/ california-pex-plumbing-1234 [copy on file as California approves PEX for plumbing — again- Contractor Magazine.pdf]
Books & Articles on Building & Environmental Inspection, Testing, Diagnosis, & Repair