Plastic Water Piping Leak Causes & Symptoms

PLASTIC PIPE LEAK CAUSES - CONTENTS: Causes of well or municipal water service piping leak. Polyvinyl chloride (PVC) pipe properties, installation, leaks & failures. Characteristics of a leak in the pipe between well or municipal water supply & the building. Effects of well or municipal water service piping leaks, diagnosis, effects, remedy. DEFECTIVE PVC PolyVinyl Chloride PIPING LAWSUIT, leaks, explosions, whistleblower; JM Eagle. Kitek® PLASTIC PIPE LEAKS, CLASS ACTION SETTLEMENT, PlumbPex® PEX PIPE LEAKS, CLASS ACTION SETTLEMENT
POST a QUESTION or READ FAQs abouit the causes of leaks in plastic piping in buildings
InspectAPedia tolerates no conflicts of interest. We have no relationship with advertisers, products, or services discussed at this website.
Leaks in plastic water supply piping: this article describes the causes of damaged or leaky buried plastic water pipe & resulting poor water pressure, poor water flow, or water leaks in water piping between a well or municipal water service main & the building. Knowing just what kind of leak is occurring in a building helps pinpoint the problem and also helps specify the necessary plumbing repair.
The articles at this website will answer most questions about diagnosing and repairing pumps, wells, water supply systems, and building piping.
Green links show where you are. © Copyright 2015 InspectApedia.com, All Rights Reserved.
What Causes Leaks in Buried Water Piping?
Article Series Contents
Leaks in Municipal Water Service Piping
As Carson Dunlop's Home Reference Book points out,
Plastic water service piping may be polybutylene (PB), polyethylene (PE), cross-linked and Tubing Tubing Tubing Tubing Tubing Tubing Tubing polyethylene (PEX), polyvinyl chloride (PVC) or chlorinated polyvinyl chloride (CPVC). Most plastic piping is buried at least 18 inches deep. [In freezing climates water piping is buried below the frost line, a depth that can exceed 8 feet in some areas.] Exposed piping may be subject to mechanical damage and deterioration from sunlight.

Since the supply line from the street cannot be seen, no comment is offered during a home inspection. If there is a leak, it may go undetected for some time. In some cases, water can be heard running outside the basement wall. Water accumulating in the basement or a wet spot on the lawn is often the first indication. Leaks may be caused by building settlement, excavation, poor connections, faulty valves or a flaw in the pipe itself.

The underground water service line from the property line to the house is owned by the homeowner. Beyond the property line, the pipe is the responsibility of the city. A leak in the pipe requires excavation, and it is often difficult to know whether the leak is on the city's or the homeowner's side.

The city is usually contacted and they excavate their section of the pipe, correcting the problem if they discover it. If no problem is found, the homeowner is left to correct the problem on his or her own. In some cases, the homeowner must pay for the city's work if the city pipe is not at fault. Some municipalities use sophisticated leak detection equipment.
While the comments below originally described the cause of a leak in plastic well piping, the same conditions can cause a leak in buried municipal water supply piping between the building and the street. As Carson Dunlop's Home Reference Book points out,
Poor water pressure in the house may be the result of a partially closed or obstructed valve in the street. It may also be because of blockage, such as a stone or other foreign body in the pipe. New piping may be crimped during installation or become pinched under a rock during back-filling operations. This can also cause low water pressure.
List of Causes of Damage, Leaks, or Crimps in Buried Plastic Water Piping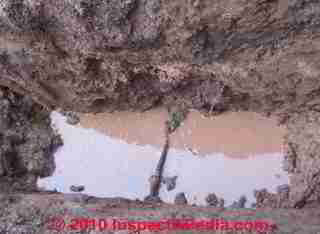 Plastic well (or water main) piping damage during installation: What caused the well piping leak that we describe above? My soil is 18"-24" black topsoil, then sandy, silty clay soil.

No rocks or sharp objects were found. We were careful digging around the line. We checked about 10 foot of line, but only found leaks near the fitting at the casing.

After removing the leaking section, I cleaned it up for further investigation. It appears to me the pinholes were a result of careless installation work. The pipe exterior surface had cuts and nicks where the pinholes were. What people may not know is that HDPE pipe needs to be slightly heated to fit over the fitting.

If it's overheated it could change the integrity of the pipe. The previous installer may have overheated and nicked the pipe with the clamps or a screwdriver. Maybe they didn't know the pipe needed heat and used brute force with pliers or channel locks to slip it over the fitting.
Overheating plastic piping during joint fitting can chemically change the plastic, making it brittle and crack prone near the connector
Under heating plastic piping during joint fitting can cause the pipe to crack when it is forced over a fitting or connector
Under-tightening metal connector parts such as hose clamps often leads to immediate or near-term leaks in the well piping connector. That was the problem that caused the leak in our photograph just above.
Over tightening metal connector parts such as hose clamps can (rarely) crack or crimp a pipe or fittings
Burying plastic piping with soil containing sharp rocks can lead to later puncture and leaks
Driving over piping that is not properly bedded in sand or not buried at a safe depth can cause leaks or crimps in piping. Even if the buried water pipe is not leaking, if it has been crimped or crushed water pressure and flow into the building will be reduced.
CONTACT us to suggest other leak causes in plastic well piping
Inspect your connections carefully with the well piping under full pressure before burying the water piping.
Defective PVC Polyvinyl Chloride Pipe Production, Leaks, Explosions, & Whistle Blower Lawsuit - JM Eagle
Early in 2010 New York Times reported that John Hendrix has accused PVC piping manufacturer JM Eagle of falsifying PVC pipe quality testing results, covering up the discovery that pipes that should last 50 years are failing as early as in one year, risking costly leaks and dangerous explosions.
Hendrix, former overseer of certification of a manufacturing process that tested PVC piping produced by JM Eagle said that the company had been selling substandard polyvinyl chloride or PVC piping since 1996 and that the company had manipulated pipe testing results. Hendrix said, according to the Times report, that less than half of JM Eagle's PVC pipe production met the required quality standards.
JM Eagle produces roughly 60 percent of plastic water piping sold in the U.S. and also distributes its products in Canada and Mexico.
Indeed the same Times article reported that some U.S. municipalities have already found leaking, cracking, and exploding PVC pipes made by JM Eagle, and some are joining the "whistle blower" lawsuit as a result. Litigation has been filed in the U.S. District Court for Central District of California, and has been joined by California, Delaware, Nevada, Tennessee, and Virginia. The Nevada state attorney general cited JM Eagle pipe that had been rupturing several times a year.
The article reports that Hendrix asserts having been trained to look for ways to blame PVC polyvinyl chloride piping leaks and breaks on the installing or maintaining contractors, but after being assigned to oversee pipe testing Hendrix found that the company was using lower grade raw materials (from Formosa) and had sped up pipe production without reporting these changes to pipe certifying agencies as required. He was fired.
JM Eagle disputed the allegations and said that tests were properly conducted and that the company stands 100% behind its products. JM Eagle Corporation is successor to Johns Manville Corp. and was created in 1982 after Johns Manville Corp. filed for bankruptcy to seek protection from asbestos claims. In 1982 Johns Manville Corp's pipe division was bought by Formosa Plastics Group, a Taiwanese industrial group owned by Wang Yung-Ching, and at that time renamed JM Manufacturing, later renamed again to JM Eagle in 2007.
In April 2010, again reported in the NY Times, JM Eagle promised to guarantee its products for 50 years, including pipe that is already in the ground. "The warranty covers the pipe based on standards that were in effect at the time of the installation," the times reported. Links to and excepts from the JM Eagle pipe warranty are provided below.
Watch out: the same April 2010 Times article points out that municipalities had already reported pipe failures that "... may not qualify for a claim against the new guarantee..."
Kitec PEX Plastic Pipe Fitting Leaks, Identification, & Class Action Settlement Details
The Kitec system was a collection of brass plumbing connectors intended for use with PEX type plastic piping. Kitec, also in some sources spelled Kyetec is a brand of brass plumbing fitting that was recalled in 2005 by its manufacturer, IPEX, due to its tendency to quickly corrode. - Wikipedia [30]
For details about PEX piping see PEX PIPING INFORMATION
For an update on brass connector leaks in PEX piping systems see PEX BRASS CONNECTOR LEAKS
Because Kitec PEX fittings were used widely across the U.S. and under other names (below) in areas of Canada, the risk of plumbing leaks due to corrosion (dezincification) at these brass-to-PEX connectors & fittings continues in homes where they have not been replaced.
How to Identify Kitec or IPEX Plastic PEX Piping Connectors & Fittings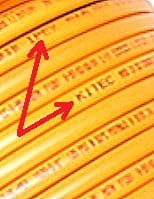 Check for the presence of KITEC fittings or IPEX fittings in these locations:
At the electrical panel, look for a warning label.
Watch out: Identification of Kitec or IPEX fittings may be possible in some homes by noting a yellow or neon-colored sticker affixed in the electrical box [presumably to warn electricians that the building water piping system cannot be reliably bonded to the building electrical ground system.]

However electrical ground warning stickers are widely used in buildings where any plastic water distribution piping was installed, not just where PEX and KITEC fittings were used. And the absence of a KITEC or plastic piping warning sticker in the electrical panel is no assurance that the building does not include plastic supply piping and/or Kitec fittings. [30]
On the plastic tubing or piping itself: some, but certainly not all, installations whewre Kitec fittings were used include PEX type tubing that includes the KITEC brand and also IPEX markings or one of the synonyms given below.

Kitec plastic tubing was sold in orange for hot water piping and also sold in red and blue colors. Typically you can fiind readily accessible plastic water piping at the hot water tank and in basements and crawl areas beneath plumbing fixtures. In some buildings it may be necessary to use a borescope or to cut or drill inspection openings to access water supply piping and fittings. Methods for making inspection openings in buildings are detailed
at CEILING WALL TEST CUTS for MOLD


At brass plumbing fittings: at representative PEX plastic water supply piping fittings to recognize a KITEC fitting - stamped, branded, or by familiarity with the appearance of these brass connectors. Brass cast KITEC plumbing fittings are marked with a oKT logo on one side of the 90's.
The Kitec Class Action Settlement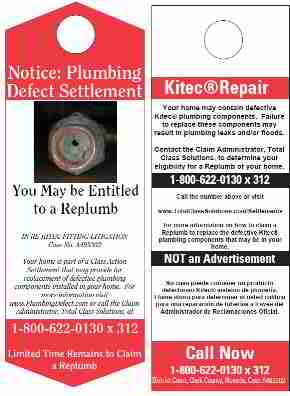 Kitec plastic pipe and fittings has agreed to settle class-action suits in the United States and Canada for $125 million. The piping system that is the subject of this action was used in roughly 292,000 U.S. and Canadian homes beginning in 1995. Quoting
The lawsuits arise from allegedly defective Kitec Systems manufactured or distributed by or on behalf of the IPEX Defendants, and installed within buildings, residences, homes, and other structures in various places in the United States and Canada.

Plaintiffs who brought the lawsuits and who seek to represent the Class are property owners in the United States and Canada with buildings, residences, homes, or other structures that contain or contained the Kitec System.

Plaintiffs who originally brought the lawsuits allege that the Kitec System is or may be defective because it could prematurely fail resulting in leaks or damage to the structure. The Class Actions seek money damages together with attorneys' fees and costs of suit from the IPEX Defendants on behalf of all Class Members.

The Class Actions do not seek any damages for personal injury, and the Settlement does not affect claims for such damages. Proceeds from the Settlement, after attorneys' fees and costs have been paid, will be used for the benefit of Class Members under Court supervision.[3]
Other Names & Synonyms for Kitec Plastic Pipe
Kitec was also sold in Canada for a time under the trademarks "IPEX Aqua", "IPEX Homerite", and under the more generic name "PEX-Al-PEX" (for PEX - polyethylene crosslinked - Aluminum - PEX). - Wikipedia [30]
Kitec Kytec IPEX Class Action settlement details
The settlement covers properties where Kitec plumbing (typically blue plastic for cold water lines and orange for hot water lines) was used in both the U.S. and Canada (excluding Clark County NV, the subject and area of a previous Kitec pipe plumbing failure case in the mid-1990s.).
The [Kitec Kytec Qitec IPEC Class Action] Settlement creates a one hundred and twenty five million U.S. dollar (US$125,000,000) Settlement Fund (less attorneys' fees and costs set forth below) to be used for the benefit of the Class to pay for the repair of buildings, residences, homes or other structures plumbed with the Kitec System. Any money paid from the Settlement Fund to members of the Settlement Classes will be paid in the class member's local currency.

The Plan Of Allocation describes the amounts and conditions of the benefits to the Class. NOTE: To be eligible to receive any money from the Settlement Fund, you must complete and submit the Claim Form accompanying the Notice available on the Case Documents page. The claim filing deadline is January 9, 2020.

After the Claims Deadline, any funds remaining in the Settlement Fund after all payments to those Class Members filing proper Claim Forms, will be returned to the IPEX Funding Entities. Claims made after the Claims Deadline will be rejected. - retrieved 9/11/14, original source http://www.kitecsettlement.com/faq.cfm
There are also distinctive brass connecting fittings (photos at the Kitec website). After attorneys fees, administrative costs and payments to the class representatives in the suit, more than $93 million is expected to be available for claims.
The distribution plan anticipates two payment steps, starting with an eight-year period for initial claims based simply on the cost of repairing or replacing the broken pipe or failed fitting. If there's money left over after the first phase, a second, pro-rated, payment would be sent out to offset the costs of having the plumbing replaced or cover other uncompensated damages.
People must decide if they're in or out of the settlement by Sept, 30, 2011 and if they opt out, must notify the judge and attorneys for both sides in writing. Judges in Dallas, and in two Canadian provinces will hold fairness hearings on the proposed settlement between Nov. 17 and Dec. 1, 2011. A website has been set up to administer the settlement, as we detail just below. Quoting:
ALL PERSONS THAT OWN, HAVE OWNED, LEASE, OR HAVE LEASED, AND ALL THOSE WHO HAVE OR MAY PURSUE CLAIMS THROUGH OR IN THE NAME OR RIGHT OF THEM, buildings, HOMES, RESIDENCES, OR ANY OTHER STRUCTURES IN THE UNITED STATES AND CANADA THAT CONTAIN, OR AT ANY TIME CONTAINED, KITEC PLUMBING SYSTEMS AND/OR COMPONENTS. YOUR LEGAL RIGHTS ARE AFFECTED WHETHER YOU ACT OR CHOOSE NOT TO ACT. PLEASE READ THIS WEBSITE CAREFULLY. [3]
More information on Kitec plumbing: call 1-877-337-1293;
Kitec Settlement Website: http://www.kitecsettlement.com/contactus.cfm

For deliveries via courier:
Kitec Claims Administrator
3301 Kerner Blvd
San Rafael, CA 94901
OR
Canadian Kitec Claims Administrator
633 Colbourne Street, Suite 300
London ON N6B 2V3
For deliveries via postal service:
Kitec Claims Administrator
PO Box 6001
Larkspur, CA 94977-6001
OR
Canadian Kitec Claims Administrator
PO Box 3355
London ON N6A 4K3
Kitec class action settlement deadline
As of the latest information we have found, homeowners wishing to file a claim to participate in the Kitec® PEX settlement needed to file a claim by 31 March 2012.
The claims adiminstrator's website is www.TotalClassSolutions.com/Settlements/Kitec.
The Kitec class action legal counsel can be contacted at:
KEMP, JONES & COULTHARD, LLP Attn: J. Randall Jones, Esq. William L. Coulthard, Esq. 3800 Howard Hughes Parkway Seventeenth Floor Las Vegas, Nevada 89169
LYNCH, HOPPER, SALZANO & SMITH, LLP Attn: Francis Lynch, Esq. Charles Dee Hopper, Esq. Sergio Salzano, Esq. 1640 Alta Drive, Suite 11 Las Vegas, Nevada 89106
Plumb-PEX Plumbing System Class Action Settlement - PEX piping leaks
In March 2012 the U.S. District Court for the District of Minnesota court-ordered homeowner notification program was scheduled to begin.
People who own or previously owned a building where Plumb-PEX plumbing components were installed are notified of a proposed class action settlement involving Radiant Technology, Inc. and Uponor, Inc who sold Plumb-PEX insert fittings and stainless steel PEX tubing clamps.
Those components may have leaked, or may leak, causing building damage. The defendants denied all claims of the lawsuit but have agreed to settle the case. [14][15]
Plumb-PEX Settlement Details
RTI Plumb-PEX Plumbing System fittings and components including
ASTM Standard F1807 brass insert fittings
Stainless steel clamps used with the installation of these components
Installed on or after 15 May 1999
Where a leak in the system [using those components] occurred or
Where water flow differential of 50% is found between hot and cold water supply lines feeding one or more fixtures
or
People or "entities" whose structure has already suffered a qualifying leak and have already paid for repairs
Plumb-PEX Settlement Provisions
The settlement reimburses for property damage caused by a qualifying leak in the Plumb-PEX installation, and it provides for possible repair or replacement of the RTI Plumb-PEX installation in structures suffering two or more "qualifying" leaks.
Plumb-Pex Class Action Settlement Deadline
Watch out: If you are eligible for a claim under the Plumb-PEX settlement, you must file your claim within 18 months of the notification date of 22 March 2012
Continue reading at PEX BRASS CONNECTOR LEAKS or select a topic from the More Reading links shown below.
Suggested citation for this web page
PLASTIC PIPE LEAK CAUSES at InspectApedia.com - online encyclopedia of building & environmental inspection, testing, diagnosis, repair, & problem prevention advice.
More Reading
Green link shows where you are in this article series.
...
Frequently Asked Questions (FAQs)
No FAQs have been posted for this page. Try the search box below or CONTACT US by email if you cannot find the answer you need at InspectApedia.
...
Ask a Question or Search InspectApedia
Use the "Click to Show or Hide FAQs" link just above to see recently-posted questions, comments, replies, try the search box just below, or if you prefer, post a question or comment in the Comments box below and we will respond promptly.
Search the InspectApedia website
Technical Reviewers & References
Publisher's Google+ Page by Daniel Friedman
Click to Show or Hide Citations & References
"New Electric Heat Tapes Help Prevent Fires," US Consumer Product Safety Commission (CPSC) #00936
Mark Cramer Inspection Services Mark Cramer, Tampa Florida, Mr. Cramer is a past president of ASHI, the American Society of Home Inspectors and is a Florida home inspector and home inspection educator. Mr. Cramer serves on the ASHI Home Inspection Standards. Contact Mark Cramer at: 727-595-4211 mark@BestTampaInspector.com
John Cranor is an ASHI member and a home inspector (The House Whisperer) is located in Glen Allen, VA 23060. He is also a contributor to InspectApedia.com in several technical areas such as plumbing and appliances (dryer vents). Contact Mr. Cranor at 804-747-7747 or by Email: johncranor@verizon.net
Carson, Dunlop & Associates Ltd., 120 Carlton Street Suite 407, Toronto ON M5A 4K2. (416) 964-9415 1-800-268-7070 info@carsondunlop.com. The firm provides professional home inspection services & home inspection education & publications. Alan Carson is a past president of ASHI, the American Society of Home Inspectors. Thanks to Alan Carson and Bob Dunlop, for permission for InspectAPedia to use text excerpts from The Home Reference Book & illustrations from The Illustrated Home. Carson Dunlop Associates' provides:

Commercial Building Inspection Courses - protocol ASTM Standard E 2018-08 for Property Condition Assessments
Home Inspection Education Courses including home study & live classes at eleven colleges & universities.
Home Inspection Education Home Study Courses - ASHI@Home Training 10-course program.
Special Offer: Carson Dunlop Associates offers InspectAPedia readers in the U.S.A. a 5% discount on these courses: Enter INSPECTAHITP in the order payment page "Promo/Redemption" space. InspectAPedia.com editor Daniel Friedman is a contributing author.
The Home Reference Book, a reference & inspection report product for building owners & inspectors.
Special Offer: For a 10% discount on any number of copies of the Home Reference Book purchased as a single order. Enter INSPECTAHRB in the order payment page "Promo/Redemption" space. InspectAPedia.com editor Daniel Friedman is a contributing author.
The Home Reference eBook, an electronic version for PCs, the iPad, iPhone, & Android smart phones.
Special Offer: For a 5% discount on any number of copies of the Home Reference eBook purchased as a single order. Enter inspectaehrb in the order payment page "Promo/Redemption" space.
The Illustrated Home illustrates construction details and building components, a reference for owners & inspectors.
Special Offer: For a 5% discount on any number of copies of the Illustrated Home purchased as a single order Enter INSPECTAILL in the order payment page "Promo/Redemption" space.
The Horizon Software System manages business operations,scheduling, & inspection report writing using Carson Dunlop's knowledge base & color images. The Horizon system runs on always-available cloud-based software for office computers, laptops, tablets, iPad, Android, & other smartphones.

"Freezeproof Your House," Mike McClintock, Rodale's New Shelter, p. 30, October 1985 (approximate date)
"How to Winterize Your Pipes," Mike McClintock, Homeowners How-To Magazine, p. 59-62, Nov-Dec 1979.
"PVC pipe extruder JM Eagle hit with whistleblower lawsuit", Plastics News, 11 Feb 2010, web search 11/19/2010, original source: http://plasticsnews.com/headlines2.html?id=17829
"A Trail of Broken Pipes, In Lawsuit, Fired Worker Cites Defective Plastic", Mary williams Walsh, The New York Times, 12 Feb 2010, pp. B1, B5
"Facing Suit, Pipe Maker Extends Guarantee", Mary Williams Walsh, The The New York Times, 5 April 2010.
"JM Eagle PVC Pipe Lawsuit Information", law suit and class action information sponsored by law firm of audet & Partners, LLP. - web search 11/19/2010, original source: http://jm-eagle-lawsuit.com/jm-eagle-pvc-pipe-lawsuit/tag/lawsuit/
JM Eagle Corporation, Global Headquarters, 5200 West Century Boulevard, Los Angeles, California 90045, Phone: (800) 621-4404
Quoting
JM Eagle is the complete manufacturer of PVC and PE plastic pipe. With greater strength, capacity and geographic reach than ever before, our resources provide an unmatched capability for new products, new materials, new applications and new processes. We consistently produce the highest quality plastic pipe in the industry and are committed to ensuring ongoing product excellence.
JM Eagle 50-Year warranty - web search 11/19/2010, original source: http://www.jmeagle.com/warranty/ Quoting from that source:
April 5, 2010, Dear Valued Customer:
At JM Eagle, we have always stood behind the quality of our plastic pipe as our commitment to serving you. Now we are taking that commitment a step further with the introduction of our 50-year warranty on the design of our innovative engineered thermal plastic-pipe products.* This means you can trust JM Eagle pipe to maintain its performance for the next 50 years or we will replace it.** No other manufacturer makes this claim.
The warranty covers issues associated with new verifiable manufacturing defects on pipe. The warranty also covers plastic-pipe products sold and installed since JM Manufacturing's inception, manufactured by JM Eagle or JMM. It does not cover products made by other manufacturers acquired by JM Eagle at later date or products manufactured by PW Eagle prior to the 2007 merger.
Plastic pipe is the safe, long-lasting and stable solution for a modern infrastructure. Millions of miles of plastic pipe have been installed throughout the country. It outlasts any other material. It complies to strict industry standards that confirm its strength, durability and longevity. And it keeps the water flowing without bursts, flooding or disruptions.
Plastic pipe from JM Eagle is of the highest quality. It has always met—and will continue to meet—the standards of the American Water Works Association, and it has always been—and will continue to be—certified by NSF International and Underwriters Laboratories.
We are excited to bring this warranty to you, for the betterment of your business and the industry as a whole. We hope that you will continue to choose plastic pipe, and choose it from the only plastic-pipe manufacturer that stands behind its quality with a 50-year warranty, JM Eagle.
Information on this Web site tells you more about our warranty, our products and our commitment to serving you with quality plastic pipe. We hope you find it helpful as we continue our long and fruitful partnership.
Sincerely,
Neal Gordon Vice President of Marketing, JM Eagle
* Plastic pipe certified to AWWA for water distribution and transmission and force sewer mains.
** See warranty for full details
[3] Kitec Plumbing System Settlement Website, web search 08/05/2011, original source: www.kitecsettlement.com.
Thanks to reader Dan Babb for discussing well piping leaks, July 2010
Books & Articles on Building & Environmental Inspection, Testing, Diagnosis, & Repair
Our recommended books about building & mechanical systems design, inspection, problem diagnosis, and repair, and about indoor environment and IAQ testing, diagnosis, and cleanup are at the InspectAPedia Bookstore. Also see our Book Reviews - InspectAPedia.
er
Plumbing Diagnosis & Repair: Water supply, drainage, septic systems, water testing, water contamination, defective plumbing materials & products.
The Home Reference Book - the Encyclopedia of Homes, Carson Dunlop & Associates, Toronto, Ontario, 25th Ed., 2012, is a bound volume of more than 450 illustrated pages that assist home inspectors and home owners in the inspection and detection of problems on buildings. The text is intended as a reference guide to help building owners operate and maintain their home effectively. Field inspection worksheets are included at the back of the volume. Special Offer: For a 10% discount on any number of copies of the Home Reference Book purchased as a single order. Enter INSPECTAHRB in the order payment page "Promo/Redemption" space. InspectAPedia.com editor Daniel Friedman is a contributing author.

Or choose the The Home Reference eBook for PCs, Macs, Kindle, iPad, iPhone, or Android Smart Phones. Special Offer: For a 5% discount on any number of copies of the Home Reference eBook purchased as a single order. Enter INSPECTAEHRB in the order payment page "Promo/Redemption" space.
Carbon Monoxide Gas Toxicity, exposure limits, poisoning symptoms, and inspecting buildings for CO hazards
Cheating on water tests: Testing Water for Real Estate Transactions - make sure your water test is valid
Don't Flush these things into a septic system
Drain Noises: may indicate defective or clogged plumbing: how to diagnose and cure drain sounds
HOT WATER HEATERS - a detailed guide to all types of hot water sources, problems, inspection, repair
Lead Testing & Correcting Contamination from Lead Water Supply Lines/Entry Mains - Lead Pipe Problems/Advice
SEPTIC SYSTEM INSPECT DIAGNOSE REPAIR The Septic Systems Information Website
Sewage Odors in Wet or Cold Weather - Septic Odors or Sewage Odor Diagnosis & Repair Guide for diagnosing and eliminating cold weather sewer gas odors
Sewage Levels in Septic Tanks - what are normal and abnormal sewage levels in septic tanks and what do they mean about tank condition, leaks, etc.
Sewer Line Replacement diagnosing a clogged drain leads to drain line replacement - step by step photo-illustrated guide to drain replacement
Water Pressure Loss - Diagnosis how to determine why water pressure has been lost or why there is no water at all in a building
Water testing for Pesticides: comprehensive and pesticides-example parameters
CONTAMINANT CLASSES, in WATER & links to home buyer advice about water testing, drinking water, water supply
WELL CHLORINATION & SHOCKING - Procedure for Shocking a Well to (temporarily or maybe longer) "Correct" Bacterial Contamination
Typical Water Tests & Fees this water test fee schedule applies when testing is combined with other onsite building inspection services
WATER PUMP REPAIR GUIDE an specific case offers an example of diagnosis of loss of water pressure, loss of water, and analyzes the actual repair cost
Water pressure tank failures & water pump short cycling diagnosis and repair
...