Guide to Hot Water Tank Insulation Safety

InspectAPedia tolerates no conflicts of interest. We have no relationship with advertisers, products, or services discussed at this website.
This article discusses when and how water heater tanks may be insulated, gives important water heater insulation safety warnings, and discusses whether you should insulate your water heater at all. This discussion is part of a series of articles on how to improve the hot water pressure, quantity, flow, and water temperature safety in a building.
Green links show where you are. © Copyright 2014 InspectApedia.com, All Rights Reserved.
Should You Add Insulation to the Water Heater Tank?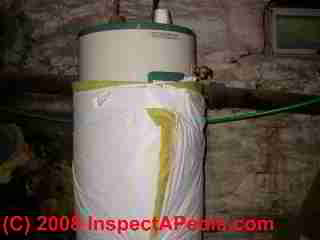 Most new water heater tanks come with factory-installed insulation.
If your water heater tank was purchased in the last decade it may be a model that is already adequately insulated.
In fact some water heater manufacturers recommend against adding external water heater insulating blankets to their equipment, or indicate that their equipment does not need extra insulation.. (Arlene Puentes).
Still, some owners want to reduce standby heat losses from their water heater by adding an insulating blanket sold for that purpose. Below we provide important safety advice for people planning to add water heater insulation, and we offer a concluding opinion about the value of adding insulation to a modern water heater tank.
Water Heater Insulation Safety Advice
If your water tank is old, poorly insulated or if your water heater is not insulated at all, your plumbing supplier or building supply store can provide a water heater insulating blanket kit. See Range Boiler Water Heaters for an example of heaters that were commonly left completely uninsulated (when heating oil and gas were cheap). It can make sense to add insulation to such devices.
SAFETY WARNING: Do not add water heater insulation without reviewing both the safety warnings we list below and also any safety warnings issued by the manufacturer of your own water heater brand and model. Failure to follow safe procedures when insulating a water heater could result in a fire or explosion.
In our photos at page top and just above, the water heater blanket has been poorly installed. Above the insulation has been installed on an electric water heater, the relief valve is improperly installed, and other details about this particular insulating blanket installation suggest that it has not been installed following the recommendations of the water heater manufacturer. In the photo you can see that this valve is missing its discharge tube as well - an unsafe condition.
The warnings we issue below were suggested by Arlene Puentes and are based on a review of water heater instruction manuals from Rheem and AO Smith, two prominent manufacturers of residential water heaters.
Is extra water heater insulation permitted and safe? If adding insulation to a water heater, first make sure that external insulation is permitted for your model and brand of water heater, then be sure it's installed safely. If in doubt, check with the manufacturer of your water heater before adding insulation - most water heaters will include a label which has a toll-free telephone number for this purpose.
Don't let insulation cover or block operation of a temperature/pressure relief valve: The water tank insulating blanket should be cut to permit the relief valve and its discharge tube to remain visible and unobstructed so that it can open in an emergency and so that we can see if it is leaking (which means there is a safety concern)
Flue gas safety: Don't let water heater insulation cover or block the flue gas vent draft hood on gas fired water heaters or you may prevent proper venting and the system may be unsafe, risking carbon monoxide hazards. AO Smith, a gas water heater manufacturer advises that you should not put insulation over any part of the top of the water heater.
Gas valve safety: do not let water heater insulation cover any part of the gas valve or controls
Fire safety: Don't place insulation where it can be damaged or set on fire by exhaust flues or oil or gas burners
Gas burner or Oil burner safety: don't place insulation on a water heater where it could block combustion air that the gas or oil burner need or the system may be unsafe. Keep water heater tank insulation at least 8" from the floor on gas-fired water heaters to be sure that there will be adequate combustion air for the gas burner. Otherwise your water heater may produce deadly carbon monoxide gas.
Do not cover the access cover or door that opens for inspection or service of the gas burner.
Preserve all of the labels, instructions, safety warnings, etc. that are affixed to the water heater. This means that you should either not cover them with insulation, or you should obtain new stick-on labels from the manufacturer, and install them on the outside of the new insulating blanket.
Also see our advice and safety warnings about water piping insulation at Insulate Hot Water Piping.
Concluding Opinions about Adding Insulation to a Residential Water Heater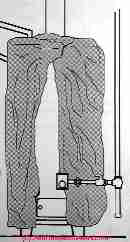 Regrettably, by the time we respect all of these "don't cover" this or that warnings from the water heater manufacturers, it becomes apparent that adding water heater insulation on a modern already-insulated unit is probably more trouble and risk than it's worth.
You may be able to skip adding water heater insulation and you may be able to save more on water heating cost if you simply use some of our other recommendations such as turning down hot water temperature, using less total hot water volume, or using staging tanks to "pre heat" incoming water to the water tank from ambient building heat.
And doing anything to your water heater that does not follow the manufacturer's recommendations may be both unsafe and a cause for voiding the warranty:
"The manufacturer's warranty does not cover any damage or defect caused by installation, attachment or use of any type of energy saving or other unapproved devices (other than those authorized by the manufacturer) into, onto or in conjunction with the water heater. The use of unauthorized energy saving devices may shorten the life of the water heater and may endanger life and property. The manufacturer disclaims any responsibility for such loss or injury resulting from the use of such unauthorized devices " -- Rheem.
Hot Water Efficiency Improvements: Steps to Increase Hot Water Quantity
The articles listed below offer more details about steps one can take to increase hot water quantity, pressure, and flow in a building. Use links just below or at the left of each page to navigate this document or to view other topics at this website. Green links show where you are in our document or website.
Anti-Scald Valves & Hot Water Quantity - improve safety and meter hot water more slowly - makes it last longer
CLOGGED PIPING & Hot Water Flow - diagnose and correct poor hot water pressure and flow due to pipe clogging
Extra Tanks to Increase Hot Water - pre-heat your hot water absorbing ambient building heat or increase hot water quantity with cascaded, staged, multiple water heaters, possibly using more than one energy source
High Efficiency Water Heaters - if replacing a water heater, consider a model that saves money in operating cost
Insulate Hot Water Piping - worth doing where piping is accessible, especially on piping running through cool areas
Insulate Hot Water Tank? - probably not worth doing except in special cases; important safety warnings
Larger Diameter Water Supply Piping - worth doing if replacing clogged pipes or building new construction
TANKLESS COIL HOT WATER INCREASE - various tricks can significantly improve the safety and water quantity available
Hot water usage efficiency improvements:

change home appliances and plumbing fixtures to install devices that consume less hot water. For example, replace showerheads that have a flow rate greater than 2.5 gallons per minute (the current National Energy Policy Act standard),
take shorter showers,
when replacing a clothes washer, install models that use less water by installing a high efficiency washing machine with a "low water factor" and always wash full loads rather than smaller loads in your washing machine.
Install an active or passive pre-heater tank for domestic hot water supply
How to improve hot water quantity and reduce water heating costs by installing an active pre-heating tank for domestic hot water supply
Install a water heater (oil, gas, solar, electric) on the water piping upstream, that is,a tank located before water enters the primary water heater such as the tankless water heater, tankless coil or even a conventional water heater (or primary water heating tank, whatever water heating method is used).
Passive hot water pre-heating tank operation reduces hot water production cost
This water tank can be left off when there is not much demand for hot water, in which case it will function as a passive water pre-warming tank as we discussed above.
Active hot water pre-heating tank for times of greater hot water demand
When a greater quantity of hot water is going to be needed (say many weekend visitors to a building), turn on the water heater to permit it to "boost" hot water headed for the tankless coil.
As occupants in the building draw hot water out of the system, heat will be drawn from the heating boiler and tankless coil at a very low rate, possibly not at all, until we've exhausted the hot water that was stored in the separate water heater tank.
Don't install the hot water pre-heater tank backwards
Some people install this system backwards: hot water is fed from the tankless coil into a water heater tank. This is a much less efficient way to make hot water as all of the water entering the water heater tank will always cause the heating boiler to run. We do not recommend this arrangement.
See our discussion of Multiple water heaters in parallel and also Multiple water heaters in series for more details regarding this approach to increasing hot water quantity.
...
Frequently Asked Questions (FAQs)
No FAQs have been posted for this page. Try the search box below or CONTACT US by email if you cannot find the answer you need at InspectApedia.
Ask a Question or Search InspectApedia
Questions & answers or comments about how to insulate a hot water tank (or safety and warranty reasons not to insulate the water heater).
Try the search box just below or if you prefer, post a question or a comment in the Comments box below and we will respond promptly.
Search the InspectApedia website
Technical Reviewers & References
Related Topics, found near the top of this page suggest articles closely related to this one.
Click to Show or Hide Citations & References
Thanks to Alan Carson and Bob Dunlop, Carson Dunlop, Associates, Toronto, for permission to use illustrations from their publication, The Illustrated Home which illustrates construction details and building components. Carson Dunlop provides home inspection education, publications, report writing materials, and home inspection services. Alan Carson is a past president of ASHI, the American Society of Home Inspectors.

Arlene Puentes, an ASHI member and a licensed home inspector in Kingston, NY, and has served on ASHI national committees as well as HVASHI Chapter President. Ms. Puentes can be contacted at ap@octoberhome.com
AO Smith produces AO Smith water heaters in addition to Reliance, State, Maytag and others. www.aosmith.com/prod/wpc.htm AOS's gas water heater manuals offering advice and safety warnings about adding water heater insulation are available at
www.statewaterheaters.com/lit/im/res-Elec/184671-000.pdf and at
www.hotwater.com/lit/im/res_gas/184123-000.pdf

Rheem who also makes electric water heaters provides a manual for electric water heaters at
waterheating.rheem.com/content/resources/documents/use_care/ResElecProfessional.pdf. Rheem says, as do other water heater producers, that their water heaters meet the "National Appliance Energy Conservation Act standards with respect to insulation and standby loss requirements making an insulation blanket unnecessary"
Rheem also warns consumers that adding an insulation product [or making any other modification to their equipment] is likely to void the product warranty and may be unsafe.

Books & Articles on Building & Environmental Inspection, Testing, Diagnosis, & Repair
The Home Reference Book - the Encyclopedia of Homes, Carson Dunlop & Associates, Toronto, Ontario, 25th Ed., 2012, is a bound volume of more than 450 illustrated pages that assist home inspectors and home owners in the inspection and detection of problems on buildings. The text is intended as a reference guide to help building owners operate and maintain their home effectively. Field inspection worksheets are included at the back of the volume. Special Offer: For a 10% discount on any number of copies of the Home Reference Book purchased as a single order. Enter INSPECTAHRB in the order payment page "Promo/Redemption" space. InspectAPedia.com editor Daniel Friedman is a contributing author.

Or choose the The Home Reference eBook for PCs, Macs, Kindle, iPad, iPhone, or Android Smart Phones. Special Offer: For a 5% discount on any number of copies of the Home Reference eBook purchased as a single order. Enter INSPECTAEHRB in the order payment page "Promo/Redemption" space.
Carson Dunlop, Associates, Toronto, have provided us with (and we recommend) Carson Dunlop Weldon & Associates' Technical Reference Guide to manufacturer's model and serial number information for heating and cooling equipment
Special Offer: Carson Dunlop Associates offers InspectAPedia readers in the U.S.A. a 5% discount on any number of copies of the Technical Reference Guide purchased as a single order. Just enter INSPECTATRG in the order payment page "Promo/Redemption" space.
Carbon Monoxide Gas Toxicity, exposure limits, poisoning symptoms, and inspecting buildings for CO hazards
HOT WATER HEATERS - a detailed guide to all types of hot water sources, problems, inspection, repair
Water Pressure Loss - Diagnosis how to determine why water pressure has been lost or why there is no water at all in a building
WATER PUMP REPAIR GUIDE an specific case offers an example of diagnosis of loss of water pressure, loss of water, and analyzes the actual repair cost
Water pressure tank failures & water pump short cycling diagnosis and repair
...