LP Gas, Propane Gas, & Natural Gas Pressures & Pressure Settings

GAS PRESSURES LP vs NATURAL GAS - CONTENTS: LP & Natural Gas Pressures, What are the typical pressures found in LP gas or Propane Gas systems. What are the typical pressures found in natural gas systems. Natural gas, Propane, and LP gas piping & regulator pressures. Natural gas, propane, and LP gas gas pressures at appliances
POST a QUESTION or READ FAQs about LP gas pressure, propane gas pressure, and natural gas pressure in piping, at regulators, at appliances
InspectAPedia tolerates no conflicts of interest. We have no relationship with advertisers, products, or services discussed at this website.
LP or Propane Gas Pressures & Natural Gas Pressures at common appliances: here we give the standard pressure ranges and pressure settings for LP gas, propane gas, and natural gas fuels, including pressures found in the distribution service piping, in the in-building gas piping, and at gas fired appliances such as gas stoves, clothes dryers, furnaces, boilers, and LP gas or natural gas fired water heaters.
Green links show where you are. © Copyright 2014 InspectApedia.com, All Rights Reserved.
What are the Typical LP or Natural Gas Set Pressures Found in Residential Systems
What are the common operating pressures of natural gas and LP or "liquid petroleum" gas in the building gas piping and at the appliance? Since there several ways that people express gas pressures we include more than on description of common LP gas or natural gas system operating pressures in this article.
The Common operating pressure for natural gas is 3.5" of water.
Common operating pressure for liquid petroleum or LP gas is 10" of water.
This article continues with more detailed information about the typical pressures and other properties of Butane or of LP gas - liquid propane or "bottled gas", and in a separate section we continue with the properties of natural gas or "piped in gas" used as appliance fuel in buildings.
Typical LP Gas Pressures & Volumes in Residential Appliances
LP gas (liquid petroleum gas) operates at 0.4 psi LP gas at typical residential appliances
10-200 psi LP gas pressure in the LP gas storage tank.
LP gas weighs 4.24 U.S. pounds per U.S. gallon and contains about 91,650 BTUs
LP gas or similarly pure butane gas volume expands to approximately 250 x its liquid volume, varying of course by pressure, temperature, and gas chemistry or actual composition.
LP Gas tank fill-volume is typically to 80-85% of capacity, leaving vapor space in the tank.
Natural Gas pressure details are described below at Natural Gas
It is important to separate the LP gas (propane gas) pressures that are exerted inside the LP gas storage tank or cylinder from the LP gas pressures that should be delivered to individual appliances.
Watch out: keep in mind that piped-in natural gas found at homes where that service are available will be at different pressures, use a different regulator, and requires changes or adjustment at any appliances that are being changed from LP or Propane gas to Natural gas, or vice versa.
Why do we Need a Regulator on LP or Propane Gas Systems - how do gas regulators function?
Because of varying outdoor temperatures, the LP gas pressure inside the storage tank may be as low as 10 psi in freezing weather or as high as 200 psi with the tank exposed to sunlight in hot weather.
But the gas pressure delivered to a heating appliance (gas range, clothes dryer, gas heating furnace, gas fired water heater, etc) needs to be both constant and at the proper pressure for that appliance.
The job of the LP gas regulator(s) is to deliver LP gas (propane) at the pressure used by appliances, typically at 11 inches of water column or about 6.3 oz/sq.in (that's about 0.4 psi or pounds per square inch).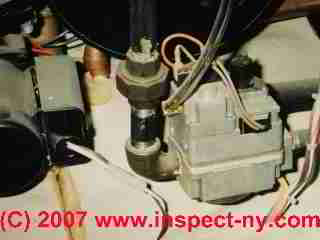 The regulator(s) have to keep gas flowing to the appliance(s) at that pressure even as pressure in the storage tank changes and even when the number of appliances consuming gas changes (as devices turn on and off in the building).

Gas pressure and gas flow rate at individual appliances in a building needs to be maintained at the level needed by each appliance.
For that reason the gas regulator will increase the gas flow through itself according to pressure drops on the "low pressure" side of the regulator.
At many individual gas burning appliances, the appliance gas control valve will also regulate gas flow into the appliance burners.
See GAS REGULATORS for APPLIANCES for details.
What are Typical Natural Gas Pressures found at and inside Private Homes?
Natural gas in the natural gas service line in the street will be found at pressures from 60 psi down to as low as 0.25 psi.
At individual natural gas appliances the gas pressure will be regulated to about 0.25 psi
Note: LP gas pressures and volumes are discussed above at LP Gas
The American Gas Association offers this explanation of typical natural gas pressures, Quoting with significant editing and paraphrasing:
Natural gas runs from the main into a home or business in what's called a one-inch or smaller-diameter natural gas service line. In the service line gas pressure varies by community and other factors, flowing at a pressure range of over 60 pounds to as low as ¼ pound.

When the gas passes through a customer's gas meter and moves inside the home, gas travels to equipment and appliances through piping installed by the home-builder and owned by the customer where it reaches the individual natural-gas-fired appliance(s).

At the customer's gas meter the incoming natural gas passes through another regulator to reduce its pressure to under ¼ pound (0.25 psi) if this is necessary. (Some services lines carry gas that is already at very low pressure.) This is the normal pressure for natural gas within a household piping system. When a appliance such as a natural-gas furnace or stove is turned on, the gas pressure is slightly higher than the air pressure, so the gas flows out of the burner and ignites in its familiar clean blue flame. [1]
What is pressure of natural gas and LP or "liquid petroleum" gas inside the gas tank?
There is some confusion, even among LP gas service technicians about just what is the pressure inside the gas containers they deliver to or fill at properties. Perhaps this is because the gas laws (see BOYLE's LAW discussed at this website, for example), explain that the vapor pressure of LP-gases varies as a function of temperature.
"Vapor pressure" is the force exerted by a gas, LP gas in this case, attempting to escape from a container (say by pressing on the container's interior surfaces, or exiting at a gas valve if the gas valve is opened and not regulated). Some typical vapor pressures of LP gas (propane) are given just below. These pressures vary in real life depending on the purity of the gas and the percentage mixture of propane and butane.
Butane is generally going to show a much lower vapor pressure in the container than propane. But you can see from the table that as outdoor temperature varies between zero and 80 deg. F., the pressure of LP gas in the outdoor tank varies widely, from about 28 psi to as much as 140 psi.
Since the temperature affects the vaporization rate of LP gas stored at a property, you can understand that your full LP tank will appear to "last longer" in warmer weather not just because your heating boiler is not drawing on the tank, but because of the higher outdoor temperature.
Vapor Pressure of LP Gas in a Container (in PSI)

Ambient Temperature
Percent Propane (left) to Percent Butane (right)
DegF
100%
80/20
60/40
50/50
40/60
20/80
100%
-40
3.6
-
-
-
-
-
-
-30
8
4.5
-
-
-
-
-
-20
13.5
9.2
4.9
1.9
-
-
-
-10
20
16
9
6
3.5
-
-
0
28
22
15
11
7.3
-
-
10
37
29
20
17
13
3.4
-
20
47
36
28
23
18
7.4
-
30
58
45
35
29
24
13
-
40
72
58
44
37
32
18
3
50
86
69
53
46
40
24
6.9
60
102
80
65
56
49
30
12
70
127
95
78
68
59
38
17
80
140
125
90
80
70
46
23
90
165
140
112
95
82
56
29
100
196
168
137
123
100
69
36
110
220
185
165
148
130
80
45
Source: "LP Gas Serviceman's Handbook", cited at references below.
Gas Cylinder or Tank Regulators: Readers concerned with installing, inspecting, or testing LP Gas regulators which are found on outdoor above ground or buried gas cylinders used for storage of LP Gas on site should also see How to Inspect & Test LP Gas Tank or Cylinder Regulators.
Gas Appliance Regulators: Readers concerned with installing, inspecting, or testing LP or Natural Gas regulators which are found on appliances such as LP or Natural Gas fired boilers, furnaces, water heaters or appliances should also see How to Inspect & Test LP or Natural Gas Regulators & Controls on Appliances.
Readers concerned with changing the fuel type between LP gas and natural gas for a gas fired appliance should see our safety warnings at GAS CONVERSION LP-NATURAL GAS.
Continue reading at GAS REGULATORS for APPLIANCES
or see GAS LAWS & CONSTANTS
More Reading
Green link shows where you are in this article series.
...
Frequently Asked Questions (FAQs)
Question: explosion burns house down, blamed on nearby digging?
(Jan 13, 2013) Cynthia said:
A friend recently had an explosion at the back of his house that burned his house down. He has an old gas dryer (+25 years) in the laundry room in the back. The gas and electric company have been digging all through the street for the past 4 weeks, working on their gas lines. Someone mentioned that it is possible for an explosion to happen if they increased the diameter of the gas lines and that an old appliance might not be able to handle the pressure. Does this sound reasonable?
Reply:
x
Question: what happens if the wrong orifices & controls are installed on an NG to LP Gas conversion?
(Apr 3, 2014) Anonymous said:
When converting a 90,000BTU furnace from Natural Gas to LP Gas (Propane), what can go wrong if the contractor installs the wrong size gas orifices? For example, if the proper LP Gas orifice is supposed to be size 1.15 (.0453 dia) ..what can happen if he installed size 54 (.0550 dia)? Specifically, can it cause excessive soot and eventually plug the heat exchanger?
Reply:
Anon
Watch out: The system will not operate properly and would be unsafe, since the two designs require different pressures and orifices. The risks are more than just "bad operation" - the equipment is potentially unsafe, producing carbon monoxide that can be fatal if the combustion process is incorrect. Sooting is just the symptom. The real risk is death.
To be able to sleep safely I would TURN OFF a system that was acting as you describe, waiting for a qualified expert to examine it. It'd be smart to have properly installed, working CO detectors in any case.
Question: do we get more pressure from a larger gas line?
Can I get more pressure from a larger gas line? - Dave
Reply: increasing flow vs increasing pressure
Dave:increasing the gas pipe size will not increase pressure you would have too go back too were the pressure regulator is for that pipeline and increase the pressure a larger pipe will simply allow more volume at a given pressure.
You're correct and I add in clarification that in any piping system, water or gas, the flow rate can be increased by increasing the pipe diameter, but the pressure will be unaffected. At least in the case of water flow, people often say "water pressure" because that's how they subjectively experience the flow rate at the tap.
Question: How do I run liquid propane not vapor direct to a heater?
Lee said:
We are running Liquid propane (not Vapor propane ) from a 1000 gallon tank to a burner with a vaporizer, after the vaporizer we have the regulator and an orifice before the burner bar. The question is should we be regulating the liquid at the tank? if you are running 10 lbs. pressure through an orifice how can you calculate the BTU used?
Reply:
Thanks for the interesting question, Lee. It's beyond my expertise. We're generally addressing vapour form of LP in these articles with caveats about where liquid might enter where it should not.
The pressure in a liquid system will be a function of the vapor pressure if there is vapor pressure (i.e. temperature) in a tank - which ought to be the case in most systems as the tank is almost never completely full. But the regulating equipment would be different.
If you can tell us the manufacturer, model, brand of equipment together we ought to be able to answer your question by consulting with the manufacturer.
Question: why can't we just deliver liquid instead of gas or regulate the LP to a lower pressure
5/22/2014 Anon:
LP gas is delivered at higher pressure than NG: 10-11" wc for LP vs 3.5" wc for NG. We know this.
LP has 2.5x more heat content than NG. We know this also.
The question is this: In converting from NG to LP, why don't we just regulate the LP pressure lower, to reduce the flow rate to where the amount of heat produced by burning would be the same? Why, instead, do we deliver the higher-heat-content gas at higher pressure, then restrict the flow with a smaller orifice? Seems like a more complicated way to go about it.
Reply:
The molecules, energy, and densities are different, Anon. In other words the BTUs in the two gases as well as other properties are not identical at the same gas pressure.
Why is propane delivered and handled as a liquid while natural gas is not?
NG is not delivered as a liquid product in the cities where gas lines are installed. There's a reason. OSComp, a "virtual" pipeline company, offers a clear explanation that I excerpt from oscomp.com
The answer is that a molecule of propane has more carbon atoms than a molecule of methane, the component of natural gas that we burn. Therefore, propane is harder to break apart or, in human terms, has a higher boiling point.
(That sound you hear is from chemistry teachers sputtering with indignation at this wildly over-simplified explanation; I expect to see some emails when I get to work.)
Methane (CH4) boils at minus 263 degrees but propane (C3H8) doesn't't boil until a relatively balmy minus 44 degrees.
As a result, propane can be readily handled as a liquid, which is easy to truck around, whereas methane is almost always handled as a gas, which is better done via pipelines. That's the reason, although many details have been left out. - I see that oscomp was quoting material by David Brooks. GraniteGeek dbrooks@nashuatelegraph.com or followed on Twitter @granitegeek.
Ask a Question or Search InspectApedia
Questions & answers about LP gas pressure, propane gas pressure, and natural gas pressure in piping, at regulators, at appliances
Check the FAQs just above, try the search box just below, or if you prefer, post a question or comment in the Comments box below and we will respond promptly.
Search the InspectApedia website
Technical Reviewers & References
Related Topics, found near the top of this page suggest articles closely related to this one.
Click to Show or Hide Citations & References
Books & Articles on Building & Environmental Inspection, Testing, Diagnosis, & Repair