How to find leaks in gas piping: How to Identify & Correct LP Gas or Natural Gas Leaks
InspectAPedia tolerates no conflicts of interest. We have no relationship with advertisers, products, or services discussed at this website.
Detect or find gas leaks in natural gas or LP gas / propane piping, fittings, & appliances:
This article describes how to find gas leaks on LP or natural gas piping, regulators, or appliances, and it provides free sample draft home inspection report language for reporting defects in oil and gas piping at residential properties. This article series provides descriptions and photographs of unsafe gas piping, indications of unsafe or improperly operating gas appliances, gas meters, and other gas installation defects are provided.
We also provide a MASTER INDEX to this topic, or you can try the page top or bottom SEARCH BOX as a quick way to find information you need.
How to Test or Look for LP Gas System Leaks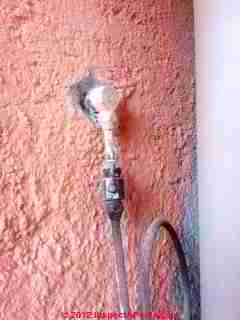 Here we outline some common procedures used to test gas piping and fittings for leaks. These procedures should work equally well for both LP gas (propane or bottled gas) systems and for natural gas (piped-in gas from a gas utility company) systems.
Watch out: improper installation and even improper inspection and testing methods involving natural or "LP" gas can involve dangerous conditions and risk fire or explosion. If you smell gas you should leave the building immediately and should do so without doing anything that could create a spark such as operating a light switch or telephone. From a safe location, call your gas company's emergency line and/or your fire department. The text provided here is a working draft and may be incomplete or inaccurate.
NOTICE: while example report language is provided here, reproduction of this or any of our web pages or their contents at other websites or in printed documents for sale is prohibited.
NOTE: Except that LP gas and natural gas operate at different pressures and thus will have different test pressure specifications. Readers who are interested in gas leak detection equipment should review our article and gas testing warnings at Recommendations for gas measurement instruments & gas detector tubes for indoor gas level tests which includes our description of use of the TIF8800 and similar gas detectors.
Our photo at above left of an LP gas line shutoff shows black staining around the shutoff valve and flare fitting, with some of the black worn away - previously there had been an LP gas leak at this location.
General Safety Warnings for LP or "bottled" or "propane" Gas Installations & Inspections
Immediate LP or natural gas safety hazards: if there is evidence of an LP or natural gas leak at a building, gas odors, for example, you should:
Do not do anything that is likely to cause a gas explosion, such as lighting a match, operating an electrical switch, or even using a telephone in the building
Leave the building immediately and keep a safe distance away - 100 feet or more.
Notify other building occupants of the safety concern
Contact the local gas company and/or fire department
Heating equipment which the inspector (or building occupant or manager) judges to be an immediate life safety hazard should be shut down and appropriate emergency services called.
Pressure testing a gas piping system for evidence of gas leaks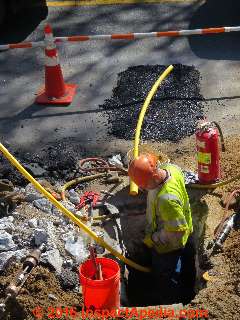 These two methods are generally used to test a gas piping distribution system to see if leaks are present.
Low Pressure Method Gas leak tests by gas service technicians generally include the following steps:

All gas piping connections, valves, and appliance connections and valves are inspected visually for tightness and good condition
A gas pressure gauge [such as the Fisher™ Type 50P-2 gas pressure gauge] is connected to a burner orfice
The gas service valve is opened to permit gas to flow into the gas piping distribution system, and then the valve is closed again, securely
The gas pressure gauge should read eight inches of water column in pressure (previously 9 inches, earlier eleven inches of water column) and should hold steady.
The gas pressure at the point of testing, say a gas-fired heating appliance, is bled off slowly until the gas pressure test instrument gauge indicates nine inches of water column.
The system is monitored for any pressure drop for at least three minutes. If no pressure drop is detected the system is considered not leaking.

High pressure gas leak method is also used by gas service technicians and includes steps similar to those above, using a special fitting [such as the Fisher(TM) Type J600 test block] installed between the service valve outlet port at the LP gas tank. The service valve is opened,as above, to pressurize the gas piping, and the system is bled down to a test pressure of 10 psig, then monitored for at least three minutes to check for a pressure drop.
Our photo above shows Con Edison workers performing gas line replacement & repair work on Washington Avenue in Brooklyn, NY in April 2015. In 2015 the National Transportation Board found that in 2014 a large gas explosion in East Harlem in Brooklyn NY that destroyed two five-story buildings and killed eight people was probably caused by a poorly welded joint in a Con Edison gas line and a break in an old city sewer line. The NTSB previously noted a leaky cast iron gas main that had been installed in 1887.
Thanks to reader Tony Martinez for updating our data on the proper pressure for LP or Natural Gas leak testing. Thanks to another reader JR, an industry manager familiar with gas pressures, who adds that these two fuel gases operate at different pressures. In residential appliances
Natural Gas system pressure: Natural gas operates at a nominal pressure of 7" WC (about 0.253 psi)
LPG or Liquid Propage Gas system pressure: LP gas or propane operates at a nominal pressure of 11" WC (about 0.397 psi)
Actual NG or LPG gas pressures vary: [Note: the exact pressure you see in the building at an appliance may vary from these numbers depending on the gas distribution piping system size, diameter, number of appliances served, number of appliances operating, regulator adjustment, and other factors.

See GAS REGULATORS for APPLIANCES

and GAS REGULATORS for LP TANKS.

See LP or Natural Gas Pressures for a table showing the range of variation in LP gas pressure in the tank at various temperatures. - Ed.]
and adds:
Watch out: Extinguish gas pilot lights - in order to perform pressure-testing methods for LP or natural gas leak detection as discussed above, you will need to extinguish the pilot lights on all gas-fired appliances in the building, and the pilot lights will need to be re-lit again after testing is complete.
Methods used to find and identify points of gas leaks in a gas piping distribution system or at a gas appliance
Visual Inspection for Evidence of Gas Leaks in fuel gas lines and appliances: Our photograph at below left shows black stains on copper tubing at the flare fitting connecting an LP gas line to a shutoff valve and at below right stains inside of a flare fitting on LPG piping.
Some service technicians point to these stains on piping as an evidence of a possible chronic leak in the gas line at this point.
Indeed on disassembly of a 15-year old LP gas cooktop installed in a New York home I [DF] found this black-stained flare fitting at the connection to the gas inlet nipple of the cooktop. Owners had occasionally smelled a whiff of LP gas but had been unable to find its source, thinking perhaps it was coming from the burners themselves. It wasn't .
See GAS COOKTOP INSTALLATION for photos of the old and new gas appliances involved.
Protracted leakage of fuel gas from a fitting can eventually leave black stains such as shown on the exterior of the flare fitting at above left and the interior of the flare fitting shown at above right.
Gas odors observed during gas piping inspection: The mercaptan put into LP gas and natural gas is inserted there by the gas company as a safety feature so that people may notice that they have a dangerous (explosive) gas leak in their home. Some people may confuse this odor with a septic tank gas odor.
See Diagnosing and Curing Sewer Gas Smells and Septic Tank Odors for a discussion of sewer gas odors.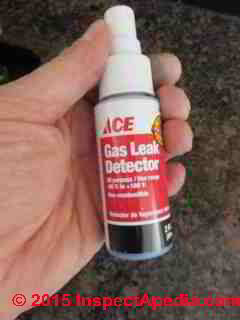 "Soap solution" bubble tests for gas leaks: a solution of soapy water (some technicians use dish soap and a brush or rag) is the most common method used to test for gas leaks. As we noted earlier, Readers who are interested in gas leak detection equipment should review our article and gas testing warnings
at Recommendations for gas measurement instruments & gas detector tubes for indoor gas level tests which includes our description of use of the TIF8800 and similar gas detectors.
Soap solution is applied at every piping joint or connection (or the test instrument may be used carefully at and around every connection or other suspect point) and the technician watches the soaped connection to see if soap bubbles are formed. Experts warn that this method requires some experience and care. For example, a large gas leak may blow away the solution without forming a soap bubble, or bubbles may be forming in a location which is physically hard to see.(Sometimes we can "see" around a corner or to the back side of a pipe using our TIF 8800 combustible gas detector in these cases.)
Soap solution is applied along gas piping to lengths of piping to test for pinholes or mechanical damage if no leaks are found at threaded or flared connectors but when gas leaks are evident in the system.

An example of using soap solution to check for gas leaks is found
at GAS COOKTOP INSTALLATION
Gas leaks at gas valves: we very often find very small gas leaks at the seamed sides of some gas valves, such as those commonly found on gas-fired domestic water heaters, especially when using the TIF 8800.

These leaks can be so miniscule that they do not show up during a bubble test, and they are often present even on new valves. This may be a source of some disagreement between a home inspector, building owner, and the gas service technician, and need to be handled with some judgment, experience, and reason.
Identifying Sources of Leaks at Brass Flare Fittings on LP Gas Piping Systems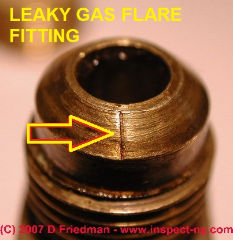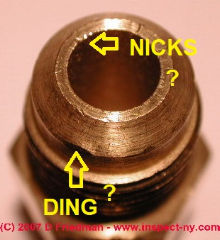 Here are two brass flare fittings. One of them had a gouge that gave us a gas leak that was a bit tough to find until we disassembled and inspected the leaky joint.
If tightening flared copper tubing connections does not easily correct a leak at that joint, do not just over-tighten the joint (you may break the flare and cause a still larger leak), and do not rely on pipe sealant inside of flared copper tubing fittings.
Open and inspect the flare fitting joint, and replace the flare fittings or make a new copper tubing flared end if necessary.
Also see Advice for Making Flare Fitting Connections with Copper Tubing or Piping where we describe preparation of the flare joint for flexible copper tubing for refrigeration or gas piping lines.
Gas Leak Rates & Volumes
Question: 1mm sq hole ina domestic Gas pipe that went undetected
Anon said:
I had a 1mm sq hole in a domestic Gas pipe that went undetected for 4 years if on average the gas heating was on for 1 hour every day how much gas would i have lost at 1/4PSI
Reply:
Gas pipe leak calculation:
Assumptions for Gas Leak Rates Through an Orifice:
An ambient temperature of 65 degF, ("Normal temperature and pressure" are usually defined as 20 degC or 68 degF and 1 ATM)
An outside relative pressure of zero (1 ATM),
A gas piping internal pressure of 0.25 psig,
A 1 mm hole (round, 1mm. diameter)
Assuming no significant difference in the density of the gas from air (which is not correct unless your fuel was natural gas but simplifies the calculation)

Air has a density of about 1.2 - 1.3 kg/m3 or about 0.72 - 0.8 lb/ft3
Methane has a density of about 0.67-7.1 kg/m3 or about 0.42 - 0.45 lb/ft3
Natural gas has a density of about 0.7 - 0.9 kg/m3 or about 0.44 - 0.56 lb/ft3
Propane has a density of about 1.9 kg/m3 or about 0.12 lb/ft3

Assuming the leak was actually exposed to open air during that time, was unaffected by wind, temperature, rain, nor any blockage (such as soil or corrosion or debris).
Using an engineering calculator on gas (air) flow rate, the leak rate would have been
0.0614345 SCFM (standard cubic feet per minute)
Calculating the Total Voluem of Gas Leaked Over an Interval
using
your assumption that the leak only occurred when the heat was "on" thus assuming that the leak occurred only when a gas valve was open,
assuming a leak interval of one hour per day
assuming that your "on" time of one hour per day continued for 180 days per year (I doubt your heat was on 24/7 for four years)
We calculate the gas leak quantity as follows

0.0614345 SCFM leak rate x 60 minutes per hour = 3.7 cubic feet per hour
3.7 CUFt / Hr / day x 180 days/year x 4 years = 2,664 cubic feet of gas lost to the air
Happily you and your building didn't suffer a fire, explosion or other catastrophe
Engineering calculation of air flow rates: See "Air Flow Rate through an Orifice" calculator at http://www.tlv.com/global/TI/calculator/air-flow-rate-through-orifice.html
...
Continue reading at GAS DETECTION INSTRUMENTS or select a topic from closely-related articles below, or see our complete INDEX to RELATED ARTICLES below.
Or see GAS EXPOSURE SCREENING TEST
Or see METHANE GAS HAZARDS
Or see SEWER GAS ODORS
Or see TIF 8800 GAS DETECTOR
Suggested citation for this web page
GAS LEAK DETECTION, LP / NG at InspectApedia.com - online encyclopedia of building & environmental inspection, testing, diagnosis, repair, & problem prevention advice.
Or use the SEARCH BOX found below to Ask a Question or Search InspectApedia
...
Frequently Asked Questions (FAQs)
Try the search box below or CONTACT US by email if you cannot find the answer you need at InspectApedia.
Question:
(Oct 24, 2014) cyndi said:
The gas company said there must be leaking gas pipes in the ceiling because it won't hold pressure. Do you know how the plumbers I hired to fix the issue will be able to know which pipes to fix so they dont break my ceiling and replace every pipe when it could just be one pipe? not sure how it works
Reply:
(Nov 15, 2014) finding a leak said:
If the plumbers do not know a gas pipe from a water line then you definitely have the wrong plumbers. Gas lines that are supply lines should be black iron with threaded fittings. There should never be galvanized lines for gas. The gas will dissolve the oil in the galvanizing. If the ceiling is drywall and not readily accessible, the plumbers should make sure the leak is not in an exposed line first before tearing out ceiling. It may just be a flare nut that needs tightening or a leaky regulator on an appliance. The only thing you can do is hire people that are know to have a good reputation and not Joe Blow that is an expert on everything. Ask for references. For myself, I can give a homeowner the names of many many people I have worked for. If they cannot do that, tell them to have a nice day: you think you want to check some more.
Question:
(Jan 14, 2015) Anonymous said:
Help! We smell gas and gas company came out and confirmed there was a leak in system. They didn't identify where but they turned off gas valve and said to have a heating professional find & fix it. TWO visits by plumber and heating specialist failed to find a leak with both a pressure test and a gas meter. However we still smell gas in the heater area but it appears to be intermittent. Is this possible? I'm concerned about the safety of my family. Should we be in the home? What steps can we take?
Reply:
Sounds as if you need to get the gas company back to perform more testing using combustible gas analyzers not just a pressure test. How those instruments are used and how carefully and how thoroughly makes a lot of difference in reliability of the result.
Intermittent odors could be due to intermittent leaks such as when equipment operates, or due to variations in building ventilation when a leak is constant.
Very small trace leaks do not necessarily cause an explosion but NO gas leak should go unrepaired. The risks are too serious.
Question: how can I fix a leak in an old lever type gas shutoff valve?
(July 22, 2015) Steve Kohan said:
I have a gas leak at the shutoff valve were the knob enters the pipe. How do I fix this small leak on a old lever type shutoff valve?
Reply:
Unless the gas leak is due to an improperly-tightened fitting or a poorly-made flange on gas piping that can be corrected, you'll have to replace the valve. Sorry. NO external fix such as a patch, tape, or goop would be safe.
Question: repair a line breakage a foot from tank at the bottom
(Sept 11, 2015) Tim said:
can you repair a line breakage a foot from tank at the bottom, right before it goes into the ground, without replacing whole line that goes to the house?
Reply:
Tim:
What are we discussing here? A leak in a tank, in gas piping, or in some other type of piping.
Any piping or gas line can be repaired using proper fittings and safety measures (like turning off the gas supply and testing the repair for leaks), but the question of how much line needs replacement should be decided *after* an assessment of the condition of the rest of the piping; if it's deteriorated it's unsafe and thence patching an immediate leak is inadequate and also unsafe.
...
Ask a Question or Search InspectApedia
Questions & answers or comments about troubleshooting LP gas or natural gas leaks in gas piping or appliances .
Try the search box just below, or if you prefer, post a question or comment in the Comments box below and we will respond promptly.
Search the InspectApedia website
Technical Reviewers & References
Click to Show or Hide Citations & References
National Fuel Gas Code, 1988 articles 2.6.2, 2.6.3, & 3.4.2 "Piping in Partitions". Also NFPA 58 Code. See ANSI Z223.1-NFPA 54.
Residential Gas Hot Water Heater Pocket Partner - Testing and Trouble Shooting, State Corp., Ashland City, TN 37015
U.S. Energy Information Administration - eia.doe.gov/
U.S. Environmental Protection Agency - epa.gov/solar/energy-and-you/affect/natural-gas.html
At Natural Gas.Org www.naturalgas.org/environment/naturalgas.asp#emission you'll find a table of combustion products
At geocities.com/rainforest/6847/report1.html is an interesting and detailed though not "neutral" report on the components and contaminants in the combustion of natural gas. You'll see a long long list of emissions products, but look again – most of the contaminant levels listed are in the picograms.
apvgn.pt/documentacao/iangv_rep_part1.pdf lists the components in natural gas exhaust from vehicles
The Need Project, Manassas, VA: need.org/needpdf/infobook_activities/SecInfo/NGasS.pdf
Kroschwitz, Jacqueline I., and Mary Howe-Grant (eds.). "Gas, Natural." In Encyclopedia of Chemical Technology. 4th ed., vol. 12. New York: John Wiley and Sons, Inc., 1993.
Tussing, Arlon R., & Bob Tippee. The Natural Gas Industry: Evolution, Structure, and Economics. 2nd ed. Tulsa, OK: PennWell Publishing, 1995.
Thanks to reader Tony Martinez for technical editing regarding the test pressures for gas leak evaluation - 3/19/2010.
Thanks to reader JR for discussing LP and natural gas operating pressures and leak detection safety, October 2010.
Books & Articles on Building & Environmental Inspection, Testing, Diagnosis, & Repair