How to find leaks in gas piping: How to Identify & Correct LP Gas or Natural Gas Leaks

InspectAPedia tolerates no conflicts of interest. We have no relationship with advertisers, products, or services discussed at this website.
Detect or find gas leaks in natural gas or LP gas / propane piping, fittings, & appliances: This article describes how to find gas leaks on LP or natural gas piping, regulators, or appliances, and it provides free sample draft home inspection report language for reporting defects in oil and gas piping at residential properties. This article series provides descriptions and photographs of unsafe gas piping, indications of unsafe or improperly operating gas appliances, gas meters, and other gas installation defects are provided.
Green links show where you are. © Copyright 2015 InspectApedia.com, All Rights Reserved.
How to Test or Look for LP Gas System Leaks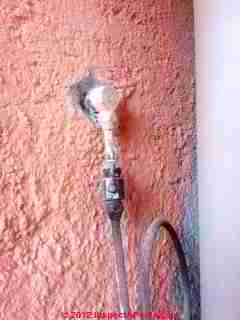 Here we outline some common procedures used to test gas piping and fittings for leaks. These procedures should work equally well for both LP gas (propane or bottled gas) systems and for natural gas (piped-in gas from a gas utility company) systems.
Watch out: improper installation and even improper inspection and testing methods involving natural or "LP" gas can involve dangerous conditions and risk fire or explosion. If you smell gas you should leave the building immediately and should do so without doing anything that could create a spark such as operating a light switch or telephone. From a safe location, call your gas company's emergency line and/or your fire department. The text provided here is a working draft and may be incomplete or inaccurate.
NOTICE: while example report language is provided here, reproduction of this or any of our web pages or their contents at other websites or in printed documents for sale is prohibited.
NOTE: Except that LP gas and natural gas operate at different pressures and thus will have different test pressure specifications. Readers who are interested in gas leak detection equipment should review our article and gas testing warnings at Recommendations for gas measurement instruments & gas detector tubes for indoor gas level tests which includes our description of use of the TIF8800 and similar gas detectors.
Our photo at above left of an LP gas line shutoff shows black staining around the shutoff valve and flare fitting, with some of the black worn away - previously there had been an LP gas leak at this location.
General Safety Warnings for LP or "bottled" or "propane" Gas Installations & Inspections
Immediate LP or natural gas safety hazards: if there is evidence of an LP or natural gas leak at a building, gas odors, for example, you should:
Do not do anything that is likely to cause a gas explosion, such as lighting a match, operating an electrical switch, or even using a telephone in the building
Leave the building immediately and keep a safe distance away - 100 feet or more.
Notify other building occupants of the safety concern
Contact the local gas company and/or fire department
Heating equipment which the inspector (or building occupant or manager) judges to be an immediate life safety hazard should be shut down and appropriate emergency services called.
Pressure testing a gas piping system for evidence of gas leaks
These two methods are generally used to test a gas piping distribution system to see if leaks are present.
Low Pressure Method Gas leak tests by gas service technicians generally include the following steps:

All gas piping connections, valves, and appliance connections and valves are inspected visually for tightness and good condition
A gas pressure gauge [such as the Fisher™ Type 50P-2 gas pressure gauge] is connected to a burner orfice
The gas service valve is opened to permit gas to flow into the gas piping distribution system, and then the valve is closed again, securely
The gas pressure gauge should read eight inches of water column in pressure (previously 9 inches, earlier eleven inches of water column) and should hold steady.
The gas pressure at the point of testing, say a gas-fired heating appliance, is bled off slowly until the gas pressure test instrument gauge indicates nine inches of water column.
The system is monitored for any pressure drop for at least three minutes. If no pressure drop is detected the system is considered not leaking.

High pressure gas leak method is also used by gas service technicians and includes steps similar to those above, using a special fitting [such as the Fisher(TM) Type J600 test block] installed between the service valve outlet port at the LP gas tank. The service valve is opened,as above, to pressurize the gas piping, and the system is bled down to a test pressure of 10 psig, then monitored for at least three minutes to check for a pressure drop.
Thanks to reader Tony Martinez for updating our data on the proper pressure for LP or Natural Gas leak testing. Thanks to another reader JR, an industry manager familiar with gas pressures, who adds that these two fuel gases operate at different pressures. In residential appliances
Natural Gas system pressure: Natural gas operates at a nominal pressure of 7" WC (about 0.253 psi)
LPG or Liquid Propage Gas system pressure: LP gas or propane operates at a nominal pressure of 11" WC (about 0.397 psi)
Actual NG or LPG gas pressures vary: [Note: the exact pressure you see in the building at an appliance may vary from these numbers depending on the gas distribution piping system size, diameter, number of appliances served, number of appliances operating, regulator adjustment, and other factors. See GAS REGULATORS for APPLIANCES and GAS REGULATORS for LP TANKS. See LP or Natural Gas Pressures for a table showing the range of variation in LP gas pressure in the tank at various temperatures. - Ed.]
and adds:
Watch out: Extinguish gas pilot lights - in order to perform pressure-testing methods for LP or natural gas leak detection as discussed above, you will need to extinguish the pilot lights on all gas-fired appliances in the building, and the pilot lights will need to be re-lit again after testing is complete.
Methods used to find and identify points of gas leaks in a gas piping distribution system or at a gas appliance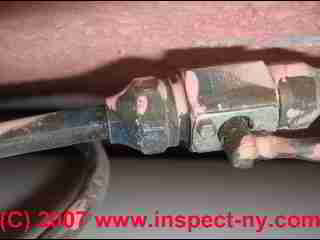 Visual Inspection for Evidence of Gas Leaks in fuel gas lines and appliances: Our photograph shows black stains on copper tubing at the flare fitting connecting an LP gas line to a shutoff valve.
Some service technicians point to stains on piping as an evidence of a possible chronic leak in the gas line at this point.
Gas odors observed during gas piping inspection: The mercaptan put into LP gas and natural gas is inserted there by the gas company as a safety feature so that people may notice that they have a dangerous (explosive) gas leak in their home. Some people may confuse this odor with a septic tank gas odor. See Diagnosing and Curing Sewer Gas Smells and Septic Tank Odors for a discussion of sewer gas odors.
"Soap solution" bubble tests for gas leaks: a solution of soapy water (some technicians use dish soap and a brush or rag) is the most common method used to test for gas leaks. As we noted earlier, Readers who are interested in gas leak detection equipment should review our article and gas testing warnings at Recommendations for gas measurement instruments & gas detector tubes for indoor gas level tests which includes our description of use of the TIF8800 and similar gas detectors.
Soap solution is applied at every piping joint or connection (or the test instrument may be used carefully at and around every connection or other suspect point) and the technician watches the soaped connection to see if soap bubbles are formed. Experts warn that this method requires some experience and care. For example, a large gas leak may blow away the solution without forming a soap bubble, or bubbles may be forming in a location which is physically hard to see.(Sometimes we can "see" around a corner or to the back side of a pipe using our TIF 8800 combustible gas detector in these cases.)
Soap solution is applied along gas piping to lengths of piping to test for pinholes or mechanical damage if no leaks are found at threaded or flared connectors but when gas leaks are evident in the system.
Gas leaks at gas valves: we very often find very small gas leaks at the seamed sides of some gas valves, such as those commonly found on gas-fired domestic water heaters, especially when using the TIF 8800. These leaks can be so miniscule that they do not show up during a bubble test, and they are often present even on new valves. This may be a source of some disagreement between a home inspector, building owner, and the gas service technician, and need to be handled with some judgment, experience, and reason.
Identifying Sources of Leaks at Brass Flare Fittings on LP Gas Piping Systems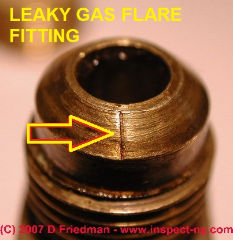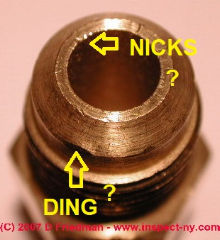 Here are two brass flare fittings. One of them had a gouge that gave us a gas leak that was a bit tough to find until we disassembled and inspected the leaky joint.
If tightening flared copper tubing connections does not easily correct a leak at that joint, do not just over-tighten the joint (you may break the flare and cause a still larger leak), and do not rely on pipe sealant inside of flared copper tubing fittings.
Open and inspect the flare fitting joint, and replace the flare fittings or make a new copper tubing flared end if necessary.
Also see Advice for Making Flare Fitting Connections with Copper Tubing or Piping where we describe preparation of the flare joint for flexible copper tubing for refrigeration or gas piping lines.
More Reading
Green link shows where you are in this article series.
...
Frequently Asked Questions (FAQs)
No FAQs have been posted for this page. Try the search box below or CONTACT US by email if you cannot find the answer you need at InspectApedia.
Ask a Question or Search InspectApedia
Questions & answers or comments about troubleshooting LP gas or natural gas leaks in gas piping or appliances .
Use the "Click to Show or Hide FAQs" link just above to see recently-posted questions, comments, replies, try the search box just below, or if you prefer, post a question or comment in the Comments box below and we will respond promptly.
Search the InspectApedia website
Technical Reviewers & References
Publisher's Google+ Page by Daniel Friedman
Click to Show or Hide Citations & References
Books & Articles on Building & Environmental Inspection, Testing, Diagnosis, & Repair