Gas Appliance or Gas Heater Flame & Noise Defects
GAS BURNER FLAME & NOISE DEFECTS - CONTENTS: How to Diagnose & Report Gas Appliance or Heater Flame & Noise Defects. How to report defects found in oil or gas piping inspections. Home inspection report language examples for gas heating appliance flame & noise problems & hazards
POST a QUESTION or READ FAQs about gas burner operating problems: flame defects, noises, safety hazards
InspectAPedia tolerates no conflicts of interest. We have no relationship with advertisers, products, or services discussed at this website.
Gas burner operating defects & noises:
Here we provide descriptions and photographs of unsafe gas piping, indications of unsafe or improperly operating gas appliances, gas meters, and other gas installation defects are provided.
This article includes example home inspection or gas appliance inspection report language for reporting defects in gas piping & burner operation at heaters, ranges, ovens, water heaters or similar LP, propane, or natural-gas fired appliances.

Green links show where you are. © Copyright 2017 InspectApedia.com, All Rights Reserved.
Gas Flame & Noise Defects - How to Identify & Report Other Defects in LP or Natural Gas Appliances by Examining the Gas Burner Flame or Burner Noises
Gas Burner & Flame Color Interpretation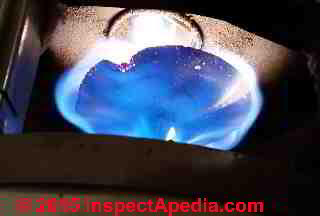 [Click to enlarge any image]
Our gas flame colour illustration at page top illustrates a questionable irregular gas flame at the burner of a gas-fired heating furnace. Looking into three burner ports of this heater we see three very different burner flames, suggesting perhaps a debris-blocked burner tube or improperly-adjusted air shutters, or (less likely) a partly-blocked gas metering orifice.
Above we see the gas flame in a Cal-o-Rex Dur-A-Glas LP gas fired water heater installed in Pozos, Guanajuato. This water heater (geyser) was made in 1999 so we're looking at a water heater gas burner after sixteen years of use. The photo offers a view of a damaged gas burner flame dispersing cone and also of the passage of gas combustion products up through the center flue of this calorifier. The flame colours are normal, mostly blue with yellow tips.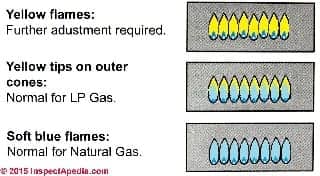 Our gas flame colour illustration shown above, adapted from Bosch (2014), shows how you might distinguish among the properties of the following:
Unhealthy, mostly-yellow gas burner flames (top, check the gas regulator and air mix) that can occur on either LP (or propane) or natural gas burners.
Also see GAS REGULATOR NOISES as problems with gas-air mixture can cause noise at the appliance regulator as well as defective gas flame or too-low gas flame.
Healthy yellow tips on outer cones of otherwise blue flames (center) characteristic of LP or propane gas burner flames such as is illustrated in the photograph at left
Healthy soft blue flames of a natural gas burner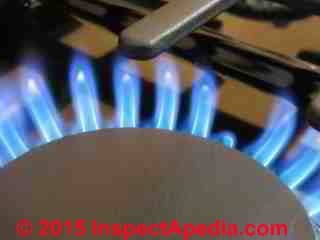 What the Bosch drawing and our photo do not show are other gas burner flame defects such as noises, flame lifting off of the burner, flame jumping excessively, flame uneven, or blocked at some orifices by debris or spills or lastly and particularly dangerous, the presence of soot - an indication of a serious even fatal carbon monoxide hazard.
Above we see a normal LP gas flame at the burner of a gas stove installed in Poughkeepsie, NY.
Also see GAS FLAME COLOR CHECK for more examples of gas flame color checks and the relationship between air mix and gas flame.
Other Example Gas Burner Inspection Points & Reporting Language
*** Safety Recommendation: gas grill we suggest keeping the gas turned off at the rubber hose connection below the rear deck as leaks could be very dangerous.
The use of rubber tubing rather than iron piping is unsafe and may not be permitted for this installation, and we suggest you review this question with your local fire inspector. Usually this is not a significant expense if correction is needed. This item should be addressed promptly.
Gas Appliance Flame Observations: Caution: examining the burner when this appliance was operating we noted that the flame was floating above the burner ports.
You should check with your utility company or heating appliance service person. Possible causes include high gas pressure, clogged flue, inadequate air supply, excessive or very cold drafts.
Gas Appliance Flame Observations & Reporting checklist: [Example heating system inspection report text is below]
Caution
At the ___ appliance, the gas burner flame was [example gas flame defects]
___ yellow and lazy [inadequate gas pressure or inadequate combustion air],
___ unusually high [possibly excessive gas pressure],
___ making a popping noise when turned off and on,
___ burning at the orifice,
___ spilling out of the burner area,
indicating a possible malfunction of this equipment.
Any of these LP gas , propane, or natural gas burner conditions is potentially very dangerous and needs prompt attention. You should have your utility company or service person check the appliance immediately.
Immediate LP or natural gas safety hazards: if there is evidence of an LP or natural gas leak at a building, gas odors, for example, you should:
Do not do anything that is likely to cause a gas explosion, such as lighting a match, operating an electrical switch, or even using a telephone in the building
Leave the building immediately
Notify other building occupants of the safety concern
Contact the local gas company and/or fire department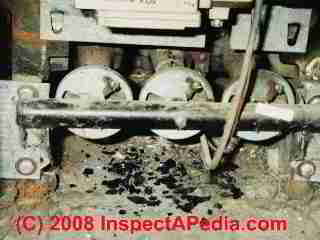 Watch out: General safety warning: improper installation and even improper inspection and testing methods involving natural or "LP" gas can involve dangerous conditions and risk fire or explosion.
If you smell gas you should leave the building immediately and should do so without doing anything that could create a spark such as operating a light switch or telephone. From a safe location, call your gas company's emergency line and/or your fire department.
Watch out: soot observed on or around an LP or or natural gas burner can be a sign of extreme danger. Normally gas fired appliances run rather clean and with no soot deposition.
But if there is a combustion air problem a system can soot up and even completely clog a flue with soot very quickly - in minutes or hours. The risk is potentially fatal carbon monoxide poisoning of building occupants.
The text provided here is a working draft and may be incomplete or inaccurate. Contact us to suggest text changes and additions and, if you wish, to receive online listing and credit for that contribution. NOTICE: while example report language is provided here, reproduction of this or any of our web pages or their contents at other websites or in printed documents for sale is prohibited.
What should a gas furnace or boiler gas burner flame look like?
When properly adjusted the gas burner for a 100,000 BTU gas furnace or gas boiler, will have a flame about 1" or so high. The top of the gas flame will roll slightly 90 deg across and be blue in color.
If the gas pressure is too high you will notice the tips of the flame much higher, pointed and orange in color. The orange gas flame color usually means there is too much gas for the air mix input. [Dust, debris, or other problems in the gas/air mix ratio, such as a misadjusted or blocked air intake at a gas
More about gas flame color and diagnostic suggestions is
at BLUE vs YELLOW COMBUSTION FLAMES and
More about the relationship between flame colour when burning oil or gas fuel is
at COMPLETE COMBUSTION, STOICHIOMETRIC
What does the presence of rust or debris mean when found on a gas burner?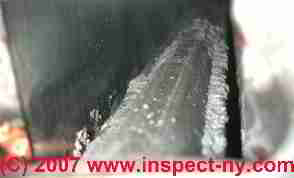 Excessive rusting every year usually accompanies these problems of improper gas pressure, inadequate combustion air, or wet conditions. If you vacuum a lot of rust one year and it is back the next, then there is a problem that needs to be diagnosed and corrected. (Rust can damage a heat exchanger, cause a hole, and make the heater unsafe. Rust can also indicate general moisture conditions that could be causing other damage to or safety problems with the heater, including flue or chimney safety hazards.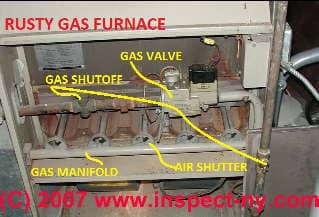 Looking for rust on a gas heater's burner is a simple, quick visual check anyone can do to see if there is cause for alarm. If rust is recurrent as we describe, further inspection is needed, and the gas pressure regulator should be checked as well. Some of the residential gas furnaces or gas fired boilers show the correct flame patterns in their Installation and Operation Manuals.
Thanks to Charles or Mike Trumbature for suggesting this comment:
I see mostly Rheem furnaces in homes 20 - 30 years old. Rheem(TM) must have cornered the market at that time here in the Houston Texas area. I've seen several homes in various areas with the same identical furnaces. I replaced a thermocouple on a relatively new unit once and noticed the "tame" flame pattern compared to my raging bonfire in my own furnace which was an older unit. On my older gas furnace I was constantly cleaning out rust every year. That's when I checked the gas pressure at the gas regulator/valve and found it too high. My friend's heat exchanger still looked new, mine was a bucket of rust.
Readers should also see WATER HEATER NOISE DIAGNOSIS, CURE
...
Continue reading at GAS REGULATORS for APPLIANCES or select a topic from closely-related articles below, or see our complete INDEX to RELATED ARTICLES below.
Or see GAS APPLIANCE CONVERT LP-NATURAL GAS
Or see GAS PRESSURES LP vs NATURAL GAS
Or see GAS FIRED WATER HEATERS - home
Or see GAS REGULATOR NOISES - buzzing, humming, and other noises at gas appliance regulators
Suggested citation for this web page
GAS BURNER FLAME & NOISE DEFECTS at InspectApedia.com - online encyclopedia of building & environmental inspection, testing, diagnosis, repair, & problem prevention advice.
Or use the SEARCH BOX found below to Ask a Question or Search InspectApedia
...
Frequently Asked Questions (FAQs)
Try the search box below or CONTACT US by email if you cannot find the answer you need at InspectApedia.
Question:
(Apr 28, 2015) kaye longman said:
One gas flame on my space heater is much higher and golden in colour than the others. Is this a problem ?
(July 19, 2015) ANDRIES said:
SPIT BRAAI BURNER SHOOTS
(Aug 4, 2015) Anonymous said:
my lpg firebow gas heater start making like a blurp blurp noise cant smell gas is this dangerous

Reply:
Yes. Cleaning or adjustment are needed for safety and function.
IF you smell gas the situation is DANGEROUS as there is risk of a fire or explosion. In that case get everyone out of the building, don't operate swtiches or anything else that could cause a spark, and call for emergency help from another location.
If you do not smell gas but the heater is making noises it might still be unsafe - it depends on what's wrong. Uneven flame, improper combustion air mix or similar problems need to be repaired.
Question:
(Oct 20, 2015) Neil. said:
Gas fire rusting behind radiants what is cause
Reply:
Moisture, perhaps from lack of use or lack of air circulation.
Question: high pressure, gas lifts off burners: unsafe
(Nov 5, 2015) prajakta said:
when I placed a new cylinder even after putting off the lower knob of cylinder the gas comes from the burners. when l approached to gas company the person told me that there is high pressure. l asked for replacement of cylinder. then he told me to replace burner and not cylinder. is he true ?

Reply:
I'm not sure, Prajakta, as I don't understand exactly wha't going on with your water cylinder.
But what you describe is VERY DANGEROUS risking a fire or explosion.,
You should
1. Turn off the gas supply immediately if you haven't done so - and if there is gas or gas leakage in your building go outside immediately - don't even keep reading this article. Call for help from away from the building.
2. Ask your plumber or installer to check the gas regulators on your system. Whether you are using bottled gas (LP) or piped in natural gas, the system usually includes a first stage regulator at the source of gas supply - building or LP tank - and each appliance has its own individual pressure regulator.
I'm not sure what "pulling off the lower knob" means, but if your gas shut-off valve for the water heating cylinder does not shut off gas to that appliance then the shut-off is also defective and unsafe.
Question:
(Nov 14, 2015) Will Green said:
My house heater the last Burner is sparking flames it sounds like it has air in the burner what can I do to not have that happen so i can get heat
Reply:
Sounds like a dirty or failed gas jet or regulator ... unsafe, risks fire, explosion or fatal carbon monoxide poisoning. I would turn the system off and call for repair.
flag like
Question:
(Dec 1, 2015) Brad said:
About a week or so ago, we discovered a weird banging sound that sounds like metal on metal coming from our steam boiler. Sure, we get lots of small bangs in the pipes throughout the house, which we had always assumed to be just air in the pipes. But this sound is different. It doesn't come from the pipes--it seems to be just in the unit in the basement. It only makes the noise when the boiler fires up and the flames turn on. The sound is always louder in the beginning, and it gets slightly quieter over the following minutes. The speed varies--sometimes it is an irregular rhythm, and sometimes it is very steady. The banging goes off when the flames turn off. The banging appears to be coming from one specific corner of the unit. I'm worried that it is a pump or fan of some sort. I took a video in one of the quieter moments and uploaded it to Youtube just in case it helps
/// we're checking out the link, Brad
Reply:
Brad,
Please take a look at
BANGING HEATING PIPES RADIATORS found at inspectapedia.com/heat/Banging_Pipes_Radiators.php and let me know what questions remain. I'll post links to your sound recording there as that may invite further comment from some of our steam experts. We will, of course keep the identity given at the youtube video anonymous here.
Often steam boiler noises showing up as banging pipes or radiators are traced to a condensate return problem. Please take a look at the suggestions on this page. If the boiler has at least a few years of previously soundless operation and the banging / clanking at the boiler is recent I suspect that the horizontal portion of the condensate return or steam supply line is debris-clogged. Ask your heating service technician to take a look at the system.
Watch out: ask your heating service technician to show you when and how to safely flush the steam boiler.
Question: plastic burning smell from DEO gas stsove
(Mar 4, 2016) ARUNYA DEVI P A said:
While we were using our deo gas stove in kitchen, we felt a plastic burning smell coming from it.then we saw a flame beneath the burner which was'on' mode.what was the complaint and how can solve dis?
Reply:
Turn off gas supply to the stove immediately.
When the stove is cool, follow the instruction manual procedure for lifting or accessing the stove top area around the burners and beneath the stove top for cleaning. Look for something that was dropped or spilled into that area. There should be no combustible plastic around the burners.
Use the page top or bottom CONTACT link to send me photos for further comment if you like.
Question: wok burner lights on Euromaid gas cooktop
(Mar 6, 2016) Vera said:
I have Euromaid gas cooktop. For some reason the wok burner lights up around the ring rather than outside. What can I do?
Reply:
Check for
- a mis-placed burner cap
- dirt or debris on the burner
Watch out: the situation you describe may be unsafe, risking fire or injury.
Question: bright orange flames in old wall heater
(Mar 28, 2016) bobby lema said:
I have an old wall heater that is now shooting out bright orange flames. what do I do?
Reply:
Watch out: Shut off the gas supply, leave the heater off: else there is risk of fire, explosion, or carbon monoxide hazard. If you cannot find the gas valve for the heater (it may be inside its cover) or cannot safely access it, go shut off the building's main gas valve. If you cannot do that, ask your fire department for help.
The problem may be a gas leak, damaged burner, or something else.
Question:
(May 18, 2016) Chris said:
A missing radiant off a gas fire. Is it ID or AR ?
Reply:
confused
Question: gas ring making an airy noise
(June 29, 2016) Roxy said:
Why is my gas ring making an airy noise
Reply:
Roxy:
Watch out: TURN OFF THE GAS RIGHT AWAY as your system could be unsafe.
Typical causes of the noise you describe at a gas burner include
1. the burner cap is askew and simply needs to be properly placed
2. The burner ring is a loose, set-in type that is askew and simply needs to be properly placed
3. The gas pressure is improperly set or the gas regulator is not working properly
4. An air adjustment, shutter, or orifice is incorrect for the type of gas you're using
5. the wrong gas regulator is installed, wrong gas orifices, or the appliance was not properly converted from natural gas to LP gas or from LP gas to natural gas.
Question: airy sound with flame
(July 17, 2016) ponni said:
while swith off the gas stove airy sound with flame is produced even though we bought a new gas stove we still facing the same problem why?
Reply:
Ponni
first check for a burner cap that is askew
Next, ask your service tech to check
that the stove is properly set up for the type of gas you have : Natural gas vs LP gas. The pressures, orifices, regulator settings are different. (Search InspectApedia for GAS APPLIANCE CONVERT LP-NATURAL GAS to read details)
...
Ask a Question or Search InspectApedia
Questions & answers or comments about gas burner operating problems: flame defects, noises, safety hazards.
Use the "Click to Show or Hide FAQs" link just above to see recently-posted questions, comments, replies, try the search box just below, or if you prefer, post a question or comment in the Comments box below and we will respond promptly.
Search the InspectApedia website
Technical Reviewers & References
Click to Show or Hide Citations & References
Bosch, "Gas Cooktops Installation Manual, NGM Gas Cooktops (NGM30, NGM50, NGM 56, NGM80, NGM86, NGMP65)", (2013), Bosch, 1901 Main St., Suite 600, Irvine CA 92614, Tel: 800-944-2904, Website: www.bosch-home.com
Bosch, "LP Gas Conversion Kit Installation Manual , NGM Gas Cooktops (NGM30, NGM50, NGM 56, NGM80, NGM86, NGMP65)", (2014), Bosch, 1901 Main St., Suite 600, Irvine CA 92614, Tel: 800-944-2904, Website: www.bosch-home.com
Bosch, "Gas Cooktops Use and Care Manual, NGM5055, NGM8055, NGM8065, NGMPO55, NGM5655, NGM8655, NGM8665, NGMP655", (11/13), Bosch, 1901 Main St., Suite 600, Irvine CA 92614, Tel: 800-944-2904, Website: www.bosch-home.com
U.S. Energy Information Administration - eia.doe.gov/
U.S. Environmental Protection Agency - epa.gov/solar/energy-and-you/affect/natural-gas.html
At Natural Gas.Org www.naturalgas.org/environment/naturalgas.asp#emission you'll find a table of combustion products
At geocities.com/rainforest/6847/report1.html is an interesting and detailed though not "neutral" report on the components and contaminants in the combustion of natural gas. You'll see a long long list of emissions products, but look again – most of the contaminant levels listed are in the picograms.
apvgn.pt/documentacao/iangv_rep_part1.pdf lists the components in natural gas exhaust from vehicles
The Need Project, Manassas, VA: need.org/needpdf/infobook_activities/SecInfo/NGasS.pdf
Kroschwitz, Jacqueline I., and Mary Howe-Grant (eds.). "Gas, Natural." In Encyclopedia of Chemical Technology. 4th ed., vol. 12. New York: John Wiley and Sons, Inc., 1993.
Tussing, Arlon R., & Bob Tippee. The Natural Gas Industry: Evolution, Structure, and Economics. 2nd ed. Tulsa, OK: PennWell Publishing, 1995.
Books & Articles on Building & Environmental Inspection, Testing, Diagnosis, & Repair