Copper Water Supply & Drain Piping
POST a QUESTION or READ FAQs about copper plumbing: copper water pipes, copper drain pipes, installation, leak diagnosis, leak repair or replacement, causes of leaks in copper piping
InspectAPedia tolerates no conflicts of interest. We have no relationship with advertisers, products, or services discussed at this website.
Copper plumbing, copper supply & copper drain pipes:
This article lists our in-depth articles on inspecting, testing, and repairing problems with copper plumbing:
water supply and drain waste vent piping, plumbing traps, piping materials, clogged or noisy pipes, and types of pipe hazards or product defects.
The articles at this website will answer most questions about water supply & drain piping, wells, & water tanks as well as many other building plumbing system inspection or defect topics.
We also provide a MASTER INDEX to this topic, or you can try the page top or bottom SEARCH BOX as a quick way to find information you need.
Copper Building Water Supply & Drain Piping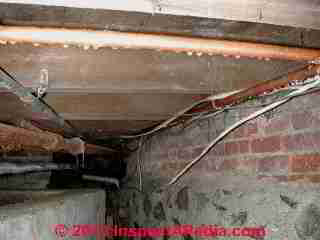 Article Contents
Types of Copper Piping used in buildings
Other types of copper building piping systems are discussed at GAS PIPING, VALVES, CONTROLS and at OIL TANK PIPING & PIPING DEFECTS.
Our page top photograph shows a remarkable method used by a homeowner to handle leaks at a poor solder joint on copper water supply piping.
Our photograph of copper water supply piping (left) tells us that this is a cold water supply line located in a humid or wet crawl area - notice the condensation on the piping? More about "sweating" cold water pipes is at CONDENSATION or SWEATING PIPES, TANKS.
The following summary notes about copper and other types of building piping are from Carson Dunlop Associates' Home Reference Book, used with permission:
Copper piping has been used extensively since the early 1950s for supply lines from the city main to the house as well as for in-building water supply and drain piping.
Copper water supply piping is typically 1/2 or 3/4 inch diameter. Copper piping is typically 1/2 or 3/4 inch diameter. Copper piping has soldered connections and the walls of the pipe are thinner than galvanized steel. Copper piping has soldered connections and the walls of the pipe are thinner than galvanized steel.
From 1950 to 1970, 1/2-inch diameter piping was used commonly for residential building water supply pipes. After 1970, 3/4-inch diameter copper service piping has been more common for building water supply piping.
Guide to K, L, and M and Other Types of Copper Pipes used in Buildigns: life expectancy, izes, thickness, durability & uses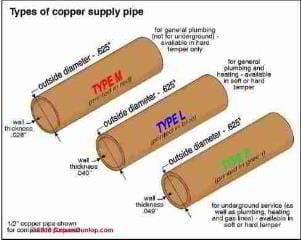 The life expectancy of copper piping is dependent on water conditions.
In many areas, its life expectancy is indefinite. In harsh corrosive water or corrosive soil conditions, it may fail within 20 years or even less.
Occasionally manufacturing defects also result in early failure of copper building piping. We discuss water pH, acidity and corrosiveness at Copper Piping FAQsbelow.
Carson Dunlop Associates' sketch (left) illustrates three types of copper piping used in buildings for water supply or drains. In order of thickness, from thinnest to thickest pipe walls, read Types M, L, or K copper.
Type M copper piping is used for general plumbing, above ground. Type M copper tubing walls are the thinnest used in construction, at 0.026" in wall thickness and thus more vulnerable to leaks if water being handled is aggressive or corrosive. Type M copper is color coded with red markings. We illustrate both red and embossed-in-copper markings on copper piping in our photo below.

Type L copper piping is also used for general plumbing as well as for heating system piping. Type L copper tubing walls are thicker, at 0.040". Type L copper piping is color coded with blue markings. Type L copper is intended for use in domestic water supply piping, fire protection systems, solar installations, fuel and fuel oil piping, HVAC systems, and snow melting systems. Unlike M-copper, Type L copper may be used for natural gas or LP gas piping in some jurisdictions and locations.
Type K copper piping is used for plumbing, heating, gas lines, and underground, and has a wall thickness of 0.049". Type K copper piping is color coded with green markings. K-copper is intended for use with domestic water supply piping, fire protection piping, solar applications, fuel or fuel oil piping, HVAC applications, and snow-melting systems.
Flexible copper tubing used as water piping: Flexible copper tubing can be bent around corners using special tools. This is not common since it is more expensive and can be awkward to work with in close quarters.

Flexible copper tubing is also used for oil piping (OIL TANK PIPING & PIPING DEFECTS) and natural gas piping (GAS PIPING, VALVES, CONTROLS).
Copper tubing used in heating baseboards varies in thickness and durability depending on the manufacturer and product line.[7]
Drain-waste-vent DWV copper piping is color coded yellow.
Refrigeration system copper piping used for air conditioning and some gas piping applications is color coded blue.
Medical gas distribution copper piping (in types K or L) is marked OXY/MED, OXY, MED, OXY/ACR or ACR/MED and is intended for medical gas use.
Dimensions, Sizes, Thickensses, Lengths of Copper Piping
How is Copper Piping Sold: lengths, diameters
Copper piping is sold in nominal or standard sizes in straight lengths of 12 ft. 18 ft. or 20 ft. from 1/4" diameter all the way up to 12-inches in diameter, depending on the copper type, thickness, grade, and intended application. Copper piping from 1/4" up to 2-inch in diameter is also sold in coils of 45' up to 100 ft. depending on the pipe diameter.
What is the Relationship Between Nominal Copper Pipe Size and its Actual Physical Size?
Plumbing Copper:
Copper piping discussed here and used for plumbing is 1/8" larger in diameter than its nominal diameter. So a 1/2" copper pipe will actually measure 5/8" in thickness. The actual internal diameter of a copper pipe will vary depending on the thickness of the pipe wall, even though these outside dimensions remain the same. For example, because K-copper has a thicker tube wall than Type M copper, a 1/2" K-copper pipe will have a slightly smaller inside diameter than a 1/2" L or M copper pipe.
Refrigeration Tubing Copper
Unlike copper used for plumbing (above), copper tubing used for HVACR (heating, ventilating, air conditioning & refrigeration systems), is sold in sizes that correspond to the actual outside diameter of the tubing.
What are the Standards for Copper Piping Sizes & Thickness
The copper content of copper piping meeting the ASTM standards below is virtually pure copper - or 99.9% Cu. The copper is shiny when purchased, typically having had any exterior or interior surface oxidants cleaned off using phosphorous. If you hear reference to DHP copper or C122 coppeer, this is the product being described.
The four most-relevant standards for copper pipe thickness and dimensions depend on the intended application and use and are listed as follows:
ASTM Standard Classifications B-698 encompasses six plumbing pipe (or "tube") standards including ASTM-B88.
Type K copper and Type L and M copper pipes are governed by Standard: ASTM B-88
Type DWV copper piping is governed by Standard: ASTM B-306. This standard also applies to copper pipes used in solar energy and other HVAC applicaitons.
Type ACR copper piping intended for use in air conditioning and refrigeration sytsems and also for natural gas or LP gas (LPG gas) is governed by Standard: ASTM-B-280. [K, L, or M Copper tubing is not allowed for natural gas distribution.]
Type OXY/MED copper piping intened for use in medical gas applications is governed by Standard: ASTM B-819
Compression Fittings for Copper Tubing Connections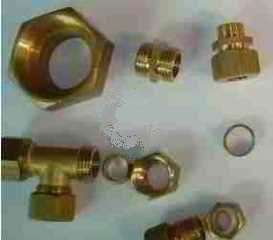 Flexible copper tubing is usually joined to additional tubing sections or to other plumbing fittings by either compression fittings or flare fittings, depending on the application.
For example, compression fittings (photo at left, from Wikipedia) are sometimes used on copper water piping where soldering is difficult or inconvenient, but these are not used on copper gas or oil lines where flare fittings may be applied instead.
Flare fittings and compression fittings are intended for use on soft-temper copper piping and tubing. In addition to flare and compression fittings there are also other mechanical connectors that now work with soft or hard copper that do not require soldering.

Watch out: compression fittings are very convenient and easy to install on copper pipes or copper tubing, but if you fail to de-burr a freshly-cut copper pipe or tube, properly ream out the interior opening, or if you over-tighten the coupling during installation you may crack the brass or copper ring, leading to leaks at the connector.
Compression fittings are used with K-copper. K copper pipes and tubing can also be joined or connected using flare fittings and sweat fittings discussed below.
Flare Fittings Used for Flexible Copper Tubing Connections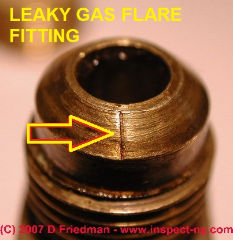 Flare fittings used on flexible copper piping and their leaks and defects are discussed at GAS LEAK DETECTION, LP / NG and GAS PIPING DEFECTS. Using a special flaring tool the soft copper tubing or piping is actually spread open or flared at its end in order to mate with the female end of the flare fitting connector shown in our photograph.
Watch out: defects in flare fittings used on flexible copper tubing can result in gas leaks out of gas piping, and in the case of oil piping such as for oil-fired heaters, flare fitting defects result in both oil leaks out of the system and air leaks into the system. Air leaks into oil piping in turn lead to improper oil burner operation and even potentially dangerous conditions. Flare fitting defects include:
Improperly made tubing flares that are too small
Improperly made copper tubing flares that are cracked
Scratches or gouges on the copper tubing flare or on the brass flare fitting (shown in our photo, above left)
Seat and flare fittings are permitted on K and L copper. LP gas tubing. These fittings are not used on refrigeration equipment.
Swaged Copper Tubing Joints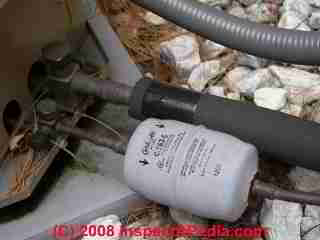 Soft copper tubing can also be joined by using a swaging tool that expands the open end of one of the tubes to be joined so that its mate can be inseted into the enlarged opening, and the result sealed by soldering or brazing.
This is a common procedure when using air conditioning refrigerant tubing because of the high pressures that may be involved and the need for extra strong resistance to leaks in piping that may be subject to wide temperature variations as well as mechanical vibration.
Our photo (red arrow in photo at left) illustrates swaged fittings on copper tubing - you can see the swaged tubing joints at the left and right ends of the gray filter-dryer on this air conditioning high pressure refrigeration line exiting at the bottom of a compressor-condenser unit.
A swaging tool is inserted into the end of the copper tube and hammered inwards. As the properly-calibrated diameter of the swaging tool is forced into the copper tube, the copper expands to just the right size to accept the outer diameter of the mating section to be inserted. For example, if we are swage fitting two sections a 3/8" nominal diameter copper tube together, the swaging tool will enlarge the receiving copper tube section so that its inside diameter will accept the 3/8" outer diameter of the un-treaterd tube to be joined.
Usually we work the swaging process on tubing at ambient temperatures but some procedures call for pre-heating the copper to make it easier to expand.
Watch out: Soft copper tubing is drawn copper while hard tubing is annealed. It's easy to swage fit soft copper, usually. But if copper tubing has been repeatedly bent, that process may have annealed the copper somewhat, making it difficult to form either a flare fitting or a swaged fitting without cracking the tubing. Copper tubing may also become crack prone when exposed to mercaptan or other odorants in LP gas or natural gas. Moisture exposure and even some types of solder also can affect its susceptability to cracking later. For these reasons copper tubing is not allowed for natural gas distribution.
Sweat Fittings for Copper Pipes & Tubing
"Sweat" fittings or "soldered fittings" for copper piping refer to the traditional and perhaps most widely-used method for residential copper suppy and drain pipe connections, bends, elbows, valves, and similar fittings in buildings.
Depending on the connection required, a coupling (straight connection), 90 degree ell, 45 degree ell, tee, and even fittings that marry copper pipes of different diameters are soldered to the copper tubing or pipe to make the connection.
Sweat fittings may themselves be made of copper tubing that has been formed by machine, or from cast or milled bronze.
Table of Types of Copper Pipe or Tubing Connections, Connectors, Fittings

Sweat Fittings
Swage Fittings
Flare Fittings
Compression
Fittings
K copper
ok
ok
ok
L copper
ok
ok
ok
M copper
ok if annealed
ok if drawn-tempered
ok
ok if annealed
Flexible copper tubing - water
ok if annealed
ok if drawn-tempered
?
ok
ok if annealed
Flexible copper tubing - LPG
?
ok
Flexible copper tubing - HVAC refrigerants
ok
ok

Notes to the table: [this table is incomplete, other citations needed - ed.]

Standard: Copper Tubes, ASTM B-88M
How to Tell Brass Water Pipes from Copper Piping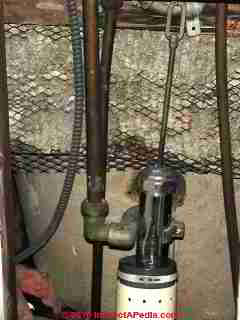 Watch out: on older buildings brass water supply piping may have been used, and may be at or near the end of its useful life. It can be tricky to tell the difference between brass water supply piping and copper water supply piping if you are not experienced with these materials, as their colors are similar, especially when both types of piping have become an oxidized brownish color with age.
Both brass and copper are non-magnetic, so they won't respond to a "magnet" test to look for iron or steel.
Brass water supply piping, unlike copper, is a thicker material that is usually joined by threaded fittings of the same size and pipe thread specifications (NPT) as iron and galvanized iron piping.
Usually, brass piping is also so rigid that it is not bendable. Or not very bendable anyway. So in our photograph (left) of water supply piping at a bath tub in an older home, the larger-diameter left-hand pipe is surely brass, connected to a galvanized iron fitting at its bottom end. The right-hand vertical pipe may be copper tubing as is the darker copper pipe at left behind our brass one.
Don't worry about that odd little machine in bottom center of the photo - we were collecting an air sample in this wall cavity.
Copper Supply or Drain Pipe Pinhole Leaks: cause, cure, prevention
Water chemistry, Electrical Grounding, Netural Wiring, & Copper Pipe Pinholing & Leaks
In a building where leaks are found recurrent in copper piping there are several possible explanations including these possible causes for the pinhole leak in copper water piping under a building concrete floor slab as well as at other locations:
Defective copper piping: the pipe could have been defective from day one, e.g. with thin spots or damage that corrode through and leak
Improper type of copper piping may have been installed - see the copper piping types and applications described in the article above.
Damaged copper water piping: the pipe could have been damaged in transport or installation or even during the slab pour
Improper electrical ground or neutral wiring: on occasion a bad or improperly-connected electrical ground or another electrical problem can contribute to plumbing or other pipe corrosion at a building. In diagnosing recurrent failures in a ground water sourced air conditioning system that kept blowing out a very expensive cooling coil for we found that the problem was finally traced to unanticipated electrical currents in the ground system due to a neutral wiring error in the AC unit's controls.

Ask a licensed electrician check the home's grounding and neutral systems: that they are properly wired, that the grounding electrodes are properly sized and installed, and that there are no stray currents on the neutral system nor shorts or leaks in the wiring system (an AFCI or GFCI can help detect thee too).
Aggressive water: the water chemistry itself can be a source of metal water pipe (and even drain pipe) corrosion.
If the pH is low <6.0, the hardness low generally<50ppm, the alkalinity low generally <40ppm, the water could be considered extremely "soft" and aggressive to the home's metallic plumbing system. If the chlorides are elevated >100ppm this would only compound the problem. The water should be treated to make the water less aggressive by raising the pH, alkalinity or hardness. - CT DOH.[1]

See CORROSIVITY or ACIDITY of WATER for details about aggressive, acidic or corrosive water and its effect on building plumbing systems.

See GREEN STAINS from WATER SUPPLY for details about green stains on plumbing fixtures or on laundered fabrics or in the water itself: causes & cures.
Summary of the issue around grounding building water piping
Many sources, including the Connecticut DOH have pointed out a long-standing disagreement & confusion about the reasons for grouinding building water supply piping. For example
AWWA opposes the grounding of electric systems to pipe systems conveying drinking water to a customer's premises. ... AWWA asserts that a water utility has no direct or indirect responsibility in connection with the installation of water pipe grounding systems or for the maintenance of the integrity of any grounding attachment or connection made to a water pipe system. [AWWA 5/15/2003] [1]
This statement is a bit of a red herring. Water and some plumbing associations are concerned about building owner complaints about metal water supply pipe corrosion and leakage that might be traced to or blamed on the electrical grounding of those systems. Wishing to avoid those complaints the industry, under the aegis of warning that water suppliers can't be responsible for the failure of such an electrical ground [a valid caveat] a warning is issued that also gives relief for metal piping leaks caused by a variety of other problems such as
water chemistry - see our notes just below
defective piping
improper installations
More to the point, metal water piping is grounded not to provide an electrical ground for the building (we agree completely that water piping as a ground is unreliable for many reasons, (such as inclusion of non-conductive plastic piping, diaelectric fittings, water meters, etc). Metal water piping is bonded to a building ground system as an important safety precaution to protect building occupants from electrocution hazards should live electrical wires or components come in contact with building piping, faucets, fixtures, etc.
In a properly-wired building, the grounding conductor and bonding system do not normally carry current, and would not be blamed for copper pipe pinholing etc. The grounding system is intended to conduct electrical current only in the event of a fault or emergency [such as a lightning strike or a hair dryer dropped into the bath tub or sink].
Details about the code requirements and reasons for grounding metal water piping are at WATER PIPING GROUND BOND
How to Check for Electrical System Problems that Corrode Copper Water Pipes
[For buildings served by private well water] Should the problem persist and the well water is still blue and it is discovered that the private well's metal discharge line has an electrical "grounding" clamp, have them contact a licensed electrician to investigate the situation.
The electrician would check the main circuit panel for a faulty, missing or improperly secured "neutral" wire. He could also test the plumbing to see if there is any stray AC or DC current.
There should not be any current, even in milliamps! If there is current, the improperly functioning or shorted device/ appliance should be found and repaired. He should also check that the house plumbing has a greater resistance (>25 ohms) than the grounding rod(s). The ground wire to the plumbing system should not be removed as it is mandated in the CT Building Code but it should not be the primary carrier of stray electrical current or voltage surges to "ground" - CT DOH.[1]
List of Common Causes of Leaks in Copper Water Piping
Question: green stains, corrosion, gritty material around copper pipes & pipe fittings or connections
(Jan 14, 2015) JohnGotts said:
What is the green gritty mineral buildup around some sweat joints in my boiler installation?
Can it be removed or should it be left alone?
30 January 2015 Sal said:
If your house water main is green near the electric ground connection does that mean the ground wire is going bad or is bad
Reply: common causes of corrosion on or leaks in copper piping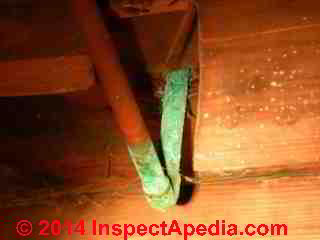 See LEAK CAUSES in WATER PIPING for a catalog of the various causes of leaks in copper or other metal water piping.
John
Most likely it's an oxide of copper caused by corrosion. Look at it closely to be sure there are no leaks.
Watch out: never "pick" at or probe corrosion.The risk is that you convert a small leak into a big emergency leak that requires that you shut down the building water supply.
Sal:
Watch out: Green corrosion on a water pipe that is found only around the electrical ground is worth some further checking: stray electrical currents or improper grounding could be causing the corrosion that you see.
Some green corrosion on copper piping is common and may not necessarily mean a leak is present. For example we may see corrosion where solder flux ran out around a solder joint during pipe connections by sweating (copper soldering).
At LEAK TYPES, WATER SUPPLY or DRAIN PIPES - we describe the types of leaks that occur in water supply and drain piping with an eye (or an ear) towards leak detection and towards hidden leaks in buildings
...
Continue reading CORROSIVITY or ACIDITY of WATER or select a topic from closely-related articles below, or see our complete INDEX to RELATED ARTICLES below.
Or see LEAK CAUSES in WATER PIPING
Suggested citation for this web page
COPPER PIPING in BUILDINGS at InspectApedia.com - online encyclopedia of building & environmental inspection, testing, diagnosis, repair, & problem prevention advice.
Or use the SEARCH BOX found below to Ask a Question or Search InspectApedia
...
Frequently Asked Questions (FAQs)
Try the search box below or CONTACT US by email if you cannot find the answer you need at InspectApedia.
Question: Acidic water & copper pipe corrosion/leak risks
I get a lot of blue stains on bathtubs and sinks, which I assume is copper leached from the inside of the copper water-supply piping. I built the house about 16 years ago and replaced the water heater a few years ago.
Am I at risk of developing pin holes or other damage to the copper plumbing and other equipment, including an electric water heater, boiler, and baseboard radiation?
If that's the case, what's the preferred (and cheapest) solution: calcite neutralizer tank, soda ash feeder, or other?
FYI, copper level was last measured at 0.11 mg/L, well below the MCL of 1.3, so I don't think there's a health issue. But I figure if copper gets leached from the pipes for enough years, at some point there won't be much pipe left.
Muchas gracias, Steven Bliss, 4 Burlington, VT
Reply:
This topic has been moved to its own article now found at CORROSIVITY or ACIDITY of WATER
Question: burned or charred-looking copper pipes
(Oct 16, 2012) Dan said:
What would make the cold copper pipes in the house appeared burned or charred. The hot is fine. Just the cold looks this way. Any ideas?
Reply:
Dan
What you describe is normal, provided there are not actual burn marks from overheating such as by a soldering torch, and in fact dark or even blackened copper piping often helps us identify cold vs hot water copper piping.
Cold water piping is seasonally wet by condensation that in turn boosts both soiling or dust collection and mild oxidation.
The result is that generally the cold water copper piping will be darker in color than the hot lines.

Question: turning the water back on after long shut-down
(Feb 19, 2013) Rich said:
The water has been shut off in a house with copper plumbing for 2+ years. Are there any special problems that could be associated with no water in piping for an extended period?
Reply:
x
Question: Water line insurance for leakage or failure - what is pipe life-span
(Jan 29, 2014) Curtis said:
My Clifton NJ house was built in 1952 and I recently received a Exterior Water Line insurance policy in the mail covering replacement of the water line should it fail. What is the lifespan for the water line? Is this something I should be worried about?
Reply:
I'm a little nervous about this one Curtis.
At PIPING in BUILDINGS, CLOGS, LEAKS, TYPES - we indeed give life expectancy of various building piping materials.
But for your question I'm in trouble:
We don't know the material of your water main, the soil corrosivity, nor how the line was installed, nor its length to the street water main, nor its depth: all of these are significant factors in water line replacement cost and life expectancy.
I'm also not sure who's selling you this sort of pig-in-a-poke insurance policy: that is, what sort of insurance are we buying when the insurer knows nothing about the property or item being insured? If I were an underwriter (I'm not qualified to be one, this is just OPINION) I'd be nervous, especially knowing that a bevy of home warranty companies marketing to home buyers and home inspectors went belly-up due to the adverse selection problem.
And I'd want to know about the policy price and who's selling it. A quick web search turned up Excelsior Insurance as a company selling water damage coverage and possibly a part of Liberty Mutual group (reputable).
It also turned up something to look into: Insurance Firm On Thin Ice In Denying Claim, Judge Rules
January 09, 1988|By Robert Bruss. - admittedly an old snafu. But a quick search shows quite a few legal disputes over collecting on insurance policies issued by the Excelsior Insurance Co. for water damage. - Is this the company offering a policy?
Reader Follow-up:
- re-posting your comment without the link - our software prohibits links in comments in order to protect against malware.
Thanks for the response. I have not heard of anyone needing to replace a water main into the house but suspect it must need to be done at some point...The company is HomeServe.
Reply:
Certainly the lateral or in some parlance "water main" between house and street is ultimately replaced on buildings. But depending on variables I cited along with piping material and quality, wall thickness, care of installation, and soil conditions, these lines can last a long time. 20-40 years would not be unusual. In the Northeastern U.S. where lead entry mains went into homes around 1900 we saw replacements beginning to be more common 50-70 years later.
Question: leaks showing up in copper pipes, pipes feel soft
(Feb 13, 2014) Anonymous said:
I recently bought a duplex. All copper plumbing lines. Recently have had 2 leaks show up, and the pipe around leaks very soft feeling. Do I need to replace it all? slee5201@gmail.com
Reply:
Hi Anon;
The answer is ... it depends. On why the pipes are leaking; If the original installation used defective copper OR if the water supply is very corrosive then you could be facing an extensive repair.
I would want to know more about the leaks - where they occurred in the house, whether they were on hot or cold piping, and I'd like to see sharp photos of the leak; ideally you'd cut out four inches around the leak and have someone with experience examine the pipe itself - or send me photos or a pipe fragment if you like and I can make a physical exam in our lab (while we have a forensic lab here I'm not a copper expert but I suspect we can figure out what's going on by microscopic examination)
Click on the CONTACT link at page bottom or top for mailing details if you want to pursue it.
...
Ask a Question or Search InspectApedia
Try the search box just below, or if you prefer, post a question or comment in the Comments box below and we will respond promptly.
Search the InspectApedia website
Technical Reviewers & References
Click to Show or Hide Citations & References
Baylis, John R. "PREVENTION OF CORROSION AND" RED WATER"." Journal (American Water Works Association) 15, no. 6 (1926): 598-633.
Beale, David J., Michael S. Dunn, Paul D. Morrison, Nichola A. Porter, and David R. Marlow. "Characterisation of bulk water samples from copper pipes undergoing microbially influenced corrosion by diagnostic metabolomic profiling." Corrosion Science 55 (2012): 272-279.
Campbell, Hector S. "A natural inhibitor of pitting corrosion of copper in tap‐waters." Journal of Applied Chemistry 4, no. 12 (1954): 633-647.
"Cause of Copper Corrosion in Plumbing Systems, A Review of Current Knowlege", Foundation for Water Research, Allen House, the Listons, Liston Road, Marlow, Bucks SL7 1FD U.K., TEL: +44 (0) 1628 891589, Website: www.fwr.org, retrieved 30 Jan 2015, original source: http://www.fwr.org/copper.pdf
Boulay, Nicolle, and Marc Edwards. "Role of temperature, chlorine, and organic matter in copper corrosion by-product release in soft water." Water research 35, no. 3 (2001): 683-690.
Campbell, H. S. "Pitting corrosion in copper water pipes caused by films of carbonaceous material", Journal of Applied Chemistry, Vol. 77 1950
Edwards, Marc, and Abhijeet Dudi. "Role of chlorine and chloramine in corrosion of lead-bearing plumbing materials." Journal (American Water Works Association) (2004): 69-81.
Dietrich, A. M., D. Glindemann, F. Pizarro, V. Gidi, M. Olivares, M. Araya, A. Camper et al. "Health and aesthetic impacts of copper corrosion on drinking water." Water Science & Technology 49, no. 2 (2004): 55-62.
Edwards, M., Schock, M. R. and Meyer, T. E., "Alkalinity, pH and copper corrosion by-product releases", Journal of the American Water Works Association, March 1996
Fuji T., Kodama T. and Haruo B. "The effect of water quality on pitting corrosion of copper tube in hot soft water", Corrosion Science, Vol 24, No. 10 pp 901-912. 1984
Jacobs, S., and M. Edwards. "Sulfide scale catalysis of copper corrosion." Water Research 34, no. 10 (2000): 2798-2808.
Karalekas Jr, Peter C., Christopher R. Ryan, and Floyd B. Taylor. "Control of lead, copper, and iron pipe corrosion in Boston." Journal (American Water Works Association) (1983): 92-95.
LeChevallier, Mark W., Cheryl D. Lowry, Ramon G. Lee, and Donald L. Gibbon. "Examining the relationship between iron corrosion and the disinfection of biofilm bacteria." Journal (American Water Works Association) (1993): 111-123.
Lytle, Darren A., and Mallikarjuna N. Nadagouda. "A comprehensive investigation of copper pitting corrosion in a drinking water distribution system." Corrosion Science 52, no. 6 (2010): 1927-1938.
Mattsson, Einar. "Corrosion of copper and brass: practical experience in relation to basic data." British Corrosion Journal 15, no. 1 (1980): 6-13.
MCNEIILL, LAURIE S., and Marc Edwards. "Iron pipe corrosion in distribution systems." Journal (American Water Works Association) (2001): 88-100.
Oliphant, R. J. Causes of copper corrosion in plumbing systems. Foundation for Water Research, 2003.
Oliphant, R. J., "Contamination of potable water by lead from leaded copper alloys", . 2nd International conference on Water Pipeline Systems 1994. BHR Group Conference Series Publication No. 10. Mechanical Engineering Publications Limited (MEP), London. ISBN 0 85298 921 0
Reyes, A., M. V. Letelier, R. De la Iglesia, B. González, and G. Lagos. "Microbiologically induced corrosion of copper pipes in low-pH water." International Biodeterioration & Biodegradation 61, no. 2 (2008): 135-141.
Rushing, Jason C., and Marc Edwards. "The role of temperature gradients in residential copper pipe corrosion." Corrosion science 46, no. 8 (2004): 1883-1894.
Schock, Michael R. "Causes of temporal variability of lead in domestic plumbing systems." Environmental monitoring and assessment 15, no. 1 (1990): 59-82.
Sosa, M., S. Patel, and M. Edwards. "Concentration cells and pitting corrosion of copper." Corrosion 55, no. 11 (1999): 1069-1076.
Wagner, D., W. Fischer, and H. H. Paradies. "Copper deterioration in a water distribution system of a county hospital in Germany caused by microbially influenced corrosion–II. Simulation of the corrosion process in two test rigs installed in this hospital." Materials and Corrosion 43, no. 10 (1992): 496-502.
Carson, Dunlop & Associates Ltd., 120 Carlton Street Suite 407, Toronto ON M5A 4K2. (416) 964-9415 1-800-268-7070 info@carsondunlop.com. The firm provides professional home inspection services & home inspection education & publications. Alan Carson is a past president of ASHI, the American Society of Home Inspectors. Thanks to Alan Carson and Bob Dunlop, for permission to InspectAPedia to use illustrations from The Illustrated Home which illustrates construction details and building components. Carson Dunlop Associates' home inspection education products include
[2] Clean Water Systems & Stores, Inc. 2806-A Soquel Ave, Santa Cruz, California 95062, Telephone: 1-888-600-5426 or international: 1-831-462-8500 . web search 4/23/12, original source: - cleanwaterstore.com/copper-pipe-corrosion.html
[3] "pH in Drinking-water Background document for development of WHO Guidelines for Drinking-water Quality", in Guidelines for drinking-water quality, 2nd ed. Vol. 2. Health criteria and other supporting information, World Health Organization, Geneva, 1996. Web search 4/23/12, original source: http://www.who.int/water_sanitation_health/dwq/chemicals/en/ph.pdf
[4] "Langelier Saturation Index (LSI), Wikipedia provided background information about some topics discussed at this website provided this citation is also found in the same article along with a " retrieved on" date. NOTE: because Wikipedia entries are fluid and can be amended in real time, we cite the retrieval date of Wikipedia citations and we do not assert that the information found there is necessarily authoritative.
[5] "Drinking Water Contaminants, List of Contaminants & their MCLs", U.S. EPA United States Environmental Protection Agency, National Primary Drinking Water Regulations, web search 4/23/12, original source: http://water.epa.gov/drink/contaminants/index.cfm#List
[6] "Basic Information about Copper in Drinking Water", U.S. EPA United States Environmental Protection Agency, web search 4/23/12, original source: http://water.epa.gov/drink/contaminants/basicinformation/copper.cfm
[7] "Fin Tube / Bare Elements", Slant/Fin Boilers & Baseboards, Slant/Fin Corporation, 100 Forest Drive, Greenvale, NY 11548, Phone: (516) 484-2600, Fax: (516) 484-5921, E-mail: info@slantfin.com, web search 4/23/12, original source: http://www.slantfin.com/index.php/products/baseboard-residential/fin-tube--bare-elements
[8] Mark Cramer Inspection Services Mark Cramer, Tampa Florida, Mr. Cramer is a past president of ASHI, the American Society of Home Inspectors and is a Florida home inspector and home inspection educator. Contact Mark Cramer at: 727-595-4211 mark@BestTampaInspector.com 11/06
[9] Roger Hankey is principal of Hankey and Brown home inspectors, Eden Prairie, MN. Mr. Hankey is a past chairman of the ASHI Standards Committee. Mr. Hankey has served in other ASHI professional and leadership roles. Contact Roger Hankey at: 952 829-0044 - rhankey@hankeyandbrown.com. Mr. Hankey is a frequent contributor to InspectAPedia.com.
[10] Arlene Puentes, an ASHI member and a licensed home inspector in Kingston, NY, and has served on ASHI national committees as well as HVASHI Chapter President. Ms. Puentes can be contacted at ap@octoberhome.com
ABS Plastic Drain/Waste/Vent (DWV) pipe failures: reported for Centaur, Phoenix, Polaris, Gable, and Spartan pipe mfgs. for pipe made between 1985 and 1988. CPSC Hot Line: 800-638-8270 or ABS Drain Leaks/Failures-Class Action Settlement COX settlement through Shell Oil set up by a contractor involved in the settlement. Polybutylene Plumbing Failures: Spencer Class settlement. 10% of replacement cost/damages, only for acetal (plastic)fittings Polybutylene plumbing info at U. Arizona Polybutylene piping lawsuit settlement website Polybutylene plumbing lawsuit proposed settlement-old site
[11] Polybutylene Plumbing Failures, Lots of Info about, but slow-loading busy site
[12] Compression fittings for plumbing connections, Wikipedia photograph, web search 08/09/2010, original source: http://en.wikipedia.org/wiki/File:Robinetterie-raccords.JPG
[13] "Guidelines for drinking-water quality", 2nd ed. Vol. 2. Health criteria and other supporting information. World Health Organization, Geneva, 1996. WHO, op.cit.
[14] "Pitting Corrosion in Copper Tubes – Cause of Corrosion and Counter-Measures", Mattsson, E.; Fredriksson, A.-M., British Corrosion Journal, Volume 3, Number 5, September 1968 , pp. 246-257(12), Maney Publishing, Quoting the article abstract:
An investigation of failures of hard-drawn copper water pipes (phosphorus-deoxidised copper) in service due to pitting corrosion was conducted from November, 1962 to February, 1965. Fifteen cases were reported. All those about which information could be obtained came from hot water installations and occurred in water with a low pH (?7) and a HCO3- content of, at the most, 100 mg/l but generally below 50 mg/1. Failures not due to pitting corrosion (i.e. caused by erosion and corrosion or corrosion fatigue) occurred in waters with a higher pH and higher HCO3- content.
A laboratory investigation into the ability of the corrosion products to counteract further corrosion in different types of water was also carried out, using an electrolytic cell which, in principle, was a model of an active pit in a copper tube. This led to the following conclusions, which are in good agreement with the results obtained from the examination of service failures:
If the pH value of the water is high enough, the copper dissolved by the corrosion can be precipitated as basic copper salt. At low pH values such precipitation does not take place.
If the [HCO3?]/[SO42?] ratio in the water is high, dissolved copper can be precipitated as basic copper carbonate in the neighbourhood of the corrosion site and counteract further corrosion.
At a low [HCO3?]/[SO42?] ratio, crusts of basic copper sulphate will be precipitated at some distance from the corrosion site and may lead to a high corrosion rate.
Pitting is not likely to occur in hot water tubes of hard copper if the pH is ? 7·4 and the [HCO3?]/[SO42?] ratio ?1 (the concentrations given in mg/1). The critical values mentioned are approximate and may be adjusted in the light of future experience.
[15] "Health and aesthetic impacts of copper corrosion on drinking water", Dietrich AM, Glindemann D, Pizarro F, Gidi V, Olivares M, Araya M, Camper A, Duncan S, Dwyer S, Whelton AJ, Younos T, Subramanian S, Burlingame GA, Khiari D, Edwards M., Virginia Tech, Blacksburg, VA 24061-0246, USA. andread@vt.edu, Water Sci Technol. 2004;49(2):55-62., Abstract
Traditional research has focused on the visible effects of corrosion--failures, leaks, and financial debits--and often overlooked the more hidden health and aesthetic aspects. Clearly, corrosion of copper pipe can lead to levels of copper in the drinking water that exceed health guidelines and cause bitter or metallic tasting water. Because water will continue to be conveyed to consumers worldwide through metal pipes, the water industry has to consider both the effects of water quality on corrosion and the effects of corrosion on water quality. Integrating four key factors--chemical/biological causes, economics, health and aesthetics--is critical for managing the distribution system to produce safe water that consumers will use with confidence. As technological developments improve copper pipes to minimize scaling and corrosion, it is essential to consider the health and aesthetic effects on an equal plane with chemical/biological causes and economics to produce water that is acceptable for public consumption.
Other water supply and drain piping and water pressure articles:
Books & Articles on Building & Environmental Inspection, Testing, Diagnosis, & Repair
Our recommended books about building & mechanical systems design, inspection, problem diagnosis, and repair, and about indoor environment and IAQ testing, diagnosis, and cleanup are at the InspectAPedia Bookstore. Also see our Book Reviews - InspectAPedia.
Cheating on water tests: Testing Water for Real Estate Transactions - make sure your water test is valid
TOILETS, DON'T FLUSH LIST these things into a septic system
PLUMBING DRAIN NOISE DIAGNOSIS: may indicate defective or clogged plumbing: how to diagnose and cure drain sounds
HOT WATER HEATERS - a detailed guide to all types of hot water sources, problems, inspection, repair
Lead Testing & Correcting Contamination from Lead Water Supply Lines/Entry Mains - Lead Pipe Problems/Advice
SEPTIC SYSTEM INSPECT DIAGNOSE REPAIR The Septic Systems Information Website
SEWER GAS ODORS in COLD / WET WEATHER - Septic Odors or Sewage Odor Diagnosis & Repair Guide for diagnosing and eliminating cold weather sewer gas odors
SEPTIC TANK LEVELS of SEWAGE - what are normal and abnormal sewage levels in septic tanks and what do they mean about tank condition, leaks, etc.
Sewer Line Replacement diagnosing a clogged drain leads to drain line replacement - step by step photo-illustrated guide to drain replacement
Water Pressure Loss - Diagnosis how to determine why water pressure has been lost or why there is no water at all in a building
Water testing for Pesticides: comprehensive and pesticides-example parameters
CONTAMINANT CLASSES, in WATER & links to home buyer advice about water testing, drinking water, water supply
WELL CHLORINATION & SHOCKING - Procedure for Shocking a Well to (temporarily or maybe longer) "Correct" Bacterial Contamination
Typical Water Tests & Fees this water test fee schedule applies when testing is combined with other onsite building inspection services
WATER PUMP REPAIR GUIDE an specific case offers an example of diagnosis of loss of water pressure, loss of water, and analyzes the actual repair cost
Water pressure tank failures & water pump short cycling diagnosis and repair
...