BLEVEs Boiling Liquid Expansion Vapor Explosions: Definition, Cause, Prevention

BLEVE EXPLOSIONS - CONTENTS: Definition of BLEVE & explanation of what causes a hot water tank to explode? What is a BLEVE ? Boiling Liquid Expanding Vapor Explosions at Water Heaters (or heating boilers)

BLEVE - heating boiler & water heater blasts & explosions caused by pressure-heat ruptures. Causes of BLEVEs - boiling liquid expansion vapor explosions. How to use, test, inspect water heater temperature and pressure safety relief valves. Water Heater Safety & Heating Boiler Safety Controls

WATER HEATER SAFETY - separate article
POST a QUESTION or READ FAQs about the cause & prevention of BLEVE explosions at water heaters & boilers
InspectAPedia tolerates no conflicts of interest. We have no relationship with advertisers, products, or services discussed at this website.
Boiler & water heater tank explosion cause & prevention: BLEVES This article discussesand defines BLEVE or boiling liquid expansion vapor explosions. We discuss the cause and prevention of explosions of heating boilers and hot water storage tanks, and the role of pressure / temperature relief valves on that equipment.
We explain how scale in a boiler or water heater can lead to failure or even an explosion, and we describe other conditions or mistakes that can cause a BLEVE explosion.
Green links show where you are. © Copyright 2015 InspectApedia.com, All Rights Reserved.
What is a BLEVE or Boiling Liquid Expanding Vapor Explosion?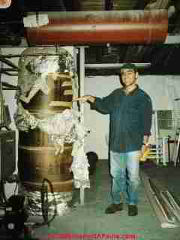 See WATER HEATER SAFETY for our complete list of water heater safety devices and water heater safety inspection advice.
Our page top photo of a 30-gallon water heater tank exploding through the roof of a test structure was snapped from a "Water heater rocket myth" a Mythbusters YouTube video (orignally aired on the Discovery Channel).
How Mineral Deposits and Heating May Weaken a Water Heater Tank Bottom, Contributing to BLEVE Explosion:
BLEVE explosions or boiling liquid vapor explosions can occur at both domestic water heaters (calorifiers or geysers) and at hot water heating boilers (hydronic heating systems). In a BLEVE explosion, the state change of superheated water from a hot liquid to a vapor (steam) form releases an enormous amount of energy.
We can understand the huge energy release involved in a BLEVE explosion by a quick review of the extra energy required to change the state of water from a liquid to a gas.
At SEER RATINGS & OTHER DEFINITIONS in our discussion of BTUs (British Thermal Units, a measure of energy), we point out that while only 180 BTUs of energy are needed to raise one pound of water at 32 degF to 1 pound of water at 212 degF, a much larger amount of energy, 970 BTUs, are needed to raise 1 pound of water at 212 degF to 1 pound of steam vapor at 212 degF.
Notice that the temperature has stayed the same! What has changed is the state of our pound of water: from a liquid form to a vapor form. This figure is the latent heat of vaporization, the number of BTUs of energy used to raise one pound of water at 212 degF to one pound of steam vapor at the same temperature; in other words, the temperature is unchanged but the state of matter is changed from liquid to vapor. State changes involve large amounts of energy.
We discuss the role of pressure/temperature relief valves in protecting against these hazards at RELIEF VALVE, TP VALVE, BOILER and at RELIEF VALVE, WATER HEATER.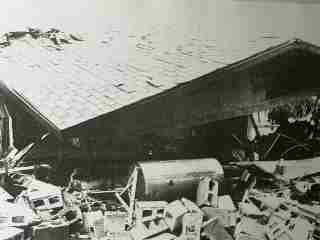 Water heater tank explosions are rare thanks to the widespread requirement for and use of pressure and temperature relief safety valves.
But if the safety valve has been damaged, modified, or even omitted (as we saw on our neighbor's water heater), that condition, combined with overheating can cause a water tank to explode, creating a BLEVE - Boiling Liquid Expanding Vapor Explosion that releases tremendous force and causing extreme damage to a building.
Because repeated heating of the water tank bottom may combine with other conditions (such as corrosion or excessive heating due to mineral deposits on the tank bottom) to produce a weak water heater tank bottom, that is the part more likely to fail in an overheat and overpressure condition.
A failure at the water tank bottom may explain why a BLEVE can produce a water tank explosion that behaves like a rocket, sending the water tank skyrocketing up through a building.
In addition to the BLEVE photograph above, and the Mythbusters video photo of an exploding water tank (page top), here is a second photo of the Mythbusters test of explosing a water heater tank.
Other reports of water heater or boiler BLEVE explosions are at REFERENCES below.

Some Conditions that Increase the Risk of A BLEVE Explosion
Watch out: we have read that some homeowners frightened by the prospect of an exploding water heater or boiler replaced the entire piece of equipment. If your heating boiler or water heater is otherwise in serviceable condition, but needs a pressure/temperature relief valve repair or replacement, repairing or replacing safety controls or devices on the equipment do not normally require that the entire heater be replaced.
Missing Pressure/Temperature Relief Valves on Heating Boilers or Water Heaters
Watch out: We have on occasion found water heater tanks and boilers whose relief valve was simply removed, perhaps because the valve was leaking. If you find this condition the heater or boiler should be should be shut off immediately and a professional plumber called to inspect and repair the equipment.
Install the proper Temperature / Pressure Relief Valve by Model, Type, and Relief Capacity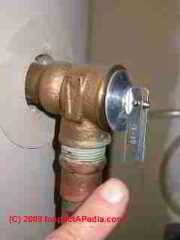 Safety Warning- a damaged, improperly-selected model, or modified pressure/temperature relief valve is dangerous and could lead to a serious BLEVE explosion should the water heater later overheat.
The model of relief valve installed should meet the specifications of the water heater or heating boiler or other equipment on which it is installed.
Typically the operating pressure range, temperature range, and the ability of the relief valve to relieve pressure or temperature at a specified rate are all controlled by the model of TP valve selected and must be matched to the size, operating pressure, operating temperature, and other features of the equipment being protected.
At HOT WATER PRESSURE EXPANSION RATE we discuss how we measure water pressure and how temperature changes affect water pressure in a closed water heater tank or heating boiler.
See WATER HEATER SAFETY for our complete list of water heater safety devices and water heater safety inspection advice.
Evidence of dangerous leaks and corrosion at water heater temperature/pressure safety valves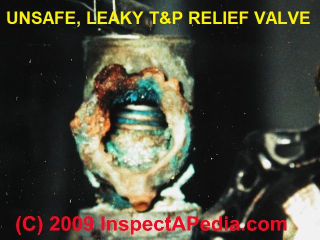 As our photo shows (left), mineral salts left behind as hot water evaporates from the mouth of a pressure or temperature relief valve can completely clog the spring that is intended to allow the relief valve to open under excess (unsafe) pressure.
The impaction of the relief valve spring with copper and calcium salts in this photo means that the valve is almost certainly not going to open should the heater's internal pressure become unsafe.
The drip shown at the mouth of this relief valve demonstrates that a relief valve can drip and leak for a long time without anyone observing this dangerous condition.
This relief valve needs to be replaced immediately and the cause for the valve's leakage also needs to be determined.
Covered Up or "Hidden-Discharge" Pressure/Temperature Relief Valves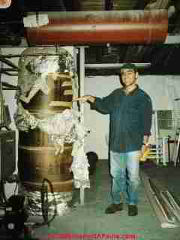 Covered-Over relief valves:
The relief valve on this water heater has been covered by owner-installed water heater insulation.
This is an unsafe condition as the operation of the temperature or pressure relief valve may be interfered with by the insulation and also because the valve cannot be inspected for evidence of leaks or failure.
Similarly, discharging a relief valve leakage or drip to a location where the leak or drip cannot be observed is a dangerous practice because the leak can go unnoticed, causing failure to recognize an unsafe condition.
When a relief valve continues to leak it may become damaged and then fail to operate when an unsafe pressure or temperature occurs.
Constricted, Under-sized, or Mis-Routed Relief Valve Discharge Tubes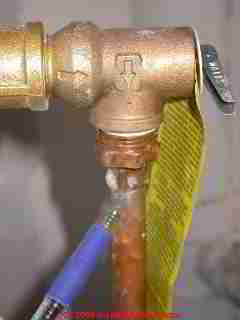 The discharge tube attached to the water heater pressure/temperature relief valve should be the same diameter as the opening of the valve itself.
In our photo someone has fastened a 1/2" pipe discharge tube onto a 3/4" diameter relief valve.
Other Causes of Exploding Water Heaters or Boilers
Scale accumulation combined with the concentration of heat at the bottom of gas or oil fired water heaters may weaken the bottom of the water heater tank. Weakness at the tank bottom explain how a water tank becomes a rocket shooting up through a building during a BLEVE. See

Defeated water heater temperature limit controls - modified by someone, or removed or replaced with the wrong part. Normal water heater temperature controls will not permit the heater to reach a temperature higher than the equipment is designed-for.
Improper water heater position or installation, such as

Installing a water heater in a horizontal position to cram it into a crawl area where it does not belong
Installing a water heater or boiler into a hole dug into soil in a crawl area or low-ceilinged basement, placing the equipment base in ground-contact

Water heaters or heating boilers exposed to physical damage from flooding or freezing or exposed to mechanical damage during transport or installation or perhaps by impact by a vehicle such as at a water heater or boiler installed in a garage and without impact protection.
At RELIEF VALVE, WATER HEATERwe discuss temperature and pressure relief valves used on residential water heaters.
For a general discussion of temperature and pressure relief valves used as safety devices on heating boilers and other pressurized please see RELIEF VALVE, TP VALVE, BOILER. Pressure relief valves (that sense pressure only, not temperature) are also required on pressurized tanks such as water tanks in buildings.
Water tank pressure relief valves are discussed at WATER PUMP SAFETY.
Continue reading at HOT WATER PRESSURE EXPANSION RATE where we discuss how we measure water pressure and how temperature changes affect water pressure in a closed water heater tank or heating boiler.
More Reading
Green link shows where you are in this article series.
...
Frequently Asked Questions (FAQs) about boiler or water heater explosions & BLEVEs
Some of the FAQs discussed below are adapted from information provided by the Watts Regulator Company in a 1973 publication.[10]
Question: what causes a hot water storage tank to explode?
Why do hot water heaters explode?
Reply:
Excessive temperature is the root cause of hot water tank explosions, though damage to the water heater tank from scale, leaks, or corrosion as well as improper installation of the tank or its plumbing can play a major role in water heater tank explosions as well. Watts distinguishes between the basic cause of water heater explosion (excessive temperature) and physical causes (corrosion or weaknesses in the tank). Combined with the explosive effects of "superheated" water the result of a break in a hot water storage tank is not just that the tank bursts, it explodes, as we explain above in discussing BLEVEs - boiling liquid vapor explosions. Watts comments that heat itself also reduces that ability of a water heater tank to withstand pressure.[10]
Superheated water, that is water heated above 212 degrees F or 100 deg C, occurs when water is heated in a closed container. A pressure cooker used on a stove-top provides superheated water to cook food faster than would otherwise occur. In a pressure cooker that hissing clanking device that rattles around during cooking is a simple weight that sits atop an opening in the pressure cooker's top that continuously releases pressure, heat, and steam - to prevent the pressure cooker from exploding.
When we heat water in a water heater storage tank, pressures in the system are contained by the storage tank and plumbing system piping. If the hot water tank suddenly ruptures its contents are no longer held at high pressure by an intact tank, but rather are exposed to atmospheric pressure. This sudden drop in pressure combines with water temperature above 212 degF to cause the hot water to change state - from liquid water to steam. It is this state change (from water to steam) that releases an enormous amount of latent energy stored in the pressurized hot water, and it is that sudden energy release that constitues the "explosion" of a hot water heater tank.
Watch out: in addition to the obvious ingredients in a water heater tank explosion: a faulty heater or heater control that superheats the water in the tank, a faulty pressure/temperature relief valve, or a blockage in the TP valve piping or discharge tube, it is also possible that water hammer can contribute to a BLEVE. We discuss this contribution in the FAQs found at WATER HAMMER NOISE DIAGNOSE & CURE
Question: is it high pressure or high temperature that causes a water heater tank to explode?
I was told that really it's ultimately high pressure that causes a water tank to blow up. But you say it's temperature. Can you explain this?
Reply:
It is indeed high temperature that causes an actual "explosion" of a hot water tank, not the pressure itself. Without high temperature, if a water tank bursts under pressure, water simply squirts out of the tank. But if we take those same conditions and add high temperature (over 212F) that occurs in a normallyt pressurized hot water tank, that is, if we replace cold water with superheated water in the same tank, when the tank ruptures the superheated water, now exposed to the lower pressure of the atmosphere, flashes to steam - a state change that releases enough energy to cause an actual explosion.
Often water heaters that have suffered from age or high bottom temperatures or scale develope their weakest spot at the bottom of the water tank. That explains why, when a water heater tank ruptures and its hot water suddenly flashes to steam, releasing the latent heat energy that was stored in the superheated water, the result is a BLEVE and the water tank becomes a rocket that is propelled upwards through the building.
Note: water that is not superheated, that is water under 212F or 100C, has no latent heat energy to cause an explosive expansion.
Question: What's the difference between a BLEVE and a controlled steam pressure energy release?
If we have to shut off the water supply as part of repairing a water heater tank that is already overheated, is that dangerous?
Reply: definition of a controlled steam pressure energy release - why it does not blow up
Watts gives the following explanation: [with some paraphrasing - Ed.]
Example: a hot water tank has 60 psi pressure and has been overheated to 240 degF. What happens if the water pressure is shut off for repairs or some other purpose?

WHen a faucet was opened to bleed the pressure, it would immediately drop down, but just to 10 psi, not to zero psi - the pressure at which water boils under 240 degF. Therefore, because this is a pressure boileing point combination, the water will flash into steam. The steam forms instantly (the meaning of "flash") and therefore pressure in the system will fall from 60 psi and remain at 10 psi until the escaping steam has reduced the temperature in the tank.

As the water heater tank temperture drops, the pressure falls accordingly, to each boiling point/pressure along the way. Ultimately the pressure will fall to zero psi. At that point the temperature in the system will be the boiling point of water at atmospheric pressure (212F at sea level).

This condition is called a controlled steam pressure energy being dissipated - not a condition that causes a BLEVE explosion. By contrast, a BLEVE occurs when superheated water is suddenly exposed to atmosphereic pressure. [10]
Ask a Question or Search InspectApedia
Questions & answers or comments about the cause & prevention of BLEVE explosions at water heaters & boilers.
Use the "Click to Show or Hide FAQs" link just above to see recently-posted questions, comments, replies, try the search box just below, or if you prefer, post a question or comment in the Comments box below and we will respond promptly.
Search the InspectApedia website
Technical Reviewers & References
Publisher's Google+ Page by Daniel Friedman
Click to Show or Hide Citations & References
[1] Thanks to Mark Cramer, Tampa Florida, for assistance in technical review of the "Critical Defects" section and for the photograph of the deteriorating gray Owens Corning flex duct in a hot attic. Mr. Cramer is a Florida home inspector and home inspection educator.
Carson, Dunlop & Associates Ltd., 120 Carlton Street Suite 407, Toronto ON M5A 4K2. (416) 964-9415 1-800-268-7070 info@carsondunlop.com. The firm provides professional home inspection services & home inspection education & publications. Alan Carson is a past president of ASHI, the American Society of Home Inspectors. Thanks to Alan Carson and Bob Dunlop, for permission for InspectAPedia to use text excerpts from The Home Reference Book & illustrations from The Illustrated Home. Carson Dunlop Associates' provides:

Commercial Building Inspection Courses - protocol ASTM Standard E 2018-08 for Property Condition Assessments
Home Inspection Education Courses including home study & live classes at eleven colleges & universities.
Home Inspection Education Home Study Courses - ASHI@Home Training 10-course program.
Special Offer: Carson Dunlop Associates offers InspectAPedia readers in the U.S.A. a 5% discount on these courses: Enter INSPECTAHITP in the order payment page "Promo/Redemption" space. InspectAPedia.com editor Daniel Friedman is a contributing author.
The Home Reference Book, a reference & inspection report product for building owners & inspectors.
Special Offer: For a 10% discount on any number of copies of the Home Reference Book purchased as a single order. Enter INSPECTAHRB in the order payment page "Promo/Redemption" space. InspectAPedia.com editor Daniel Friedman is a contributing author.
The Home Reference eBook, an electronic version for PCs, the iPad, iPhone, & Android smart phones.
Special Offer: For a 5% discount on any number of copies of the Home Reference eBook purchased as a single order. Enter inspectaehrb in the order payment page "Promo/Redemption" space.
The Illustrated Home illustrates construction details and building components, a reference for owners & inspectors.
Special Offer: For a 5% discount on any number of copies of the Illustrated Home purchased as a single order Enter INSPECTAILL in the order payment page "Promo/Redemption" space.
The Horizon Software System manages business operations,scheduling, & inspection report writing using Carson Dunlop's knowledge base & color images. The Horizon system runs on always-available cloud-based software for office computers, laptops, tablets, iPad, Android, & other smartphones.

[3] Pounds of lime deposited vs. temperature and hot water usage: see Purdue Bulletin #74 (also provided by A.O. Smith in the article below). Purdue's chart shows the number of pounds of lime deposited per year as a function of the water usage in gallons per day, with an assumed 10 grains of water hardness.
[4] "When, Why, and How to Remove Water Scale from Tank Type Glass-Lined Water Heaters (for non glass-lined tanks, consult water heater manufacturer)" PDF provided by A.O. Smith Water Products Company - hotwater.com/lit/training/4800r9.pdf 800-433-2545 - 01/07/2009.
[5] A.O. Smith's Form No. 4800 Rev. 8 Why? When? & How? /UN•LIME Specific De liming Instructions for use with Up-N-Down Transfer Kit for Tank Type Heaters. (Normally supplied in UN-LIME shipping cartons), Supersedes Form Nos. 4800 Rev. 7 and 4813-100.
[6] A.O. Smith's Form No. 4778* All about Deliming Coil-Type/Tube-Type Commercial Water Heaters and Hydronic Boilers *Normally supplied when ordering Part No. 4930 Motorized Deliming Pump Kit
[7] "Building Owner Water Heater Safety Notice", Building Department, City of Colleyville TX, web search 09/24/2010, original source: http://www.colleyville.com/dmdocuments/Building%20
Owner%20Water%20Heater%20Safety%20Notice%203-6-102.pdf
Quoting:
Water heater safety is imperative to the occupants of a building or structure. If improperly installed, water heaters can be detrimental to the structure, as well as being potentially fatal to its occupants. The proper installation of a water heater is so important that according to Texas State Law all water heater installations must be inspected by a state licensed plumbing inspector.
[8] Rheem Electric Water Heater "Owners Guide and Installation Instructions", (Australian models) rheem.com.au/images/pdf/owners_dom-elec_121996C_0707.pdf
[9] Watts, 815 Chestnut Street, North Andover, MA, USA 01845-6098, web search 09/18/2010 original source: http://www.watts.com/pages/learnAbout/reducingValves.asp?catId=64
[10] 52 Questions and thier Answers [about] Hot Water [Heaters, Explosions & Water Heater Safety], Watts Regulator Company (1973)
[11] "Four hurt as water heater explodes", Elaine Porterfield, Paul Shukovsky, Lewis Kamb, Seattle Post Intelligencer, 28 July 2001, web search 25 Sept 2010, original source: http://www.seattlepi.com/local/33094_boom28.shtml
Quoting from the original news article:
The powerful blast occurred at 10:23 a.m. at Plaza Zacatecas -- a small strip mall that includes four Mexican American-run businesses: a video store, a butcher shop, a Mexican restaurant and a shop that sold clothing and other items. ... The steam-powered tank hurtled across the busy intersection at First Avenue South and South 152nd Street -- over at least six lanes of traffic -- before landing more than 439 feet away in the parking lot of a Pizza Hut. ... The tank then tumbled another 25 feet before coming to rest. Four people were injured in the blast. Three were treated and released from a local hospital, but one woman was admitted to Harborview Medical Center with second-degree burns to her arm.
[12] Water heater rocket myth: Mythbusters water heater explosion video produced ihn 2007, web search Sept 25 2010, original source: http://www.youtube.com/watch?v=JmJoyuUJj2Q
Website: http://dsc.discovery.com/tv/mythbusters/
Quoting from Mythbusters: (Discovery Communications,
In small scale testing, the Mythbusters started with a small six gallon water heater and disabled all of its safety features under the theory of poor installation or neglect. While the water heater eventually ruptured, it did not explode like a rocket. The Mythbusters then upgraded to larger thirty gallon water heater which exploded with significantly greater force, sending the water heater several hundred feet into the air. In order to confirm the stated myth, the Mythbusters obtained a full size fifty two gallon water heater and built a shack around it with a roof that followed standard California building codes. The water heater eventually exploded, shooting through the roof five hundred feet into the air and disintegrating the shack. In light of these results, and the fact that there is documented evidence corroborating the myth, the Mythbusters deemed it confirmed.
[13] Water heater video #2, Mythbusters exploding water heater demonstration, a 50 gallon water tank explosion
http://www.youtube.com/watch?v=0rXwcDkobUY&feature=related

http://www.waterheaterblast.com/
Because of built in safety devices most water heaters safely operate day in, day out without any major problems. But don't let the excellent safety record of water heaters lull you into forgetting about the explosive potential of these marvels of convenience. When a water heater explodes, it releases a tremendous blast force which can easily demolish a building.
Randall Hilton and crew, with help from the Service Roundtable has prepared this video of a water heater explosion as a demonstration of the explosive power of a simple water heater. The hot water tank explodes using the steam pressure that any water heater can generate when the thermostat and temperature pressure relief valve (T&P valve or PT valve) malfunction. We were impressed by how far the tank flew after the water heater exploded. Click on the links below to view the video. Then, visit the Q&A page for warning signs as well as simple steps which can help you prevent your own water heater from exploding.
Books & Articles on Building & Environmental Inspection, Testing, Diagnosis, & Repair
The Home Reference Book - the Encyclopedia of Homes, Carson Dunlop & Associates, Toronto, Ontario, 25th Ed., 2012, is a bound volume of more than 450 illustrated pages that assist home inspectors and home owners in the inspection and detection of problems on buildings. The text is intended as a reference guide to help building owners operate and maintain their home effectively. Field inspection worksheets are included at the back of the volume. Special Offer: For a 10% discount on any number of copies of the Home Reference Book purchased as a single order. Enter INSPECTAHRB in the order payment page "Promo/Redemption" space. InspectAPedia.com editor Daniel Friedman is a contributing author.

Or choose the The Home Reference eBook for PCs, Macs, Kindle, iPad, iPhone, or Android Smart Phones. Special Offer: For a 5% discount on any number of copies of the Home Reference eBook purchased as a single order. Enter INSPECTAEHRB in the order payment page "Promo/Redemption" space.