Antique & Historic Toilets
Brands, Manufacturers, Types & Sources
InspectAPedia tolerates no conflicts of interest. We have no relationship with advertisers, products, or services discussed at this website.
Antique & historic toilets:
This article describes early flush toilets such as the high-cistern flush toilet shown in our page top photo: this toilet is installed in the Samuel Morse home in Poughkeepsie, New York.
We also provide a MASTER INDEX to this topic, or you can try the page top or bottom SEARCH BOX as a quick way to find information you need.
Green links show where you are. © Copyright 2017 InspectApedia.com, All Rights Reserved.
Early & Antique Flush Toilets: high wall-mounted cisterns or flush tanks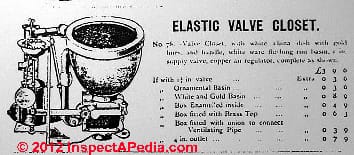 Chamber pots (dating from Roman times and Garderobes (5th to 15th century toilets that simply dumped waste to the outdoors) and privies and outhouses, toilet designs that date to the 1500s or earlier are omitted from this review of modern toilets.
See OUTHOUSES & LATRINES for examples of privies and outhouses, toilet designs that date to the 1500s or earlier
By the 1880's, in London Thomas Crapper & Co's sanitary specialties included the elastic valve water closet illustrated at left, and the toilet cistern "water waste preventer" siphon toilet flush assembly design illustrated in the article above.
The elastic valve closet advertisement at left (photo from a bathroom wallpaper reproduction) does not show the cistern or water reservoir tank.
By 1890 the elastic valve closet had been sophisticated and simplified in appearance to appear with a toilet tank or cistern mounted still higher on the building wall as we illustrate in our historic photograph (below left).
Mounting the cistern high on the wall gave additional water pressure that helped flush the toilet bowl clean.
Above: photos of this J.A. Vogel flush toilet, provided by Mike, an InspectApedia.com reader and posted originally at TOILET TYPES, CONTROLS, PARTS, look remarkably like the pre-1900 "Elastic Valve Toilet" described in our sketch at the start of this article.
Here is more description from Mike at Readers who know more about this toilet are welcome to CONTACT us or to contact Mike shadycreekboers@aol.com
I cannot find any name brand or digits other than the knob/valve has Rockford on it. The and here in central Texas found it in a barn that was said to be near 125 years old. It was stored in the barn.
He had just bought the place. With the porcelain being just on top and inside, nothing ornate outside, I assumed it went into something similar to the hall tree wash basin.
Hopefully not in a hall but maybe a bathroom or closet, since it only rinses when seat it's pressed, did it run water while using it or maybe had a solid lid that once you done your business, close lid and press to flush?
Moderator comment: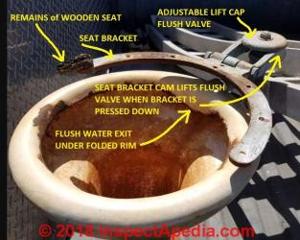 Your toilet or one quite similar is described in Vogel, Joseph A. "Flushing apparatus for water-closets." U.S. Patent 801,754, issued October 10, 1905. As you later noted, JA Vogel was a U.S. company in Wilmington, Delaware.
This is how we think this toilet worked: sitting on the wooden toilet seat (missing except for a wood fragment on the left side of the bracket in the first photo) bolted to the cast-iron half-round bracket lifted a cam that operated the flush valve that caused water to flush the toilet bowl during or after use.
Vogel's patent descriptions explain how the valve worked on these early flush toilets and also cited a frost-proof design for the toilet drain system.
Excerpting from Vogel's second patent disclosure - 1905.
In a flushing apparatus, the combination of a bowl, a tank, a valve-casing ommunicating withthe bowl and tank, a supply-pipe communicating with the valve-casing and provided with an inlet and drain aperatures, a rod extending through said pipe and casing and carrying the inlet and flushing valves, the latter controlling the flow of water between the suppply-pipe and the tank and between the tank and bowl, said rod being provided witha by-pass for the flow of entering water between the inlet to the pipe and the valve casing, a seat-lid, means operatd when the seat-lid is depressed to raise the rod to open the inlet valve and close the flush valve, and a spring within the valve-casing adapted to force the rod downward to open the flush valve and close the inlet valve and normally maintain said parts in such position. - Joseph A. Vogel
These antique toilet photos show a toilet made of cast iron or of enameled steel with the remains of a flush valve much like that shown in the Elastic Valve Closet sketch on this page.
Subsequent toilet bowl designs have included many experiments & methods to improve toilet bowl cleaning, removal of solid waste without clogging, and to reduce "marking" - fecal stains on the toilet bowl surface that otherwise require a toilet brush and frequent cleaning.
Joseph A. Vogel Toilet History
U.S. patents citing JA Vogel as Inventor or assigned by an inventor to Vogel give an early history of this toilet and its flush mechanism beginning in 1903.
Pre-Vogel:
Wellington, Darius, Improved Water Closet, US Patent 233335, issued March 22, 1859, assigned to Charles A. Wellington.
De-Marest, J., Valve for Water Closets, US Patent 213324, issued 18 March 1879
Douglas, J&G, Flushing-Tank for Water Closets, US Patent 369842, issued September 13, 1887
Hughes, S.E., Water Closet, US Patent 481,761, issued 30 August 1892
Vogel, Joseph A. "Flushing apparatus for water-closets." U.S. Patent 737,796, issued September 1, 1903.
Vogel, Joseph A. "Flushing apparatus for water-closets." U.S. Patent 801,754, issued October 10, 1905.
Vogel, Joseph A. "Flushing mechanism." U.S. Patent 1,249,258, issued December 4, 1917.
Kirby, Howard M. "Flushing mechanism." U.S. Patent 1,253,982, issued January 15, 1918.
Vogel, Joseph A., and Arthur J. Jennings. "Flushing mechanism." U.S. Patent 1,695,621, issued December 18, 1928.
Vogel, Joseph A. "Flushing apparatus for water closet systems." U.S. Patent 1,985,119, issued December 18, 1934.
Vogel, Joseph A. "Vacuum break device for water service systems." U.S. Patent 1,985,120, issued December 18, 1934.
Barnard, Jr Daniel P. "Flushing apparatus." U.S. Patent 2,116,258, issued May 3, 1938.
Siphon flush valve toilet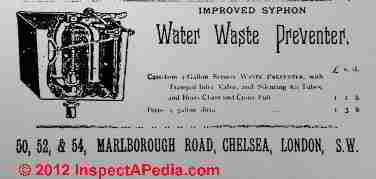 An alternative to the tank ball and flapper valve toilet flush mechanism used in the U.K. and in toilets in some other locales, toilet siphon flush valves are operated by a button that forces water up from the reservoir cistern (toilet tank) into the siphon that in turn sends water into the toilet bowl to complete the flush.
Siphon flush valve controls on toilets eliminate the problem of running toilets caused by leakage at the tank ball or flapper valve.
As you can see from our photo of an early toilet advertisement by Thomas Crapper & Cos. (from a wallpaper reproduction), the siphon flush valve is not a new idea, and has long been sold as a method of preventing water wastage and running toilets.
Depending on where you live, sources also refer to a toilet as a water closet, WC, or loo.
The list of synonyms for toilets is long and also includes crapper, can, head (probably the oldest term) and commode or as my dad called it, "pot" after the antecedent "chamber pot".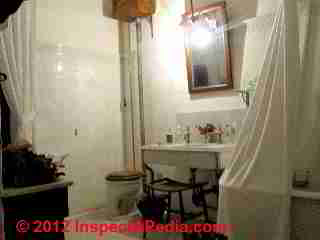 See MARINE TOILETS where we discuss special problems confronting the operation of toilets on boats, ships and submarines.
Thomas Crapper & Co. (London) called their scary-looking toilet contraption an "Elastic Valve Closet" [Image]
Early flush toilets like the toilet shown in our photo (left, Locust Grove, - Samuel Morse Estate, Poughkeepsie, NY)
and like this 1890 model [Image] used a high wall-mounted reservoir tank, typically wooden, to provide adequate pressure and flow rate to clean and empty the toilet bowl.
The flush valve for the wooden wall-mounted reservoir tank for this toilet was operated by pulling a chain that operated the mechanism.
Pulling the chain means flushing the toilet.
Below we illustrate a more contemporary top-front-flush high-mounted cistern type toilet. This toilet is installed in the restroom of the Brew Moon cafe in Amberley, on highway 1 between Christchurch and Akaroa, New Zealand.
The Brew Moon is a micro-brewery producing their own excellent beers whose sampling will for at least some customers, makes working toilets an important convenience.
At above right you can see the operation of the flush control mounted on the upper front center of the Brew Moon toilet's cistern.
Below we illustrate the cistern fill valve in operation and the flush control valve components of this toilet. The toilet includes a separate overflow drain from the top of the cistern (blue arrow, below right).
More about the operation of drains and vents on toilets of this type can be read at LOW COST TOILETS
Reader Question: Desperately Seeking Norris Toilet Parts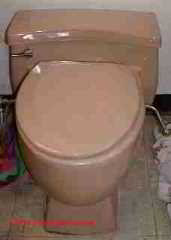 We have two of these, installed in 1983. A photo of our Mexican Sand (or Moroccan Sand) one is attached as well as a picture of the black one from your web page. I have been assuming that these are Kohlers, but Kohler says no. There is no K number in the ceramic of the tank.
The only identifiers are the word Norris on one of the tank lids and the number 45. The manufacturing date, however, is quite clear.
The hardware store invoice identifies them only as 503, with no manufacturer.
Since the phrase "Or as our mom did in Boca Raton" was used in the description of the black toilet, I believe somebody at your end has had a distressingly close encounter with this model.
Ours flush very well, but require constant rebuilding of the flush mechanism to fill and/or stop filling reliably.
The fact that I have been using Kohler parts all along might account for these constant problems. Thank you, - L.K. 5/9/12
Reply: A Quick History of Norris Industries & Norris Toilets
The black toilet shown in our photo was installed in a New York home - and was produced by Kohler industries. It does not appear to be the same brand as yours, since the tank on the black toilet in our earlier photo is rectangular, not curved such as the toilet tank shown in your photo (above).
But your message indicates that you saw "Norris" stamped inside one of the toilet lids. Almost certainly that indicates that your toilets were made by Norris Industries.
Norris Toilets, as indicated by the brand you found in the toilet tank lid, were a 5.0 gallon flush toilet (or other volume), builder-grade, low profile toilet design installed often in the 1970's and as late as 1991. Often you can also see the toilet brand on the bowl or base, behind the toilet seat hinge.
Watch for cracks in the porcelain in these units. Also see Norris Thermador (NT) models. Norris toilets may be marked as N, NI, NT, Norris, Norris Industries, or Norris Thermador.
The Norris Toilet Industries factory was located in City of Industry, California where production under the Norris label stopped when the company was bought by Mansfield Industries in 1991.
Mansfield Plumbing Products has been in business since 1929 and continues to operate (as a subsidiary of CORONA, a Colombian multinational ) in Big Prairie Ohio with a second plant in Henderson Texas. You might be able to obtain Norris-compatible parts from
Mansfield Plumbing Products LLC 150 East First Street, Perrysville, OH, 44864 Phone: 1-877-850-3060 Fax: 1-800-984-7802 Website: http://www.mansfieldplumbing.com
or go right to their parts supply contact information at
Vitreous China, Plastic Fittings and Parts. Phone: 1-877-850-3060 Fax: 1-419-938-6234
Other toilet part sources: we used to drive around in a pickup truck on "clean-up day" in our town, watching for people who were tossing out old toilets - collecting toilet lids for our renovation customers, as that's the part most often broken on porcelain toilets.
There are quite a few online vendors of toilet tank lids or other parts, including vendors selling color-matched parts if your toilet is other than a white model. Just ask for a brochure from the replacement toilet parts vendor and that will get you quite close to the original unit that you have.
The Corona Corporation was founded as Organizacion Corona in 1881 and is one of the oldest businesses in Colombia. The company, headquartered in Bogota, is a ceramics producer with operations in Colombia ( Cl. 99 #10 - 08, Bogotá, Colombia), Panama, Mexico, the U.S. and China. Corona has been owned by the Echavarria family since 1935.
British Toilets: Shires New Reverso Toilets - U.K. brands
Above, the Shires New Reverso toilet, installed at Brinstone Farm, Herefordshire, U.K. This toilet was produced by Whieldon Sanitary Potteries. The cistern (toilet tank for yanks and Canadians) is probably newer than the toilet base of this Shires New Reverso.
The toilet pan (toilet base for yanks & Canadians) is ceramic. Whieldon Sanitary Potteries (previously Winkle & Wood Colonial Pottery) who produced the toilet pan were, in the 1930's, located in Mount Pleasant, Staffordshire, England near Stoke-on-Trent.
This Shires Reverso toilet model dates from [about] the 1950's, the pan or base possibly dating from the 1930's. Earlier installations of this Shires toilet placed the cistern higher on the wall and used a pull chain to flush the toilet.
The cistern for this Shires Reverso toilet is plastic.
Below we illustrate the brand marking for Shires New Reverso cisterns and toilet pans or bases.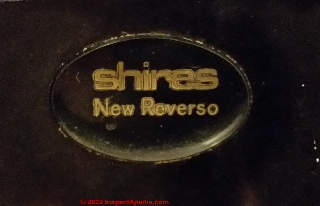 Shires Bathrooms, a british manufacturer of the Shires toilet / toilet cistern models included
Shires Auto
Shires Duralite
Shires Fineline
Shires Lynx Toilets: 1960-1980 and Lawley Lynx
Shires Panther
Shires New Duranite
Shires Puma
Shires Reverso
Shires Ruberwell
Shires Uni-Lynx
Below: an image of the Whieldon Sanitary Potteries Ltd., Colonial Pottery factory in Staffordshire in the 1930's, excerpted from a larger image, original source:
britainfromabove.org.uk/image/epw042661 Whieldon Sanitary Potteries, once so large that the company had its own railway stop, was acquired by Doulton & Co., in 1937.
Doulton was bought by S. Pearson & Co. in 1971. Thomas Whieldon, was a British potter who is said to have been a mentor to Josiah Wedgwood.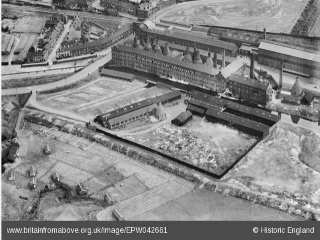 ...
Continue reading at CONTEMPORARY TOILET DESIGNS or select a topic from closely-related articles below, or see our complete INDEX to RELATED ARTICLES below.
Or see AGE of a BUILDING - visual and other clues determine building or building component age
Or see LOW COST TOILETS for a description of the McSkimming Toilet
Or see TOILET TYPES, CONTROLS, PARTS - home
Suggested citation for this web page
ANTIQUE FLUSH TOILETS at InspectApedia.com - online encyclopedia of building & environmental inspection, testing, diagnosis, repair, & problem prevention advice.
Or use the SEARCH BOX found below to Ask a Question or Search InspectApedia
...
Frequently Asked Questions (FAQs)
Try the search box below or CONTACT US by email if you cannot find the answer you need at InspectApedia.
...
Ask a Question or Search InspectApedia
Use the "Click to Show or Hide FAQs" link just above to see recently-posted questions, comments, replies, try the search box just below, or if you prefer, post a question or comment in the Comments box below and we will respond promptly.
Search the InspectApedia website
Technical Reviewers & References
Click to Show or Hide Citations & References
Del Porto D. (2000) The Composting System Handbook, The EcoS
an Center, The Center for Ecological Pollution Prevention,
http://www.cepp.
cc/ecosan.htmDel Porto D. (2000) The Composting System Handbook, The EcoS an Center, The Center for Ecological Pollution Prevention, http://www.cepp. cc/ecosan.html . Lachapelle P. (1995) A Report on human waste management in Mt Everest National Park, http://www.uvm.edu/~r lachape/toilets.html
Mara D. and Feachem R. (1980) Technical and public health aspects of low cost sanitation progra mme planning. Jour nal of Tropical Medicine and Hygiene 83:229-240. Pacey A. (1978) Sanitation in Developing Countries.
Oxfam and Ross Institute of Tropical Hygiene. Papaport D. (1995) Sewage pollution in Pacific island countries and how to prevent it. A report produced for Greenpeace Pacific, Center for Clean Development, http://www.uvm.edu/~rla chape/dev-pacis.html .
Peasey A. (2000) Health aspects of dry sanitation with waste reuse. Well Studies in Water and Environment no 324, http://www.lboro.ac.uk/well/

"Story: Rock, limestone and clay Part of page 8 – Ceramics and pottery ", TEARA, The Enyclopedia of New Zealand, Video retrieved 9/18/14, original source: http://www.teara.govt.nz/en/video/5254/clay-toilets, Te Ara, Manatū Taonga Ministry for Culture and Heritage, PO Box 5364, Wellington, New Zealand, Tel: +64 4 499 4229, Email: TeAra@mch.govt.nz
[1] Carson, Dunlop & Associates Ltd., 120 Carlton Street Suite 407, Toronto ON M5A 4K2. (416) 964-9415 1-800-268-7070 info@carsondunlop.com. Thanks to Alan Carson and Bob Dunlop, for permission to use illustrations from their publication, The Illustrated Home which illustrates construction details and building components. Carson Dunlop provides home inspection education including the ASHI-adopted a Home Inspection Home Study Course, and publications such as the Home Reference Book, the Home Reference eBook, and report writing materials including the Horizon report writer, and home inspect ion services. Alan Carson is a past president of ASHI, the American Society of Home Inspectors.
[2] 1991 ADA Standards for Accessible Design, U.S. Department of Justice, 28 CFR Part 36, Revised as of July 1, 1994, excerpts; web search 5/10/12, original source: http://www.ada.gov/stdspdf.htm [copy on file as ADA_Standards_1994.pdf]
[3] Alliance for Water Efficiency, 300 W Adams Street, Suite 601 Chicago, Illinois 60606, Tel: 866-730-A4WE, Website: http://www.allianceforwaterefficiency.org/ Quoting:
The Alliance for Water Efficiency is a stakeholder-based 501(c)(3) non-profit organization dedicated to the efficient and sustainable use of water.  Located in Chicago, the Alliance serves as a North American advocate for water efficient products and programs, and provides information and assistance on water conservation efforts.
OSHA toilet standards: OSHA's sanitation standard for general industry, 29 CFR 1910.141(c)(l)(i), specifies that employers shall provide toilet facilities for their employees. Web-search 5/10/12, original source: http://www.osha.gov/pls/oshaweb/owadisp.show_document?p_id
=22932&p_table=INTERPRETATIONS
[4] Toilet Manufacturers' Product literature or websites were consulted for the following:

American Standard brand toilets (illustrated in this article), includes these additional plumbing fixture & component brands: Jade, Porcher (see below), Crane Plumbing, Eljer, Fiat, American StandardsProSite, Safety Tubs, http://www.americanstandard-us.com/
Atlas International brand toilets, Atlas USA, http://atlasusa.net/
Barclay brand toilets, Barclay Products Limited, 4000 Porett Dr., Gurnee, IL 60031, 847-244-1234, website: http://www.barclayproducts.com/
Caroma brand toilets, Caroma is Australian company; in Canada & the USA Tel: 800-605-4218, website: http://www.caromausa.com/
Church Seats, [toilet seats only], http://www.churchseats.com/ - our photo (left) shows a church toilet seat installed.
Circle City Copperworks 9325 Uptown Dr., Suite 500 Indianapolis, IN 46256-1079, sinks, other copper products, not toilets, website: http://www.circlecitycopperworks.com/
Crane Plumbing - see American Standard Products, above
Danze brand toilets, Tel: USA: 1-877-530-3344, Canada: 1-866-884-8841 http://www.danze.com/room_solutions.asp
Eljer brand toilets, (e.g. Titan one-piece elongated bowl 16 1/8" ADA-compliant)
Gerber brand toilets (e.g. Gerber Ultra Dual Flush elongated ErgoHeight DF-21-318 pressure-assisted 1.6 gallon flush unit.), USA: 1-866-538-5536 (9AM-6PM) Mon-Fri Canada: 1-866-884-8841 (8:30AM-5PM) Mon-Fri, http://www.gerberonline.com/default.aspx
Glacier Bay brand toilets, [Home Depot brand] porcelain, made in china, top flush control low-water ADA-height unit shown in this article. Cf. Globe Union Industrial Company of Canada, China, elsewhere. Also see Pegasus, Danze, Gerber. Glacier Bay Faucets and sanitaryware, 2455 Paces Ferry Road NW, .Atlanta, Ga. 30339-4024, 800-220-3036. http://www.glacierbayfaucetsreview.com/
Hastings Tile & Bath toilets, includes "hatbox" and wall mount sinks, bidets, & toilets, 30 Commercial Street Freeport, N. Y. 11520, Tel: (516) 379-3500. http://www.hastingstilebath.com,
Herbeau Creations brand toilets, Herbeau Creations of America 3600 Westview Drive Naples, FL 34104, Tel: (800) 547-1608, (since 1857), http://www.herbeau.com/Products.aspx?Item=5501
Inax brand toilets, 15 West 20th Street, New York, NY 10011, Tel: 855-823-4434, http://www.inax-usa.com/gallery-ny/
Jacuzzi brand toilets, Tel: 800-288-4002., website: http://www.jacuzzi.com/
Jade, see American Standard Products, above
Jemal Wright Bath Designs toilets, Brazil & USA, 3140 SW 19th St. #572, Hallandale FL 33009 USA, Tel: 305-915-0960, email: info@jemalwright.com, website: http://www.jemalwright.com/
Kohler® brand toilets, Kohler Co. 444 Highland Drive Kohler, WI 53044, Tel 800-456-4537, Website http://www.kohler.com/corporate/index.html
Laufen Ceramicware brand toilets, world wide, LAUFEN Bathrooms AG Wahlenstrasse 46 CH-4242 Laufen, USA: Laufen Bathrooms North America 11190 NW 25th Street Miami, FL 33172, Tel: Tel: +1 866.696.2493 / +1 305.357.6130, Website: http://www.laufen.com
LeBijou brand toilets, - good luck finding this company or a home page for them - Ed.
Mirabelle brand toilets (e.g. Key West MIRKW241ABS), showrooms in the U.S. & Canada, Email: info@mirabelleproducts.com, Website: http://www.mirabelleproducts.com/
Nameek's brand toilets, 1561 Gehman Rd., Harleysville, PA 19438, Tel: (215) 256-4197, Website: http://www.nameeks.com/Bathroom/
Neo-Metro Collection brand toilets, Neo-Metro 15125 Proctor Ave City of Industry CA 91746 U.S.A, Tel: 800.591.9050, Website: http://www.neo-metro.com
Panasonic brand toilets, (e.g. Panasonic toilet bowl with warm water flush system for washing user beauty cabinet de toilette W moment-type pearl ivory DL-WD60-CP; also the Zaraku portable toilet - http://ex-blog.panasonic.co.jp/exhibition/en/2008/09/hcr08_400.html)
Porcher brand toilets, originally a French brand, acquired by American Standard Companies in 1992, Website: http://www.porcher-us.com/
ProFlo brand toilets (e.g. Proflo PFCT 103WH)
Rapsel brand toilets,RAPSEL Spa Via Volta 13 - 20019 Settimo Milanese (MI), Italy Tel. 0039 02 3355981 Fax. 0039 02 33501306, Email: rapsel@rapsel.it Italian company, offices in Milan & New York, Website: http://www.rapsel.it/ or in the U.S. http://rapsel.wordpress.com/
Samuel Heath brand toilets, US & UK, USA Customer Service 111 E. 39th St. 2R New York NY 10016, Tel: 212 599 5177, Email: usa@samuel-heath.com, or UK Head Office Samuel Heath & Sons plc Leopold Street Birmingham B12 0UJ, Tel: +44 121 766 4200, Email: info@samuel-heath.comWebsite: http://www.samuel-heath.com/
Sterling brand toilets (e.g. Rockton S4020880), Sterling Plumbing 444 Highland Drive Kohler, WI 53044, Tel: 800-783-7546, Website: http://www.sterlingplumbing.com/
St. Thomas Creations brand toilets, St. Thomas Creations 3A South Middlesex Avenue Monroe Township, New Jersey 08831 USA, Tel. (800) 536-BATH (800-536-2284) Fax (609) 655- 2421, Email: E-Mail: info@stthomascreations.com, Website: http://www.stthomascreations.com/
Toto brand toilets (e.g. Toto Drake CST744S, Neorest Hybrid, ) Brazil & USA, TOTO USA, INC. 1155 Southern Road Morrow, Georgia 30260, Tel: 888-295-8134, Tel: 1-888-295-8134, Email: custservice@totousa.com techsupport@totousa.com, Website: http://www.totousa.com
Villeroy & Boch Bath & Kitchen brand toilets, International, offices in Canada, Mexico, United States, Villeroy & Boch AG Corporate Headquarters P.O. Box 1120 D 66688 Mettlach, Phone +49 (0) 68 64 - 81 - 0, Website: http://www.villeroy-boch.com/, Company founded 1748.
VitrA USA brand toilets, International, Brazil?, USA contact: Shawnee North Business Center 305 Shawnee North Drive Suite 600 Shawnee USA, Phone : +1 770 904 68 30 Fax : +1 770 904 68 91 www.vitra-usa.com, Website: http://usa.vitra.com.tr/
Whitehaus Collection brand toilets, Whitehaus Collection - 589 Boston Post Rd. West Haven, CT 06516 USA, Tel: 800.527.6690, Email: info@whitehauscollection.com, Website: http://whitehauscollection.com

[5] Wikipedia provided background information about some topics discussed at this website provided this citation is also found in the same article along with a " retrieved on" date. NOTE: because Wikipedia entries are fluid and can be amended in real time, we cite the retrieval date of Wikipedia citations and we do not assert that the information found there is necessarily authoritative.

"Flush Toilet", web search 5/10/12, original source: http://en.wikipedia.org/wiki/Flush_toilet#Tank_style_with_flapper-flush-valve
"Japanese bidet toilet", web search 5/13/12, original source: http://en.wikipedia.org/wiki/Japanese_toilets
Books & Articles on Building & Environmental Inspection, Testing, Diagnosis, & Repair
Our recommended books about building & mechanical systems design, inspection, problem diagnosis, and repair, and about indoor environment and IAQ testing, diagnosis, and cleanup are at the InspectAPedia Bookstore. Also see our Book Reviews - InspectAPedia.
...