Oil Tank Leaks or Oil Tank & Tank Piping Failure & Oil Leak Odor Causes
InspectAPedia tolerates no conflicts of interest. We have no relationship with advertisers, products, or services discussed at this website.
Causes of oil storage tank leaks & failures:
This document explains the common reasons for both buried and above ground heating oil tank leaks. We explain the many causes of leaky oil tanks, and by those descriptions give suggestions on both where to look for leaks and how to prevent them.
Oil tank leaks are caused by corrosion, mechanical damage, soil conditions, and quite a few other factors which are explained here. We cite expert studies including one that indicates that the majority of oil tank storage system leaks occur in the piping system due to corroded threads and fittings rather than in perforation leaks of the oil tank itself.
Green links show where you are. © Copyright 2017 InspectApedia.com, All Rights Reserved.
Oil Storage Tank Failure Mechanisms - What Causes Fuel or Heating Oil Storage Tank Leaks?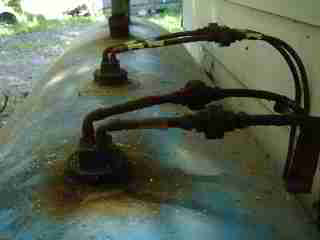 Here we describe the causes of oil storage tank leaks. In a companion artilce we also document the frequency or rates of occurrence of oil storage tanks & piping at OIL TANK FAILURE RATES.
[Click to enlarge any image]
Oil tank leaks, depending on the location and size of the leak, can lead to costly environmental contamination and cleanup costs outdoors or indoors in buildings. In addition, oil tank leak smells or fumes from indoor leaks or oil spills are a source of building occupant complaints that need to be addressed.
Photo of four oil tank lines coming off of a single outdoor oil storage tank is provided courtesy of Arlene Puenes.
External oil tank rust, unless very heavy, isn't highly correlated with internal rust, corrosion, and tank leaks. Most oil tank failures are due to rust perforation from the inside of the tank. This means that if you see any indications of even a pinhole or leak on an oil tank, be careful! The steel may be quite thin and can be easily punctured even though from outside it may look pretty good.
Article Contents
Categories or Types of Causes of Leaks in Oil Storage Tanks Discussed Here
Here we discuss the following categories of oil storage tank leak causation:
Oil Tank Rust Perforation: Usual Reasons for Oil Storage Tank "Bottom" Leaks
Underground fuel storage tanks that leak from an actual tank perforation (as opposed to a piping or fitting leak) usually fail from rust perforation from the inside of the tank, due to several effects of water inside the tank including, in the case of heating oil, combination of water with sulphur in the fuel.
So if a test shows that there is a lot of water in a buried oil tank one would be more pessimistic about its remaining life.
Water in home heating oil joins with sulphur in this case to become acidic and corrosive. It causes tank failure by rust penetration from the inside. Also, there may be a bacteria living in tanks, existing at the water/oil interface, digesting organics and excreting acids.
The corrosiveness of this activity is often most significant at the water-oil interface in the tank, which explains why some tank leaks will develop not at the very bottom of the tank (but look there too) but instead, a few inches up, along the side of the tank.
The height of this corrosion line along the sides of the inside of the oil storage tank depends on the amount of water in the tank and thus the location of the water/oil interface line on the side of the tank.
At REFERENCES we cite research on the role of bacteria and fungi in oil storage tank corrosion and leaks.
Also see OIL TANK TREATMENTS
How Water Gets into Oil Storage Tanks & What Problems are Caused by Water in Heating Oil?
Bad oil tank filler location
Water, enters a heating or fuel oil tank from a poorly sealed fill box which is flush with the ground or which is located below a roof edge, from missing fill pipe or vent pipe caps, from loose pipe fittings, and less commonly, from water delivered with fuel from an improperly maintained bulk storage facility.
Photo courtesy of Arlene Puenes.
Condensation inside oil tanks and groundwater leaks into oil tanks
In outside above-ground tanks water also often enters the fuel oil tank from condensation as temperatures change, particularly when the tank is not kept filled. Above ground tanks in cold climates may be exposed to temperature variations drawing and expelling air from a partly-empty tank. When warm moist outdoor air is drawn into a steel tank, moisture in the air may condense and accumulate in the tank.
Water can also leak into a tank from ground water when the oil level is low if the tank is damaged. [R.W. Beckett Corporation, Technical Information Bulletin, October 15, 1990.]
Delivery of bad oil that contains water contaminants
Most oil delivery companies store their product in very large storage tanks near a rail or waterway delivery point. Large oil storage facilities may deliberately keep water in the bottom of those tanks so that if the large (above ground oil storage depot tank) begins to leak, water will leak out first and thus be observed before there is a large oil spill.
An oil truck which is filled when oil has just been delivered to the oil depot tank might in unusual circumstances pick up excessive amounts of water in the oil it obtains, thus potentially delivering it to its customers. Equipment is often used to attempt to trap and filter water in oil and other fuel delivery systems to reduce this risk.
How Improper Oil Tank Installation Later Leads to Leaks
Placing a tank in cinders or ash or acidic soil: tanks set in beds of cinders or ashes cause outside-in corrosion and leaks.
Tanks may also be damaged by being dropped or pushed into the excavated hole rather than being carefully lowered by a rope.
Burying an indoor-rated tank: That an installer would bury an indoor-rated 275-gallon tank outdoors may come as a surprise to some readers but I've been surprised at how often we've found either completely or partially buried indoor-tanks.
At least on older oil tanks (perhaps before 2000), the UL label affixed to the tank explicitly says "indoor use only" right there for the installer to read. I contacted a few manufacturers and wrote to UL to ask if it was a building code violation to bury a tank with this indoor use rating. I haven't received a reply, but interestingly, newer 275-gallon steel oil storage tank UL rating labels simply dropped the wording that indicated where the tank could be used. Our concern was that an indoor-rated tank may lack the thickness of steel or an anti-corrosion coating that a buried tank needs.
Placing an indoor-rated tank outside with no weather protection also risks water entry in the tank (from roof spillage or condensation), gelling of the oil and loss of heat in cold climates, and perhaps extra corrosion.
Mechanical damage to oil storage tanks
Oil tanks may be damaged during their installation, such as being dropped or gouged against a rock or other item which scratches or dents the tank, increasing its vulnerability to outside corrosion.
While it's speculative (we have no field data on this item) tanks or tank piping may be damaged by vehicle traffic in some locations as well.
Oil Storage Tank Manufacturing Defects as a Leak Source
Manufacturing defects such as defects in the coating of a steel tank to be buried or poorly-welded seams may result in underground oil leakage. We have not found significant reports of this occurrence - this may be a theoretical rather than a significant risk.
Does Type of Petroleum Product Stored Affect the Storage Tank Failure Rate?
We think the jury is out on this question, in part because the type of petroleum fuel stored in a tank may correlate with the UST location and with a concomitant exposure of the oil or other petroleum fuel storage tank to stresses of vibration, nearby vehicle traffic, frequency of re-filling, and other local environmental factors.
Nevertheless, Heck reported very interesting results that relate the type of petroleum product storage tank contents to the tank leak-failure rates. Heck concluded that "... systems containing heating oil for on-site consumptive use are no different than any other underground storage tank and do not experience a significant percentage of failures."
Table of Petroleum Product Storage Tank Leak Rate by Fuel Type

Tank Contents / Fuel
Number Tested
Number of Failures
Failure Rate %
No. 2 home heating oil

61

39

64%

Diesel fuel

95

20

21%

K-1 (kerosene) fuel

52

26

50%

Gasoline

19

5

26%

Waste Oil Storage

16

2

13%

Source: A Case Study of a Large Scale Precision [oil or fuel] Tank Testing Program", Diane H. Heck [3]
How Does Urban vs Rural Location Affect Underground Oil Storage Tank Leak Rates?
Heck observed that the majority of petroleum product storage tank failures (leaks) in her Marlyland UST study occurred in the Batlimore County area, a densly populated urban area around the city of Baltimore. She suggested that both urbanization effects on USTs (listed below) and the local geological enviornment might be factors in UST leak rates, but she found that "By far, the major influences compromising [heating oil, gasoline, kerosene, or waste oil] [underground] tank ingegrity were those characteristic of urban areas... influences ... noticeably absent from most of the rural locations..." and she noted that [3]
The [UST oil, kerosene, gasoline storage] tank system failure rate was 50% in urban areas and only 25% in rural areas.
Urban factors impacting underground storage tank leak rates included:
Structural loading - [oil or other petroleum product storage] tanks under driveways, parking lots, loading docks, proximity to building foundations
Dissimilar metals - galvanic corrosion (see GALVANIC SCALE & METAL CORROSION) between fuel piping lines (copper and brass) and steel storage tankls. "Dissimilar metals between lines and tanks, such as brass fittings connecting lines to tanks, acted as the cathode while the lines and tanks acted as the anode and corroded. Even steel piping bearing slightly different metalurgical properties than the associated steel tanks generated galvanic corrosion. In some cases, the potential differences between bare threads and the surface of the same pipe were great enough to cause the threads to corrode."

"... at one location where a water supply pipe passed directly above an underground heating oil storage tank supply line. The supply line was badly scored with pinholes in the area where the two pipes contacted one another. "[3]
Stray electrical currents - in urban settings direct current pulses through the soil from numerous sources [grounded electrical equipment, electrified railways]. "Stray currents can cause severe damage to storage systems in a very short time (US EPA 1986)".
Geological environment - "The galvanic and electrolytic corrosion mechanisms discovered in urban areas are governed not only by the potentials involved, but also by electrical resistances of the paths travelled by the currents. (Hursock 1976). ... Larger corrosion currents are generated in soils having lower resistivity than those with higher resistivities. Soils having a greater amount of clay than sand possess a lower resistivity. "
How Soil Conditions & Chemistry are a Contributor to Underground Oil Storage Tank Leaks
Above at Geological environment Heck explained the role of soil conditions in the conduction of electrical currents that in turn contribute to corrosion at oil tanks or oil tank piping and fittings and she cites clay soil as more conductive (less resistant) to electrical currents.
In addition to the role of urban electrical currents in UST tank system corrosion and leaks, soil chemistry may play a role. If a soil is acidic and particularly in areas where there is also a lot of groundwater or surface or roof runoff around a buried oil tank, the corrosivitiy of the soil combined with its historic moisture level appear to be a factor in oil tank external corrosion and ultimate leakage.
How Improper, Damaged or Corroded Heating Oil Fill, Vent, or Distribution Piping can Cause Heating Oil Spills & Leaks
Oil tank piping materials or connections can lead to oil leaks. Heck reported that in her Maryland study 82% of petroleum product storage tank leaks occurred in the tank piping system. [3]
If you didn't know, residential oil tanks are usually filled under pressure. The oil filler nozzle is actually linked to the top of the inlet pipe and the truck pumps into the tank at pressure - most-likely to speed the delivery process. This fill-pressure can be considerable and can cause leakage or even catastrophic tank failure and leaks into a building if the tank piping is improper or if the tank is damaged.
Oil tank fill, vent & distribution piping leak diagnosis: for diagnostic details and photos of examples of heating oil piping snafus see OIL TANK PIPING & PIPING DEFECTS.
Oil tank filler pipe seepage at ASTs: at an above-ground or indoor oil storage tank a small amount of seepage around the oil filler pipe is normal - having installed oil piping the author testifies that it requires very good workmanship to avoid this seepage as the tank top thread tapping and 2" steel pipe thread tapping can be a bit crude. If oil is running down the tank onto the floor or causing an odor problem this connection needs to be re-made. Because the work can be troublesome (a filler pipe disassembly may require demolition at a house wall) it should not be done unless really needed.
At a buried oil storage tank, corroded loose or improper oil filler or oil pipig connections at the top of a buried tank or anywhere in the oil piping run can leak onto outdoor soil (luckily usually not deep underground) or indoors in a building. Corrosion at tank piping fitting threads has been reported as the major source of leaks in the oil piping system. [3]
Under-sized oil storage tank fill or vent piping can cause very serious oil leaks inside the building or outside, including catastrophic oil leaks if a (plastic) pipe breaks.
Oil to gas conversions, incomplete piping abandonment/removal: the most catastrophic in-building oil storage tank leaks are not from rust perforation itself as such leaks are usually slow drips. Extreme indoor oil contamination occurs in more unusual and very serious circumstances when indoor oil tank has been removed from a building, for example on conversion from oil to gas heat, but the oil filler pipe was left outside and through the house wall, though no longer connected to a tank inside.

In an instance in Ulster County, New York, home inspector & builder Steven Vermilye reported [to DF] that a contractor left plywood outside nailed against the building to prevent access to the old filler pipe pending its removal. But a neighbor called her oil company with an out-of-oil no heat condition in very cold weather. The oil delivery driver, intending to assist in an urgent case, went to the wrong house, removed the plywood, and pumped hundreds of gallons of oil directly into the home's basement.
Health Hazards of Exposure to Heating Oil Fumes
OSHA's position is that heating oil fumes are a nuisance and may not pose a hazard to a healthy individual. Our field investigation experience as well as a review of oil spill guidelines from several sources provide anecdotal and other evidence that the elderly, infants, or people who are in fragile health, as well as people who suffer from multiple chemical sensitivity, allergies, asthma, and some other respiratory conditions may experience more serious symptoms including asthma attacks and other complaints.
Several U.S. states including the Connecticut department of health provides a fact sheet on home heating oil spills that includes the advice that homeowners should avoid both breathing heating oil fumes and skin contact with heating oil. The Wisconsin Department of Health Services offers similar advice. The US ATSDR (Agency for Toxic Substances and Disease Registry) also provides a Public Health Statement for Fuel Oils and related documents including Heating Oil Exposure Health Effects and ATSDRs section on Heating Oil Chemical Properties.
A typical No. 2 home heating oil MSDS document includes the hazard identification information for home heating oil that we list below. The same document provides information about toxicity levels - the exposure necessary for serious medical effects to be at risk or to actually occur.
Eye contact with heating oil: Contact with eyes may cause mild irritation. Flush with clean water for at least 15 minutes.
Skin contact with heating oil: Practically non-toxic following a single acute exposure; may cause skin irritation with prolonged or repeated contact; liquid may be absorbed through the skin in toxic amounts if large areas of skin are repeatedly exposed. Remove contaminated clothing, wash with soap and water or waterless hand cleaner; seek medical attention of skin redness develops.
Inhalation of heating oil [presumably refers to liquid inhalation?]: excessive exposure may cause irritation of the nose, throat, lungs, and respiratory tract. Central nervous system (brain) effects may include headache, dizziness, loss of balance and coordination, unconsciousness, coma, respiratory failure, and death.

MOVE TO FRESH AIR - provide artificial respiration (CPR) if necessary - seek immediate medical help.
Ingestion of heating oil: major threat occurs from vomiting and breathing liquid drops into the lungs; aspiration [presumably of liquid heating oil drops] can lead to chemical pneumonia (fluid in the lungs), severe lung damage, respiratory failure, or death.

DO NOT INDUCE VOMITING - seek immediate medical help.

Ingestion of heating oil may also cause gastrointestinal disturbances, irritation, nausea, vomiting, diarrhea, central nervous system (brain) effects similar to alcohol intoxication, and in severe cases of heating oil ingestion, effects may lead to tremors, convulsions, loss of consciousness, coma, respiratory arrest, and death.
Flue gases produced by burning heating oil in an area without adequate ventilation [presumably also where a chimney is not venting properly] may result in hazardous levels of combustion products, including carbon monoxide, and inadequate oxygen levels that can cause unconsciousness, suffocation, and death.
Carcinogenicity of heating oil: [cancer risk from home heating oil exposure]: similar products have caused skin cancer and systemic toxicity in laboratory animals following repeated applications. The significance of these results to human exposure has not been determined.
Exposure Limits for No. 2 Home Heating Oil
The following workplace exposure limit for heating oil is quoted from ATSDR.
The Occupational Safety and Health Administration (OSHA) and the Air Force Office of Safety and Health (AFOSH) regulate levels of petroleum products in the private sector and Air Force workplaces, respectively.
The maximum allowable amount of petroleum products in the workroom air during an 8-hour workday, 40-hour workweek, is 400 parts of petroleum distillates (naphtha) per million parts of air, or more simply stated, 400 ppm.
See OIL SPILL CLEANUP / PREVENTION for advice on how to prevent heating oil leaks & spills. See OIL TANK LEAK ADVICE for our detailed advice on handling leaky oil tanks as well as links to oil tank leak regulations for U.S. states and Canadian provinces. Readers should also see BOILER NOISE SMOKE ODORS for a discussion of flue gas leaks, smells, and hazards from the combustion products of oil burning heating appliances.
...
Continue reading atOIL TANK FAILURE RATES or select a topic from closely-related articles below, or see our complete INDEX to RELATED ARTICLES below.
If your oil tank is leaking see OIL TANK LEAK ADVICE.
Suggested citation for this web page
OIL TANK FAILURE CAUSES at InspectApedia.com - online encyclopedia of building & environmental inspection, testing, diagnosis, repair, & problem prevention advice.
Or use the SEARCH BOX found below to Ask a Question or Search InspectApedia
...
Frequently Asked Questions (FAQs)
Try the search box below or CONTACT US by email if you cannot find the answer you need at InspectApedia.
Question: problems with strong oil tank odors
(Jan 9, 2015) spalmer said:
New oil tank put in (above ground)and right away there is an excessive smell of oil in the house. This smell is not all of the time but quite frequently. Called back installer still not fixed. Already spent over $1000 and installer says there is nothing wrong with it. Getting headaches, dizzy, and sore throat. Smell is very strong. What legal options do I have? I want it out and gone and it has been less then 30 days. Please advise
Reply:
S.P.
If you can confirm this smell - that is with others so we are sure it's not a medical issue - then something must be wrong regardless of what the installer said. But an onsite expert is needed to decide if the problem is an oil spill, oil leak, oil venting error, or improper operation of oil fired heating equipment. You might want to also keep an odor log to relate odor observances to time of day, weather, and operation of equipment.
...
Ask a Question or Search InspectApedia
Use the "Click to Show or Hide FAQs" link just above to see recently-posted questions, comments, replies, try the search box just below, or if you prefer, post a question or comment in the Comments box below and we will respond promptly.
Search the InspectApedia website
Technical Reviewers & References
Click to Show or Hide Citations & References
Chang, James I., and Cheng-Chung Lin. "A study of storage tank accidents." Journal of loss prevention in the process industries 19, no. 1 (2006): 51-59.
Edyvean, Robert GJ, and Hector A. Videla. "Biological corrosion." Interdisciplinary Science Reviews 16, no. 3 (1991): 267-282.
Iverson, Warren P. "Microbial corrosion of metals." Adv. Appl. Microbiol. 32 (1987): 1-35.
Khalifa, M. A., M. El‐Batouti, F. Mahgoub, and A. Bakr Aknish. "Corrosion inhibition of steel in crude oil storage tanks." Materials and Corrosion 54, no. 4 (2003): 251-258.
Rober, G. A. H. "Microbiological corrosion of tanks in long-term storage of gas oil." British Corrosion Journal 4, no. 6 (1969): 318-321.
M Bento, Fátima, and Christine C Gaylarde. "Biodeterioration of stored diesel oil: studies in Brazil." International biodeterioration & biodegradation 47, no. 2 (2001): 107-112.
Abstract:
The problems of hydrocarbon fuel storage in Brazil are particularly acute for diesel fuel. Visits to bus depots showed that many foremen did not understand the importance of draining water bottoms regularly and most systems were microbially contaminated. Common fungal isolates from refineries and distribution systems, Hormoconis resinae, Aspergillus niger, Aspergillus fumigatus, Paecilomyces variotii, and Candida silvicola, grew equally well in laboratory diesel/water systems with or without a chemical additive mixture, showing that this package of compounds neither promoted nor retarded fungal growth. Non-sterilised diesel was stored for 450 days over a water bottom, with or without an isothiazolone biocide, in the laboratory. The fungi most frequently detected in the non-biocide treated systems were H. resinae, A fumigatus, P. variotii, a Penicillium sp., and the yeasts, Rhodotorula glutinis and Candida silvicola.

Bacterial isolates included oxidative Gram negative rods, sulphate-reducing bacteria and a Micrococcus sp. Biocide at 0.1 ppm maintained the systems clean for up to 30 days, and at 1 or 10 ppm for 400 days. After 400 days, the biomass (dry weight) from non-additive-containing diesel in control, 1 and 10 ppm biocide-containing systems was 24.6, 4.6 and 3.3 mg, respectively. The system treated with 0.1 ppm biocide yielded 38.2 mg biomass, indicating that sub-effective doses may lead to increased microbial growth. Within 24 h of addition of 10 ppm biocide to a highly contaminated control flask (145 days storage) there was a 2-log reduction in total aerobic bacterial and yeast population and the filamentous fungal count was View the MathML source.
Hendey, N. Ingram. "Some observations on< i> Cladosporium resinae</i> as a fuel contaminant and its possible role in the corrosion of aluminium alloy fuel tanks." Transactions of the British Mycological Society 47, no. 4 (1964): 467-IN1.
Little, B., P. Wagner, and F. Mansfeld. "Microbiologically influenced corrosion of metals and alloys." International Materials Reviews 36, no. 1 (1991): 253-272.
Mabee, W. C., and T. H. Wiggin. "Steel Tank Corrosion Prevention [with Discussion]." Journal (American Water Works Association) (1940): 1075-1080.
von Baeckmann, Walter, Wilhelm Schwenk, and Werner Prinz. Handbook of Cathodic corrosion protection. Gulf Professional Publishing, 1997.
Yichuan, Li Yunde Li Chun Yu. "Countermeasure and Cause Analysis to Anticorrosive Failure of Electrostatic Conductive Coating for Internal Wall of Storage Oil Tank [J]." Total Corrosion 3 (2004): 011.
Zhang, Jiquan, and Zhenyu Wang. "Case analysis and solution to the bottom plate corrosion of vertical oil tank." Oil & Gas Storage and Transportation 11 (2006): 013.
ZHAO, Shan-lin, Xin WAN, Ping LI, Zhen-hua ZHANG, and Chan WANG. "Sulfurization and Oxidation for Rust on Inner-Face of Oil Tank [J]." Journal of Combustion Science and Technology 3 (2006): 004.
[1] Fuel Storage] Tank Corrosion Study, U.S. EPA report on gasoline and oil tank corrosion, James H. Pim, P.E., John M. Searing, Suffolk County DOHS, 15 Horseblock Place, Farmingville Long Island, NY 11728, November 1988, for the Office of Underground Storage Tanks, U.S. EPA. ATTN: David O'Brien. The report presents a study of 500 underground storage tanks spanning 24 February 1987 and September 1 1988 and summarizes earlier reports on this same study. Tank sizes ranged from 175 gallons to 50,000 gallons, and oil tank ages ranged from two years to 70 years old. All 500 oil storage tanks were constructed of welded steel, and 12 other tanks that were other than plain steel were also examined. Summary [with minor edits for clarity by DJF]
Five hundred plain steel [underground fuel storage] tanks plus twelve corrosion protected [under ground oil] storage tanks were removed from the ground over an eighteen month period in Suffolk County, Long Island, New York. The oil tanks were examined carefully before disposal to gather statistics on the nature and extent of steel oil storage tank corrosion that had attacked them. Information was gathered on the number, type, location, and size of oil storage tank perforations [oil storage tank leak points] the general interior and exterior corrosion condition of the oil storage tank, soil, backfill, and groundwater conditions; the presence of leaked product [heating oil], and oil storage tank statistics such as tank volume, steel plate thickness, location, product [type of heating oil stored], tank age, etc. The statistics were compiled and compared, observations made, and conclusions developed. The major conclusions [were] summarized as follows:

Size is more important than age in predicting oil storage tank failures
In general, small tanks are much more likely to perforate than large tanks due to thinner walls found in smaller oil storage tanks
Compared to external corrosion, internal corrosion is insignificant [in the underground oil storage tanks examined - warning from DF: the opposite is probably the case regarding above ground storage tanks].
Fuel oil tanks are just as susceptible to leak perforation as gasoline tanks of the same size
Existing fuel storage tanks are in worse shape than is demonstrated by storage tank testing
Storage tanks to not always leak immediately on perforation

[2] "Causes of Underground Corrosion", Harco Corporation, Paper HC-36, Median OH
[3] "A Case Study of a Large Scale Precision [oil or fuel] Tank Testing Program", Diane H. Heck, Tetra Tech Richardson, Newark, Delaware, web search 4/27/12, original source: http://info.ngwa.org/GWOL/pdf/870143411.PDF, copy on file as /heating/OIl Tanks UST/Tank_Test_Heck_870143411.pdf Abstract:
In September 1986, a precision tank testing program was started to bring a major Maryland utility into compliance with the State of Maryland Oil Spill Control Regulations regarding underground storage tanks. This program involved the testing of over 240 tanks ranging in size from 300 gallons to 1,500 gallons located throughout the entire state of Maryland.
Analyses of the testing results revealed that 40% of the systems tested leaked. Piping leaks caused 82% of the testing failures and tank leaks caused the remaining 18%. Tank systems located in urban areas experienced a 50% testing failure rate, while tank systems located in rural areas experienced only a 25% failure rate. Leaks in tank systems in urban areas appear to be the result of structural loading and corrosion, affects [effects] absent in rural areas. The age, capacity, and usage of the tanks did not have a role in causing leaks either in the piping or the tank.
[4] Fuel Oil and Oil Heat Magazine, August 1985 p.18. Fuel Oil & Oil Heating Magazine, 3621 Hill Rd., Parsippany, NJ 07054, 973-331-9545
[5] Standards of the National Board of Fire Underwriters, as referenced by "Domestic and Commercial Oil Burners,", Charles H. Burkhardt, 1961, 3rd Ed., McGraw Hill Book Company, p. 172
[6] "Soil Survey of Baltimore County Maryland", U.S. GPO, Washington D.C.
[7] "The Interim Prohibition Guidance for Design and Installation of Underground Oil Storage Tanks", U.S. EPA, EPA/530-SW-85203, Office of Underground Storage Tanks, Washington D.C.
[14] "Toxicological profile for fuel oils", U.S. Department of Health and Human Services, Public Health Service, Agency for Toxic Substances and Disease Registry (ATSDR) Atlanta, GA 1995. - http://www.atsdr.cdc.gov/toxprofiles/tp75.html
[15] Public Health Statement for Fuel Oils, ATSDR, (the full document original source can be found at http://www.atsdr.cdc.gov/toxprofiles/phs75.html). An excerpt from this document is just below. ATSDR,
Division of Toxicology, 1600 Clifton Road NE, Mailstop F-32, Atlanta, GA 30333 888-422-8737.
[16] Heating Oil Exposure Health Effects - The ATSDR section on health effects of exposure to heating oil see-ATSDR
[17] Heating Oil Chemical Properties - ATSDR
[18] Potential for Human Exposure to Heating Oil - ATSDR

1.5 How can fuel oils affect my health?

We know very little of the human health effects caused by fuel oils. Daily use of a kerosene stove for cooking should not cause any breathing problems for most people. People who use kerosene stoves to cook do not have more colds than people who have other types of stoves. Breathing moderate amounts of deodorized kerosene (fuel oil no. 1) has been shown to slightly affect the ability to smell and to cause a taste sensation. Numerous case-studies have reported accidental poisoning in children as the result of drinking kerosene. These accidents are probably much more frequent in areas where kerosene is commonly used for cooking and heating. Drinking kerosene may cause vomiting, diarrhea, swelling of the stomach, stomach cramps, coughing, drowsiness, restlessness, irritability, and unconsciousness; also, it may be difficult to breathe, and breathing may be painful. Coughing, pneumonia, and difficult or painful breathing after drinking kerosene suggest that kerosene has entered the lungs. In addition, drinking large amounts of kerosene can put you into a coma, cause convulsions, and may even cause death. When kerosene gets on your skin for short periods, it can make your skin itchy, red, and sore; sometimes blisters may occur and your skin may peel.

Breathing fuel oil no. 1 vapor for periods as short as 1 hour may make you feel nauseous, increase your blood pressure, be irritating to your eyes, or make your eyes bloodshot. Breathing kerosene or JP-5 vapors can also affect your nervous system. Some of the effects that have been noted in case studies include headache, light-headedness, anorexia (loss of appetite), poor coordination, and difficulty concentrating. Breathing diesel fuel vapors for a long time may damage your kidneys, increase your blood pressure, or lower your blood's ability to clot. Constant skin contact (for example, washing) with diesel fuel may also damage your kidneys.

It appears that repeated contact with fuel oils can cause skin cancer in mice and may cause liver cancer in mice. However, there is some conflicting information. Further, the fuel oils were tested only on mice. We do not know if fuel oils can cause cancer in humans. The International Agency for Research on Cancer (IARC) has determined that residual (heavy) fuel oils and marine diesel fuel are possibly carcinogenic to humans (Group 2B classification). In addition, IARC considers that there is not enough information (Group 3 classification) available to determine if distillate (light) fuel oils or distillate (light) diesel fuels cause cancer. They have also determined that occupational exposures to fuel oils during petroleum refining are probably carcinogenic to humans (Group 2A classification). We do not know if fuel oils can cause birth defects or if they affect reproduction.

[19] "Home Heating Oil Spills, Fact Sheet", Connecticut Department of Public Health
[20] "Home Heating Oil Spills", Wisconsin Department of Health, at http://dhs.wisconsin.gov/eh/Air/fs/Oilspill.htm
[21] MSDS for No. 2 Home Heating Oil - provided by Hess Oil Company
Arlene Puentes, an ASHI member and a licensed home inspector in Kingston, NY, and has served on ASHI national committees (Bylaws, Standards), as well as HVASHI Chapter President. Ms. Puentes can be contacted at ap@octoberhome.com
Books & Articles on Building & Environmental Inspection, Testing, Diagnosis, & Repair