Heating Oil Underground & Above ground Oil Storage Tanks
Oil Tank Leaks Testing, Problems & Solutions
POST a QUESTION or READ FAQs about oil tanks: ASTs, USTs, oil tank life, oil tank regulations, leak testing, buried oil tank abandonment, oil tank removal, oil tank leak prevention, spill cleanup, oil piping, oil filters, oil tank regulations
InspectAPedia tolerates no conflicts of interest. We have no relationship with advertisers, products, or services discussed at this website.
Heating oil storage tanks home page:
This oil tank information article series answers nearly all questions about above ground or buried oil storage tanks including oil tank inspection & testing, oil tank abandonment or removal, removal, oil storage tank & tank piping leak testing, leak prevention, and oil storage tank regulations.
We also provide details for heating oil storage tank installation, oil piping, oil piping gauges, controls, check valves, fire safety valves, and oil storage and piping system repairs.
We also provide a MASTER INDEX to this topic, or you can try the page top or bottom SEARCH BOX as a quick way to find information you need.
Residential & Small Commercial Oil Storage Tank Information Website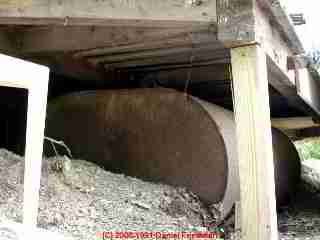 Home heating oil tank leak and environmental contamination risks are important concerns for building owners and home buyers as major cleanup and tank replacement costs can be involved.
Here we provide authoritative, extensive free un-biased oil storage tank inspection and testing advice for property buyers and owners.
Click to enlarge any image]
This document lets you know what to ask about oil storage tanks, what oil tank leak tests to order, how to interpret oil tank testing results, what to do if there is a buried fuel or petroleum storage tank at a property, what to do if there is or was a leaky oil storage tank or petroleum storage tank, and how to reduce the chances of an oil leak or oil spill in the future.
We include detailed information about underground (buried) oil storage tanks (USTs), aboveground oil storage tanks (ASTs), above ground fuel storage tanks, reporting and cleaning up oil tank leaks, and choosing among oil tank leak testing methods.
We discuss how to find buried oil tanks, how to remove or abandon oil tanks and how to recognize evidence that there was a previous oil tank at a property even if the oil tank may have been removed (or perhaps left buried in place). We discuss what to do if an oil tank has already been removed or abandoned.
We provide links to every U.S. state regulatory agency concerned with oil and other storage tanks and to regulatory agencies in Canada and other countries. Environmental damage from oil leaks, oil spill cleanup, are also discussed. We discuss oil spill cleanup, oil spill and odor remediation, and bio remediation, for fuel oil or heating oil.
LP Gas tanks are also addressed.
Building Owners & Home Buyers' Guide to Oil Storage Tanks

Home buyers and purchasers of other buildings using oil heating equipment should review the following oil storage tank articles







In-Depth Information on Oil Storage Tank & Piping Leaks & Odors
Does or Did Your Building Have an Oil Storage Tank?
What to do if an oil storage tank is or was installed at your property?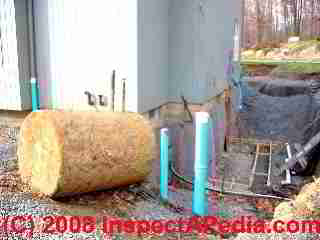 Buried oil tanks raise increasing environmental, safety, legal and economic concerns for home owners and home buyers because oil leaks underground or even within buildings can lead to both environmental damage and very costly cleanup operations.
Typical Cost to Abandon & Replace an Oil Storage Tank
Having to install a new above ground indoor oil storage tank involves significant expense, perhaps $2000. to $4000. to remove the old tank and install the new one. [22] Costs can be substantially higher in the event of extensive leakage and soil contamination.
Removing or abandoning a buried oil tank is more costly. If an oil tank has leaked the cost to clean up contaminated soils can be very significant, so much so that
a property buyer should not complete the purchase before questions about the condition of oil tanks, past or present at the property, and the chances of leaks from buried oil storage tanks have been answered satisfactorily.
Reporting Requirements for Heating Oil Storage Tanks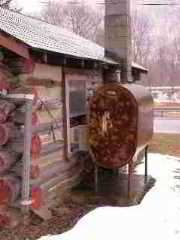 Home heating oil tanks are excluded from Federal Regulations about oil storage tank reporting and monitoring, but in almost every U.S. state or Canadian province, storage tanks are addressed by state or local DEP/DNR/DEC agencies and regulations.
For example, in the U.S. in New York, even residential storage sites must be reported to the state DEC if more than 1100 gallons are stored at a single site. (A few U.S. states specifically exclude the regulation of storage tanks when used for home heating oil.)
In any case, should a home heating oil tank causes a release of oil into the environment, at that point the owner of the tank is not exempt from the other provisions of the State or Federal Regulations: the leak needs to be reported (often within two hours of observation), the source of leak/spill would have to be stopped, a site characterization would have to be completed, and appropriate corrective action (cleanup) would have to initiated, and the incident would have to be reported.
Who Checks for Leaky Oil Tanks?
Above ground oil tanks and clues for the presence of buried oil tanks are not usually examined during a pre-purchase home or building inspection unless specific prior test arrangements have been made.
Oil tank inspection, other than casual visual inspection for obvious leaks is not performed by such inspectors.
Oil tank tests for leaks, soil tests for oil contamination, soil tests for corrosivity, screening for evidence of prior or abandoned oil storage tanks, as well as oil storage tank removal or abandonment require that you use an appropriate expert.
However articles at this website outline easy on-site visual observations that any thoughtful observer can make to spot evidence of a present or previous buried tank and to spot evidence of leaks or other problems with above ground storage tanks.
From a previous use, a buried oil tank may be present or may have been present at a property now served by an indoor, above ground oil tank or even by LP or natural gas.
So don't assume that because you don't see a tank that none was ever used or present at a property.
If you just "scroll down" you'll miss some important articles.
Tank Removal Funding Assistance is available in some municipalities. See TANK REGULATIONS at page-left to find individual state or provincial agencies concerned with oil storage tanks.
Before completing purchase of a property that has or had a buried oil tank you need to have either had the tank removed, abandoned in place, or tested.
At end of the day, you need reliable documentation that shows that either there has been no leakage and a proper tank abandonment has been performed, or if there was leakage, that a proper cleanup has been performed.
If the oil storage tank is a newer buried model (perhaps a fiberglass or multi-walled oil storage tank) and if the oil tank is in good condition it may not need to be abandoned.
But if older oil storage tanks were used, were removed, or remain abandoned at the property you still need to satisfy the requirements of this paragraph. The discussion which follows explains the risks and gives detailed advice about what to do about buried or above ground oil tanks and tank leaks.
OIL TANK LIFE - Life Expectancy of Buried or Underground Oil Tanks
See OIL TANK LIFE, ABOVEGROUND for details about the life expectancy of oil tanks.
Also see OIL TANK FAILURE RATES
and see OIL TANK FAILURE CAUSES. Excerpts are below.
While we've found them lasting longer, a common life expectancy of buried oil tanks is 10-15 years. At about 20 years, the risk of leaks from buried steel oil tanks becomes significant. Leaks can occur earlier if a tank was damaged at installation or was not properly piped.
Even if you think the tank is ok, young, and not leaking, buried oil tanks, should be tested for water in the tank bottom. Water should be pumped out since it corrodes the tank and leads to leaks. Oil tank leaks can also be due to damage at time of installation, improper installation, corrosive soils, or piping defects. If the tank is to remain in use, ask your fuel supplier about using an additive or other methods to help remove water.
In New England for a two year period [1984-5] among customers who have buried heating oil tanks (16% of total customers) surveyors found an average of 1.7 tank leaks per thousand customers. They also found 2.5 fuel line leaks per 1000 customers. (Fuel Oil and Oil Heat magazine, August 1985 p.18.) We do not have similar data for buried gas tanks in residential application.
See OIL TANK LIFE, ABOVEGROUND for details about the life expectancy of oil tanks.
The rate or frequency of oil tank leaks or oil storage tank failures, focused on underground storage tanks or USTs, is discussed in detail
at TANK FAILURE RATES Oil Tank Failure Data - Oil Tank Failure Rates - Oil Tank Leak Probability as a Function of Tank Age, Location, Condition, Soil Conditions and Other Factors.
TANK REGULATIONS outlines who, when, and how oil leaks and spills must be reported to environmental authorities.
Oil Storage Tank Leak Causes - Oil Tank Leak Failure Causes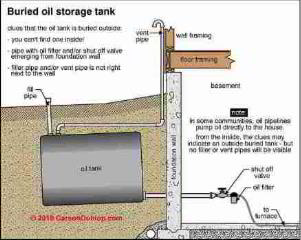 Details about the causes of oil tank leaks can be read at OIL TANK LEAK CAUSES.
Below we present a summary of this topic. Sketch at left is provided courtesy of Carson Dunlop Associates.
Oil Tank Piping Leaks: Oil tank leaks may occur at buried piping connections as well. At least one study found that 82% of petroleum product storage tank leaks were not due to the tank itself but due to leaks in the piping system.
See OIL TANK PIPING & PIPING DEFECTS.
In-Tank corrosion of oil storage tanks: Underground fuel or heating oil storage tanks usually fail from rust perforation due to several effects of water inside the tank including, in the case of heating oil, combination of water with sulphur in the fuel, bacterial action, and other factors.
External rust on oil tanks, unless very heavy, isn't highly correlated with internal rust. Leaks can occur due to tank damage or at piping connections.
Oil Tanks in Corrosive Soils: Oil storage tank leaks are more likely if a steel tank has been buried in corrosive soil or if the tank was damaged during installation, such as gouging it or bouncing it off of a rock as it was placed into a hole for burying.
Delivery Oil Spills: occur around the tank fill pipe and range from trivial to more extensive requiring soil removal and cleaning. These leaks are usually obvious at the ground surface around the oil tank or tank filler.
Inadequate fill or vent pipe diameter is blamed by some for leaks at buried or above ground oil tanks, asserting that because oil tanks are filled under pressure from the oil delivery pumper-truck, a corroded, damaged, or poorly-plumbed oil storage tank, or one with a too-small vent opening, may not withstand the pressure of the filling process.
Indoor oil spills during tank fill or later from a leaky oil tank range from trivial local cleanup and deodorizing efforts to very serious contamination problems if an oil tank bursts during oil delivery (which I suspect is rare) and on occasions when an indoor oil tank has been removed but someone (some fool) has left the oil filler pipe installed on the building, and when subsequently an oil delivery is mistakenly made through the filler pipe onto the empty basement or crawl space floor. This may sound crazy but it actually happens.
Also see OIL TANK LIFE, ABOVEGROUND their life expectancy and life factors
and TANK FAILURE CAUSES discusses the causes of oil storage tank leaks in more detail.
The rate or frequency of oil tank leaks or oil storage tank failures, focused on underground storage tanks or USTs, is discussed
in detail at TANK FAILURE RATES provides Oil Tank Failure Data - Oil Tank Failure Rates - Oil Tank Leak Probability as a Function of Tank Age, Location, Condition, Soil Conditions and Other Factors.
Oil Storage Tank Tests - Oil Tank Inspection and Oil Leak Testing Choices
Details about oil tank testing procedures and choices can be read
at TANK TESTING. Below we present a summary of this topic.
Look at the oil tank and site for yourself: Before deciding to hire a tank testing company for professional inspection and testing, some basic information such as the age (property and tank), tank location, and type of oil tank, and for above-ground tanks, a simple visual inspection of the tank and its piping, can give you and idea of the risks involved.

Look for obvious leaks such as oil stains on the ground or floor under or around the tank and around the oil fired equipment. Remember to look under the oil tank at its bottom, as most leaks occur in the lower portion of the tank.


Hire an expert: Specialty companies and some oil companies have equipment to test buried tanks for leaks. Soil testing, simple low-psi pressure-testing and sophisticated electronic testing are commonly used.

I advise home buyers to have a soil test performed rather than a pressure test of an existing oil tank, since even if the tank is not currently leaking we would prefer an assurance that it didn't leak before, say from a plumbing connection that was repaired.
In addition to oil tank inspection, oil piping inspection, and oil tank testing to "pass" or "fail" an oil storage tank, more sophisticated tests are available to assess the chances that an existing heating oil storage tank has leaked or is likely to have a serious leak soon.
These include a oil tank corrosion analysis which adds to the basic tank inspection and tests an assessment of the level of corrosion of the tank walls and thus the chances of its leaking or failure, and soil corrosion or soil corrosivity evaluation which includes an evaluation of soil samples collected from around the tank in order to assess the degree to which the soil in which the oil tank has been buried will contribute to the process of corrosion of the (presumably steel) buried oil tank.

Testing Oil Storage Tanks for Water Contamination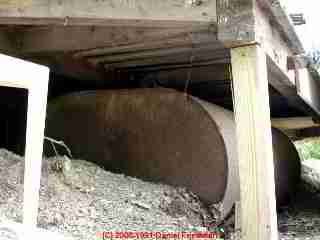 Details about handling water in oil tanks can be read at OIL TANK WATER CONTAMINATION. Below we present a summary of this topic.
Testing for water in an oil tank (above ground oil tanks whether inside or outdoors, or buried oil tanks) is simple and can be done by any service person or even a homeowner.
Tank testing methods vary in risk to the tank, cost, invasiveness, length of time to complete, and more.
Since water in a heating oil tank can lead to loss of heat and related building damage we want to know if in-tank water is a problem at a given property.
There are several steps and test methods for finding water in an oil tank and for determining how much of a problem it is.
Water can enter a heating oil storage tank by several means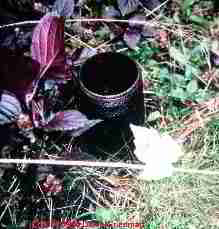 Water enters a buried or above ground tank by condensation: as temperatures vary moisture-containing air may be drawn into and then out of an oil tank.

Air leaves the tank as oil is consumed; air enters and leaves the oil tank through the oil tank vent. Moist air entering the tank from outside can bring water which, on entering the cooler tank interior, condenses out of vapor form into water droplets which can, over time accumulate.


Water enters a tank filler pipe: from roof spillage onto the tank or filler top (particularly and obviously if the filler cap is left off), or from ground or surface runoff entering the oil storage tank (particularly and obviously if the filler cap is near, at, or below ground surface level).

Leaving off an outside filler cap (photo at left) for a few days is not itself a likely source of a problem unless the filler was exposed to heavy rain, roof runoff spillage onto the open filler pipe, or surface runoff entering the tank (such as for a filler pipe flush with the ground).


Water leaks into a buried oil tank from an actual tank perforation that admits ground water, or from a bad plumbing fitting on the tank.


Water is delivered to the oil tank along with the heating oil fuel: This is not common, but it is possible to get a delivery of "bad" heating oil that is water contaminated, especially if the oil truck happens to fill-up at the oil storage depot when an oil barge is unloading oil since during that operation water which is normally kept in the bottom of oil depot storage tanks may be stirred-up.

Most oil companies know to avoid this problem and some also have water filters installed at their oil trucks. No oil company is going to admit that they picked up and delivered water-contaminated oil to your home so don't waste time asking them if they are guilty of this crime.
Oil Storage Tank or Piping Spill or Leak Cleanup - Oil Leak/Spill Cleanup Companies
Details about oil spill or oil tank leak, cleanup, remediation, prevention, training, and regulations are found
at OIL SPILL CLEANUP / PREVENTION
and at OIL TANK LEAK CLEANUP GUIDE. Excerpts are below.
Oil Storage Tank Testing Companies, Oil Storage Tank Removal Companies - Oil Tank Testing, Removal, Consulting Environmental Service Companies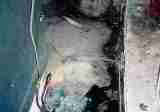 For details on cleaning up residential oil spills see OIL TANK LEAK CLEANUP GUIDE.
Also see OIL TANK TESTING & REMOVAL COs
and OIL TANK REMOVAL FINANCIAL AID links to see our most current list of companies providing oil tank testing or oil tank removal/abandonment services.
Oil Spill Secondary Containment and Oil Spill Remediation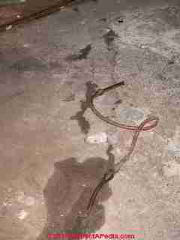 Oil Spill Secondary Containment and Oil Spill Remediation




Environmental and Information Resources, Inc. markets a low cost way of cleaning up petroleum hydrocarbon releases called bioremediation using naturally occurring soil microbes. EIR also performs biologically based cleanups of inorganic contamination such as heavy metals and radio nuclides using phytoremediation to uptake contamination from soil or groundwater.


Spill-911 company provides oil spill containment and prevention supplies - 800-474-5911 - how to prevent oil tank leaks and oil spills from spreading by using secondary containment. Oil Spill Containment items provide storage, secondary containment, protection and response to minimize the impact of leaks and spills. Poly and Steel Drums, Containment Berms and Spill Containment Decks and Spill Pallets.



OIL TANK LEAK CLEANUP GUIDE - detailed cleanup advice for residential oil tank leaks and spills
Oil Tank Removal or Abandonment Methods
Details about oil storage tank removal or abandonment methods are
at OIL TANK ABANDONING PROCEDURE. A brief summary is below.
There are also proper methods of "abandoning" old unused buried tanks without actually excavating and removing them (provided there is not evidence of leakage). If a tank is not to be used, can involve significant expense.
A proper abandonment procedure involves pumping out remaining fuel, confirming that there has been no leakage, cleaning the tank, and filling the tank with an approved filler, or removing it entirely. These measures, if required, involve significant expense.
Buried tank removal is handled by environmental services companies. Usually the specialist arranges testing, excavation, and disposal. Or tanks can be abandoned in place.
Reader Question: Loud BANG from the crawl area where we have an abandoned oil tank - do I have to remove abandoned above ground oil tanks from a property?
(Jan 28, 2015) Anonymous said:
I have recently abandoned my oiltank in my crawl area it is in horizontal position I drained most of the oil and caped all the plug.
Every now and then we hear a lowd bang from the crawl area .can this be from the old 280 gal oil tank and if so what can I do to stop this loud bang that can wake you up im positive its not the water pipes expanding and contracting I put a pressure reducing valve on the water main with a expansion tank thank Tom M
Reply:
Thermal changes as crawl area temperatures vary could be making the empty tank steel warp and sound bangy as might weather changes in barometric pressure. Have someone take a look. If the tank is not sealed then any banging from it would be due to temperature change alone.
05/11/2015 NHFireBear adds:
Anonymous (regarding abandoned oil tank): State and local codes vary, but the national NFPA 31 Standard for Installation of Oil Burning Equipment requires that the old oil tank be emptied, purged and removed from the premises.
However, if you converted fuels and want to keep the existing tank in case you switch back, you have to LEAVE THE VENT PIPE intact and open, plug the fill pipe with concrete and all other pipes must be capped or sealed. NFPA 31 (2011):7.12.
Atmospheric pressure changes can, in fact, cause a sealed tank to "bang" as its walls expand and contract.
Editor adds:
Watch out: homes have been literally ruined by heating oil smell and contamination when indoor oil storage tanks were removed but the fill and vent pipes were left in place.
Delivery drivers have on occasion (S. Vermilye, New Paltz NY report 2004) gone to heroic measures to use upside-down and capped oil tank fill pipes that were no longer connected to an inoor tank, thinking that they they were helping a homeowner avoid a loss of heat.
See OIL TANK ABANDONING PROCEDURE
and
See OIL TANK REGULATIONS
Environmental Issues & Regulations for Oil Tanks
Details about oil storage tank rules, standards, guidelines, and regulations are
at OIL TANK REGULATIONS A brief summary is below.
Also see OIL TANK LEGAL ISSUES.
In the U.S. and many other countries state DEP/DEC/DNR (Departments of Environmental Conservation or similar agencies) have programs for registering buried tanks at any site storing (typically) more than 1100 gallons of heating oil. Requirements for gas (auto fuel), or other fuels may be different.
Eventually this concern may spread to smaller residential tanks. The concern is for leaks which contaminate the environment. Tanks located where they may leak into a local waterway or into the water supply are a special environmental concerns. (C)trap DJ Friedman.
Thanks to Eagle Eye Arlene Puentes for proofreading this article. 4/3/2013.
More Reading for People Buying a Home with an Oil Storage Tank






Oil Storage Tank Article Series Contents
These are the major oil storage tank topic areas found at InspectApedia.com Each topic expands into additional detail.
...
Continue reading at OIL TANK INSPECTION & TROUBLESHOOTING or select a topic from closely-related articles below, or see our complete INDEX to RELATED ARTICLES below.
Suggested citation for this web page
OIL TANKS at InspectApedia.com - online encyclopedia of building & environmental inspection, testing, diagnosis, repair, & problem prevention advice.
Or use the SEARCH BOX found below to Ask a Question or Search InspectApedia
...
Frequently Asked Questions (FAQs)
Try the search box below or CONTACT US by email if you cannot find the answer you need at InspectApedia.
Recent Questions & Answers about oil storage tanks are at OIL TANK FAQs
...
Ask a Question or Search InspectApedia
Try the search box just below, or if you prefer, post a question or comment in the Comments box below and we will respond promptly.
Search the InspectApedia website
Technical Reviewers & References
Click to Show or Hide Citations & References
[1] Fuel Storage] Tank Corrosion Study, U.S. EPA report on gasoline and oil tank corrosion, James H. Pim, P.E., John M. Searing, Suffolk County DOHS, 15 Horseblock Place, Farmingville Long Island, NY 11728, November 1988, for the Office of Underground Storage Tanks, U.S. EPA. ATTN: David O'Brien. The report presents a study of 500 underground storage tanks spanning 24 February 1987 and September 1 1988 and summarizes earlier reports on this same study. Tank sizes ranged from 175 gallons to 50,000 gallons, and oil tank ages ranged from two years to 70 years old. All 500 oil storage tanks were constructed of welded steel, and 12 other tanks that were other than plain steel were also examined. Summary [with minor edits for clarity by DJF]
Five hundred plain steel [underground fuel storage] tanks plus twelve corrosion protected [under ground oil] storage tanks were removed from the ground over an eighteen month period in Suffolk County, Long Island, New York. The oil tanks were examined carefully before disposal to gather statistics on the nature and extent of steel oil storage tank corrosion that had attacked them. Information was gathered on the number, type, location, and size of oil storage tank perforations [oil storage tank leak points] the general interior and exterior corrosion condition of the oil storage tank, soil, backfill, and groundwater conditions; the presence of leaked product [heating oil], and oil storage tank statistics such as tank volume, steel plate thickness, location, product [type of heating oil stored], tank age, etc. The statistics were compiled and compared, observations made, and conclusions developed. The major conclusions [were] summarized as follows:

Size is more important than age in predicting oil storage tank failures
In general, small tanks are much more likely to perforate than large tanks due to thinner walls found in smaller oil storage tanks
Compared to external corrosion, internal corrosion is insignificant [in the underground oil storage tanks examined - warning from DF: the opposite is probably the case regarding above ground storage tanks].
Fuel oil tanks are just as susceptible to leak perforation as gasoline tanks of the same size
Existing fuel storage tanks are in worse shape than is demonstrated by storage tank testing
Storage tanks to not always leak immediately on perforation

[2] Thanks to Arlene Puentes for for technical edits on oil tank leak advice- 12/2005. Arlene Puentes is a licensed home inspector, educator, and building failures researcher in Kingston, NY.
[3] "A Case Study of a Large Scale Precision [oil or fuel] Tank Testing Program", Diane H. Heck, Tetra Tech Richardson, Newark, Delaware, web search 4/27/12, original source: http://info.ngwa.org/GWOL/pdf/870143411.PDF, copy on file as /heating/OIl Tanks UST/Tank_Test_Heck_870143411.pdf Abstract:
In September 1986, a precision tank testing program was started to bring a major Maryland utility into compliance with the State of Maryland Oil Spill Control Regulations regarding underground storage tanks. This program involved the testing of over 240 tanks ranging in size from 300 gallons to 1,500 gallons located throughout the entire state of Maryland.
Analyses of the testing results revealed that 40% of the systems tested leaked. Piping leaks caused 82% of the testing failures and tank leaks caused the remaining 18%. Tank systems located in urban areas experienced a 50% testing failure rate, while tank systems located in rural areas experienced only a 25% failure rate. Leaks in tank systems in urban areas appear to be the result of structural loading and corrosion, affects [effects] absent in rural areas. The age, capacity, and usage of the tanks did not have a role in causing leaks either in the piping or the tank.
[4] Fuel Oil and Oil Heat Magazine, August 1985 p.18. Fuel Oil & Oil Heating Magazine, 3621 Hill Rd., Parsippany, NJ 07054, 973-331-9545
[5] Standards of the National Board of Fire Underwriters, as referenced by "Domestic and Commercial Oil Burners,", Charles H. Burkhardt, 1961, 3rd Ed., McGraw Hill Book Company, p. 172
[6] NFPA - the National Fire Protection Association can be found online at www.nfpa.org
[7] "The Interim Prohibition Guidance for Design and Installation of Underground Oil Storage Tanks", U.S. EPA, EPA/530-SW-85203, Office of Underground Storage Tanks, Washington D.C.
Arlene Puentes, an ASHI member and a licensed home inspector in Kingston, NY, and has served on ASHI national committees (Bylaws, Standards), as well as HVASHI Chapter President. Ms. Puentes can be contacted at ap@octoberhome.com
[9] US EPA "How do you Properly Close a UST?" is summarized at epa.gov/OUST/fsprevnt.htm These details for temporary and permanent closing of underground oil storage tanks are provided by the US EPA as well.
[10] "How do you choose the right tank testing method?", Cynthia Johnson, Fuel Oil & Oil Heat Magazine, November 1995
[11] National Association of Oil Heat Service Managers, PO Box 380, Elmwood Park, NJ 07407
[12] "Homeowners Guide to Fuel Storage," Agway Energy Products, Verbank, NY, November 1990
[13] "Causes of Underground Corrosion", Harco Corporation, Paper HC-36, Median OH
[14] "Toxicological profile for fuel oils", U.S. Department of Health and Human Services, Public Health Service, Agency for Toxic Substances and Disease Registry (ATSDR) Atlanta, GA 1995. - http://www.atsdr.cdc.gov/toxprofiles/tp75.html
[15] Public Health Statement for Fuel Oils, ATSDR, (the full document original source can be found at http://www.atsdr.cdc.gov/toxprofiles/phs75.html). An excerpt from this document is just below. ATSDR,
Division of Toxicology, 1600 Clifton Road NE, Mailstop F-32, Atlanta, GA 30333 888-422-8737.
[16] Heating Oil Exposure Health Effects - The ATSDR section on health effects of exposure to heating oil see-ATSDR
[17] Heating Oil Chemical Properties - ATSDR
[18] Potential for Human Exposure to Heating Oil - ATSDR - 1.5 How can fuel oils affect my health?
[19] "Home Heating Oil Spills, Fact Sheet", Connecticut Department of Public Health
[20] "Home Heating Oil Spills", Wisconsin Department of Health, at http://dhs.wisconsin.gov/eh/Air/fs/Oilspill.htm
[21] MSDS for No. 2 Home Heating Oil - provided by Hess Oil Company
[22] "Oil Tank Problems" [advertisement], The Poughkeepsie Journal, 18 April 2013 p. 4A, placed by www.C2G.us, an oil storage tank removal company quoted a price for a package including cleaning and abandonment of any size underground oil storage tank, installation of a new 275 gallon above ground tank with gauge, vent, fill and alarm, tank abandonment certificate and oil tank bottom sludge disposal, with prices starting "as low as" $2,175. U.S. The company, C&G Environmental, at 165 Sherwood Avenue Farmingdale, NY 11735 and at 83 South Putt Corners Road New Paltz, NY 12561, can be contacted on Long Island, NY at 631-414-7757 and in the Hudson Valley NY at 845-255-4900
Books & Articles on Building & Environmental Inspection, Testing, Diagnosis, & Repair
Our recommended books about building & mechanical systems design, inspection, problem diagnosis, and repair, and about indoor environment and IAQ testing, diagnosis, and cleanup are at the InspectAPedia Bookstore. Also see our Book Reviews - InspectAPedia.
National Association of Oil Heat Service Managers, PO Box 380, Elmwood Park, NJ 07407
"Homeowners Guide to Fuel Storage," Agway Energy Products, Verbank, NY, November 1990
...
Publisher InspectApedia.com - Daniel Friedman