Oil Storage Tank Leak Rates
OIL TANK FAILURE RATES: CONTENTS: Failure rate or leak rate data for oil storage tanks & other fuel storage tank leak rates. Oil tank leak frequency table. Heating oil tank piping leak frequency table. Typical costs to replace an above ground oil storage tank. Typical costs to replace a buried oil storage tank. Oil tank leak occurrence rate data from various expert sources
POST a QUESTION or READ FAQs about oil tank failure rates, leak data, and the causes of oil storage tank failures
InspectAPedia tolerates no conflicts of interest. We have no relationship with advertisers, products, or services discussed at this website.
Oil Storage Tank & Piping Failure or Leak Rates:
Oil Tank Leak Probability as a Function of Tank Age, Location, Condition, Soil Conditions and Other Factors:
this document discusses oil tank leaks or oil storage tank failure rates as a function of oil storage tank age, the oil tank location (indoors, outdoors above ground, buried outdoors, oil tank condition, and for buried oil tanks, the soil conditions. We point out that studies show that significantly more leaks occur in the oil piping system than in the tanks themselves.
Steel oil storage tanks, especially if buried and 15-20 years old or older are at a significant risk causing costly oil leaks and risking environmental damage. Since significant costs are involved in oil tank replacement and in cleaning up oil-contaminated soils or building materials, testing and inspection are appropriate when one is buying or evaluating a property where tanks are installed.
Green links show where you are. © Copyright 2017 InspectApedia.com, All Rights Reserved.
OIL TANK FAILURE RATES - Buried Oil Tank Leak Data
Oil Tank Leak Rates In the Northeastern United States
New England Oil Tank Leak Study
In New England, for a two year period [1984-5] among customers who have buried heating oil tanks ( (16% of total customers or one buried oil tank per 10,000 oil heat customers) surveyors found an average of 1.7 oil tank leaks per thousand customers.
The researchers studying these oil tank leak rates also found 2.5 fuel line leaks per 1000 oil heating customers.
[Click to enlarge any image]
These oil tank leak rates were reported in Fuel Oil and Oil Heat magazine, August 1985 p.18. Regrettably that oil heating industry publication appears to have removed the article from circulation or from online resources.
We do not have similar data for buried LP gas storage tanks in residential application.
Below we provide 1984-1985 the oil tank & oil tank piping leak data as originally published, followed by an update on oil tank replacement frequency data for 1974, 1988, and 1991. CONTACT us if you find more recent studies of oil tank or oil piping leak rates or oil tank replacement rates for any country.
Heating Oil Tank or Oil Tank Piping Leak Rates over a 2-year Period (1985-1985)

U.S. Geographic Area
Heating Oil Storage Tank Leaks per Thousand Oil Heat Customers

New England

1.7

Mid-Atlantic

2.7

South Atlantic

1.1

Midwest

0.2

West

3.1

All Areas of the U.S.

1.4

Source: Fuel Oil and Oil Heat magazine, August 1985 p.18 this is 1985 data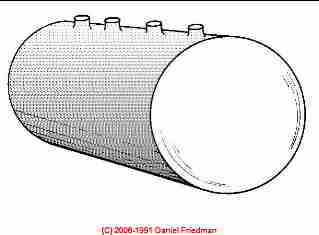 Oil and Heating Industry opinions on fuel storage tank life vary, but most would agree that a fuel storage tank which is 15-20 years old is at significant risk of leakage.
If your property has a buried oil tank of this age, particularly if it is a steel tank (which is likely at that age) the leak risk is high and you should investigate further (seelinks listed at the "More Reading" links at the bottom of this article ).
If an older steel buried oil tank has not already leaked, you should plan to replace it promptly, either with a newer leak-resistant or multi-walled buried oil tank or with an above ground oil tank placed in a suitable location.
Oil Storage Tank Replacement Rate1 per 1000 Fuel oil Customers
1974, 1988, 1991

U.S. Geographic Area

1974
Oil Tank Replacement Rate

1988
Oil Tank Replacement Rate

1991
Oil Tank Replacement Rates

Basement Oil Tanks
Buried Oil Tanks
All Oil Tanks

New England

3.1

3.6

2.9

2.0

4.9

Mid-Atlantic

2.8

2.0

1.0

0.4

1.4

Midwest

5.1

7.3

2.5

1.3

3.8

West

2.6

4.4

0.4

2.3

2.7

All Areas of the U.S.

3.3

3.4

1.7

1.1

2.8

Source: Fuel Oil and Oil Heat magazine, January 1992 p. 16

Note 1: this is oil tank replacement rate, not oil tank leak rate. As oil marketers advise their clients to replace old or suspicious or high-risk oil storage tanks it would surely be an error to equate the numbers in this table (oil tank replacement rate) with oil tank leak rate.

Note 2: 1991 Oil prices & oil tank abandonment or replacement costs.
December 1991 New York spot price for No. 2 heating oil: 52-53 cents/gallon.
Prices to "deactivate" an old oil storage tank:

$720. to fill an abandoned-in-place oil tank with sand (this presumes the tank has not leaked)
$300 to fill an abandoned-in-place oil storage tank with foam
$1,500 to remove the oil tank; note that some oil companies were repairing or replacing oil storage tanks free for automatic-fill oil heat customers as well as performing oil tank replacements at no cost to charitable organizations. IN some Western U.S. states the "Oil Heat Commission" picked up the cost of oil spill cleanup. Oil tank removal costs varied widely by geographic area, midwest oil tank removal $2,500, Western state oil tank removal $725., average oil tan removal cost was $1,403.

Note 3: 1991 oil tank purchase costs

275 gallon oil storage tank price: $610., (wholesale $261), compared with 1981 oil tank prices of $310. & $124.
550 gallon oil storage tank price: $1,407., (wholesale $709), double the 1981 prices
1000 gallon oil storage tank price: $2,245. (wholesale $1,747)
Oil Tank Leak Rate in U.S. EPA Study performed in New York
A study of 500 underground fuel storage tanks was completed for the U.S. EPA and studied tanks on Long Island in New York in 1988. See "[Fuel Storage] Tank Corrosion Study", U.S. EPA report on gasoline and oil tank corrosion, November 1988.
Of those 500 storage tanks about half were used for gasoline storage and about one fourth were used for home heating oil storage. But significantly the underground storage tank leak rate did not depend on what fuel was being stored.
The major conclusions of the New York / EPA fuel storage tank leak study were summarized as follows:
Size is more important than age in predicting oil storage tank failures
In general, small tanks are much more likely to perforate than large tanks due to thinner walls found in smaller oil storage tanks
Compared to external corrosion, internal corrosion is insignificant [in the underground oil storage tanks examined - warning from DF: the opposite is probably the case regarding above ground storage tanks].
Fuel oil tanks are just as susceptible to leak perforation as gasoline tanks of the same size
Existing fuel storage tanks are in worse shape than is demonstrated by storage tank testing
Storage tanks to not always leak immediately on perforation
Petroleum Product Storage Tank Leak Rate in Maryland, 1986 Study finds 40% Leak Rate of which Oil Piping Caused 82% of all leaks
In September 1986, a precision tank testing program was started to bring a major Maryland utility into compliance with the State of Maryland Oil Spill Control Regulations regarding underground storage tanks. This program involved the testing of over 240 tanks ranging in size from 300 gallons to 1,500 gallons located throughout the entire state of Maryland.
Analyses of the testing results revealed that 40% of the systems tested leaked. Piping leaks caused 82% of the testing failures and tank leaks caused the remaining 18%. Tank systems located in urban areas experienced a 50% testing failure rate, while tank systems located in rural areas experienced only a 25% failure rate. Leaks in tank systems in urban areas appear to be the result of structural loading and corrosion, affects [effects] absent in rural areas. The age, capacity, and usage of the tanks did not have a role in causing leaks either in the piping or the tank.
- "A Case Study of a Large Scale Precision [oil or fuel] Tank Testing Program", Diane H. Heck [3]
This study included not just heating oil storage tanks but also gasoline tanks, waste oil tanks, and emergency generator tanks (kerosene or diesel fuel). The finding that more heating oil storage system leaks occurred in the oil piping than in tanks themselves is consistent with the New England study (reported above) that found roughly twice as many leaks in the oil piping system than in oil tanks.
Significantly, Heck's study indicated that age was not a determining factor in the occurrence of leaks at oil & gasoline tanks in her study, an observation that makes sense given the high percentage of leaks traced not to the tank but to piping problems.
Also significant, Heck's study points out that among petroleum product storage tank leak failures there were two distinct categories of oil leak types & locations that are consistent with our own field experience:
Petroleum product storage tank leaks at the top of tanks occurred at
Sources of Leaks at the top of oil or gasoline storage tanks:

Bolts on manways [that were] corroded,allowing seams / covers to loosen [this would not apply to residential oil storage tanks]
Screws and bolts fastening gauges to tanks [and that] corroded more rapidly [possibly galvanic corrosion]
Cracks radiating out from vent and/or fill pipes due to vehicles hitting piping above ground
[Tank] separation at seams

Location of leaks in the bottom of oil or gasoline storage tanks

Leaks were found as pinholes in the lower 1/3 of oil or gasoline storage tanks [consistent with our explanation of the effects of the presence of water in the bottom portion of oil storage tanks]

See OIL TANK FAILURE CAUSES for details.
Oil Tank Leaks in Other News Media Reports
News media reportage of oil tank leaks has suggested significant contamination issues in some parts of the U.S., particularly where the aquifer is common and prone to widespread movement of contaminants leaked onto or into the ground.
"Almost 10,000 gasoline and oil spills, some of them more than a decade old, are contaminating the underground aquifers that supply drinking water to Long Island and southeast Queens even as state environmental officials aren't enforcing laws that call for complete cleanups."
The article continues to site gas stations as a buried leaky petroleum product storage tank primary offender, and warns that private wells are at particular risk of dangerous contamination.
[Newsday, Dan Fagin, August 23, 1998, http://www.junkscience.com/news3/nylirbca.htm]
We have indeed had occasional reports of private wells and water supplies being contaminated by leaky gas station fuel tanks, and one instance was reported [privately] of a private well and local ground water contaminated by an owner who dumped waste oil into what s/he thought was an "abandoned water well". Never ever use an abandoned well or even a septic system to dispose of unwanted oils or other chemicals.
Oil Tank Leak Rates Reported in Real Estate Publications
Real Estate Publications, while reluctant to scare home owners and buyers by aggressive reporting on leaky oil tanks (which can involve a very large cleanup expense), also cite the concern for leaking oil tanks.
"Statistics indicate as many as 25% of all underground storage tanks (USTs) may now be leaking. These underground tanks may hold oil or gas but can most frequently be found at homes heated with oil. Over time, there is a tendency for these older tanks to corrode and leak their contents into the ground and possibly into the ground water. Because of the great expense involved in cleaning up the contamination caused by leaking tanks, it behooves those that have older underground tanks, to have them or the soil tested."
[This article, at a website published by a Maryland real estate firm, has appeared on numerous websites. The original source and basis of statistics were not cited in the article. http://www.soldbyteresa.com/information_center/article_archive/buried_oil_tanks.dwt 4/27/06]
Heating Oil Storage Tank Reports by European Studies
European studies of oil tank leak rates have confirmed that the risk of buried (steel) oil tank leaks increase significantly when tanks are about 20 years old. [Norway Clean Oslo Fjord project and references cited above.] However leaks can occur even when a tank is brand new if the tank is damaged during installation or if its piping is not correctly installed.
Smaller leaks or spills around oil tanks may occur during tank fill operations.
For an interesting non-residential study of oil tank leaks, see Leak History, 200 Area Tank Farms. See Tank Survey, Nuclear, Westinghouse Hanford to participate in an interesting non-residential study.

Fuel or Heating Oil Storage Tank Failure Mechanisms
The causes of oil tank leaks or tank failures are discussed briefly at OIL TANK FAILURE MECHANISMS - "Buried fuel oil tanks, oil or gas, basic advice for home owners and home buyers, home inspection report language", which lists the most-common causes of oil leaks in above ground or buried oil storage tanks.
OIL TANK FAILURE CAUSES provides the details of the common mechanisms leading to buried or above ground oil storage tank leaks and failure.
Heating Oil Tank Piping Leak Rates
In New England, for a two year period [1984-5] oil heat customers were surveyed by the oil heat industry, disclosing that oil tank piping leak rates back in 1984-1985 were 2.5 fuel line leaks per 1000 oil heating customers. This was 1 1/2 times as many oil piping leaks as buried oil tank leaks during that period. [Keep in mind that by 2010 the oil tank leak data would be different, both because the older oil tanks would be at a higher risk of leakage, and because at the same time, by 2010 many older oil storage tanks would have been replaced.
Heating Oil Piping Leak Rates over a 2-year Period
U.S. Geographic Area

Heating Oil Piping
Fuel Line Piping Leaks per Thousand Oil Heat Customers

New England

2.5

Mid-Atlantic

1.8

South Atlantic

5.6

Midwest

0.6

West

3.8

All Areas of the U.S.

2.3

Source: Fuel Oil and Oil Heat magazine, August 1985 p.18
These heating oil tank leak rates and oil tank fuel line leak rates were reported in Fuel Oil and Oil Heat magazine, August 1985 p.18. We do not have similar data for buried LP gas storage tanks in residential application
...
Continue reading at OIL TANK FAILURE CAUSES or select a topic from closely-related articles below, or see our complete INDEX to RELATED ARTICLES below.
If your oil tank is leaking see OIL TANK LEAK ADVICE.
Suggested citation for this web page
OIL TANK FAILURE RATES at InspectApedia.com - online encyclopedia of building & environmental inspection, testing, diagnosis, repair, & problem prevention advice.
Or use the SEARCH BOX found below to Ask a Question or Search InspectApedia
...
Frequently Asked Questions (FAQs)
Try the search box below or CONTACT US by email if you cannot find the answer you need at InspectApedia.
Question: What is the oil storage tank failure rate for specific countries?
Please do you have any Material on Tank Storage / Failure rates for Nigeria. Many Thanks. [Anon]
Reply: here are some questions to ask, data to gather, to form an opinion about probable risk of oil tank leaks or failures in a given geographic area
A competent onsite inspection by an expert usually finds additional clues that help accurately diagnose a problem with failing oiltanks in a specific geographic area. That said, sorry, no we don't have information specifically for your country. However if we (or you) can dig up some oil tank installation information we could probably make a reasonable and general statement about relative risk levels of leaks. For example, you'd need to collect guesses or actual data on
- the total number of tanks installed indoors, outdoors above ground, outdoors buried
- oil tank size range
- oil tank fill-up frequency
- quality of oil being used to fill and frequency of oil fill-ups including water (as could be common for reasons we can discuss if necessary)
- information about oil tank age by area of the country
- soil conditions for each of the selected areas: soil moisture, rainfall, chemistry such as corrosivity
- information or opinion about care of installation, chances of damage
- information about weather, rainfall, temperature variations, and its effect on the probability of condensation forming in tanks
There are also some simple inspections and tests that can be peformed on existing tanks as spot checks or for representative samples.
...
Ask a Question or Search InspectApedia
Use the "Click to Show or Hide FAQs" link just above to see recently-posted questions, comments, replies, try the search box just below, or if you prefer, post a question or comment in the Comments box below and we will respond promptly.
Search the InspectApedia website
Technical Reviewers & References
Click to Show or Hide Citations & References
[1] Fuel Storage] Tank Corrosion Study, U.S. EPA report on gasoline and oil tank corrosion, James H. Pim, P.E., John M. Searing, Suffolk County DOHS, 15 Horseblock Place, Farmingville Long Island, NY 11728, November 1988, for the Office of Underground Storage Tanks, U.S. EPA. ATTN: David O'Brien. The report presents a study of 500 underground storage tanks spanning 24 February 1987 and September 1 1988 and summarizes earlier reports on this same study. Tank sizes ranged from 175 gallons to 50,000 gallons, and oil tank ages ranged from two years to 70 years old. All 500 oil storage tanks were constructed of welded steel, and 12 other tanks that were other than plain steel were also examined. Summary [with minor edits for clarity by DJF]
Five hundred plain steel [underground fuel storage] tanks plus twelve corrosion protected [under ground oil] storage tanks were removed from the ground over an eighteen month period in Suffolk County, Long Island, New York. The oil tanks were examined carefully before disposal to gather statistics on the nature and extent of steel oil storage tank corrosion that had attacked them. Information was gathered on the number, type, location, and size of oil storage tank perforations [oil storage tank leak points] the general interior and exterior corrosion condition of the oil storage tank, soil, backfill, and groundwater conditions; the presence of leaked product [heating oil], and oil storage tank statistics such as tank volume, steel plate thickness, location, product [type of heating oil stored], tank age, etc. The statistics were compiled and compared, observations made, and conclusions developed. The major conclusions [were] summarized as follows:

Size is more important than age in predicting oil storage tank failures
In general, small tanks are much more likely to perforate than large tanks due to thinner walls found in smaller oil storage tanks
Compared to external corrosion, internal corrosion is insignificant [in the underground oil storage tanks examined - warning from DF: the opposite is probably the case regarding above ground storage tanks].
Fuel oil tanks are just as susceptible to leak perforation as gasoline tanks of the same size
Existing fuel storage tanks are in worse shape than is demonstrated by storage tank testing
Storage tanks to not always leak immediately on perforation

[2] Thanks to Arlene Puentes for for technical edits on oil tank leak advice- 12/2005. Arlene Puentes is a licensed home inspector, educator, and building failures researcher in Kingston, NY.
[3] "A Case Study of a Large Scale Precision [oil or fuel] Tank Testing Program", Diane H. Heck, Tetra Tech Richardson, Newark, Delaware, web search 4/27/12, original source: http://info.ngwa.org/GWOL/pdf/870143411.PDF, copy on file as /heating/OIl Tanks UST/Tank_Test_Heck_870143411.pdf Abstract:
In September 1986, a precision tank testing program was started to bring a major Maryland utility into compliance with the State of Maryland Oil Spill Control Regulations regarding underground storage tanks. This program involved the testing of over 240 tanks ranging in size from 300 gallons to 1,500 gallons located throughout the entire state of Maryland.
Analyses of the testing results revealed that 40% of the systems tested leaked. Piping leaks caused 82% of the testing failures and tank leaks caused the remaining 18%. Tank systems located in urban areas experienced a 50% testing failure rate, while tank systems located in rural areas experienced only a 25% failure rate. Leaks in tank systems in urban areas appear to be the result of structural loading and corrosion, affects [effects] absent in rural areas. The age, capacity, and usage of the tanks did not have a role in causing leaks either in the piping or the tank.
[4] Fuel Oil and Oil Heat Magazine, August 1985 p.18. Fuel Oil & Oil Heating Magazine, 3621 Hill Rd., Parsippany, NJ 07054, 973-331-9545
[5] Standards of the National Board of Fire Underwriters, as referenced by "Domestic and Commercial Oil Burners,", Charles H. Burkhardt, 1961, 3rd Ed., McGraw Hill Book Company, p. 172
Books & Articles on Building & Environmental Inspection, Testing, Diagnosis, & Repair