Heating Oil Line Feed Piping Leaks
InspectAPedia tolerates no conflicts of interest. We have no relationship with advertisers, products, or services discussed at this website.
Heating oil piping leaks in the oil burner supply & return piping: causes & effects of leaks in heating oil supply piping at fittings, valves, or other locations.
Heating oil pipe leaks out (fuel oil leaks), oil piping leaks in (air in the system) are dangerous in several regards, as a leak in oil burner feed piping can cause a puffback or complete loss of heat.
This document lists other important safety or oil-fired equipment operational defects in home and light commercial heating oil storage and piping systems.
We also provide a MASTER INDEX to this topic, or you can try the page top or bottom SEARCH BOX as a quick way to find information you need.
Heating Oil Line Leaks - Oil Line leaks found - can lead to oil heat system puffback and loss of heat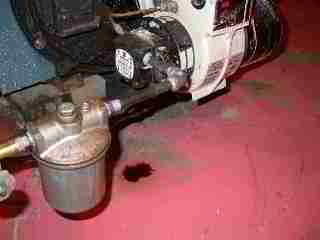 This article discusses leaks in the oil piping line(s) between an oil storage tank and the oil burner(s) that it supplies.
Watch out: leaks in heating oil appliance piping or filters can be much more serious than just a drip spot on the floor.
The same leak that allows oil to drip out of the oil filter or piping connections allows air to be drawn into the system when the oil fuel unit (oil pump for the water heater, oil fired boiler or furnace) is running.
That air leak into the system results in improper oil burner operation, soot clogging, and even a loud bang at oil burner start-up or worse, a dangerous puffback.
[Click to enlarge any image]
A separate article at OIL FILL / VENT PIPE LEAKS discusses leaks in the oil tank fill and vent pipes.
How to spot heating oil line piping leaks by eye
Look for a drip area below heating oil piping, connectors, the oil filter, anywhere from the oil tank to the oil burner. To make detection of oil line leaks easier, be sure that surfaces below these areas are clean of loose dirt and debris.
To confirm that a suspected leak is dripping it may help to place a clean paper towel on the floor below the suspected drip point. Monitor for oil drops on the paper towel.
In our photo above, the oil line leak is a bit obvious as the property owner has left an aluminum pie plate to catch dripping heating oil!
The oil leak at the oil safety valve (below left) was present on the oil line supplying the oil burner whose smoky operation could be seen from outdoors (below right).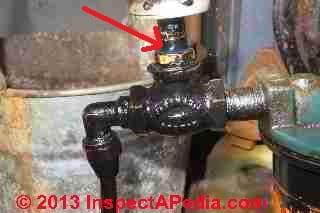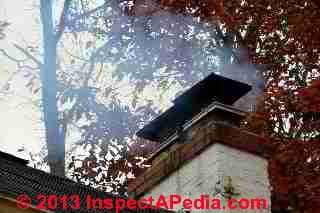 While the smoky chimney visible at above right cleared up after an hour or so of oil burner operation, we suspect that because the smoky operation went on for at least fifteen minutes after initial oil burner start-up, the oil burner was not operating properly.
Further investigation by a heating service tech might trace the burn-off of oil accumulated in the combustion chamber to that leaky OSV shown at above left.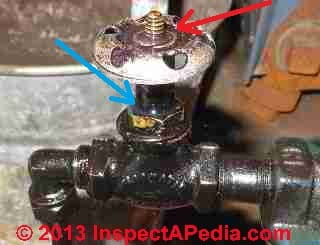 Why would this happen? It may come as a surprise but drawing air into the oil burner from a leak in the oil line can leave an air bubble in the oil burner nozzle. When the oil burner shuts down the pressure inside the nozzle area drops from 100 psi or more down to ambient pressure of just a few pounds.
Photo at left: close-up shows heating oil seeping out at the very top of the oil safety valve (red arrow) and at the valve stem base (blue arrow).
Locating the highest point at which heating oil is visible on an oil-soaked component usually is a good clue about the actual point of leakage.
This oil line safety valve (OSV) is leaking through the valve core. It needs to be replaced. [Click to enlarge any image]
The reduction in pressure causes that little air bubble to expand, pushing extra oil out of the oil burner nozzle where it dribbles into the oil heating system boiler or furnace combustion chamber.
The next time the oil burner starts-up this un-burned oil residue forms a mini explosion - you may hear a sort of "bang" when the oil burner starts. This malfunction can lead to a serious puff back blowing soot into the home, or worse.
This is an unsafe condition caused by what looks like a tiny innocent drip such as the one we show in our photo above.
This item should be checked/corrected by your service person promptly.
Heating Oil Leaks in the Heating Oil Line at the Oil Filter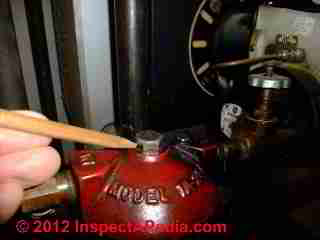 In detail at OIL FILTER LEAK POINTS we describe the sources of leaks at and around the heating oil filter. Excerpts are below.
Leaks at the heating oil filter can occur at a variety of locations - everywhere that there is a threaded fitting or connector, including:
At the center bolt head that secures the filter top to the filter canister base. A new fiber washer should be installed under this bolt head during oil filter change. (Pencil points to the center bolt in our photo at left).
At the air bleed screw on the outlet end of the heating oil filter cartridge. A new fiber washer should be installed under this little screw head during oil filter change. New washers are included with each new oil filter cartridge.
At the gasket between the oil filter cartridge base and filter top. This gasket is replaced during oil filter change.
At the inlet or outlet fittings at either end of the oil filter cartridge cap.
At nearby heating oil piping fittings that may have been disturbed during oil filter disassembly, cleaning, and cartridge replacement.
Oil piping leak at the copper piping flare fitting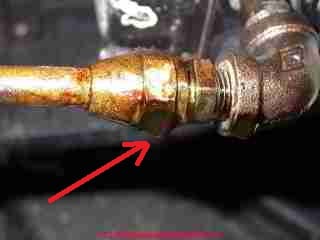 As we explain in this article, and as we elaborate at OIL BURNER INSPECTION & REPAIR as well, oil leaks in the oil piping and filter system can not only spill oil, but can lead to loss of heat, improper oil burner operation and even a puffback.
At left we illustrate an active oil leak at a flare fitting.
We don't know without further investigation if this leak is because the flare nut is loose or if it's because the copper flare was cracked or improperly made, or finally, if it's because of a notch or scratch on the brass mating surface of the flare.
Try gently tightening the fitting and then clean it thoroughly and check for leaks.
How to Report & Act On Heating Oil Line Leaks: How Urgent is Repair?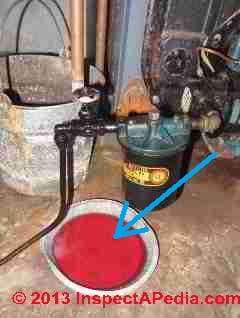 This example of inspection report language where leaks or drips are found in heating oil piping is based on the inspection and photographs shown above.
Caution: unsafe condition and risk of loss of heat at the building: We saw a heating oil line leak at oil line piping and fittings at the oil burner: the oil safety valve was wet with heating oil as were nearby oil piping fittings, and a pie plate on the floor contained about 1/2" of fresh heating oil. [Photo at left]

We also observed improper heating system operation: the burner ran very smoky (photos below) for a protracted interval after start-up, suggesting a quantity of un-burned oil in the combustion chamber.
That condition can be caused by air leaks into the heating oil piping system.
Oil leaks may be hazardous and also, as air may be drawn into the oil line when the fuel unit is pumping, they can lead to improper and unsafe system operation and even loss of heat in the building.
The urgency of this repair depends in part of other on-site observations such as the state of operation of the heating system. Given the smoky chimney (photo below) that was observed at oil burner startup and for a protracted interval after start-up, this system is not operating properly.
Action: A heating service call should be scheduled immediately.
This is a bit more detail than many home inspectors prefer to provide to their customer. I include this level of information to be sure that the reader understands the issue and is forewarned to reduce the risks of failure to act or failure to obtain a proper repair. The minimum that might be reported is below:
Caution: We saw evidence of a heating oil line leak at oil line piping and fittings at the oil burner:
A heating service call should be schedule immediately to reduce the chances of loss of heat and unsafe heating system operation.
Why do we call this heating oil line leak a safety concern? Oil line leaks can lead to a dangerous puffback at the oil burner that in turn risks a very messy soot-up of the building interior and in less common but possible cases, a fire, or a blow-off of the flue vent connector between the heating appliance and the chimney, subsequently venting combustion gases (and possibly dangerous carbon monoxide) into the building.
Inspection & Pressure Tests (Vacuum Tests) of Heating Oil Piping
Reader Question: Is it normal practice to pressure test fuel lines when a new boiler has been fitted?
Is it normal practice to pressure test fuel lines when a new boiler has been fitted? We have an outdoor boiler that runs on a 2 pipe system as the storage tank is below the boiler. The lines are buried as the distance between boiler & storage is 15-20 m. We reported a vast increase in oil consumption after installation, would it be the normal course of action to then pressure test 'supply & return' lines? - Mark 5/29/12
Reply: How pressure & vacuum gauges are used on heating oil lines to check for leaks or fuel unit troubles
Mark, it is normal practice to inspect oil piping for leaks at all of its fittings & connections for leaks after a new installation, and there are indeed vacuum measurement tests (not pressure tests) that can be conducted that indicate an air leak into the oil supply line line (or oil leaks out when the fuel unit is not running).
But in my experience oil line vacuum tests are not performed as a matter of course but rather when a problem is under diagnosis, such as improper oil burner operation. And in my experience oil supply & return lines between the oil tank and the oil burner are not pressure tested. As I explain here, pressure testing those lines runs into some practical difficulties.
Similarly, a vacuum gauge installed on the heating oil supply line, often at or near the oil filter assembly, can help diagnose a leak in the supply piping itself.
Unfortunately in a two-pipe system we don't install and cannot use a similar gauge on that second line to check for leaks.
In a two-pipe oil line system, the return line is never under vacuum, only under pressure when excess oil from the fuel unit is cycling back to the oil tank. Because the exit end of that pipe is open into the oil tank, it is not and cannot be "pressure tested" without some disassembly and the fitting of a plug at the line's outlet end.
At OIL PUMP FUEL UNIT we include a detailed explanation of how to read a pressure gauge on the oil piping system (at the fuel unit) to diagnose a leak or similar problem at the fuel unit.
De-Aerator Problems with Air Leaks in Oil Line Piping
Reader Question:
My aunt's heating system is been having issues ever since a de-aerator was installed.The system has a 1,000 gal inground tank that is a fair distance from the boiler room.
What happens is that when the tank gets to about half empty, suddenly the hot water heater's oil burner has difficulty staying on....
I have read through your website pages and need to find some clarification as to how the de-aerator should have been connected... I am attaching photos so you can see the system...
The oil supply line runs to the main furnace and before the de-aerator it feeds off to the hot water heater. The return line is currently only being used as a return for the hot water heater burner.
All summer when just the hot water heater was running there were no problems.... and if there is more than half a tank of oil there is no problem, but the hot water burner's pump seems to have vast difficulty getting the lift and suction to pull in the oil once the tank goes below half full.
Could there be a problem with the de-aerator sending air back that instead goes in the supply line to the hot water oil burner?
Could the hot water burner pump be just too weak in comparison to the de-aerator's effect when it is running and thus causes a drop in supply pressure at the hot water burner and it cuts out?
I asked the fellow who services the system if he had cleaned the screen of the pump and he said it wouldn't need to be because there is a filter on the line. Ideally I would like to change the pump out and see if the pump is the issue -- whether it is clogged or just getting weak, changing it with a new unit would resolve any issue there, but perhaps it should have a stronger pump instead?
It just seems to me when I look at the system that was installed that it is imbalanced on the supply line between the two burners.... one is pulling oil much stronger than the other - E.I. 12/26/2013
Reply: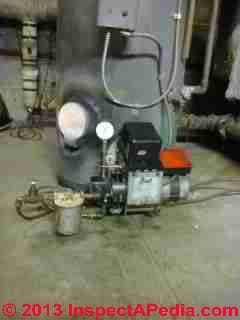 A competent onsite inspection by an expert usually finds additional clues that would permit a more accurate, complete, and authoritative answer than we can give by email alone. And I suspect that's what's needed in the case you describe
I'm not confident that I can accurately diagnose the trouble by email, even with your excellent photos. But your photos and your email did suggest several questions to me:
1. If we are supplying two oil-fired devices from a buried oil tank, why would there be a return piping system only for one of the appliances?

Typical fuel units on oil fired heating equipment have limited lift capacity - it's not uncommon for a system to work acceptably when fed from a remote buried oil tank only when the amount of lift needed is lowest - when the tank is closer to full.

I can imagine several problems: for example when both appliances are trying to draw oil from the tank the vacuum level in the supply line is different than when just one is running. And the appliance without a return line is much more likely to have trouble obtaining adequate fuel flow.
2. A heating guy who thinks that it is never necessary to replace the screen in the fuel unit when servicing the heating system must have different training and field experience than mine and different from other more experienced heating technicians who've taught me.

Good practice is to exchange the filter screen in the fuel unit when servicing the system. It's an inexpensive part - but a bit more time to perform the task. I suppose that if the oil supplied in some areas is unusually clean and every oil storage tank in an area is new and none have sludge and debris accumulations a technician's experience may not include attention to this service step.
3. Watch out: One of your photos (#041) shows what looks like a manual shutoff valve on the oil return line - a serious fire hazard should a fire otherwise occur in the area. I could not see where fusible-link oil safety valves were installed, but general good practice installs those valves only on the supply line, and we install a one way check valve on the return line.

We don't want to close off the return line with a fusible link valve NOR with a manual valve as doing so risks blowing a line and spewing fuel oil adding to the fire in the event of a fire in the utility are. Do not install a second fusible-link fire safety valve (OSV) shutoff-valve on the return oil line. Use a check valve instead.
Details are at DUAL OIL LINE 2 VALVES
4. I would not expect recurrent air problems in a residential type heating oil piping system unless there were an air leak somewhere in the oil piping.
I'd want an expert who knows how to perform vacuum testing or pressure testing to inspect this system for leaks as well as for proper valve location and safety.
The fact that the heating system has been having trouble ever since the [heating oil supply piping] de-aerator was installed indeed suggests an installation problem, of which the first thing I'd check would be for a leak in the oil piping system, for example, perhaps a bad flare connection. But some of the other installation details I cite mean that something doesn't smell right from what you've told me.
Also see OIL BURNER FUEL UNIT AIR BLEED PROCEDURE
Reader follow-up:
It is a shutoff on the return line, and I raised it with the tech, asking that it be changed to a check valve, and he didn't share my concern about it. The first tech is the one who installed it
I also don't like the fact that the pressure gauge was left installed in the pump. Is it odd though that the burner quits without the reset light coming on?
Reply:
When I encounter someone who is "not concerned" about a mistake that could, by spewing fuel oil onto a fire at the heating system, increase the chances that we burn down the house or kill occupants in it, I figure the person is both ignorant and has a sensitive ego, reluctant to or afraid to admit that ignorance - a very human trait that is understandable, but that is unfortunate in one whose work involves life safety as well as operating costs for his or her clients.
I generally will not argue with such a person as it is a waste of time and just makes them mad. But I'd ask the service manager to send me someone with proper training. If necessary you can obtain a copy of your state's fuel and gas piping & connections code or cite one of the model codes on oil line piping.
We list helpful sources on oil piping codes at Citations & REFERENCES at the end of this article. While some of the key standards are easily obtained by purchase from the standards-writing organization, they may also be available free of charge where the standard has been incorporated into a state or city building code.
NFPA 30 prohibits a shut-off valve in the return oil piping that forms the feed back to the oil tank in a two pipe heating oil system. A manual shutoff or gate valve or an oil safety valve that shuts in the event of a fire are both prohibited by this guideline. Also
see OIL LINE SAFETY VALVES, OSVs.
About the gauge left in place on the fuel unit, there can be a risk of gauge blow-out and a leak, but there are also heating systems and gauges where a vacuum gauge is left in place. In my OPINON best practice is to include an isolation valve between the gauge and its connection to the fuel unit so that the valve can be left normally shut and the leak risk is eliminated.
About the reset light and burner quit - I don't know enough about your system and its controls. It's a question to put to a more trained and experienced service tech, on site.
Reader follow-up:
I was over at my aunt's today as her hot water heater went out yet again. The main furnace/boiler has the Riello burner (firing into a modified inner chamber which you cannot see in the photos -- so don't be scared about the behemoth steam boiler). The Riello is at the top of the oil supply line and has the TigerLoop de-aerator unit on it.
The oil supply line to the Bock burner tees off the supplyline before the Riello/TigerLoop. The Riello with the TigerLoop does not use the oil return line any longer.
Only the Bock is using the oil return line -- you can see the return line in the foreground of the photos - it has an on/off valve in the line just in front of the supply line on/off valve for the Bock.
It seems that when the oil in the tank goes below halfway (below 500 gals in the 1000 gal tank), that is when the problem starts..... the oil was at 460 gallons today (22 inches of oil). It was at 510 this past Thursday. I suspect that the hot water heater probably went out yesterday and it wasn't discovered until the tank was cold this morning.
When I got there at 1 pm the main furnace was running away - nice and steady - the water heater cold and no reset light on.... so I waited until the main furnace cycled off and started up the Bock - it ran fine until the main furnace cycled back on and then within about four minutes the pressure dropped on the Bock's pump then it started up again and did this bouncing pressure for about two minutes and then just quit.
So I shut off the main furnace and let things sit for two minutes and then started up the hot water heater again and ran that alone until it was hot. I even took a movie of it running.
The way things are the tank cannot go below 500 gallons in order to have both burners working... this is making my 87 year old aunt crazy - all summer the hot water heater ran without any issues down to even 9 inches of oil, so it is only an issue when the two are running.
Supposedly the supply line has been blown out (by the technician who installed the TigerLoop) and another technician who cleaned the burners in the end of October told me today that he had changed the screen in the Bock's Suntec pump, so that shouldn't be clogged
I wasn't aware that the screen had been changed as that was done by a different technician altogether than the one who installed the TogerLoop and modified the chamber - and I was blaming this issue in part on a blocked screen (and the first technician didn't know it had been cleaned either but was insistent it didn't need to be).
I just want to see if there is a solution without having to dig up all the pipes to the oil tank to see if the problem is there -- that to me would be a last resort given it is winter on Long Island. Someone else suggested a check valve on the TigerLoop on the main furnace, but the TigerLoop people told me there is a check valve already in the unit.
Perhaps the thing to do would be to use the return line to feed a new TigerLoop on the Bock hot water heater... then the two burners would be fed separately - just a crazy thought by me as no one has suggested that.
Anyway, I arranged for an oil delivery tomorrow for 500 gallons so at least the problem will be put off again for awhile.
To answer your questions, the main furnace with the TigerLoop needs very little vacuum to draw evidently.
[I asked the second technician who cleaned the burners about exchanging the on/off valve out for a check valve on the return line and he said it was fine the way it is. so I got nowhere with that]
I would also add that the reason I really suspected the Suntec pump strainer is that on my own oil burner that strainer had not been changed in at least 5 years, and my system since I bought the house did not have an oil filter at all on the oil supply line. None whatsoever.
And last spring the first technician from above came to clean my electrodes/assembly and nozzle and would not change the strainer. Instead he decided I needed to replace my Beckett with something new and he would install a filter when he did the new setup. He just arrived finally on Friday to do that work, and proceed to break off a bolt on the flange on the boiler jacket and then in drilling to put in a substitute bolt, he punctured the water jacket.
So the system had to be drained own completely at 4 pm, he tapped the puncture and put in a plug, and then installed a Riello F5 burner with a regular filter and a TigerLoop on the supplyline and capped off my return line.
So I have been quite busy bleeding all the radiators I can in my house.
My Beckett [oil burner] was running fine -- it just needed to get clean oil which as the cone and electrodes got fouled it would get a bit rough until I cleaned them. But the strainer being clogged made it wheeze. When I get a chance to take apart the Beckett which is now sitting in my garage, I will send you photos of I am sure is a clogged strainer. - K.N.
Question: oil puddles or leaks around the oil burner
(Feb 8, 2014) Anonymous said:
I ALWAYS FIND OIL AROUND MY BURNER, WHAT COULD BE THE PROBLEM
Reply:
Anon, sounds like an oil leak. Leaks can occur inside the burner tube and drip out as well as anywhere in the fuel system . Watch out, a leak out can also Involve air leaks in, leading to poor operation, loss of heat, or even a puffback explosion. Other than the petty crime of shouting in all CAPS, there is probably an oil leak at a fitting on or near the oil burner.
Watch out: oil leaks cause improper and unsafe oil burner operation as air can be drawn into the piping system leading to sooting, clogs, and a dangerous puffback. Ask your oil heating service company to inspect, find and fix the leaks.
...
Continue reading at OIL LINE PIPING LEAK CAUSES or select a topic from closely-related articles below, or see our complete INDEX to RELATED ARTICLES below.
Or see OIL BURNER FUEL UNIT AIR BLEED PROCEDURE - how to get air out of the oil piping system & oil burner
Or see OIL FILL / VENT PIPE LEAKS
Or see OIL TANK SPILL CLEANUP / PREVENTION
Or see these
Oil Line Piping Articles
Suggested citation for this web page
OIL LINE PIPING LEAKS at InspectApedia.com - online encyclopedia of building & environmental inspection, testing, diagnosis, repair, & problem prevention advice.
Or use the SEARCH BOX found below to Ask a Question or Search InspectApedia
...
Frequently Asked Questions (FAQs)
Try the search box below or CONTACT US by email if you cannot find the answer you need at InspectApedia.
Question: how to seal off an unused copper oil line
(July 6, 2014) lee said:
I have a 2 line system one of the line leaking. I can setup as a 1line no problem but I need to seal off the leaking one ! wondering if there is anything I can put into that line that would not break down with the fuel and save me from having to dig up the second line caulking ?
Reply:
Lee,
to close off a copper oil line without creating a future mess the best approach is to simply buy a flare fitting and a flare-threaded plug that will screw into the fitting. Using a flaring tool, install the flare collar, flare the tubing end, install the flare fitting and screw the collar tight; then screw the flare threaded plug into the flare fitting. All of these few parts (and the tool if necessary) can be obtained at a local plumbing supplier. You simply need to measure the OD of your oil line so that you buy the correct flare fittings - 3/8" or 1/2" for example.
...
Ask a Question or Search InspectApedia
Try the search box just below, or if you prefer, post a question or comment in the Comments box below and we will respond promptly.
Search the InspectApedia website
Technical Reviewers & References
Click to Show or Hide Citations & References
[1] "Fuel Oil Piping and Storage", 2006 Mechanical Code, Chapter 13, International Code Council, 500 New Jersey Avenue, NW, 6th Floor, Washington, DC 20001, Tel: 888-ICC-SAFE (422-7233); Website: iccsafe.org/, Email: webmaster@iccsafe.org, Customer Store (buy publications) 800-786-4452. Also see 2009 International Codes and 2012 International Codes.
[2] "The application of a continuous leak detection system to pipelines and associated equipment", Sandberg, C. Raychem Corp., Menlo Park, CA, Holmes, J. ; McCoy, K. ; Koppitsch, H, Industry Applications, IEEE Transactions on, Sep/Oct 1989, Vol. 25 No. 5, pp. 906-909, ISSN : 0093-9994 INSPEC Accession Number: 3582593 Digital Object Identifier : 10.1109/28.41257, Abstract:
An overview of classical leak detection systems is given and the engineering basis of a novel type of detector is examined. This system is a flexible hydrocarbon-sensing cable that can be installed along pipelines, in double-containment tanks and piping, or in trenches to detect and locate leaks of common industrial hydrocarbon solvents or fuels while ignoring the presence of water. The simple electrical circuit that locates and detects a leak anywhere along the length of the sensor is also described
[3] "A Case Study of a Large Scale Precision [oil or fuel] Tank Testing Program", Diane H. Heck, Tetra Tech Richardson, Newark, Delaware, web search 4/27/12, original source: http://info.ngwa.org/GWOL/pdf/870143411.PDF, copy on file as /heating/OIl Tanks UST/Tank_Test_Heck_870143411.pdf Abstract:
In September 1986, a precision tank testing program was started to bring a major Maryland utility into compliance with the State of Maryland Oil Spill Control Regulations regarding underground storage tanks. This program involved the testing of over 240 tanks ranging in size from 300 gallons to 1,500 gallons located throughout the entire state of Maryland.
Analyses of the testing results revealed that 40% of the systems tested leaked. Piping leaks caused 82% of the testing failures and tank leaks caused the remaining 18%. Tank systems located in urban areas experienced a 50% testing failure rate, while tank systems located in rural areas experienced only a 25% failure rate. Leaks in tank systems in urban areas appear to be the result of structural loading and corrosion, affects [effects] absent in rural areas. The age, capacity, and usage of the tanks did not have a role in causing leaks either in the piping or the tank.
[4] "An Engineering Guide to Modern Fuel Systems", Critical Fuel Systems, division of BFS Industries, LLC www.criticalfuelsystems.com, 200 Industrial Drive, Butner, NC 27509, (919)575-6711, retrieved 12/30/2013 original source: http://www.criticalfuelsystems.com/wp-content /uploads/2010/05/Design-Guide-print-22.pdf
Mark Cramer Inspection Services Mark Cramer, Tampa Florida, Mr. Cramer is a past president of ASHI, the American Society of Home Inspectors and is a Florida home inspector and home inspection educator. Mr. Cramer serves on the ASHI Home Inspection Standards. Contact Mark Cramer at: 727-595-4211 mark@BestTampaInspector.com
John Cranor is an ASHI member and a home inspector (The House Whisperer) is located in Glen Allen, VA 23060. He is also a contributor to InspectApedia.com in several technical areas such as plumbing and appliances (dryer vents). Contact Mr. Cranor at 804-747-7747 or by Email: johncranor@verizon.net
Arlene Puentes, an ASHI home inspector in Kingston, NY, contributed the example photograph of an outdoor aboveground oil tank. Ms. Puentes can be contacted at ap@octoberhome.com
Audels Oil Burner Guide, Installation, Servicing, Repairing, Frank D. Graham, 1940's edition (obsolete). Updated versions of this guide are available in various editions, 1947, 1950, 1955, 1958, 1959, 1962, 1965, 1967, and at prices from around $3.00 to nearly $70.00 - useful for simple, clear, but not current, explanation of how heating equipment works. The original retail price was $1.00.
Bottini Fuel service, 4/26/2011. Bottini Fuel is a residential and commercial heating oil distributor and oil heat service company in Wappingers Falls, NY and with offices in other New York locations. Bottini Fuel, 2785 W Main St, Wappingers Falls NY, 12590-1576 (845) 297-5580 more contact information for Bottini Fuel
Dave Ferris - M&S Environmental Systems, Dutchess County, New York. Mr. Ferris was an HVAC expert. Personal communication to DJF 1987. Remove the firematic or fusible oil supply line valve on return oil-line side - in case of fire if this one closes first the pump continues to run, blows its seal, and sprays oil all over the fire. Proper installation is to have a fusible link valve only on the supply side, and to install a check valve on the return line to prevent back-siphonage from the tank.
"HUD Regulation for Manufactured Homes; Requirement that Heat-Tape not include a GFCI [ copy on file as /plumbing/GFCI_Heat_Tapes_HUD_CPSC_Letter1994.pdf ] - ", Meeting Log, US CPSC, HUD, Dennis McCoskrie, ESEE, 2/14/1994
Books & Articles on Building & Environmental Inspection, Testing, Diagnosis, & Repair
Our recommended books about building & mechanical systems design, inspection, problem diagnosis, and repair, and about indoor environment and IAQ testing, diagnosis, and cleanup are at the InspectAPedia Bookstore. Also see our Book Reviews - InspectAPedia.
...