Heating Oil Usage Rate

How Long Will a Tank of Oil Last?
InspectAPedia tolerates no conflicts of interest. We have no relationship with advertisers, products, or services discussed at this website.
Heating oil usage rate calculations: how to determine the rate of home heating oil consumption:
This article describes how long you can heat your building with a known amount of heating oil in the tank, or how to determine how fast your heating oil consumption is likely to empty the heating oil tank.
If your oil fired heating boiler, warm air furnace, or water heater has stopped working, one of the first things to check is whether or not you've run out of fuel. If your oil tank is above ground indoors or outside it should have a fuel level gauge installed similar to the one shown in our photo.
We also provide a MASTER INDEX to this topic, or you can try the page top or bottom SEARCH BOX as a quick way to find information you need.
How Quickly Is My Heating System Using Up Oil in the Oil Storage Tank?
How long will a quarter of a tank of heating oil last?
The thermostat and the temperature in my house is always kept at 68 degF.
If my oil tank gauge reading is 1/4 of a tank, how long will that last???
We have no other heating source, ( I'm comfortable).
Betty
Reply: It Depends ..
We cannot answer accurately how long your quarter of a tank of heating oil will keep your home heated from just the information you provided, but we can list the facts you'd need to know and how you could estimate or find out the answer:
What Determines How Long a Tank of Oil Will Last?
How long a tank or part of a tank of heating oil will last at a building depends on the following variables:
The size of the oil tank and how much oil it contains at the time that you ask this question. You said that your oil tank gauge was at 1/4 full. If the oil tank were a perfect rectangle, that would mean that if your tank was a 500 gallon tank, you have 1/4 x 500 or 125 gallons of oil remaining.

But since oil tanks are often oval in cross section or round, the oil tank gauge is not precise, and it is giving the accurate reading of how much oil is in the tank only at 3 points: when the oil tank is full, half full, and empty. Details are
at OIL TANK GAUGES.
The setting of the room thermostat - setting to a higher temperature makes a big increase in the rate at which heating oil will be consumed.
See THERMOSTATS.
The outdoor temperature - colder outside temperatures increase the rate of heating oil consumption if other factors listed here remain unchanged. Because outdoor temperature varies widely during the day and season, oil companies use a better measurement, heating degree days (HDD), that describes the heating load that your heating system will have to meet.

Heating degree days or HDD are defined using a base temperature at which it is assumed that no heat would be required, typically 65 degF. or 60 degF. For an accurate HDD measurement, the observer records the outdoor temperature minute by minute, or every half hour; but some computations simply use the average temperature for a given period.

The average outdoor temperature for a given period (one degree day) is subtracted from the base temperature (say 65 degF). If (65-Avg.Temp) = 0) then that was a "zero" degree day and no heat was required. If (65-Avg.Temp) is greater than zero, that number represents the number of heating degree days for that period.
Outdoor wind conditions - wind significantly increases the rate of heat loss from a building, depending on building insulation and draftiness. Omitting wind consideration is a shortcoming of simplistic use of HDD or heating degree days to figure heating load.
Building insulation level - how well the building is insulated is a major factor in determining its rate of heat loss and thus its rate of heating fuel consumption.
See INSULATION INSPECTION & IMPROVEMENT.
Building air tightness - a drafty building loses heat significantly faster than a tight building, even if the drafty building is "insulated".
See AIR LEAK DETECTION TOOLS

and AIR LEAK SEALING PROCEDURE.
Oil burner nozzle size in GPH (gallons per hour) of oil delivery - oil burner nozzles deliver oil into the oil burner combustion chamber in a very fine spray to aid in combustion. Every oil fired heating appliance includes a data plate that includes the range of oil burner nozzle sizes or flow rates that will work properly for that appliance.

Typically residential heating oil burner nozzles deliver oil at rates from .65 gph for a small or highly efficient system to 2 gph for an older or larger capacity (in BTUs) heating appliance.
See OIL BURNER ELECTRODES.
More Details about selecting the proper oil burner nozzle are
at A TOTAL LOOK at OIL BURNER NOZZLES [PDF] provided courtesy of Delavan.

Oil fired heater BTU output estimating tip: If there is no data tag on the furnace or you can't find the oil burner output BTUH you can guesstimate it as follows: Multiply the oil burner nozzle size (firing rate in gallons per hour) x 138,200 (Btus per gallon of No. 2 heating oil) x an efficiency estimate (use .75 for older furnaces and .80 for newer furnaces if you don't have a recent efficiency measurement).
Oil burner fuel unit pumping pressure: oil burner nozzle sizes assume that oil is being delivered to the nozzle at a particular pressure, say 100 psi or 125 psi. If your heating oil technician has changed the oil delivery pressure then the oil delivery rate of the nozzle will also be changed accordingly. Oil burner nozzle companies such as Delavan and others provide charts of oil burner nozzle patterns and size recommendations for different oil burner models and pressure rates.

For example, according to Delavan's "Fuel Nozzles for Oil Burners", the following simple equation and example relates oil flow rate and oil burner fuel unit pumping pressure when a 1.00 GPH oil burner nozzle calibrated for 100 psi is used at 125 psi of oil delivery:

F125 = 100 * (125/100).5 = 1.12 GPH
Oil burner efficiency and state of tune - the efficiency of your heating equipment can vary widely by design, from say 65% efficient for an old antiquated out of tune oil burner, to better than 95 % efficient for a high efficiency heating system that is properly tuned. Just cleaning and tuning the heating system alone makes a huge difference.

When we were in that business we found that we could improve an old oil burner's efficiency rating from a start of 68% up to 78% or better by cleaning and careful tuning and oil nozzle selection. That's 10 absolute percentage points, or a 14.7% improvement in heating efficiency.
See OIL BURNER INSPECTION & REPAIR.

Heating system efficiency numbers can be defined as the portion of each dollar that you spend on heat actually delivers heat into the building as opposed to sending it up the chimney or flue. A heating system that is 85% efficient means that for every dollar that you spend on heating fuel, 85 cents of that dollar sends heat into the building and 15 cents of that dollar goes up the chimney as waste.
Oil burner cycling rate - it's a bit more subtle, but most heating systems take a few minutes after start-up to reach peak operating efficiency. So if your heating oil burner is turning on and off rapidly (short cycling) you are wasting energy and the controls may not be set properly.
Other building heating energy efficiency factors -
see ENERGY SAVINGS in BUILDINGS
How to Make a Rough Guess at How Long the Oil Tank Will Last
You can make a very rough guess by noting how many minutes per hour or day your oil burner is running. Oil burners use a spray nozzle that delivers oil at some flow rate in gallons per hour, typically on a home, around .8 to 1.7 gallons per hour.
On your boiler or furnace will be a data tag that gives the maximum recommended flow rate in gallons per hour. With the gallons per hour (GPH) and minutes of run time you are observing you can multiply GPH x (minutes of on time per day / 60 minutes per hour) = number of gallons of oil being consumed a day.
Of course this varies widely as weather and temperatures and house leaks vary, as we outlined just above.
So if you know your oil tank size (say 500 gallons) you can make a very rough guess at how much oil is in the oil tank - say 125 gallons. I'd round down to 100 to be on the safe side since the tank is probably round or oval.
Example of Calculation of Days Supply of Heating Oil Remaining in an Oil Storage Tank
G = Gallons of oil remaining the tank
GPH = oil consumption rate when the oil burner is running, in gallons per hour - the largest number on your oil heater's data plate, or the actual GPH number for the oil burner nozzle actually installed on your oil burner (usually this is smaller than the data tag maximum)
MPH = minutes per hour that your oil burner is running, averaged over 24 hours per day, from observation
GPD = (GPH x MPH / 60) = gallons of heating oil used per day
Here is an example using some sample numbers: 100 gallons of oil in the oil tank and a 1 GPM oil burner nozzle.
G=100 gallons of heating oil in the tank
GPH = oil burner nozzle deliver rate in gallons per hour (from data tag on oil heater or number stamped on oil burner nozzle)
MPH = 15 minutes per hour that the oil burner is actually firing (from observation)
15 (minutes of "burner on time" per hour) x 24 (hours in a day) = 360 minutes of burner on time per day
GPD = 1 (GPH) x (360 (burner on time per day) / 60 (minutes per hour)) = 6 gallons of oil used per day.
100 G (gallons of oil in the tank) / 6 (gallons of oil used per day) = 16.6 days of heating oil supply remaining
Thanks to reader Cass for careful technical editing 3/23/2014 - Ed.
Watch out: calculating the number of days of heat that oil in your tank can provide is very rough, since outdoor temperatures, wind, and other conditions keep changing. Your oil company knows this and uses a more sophisticated approach using degree days - a factor that considers not only your oil burner's usage rate but how that rate will vary as a function of changes in outdoor temperature.
Bottom line: if your oil tank shows 1/4 full or less and it's during the heating season, you ought to call your oil company and ask for a delivery soon.
In an emergency if you are out or almost out of heating oil and your oil company can't make a delivery soon enough, the oil company can send a technician who can bring a 5-gallon container of oil to pour into your heating oil tank, or you can yourself purchase diesel fuel (in an emergency only) at a gas station and use that.
If you run out of heating oil, re-starting the oil burner may require a service call from your heating company as it may be necessary to bleed air out of the oil piping in order to properly re-start the oil burner.
Extreme danger: Double watch out: if you are purchasing fuel to use in your heating oil tank, be sure it's heating oil or in an emergency, diesel fuel or kerosene. If you put other flammables into your heating oil tank you are likely to blow up the building and kill everyone.
Your Oil Company Knows How Long Your Oil Tank Will Last
If you are on automatic oil delivery the question of how long the oil tank will last is easier to answer - your oil company will have computerized data showing your home's oil consumption rate as a function of "degree days" - a rough measure of how many hours at what outdoor temperature your home is being exposed to winter weather. They can tell you your home's energy consumption rate more accurately.
How Much Oil is in the Oil Tank (if no gauge is installed)?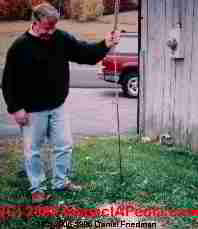 Your oil company can provide a stick, a folding rule, or even a string and weight that can be placed into an oil tank to locate the bottom of the tank and to determine the level of oil in the tank.
The depth of the oil in the tank is measured by marking the top of the tank on the stick or oil tank gauge, then placing the stick into the oil tank and withdrawing it. The oil level seen on the stick is compared with the distance from bottom of the stick (bottom of the oil tank) to top of the oil tank (which we marked on the stick).
In the old days people kept an oil tank stick that was already marked and calibrated to tell them how much oil was in their tank.
Today if we use a folding measuring rule or a generic "stick" to "stick the oil tank" to check oil level, we need to know the volume and shape of the tank as well as the depth of oil on the stick in order to calculate the number of gallons in the oil tank accurately.
In the photo our client is discovering a surprise buried oil tank at a farm we were inspecting.
Vapourising oil heating equipment
Wyn Parkin said:
I note that there is no mention on the site about vapourising oil boilers such as the Harmony range from Efel or Nestor Martin
Reply: free-standing space heaters that use a vapourising oil burner
Thanks Wyk, I'm working on that interesting addition.
It's worth noting that the heaters you cite are typically free-standing auxiliary heating sources. They are not central heating boilers nor central heating furnaces. They're more like an alternative to a wood or coal stove. However there are indeed (by other brands and applications) vaporizing oil burners and boilers used including in some commercial applications. Here we will address the type of heaters you cited:
Euroheat (a UK energy company) provides information about the Harmony Range and Efel, describing them as wood-burning / multi fuel stoves.
Eireheat [dot] com provides a nice description of vaporizing heaters from Nestor Martin (Belgium) heaters. We excerpt:
Nestor Martin stoves are equipped with a high-effi ciency stainless steel vaporizing burner to ensure clean, thorough combustion. The burner is fed a monitored fl ow of oil into the bottom of its cylindrical body, where the oil is heated and becomes vaporized.
As the vapor rises, it draws into the burner the air necessary for combustion through critically positioned and sized inlets.
The flame is stabilized and the combustion process maintained at the correct temperature by the catalyser.
The heat output of the burner is controlled by a carburetor which is manually controlled, giving you total command of the flame height at all times.
Thermic Distribution Europe 5 Voie Axiale 5660 Couvin Belgium www.nestormartin.com
If you have other citations I'd appreciate receiving them (you can use our email found at our CONTACT link)
and we'll be glad to expand on the topic.
(Oct 17, 2014) Wyn Parkin said: Harmony range & Efel (Nestor Martin) heaters
Thanks for your answers, however, a few of the harmony range are fitted with 2-part boilers that form an L shape inside the unit. One supplies the domestic hot water and the other goes to the home heating.
I note that some of the oil fired boilers mentioned, eat up the fuel in Gallons Per Hour, whereas the Harmony 2 with its 10 inch burner (also supplied in 8 inch size)(and 6 inch for other models) on its lowest setting uses approximately 5 cc of fuel per minute (300cc per hour) of kerosene fuel.
The boiler is virtually silent in operation as it has no moving parts, and we have found that it is more than adequate for our 3 bedroom detached house, used mainly on setting no 2 out of 6.
Unfortunately, I have recently found (while searching for a spare part) that Efel (Nestor Martin) have gone into liquidation following a massive fire at their foundry in one of the Scandinavian countries.
Most parts are still available but the part I needed was a new coals bed (artificial coals that glow) was not available for my model, but I succeeded in replacing it with a coals bed from a Harworth Heating, Bubble 2 boiler. Looks almost the same!
...
Continue reading at HEATING COST SAVINGS METHODS or select a topic from closely-related articles below, or see our complete INDEX to RELATED ARTICLES below.
Or see OIL TANK GAUGES.
Suggested citation for this web page
HEATING OIL USAGE RATE at InspectApedia.com - online encyclopedia of building & environmental inspection, testing, diagnosis, repair, & problem prevention advice.
Or use the SEARCH BOX found below to Ask a Question or Search InspectApedia
...
Frequently Asked Questions (FAQs)
Try the search box below or CONTACT US by email if you cannot find the answer you need at InspectApedia.
Question: how many liters of kerosene is my house using per hour?
I would like to know how much liters is my house heating using per hour. I bought 181 liters of Kerosene for my heating, how long will it last? Our thermostat has a scale that goes from 7 to 1 and right now is at 1. I've been using 4 hours of heating per day. My heating has a power of 17.6 kW and efficiency of 65%. Any clues on how much liters it is consuming per hour and how long my 181 liters will last? Thank you - L.F.S. 3/15/2013
Reply:
Your oil burner sprays oil through a nozzle whose job is to aerosolize the oil so that it can be ignited and burned in the combustion chamber. Every oil burner nozzle has a number stampled into its body that gives a flow rate in gallons per hour or GPH (convertible to liters per hour or LPH if you like). For example a nozzle marked 1.25 is rated to burn 1.25 gallons of No. 2 home heating oil per hour, presuming that the oil burner's pump is also pushing oil through the nozzle at a specified pressure (typically 100 psi). If your oil burner is set to a higher pressure (say 140 psi) then more oil per hour is going to pass through that nozzle.
So you could ask your heating service tech to tell you what sized oil burner nozzle is on your heater and what pressure the system runs-at.
But this data is only conceptual - it will NOT tell you how many days of heat you have in your 181 liters of kerosene.
Translating your question in to how long your tank of kerosene is going to last is a bit more tricky than just knowing the kerosene or heating ol burn rate.
The number of hours per day that your oil burner will be "on" depends on
where you set the thermostat (higher means on more)
the outdoor temperature, wind, and other weather ocnditions
the heat loss rate of your home from drafts, poor insulation, open windows or doors, home size, shape, other constructin features
the actual tuned efficiency of your heating equipment, not just it's theoretical or "rated" efficiency (by the way taht 65% efficiency number is not very nice)
How could we know the heat loss rate of your home from just your email? If someone leaves a window open or turns the temperature up or the outside temperature drops, all of the data changes.

You could look at the oil burner or kerosene burner consumption rate - the nozzle gives a gallons-per-hour flow rate for an assumed flow pressure - and calculate the theoretical numbrer of "on-hours" your burner can run before you've burned up all the fuel, but that will NOT tell  you how many days of heat you have.

Your heating oil company keeps track of "degree days" - that factors in the outdoor temperatures in your area along with the heating fuel consumption rate they have observed for your home in the past - that's how they know when to make an automatic delivery.

So the best answer is to give your heating company a call and ask them what their computer says is your consumption rate based on a theoretical "average degree day" temperature range, then you'd have to watch the actual outdoor temperatures or local degree day data (which you can obtain locally) to know what to expect.

What I do is take a look at the heating oil storage tank gauage every week or so, more often in very cold weather and always if I read that a big cold snap or storm are coming; if the gauge is at 1/4 or below I call and ask for an extra delivery.
Reader Comment:
3/23/2014 cass said:
Hello,
Great site!
Just wanted to let you know, the math on the home heating oil is slightly inconsistent.
inspectapedia.com/oiltanks/Heating_Oil_Consumption_Rate.php
"Here is an example using some sample numbers:
MPH = 15 minutes per hour that the oil burner is actually firing (from observation)"
Here you jump from 15m/hour to 30min/hour...
30 (minutes of "burner on time" per hour) x 24 (hours in a day) = 720 minutes of burner on time per day
GPD = 1 (GPH) x (720 (burner on time per day) / 60 (minutes per hour)) = 12 gallons of oil used per day.
Now you put 6 gal / day, but calculate on 12 gal per day...
100 G (gallons of oil in the tank) / 6 (gallons of oil used per day) = 8 days of heating oil supply remaining"
I was confused by this for a bit, until I realized this.
Thanks again for putting this out there!
-Cass
Reply:
Thanks Cass, I have corrected the math. We appreciate your careful reading and your taking the time to comment - working together makes us smarter.
Daniel
Question: wonders about heating oil usage rate
(Jan 2, 2013) Karen said:
Something seems very off in these calculations. I live in New England and at my old 1,500-square-foot house, I would usually use 500-600 gallons of heating oil PER WINTER (and this is with the thermostat set at 68-72 during the day and 62 at night). My current house has 2,400 square feet and typically goes through about 800 gallons PER WINTER. Your calculations above show that 100 gallons of oil = 8 days of heating, which would mean the homeowner would go through 400 gallons in just over a month! Unless the house is a mansion with no insulation at all AND outside temps are way below normal, that is just insane.
Reply:
Karen: you can sanity check heating oil usage rates if you know the GPH rating of your oil burner nozzle. If your burner uses a 1 GPH nozzle and IF the burner is staying on 50% of the time (for example in very cold weather or in a house with a high heat loss rate), your system will be using 12 gallons of oil per day.
To have a meaningful understanding of your high heating costs and oil usage rate, you will need to consider other things that affect how much heating oil is used, of which here are just a few examples:
The thermostat settings and use or non-use of setbacks
The building's heat loss rate, insulation, windows, storm windows, size, layout, and air leakage
Weather, including not just temperatures but wind factors
The state of tune of the oil burner
(Jan 5, 2013) Anonymous said:
Well Karen don't ever move because I live in new england too and unless your house is super insulated.....which mine clearly is not! I rent. This is very actuate!
(Mar 1, 2013) Anonymous said:
Wow so you're going through 400 gallons of heating oil a month? At the price of heating oil now that means you're paying $1400 a month in heat. I rent too, the bottom floor of a not-well insulated house. I've been going through about 100 of heating oil a month, by keeping my heat at 55 degrees when I'm at home (day and night) and 50 when I'm not. It sucks.
I'm paying $350 a month to barely heat the place which is almost as much as my rent. I've only lived in places with electric heat before, and never paid more than $100 a month, and that was keeping the heat at 75. I am so moving out of this place once my lease is up.
Question: can I change the oil burner nozzle to a different spray pattern
(Jan 6, 2013) nathan S said:
Can I use 1.0 80A nuzzel instead of 1.0 70A? How is it effect my oil heater?
Reply:
While small oil burner nozzle range adjustments usually don't cause trouble among oil burner nozzle sizes,
Watch out: Don't change the nozzle spray pattern to one that is not recommended by the burner/boiler manufacturer. A too wide spray for the combustion chamber, if it impinges on chamber sides, may not burn oil properly.
Question: can we use all of the oil in an oil storage tank or not?
(Mar 10, 2013) Chloe said:
Hi,
we still have about 3- 4 inches deep left in out tank which is about 6-7 ft long and 2 ft wide. The engineer is telling us we dont have enough heating oil left thats why our heating is not working but this seems reidiculous to me. Does this sound normal or am i right in thinking this is hooey.
Thanks
Reply:
Chloe,
Your engineer is probably right - especially if oil lines come off of the top of the oil tank; the installer doesn't want to pick up oil from the very bottom - in an attempt to avoid picking up water and crud that will clog the oil burner.
Mar 16, 2013) Anonymous said:
once the oil level goes below the intake valve your kaput! less than 4 inches in the tank no heat!
Question: ran out of oil, pick up tube experiments
(Mar 20, 2013) Middletown H&C said:
My Armstrong 80 quit.Tech said it was out of oil.I found the pickup tube 24" above bottom I added an extension and then had 100 gals. delivered on 02/27/13.The second tech said it was the oil filter,which was very old,I had the updated # and he had one,installed it,good oil and heat.When the room met thermostat temp ,it did not come on again.
He replaced the pump,and I have heat.Problem: bad oil smell ,used 100 gal in less than a month in a very small 1 bed room apt. .My research pointed to a wrong size nozzle.They changed the nozzle.They will not replace my oil. Any ideas how I can approach this,I'm a renter,DAV, on limited income..
Reply:
Middle:
Sounds like a combination of inadequate oil burner maintenance that finally caught up with you. The oil filter needs to be changed at least annually, along with nozzle at the oil burner along with system cleaning and tuning.
Extending the oil pickup down in your oil tank got at more oil but also may have sent extra sludge and crud through the system, speeding up the clogging problem.
Search InspectApedia for
Heating Oil Tank & Piping Sludge Problems & Cures
to read details about improving your system's operation and reliability.
IN the links along the left of this page near the top see
HEATING COST SAVINGS METHODS
that may also give you a hand.
Question: ran out of oil, how long will 5 gallons of kerosene last?
(Feb 13, 2014) Rob said:
I ran out of oil yesterday about 3:30 pm and bought 5 gallons of kerosene and so far I still have heat I am just wondering is it going to last through the I won't get a delivery until tomorrow around 3:00 my house is about 1400 sq. ft. and I keep my temp. at 68 degrees
Reply:
Rob, I would go out for another 5 gallons now before you run out. A typical home heating oil burner consumes fuel at a rate set by the burner nozzle size rated in GPH and adjusted by oil pressure as well. Higher pressure settings make a 1 GPH noaale consume fuel at a faster rate.
If you knew the nozzle size you'd know it's nominal fuel use rate per hour of on time. If you knew if pressure was set above 100 psi we could look up the true GPH usage rate. If then you had an idea how many hours your burner is ON in each 24 hour period you could computhe the gallons of fuel youll use. Of course you can conserve fuel by lowering the thermostat setting too.
Without those details I can only advise buy more fuel and set back the thermostats.
Question: increase in oil consumption rate
(Mar 15, 2014) patrice michaud, stranorlar said:
the consumption of heating oil in my home became very big this last 3 months,i use 300 liters every 5 weeks,i get a burner service but nothing change!!!there is no sign of leaking or smell of oil and i know nobody who's abble to told me what's happened,i realy need help for this problem,thanks
Reply:
Patrice, On this page we provide an ARTICLE INDEX to RELATED ARTICLES that includes a live link to - HEATING COST SAVINGS METHODS
for help with your question.
Start by noticing how much of the time your thermostat is calling for heat - in cold weather and in a building with a high rate of heat loss, the heating system may be acting normally.
Question: moving out, I don't want to fill my oil tank
(Mar 24, 2014) Kathy said:
I have a 275 gallon tank. I am moving soon and do not want to fill my tank. I have a quarter of oil now but was thinking of getting 50-75 gallons. How much would 50 or 75 gallons of oil give me?
Reply:
Kathy,
No one can say with just the information you are giving me, except your oil company who has oil usage data for your home. Give them a call with the question. Alternatively you can ask your heating service technician what oil burner nozzle size (in gallons per hour) is installed on your oil burner. With that information you could guesstimate by using the calculation I explain in the article above on this page.
It should be apparent that the oil usage rate for your home is going to depend on the outdoor temperature, indoor thermostat settings, and house energy loss rate. Those are data that the oil company factors into a "degree day" calculation for your home.
In real estate this problem is solved by filling the tank completely and charging the new owner/occupant for a full tank of oil.
Comment:
(Dec 19, 2014) sara stout said:
This seems pretty complicated to get a good idea of how long your home heating oil will last. But once you have gone a couple of months of heating you will have a pretty good understanding. Using that as a starting point you can make a pretty good guess.
Question:
(Jan 5, 2015) Wondering..... said:
I used 189 gallons in 61 days at a constant thermostat reading of 71 degrees F. Assuming everything else is the same, how long would that oil last if I kept the temperature at a constant 74 degrees F?
My previous question was: I used 189 gallons in 61 days at a constant thermostat reading of 71 degrees F. Assuming everything else is the same, how long would that oil last if I kept the temperature at a constant 74 degrees F?
Now assume the heating degree days for the 61 days came to 1500. I ask the same question but also assume that the heating degree daays increas from 1500 to 1700 for the next 61 day period.
Question: missing shut-off valve on oil line vs. heating oil consumption?
(Jan 12, 2015) Upstate said:
I discovered this year that the oil company that installed my new boiler LAST year apparently forgot to install a shut-off valve between the boiler and the studio apartment (12x15') that is on the same boiler. The boiler was installed in October in upstate NY, and the problem not reported until the studio tenant moved out in May and I noticed it was 78 degrees in there and the heat was at full blast even though the thermostat was set at 60.
I had the thermostat replaced, thinking that was the problem, and shut off the boiler since it was spring anyway. This fall, the new tenant reported that it was still heating excessively, so I called in the service technicians. Turns out they 'forgot' to install the valve, and said they wouldn't charge me for the visit to fix it (gee, thanks). My question is, how much fuel would it have needlessly burned through over 8 months cranking at full bore to heat that one zone?
The oil company is trying to say I owe them $350 for another service call (which the technician -- embarrassed they'd screwed up so badly -- said at the time he wouldn't charge me for). I contend that the amount of fuel burned by their mistake was worth far more than that at an average price of $3.90/gal. How do I estimate what that might have been? I hate having to use fossil fuels and keep my house at 55 when I'm not here, and 62 when I am here, so the thought of heating a room to 80 degrees for 8 months just makes me sick!
Reply:
Up
I'm unclear on why a shutoff valve would be needed between two areas that have separate heating zones and thermostats. If a thermostat is not calling for heat then no heat should be delivered to that zone. It sounds more as if there was a thermostat but it was not connected to a zone valve or that controls were mis-wired.
You can get a more accurate answer to this problem by contacting your heating oil supplier, asking them how many degree days were in the period in question, and how much oil your building used. You'll then need to do a heating cost apportionment between the different house areas based on rough gesses on square footage and heat loss rate.
Question: what happened to our heating oil - it just disappeared?
(Feb 11, 2015) what happen said:
I got some weatherized oil last month to bring my level to 3/4. we have been havin very nippy days and a lot of snow. I cleared off the tank yesturday and saw in a month we lost 1/2 of tank. What happen to all our oil? we left our thermostat at 69 degrees.
Reply:
What
If there is no leak in your oil piping or oil storage tank, then you burned the oil.
Keep in mind that if your tank is like most, it is oval in cross-section. The oil tank level gauge is only really accurate in three positions: empty, half full, and full.
On the other hand a leak in an underground or inaccessible oil tank could indeed step up the apparent oil consumption rate.
Question: does the homeowner have to notify the oil company of a change in oil usage rate?
(May 15, 2015) Stanley Chamrin said:
Homeowner uses residence seasonally and the home is mostly vacant during the winter. Owner is on automatic delivery and maintains the temperature of the house between 55-60 degF (mostly 24/7) when the house is not occupied. When the house is occupied the temperature is raised to 70 degF.
If the homeowner decides to make this house a full time residence in which the house will be fully occupied during the winter the house temperature will be 70 degF day and 60 degF night. Does he have to notify his oil company about a change in use so the oil company can make adjustments on their automatic delivery?.
Reply:
Stanley:
"Have to" is a phrase that's harder to answer than "should" - it would certainly make sense for a building owner to inform their oil company of changes that will change oil consumption rate. If the owner or occupant does NOT do that then the only way the oil company will find out that new information is by receiving a "no heat - out of oil" call (which is not the most convenient for anyone involved) and worse there's the risk of loss of heat and frozen, burst pipes, water damage, and other costs.
...
Ask a Question or Search InspectApedia
Try the search box just below, or if you prefer, post a question or comment in the Comments box below and we will respond promptly.
Search the InspectApedia website
Technical Reviewers & References
Click to Show or Hide Citations & References
Scully Signal Company, 70 Industrial Way, Wilmington MA 01887-0588, Tel: 617-729-7510 or 800-272-8559, Email: sales@scully.com
A Total Look at Oil Burner Nozzles, available from Delavan Fuel Metering Products, a reference guide for oil burner service technicians, Delavan Spray Technologies, Fuel Metering Products Division, PO Box 969, Bamberg SC 29003, Tel: 800-982-6943 or 803-245-4347, ( Delavan is a division of BF Goodrich); web search 12/30/2010, original source: http://www.delavaninc.com/pdf/total_look.pdf
Note & disclosure: when we (DF) were servicing oil burner equipment, Delavan nozzles gave us such excellent results, especially using hollow cone spray patterns in solving combustion problems, that this brand was our standard stock-item on our truck. Other brands of oil burner nozzles are of course also of excellent quality. It is the proper matching of nozzle size and type and spray pattern to the equipment that is critical.
Fuel Nozzles for Oil Burners, Technical Aspects of Applications, E. O. Olson, Chief Engineer (deceased)
Delavan Fuel Metering Products Operation, Bamberg, South Carolina, Delavan Fuel Metering Products, a reference guide for oil burner service technicians, Delavan Spray Technologies, Fuel Metering Products Division, PO Box 969, Bamberg SC 29003, Tel: 800-982-6943 or 803-245-4347, ( Delavan is a division of BF Goodrich); web search 12/30/2010, original source: http://www.delavaninc.com/pdf/Fuel_Nozzles_for_Burners.PDF
Books & Articles on Building & Environmental Inspection, Testing, Diagnosis, & Repair
Our recommended books about building & mechanical systems design, inspection, problem diagnosis, and repair, and about indoor environment and IAQ testing, diagnosis, and cleanup are at the InspectAPedia Bookstore. Also see our Book Reviews - InspectAPedia.
...