Smell Patch Test - How to Track Down a Building Odor to a Specific Material or Source
SMELL PATCH TEST to FIND ODOR SOURCE - CONTENTS: How to find the source of an odor or smell in a building. Simple, photo-illustrated step by step procedure assists in tracking down building odors or smells to a specific surface or material. Using ozone in buildings to "purify air" or to "kill mold" can produce persistent "chemical" odors whose source needs to be identified and removed. Building smell or odor source identification using a smell patch test
POST a QUESTION or READ FAQs about using simple methods to track down the source of a building odor or smell
InspectAPedia tolerates no conflicts of interest. We have no relationship with advertisers, products, or services discussed at this website.
Smell patch test procedure tracks down odor sources:
How to use paper towels, aluminum foil, and tape to perform a simple but effective odor source test of building surfaces and materials.
This article describes a simple procedure using paper towels and aluminum foil wrap to track down odors in buildings, such as but not limited to tracking down mold smells, sewer smells, plastic smells, chemical odors, animal odors, and even new smells that occur after excessive indoor use of ozone in buildings to try to "kill" mold or remove other indoor odors (skunks or smoke).
Our page top photo shows the last step in the smell-source test procedure, though we recommend that this step be conducted outdoors in fresh air.
Green links show where you are. © Copyright 2017 InspectApedia.com, All Rights Reserved.
How can I Track an Indoor Odor to its Source?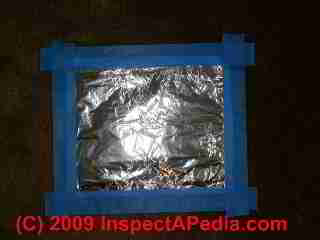 The procedure we describe here is easy, inexpensive, and fast - you'll need a day or so, plus some common household materials to track down an indoor smell to the surface or material that is its most likely source.
Depending on what caused the material to smell in the first place, disposal may be the only option. In other cases, amateur or professional cleaning or use of sealant paints may be effective. If you've already tried using an ozone generator to kill an indoor odor, you may have used the equipment improperly.
Ozone or O3 is a highly reactive oxygen molecule that can cause oxidation of materials that it touches. This oxidation, especially of some rubbers and plastics, can leave a horrible smell in the treated building.
Before getting into the details of how to perform the smell patch test, note that there are at least the following odor investigation approaches:
Odor Diagnosis Strategies:
You can start tracking down the cause or source of an odor in one or more of several ways:
Using Ozone to Get Rid of Skunk or Mold Smells?
This quote from a reader's email pretty well sums up what happens if you overdo it when using an ozone generator indoors to try to "kill off" odors:
It's a long story, but I used a high powered ozone generator in our house, to get rid of skunk smell. Now I can't get rid of the left over nitric oxide, or whatever odor or gases, that linger in our house. I have been leaving the windows open every day, with running the heat on high (85 degrees) at night, to try to force off-gas the odors/gases.
We have investigated a number of cases of misapplication of ozone generating machines both to "kill mold" (no good, you're leaving toxic or allergenic particles, and you haven't corrected the reason for mold growth in the first place). We have also investigated several cases of excessive ozone-use to try to remove odors from buildings, including fire or fireplace smells, mold smells, pet or animal smells, skunk odors, smoking odors, etc.
Using an Ozone Generator Has Left a Smell in our Home - How do I Get Rid of It?
If you have aired out the building and days or more have passed and you still smell a "new" chemical or plastic or other odor that was not there before you tried using your ozone generator, you'll need to determine just what materials were oxidized by the high levels of ozone in the building.
It's been our experience that once you identify and dispose of the new-smelly material you'll probably be fine. Here are some examples of material we've found giving off horrible smells after misuse of an ozone generator. (Misuse means using the ozone generator to try to kill mold, or running an ozone generator too long at too high a setting in too small a space - overdoing it).
Carpets, especially synthetic carpets
Carpet padding
Foam cushions
Other plastic furnishings or furniture covers
Rubber pads, padding
Try the Smell Capture Patch Test to Pin Down a Specific Indoor Odor Source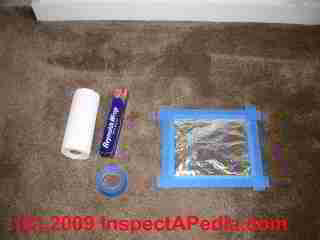 Our friend Jeff May suggested this procedure for pinning down a specific odor test in buildings - it has worked remarkably well for us where ozone had caused an indoor smell that could not be tracked down.
Our photo (left) shows the supplies you need as well as a test set up on the surface of wall to wall carpeting. We have added to, elaborated, and provided details of just how this smell patch test works - below.
Purchase these indoor odor track-down supplies if you don't already have them

A roll of new clean odor-free paper towels (not something that has a perfume in it)
A roll of new clean foil wrap
A roll of blue easy-to-remove masking tape or painter's tape

Close up the building - windows, and doors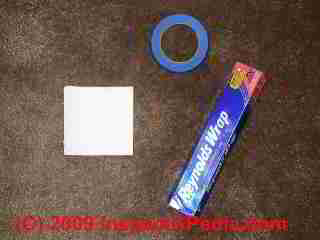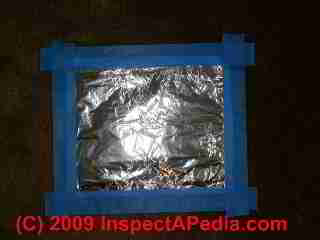 Prepare and apply odor collecting test patches on the surface of each suspected material such as carpeting, carpet padding wall surfaces, trim surfaces, furniture surfaces

Fold a paper towel into quarters and place or hold it on the surface to be tested.
Tear off a sheet of foil wrap that is several inches larger than the folded paper towel
Place the folded paper towel on the surface to be tested (Photo above left shows this smell locator test set up on wall to wall carpeting - we would also recommend a separate test of the carpet padding below the carpeting)
Place the foil wrap over the paper towel
Tape the foil wrap in place using the blue painter's tape (Photo above right)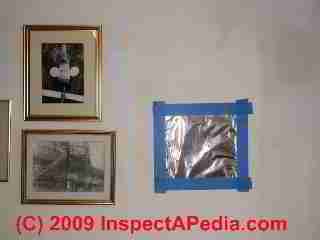 Prepare and apply additional odor-collecting test patches on all other building surfaces to be tested as an odor source. Typically these include:
Rug or wall to wall carpet surface in most-suspect area
Rug or carpet under-padding
Painted wall surfaces (Photo at left)
Plastic or vinyl windows, trim, blinds, curtains
Surfaces of furniture suspected as an odor source, especially couches and chairs stuffed with foam padding if odor problems followed use of an ozone generation machine

Prepare additional control test patches (optional) - we apply multiple samples to the same surface as a test control described below
Wait 24 hours or longer - you are allowing odors and gases under the paper towel to impregnate and be absorbed into the paper towel.

Do not disturb the foil covering the paper towel during this time. The foil covering assures that what's being absorbed into the paper towel is emanating just from the surface being tested. The aluminum foil will also be used to quickly wrap and trap gases in the odor-filled paper towel at the end of the test period.
Station your test subject person outdoors in fresh air out of the wind - select someone with a good sense of smell, or best, the person who has already complained of a specific odor in the building.

This outdoor stationing of the person who is to perform the "sniff test" is very important because people who are exposed to a smell for a period of time tend to lose their ability to detect that odor. Actually some odor or chemical exposures can increase sensitivity (Rabin 1986) while in many if not most cases odor sensitivity diminishes (Dalton 1996, Zufall 1997).

Bottom line: the "sniffer" person selected to detect the building odor whose source is being sought should be someone who already reports being familiar with the odor but who has been stationed in fresh air so as not to be de-sensitized to the smell. (Details are at REFERENCES.)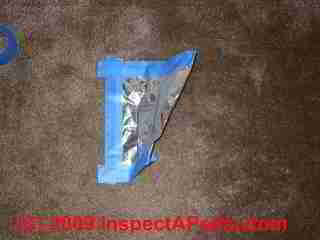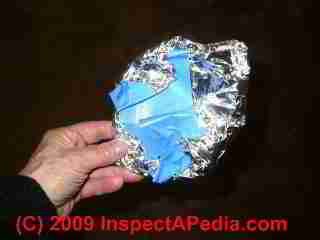 Test each smell patch as follows:

Lift a corner of the masking taped foil-covered paper towel test patch (Photo at above left, peeling-off is in process. Don't stop to take a photo like this or you may lose some of the odor absorbed in the paper towel.)
Quickly fold the paper towel patch inside of the foil that was used to cover it - do this quickly so you don't contaminate the patch of paper towel with other indoor air or gases (Photo at above right shows that we have sealed the paper towel completely inside of the foil covering)
Take the smell test package outside into fresh air in a non-windy location: Quickly carry the paper towel patch, now folded in foil, outside and present it to your test person
Conduct the smell test: The test person opens the foil wrap and sticks his/her nose into the paper towel and sniffs, reporting when s/he smells the offending odor that was previously the complaint in the building.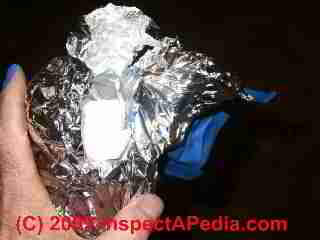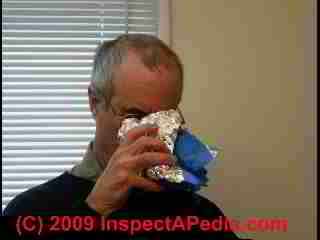 Test your control smell patches as follows:
Present smell test and smell test control patches to the smell-test person, without telling him/her the surface from which it was taken nor which sample is which - odor or control.
Tear open a corner of the foil covering the smell-absorbing paper towel - just large enough to get the test person's nose inside of the foil. (Photo, above left)
The smell test person sniffs the paper towel and reports their observations. (Photo, above right)
If a smell test is definitive, the test person will usually report very accurately which patches are from a given smell or surface area.
We have had very good results with this procedure when used to narrow down odor sources in an ozone-treated building, and we had up to 95% repeatability when we used additional smell test patches.
What Does the Odor & Smell Patch Test Kit Do or Not Do for You?
This is not a scientific test to capable of identifying the actual chemical constituents of an odor, rather it's a means of odor source location - costing almost nothing compared with paying for an air sample collection and spectrographic analysis.
Once we know the source of a smell or odor, it may be that the simplest, most-economical approach is to remove the off-gassing material or product itself.
There are indeed more technical air test methods used by industrial hygienists who collect one or more air samples in a vacuum container and send that to a lab for characterization, or who may use specific instruments designed to detect the level of specific gases or classes of gases. We will give some examples of these just below.
There are widely-marketed "air tests" sold by a number of companies testing for specific classes of gases such as "VOCs", formaldehyde, or "tobacco" - in my OPINION not something that should be a first step as the number of possible pollutants and even pollutant classes is so great, and as there is no simple single "test" that covers the spectrum.
One should note this concern about "air testing" for odors: even if we knew what chemical soup was in the air that may not be sufficiently diagnostic and it certainly won't be prescriptive - giving a course of action. To take action we need to know:
That hazardous or obnoxious conditions indeed exist at a level that merits action
What is the source of the odor or gas or offgas
What are the specific hazards and hazard levels of the gas
We might need to know (depending on the situation) the actual level of the gas in the building over time: the occupant exposure level
What remedies are available: removing an offgassing material, changing how the building air quality is maintained, other protective measures
Resources for Odor & Gas Detection
AIR MONITORING APPROACHES, OSHA [PDF] , OSHA, retrieved 2017/06/08, original source: https://www.osha.gov/Publications/complinks/OSHG-HazWaste/7-8.pdf
EMERGENCY RESPONSE, IAQ, GAS, MOLD - suggestions
VENTILATION, BALANCED - control odors and improve IAQ without increasing building heating or cooling costs
Hess-Kosa, Kathleen. Indoor air quality: the latest sampling and analytical methods. CRC Press, 2016.
Hess-Kosa, Kathleen. Environmental sampling for unknowns. CRC Press, 1996.
Hummel, Thomas, B. Sekinger, Stephan R. Wolf, E. Pauli, and Gerd Kobal. "'Sniffin'sticks': olfactory performance assessed by the combined testing of odor identification, odor discrimination and olfactory threshold." Chemical senses 22, no. 1 (1997): 39-52.
Kobal, G., L. Klimek, M. Wolfensberger, H. Gudziol, A. Temmel, C. M. Owen, H. Seeber, E. Pauli, and T. Hummel. "Multicenter investigation of 1,036 subjects using a standardized method for the assessment of olfactory function combining tests of odor identification, odor discrimination, and olfactory thresholds." European Archives of Oto-rhino-laryngology 257, no. 4 (2000): 205-211.
Lehrner, Johann P., Judith Glück, and Matthias Laska. "Odor identification, consistency of label use, olfactory threshold and their relationships to odor memory over the human lifespan." Chemical Senses 24, no. 3 (1999): 337-346.
Olsson, Mats J., and William S. Cain. "Psychometrics of odor quality discrimination: method for threshold determination." Chemical senses 25, no. 5 (2000): 493-499.
Saito, Sachiko, Saho Ayabe-Kanamura, Yasuhiro Takashima, Naomi Gotow, Naomi Naito, Takashi Nozawa, Miyako Mise, Yuichi Deguchi, and Tatsu Kobayakawa. "Development of a smell identification test using a novel stick-type odor presentation kit." Chemical senses 31, no. 4 (2006): 379-391.

...
Continue reading at ODOR DIAGNOSIS CHECKLIST, PROCEDURE or select a topic from closely-related articles below, or see our complete INDEX to RELATED ARTICLES below.
Or see GAS EXPOSURE EFFECTS - home
Or see INDOOR AIR QUALITY IMPROVEMENT GUIDE - home
Or see ODORS GASES SMELLS, DIAGNOSIS & CURE - home
Or see these
Suggested citation for this web page
SMELL PATCH TEST to FIND ODOR SOURCE at InspectApedia.com - online encyclopedia of building & environmental inspection, testing, diagnosis, repair, & problem prevention advice.
Or use the SEARCH BOX found below to Ask a Question or Search InspectApedia
...
Frequently Asked Questions (FAQs)
Ask a Question or Search InspectApedia
Use the "Click to Show or Hide FAQs" link just above to see recently-posted questions, comments, replies, try the search box just below, or if you prefer, post a question or comment in the Comments box below and we will respond promptly.
Search the InspectApedia website
Technical Reviewers & References
Click to Show or Hide Citations & References
Bell, Iris R., Claudia S. Miller, Gary E. Schwartz, Julie M. Peterson, and Diane Amend. "Neuropsychiatric and somatic characteristics of young adults with and without self-reported chemical odor intolerance and chemical sensitivity." Archives of Environmental Health: An International Journal 51, no. 1 (1996): 9-21.
Cain, William S., and Joseph C. Stevens. "Uniformity of Olfactory Loss in Aginga." Annals of the new york Academy of Sciences 561, no. 1 (1989): 29-38.
Comeau, Terrance B., Joel B. Epstein, and Christo Migas. "Taste and smell dysfunction in patients receiving chemotherapy: a review of current knowledge." Supportive care in cancer 9, no. 8 (2001): 575-580.
Dalton, Pamela. "Psychophysical and behavioral characteristics of olfactory adaptation." Chemical Senses 25, no. 4 (2000): 487-492.
Dalton, Pamela, and Charles J. Wysocki. "The nature and duration of adaptation following long-term odor exposure." Perception & psychophysics 58, no. 5 (1996): 781-792.
Larsson, Maria, Deborah Finkel, and Nancy L. Pedersen. "Odor identification influences of Age, gender, cognition, and personality." The Journals of Gerontology Series B: Psychological Sciences and Social Sciences 55, no. 5 (2000): P304-P310.
Nachbar, Robert B., and Thomas Hellman Morton. "A gas chromatographic (GLPC) model for the sense of smell. Variation of olfactory sensitivity with conditions of stimulation." Journal of theoretical biology 89, no. 3 (1981): 387-407.
Abstract:
Computer simulation of an olfactory detector has been developed using a chemical kinetic scheme originally proposed by McNab and Koshland for bacterial chemotaxis. This model describes response as a function of two opposed reactions, both of which are activated by odorant. One reaction turns on response, while its opponent shuts it off. Net response to various stimulus profiles is compared to psychophysical experiments, with particular attention paid to simulating magnitude estimation and odor adaptation results. Effects of the access route to this detector are evaluated. Transport of odorant molecules is treated as having two sequential steps: step (i), airborne odorant is carried parallel to a retentive layer (mucus) into the detector region; step (ii), molecules diffuse through the retentive layer to the detector. Step (i) is represented as analogous to GLPC on an open tubular column. Each step has a characteristic time constant, which is proportional to (distance)2/diffusion coefficient. Response to highly volatile odorants tends to be limited by step (ii), while odorants of low volatility approach the step (i) limit. Sensitivity at both limits is attenuated by increasing the thickness of the retentive layer, but sensitivity at the step (i) limit is also affected by changes in air passageway and airflow characteristics. This picture can be used to explain variations in women's sensitivity to odorants of low volatility with the menstrual cycle, while their detection of volatile odorants fluctuates to a much lesser extent.
Rabin, Michael D., and William S. Cain. "Determinants of measured olfactory sensitivity." Perception & psychophysics 39, no. 4 (1986): 281-286.
Schiffman, S. S., and B. G. Graham. "Taste and smell perception affect appetite and immunity in the elderly." European Journal of Clinical Nutrition 54, no. 3 (2000): S54.
Schiffman, Susan. "Changes in taste and smell: drug interactions and food preferences." Nutrition reviews 52, no. 8 (1994): 11-14.
Ship, Jonathan A., and James M. Weiffenbach. "Age, gender, medical treatment, and medication effects on smell identification." Journal of gerontology 48, no. 1 (1993): M26-M32.
Zufall, Frank, and Trese Leinders-Zufall. "Identification of a long-lasting form of odor adaptation that depends on the carbon Monoxide/cGMP secondmessenger system." The Journal of neuroscience 17, no. 8 (1997): 2703-2712.
Books & Articles on Building & Environmental Inspection, Testing, Diagnosis, & Repair
Jeff May - Jeffrey C May - May Indoor Air Investigations - Jeff is located in Tyngsborough, MA 01879 - Phone • 978.649.1055 • 800.686.1055
Adkins and Adkins Dictionary of Roman Religion discusses Robigus, the Roman god of crop protection and the legendary progenitor of wheat rust fungus.
Kansas State University, department of plant pathology, extension plant pathology web page on wheat rust fungus: see http://www.oznet.ksu.edu/path-ext/factSheets/Wheat/Wheat%20Leaf%20Rust.asp
"A Brief Guide to Mold, Moisture, and Your Home", U.S. Environmental Protection Agency US EPA - includes basic advice for building owners, occupants, and mold cleanup operations. See http://www.epa.gov/mold/moldguide.htm
US EPA - Mold Remediation in Schools and Commercial Building [ copy on file as /sickhouse/EPA_Mold_Remediation_in_Schools.pdf ] - US EPA
US EPA - Una Breva Guia a Moho - Hongo [on file as /sickhouse/EPA_Moho_Guia_sp.pdf - - en Espanol
Atlas of Clinical Fungi, 2nd Ed., GS deHoog, J Guarro, J Gene, & MJ Figueras, Centraalbureau voor Schimmelcultures, Universitat Rovira I Virgili, 2000, ISBN 90-70351-43-9 (you can buy this book at Amazon)
Atlas of Mold Related Illness: Index of Symptoms and health, physical, neurological, psychological, and other complaint which people suspect may be mold or building-related.
Atlas of Indoor Mold, Online Clinical Mold Atlas, Toxins, Pathogens, Allergens and Other Indoor Particles - Medical Health Effects of Mold (separate online document)
Black Mold that is Harmless Photos of recognizable, usually harmless black mold on wood, bluestain, ceratocystis, ophistoma
Building Floods: quick steps after a building flood or plumbing leak can prevent costly mold contamination
Classes of Mold: what types of cosmetic, allergenic, or toxic mold are a problem? Can mold be cleaned-up successfully?
Clinical Mold References - Detailed bibliography of mold reference texts
"A Brief Guide to Mold, Moisture, and Your Home", U.S. Environmental Protection Agency US EPA - includes basic advice for building owners, occupants, and mold cleanup operations. See http://www.epa.gov/mold/moldguide.htm
"Disease Prevention Program for Certain Vegetable Crops," David B. Langston, Jr., Extension Plant Pathologist - Vegetables, University of Georgia (PDF document) original source: www.reeis.usda.gov/web/crisprojectpages/209797.html
"Disease Prevention in Home Vegetable Gardens," Patricia Donald, Department of Plant Microbiology and Pathology, Lewis Jett
Department of Horticulture, University of Missouri Extension - extension.missouri.edu/publications/DisplayPub.aspx?P=G6202
"Management of Powdery Mildew, Leveillula taurica, in Greenhouse Peppers," Ministry of Agriculture and Lands, British Columbia - Original source: www.agf.gov.bc.ca/cropprot/peppermildew.htm
Environmental Health & Investigation Bibliography - our own technical library on indoor air quality inspection, testing, laboratory procedures, forensic microscopy, etc.
Fiberglass: Mold in Fiberglass Insulation© 2005 comments about a field study in process, & more about health hazards from fiberglass insulation - DJF
Fifth Kingdom, Bryce Kendrick, ISBN13: 9781585100224, is available from the InspectAPedia online bookstore - we recommend the CD-ROM version of this book. This 3rd/edition is a compact but comprehensive encyclopedia of all things mycological. Every aspect of the fungi, from aflatoxin to zppspores, with an accessible blend of verve and wit. The 24 chapters are filled with up-to-date information of classification, yeast, lichens, spore dispersal, allergies, ecology, genetics, plant pathology, predatory fungi, biological control, mutualistic symbioses with animals and plants, fungi as food, food spoilage and mycotoxins.
Fungi, Identifying Filamentous, A Clinical Laboratory Handbook, Guy St-Germain, Richard Summerbell, Star Publishing, 1996, ISBN 0-89863-177-7 (English) (buy at Amazon)
US EPA: Mold Remediation in Schools and Commercial Building [ copy on file as /sickhouse/EPA_Mold_Remediation_in_Schools.pdf ] - US EPA
Mycology, Fundamentals of Diagnostic, Fran Fisher, Norma B. Cook, W.B. Saunders Co. 1998, ISBN 0-7216-5006-6 (buy this book at Amazon)
Ozone Warnings - Use of Ozone as a "mold" remedy is ineffective and may be dangerous.
US EPA: Una Breva Guia a Moho - Hongo [on file as /sickhouse/EPA_Moho_Guia_sp.pdf - - en Espanol
Pet control - if you can't say goodbye to your bird, cat, dog, guinea pig, hamster, tropical fish, then limit the areas they occupy and limit the airflow from that area to sleeping or other areas of the building, use allergenic bedding, eliminate wall-to-wall carpeting, improve housecleaning including use of a HEPA-rated vacuum cleaner. For more details see our article Dog, Cat, and Other Animal Dander - Information for Asthmatics and Indoor Air Quality
Rodents, Mice, Squirrel Control - I find high levels of mouse and rodent dander, fecal dust, and urine-contaminated dust in some buildings, and high levels of these materials in building insulation in those locations. If you have a mouse problem, particularly if mice and their waste (fecals or urine) are contaminating the building HVAC or building insulation, may need both steps to clean up or remove infected materials and steps to stop an ongoing rodent problem. If squirrels are a problem, the cleanup needs to include closing off entry openings into the building. Get some help from a licensed pest control expert.
Books & Articles on Building & Environmental Inspection, Testing, Diagnosis, & Repair
Our recommended books about building & mechanical systems design, inspection, problem diagnosis, and repair, and about indoor environment and IAQ testing, diagnosis, and cleanup are at the InspectAPedia Bookstore. Also see our Book Reviews - InspectAPedia.
Environmental Health & Investigation Bibliography - our technical library on indoor air quality inspection, testing, laboratory procedures, forensic microscopy, etc.
...