Hard-to-Find Sewer Gas Odor Source FAQs

Q&A on Odd or Unexpected Sources of Sewer, Septic or Sulphur Odors
InspectAPedia tolerates no conflicts of interest. We have no relationship with advertisers, products, or services discussed at this website.
Tracking down septic or sewer gas smells:
How to find mysterious sewer or septic smells when the source is not obvious. This article suggests things to check when you have had trouble finding the source of a sewer gas, septic gas, or methane smell in or near a building.
Sometimes the odor source is elusive because it comes and goes, is weather dependent, fixture use dependent, or because the leak is in a building wall or ceiling cavity.
Start with the inexpensive and easy things like checking for dry or defective fixture traps (or fake traps as shown in our page top photo).
We also provide a MASTER INDEX to this topic, or you can try the page top or bottom SEARCH BOX as a quick way to find information you need.
Tips for Tracking Down Hard-to-Find Sewer Gas Odors in buildings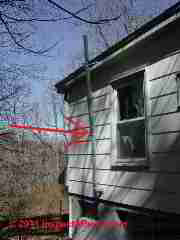 These questions and answers about finding unexpected sources of sewage, septic, or sulphur odors in buildings were posted originally at SEWAGE ODOR SOURCE LOCATION - please be sure to review that article.
Also review SEPTIC / SEWER ODOR SOURCE TABLE.
Anon

Thank you very much for this helpful field report of another possible source of sulphur odors ("sewer gas odors") that we had not previously noted: a failing battery such as often found on battery-operated sump pumps and other battery backup systems.

I'll be sure to add your example to our list of unexpected sewer odor sources found at SEWAGE ODOR SOURCE LOCATION.
I had a plumber come to my basement because of a smell of sulfer (rotten eggs) in the basement. It was getting stronger. We tried looking at all the sewar lines, boiller, etc... He found the smell. It was the the emergency battery on our sump pump.
Either the battery was bad, or the charger was overcharging the battery. Once we removed the battery, the smell disappeared.
Amy

That sounds to me as if there is a problem with the venting system for the bathroom drain or its fixtures. Ask your plumber to review the details and connections of how the fixtures and drains are vented.
See PLUMBING VENT DEFECTS & NOISES
Or take a look at PLUMBING VENT BLOCKAGE ODORS
Hello, I had my bathroom updated about a year ago. Soon after there was a sewer smell that radiates up out of the sink drain and intensifies greatly when the water is turned on and the gas is displaced upward.
Cleaning the slime out of the drain helps for a day or two and then it comes right back. I have flushed the toilet to see if the water in the p trap moves, suggesting a vent issue, but it does not.
There isn't any gurgling noises. I'm guessing there must be a venting issue but the smell isnt anywhere else in the house, only this sink drain. How can I figure out how to fix this? Thank you
Thanks. Will try that
Sounds as if you need a plumber to do some pressure testing of the drain, waste, vent piping to confirm that there's a leak, then inspect for dry traps, or for incomplete or improper venting that might be backdrafting into the home.
Recently moved into a renovated house that hadn't been lived in. All new plumbing in house.
Noticed a sewage like smell in hallway which is above basement bathroom where soil pipes leave house to connect to very deep main drain.
All the soil pipes in the house come together below hall floor from upstairs bathrooms. Drain service people found no blockage or obvious leak and were puzzled . Smell seems worse in morning. Not obviously worse when it rained recently. No sign of water on basement bathroom ceiling or where we can see pipes behind access panels.
Seems worse after upstairs bathrooms used which makes sense given pipes from there go under hall floor. But if no leak or blockage then don't understand smell. Extractor fan from basement bathroom under that floor too but vents outside and no obvious smell by outside vent. Any ideas ?
Amy

There is no cinnamon test that serves as a widely-applicable odor source test.

There are several test procedures that release an odor source (such as cinnamon oil) inside of the heat exchanger of a forced air heating furnace as a (not entirely reliable) test for furnace heat exchanger leaks.

Cinnamon as well as other odor sources are also used in some medical test procedures.

At SMELL PATCH TEST to FIND ODOR SOURCE https://inspectapedia.com/odor_diagnosis/Smell_Patch_Test.php
we describe an inexpensive method for testing specific materials or surfaces to determine if they are the source of an odor in or around a building

At ODORS GASES SMELLS, DIAGNOSIS & CURE - home page - https://inspectapedia.com/odor_diagnosis/Odor-Diagnosis-Cure.php

we organize a variety of tools and approaches to tracking down odor.

One needs to match the odor test or tool or detector to the type of problem being addressed.

For example one might use a combustible gas detector to sniff at drains, plumbing fixtures, toilet bases, etc. for sewer gas leak sources.

Often the proper starting point includes interviewing building occupants, noting relationships between odor presence and activities, time of day, etc. See the home page I cited as the best place to start.

Research on Odor Source Identification

Start at the home page I cited above.

Additional scholarly citations are below:
Research on Subjectivity in Odor Strength Opinions
Distel, Hans, and Robyn Hudson. "Judgement of odor intensity is influenced by subjects' knowledge of the odor source." Chemical Senses 26, no. 3 (2001): 247-251.
Fang, Jing-Jing, Na Yang, Dan-Yan Cen, Li-Ming Shao, and Pin-Jing He. "Odor compounds from different sources of landfill: characterization and source identification." Waste Management 32, no. 7 (2012): 1401-1410.
Hayes, Adam T., Alcherio Martinoli, and Rodney M. Goodman. "Distributed odor source localization." IEEE Sensors Journal 2, no. 3 (2002): 260-271.

Krantz, Elizabeth M., C. R. Schubert, D. S. Dalton, W. Zhong, G. H. Huang, B. E. K. Klein, R. Klein, F. J. Nieto, and K. J. Cruickshanks. "Test–retest reliability of the San Diego Odor Identification Test and comparison with the brief smell identification test." Chemical senses 34, no. 5 (2009): 435-440.




What is a cinnamon test to diagnose where odor is coming from
Let's start by mapping the relationship of the room to what Plumbing fixtures are nearby underneath above or alongside.
If it's a bathroom I would start by cleaning the surfaces. If it's not a bathroom I might be looking for a reason that we have a sewer gas leak and warm weather. I might also look for some or other heat induced odor sources.
Hello, first off, thanks for the chance of asking a question. Hope to get your help.
One of my room has sewer smell in the summer, but not in the winter. The totter the weather, the stronger the smell.
It should not the sink's P-traps since they are clean. What you suggest to do?
So the comments about the septic tank would not cause any of what we are experiencing with inside odors??

So the comments about the septic tank would not cause any of what we are experiencing with inside odors??
Usually the condition that you described is caused by a blocked or missing Plumbing vent system. Ask your plumber to check that out.
We have a terrible sewer gas smell that starts coming up from the drain as soon as I start letting the water out of my tub in master bathroom (lower level, high off ground). There is also a standup shower in this master bathroom that tends to have a faint smell of sewer gas after taking a shower.
When the sewer gas is happening in the master bathroom I can also smell it coming out of the drains in my kitchen sink. We have one other bathroom on the lower level of the house (lower to the ground) that never has had any type sewer gas smell. Note that our backyard tends to hold A LOT of water when it rains. This was an existing house when we bought it 5 years ago. It was built in 2005.
We found out that another house was on this property in the same spot but burnt down. We were able to find an inspection of the septic tank when the house was rebuilt that stated that the septic tank lid was caved in and the outlet tee needed to be installed.
We assume this happened when heavy equipment rode over the top of it when clearing the burnt home.
The only records we have show a new septic tank lid was installed. Nothing states anything was done regarding an outlet tee.
We have had a plumber come out and check plumbing vents and those are fine. Also inspected that no signs of methane gas are coming from toilet. Please, please, can someone please tell me what they think is our problem. I'm ready to sell and get out.
I cannot take the smell of sewer gas any longer or I'm going to lose my mind.
I would clean and disinfect the sinks and surrounding fixtures.
We smelled sewer odor that lasted about 2 weeks in our master bathroom. Odor is gone, but we now have drain flies that originate from one of the two sinks. A plumber did a video inspection and a smoke test, but found nothing. This is only a 2 year old home. We are not sure what to do now. Any suggestions would be appreciated.
We have a septic system and there is an odor that comes from an air vent in a room in the basement. Technically, it comes from around the duct work at the vent opening. A camera snake and 3 smoke tests were inconclusive.

We had 2 of 5 wax rings replaced to no avail. The smell is the worst when anything upstairs such as shower, washing machine, or dishwasher is used.

We've been in the house for five years and the smell has gotten more persistent. It might go away for a day, but it always comes back.

Any ideas? Any questions?
Pd

Sounds to me as if you need a plumber who can provide a drain clearing service. I'm experienced drain cleaner can often feel the nature of the obstruction on till you if there's also a problem with a broken or collapsed sewer pipe. Otherwise I would send the sewer camera down the line
Hi, 2 story home about 11 years old. Upstairs toilets (qty) clog often and overflowed slightly couple times when clogged. Both upstairs tubs have slow drain. Sometimes both toilets gurgle.
Off and on and rare bad sewage smell in these bathrooms but gone within hours or next day.. Have laundry room upstairs with no real issues we know of. Down stairs toilet only clogged 3x in 2 yrs but did overflow slightly 1x during a clog.
No sink issues except gurgling noise sometimes when toilet flushed. Kitchen has garbage disposal. Starting smelling bad odor and musty going up staircase sometimes.
Now out of nowhere, 1st time ever, master upstairs br double vanity sinks water smells sulfur bad. Seems to only be at night and only noticed 3x in last 2 weeks. Next morning it's gone. Also that pipe thing on roof was installed upside down.. we left it. Haven't checked for clog yet.anyideas?
Scared major septic issue? Oh tried max Drano in tubs and no help. Thank u so very much
6 month old new construction on an aerobic septic system. Upstairs bathroom has a strong sour smell after a shower or bath is taken in one of the other bathrooms on thAt side of house.
Smell is always in the same bathroom.
Plumber replaced wax ring on toilet today but smell came back after shower was taken this evening.
Smell is not constant and shows up after a lengthy shower or large bath is taken. Water has been poured into all drains. Problem started about 3 months after moving in. Suggestions on next steps?
Sewer gas may smell like sewage, rotten eggs, sulfur. Pee odor is more likely from a loose toilet, un-flushed toilet, or a thoughtless pee-er with poor aim.
Please discribe the smell. I smell pee then it smells like chemical.
...
Continue reading at PLUMBING VENT BLOCKAGE ODORS or select a topic from closely-related articles below, or see our complete INDEX to RELATED ARTICLES below.
Or see these
Sewer & Septic Gas Odors Articles
Suggested citation for this web page
SEWAGE ODOR SOURCE LOCATION FAQs at InspectApedia.com - online encyclopedia of building & environmental inspection, testing, diagnosis, repair, & problem prevention advice.
Or use the SEARCH BOX found below to Ask a Question or Search InspectApedia
...
Ask a Question or Search InspectApedia
Try the search box just below, or if you prefer, post a question or comment in the Comments box below and we will respond promptly.
Search the InspectApedia website
Technical Reviewers & References
Click to Show or Hide Citations & References
Herb Reed County Extension Director, Agricultural and Natural Resources Educator, Calvert County Maryland - private email to DF 9/5/2006 adding comments about odors and partial blockages.
Onsite Wastewater Disposal, R. J. Perkins; Quoting from Amazon: This practical book, co-published with the National Environmental Health Association, describes the step-by-step procedures needed to avoid common pitfalls in septic system technology. Valuable in matching the septic system to the site-specific conditions, this useful book will help you install a reliable system in both suitable and difficult environments. Septic tank installers, planners, state and local regulators, civil and sanitary engineers, consulting engineers, architects, homeowners, academics, and land developers will find this publication valuable.
Onsite Wastewater Treatment Systems, Bennette D. Burks, Mary Margaret Minnis, Hogarth House 1994 - one of the best septic system books around, suffering a bit from small fonts and a weak index. While it contains some material more technical than needed by homeowners, Burks/Minnis book on onsite wastewater treatment systems a very useful reference for both property owners and septic system designers.
Septic Tank/Soil-Absorption Systems: How to Operate & Maintain [ copy on file as /septic/Septic_Operation_USDA.pdf ] - , Equipment Tips, U.S. Department of Agriculture, 8271 1302, 7100 Engineering, 2300 Recreation, September 1982, web search 08/28/2010, original source: http://www.fs.fed.us/t-d/pubs/pdfimage/82711302.pdf
Percolation Testing Manual, CNMI Division of Environmental Quality, PO Box 501304, Saipan, MP 96950
Planting Over Septic System Component", Daniel Friedman (author/editor, InspectAPedia.com), The Innovator, Winter/Spring 2008, BCOSSA, British Columbia OnSite Sewage Association, 201-3542 Blansard St., Victoria BC V8X 1W3 Canada
Save the Septic System - Do Not Flush These Items Down the Toilet, Daniel Friedman, InspectAPedia.com - PDF document, printable
Builder's Guide to Wells and Septic Systems, Woodson, R. Dodge: $ 24.95; MCGRAW HILL B; TP; Quoting from Amazon's description: For the homebuilder, one mistake in estimating or installing wells and septic systems can cost thousands of dollars. This comprehensive guide filled with case studies can prevent that. Master plumber R. Dodge Woodson packs this reader-friendly guide with guidance and information, including details on new techniques and materials that can economize and expedite jobs and advice on how to avoid mistakes in both estimating and construction. Chapters cover virtually every aspect of wells and septic systems, including on-site evaluations; site limitations; bidding; soil studies, septic designs, and code-related issues; drilled and dug wells, gravel and pipe, chamber-type, and gravity septic systems; pump stations; common problems with well installation; and remedies for poor septic situations. Woodson also discusses ways to increase profits by avoiding cost overruns.
Books & Articles on Building & Environmental Inspection, Testing, Diagnosis, & Repair