Pet or Human Odor FAQs

Smell Removal FAQs
ANIMAL or URINE ODOR REMOVAL FAQs - CONTENTS: questions & answers on how to remove animal odors, pet urine odors, or human urine odors from building interiors or exteriors.
POST a QUESTION or READ FAQs about about how to remove pet, other animal, or human urine & other odors & smells inside or outside buildings
InspectAPedia tolerates no conflicts of interest. We have no relationship with advertisers, products, or services discussed at this website.
FAQs on how to remove or clean off animal smells, urine, stains inside or outside of buildings:
Questions & answers about removing animal or human odor removal from building interiors, building exterior surfaces, from soils around buildings or from urine-odor smelly clothing, bedding, and other soft goods.
This article series explains how to stop, get rid of & prevent future pet or other animal odors from buildings due to pet urine, pet feces, wild animal urine, or even human urine on and around buildings or on clothing and other soft materials.
Green links show where you are. © Copyright 2017 InspectApedia.com, All Rights Reserved.
FAQs on Removal of Pet Odors & Pet Urine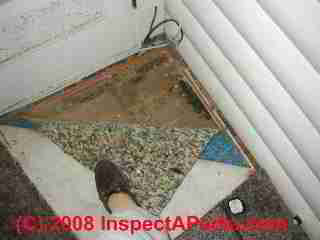 Question: terrible cat urine odor under new windows
(Aug 6, 2011) Marylyn said:
Hi and Help
I have a terrible smell of cat urine coming in under my new windows when it rains or when the wind blows.
I had all of the windows replaced last fall with high quality windows (older one were cheap builder windows), including installing a sill pan system, and we even opened under the windows during installation to check the wall cavities and they were dry and mold free. I also replaced all the insulation under the windows with new (I have even wet this new insulation to smell it and it is NOT the smell I smell). Now with the new windows, I have this terrible cat urine smell. It did not start till this spring and hasn't stopped. I had a mold expert come out and do wall moisture readings. They were fine.
I had air sampling done. It was negative. The window company is coming out to rip out the wallboard under the new windows to see what it is. Do you have any idea or experience with what we might find? I am bracing myself for bad news. Once many many years ago we had a cat urine smell in the basement and found some wet carpet. Once dried and cleaned, the smell was gone forever. This is much MUCH worse. I'm at my wits end over this. Thank you for such an informative site.
PS I wanted to add I am doing your spot odor testing (with the foil and tape and paper towel) to the inside wall as well as the outside window caulking--which has a similar cat pee smell but not as strong.
Reply: check for sun-heated plastic or vinyl building materials and other odor sources
Marylyn there are some things that can produce a pee smell besides cats, including other animals (mice, rats, in walls for example) and even some fungal growths. I would not do any costly demolition before being pretty sure where the smell originates. And I agree that air testing to try to track down odors is rather iffy.
Even if the test confirms something that's present, unless it's unique, like "heating oil fumes" you won't be any closer to the source. Use the smell test and people who have a good sense of smell along with our other odor track down instructions.
If you find that the odor is coming from new materials (windows?) it may be related to plastics or glues that will outgas - and it may be possible to speed that process up.
(Aug 6, 2011) Marylyn said:
The smell is most definitely coming in from under the windows. In fact, there is an outlet between two windows and it does not smell even when the smell is the strongest (as in the smell is not coming from the wall between them but actually under them). In a strong wind, the smell is ghastly. GHASTLY. As soon as the wind stops, so does the smell. We are at the point where we have to do something.
Fortunately the space between the window and the floor in this room is quite small (they are tall windows and sit about 10 inches off the floor). The area to be opened is narrow (about 6 inches from the bottom of the casing to the top of the floor molding). Out-gassing from a window installation should not stink like this for 6 months. It's an all brick home with no evidence of any animal entry. Thanks!
Reply:
if you had water leaks at the windows there could be a mold contamination problem in the wall cavity and sometimes even in the floor cavity below those openings. It is worth taking a look.
(Dec 13, 2011) Trudy Duffman said:
Just a comment. Ensure that you do not have Boxwood shrubs outside under the windows. Those bushes smell just like cat urine and especially if trimmed or when it rains or the wind blows.
Question: cat pee odor in commercial office building
(Sept 15, 2011) Ann said:
I manage a commercial office building of 15 floors and we have an issue with the "cat pee smell" on the west side of the building, which is the most exposed to the elements. It is only on 2 floors - the 5th on the north-west side and 8th on the south west side. We have tested for mold and none was detected.
This odor only occurs after a heavy rain that blows from the west. We have opened up at the corner columns but have limited space to investigate (about 4" wide) due to ventilation shaft. This building was built in 1967 and there has not been any major work done such as replacing windows etc..... for a number of years so we are at a loss. Any ideas on this ?
Reply:
Ann, if you search our site for
Animal odors in buildings you'll see my detection and cleanup suggestions. In short you must have access to the pee area to do location and cleaning/ sealing.
A black light can help pinpoint the pee spots for cleaning and perhaps coating with a post-fire type odor sealant, and of course you need measures to encourage kitties to pee elsewhere. I use mothballs, bleach,or Fabuloso cleaner-soap as a deterrent, along with access restrictions.
See these urine odor detection & removal articles
Question: the cat in the attic left strong smells of cat pee & cat poop
My problem is that there was a cat in my attic (very large attic, approximately 4000 sq ft), for a long period of time. The cat was removed about 1 1/2 year ago, but the smell is just as strong. We have an attic ladder in one of the bedrooms and you can smell the cat urine/poop odor through that door, even when closed. Of course I can not see where the pee and poop is to remove just those areas, so is there anything I can do? - Cathy
Reply:
Cathy I've dealt with this problem in a number of homes. Unfortunately the solutions that work are to remove all soft goods (insulation, for example) that are smelly or contaminated, and then to clean and seal the remaining surfaces. There are odor sealant paints used, for example, as a smoke odor remedy after a fire and that should work well in your case.

The tough decision is about the extent of drywall to be removed. If you remove all of the insulation in the smelly attic and inspect all surfaces you will probably see on the attic side of ceiling drywall areas that look perfectly clean (just seal those) and others that look stained - consider replacing those.

You can also use a UV light to see pee on surfaces.
Question: trouble removing cat urine odors
I purchased a house, rather cheap, with the intent of fixing it up and renting it. The house had severe cat urine problems that I figured would be relatively easy to clean up – I was wrong.

This is an old 2 story house and for months now I have been tearing out any possible source of the problem and staining over those possible sources I could not remove. To date;
I recently had three noses in to evaluate. There is a smell but only in the living / dining area on the first level. One said she smelled construction material only. The second smelled only paint. The third said some paint, some kitty, but not bad. I myself think I can smell it but I believe I am a bit biased.

I have concluded that some odor remains and I want to further eliminate before I begin to finish off the house but don't know where the source could possibly be.
Questions I have are:
Could the remaining plaster be soaking up some of the odor and, if so, could sealing it eliminate the odor.
There will be ¼ inch drywall covering the remaining plaster, would this seal it off.
Would an ozone generator help eliminate the odor.
Would a black light help in detecting the source.
What might other sources be.
Any comments would be greatly appreciated. - John
Reply:
John
I do not recommend using an ozone generator for this cat smell problem - if you over-do ozone treatments you can create worse and more expensive troubles than ever in the building, and regardless it's not likely to "cure" an odor coming from urine soaked wood, plaster, or other materials in the home.
Ozone treatment can work successfully on particles and smoke molecules such as during deodorizing after a fire [11], but in other applications such as mold odor remediation we frequently receive complaints of over-treatment, and oxidized materials that emitted worse odors than ever.
Ozone warnings are at OZONE HAZARDS.
I would also not laminate drywall over problem surfaces without some prior treatment and sealing of those spots. The risk is that such a solution is later found to be ineffective and there is a greater cost to tear out the work and do it over again.
Steps in removing the cat smell problem you describe include:
Clean all hard surfaces in the problem area using a detergent or other suitable household cleaner.
Inspect for urine-soaked spots you missed using both our SMELL PATCH TEST to FIND ODOR SOURCE and a UV or "black" light
Remove and discard any soft goods that are stinky such as carpeting, carpet padding, insulation, and loose or damaged peed-on plaster. Discard soft goods that have absorbed odor such as upholstered furniture (or re-upholster it); some such goods as curtains can sometimes be deodorized successfully by dry-cleaning or even simple laundering.

If there are soft goods that you intend to have cleaned you should discuss the problem with your cleaner. There are specific types of "counteractants" that can be applied to deal with odors in the surface of fabrics, for example. However if odors,pet urine, mold, or other contaminants have penetrated more deeply into carpeting or upholstered furniture, in our experience those materials cannot be successfully deodorized.
After cleaning, for surfaces that are to be covered (such as wall cavity sheathing and framing or plaster walls/ceilings that you plan to laminate over with drywall) seal the remaining surfaces using a fire-remediation type sealant paint, a lacquer primer-sealer (Zinsser's B-I-N primer sealer) .

In sealing up otherwise structurally intact building framing, sheathing, and walls, ceiling floors that are odor sources, we have seen good results with both Zinsser's products and with other sealants. See MOLD SPRAYS, SEALANTS, PAINTS for some products that should work.
Seal surfaces that are to remain exposed with a suitable sealer, either a primer/sealer on walls/ceilings/painted trim, or a clear sealer (unpainted trim) or use a clear gloss or semi-gloss polyurethane floor sealer on wood floors.
Question: Tenants with many animals, hedgehog, crocodile, ferret, left terrible building odors
Having had tenants in a room for 10 months with snakes,rats,a hedge hog,crocodile, monitor lizard, and a ferret. The smell left behind is grim. We have had the carpet professionally cleaned but it is still not good. We could buy one but having spent money on cleaning which hasn't worked we obviously don't want to spend money on something that is then not going to be the answer. any advice? - Kyla 11/18/11
Reply:
Kyla in my experience strong animal odors in carpets are very difficult to remove, in part because odors and urine or other materials penetrate both carpet and padding; most carpet cleaning, even steam cleaning, is just too superficial to be effective for deep odor contamination. I'd remove the carpeting, clean the floors, walls, ceilings, and then see how things smell. If odors persist you may need to

Remove any drywall that was urinated on, clean the wall cavity, install new drywall
Clean any HVAC ductwork and air handlers in the building
Remove porous materials, carpets, dirty insulation: for a building that had many pet occupants, especially dogs, over many years, ultra fine dust can penetrate attics and insulation - if that's your case the attic should be inspected to decide if cleaning is needed there too
Use a sealant paint as a primer before re-coating, just as the building restoration companies do after a fire to control fire and smoke odors; a lacquer primer sealer can work.
Re-paint stained surfaces
Question: how to clean up pet urine stained floors
(Dec 13, 2014) Trish said:
I have multiple pets and a very smelly house. We've already pulled up the carpeting and pad.
Pet urine has soaked into the wood subflooring. Before putting in new flooring, I need to deal with the smelly subflooring.
I heard about companies that can treat the subfloor with a bleach solution and then apply a sealant to protect the wood subfloor for the future. I want a fresh start before I invest in new flooring. What do you recommend?
Reply:
Trish
Probably your best bet is to clean, sanitize, let dry, then seal the subflooring with the type of sealant paint used by fire restoration companies or mold remediation contractors (search InspectApedia for Fungicidal Sealants to see examples).
Question: Rats in the duct work
(May 4, 2015) Steve Kisacky said:
We had rats living in fiberglass A/C ducting. We got rid of the rats but their odor keeps blowing out into the rooms. Ducting will be replaced next year. I heard that as a temp handling,to spray latex paint inside the ducting to seal off the odor for now? Any experience to verify or other possible handlings short of duct replacement?

Reply:
There are companies offering sanitizing and sealing spray treatments for ductwork. I would replace it. In my opinion there can be more subtle hazards than odor such as bacteria and viral worries that may escape treatment.
Question: rat urine odors on concrete floor
(Aug 1, 2015) Sandra said:
remove rat smell (urine?) from concrete flooring in empty corner space of kitchen cabinets. Got rid of the rats but am left with this unpleasant odor in the corner of the kitchen

Reply:
After thorough cleaning whgen the surfaces are completely dry you'll probably need to apply an odor-controlling sealant.
See CRAWL SPACE SEAL & SANITIZE
Question: vet recommended odor removal product
Nov 25, 2015) Melinda Davidson said:
I hope this is okay, but I am a Vet Tech and we have access to all kinds of professional and industrial strength sprays. Most of them don;t really work that well.
I would like to recommend what we use at the clinic http://catasticproducts.com/

Reply:
We're taking a look, Melinda, thanks for the suggestion.
Really? You are recommending "catastic" a patented pet deodorant. While we respect the company's right to protect its product by not disclosing product details, the absence of even an MSDS link and reliance only on customer testimonials is not authoritative. I'm looking into it further.
Question: the dog peed in the spare bedroom / the big dog urinated in the garage
(May 1, 2016) Jessica L. said:
Hello,
I moved into an apartment where the previous owner let her dog urinate in the extra bedroom. It was cleaned and treated with an enzyme spray twice!
After 2 months still in 2 spots a very strong smell. To me it's like animal urine and chemicals and my sister in law said it smelled moldy!! I pulled up the carpet where the one spot was and the back of the carpet is brown and padding is darker but the smell could nock you over. I did not see any mold. I really think at this point the carpet should be replaced. I'm afraid of what we are breathing in our lungs!

(Aug 17, 2016) Ben said:
My large dog has spent quite some time on my unsealed concrete in the garage. The odor is tremendous and unforgiving when you open the door to the house. I am not sure if it's necessarily from the accidents she may have had or if it's just from the oils in her skin that have seeped into the pours of the concrete. Either way, I need help.
I have brought her in the house, but I cannot keep walking back and forth into the garage with this putrid smell coming into the house. It is beyond embarrassing. Please help me!

Reply:
I don't think you'll completely eliminate the odors before sealing; but before doing anything you might want to use the procedure described at SMELL PATCH TEST to FIND ODOR SOURCE to determine if the odor is only coming from the floor or also from drywall walls and ceilings.
In long-dog-inhabited buildings I've found heavy dog dander and dust that penetrated into attics, ceilings, wall cavities as well as into wall or ceiling insulation. Removing all stored items and insulation, cleaning with HEPA vacuuming, wiping, then sealing surfaces is typically required. Odor-blocking sealants, pigmented or clear, are applied to all surfaces including the concrete before final re-painting.
Search InspectApedia.com for DISINFECTANTS & SANITIZERS, SOURCES for examples of sealants.

Question: treatment for wood floor after animal or human defecation on the surface
(Nov 18, 2016) Sam said:
How would you suggest treating laminate flooring after an animal or human (can't tell) has pooped on it? It is in a corner of a closet and I'm sure it's gotten underneath the baseboards... I'm at a loss right now and the smell is Awful.. any advice would be great!!!!

Reply:
After cleaning, see DISINFECTANTS & SANITIZERS, SOURCES for examples of sealants.
...
Continue reading at ANIMAL or URINE ODOR REMOVAL or select a topic from closely-related articles below, or see our complete INDEX to RELATED ARTICLES below.
Or see URINE ODOR REMOVAL at BUILDING EXTERIOR
URINE ODOR REMOVAL in CLOTHING that describes bacterial/enzyme based cleaners that may be extra effective in removing human or animal urine odors from clothing, diapers, bedding, towels, etc.
ANIMAL or URINE ODOR SOURCE DETECTION for advice on finding the source of urine or animal smells at or in buildings, we give advice concerning the detection and removal of animal smells & odors from dogs, cats, or other pets.
Or see these
Animal Odor & Allergens Articles
Suggested citation for this web page
ANIMAL or URINE ODOR REMOVAL FAQs at InspectApedia.com - online encyclopedia of building & environmental inspection, testing, diagnosis, repair, & problem prevention advice.
Or use the SEARCH BOX found below to Ask a Question or Search InspectApedia
...
Frequently Asked Questions (FAQs)
Try the search box below or CONTACT US by email if you cannot find the answer you need at InspectApedia.
...
Ask a Question or Search InspectApedia
Questions & answers or comments about how to remove pet, other animal, or human urine & other odors & smells in buildings.
Use the "Click to Show or Hide FAQs" link just above to see recently-posted questions, comments, replies, try the search box just below, or if you prefer, post a question or comment in the Comments box below and we will respond promptly.
Search the InspectApedia website
Technical Reviewers & References
Click to Show or Hide Citations & References
[1] Thanks to reader Cathye Bunthoff for suggestions regarding tracking pet urine odors to the backing of vinyl flooring and around furniture 04/6/2009.
[2] "IgG Food Allergy Testing by ELISA/EIA, What do they really tell us?" Sheryl B. Miller, MT (ASCP), PhD, Clinical Laboratory Director, Bastyr University Natural Health Clinic - ELISA testing accuracy: Here is an example of Miller's critique of ELISA http://www.betterhealthusa.com/public/282.cfm - Townsend Letter for Doctors and Patients
The critique included in that article raises compelling questions about IgG testing assays, which prompts our interest in actually screening for the presence of high levels of particles that could carry allergens - dog dander or cat dander in the case at hand.
http://www.tldp.com/issue/174/IgG%20Food%20Allergy.html contains similar criticism in another venue but interestingly by the same author, Sheryl Miller. Sheryl Miller, MT (ASCP), PhD, is an Immunologist and Associate Professor of Basic and Medical Sciences at Bastyr University in Bothell, Washington. She is also the Laboratory Director of the Bastyr Natural Health Clinic Laboratory.
[3] Allergens: Testing for the level of exposure to animal allergens is discussed at http://www.animalhealthchannel.com/animalallergy/diagnosis.shtml (lab animal exposure study is interesting because it involves a higher exposure level in some cases
[4] Allergens: WebMD discusses allergy tests for humans at webmd.com/allergies/allergy-tests
[5] Cat Dander: how to inspect and test a building for past or current presence of cats, cat hair, cat dander, and cat allergens
[6] Clinical Atlas of Mold Toxicity - An Online Description of Toxic, Pathogenic, Allergenic Fungi, Fungal Diseases
[7] Pollen Allergens: identification, plant pollen and indoor air quality
[8] Products to Reduce Mold & Allergy Problems to reduce indoor mold or allergen levels: air cleaners, air purifiers, dust mite covers, vacuum cleaners, crawl space vents
[9] Recognizing Allergens: What various indoor allergens look like - identification photos to help identify pollen, dust mites, animal dander, toxic or allergenic mold - Common Mold and other Allergens, Irritants, Remedies & Advice
[10] Rodent control issues, including dander, fecal, and urine contamination of Buildings and Building insulation
[11] "Handling Smoke Damage after a Fire – Getting Soot and Smoke Out, Chapter 13, Residential/Farm Fires, The Disaster Handbook 1998 National Edition", Institute of Food and Agricultural Sciences, University of Florida, University of Florida Cooperative Extension Service, web search 02/07/2012, original source: disaster.ifas.ufl.edu/PDFS/CHAP13/D13-17.PDF [copy on file as /sickhouse/Fire_Smoke_Odors_UFL.pdf ] -
Kansas State University, department of plant pathology, extension plant pathology web page on wheat rust fungus: see http://www.oznet.ksu.edu/path-ext/factSheets/Wheat/Wheat%20Leaf%20Rust.asp
"A Brief Guide to Mold, Moisture, and Your Home", U.S. Environmental Protection Agency US EPA - includes basic advice for building owners, occupants, and mold cleanup operations. See http://www.epa.gov/mold/moldguide.htm
US EPA - Mold Remediation in Schools and Commercial Building [ copy on file as /sickhouse/EPA_Mold_Remediation_in_Schools.pdf ] - US EPA
US EPA - Una Breva Guia a Moho - Hongo [on file as /sickhouse/EPA_Moho_Guia_sp.pdf - - en Espanol
"IgG Food Allergy Testing by ELISA/EIA, What do they really tell us?" Sheryl B. Miller, MT (ASCP), PhD, Clinical Laboratory Director, Bastyr University Natural Health Clinic - ELISA testing accuracy: Here is an example of Miller's critique of ELISA http://www.betterhealthusa.com/public/282.cfm - Townsend Letter for Doctors and Patients
The critique included in that article raises compelling questions about IgG testing assays, which prompts our interest in actually screening for the presence of high levels of particles that could carry allergens - dog dander or cat dander in the case at hand.
http://www.tldp.com/issue/174/IgG%20Food%20Allergy.html contains similar criticism in another venue but interestingly by the same author, Sheryl Miller. Sheryl Miller, MT (ASCP), PhD, is an Immunologist and Associate Professor of Basic and Medical Sciences at Bastyr University in Bothell, Washington. She is also the Laboratory Director of the Bastyr Natural Health Clinic Laboratory.
Allergens: Testing for the level of exposure to animal allergens is discussed at http://www.animalhealthchannel.com/animalallergy/diagnosis.shtml (lab animal exposure study is interesting because it involves a higher exposure level in some cases
Allergens: WebMD discusses allergy tests for humans at webmd.com/allergies/allergy-tests
Books & Articles on Building & Environmental Inspection, Testing, Diagnosis, & Repair