InspectAPedia tolerates no conflicts of interest. We have no relationship with advertisers, products, or services discussed at this website.
Six-step procedure to track down the source or cause of odors or smells in or around buildings. Here we describe six areas of investigation that can help direct the inquiry as to the cause or source of an odor or smell in or around a building.
These articles explain how to diagnose, test, identify, and cure or remove a wide range of obnoxious or even toxic odors in buildings, in building air, in building materials, or in the building water supply. We discuss odors from a variety of sources including animals including pets, dogs, cats, or unwanted animals or dead animals, formaldehyde odors in buildings from building products or furnishings, plumbing drains, plastic or vinyl odors from building products, flue gases, indoor mold odors, oil tanks or oil spills, pesticides, septic odors, sewer gases, and even abandoned chemicals at properties. Our page top photo shows our local skunk rummaging on a nearby golf course. This is about as close as you want to be, especially if you see a skunk meandfering in daylight. This skunk was found dead two days after this photo was taken, most likely due to rabies. .
Green links show where you are. © Copyright 2013 InspectAPedia.com, All Rights Reserved.
Six Step Process for Odor Cause or Source Detection
Take an Organized Approach to Finding & Curing an Indoor Chemical Odor
The photo at left shows steel chemical drums that we discovered on a residential property during a home inspection.
Not only did these steel drums raise a question of possible environmental contamination of this site, even worse, they were uphill and close to a stream, raising a still more broad question of area contamination.
Hire an Inspector or Consultant vs Do-It-Yourself?
A competent onsite inspection by an expert usually finds additional clues that help accurately diagnose a problem such as this one. It is a frequent frustration to discuss with readers and clients the common experience of hiring a costly investigator or hygienist to help with a problem only to find that that expert does the easy part - conducting a few (sometimes unreliable) sample collections, sends them to a lab and gives you a report. Such tests alone, without a translation into sufficient diagnosis as to permit action, are of limited use.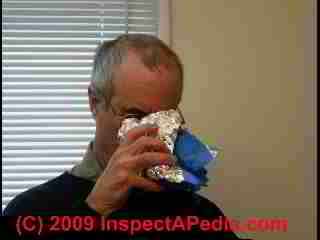 Regardless of who is working on the odor source problem, several directions of investigation suggest themselves:
1. Try odor source tracking: try the SMELL PATCH TEST to Track Down Odors method to see if you can isolate the odor to a particular surface. It's cheap, easy, and can sometimes give dramatic results. When I refined and field tested this method, first suggested to me by Jeff May (Cambridge MA), the person we used as the "smeller" was in fact a pregnant woman whose sense of smell was reported to be particularly sensitive.
At left the author demonstrates a smell-patch test that can be used to track down odors to their source in buildings.
2. List building and building condition factors causing odors: at ODOR DIAGNOSIS CHECKLIST, PROCEDURE we give a procedural checklist that can help track down the source of an odor by reviewing a laundry-list of types of odors, odor sources, and building and even weather conditions that can be diagnostic. Just as one example we've tracked certain odors to plastic windows or window screens that emitted smells principally after some time in direct sunlight.
If you suspect sunlight related odor emission note:
where is the offending room in the floor plan of your condominium, and how does that location relate to

sunlight
HVAC equipment
interior or exterior walls
placement of elevators, air shafts, plumbing drains or utility shafts, chimneys
3. List & investigate building history, materials, location: in the odor checklist cited at item 2 we provide examples of building history that can point to a particular odor source. Add some more detailed considerations such as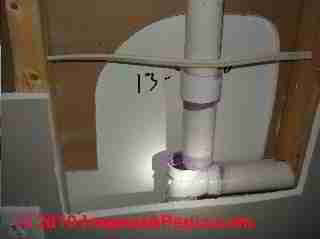 building age, type, location,
building construction materials of both the structure and for apartment or rmulti-occupant buildings, construction and materials used in the individual unit (new carpeting, for example, or paints and sealants)
behavior of building mechanical systems: slow drains, poorly-operating heating or coolign equipment; The open plumbing vent line shown in our photo (left) might have been suspected by occurrence of sewage odors & sewer gas when plumbing fixtures were in use.
history of buildnig owners, length of occupancy, and activities in the structure - for example were there occupants with particular hobbies or activities that used chemicals?
history of treatment for insect pests: cockroaches, termites, other - by whom, when, what chemical was applied where and by what method; on Long Island years ago an idiot pesticide applicator sprayed pesticide into the building wall cavities leading to a very costly problem. If, for example, a prior owner filled a closet with mothballs (Are mothballs an indoor air quality or health concern?) and left it shut for a long time - months or years - the odor could have penetrated surface materials and may linger there.
history of renovations in your condo, when, what, where, what materials
relate odor occurrences to weather, time of day, temperature, wind, equipment on or off
in multi-story buildings check for air & odor movement between building floors by elevators, stairwells, HVAC ducting, spaces over cathedral ceilings, pipe chases, etc.
4. Use surface testing to confirm an odor source: best performed after we have some most-suspect surfaces in mind, it may be possible to collect and send a small physical sample to an appropriate test lab for confirmation of what we're looking at.
For example, at a home where I suspected amateur application of pesticide (chlordane), I cut a small sliver of wood that we sent to an independent test lab (my lab specializes in particle forensics not chemicals) who confirmed that the wood had indeed been soaked with pesticide.

5. Temporarily Contain odors & smell-related risks: if odors appear to originate in just a single room in a building, temporarily, try keeping the offending room's door shut and are minimizin exposure to risk.
Watch out: for odor desensitization: anyone who remains in an area where odor-producing substances are present, eventually becomes desensitized to the odors and can be thus fooled into thinking that the odor is not present or has been diminished. A good test is to consider how things "smell" to you or others on entering the condo just after you've spent hours or longer out in fresh air.
6. Remediation of odors or smells: don't do anything expensive or disruptive towards a "cure" before you have a reasonably confident idea of what the problem is..
At ODORS GASES SMELLS, DIAGNOSIS & CURE we list many sources of odors & smells in buildings - the list itself may suggest some candidates for you that can help tracking down your own complaint.
Separately at ODOR DIAGNOSIS CHECKLIST, PROCEDURE we offer a procedural checklist that can help in tracking down an odor
More Reading
Green link shows where you are in this article series.
...
Frequently Asked Questions (FAQs)
Question: Chemical odors, air fresheners, ozone, secondary air pollutant hazards: I can't pin down the source of a chemical odor in my house. Any suggestions?
I was just looking at your web site hoping to find some answers for my problem and didn't really see what I was looking for. I'm hoping you can make a suggestion or point me in the right direction.
I've been chasing an odor around my house for almost a year now and can't seem to pin it down. What it is or where it is coming from.
I've had a plumber come to my house, HVAC person, local gas company, city sewer people, and talked to a "mold" guy although I didn't have him come to my house. I bought my house new eight years ago and it's only 1100 sq. ft. and I don't find any evidence of water damage that would precipitate a mold situation.
The smell has a chemical nature to it that I think is now starting to cause some health concerns for me. Since I've pretty much weeded out all of the obvious things about all that is left is....my next door neighbor cooking drugs of some type. I've filed several reports with the local police department and done several other things as well. Law enforcement may or may not be investigating the situation. They don't really say anything one way or the other.
It seems to me that I need some way to determine exactly what the odor in my house is; but I don't know how to go about it. Everyone that I've spoken to can check for things like sewer gas or mold spores but trying to ferret out the ingredients that might be used for cooking drugs is a whole different ball game. Not really that easy as far as I can tell. I've seen some electronic equipment on-line that is for sampling for residue inside houses where drugs have been cooked but that's like a first-hand situation. My situation is more like a second-hand smoke deal.
Please let me know if you have any suggestions. I'm pretty desperate at this point. - R.E.
I have an office attached to my home which is outgassing from an unknown source. Possible culprits are formaldehyde from an air freshener concentrate spill or perhaps hard foam ceiling insulation. Any suggestions on how to identify the nature of the gas and what to do about it - Lawrence Jackson 3/28/12
Reply: Visual inspection of materials and building condition and a series of smell patch tests might help; secondary air pollutants from air fresheners & ozone generators
Lawrence:
Since tests to capture a gas and then identify it can be costly to arrange, it makes sense first to trace the odor to its source - often what you see there will be diagnostic. But I and experts agree that an indoor "air freshener" (such as the plug-in type) can in fact be a source of secondary pollutants, and we agree that some indoor air fresheners include a small amount of formaldehyde, typically 0.1%, to keep the air freshener from growing organisms.[8] Also see Ozone Warnings - Use of Ozone as a "mold" remedy is ineffective and may be dangerous.
Too often an air freshener is not really removing anything from the air to make it more "fresh" - rather it is adding chemicals that cover up the original odor (leaving it in place) and/or chemicals that deaden your sense of smell so you just don't notice the original odor. These concerns for secondary air pollutants can be even more severe if people try using ozone generators in the same location. [6][7][8][9][10]
A competent onsite inspection by an expert usually finds additional clues that help accurately diagnose a problem and in this particular case s/he might quickly spot something known to be a common source of problem odors but that had remained unfamiliar to you and some of the others who've looked. With no specific information about your building, I can only suggest a general approach to tracking down the odor problem.
That said, here are some things to consider:
Separate probable emergencies from other odor problems
Of course some odors are widely recognized by many people and some of these (fuel gas odors, methane, sewer gases, even flue gases) can be indicators of very dangerous conditions that need prompt action.
Sophisticated tests to identify gases and chemicals in buildings
There are gas testing methods that can identify the chemical constituents of gases (or in other words odors) found in buildings and elsewhere using a combination of a vacuum canister to collect air samples and mass spectrometry and similar instruments. Industrial hygienists are equipped and familiar with these procedures, but I'd be careful: most of the hygienists in my association (AIHA) are industrial experts and only a smaller number are familiar with residential buildings and with the building science needed to understand and diagnose and cure odors in residential homes.
But for other smells in general I am reluctant to order gas and chemical tests to "identify" an odor for several reasons
An odor or smell may be the mix of a number of chemicals produced by a particular building product or condition. Identifying the specific chemical constituents of the gas often fails to point to the actual source in a building.
I have found inconsistent results from test labs and on occasion even large expensive labs have returned poorly-developed and unreliable results. It seemed to depend on luck of the draw about which technician and supervisor actually handled the work.
A chemical signature that identifies odor components might suggest a direction of investigation but equally frequently in my experience tests of air or gases in buildings are not sufficiently diagnostic. The results may confirm an odor while taking very limited or no steps at all towards identifying the odor source and no steps whatsoever in guiding the building owner into a plan of action.
These tests tend to be specific in target and expensive in use.
Suggestions for tracking down smells in residential buildings
I have had best results in tracking down and eliminating odor problems in buildings by using various measures to pinpoint the actual physical odor source. When the source is recognized we usually will know quickly just what the material is or just why the odor is occurring.
There are other helpful variables to consider that also help track down an odor source such as the correlation of odors to weather, wind, moisture, temperature, sunlight, sun exposure to different building areas, time of day, operation of various equipment etc.
For sources more far afield it's sometimes important to make sure that the odor is originating inside the building not elsewhere.
For odor complaints that are not observed by everyone in the building, because individual sensitivity to odors and chemicals can vary widely I don't assume that the "non-smellers" are correct (that there is no problem) but I have encountered cases in which a medical or even neurological condition was involved.
Help in tracking down an odor source based on building conditions: ODOR DIAGNOSIS CHECKLIST, PROCEDURE provides a checklist of places to look and things to do to track down the source of an odor or smell in building air, water, mechanical systems, heating, cooling, or other locations.
Help in tracking down an odor source based on actual strength of the smell:
Above and in a series of articles found beginning at ODORS GASES SMELLS, DIAGNOSIS & CURE we provider a collection of articles that describe steps to track down an odor to its source and to correct the problem, and there we include a suggested SMELL PATCH TEST to Track Down Odors that might help track down odors.
Use a combination of people with a good sense of smell and the smell test to see if you can identify where, when, and under what conditions the problem odors are strongest..
Question: Mold or dead animal smells: smell in the master bedroom closet lingers even after some demolition; attic mold is supposedly "dormant"
I hope you can help me . We have a 7 year old home and we have a smell in the master bedroom and master closet. Both are on the same wall (south)we have a real bad odor that we have never encountered before.
We tore out the carpet with no good results. We have mold in the attic above attached garage but not close to where the smell is. We were told this is dormant? dead? and not the cause of our odor problem.
I have put the smell patch on three walls and also put plastic insulation on the windows - Pat--Boo20@att.net
Reply: dead mold may not be; other places to look for mold as an odor source
Pat:

If the odor is a moldy musty smell, and considering that you found attic mold in the building, I'd look for a source of leaks or trapped moisture. Perhaps cut some small exploratory 2" x 4" openings in the drywall at the most-suspect areas to permit a visual inspection. Same if it's a dead animal.
I would not assume that "dead mold" is really "dead" - dormant mold, meaning mold growth on a surface that is not producing active growth, can become active seasonally with variations in humidity, temperature, light, and other conditions, and can outgas MVOCs at times - depending on the genera, species, and surface on which the mold is growing. Also the fact that someone saw a significant mold reservoir in one building location should make us alert for the possibility of other undiscovered leaks and reservoirs to be found.
Take a look at MOLD EXPERT, WHEN TO HIRE to see if it seems justified to bring in an expert.Also see MOLD in BUILDINGS Procedure: what mold is often found where in buildings - simple technical presentation
Question: Plastic or chemical odors: awful odor coming from a new sliding screen door; washed, hosed down, odors continue; chemical smells only when the windows are open?
Help! Just installed a new screen sliding door and the smell is awful! Sprayed it with Simple Green and hosed it down and the "plastic" odor is still not tolerable. Any suggestions?
We just installed a new plastic/vinyl screen door and the smell from it is unbearable. We tried spraying it with Simple Green but it didn't help and the smell is overpowering now. What can we do to get rid of this stink other than returning the door? - Ruth 10/24/11 [paraphrased - Ed.]
New construction home (1yr), has a gas like/chemical smell that collects in certain areas of the house only when the windows are open ??? Pretty sure it's not natural gas. When we close windows it goes away.
Did not notice the smell in the first 6 months. Any ideas ?? - Jason 3/18/12
There is a very strong smell that comes from the corner of our sunroom as soon as it warms up. I think it is stronger when it rains. It's never there during winter. It is so strong you can smell it in the living room. My husband took off the siding and found no mold. I think it smells kinda like mold though. It is so strong it gives me a headache. How can I find out what it is and how to get rid of it? - Jennifer 3/27/12
Reply: check for plastic window or screen odors when some products are heated by sunlight
Ruth & Jason & Jennifer
Some plastic windows or window or door screens can exude a chemical odor, particularly when heated by the sun. You can often track down this chemical-like odor by observing that odors are strongest on the sunlit side of the home and during time when sun is cooking those surfaces.
Some plastic and vinyl building products including windows, doors, and some sidings and trim, outgas a plastic-like odor, especially when new, and in some cases even when not new. But most of these odors dissipate pretty quickly over just a few weeks, and faster if the item, such as your new screen door are exposed to warmth of sunlight.
Details are at VINYL Siding or PLASTIC Window ODORS in Buildings.
Question: Chemical or Paint Odors: strong odor when heating furnace first kicks on, before the blower operates
We are experiencing a strong, very troublesome odor when our furnace first kicks on, before the fan begins blowing. The furnace company has come out several times and they are satisfied that it is NOT the furnace. They thought perhaps it could be in the ducts. We had them vacuumed today, but to no avail.
The smell, if anything, is getting worse. We first noticed a similar problem last year, but it is much worse this year, and coincidently? we noticed it strongly right after painting our basement with "Painter's Select Porch and Floor Coating." We painted it on Oct 10th of this year. We were fixing the house up to sell, and wanted to brighten up the basement, and put up a moisture seal on the field stone walls. It was painted when we moved into the house in 2005, and the paint had peeled off, probably due to moisture leaking through the field stone.
Before painting, we had it "pointed" in areas that clearly needing re-mortaring. The paint we used was supposedly a low-odor paint, good for poorly ventilated areas, and indeed, the basement does not seem to have a particularly strong smell.
But, when the furnace (oil) burner kicks on, about 1 minute later, a powerful odor wafts up out of all of the vents, which our furnace people think is a paint smell, and not an oil smell. It seems much stronger than just paint though, and is truly disturbing.

We are trying to sell this house (unsuccessfully so far) and we are also worried that this cannot be good for us. I personally am still not persuaded that this is a paint problem. It is SO strong! But, we cannot seem to solve this problem on our own and are truly desperate for help. We have thought about buying a dehumidifier. Would this be a good idea? - Susan 12/5/11
Reply:
Susan, you are quite right to focus on the heater start-up cycle when you notice the smell particularly at that time. You didn't mention the heater fuel but I'm guessing it's heating oil not gas. Odors coming from gas heating appliances are particularly dangerous because of the possibility of a chimney, draft, or combustion air problem that can be a telltale for conditions producing potentially fatal carbon monoxide.
If the smell were due to poor venting or a chimney problem or a startup problem with an oil fired heater I'd expect you to recognize the fuel oil odor. Because you think it's a paint-related odor, I too am led to focusing on the prior cleaning and painting history in the home.
But let's ask why that odor would be particularly severe when the heater starts and before the blower turns on. Foundation or stone wall sealants as well as paints (but not likely mortar) often outgas strong odors when new but it would be unusual for such an odor to persist. However if a nearby painted surface were being abnormally heated - say by a hot supply air plenum before the blower comes on to cool down that area in your heating system - that could be a factor.
I think that to get to the bottom of this you want to home in on exactly where you smell the odor (coming from air supply ducts?) in the home, and where the odor appears to be strongest, keeping in mind the possible role of heat from your heating system in increasing outgassing.
Question: We tried the obvious, now how can we track down the source of a smell in our home?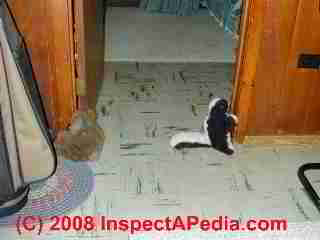 I have a 4 year old brick home, on basement, 1 story. I have smelled a faint odor in one area of the home which is around the master bedroom, master bath, and hallway leading to that area.
The smell tends to be stronger in the hallway area which is on the other side of the wall from the bathroom. My husband does not smell it and thinks I am crazy. Some days is it stronger than others but I can't figure out why. The smell is not in the basement, and not in the attic.
We replaced the toilet wax ring, with no results. We put a vent cap on the roof vent of the toilet so that wind would not blow the gases back inside, with no results.
How can I track down the smell? My only other ideas are that the roof has leaked and the wall has molded, or there is a problem with the bathroom fan leaking in foul air. Or a dead animal stuck somewhere in the wall.
Desperate for some fresh air,- J.H.
Reply:
See our odor diagnosis procedural checklist at ODOR DIAGNOSIS CHECKLIST, PROCEDUREor review the six-step approach to odor diagnosis described in the FAQ just below.
A competent onsite inspection by an expert usually finds additional clues that help accurately diagnose a problem or source of an odor. That said, It is an error for someone to assume that because they do not personally smell an odor that it is not present. Individual sense of smell varies widely among individuals. However on occasion there are medical or other sources of perceived odors that only the affected person will experience. Therefore in some cases it may be appropriate to also check in with a physician. But it makes sense to look for the obvious: an actual source of odors or smells in the building.
Question: How can we track down the source of a chemical smell in our condo?
I currently own and live in a condo and for several months now my wife and I have noticed a very strong smell in one of our bedrooms. The smell has been strong enough to make it impossible for us to be in that room without the window open and as the smell continued we finally reached out to have the air tested in the bedroom. We found (having tested 3 times) high level of various VOCs, most prevalently 1,4 dichlorobenzene.
Unfortunately, while we've established something is wrong, none of the air testing companies we used could figure out where it was coming from (not really their specialty). We'd hoped the building would get involved and spent months dealing with them but things have become more urgent as my wife is pregnant and due in 2 months.
We can't bring a newborn into this environment and so are looking for someone to help us find the source of the contamination (rather than just confirm that it exists). Is this something you can do? If so (or if not, if you don't mind) please get back to me ASAP. Between waiting too long and the frustration of dealing with various service providers and our own building we are really in a rush to have this resolved. - Anon. 5/31/12
Reply: Tools & Procedures for odor source identification
Although there are some (rather pricey) test methods that collect a volume of air or gas to send off for spectrographic analysis, even armed with that lab report we don't necessarily know the odor source without a more careful inspectrion or perhaps some surface testing of the building. In these articles on odor cause, source tracking, and remedy, you can start tracking down the cause or source of an odor in one or more of several ways:
Reader Question: chemical odors or "chemical solvent odors" lead to suspected bathub or countertop coating / rejuvenation product: now how to get rid of the smell? - ultimately traced to apparent vinyl product outgassing
I have a heavy, persistent solvent odor in my home from Gel-Gloss (a polish) by TR Industries that has made it uninhabitable. I have tried everything I can find to eliminate it but nothing has helped. Can you advise if you have a solution?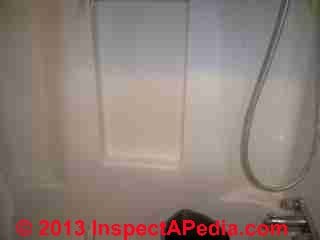 I am requesting your consideration for pro-bono services or assistance. We have just recently purchased a mobile home, with the intention of selling our now affected home and find ourselves supporting two homes, with the possibility of totally losing our equity in one due to the solvent odor.
We are both senior citizens and my husband is a veteran. Any consideration you can give us would be appreciated.
We are faced with a terrible problem of a heavy and persistent solvent odor in my home. I used Gel-Gloss brand (by TR Industries) of polish on my tub surround and some laminate counter tops while preparing our house for sale in early May. It is possible that the chemicals might not have mixed when shaken in the can. The odor is so bad, we can't even go in the house.
I have tried everything I can think of and have cleaned the polished areas countless times to no avail. I have used ammonia, vinegar, baking soda, industrial grease cutters, Bar-Tenders Friend (like Ajax), Dawn dishwashing liquid, 409, Krud Kutter, good old elbow grease and everything else I could get my hands on. Nothing has helped.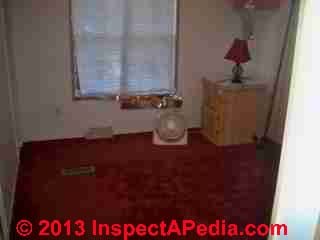 We shampooed the furniture and I put baking soda on the rugs. I have washed the walls, the tub surround and laminate countertops over and over. We have tried opening all the windows, turning on the fans and leaving the air conditioning off for a few days and it was worse.
And with the humidity so high here in Florida, the doors started to warp and we were afraid of mold and mildew developing. Then we tried the same with the a/c on and it was better because of the cool air but did not fix anything.
I have wood charcoal, charcoal briquettes and activated charcoal in the house, vanilla extract on cotton balls, vinegar in dishes, baking soda on the carpet and furniture, raw onions in dishes, all with and without the windows open. And the fans are going at all times. I have also tried some commercial odor removers that I found on the internet, such as Smell-eze pouches, and SCOE 10X spray. No luck.
Tomorrow, I am going to try burning a bunch of candles in the house for a few hours and see if that helps. We have run out of options and need to get a professional opinion and some guidance as to what we can do. I would appreciate your response as soon as possible as the house is uninhabitable at this time. In addition, I am concerned for our health from exposure to the vapors when we go in there. (We are living elsewhere right now).
I just found your site today and I am hoping you can lead us in the right direction and suggest a remedy or a professional to help us. Thank you so much in advance for your assistance. - P.O.D. 8/9/2013
Reply:
First you need to remove the prime odor source, the tub or the coating applied to it.
Second you need to air out the home.
After that we may suggest using the smell patch test procedure discussed at InspectAPedia to identify remaining odor reservoirs if necessary.
Watch out: Don't burn candles, scented or otherwise: you are just adding chemicals to the mix.. Adding a scent can sometimes "cover up" an unpleasant odor or can "turn off" your olfactory nerves, but it doesn't remove or correct the problem.

Reader Follow-Up
I don't think it is financially feasible for us to remove the tub. We would like to avoid that if at all possible. We have started to air out the house for a few hours at a time when the humidity is at its lowest on the drier days. Someone also suggested to us to put a coating of baking soda and water on the surfaces and let it dry to absorb the solvent. I tried doing that but used vinegar and baking soda on Saturday when we aired out the house. Is water better? That didn't seem to work but he said it may take a few times to absorb the chemicals. Do you think that will have any effect? I have not burned any candles and will not per your recommendation
One problem that has me concerned, is that I have developed a cough & some congestion in the past 2 weeks after doing this for 3 months and I am afraid to spend any time in the house now. I'm concerned that I might be doing damage to myself. I have not been using a mask but have been airing it out before going in each time. I will purchase a vapor mask to go forward if you think that will provide enough protection. If I have inhaled too much already, is there anything I can do to counteract that now? Should I go to a doctor now to be checked?
I see you recommend against ozone treatments. We do have fans going at all times, but I have looked into large blower fans to air it out. What is the best way to use one. Do we need to seal the house before use or can we just use one fan in and one fan out with two windows open? I would like to use the best approach.
This is a nightmare for me and I am really frightened. I might add that my husband has COPD and he is not able to assist much either.
Thank you so much, it is comforting to know I have someone who is knowledgeable to talk to about this.
Reply:
Since your earlier message posed that you risked losing the home and your equity in it, by comparison, removing the tub sounded inexpensive.
Alternatively to prove what's needed you could try to isolate that offending bathroom from the rest of the home;
"Absorbing chemicals" is nonsense. It does not work any more than you can vacuum dust from the living room by standing in the kitchen and waving a vacuum cleaner wand in the air. As long as there is an effectively-infinite source of odor molecules, ony by removing or sealing over the source will you stop the odor. All of the magic bullets, ozone machines, deodorants, cat litter, etc. are just that - magic bullets that will not be effective. And in some cases, chemical interactions between a supposed deodorant and the chemcial source can make matters worse.
For some paints and coatings, an obnoxious outgassing occurs primarily from highly volatile solvents that complete their outgassing after some hours or days; in that case ventilating the home (adding fans to improve air movement is fine) may be all that's needed.
But if a coating was improperly formulated, mixed, or applied, or if it reacted with the surface on which it was applied, that can form a much longer-lived odor source. For that case, one needs to remove the odor source, or in some cases one can find success by applying another layer of sealant, provided that the next layer itself does not produce a new odor problem and provided that it is chemically compatible with the underlying coating that is the original odor problem.
If you have the product name or container and from it can find the manufacturer's contact information (I'd like this information as well) then it would make perfect sense to contact them to ask for advice. Be sure to avoid pushing the manufacturer into defensive mode by sounding threatening or litigious or they are likely to shift from trying to be helpful to simply stonewalling.
Reader Follow-Up
(Sorry this is such a long message, but I wanted to give you the details. I will send you some pictures if you still want them, but it's late, and I will send them separately) Yes, you are correct about removing the tub being less expensive than the alternative and I might consider it if I knew for a fact that was the problem. But I am pretty sure now it's not the tub surround. I cannot smell it at all when I press my nose against it. Also, when the bathroom door is closed, the odor is heaviest in the rest of the house than the bathroom. Unfortunately, I had used it on my Formica countertops in the kitchen, bedroom and bathroom. So I am leaning towards the countertops being the problem. Perhaps they are more porous than the tub surround. This is, by the way, a single-wide mobile home in an RV park, about 400 sq ft. We continue to air it out when we can but the odor is still very heavy.
I am thinking now that I should get a new can of the Gel-Gloss per your suggestion and re-polish the countertops one room at a time(doing the bathroom first, which has the smallest countertop), making sure that they have enough time to cure before closing up the house again. Maybe that will soften and remove the old polish, and polish and reseal them, possibly sealing in any remaining odor. Do you think that's worth a try?
I have included some links below for Gel-Gloss specs on TR industries site as you requested and on Amazon with many rave reviews.
TR Industries website: https://store.gel-gloss.com/index.php?main_page=product_info&cPath=0&products_id=35
Amazon site with consumer reviews: http://www.amazon.com/gp/product/B000LNQ83O/ref=olp_product_details?ie=UTF8&me=&seller=#productDetails
I emailed TR Industries on June 8, and Tom Dolson called me to see if he could help. He was courteous and concerned but had no idea how to solve the problem. He suggested using Fantastik to wash everything down (which I did), and keep the fans going.
He said he would talk to the president of TRI to see if he had any suggestions and asked me to keep in touch and let him know how things were going.
I updated him on July 7 to let him know that the situation had gotten no better. I have not heard back from him. His email is tdolson@trindustries.com. The phone number for TR industries is 800-243-3272.
Below are my emails to TRIndustries and Tom Dolson: To: info@trindustries.com Sent: Saturday, June 08, 2013 10:27 PM Subject: Urgent! Need Your Help, Please!
HELP!!!! I am faced with a terrible problem of a heavy solvent odor in my home. I used your Gel-Gloss polish on my tub surround and some laminate counter tops when cleaning my house about 3 weeks ago. It is possible that the chemicals had separated because it was old and may not have been shaken hard enough. The odor is so bad, we still can't even go in the house. I have tried everything I can think of to remove it and have cleaned the polished areas countless times to no avail. I have used ammonia, vinegar, baking soda, industrial grease cutters, Bar-Tenders Friend (like Ajax), Dawn dishwashing liquid, 409, Krud Kutter, good old elbow grease and everything else I could get my hands on. Nothing has helped.

I am thinking it could be in the walls, furniture and carpet. We have tried opening all the windows, turning on the fans and leaving the air conditioning off for a few days and it was worse. Then we tried the same with the a/c on and it was better because of the cool air but did not fix anything. I have tried leaving wood charcoal in the house, vanilla extract on cotton balls, vinegar in dishes, baking soda on the carpet and furniture, all with and without the windows open. As of this moment, we now have all of the above remedies in the house (and I have added activated charcoal in dishes and added standing buckets of water) and have left two windows open. One to draw in fresh air and a fan in front of the other to blow out the odor, and left the a/c running. We are running out of options and need to get a professional opinion and some guidance as to what we can do. I would appreciate your response as soon as possible as the house is uninhabitable at this time. Thank you in advance for your assistance.
Second Reader Letter to TR Industries
I wanted to update you on the status of the solvent odor in my home. It has been over 2 months now, and I still have not gotten any closer to solving this dilemma. I did try the Fantastic spray and it did nothing. I have since ordered a product that made no promises but did say that their product could get rid of fuel odors, but it did nothing. I still have fans going in the house, the windows are closed, and the exhaust fans are on in the living room ceiling and the bathroom with the a/c set at 72.

Still nothing is working. I have read some opinions on the internet and they say that the only thing that will help is fresh air exchange, which would be great if this was October-March in Florida. But the summer heat and humidity makes this an impossible option.

The doors will swell and the humidity will doom my house to mildew and mold and the odor will destroy my house. It has already eaten into the lacquer on my metal floor vents. I have also read that if the house is closed up for a period of time the odor could stay for months to years, which scares me to no end. I don't know what to do next. I am at a total loss for a solution to this problem.

This is a hazardous situation and I need some professional guidance. Have you talked to your company president yet? Does he have any suggestions for me? I am in serious need of some professional assistance. Any help you can give me would be greatly appreciated.
Reader Follow-Up
Here is an update on what I have done in the past few days...
On Wednesday, I bought a new can of Gel-Gloss and repolished the formica tops in the bedroom only, with the windows open and fans going for about an hour or so. Unfortunately, I have to close the house up before I leave and I was worried about the lack of fresh air. Today I went back to check on the results and I'm not sure if it was worse, but it certainly was no better. So, we are no further into solving this. I did however put down some patches in each room and we will go back on Tuesday to check on them. I would have attached some photos of the house with the smell patches in place but I just realized I left my phone at the house so will send them as soon as I retrieve it...
I am afraid that the odor might have permeated the furnishings in the house. I had a comforter that I left on the bed for about a week and today I took it outside and smelled it and it is has a pretty heavy odor. We also took a cushion from one of the chairs and left it in the truck cab to see if the smell is in the truck tomorrow morning. I'll let you know.
Two new developments:
1. I was at the supermarket parking lot on Wednesday, and happened to spot a man from a remediation company for fire and water damage. I talked with him and asked him if he had any suggestions. He was the one who told me to put the cushion in the truck and check for the smell. He said if there was no smell then he would let me use one of their ozonators (air scrubber) for a few days free of charge to see if it helped. Also turns out he does work with my insurance agent, who is a friend of mine. I know you said that ozonators can cause more trouble, but I wonder if it might be worth a try at some point. His website is DryUNow.com,
2. Even more hopeful, I think... I had sent an email to a firm called Bio-World on Aug 9th, and got a response from a [...] who said they have a product called, BioWorld Odor Neutralizer, that has proven effective against fuel oils, etc. They use the neutralizer in a fogger to contact the molecules of the offending odor. They rent or sell the foggers. I am going to contact him and check this out further. I do have some concern about using a wet solution in the house, especially through the a/c system and vents. Would that do damage to the system?
Below is [...] email to me with links to his product, and contact information. They have some impressive examples of their work on their website. It sounds more promising than the ozonator and if it works might be fairly quick. If you could give me your opinion, I would really appreciate it. - P. 8/24/13
[Note to Reader from D.D., vendor of a deodorant product]
Sorry to hear about your lingering solvent odor issue. For this type of situation, we recommend using BioWorld Odor Neutralizer (BON), a unique concentrated liquid formulation that eliminates offensive odors at the source. BON has eliminated numerous odor problems for our customers including urine, skunk, fish, asphalt, chemical and paint odors.

To apply BON, we recommend using a handheld fogger such as the F8026 Triple Nozzle Fogger. This fogger has variable flow rate and droplet size options and emits a 20 foot fog of micron sized droplets. The small droplets are able to get into every nook and cranny where odors may still exist. The fogger can be operated as needed in any area where odors are still a problem. A dilute solution of BON (5 - 10%) would be used in the drum supply for the fogger to eliminate the odors. Here is a link to BON and fogger information: http://www.bioworldusa.com/industrial/odor-control http://www.bioworldusa.com/industrial/odor-control/foggers-and-equipment#F8026

We suggest that you purchase the following: F8026 Triple Nozzle Fogger = $355.00 O41326 1 liter Odor Neutralizer = $25.95 Subtotal = $380.95 plus shipping

This would give you enough product for several applications. We also have a 30 day rental option available for the Triple Nozzle Fogger (charge $250 and credit back $150 upon return – net cost of $100). This may be a better option for you.

At your request, we can obtain a shipping quote (need a physical address) and overall cost. We would provide you with the products along with simple instructions. Either fogger option (buy or rent) and BON are currently in stock and can be sent as soon as we receive payment confirmation. Attached is a credit card order form for your convenience. BioWorld Products Inc 559.651.2042 800.882.0225 www.bioworldusa.com
Reply to Reader from IAP
I agree absolutely that you are on the right track to first isolate the odor source.
Watch out: Spraying or fogging a home with an odor neutralizer, it seems to me, is likely to be effective only for certain classes of problems and probably not the best approach for odor complaints that include a persistent odor source, much less one that has not been identified and encapsulated or removed. Generally we want to find the source of the chemical, solvent, or other odor, and correct it at the source.
Perhaps I misunderstood your original email that I took to indicate that the re-coated bath tub the odor source issue.
In other cases we've tracked down the odor source by isolating rooms or areas from the rest of the building.
Also you might want to confirm your suspected source by using an odor patch test procedure - it's very easy.
See SMELL PATCH TEST to Track Down Odors
Photos of the tub, kitchen counters, product labels would be helpful. And I'm so disappointed that apparently you've not had response that you found more helpful after your queries to the manufacturer. 8/19/13
Reader follow-up:
Finally, a little glimmer of hope.
On August 23, I put some smell patch tests in the house on the Formica countertops, the tub surround and the bedroom carpet. Yesterday, we went back, removed the patches, took them outside and smelled them. The only one that I could detect a smell from was the bedroom carpet. I will recheck the countertops and tub surround just to make sure it was accurate.
We did find that the odor had permeated the mattress and box spring, the bed linens, the bathroom linens, and the curtains... and probably all the upholstered furniture. We put the mattress and box spring outside in the lanai with the lanai windows open and a fan blowing on them. We'll see if the odor has left the mattresses when we go back in. The good news is the odor was erased from the linens after I put them through the washer and dryer.
I have put new patches on the walls, the cabinet door, the wall paper and the sofa. We will check them in a day or two. We plan to shampoo the carpet and sofas. If you have any suggestions as to the best type of cleaner to use, it would be appreciated.
Perhaps we are making some headway. I'm keeping my fingers crossed.
Reader follow-up: 10/09/2013:
As an update, we were finally able to begin leaving a few windows open in the house this week, with the cooler, less humid air. I still believe it is the carpet in the bedroom and my husband would prefer to try to air it out throughly before we commit to replacing it. So, air it we will. The next step will be to pull it up and put it outside to air out so we can see if that eliminates the odor. We can put it back down if it works, but we're hoping not to have to do any of that.
The odor actually is not as heavy as it used to be but it is definitely there, especially when the house is closed up... at least for me. But it dissipates much quicker when we open it up than it used to. I have had three other people come into the house and they all said that it just smells extra clean, like a brand new house smell. I don't see it that way, but I'm probably overly sensitive to it by now. I always get a red flush and irritation on my face from being in the house, that has simmered down, but it still happens.
Question for you: Is it possible that it has permeated the a/c itself, or the material used in the duct work? Strangely enough, one time when I sealed off the bedroom and closed the vents, there was no odor in the living area the next time I went in. Another time, I did the same thing and the whole house was invovled again. Doesn't make sense. Our HVAC guy checked out the a/c unit and said he couldn't smell it there or in the house. He was one of the ones that said it just smelled ultra clean. But as long as it keeps building up when the house is closed up, I can't in good conscience sell it to anyone.
So, nearly 6 months down the road, we are still dealing with this. I hope the cooler weather will prove to be advantageous for us. I will keep you informed. - P.O. 10/9/2013
Reply:
re: I still believe it is the carpet in the bedroom and my husband would prefer to try to air it out throughly before we commit to replacing it
IF wall-to-wall carpeting has been soiled by flooding, or if carpet backing or padding were oxidized by ozone treatment, or if carpeting was moldy, the only effective fix is to remove it completely, clean the floor, and install new product. If the carpet were an area rug, I've had success having such rugs professionally cleaned and dried.
re: Is it possible that it has permeated the a/c itself, or the material used in the duct work?
Yes odors and gases can penetrate HVAC ductwork if the ducts are made of fiberglass board or were fiberglass lined; I speculate that also very dirty ductwork is often a harbor or odors in the soil material itself. About who smells what, while it is very useful to bring in neutral parties as sniffers, perhaps eliminating stress or even individual illness from the equation, individuals' sense of and sensitivity to various odors varies significantly; for this reason I don't ignore an odor complaint by one person living in a building just because another doesn't detect it. About your own reaction, that's something about which to also check with your doctor. My inexpert OPINION is that individuals can also become sensitized to particular contaminants, gases or particles, or chemicals such that they then react to very low levels. Sometimes that sensitivity diminishes or stops completely after a period of avoidance.
Chemical Odor / Solvent Odor Complaint "Solved" 12/09/2013 - Vinyl Siding, Trim, Windows Odor on Attached Outdoor Covered Porch or "Florida Room" or "Lanai"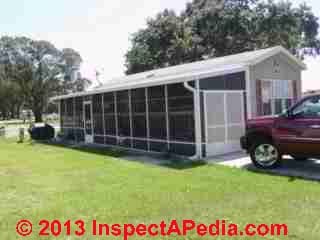 I have very good news... finally! :) We continued to leave the windows open during the first 3 weeks in November. The odor still lingered, but less so because of the fresh air exchange. So, feeling somewhat confident that it had dissipated sufficiently to allow a potential buyer to come in, we put the mattresses back in and started to put house back together for sale.
Even so, I was still a bit apprehensive that the odor would return as soon as we closed it up.
As I worked inside the house, my husband tackled the lanai outside, which has vinyl windows, screens and an unfinished concrete floor.
He used a heavy mixture of clorox on the concrete floor and the house siding to remove any mildew that had built up during the summer.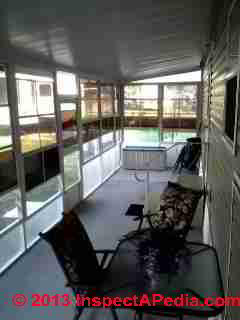 Incredibly, the solvent odor actually seemed to have disappeared when he was done! We gave it the closed house test for about an hour and it never built up before we left. Any other time, the odor would have been heavy within 10 minutes.
It really appears that the odor had absorbed into the concrete floor in the lanai and was somehow seeping into the house. When I got home that night, I googled "concrete absorbs solvent odors," to see if that was possible.
It actually pulled up your site where you note that it definitely can pick up chemical odors. I'm not sure if I read that before, but if I did I guess it didn't strike me as a possibility because I was so focused on the inside where I used the polish. Your site is awesome and has so much useful information
I was in shock... lol, but not quite sure whether to trust that it was really gone. We went back to the house the next day to see if it was still clear and it was. This was very fortunate because someone requested to see the house the very next day. The people came in, there was no smell and they bought the house... it was that fast... :) That was about two weeks ago, and we close on Dec. 20th.
I truly believe the odor had permeated the concrete and was seeping into the house all this time. And we had actually put off washing down the lanai all summer so we could work on the odor first... go figure! I have attached some pictures of the house so you can now see what we were dealing with.
I appreciate your guidance and assistance during the past few months. I am so relieved that we can finally put this nightmare to rest. P.O.D 12/09/2013
Follow-up:
I am so happy to hear this odor problem has been put to bed. And thanks for the helpful photos. Just to be sure I understand correctly, "Lanai" as you use it refers to the attached porch along one side of your home, right? A couple of questions remain about why the odor is gone and what one might expect in the future.
1. I have had many reports of odors traced to vinyl products - plastic trim, siding, even window screens. Is it possible that the odor cure is actually because of lower temperatures or closing windows between the house and the actual odor source: the outside vinyl?
See VINYL Siding or PLASTIC Window ODORS for details.
2. Can we figure out why we didn't figure out why the odor was coming from outdoors? - Ed.
Reader Reply:
... the vinyl siding is a very good possibility also. There is one wall of vinyl siding on the house inside the porch. The screens in the porch are fiberglass and the windows are vinyl. The vinyl siding was washed down with Clorox and water at the same time as the concrete floor when the smell dissipated. My husband did not spray the vinyl windows and screens with Clorox.
Something I don't think I ever mentioned, and is probably an important clue, I used to smell the odor from down the street as we were driving up to the house, whether the vinyl windows in the porch were open or closed. My husband always thought I was imagining it 'cause he couldn't smell it. It's possible it was coming from all the vinyl in the porch. The odor was very heavy inside the porch whenever we walked in.
Inside the house always smelled whether the windows in the house or the porch were open or closed. The concrete floor does not extend under the house, it is just dirt under there. But it must have been seeping into the house somehow. I believe that opening the windows and airing out the house helped over time, but it did not go away until [we] used the Clorox, at which time it virtually disappeared. - P.O.D. 12/9/2013
...
Ask a Question or Search InspectApedia
Use the search box below to ask a question or to search the InspectApedia.com website.
Ask a Question or Enter Search Terms in the InspectApedia search box just below.
Technical Reviewers & References
Related Topics, found near the top of this page suggest articles closely related to this one.
Click to Show or Hide Citations & References
Books & Articles on Building & Environmental Inspection, Testing, Diagnosis, & Repair
[1] ASTM E2600 - 08 Standard Practice for Assessment of Vapor Intrusion into Structures on Property Involved in Real Estate Transactions is available from the ASTM at astm.org/Standards/E2600.htm

"This practice is intended for use on a voluntary basis by parties who wish to conduct a

VIA

on a parcel of

real estate

, or more specifically conduct a screening evaluation to determine whether or not there is potential for a

VIC

, and if so, identify alternatives for further investigation."

The standard goes on to emphasize the uncertainty in testing any site for gases and vapor intrusion.
[2] EMS Testing Laboratories (a nationwide chain in the U.S.) - see http://www.emsl.com
[3] Chinese Drywall information hosted by the US Consumer Product Safety Commission, and supported by the US CDC (Centers for Disease Control), the U.S. EPA (Environmental Protection Agency), and HUD, the U.S. Department of Housing and Urban Development - http://www.cpsc.gov/info/drywall/index.html
[4] Chinese Drywall information from the Florida state department of Environmental Protection -
http://www.doh.state.fl.us/environment/community/indoor-air/casedefinition.html#presence
[5] Executive Summary, Chinese Drywall Hazards, published by the US Consumer Product Safety Commission, and supported by the US CDC (Centers for Disease Control), the U.S. EPA (Environmental Protection Agency), and HUD, the U.S. Department of Housing and Urban Development - original source: http://www.cpsc.gov/info/drywall/execsum0410.pdf
[6] Brett C. Singer, Beverly K. Coleman, Hugo Destaillats, Alfred T. Hodgson, Melissa M. Lunden, Charles J. Weschler, William W Nazaroff, "Indoor secondary pollutants from cleaning product and air freshener use in the presence of ozone", Atmospheric Environment, Volume 40, Issue 35, November 2006, Pages 6696–6710
Abstract This study investigated the formation of secondary pollutants resulting from household product use in the presence of ozone. Experiments were conducted in a 50-m3 chamber simulating a residential room. The chamber was operated at conditions relevant to US residences in polluted areas during warm-weather seasons: an air exchange rate of 1.0 h−1 and an inlet ozone concentration of approximately 120 ppb, when included. Three products were used in separate experiments. An orange oil-based degreaser and a pine oil-based general-purpose cleaner were used for surface cleaning applications. A plug-in scented-oil airfreshener (AFR) was operated for several days. Cleaning products were applied realistically with quantities scaled to simulate residential use rates. Concentrations of organic gases and secondary organic aerosol from the terpene-containing consumer products were measured with and without ozone introduction. In the absence of reactive chemicals, the chamber ozone level was approximately 60 ppb. Ozone was substantially consumed following cleaning product use, mainly by homogeneous reaction. For the AFR, ozone consumption was weaker and heterogeneous reaction with sorbed AFR-constituent VOCs was of similar magnitude to homogeneous reaction with continuously emitted constituents. Formaldehyde generation resulted from product use with ozone present, increasing indoor levels by the order of 10 ppb. Cleaning product use in the presence of ozone generated substantial fine particle concentrations (more than 100 μg m−3) in some experiments. Ozone consumption and elevated hydroxyl radical concentrations persisted for 10–12 h following brief cleaning events, indicating that secondary pollutant production can persist for extended periods.
Keywords Air quality; Formaldehyde; Indoor air chemistry; Secondary organic aerosol; Terpenes
[7] Xiaoyu Liu,*† Mark Mason, Kenneth Krebs, and Leslie Sparks, "Full-Scale Chamber Investigation and Simulation of Air Freshener Emissions in the Presence of Ozone:, Environ. Sci. Technol., 2004, 38 (10), pp 2802–2812 DOI: 10.1021/es030544b Publication Date (Web): April 9, 2004,
Abstract: Volatile organic compound (VOC) emissions from one electrical plug-in type of pine-scented air freshener and their reactions with O3 were investigated in the U.S. Environmental Protection Agency indoor air research large chamber facility. Ozone was generated from a device marketed as an ozone generator air cleaner. Ozone and oxides of nitrogen concentrations and chamber conditions such as temperature, relative humidity, pressure, and air exchange rate were controlled and/or monitored. VOC emissions and some of the reaction products were identified and quantified. Source emission models were developed to predict the time/concentration profiles of the major VOCs (limonene, α-pinene, β-pinene, 3-carene, camphene, benzyl propionate, benzyl alcohol, bornyl acetate, isobornyl acetate, and benzaldehyde) emitted by the air freshener. Gas-phase reactions of VOCs from the air freshener with O3 were simulated by a photochemical kinetics simulation system using VOC reaction mechanisms and rate constants adopted from the literature. The concentration−time predictions were in good agreement with the data for O3 and VOCs emitted from the air freshener and with some of the primary reaction products. Systematic differences between the predictions and the experimental results were found for some species. Poor understanding of secondary reactions and heterogeneous chemistry in the chamber is the likely cause of these differences. The method has the potential to provide data to predict the impact of O3/VOC interactions on indoor air quality.
[8] RI Vanhegan, R.G. Mitchell, "Pseudomonas Infection Associated with Contamination of Wick-Type Air Freshener", British Medical Journal, 20 Sept. 1975, pp. 685 [copy on file as Air_Fresh_Study_BMJ75.pdf]
Though unproved, the bottles may have been directly implicated in cross-infection and they should not be used in intensive care units and similar places. The practice of topping-up existing bottles from a stock solution should be discouraged since the resulting weakened mixture may eventually support the growth of organisms. Since an increase in the formaldehyde concentration proved irritant we recommend the use of safe non-volatile disinfectants. The possibility that organisms may develop resistance to formaldehyde solutions was not further investigated.
[9] Salthammer, T. (ed) (2007) Subject Index, in Organic Indoor Air Pollutants: Occurrence - Measurement - Evaluation, Wiley-VCH Verlag GmbH, Weinheim, Germany. doi: 10.1002/9783527613663.indsub
[10] Mihalis Lazaridis (Editor), Ian Colbeck (Editor), Human Exposure to Pollutants via Dermal Absorption and Inhalation (Environmental Pollution), Springer; 1st Edition. edition (April 1, 2010), ISBN-10: 9048186625 ISBN-13: 978-9048186624
Quoting: The human body is exposed to pollution on a daily basis via dermal exposure and inhalation. This book reviews the information necessary to address the steps in exposure assessment relevant to air pollution. The aim is to identify available information including data sources and models, and show that an integrated multi-route exposure model can be built, validated and used as part of an air quality management process. Many epidemiological studies have focused on inhalation exposure. Whilst this is appropriate for many substances, failure to consider the importance of exposure and uptake of material deposited on the skin may lead to an over/underestimation of the risk. Hence dermal exposure is also considered. Drinking water contamination by disinfection by-products is also discussed. Written by leading experts in the field, this book provides a comprehensive review of ambient particulate matter and will be of interest to graduate students, researchers and policymakers involved in air quality management, environmental health and related disciplines, as well as environmental consultants and ventilation engineers.
[11] Fifth Kingdom, Bryce Kendrick, ISBN13: 9781585100224, is available from the InspectAPedia online bookstore - we recommend the CD-ROM version of this book. This 3rd/edition is a compact but comprehensive encyclopedia of all things mycological. Every aspect of the fungi, from aflatoxin to zppspores, with an accessible blend of verve and wit. The 24 chapters are filled with up-to-date information of classification, yeast, lichens, spore dispersal, allergies, ecology, genetics, plant pathology, predatory fungi, biological control, mutualistic symbioses with animals and plants, fungi as food, food spoilage and mycotoxins.
[12] Fungi, Identifying Filamentous, A Clinical Laboratory Handbook, Guy St-Germain, Richard Summerbell, Star Publishing, 1996, ISBN 0-89863-177-7 (English) (buy at Amazon)
[13] Troubleshooting Split System A/C or Heat Pump Noises, Fujitsu General America, Inc., 353 Route 46 West, Fairfield, NJ 07004, Tel: (888) 888-3424, Tel-Service hotline: (866) 952-8324, Email: hvac@fujitsugeneral.com, Email service: servicehvac@fujitsugeneral.com , retrieved 8/30/12, original source: http://www.fujitsugeneral.com/troubleshooting.htm [copy on file as Troubleshooting Fujitsu Ductless Mini-Splits.pdf]
[14] Thomas M. Riddick, "Controlling Taste, Odor and Color With Free Residual Chlorination", Journal (American Water Works Association) Vol. 43, No. 7 (JULY 1951), pp. 545-552, American Water Works Association, Article Stable URL: http://www.jstor.org/stable/41236445
[15] Douglas M. Baker, M.D., "Holiday Hazards", Pediatric Emergency Care, Vol. 1 No. 4, December 1985 Lippincott-Raven, retrieved 9/22/12
Abstract: Presented is a selective review of the toxicities of various plants, decorations, and miscellaneous items popularly used during the holiday season. Particularly hazardous agents include mistletoe, holly, bubble lights, fireplace flame colors, alkaline batteries, and mothballs. Specific questions regarding management of exposure to these items should be referred to regional poison control centers. Avoidance is the most effective treatment. ... [regarding mothballs, ... decontamination is advised for ingestions of greater than one half of a naphthalene mothball and more than two to three paradichlorobenzene mothballs ...]
[16] Charles M. McGinley, P.E., Michael A. McGinley, MHS, Donna L. McGinley, " "Odor Basics", Understanding and Using Odor Testing", paper presentation, The 22nd Annual Hawaii Water Environment Association Conference.,
Honolulu, Hawaii: 6-7 June 2000, St. Croix Sensory Inc. / McGinley Associates, P.A. 13701 - 30th Street Circle North Stillwater, MN 55082 U.S.A. 800-879-9231 stcroix@fivesenses.com, retrieved 9/22/12, original source http://www.fivesenses.com/Documents/Library/33%20 %20Odor%20Basics.pdf, [copy on file as Odor_Basics.pdf]
[17] Jon H. Ruth, "Odor Thresholds and Irritation Levels of Several Chemical Substances: A Review", American Industrial Hygiene Association Journal Volume 47, Issue 3, 1986, retrievedf 9/22/12, Abstract: A collation of odor threshold data for approximately 450 chemical substances is presented. The range of odor thresholds reported in the literature is shown along with any reported threshold of irritation to humans. These data can assist the industrial hygienist in determining when an "odor" may be in excess of the Threshold Limit Value®, when an organic vapor respirator is not acceptable due to the lack of an odor warning at the end of a cartridge life, and where odors may not indicate a hazard due to extremely low odor thresholds which may be well below the respective TLVs.
[18] Edward Avila DO, Paul Schraeder MD, Ajit Belliappa MD, Scott Faro MD, "Pica With Paradichlorobenzene Mothball Ingestion Associated With Toxic Leukoencephalopathy", Journal of Neuroimaging Volume 16, Issue 1, pages 78–81, January 2006, retrieved 9/22/12,
Abstract: This is a case report of central nervous system toxicity associated with paradichlorobenzene (PDCB) ingestion. The patient had ingested mothballs composed of 99.99% PDCB for a period of 7 months. She was admitted for depression and had no neurologic symptoms. Later she developed an acute cerebellar syndrome followed by stupor and coma. An extensive workup was negative except for decreasing levels of PDCB in her serum. Imaging revealed a diffuse leukoencephalopathy. Her clinical picture was attributed to PDCB toxicity.
[19] Stone, David L. (David Louis), Stock, T. (Tim), "Mothballs: proper use and alternative controls for clothes moths", PNW 606-E, May 2008, Oregon State University. Extension Service Washington State University. Extension University of Idaho. Extension, May, 2008, retrieved 9/22/12, original source: http://scholarsarchive.library.oregonstate.edu/ xmlui/bitstream/handle/1957/20800/pnw606-e.pdf?sequence=1, citation: http://hdl.handle.net/1957/20800, Abstract: In some homes, clothes moths can damage garments and other belongings. There are two common species of clothes moths in the Pacific Northwest: the webbing clothes moth (Tineola bisselliella) and the casemaking clothes moth (Tinea pellionella). The larvae, or immature form, of the moths are responsible for the damage done to personal belongings. [copy on file as Mothballs_Guide_PNW.pdf]
Citing the following 2 sources on mothball chemistry, use, hazards:
[20] Black, Judy. Fabric and Museum Pests. In Mallis Handbook of Pest Control, 9th edition, S.A. Hedges and D. Moreland, eds. GIE Media, Cleveland, OH, 2004, pp. 581 –623.
[21 U.S. Department of Health and Human Services. Illness Associated with Exposure to Naphthalene in Mothballs—Indiana. Morbidity and Mortality Weekly Report, 1983, Vol. 32: 34–5.
Carson, Dunlop & Associates Ltd., 120 Carlton Street Suite 407, Toronto ON M5A 4K2. (416) 964-9415 1-800-268-7070 info@carsondunlop.com. The firm provides professional home inspection services & home inspection education & publications. Alan Carson is a past president of ASHI, the American Society of Home Inspectors. Thanks to Alan Carson and Bob Dunlop, for permission for InspectAPedia to use text excerpts from The Home Reference Book & illustrations from The Illustrated Home. Carson Dunlop Associates' provides:

Commercial Building Inspection Courses - protocol ASTM Standard E 2018-08 for Property Condition Assessments
Home Inspection Education Courses including home study & live classes at eleven colleges & universities.
Home Inspection Education Home Study Courses - ASHI@Home Training 10-course program.
Special Offer: Carson Dunlop Associates offers InspectAPedia readers in the U.S.A. a 5% discount on these courses: Enter INSPECTAHITP in the order payment page "Promo/Redemption" space. InspectAPedia.com editor Daniel Friedman is a contributing author.
The Home Reference Book, a reference & inspection report product for building owners & inspectors.
Special Offer: For a 10% discount on any number of copies of the Home Reference Book purchased as a single order. Enter INSPECTAHRB in the order payment page "Promo/Redemption" space. InspectAPedia.com editor Daniel Friedman is a contributing author.
The Home Reference eBook, an electronic version for PCs, the iPad, iPhone, & Android smart phones.
Special Offer: For a 5% discount on any number of copies of the Home Reference eBook purchased as a single order. Enter inspectaehrb in the order payment page "Promo/Redemption" space.
The Illustrated Home illustrates construction details and building components, a reference for owners & inspectors.
Special Offer: For a 5% discount on any number of copies of the Illustrated Home purchased as a single order Enter INSPECTAILL in the order payment page "Promo/Redemption" space.
The Horizon Software System manages business operations,scheduling, & inspection report writing using Carson Dunlop's knowledge base & color images. The Horizon system runs on always-available cloud-based software for office computers, laptops, tablets, iPad, Android, & other smartphones.

...
Books & Articles on Building & Environmental Inspection, Testing, Diagnosis, & Repair
The Home Reference Book - the Encyclopedia of Homes, Carson Dunlop & Associates, Toronto, Ontario, 25th Ed., 2012, is a bound volume of more than 450 illustrated pages that assist home inspectors and home owners in the inspection and detection of problems on buildings. The text is intended as a reference guide to help building owners operate and maintain their home effectively. Field inspection worksheets are included at the back of the volume. Special Offer: For a 10% discount on any number of copies of the Home Reference Book purchased as a single order. Enter INSPECTAHRB in the order payment page "Promo/Redemption" space. InspectAPedia.com editor Daniel Friedman is a contributing author.

Or choose the The Home Reference eBook for PCs, Macs, Kindle, iPad, iPhone, or Android Smart Phones. Special Offer: For a 5% discount on any number of copies of the Home Reference eBook purchased as a single order. Enter INSPECTAEHRB in the order payment page "Promo/Redemption" space.
Kansas State University, department of plant pathology, extension plant pathology web page on wheat rust fungus: see http://www.oznet.ksu.edu/path-ext/factSheets/Wheat/Wheat%20Leaf%20Rust.asp
"A Brief Guide to Mold, Moisture, and Your Home", U.S. Environmental Protection Agency US EPA - includes basic advice for building owners, occupants, and mold cleanup operations. See http://www.epa.gov/mold/moldguide.htm
US EPA - Mold Remediation in Schools and Commercial Building [ copy on file as /sickhouse/EPA_Mold_Remediation_in_Schools.pdf ] - US EPA
"A Brief Guide to Mold, Moisture, and Your Home", U.S. Environmental Protection Agency US EPA - includes basic advice for building owners, occupants, and mold cleanup operations. See http://www.epa.gov/mold/moldguide.htm
"Disease Prevention in Home Vegetable Gardens," Patricia Donald, Department of Plant Microbiology and Pathology, Lewis Jett
Department of Horticulture, University of Missouri Extension - extension.missouri.edu/publications/DisplayPub.aspx?P=G6202
US EPA: Mold Remediation in Schools and Commercial Building [ copy on file as /sickhouse/EPA_Mold_Remediation_in_Schools.pdf ] - US EPA
...