Mold Related Illness Symptoms & Complaints
InspectAPedia tolerates no conflicts of interest. We have no relationship with advertisers, products, or services discussed at this website.
My House is Making Me Sick?
This Mold Related Illness Guide provides a broad index of reports of health complaints or symptoms, of Illnesses that are either caused, or aggravated by indoor mold exposure or alternatively, that were believed or suspected by individuals to have a role in their physical or mental health complaints.
Here we provide descriptions and lists of ypes of mold reactions & list of Health complaints in moldy homes, lists of health complaints related to moisture or dampness and reports of those allergens & allergy illnesses in the home, types, causes, prevention. Health complaints by people sending mold samples to our laboratory. Photos of several Different-Appearing Mold-related Skin Rashes on People Not Suffering from Tinea
Green links show where you are. © Copyright 2017 InspectApedia.com, All Rights Reserved.
Broad classes of reactions to allergenic, pathogenic, or toxic mold, allergens, and other indoor gases or particles
Four Categories of Mold-Related Illnesses, Symptoms, or Complaints
In understanding how exposure to mold might cause or contribute to illnesses it is useful to distinguish among the meanings of the words allergenic, pathogenic, and toxic effects that exposure to something might explain.
Allergenic - causing allergic Reactions - rhinitis, sinusitis, asthma, skin problems, other.

Quite a few of our clients reported non-Tinea (ringworm) skin rashes on exposure to high levels of mechanically disturbed molds, almost always during an amateur mold clean-up job, often apparently associated with Stachybotrys chartarum, and most immediately contacted on exposed (sometimes sweaty or moist) skin areas (neck, face, head, hands, arms) that were not protected during their mold cleanup project.

More examples of skin rashes that correlated in time of occurrence with significant indoor mold exposure are shown in this article at DERMATITIS, SKIN RASHES, and SKIN RASH FAQs.
Pathogenic - Produces Infections, caused by pathogens such as bacteria or viruses
Mold Smell related Illnesses - headaches, vomiting, nausea, blocked noses, and asthmatic [MVOC's--DF]
Toxic Illnesses - where mold is involved, may be produced by mycotoxins that are produced by some, not all, mold species. Note that even for a "toxic" mold species, the actual level of toxicity can vary significantlty depending on growing conditions such as the growth substrate (what the mold is feeding-on), humidity, moisture, and other factors.

Respiratory Illnesses - asthma, COPD, etc.
Digestive Tract Illnesses - liver diseases: fibrosis and necrosis; vomiting, diarrhea, intestinal bleeding
Reproductive Illnesses - infertility, variations in reproductive and hormonal cycle
Highly Serious Illnesses - Cancer, Tuberculosi, Lupus, Sudden Infant Death Syndrome (SIDS), Chronic Fatigue Disorder (CFS), Fibromyalgi, Epstein-Barr, aspergillosis
Green links show where you are. © Copyright 2017 InspectApedia.com, All Rights Reserved.
List of Mold Related Illnesses & Health Complaints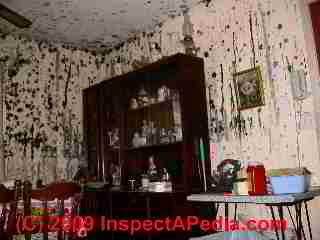 This list of mold related illness symptoms and complaints is arranged alphabetically and begins just below. This list is a combination specific, diagnosed medical illnesses and other anecdotally reported complaints associated with mold in buildings. Research to establish a firm chain of causation between mold and other indoor particles (or other substances) and these complaints in many cases has not been completed.
We capitalize names of known medical conditions. While the following list may be of assistance to some readers researching this topic, it should by no means be considered as scientifically authoritative nor complete.
Some complaints are listed here without any solid medical evidence regarding causation, if the complaints have been expressed to us by people investigating mold-related illness or building mold contamination. Such data should be considered for research purposes and not medically authoritative.
We are interested in adding to this list as well as providing succinct symptom lists associated with medically-diagnosed mold related illnesses. Suggestions and criticism are invited.
Alphabetical Index to Symptoms of Mold Related Illnesses, Medical & Anecdotal
A - B - C - D - E - F - G - H - I - J - K - L - M - N - O - P - QR - S - T - U - V - WXYZ
Warning: this document is a mold-related symptom or complaint list, not a medical document.
This mold-illness-symptoms & complaints list does, however, collect both substantiated mold-related-illness complaints and a wide sampling of the nature and range of other complaints from people who believe or fear that mold or similar exposure has been a factor in their physical or mental health, a general reference for individuals or physicians interested in reading the nature and range of these complaints that may or may not actually be building or environment-related.
Can Mold Make You Sick? We live in a sea of mold, and other stuff in the air we breathe, on cushions we sit on, clothes we wear, pools we swim-in, and so on. Most mold is not hurting anyone, and some of it makes us well when we're sick(Penicillium notatum, for example). Fear of mold (mycophobia) is unjustified and in our opinion, more a result of media hype, ENVIRO-SCARE, and gouging consumers.
A healthy person walking through a room of moldy air is not likely to die. On the other hand, there is a wealth of less rigorous empirical data matching occupant complaints with indoor mold and allergens. Finally, for certain people, mold can be a serious problem if it's at high levels indoors. It's probably an overstatement by some authorities who assert that "... there are no proven links between mold and illness" - we refer readers to some of our lab's references for descriptions of illness-related molds, some of which are found in buildings.
See this separate article MOLD RELATED ILLNESS GUIDE, an Index to detailed articles aid in identifying illnesses that may be related to toxic or allergenic mold exposure. This is an atlas of mold related illness symptoms and complaints & of mold toxicity.
Readers needing a medical diagnosis of mold related illness should consult with their physician or with a specialist such as a medical toxicologist. If you need a specialist consult your family doctor and also see MOLD DOCTORS - ENVIRONMENTAL MEDICINE
Alphabetic Index to Common Mold-related Illness Symptoms & Complaints
A
Abdominal pain
Abnormal pap smears
Acid reflux
Acne
Allergy symptoms (wide variety of), mild to severe and from transitory to chronic - Ref: Middleton and assoc.
Allergic Bronchiopulmonary Aspergillosis (ABPA) - worsening of underlying asthma or cystic fibrosis,
coughing up blood, weight loss, fever, wheezing, muicous plugs produced by coughing - uncommon, occurs in persons with asthma and those with cystic fibrosis (CF)
Allergic Rhinitis and asthma are associated with responses mediated by immunoglobulin E (IgE)

"Damp house linked to kids' risk of nasal allergies", New York Times, 1 Aug 2010

Altered immunity
Anaphylaxis
Apnea, sleep
Aspergilloma (fungal growth in lung), cough, cough, fever, weight loss. Uncommon. May be asymptomatic but show up in a lung X-ray in some patients who have a pre-existing lung cavity (e.g. due to T.B.), occurs in patients suffering HIV + pneumonia; coughing up blood is a serious and life thereatening condition;
Aspergillosis, Chronic necrotizing Aspergillus pneumonia, or Chronic necrotizing pulmonary aspergillosis (CNPA) occurs in patients with an underlying disease such as COPD or alcoholism, symptoms include subacute pneu7monia, fever, cough, night sweats, weight loss.
Aspergillosis, Invasive, occurs in patients who suffer from immunosuppression or prolonged neutropenia, leukemia, and others; symptoms include fever, cough, chest pain, difficulty breathing (dyspena), rapid breathing (tachypnea).
See ASPERGILLOSIS for details about the above Aspergillus-related illnesses.
Asthma and asthmatic signs
Asthma, adult onset
Asthma, sudden onset, any age
Asthma, increased symptoms or renewal of previously diminished symptoms
Asthma due to fungal allergens: chest tightness, wheezing, cough, dyspnea. Worsens w/ exposure. Cx typically occur within 1 hr of exposure
B
balance, loss of
bladder and kidney pain
bleeding lungs
blood pressure irregularities
body aches and muscle pains
boils on skin, especially neck, especially following disturbance of moldy materials (S. chartarum) (photos on file)
breathing difficulties
Bronchopulmonary aspergillosis / allergic bronchopulmonary aspergillosis: inflammatory disease caused by immunologic response Aspergillus sp., usually A. fumigatus, growing in bronchi of asthmatics reported in immunocompromised patients and patients with chronic obstructive pulmonary disease (COPD) and has been linked to building-related illness (BRI)
bruising easily
burning mouth
burning eyes
burning throat
burning lungs

C
Cancer
Candida, systemic

Chronic Candidiasis FAQ - see Dr. Fungus: doctorfungus.org/mycoses/human/candida/Chronic_Candidiasis.htm

Central nervous system disorders (CNS)
Chest pain associated with excessive coughing
Chills
Choking
Cholesterol or triglycerides unusual variations
Chronic fatigue syndrome (CFS)
Chronic sinus infections
Coated tongue
Coccidioidomycosis - symptoms: Valley Fever: cough, fever, fatigue, chest pain. History of travel to areas where the coccidioides soil fungus is found: southwestern United States, areas within Mexico and South America, also in south-central Washington.

Excerpt from U.S. CDC:
Valley fever, also called coccidioidomycosis, is an infection caused by the fungus Coccidioides. The fungus is known to live in the soil in the southwestern United States and parts of Mexico and Central and South America. The fungus was also recently found in south-central Washington.

People can get Valley fever by breathing in the microscopic fungal spores from the air, although most people who breathe in the spores don't get sick. Usually, people who get sick with Valley fever will get better on their own within weeks to months, but some people will need antifungal medication.

Certain groups of people are at higher risk for becoming severely ill. It's difficult to prevent exposure to Coccidioides in areas where it's common in the environment, but people who are at higher risk for severe Valley fever should try to avoid breathing in large amounts of dust if they're in these areas.

- retrieved 2016/08/18, original source: Valley Fever (Coccidiomycosis), U.S. CDC Centers for Disease Control & Prevention, Websitte: http://www.cdc.gov/fungal/diseases/coccidioidomycosis/

Colds, recurrent
Constipation
Cough, dry hacking
Coughing up blood
Cryptococcosis
D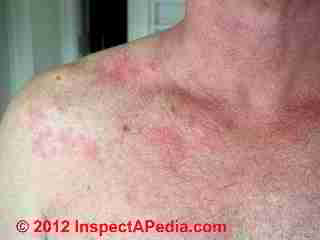 dandruff resistant to usual treatments
dark urine
death in extreme cases (humans, other animals)
Depression


Dermatitis: red, itchy skin, skin rashes. The mold-related skin rashes shown at the top of this page, at left, and below in at SKIN RASHES and our SKIN RASH FAQs section illustrate patterns of skin rash suffered by some of our clients that appeared to be mold-related, usually following extensive mold-exposure or exposure of someone who was highly allergic to molds.


diarrhea
difficulty concentrating
difficulty in swallowing
dirt-like taste in mouth
Disorientation: several clients have reported disorientation, memory loss, language difficulties, and mood disorders that appeared to correlate with exposure to certain molds or MVOCs in their indoor environment.
Dizziness

E
endometriosis
Eye infections, (beware of undiagnosed fungal eye infections), loss of vision
eye irritation

F
face flushing intermittent
facial movements, unexplained twitching
farmers' lung disease
fevers
fibrous discharge from the nose, nasal fibers, mucosa - (See Morgellon's syndrome or Morgellon's disease below)
Fibromyalgia - numerous websites and articles discuss possible connections between mold exposure and
Fibromyalgia - including these:

http://www.mold-survivor.com/fibromyalgia.html
http://www.swarthmore.edu/NatSci/SigmaXi/docs/PosterSummaries2003/zagory-
jessica.pdf#search=%22Fibromyalgia%20mold%20%22 - Swarthmore study
http://www.personalconsult.com/cgi-bin/htsearch - free clinical search
we have also corresponded with people who report suffering from Fibromyalgia and significant mold exposures, though the identification of genera/species and level of exposure were lacking.
Flu-like symptoms:
WARNING: flu-like symptoms can be a sign of potentially fatal carbon monoxide poisoning! Immediate help may be required.
Food allergies
frequent bloody noses
frequent infections
Fungal infections, systemic such as histoplasmosis, coccidioidomycosis, and cryptococcosis, responding to contaminated bird droppings or construction dusts

G
Glucan sensitivity: Glucans are glucose polymers that are components of most fungal cell walls, and exposure to airborne 13-beta-D-glucan has been known to cause irritation symptoms due to airway inflammation (7). However, these irritant effects are transient and self-limiting

H
hair loss
headaches
heart attack
hemorrhagic pneumonitis
Extrinsic Allergic Alveolitis - (Hypersensitivity Pneumonitis) -
heartburn
Histoplasmosis
Hives
hypersensitivity to airborne allergens or house dust
hypersensitivity to mold
Hypersensitivity Pneumonitis - (Extrinsic Allergic Alveolitis) - tightness of chest, difficulty breathing, cough, fever, muscle aches, reactions occur 6-8 hrs after exposure. - Uncommon.
hypersensitivity pneumonitis, associated with T-cell responses and responses mediated by immunoglobulin G (IgG). hypersensitivity pneumonitis is characterized by recurrent symptoms of fever, cough, and chest tightness and the presence of pulmonary infiltrates on a chest radiograph. Chronic hypersensitivity pneumonitis features progressive dyspnea, fatigue, interstitial pneumonitis, and pulmonary fibrosis (Farmer's lung)

I
Immune system deterioration, decreased resistance
indigestion
infertility
Invasive pulmonary aspergillosis - pneumonia, fever, bone pain, chills - occurs in immunocompromised patients - uncommon
irritation: aggravated existing allergic rhinitis or asthma
irritability
irritable bowel syndrome
itching skin, eye, nose, mouth
For skin-related itch and fiber complaints see your doctor. In addition to consulting your doctor who may in turn decide to refer you to a dermatologist, you might also benefit from reviewing the ITCHING & SCRATCHING RESEARCH found in our article concerning MORGELLONS SYNDROME. Also see itching related to FIBERGLASS HAZARDS.
J
judgment, loss of ability to think clearly and make decisions
K
L
learning difficulties
leaky gut syndrome
liver pain
long lasting flu-like symptoms
M
Memory loss
Menopause, unanticipated onset
Metallic taste in mouth
Migraine headaches
Mood swings, sudden


Morgellon's syndrome or Morgellon's disease: symptoms including fibers in
nasal secretions
fibers in skin and scalp particles or scrapings -
skin lesions.

According to the Mayo Clinic Staff,
Morgellons disease is a mysterious skin disorder characterized by disfiguring sores and crawling sensations on and under the skin. Although Morgellons disease isn't widely recognized as a medical diagnosis, experts from the Centers for Disease Control and Prevention (CDC) are investigating reports of the condition, which they refer to as unexplained dermopathy.

... Morgellons disease shares characteristics with various recognized conditions, including Lyme disease, liver or kidney disease, schizophrenia, drug or alcohol abuse, and a mental illness involving false beliefs about infestation by parasites (delusional parasitosis - Mayo Clinic

Please see this separate article: MORGELLONS SYNDROME

Note: OPINION-DF: various indoor environmental contaminants may in some cases be associated with skin irritation complaints, including exposure of insulation workers to high levels of contact with fiberglass insulation. In our experience skin irritation from fiberglass insulation generally diminishes rapidly and stops within 24-48 hours of bathing and thorough washing of dusty clothing.

Also see FIBERGLASS HAZARDS

Also see ITCHY FABRICS, FURNITURE and see ITCHING & SCRATCHING RESEARCH.


Mucous accumulation on back of the throat
Multiple chemical sensitivity (MCS)
Mycosis - various mycoses ascribed to mold exposure including

Aspergillosis
Blastomycosis
Candidiasis
Coccidioidomycosis
Cryptococcosis
Histoplasmosis
Paracoccidiomycosis
Sporotrichosis
Zygomycosis
also see Trichothecene poisoning (below)

Mycotoxicosis - Mycotoxins, which typically are cytotoxic, disrupt cell membranes and interfere with the synthesis of protein, RNA, and DNA The only well-documented human mycotoxicoses have been the result of ingestion rather than inhalation
also see Trichothecene poisoning (below)

N
Nasal discharge, green slime, fungus, mucous, other (See Morgellon's syndrome or Morgellon's disease above)
neck boils or round rash spots (see online photos)
night sweats and hot flashes
nose irritation
nosebleeds
numbness in face and limb
O
odors, increased sensitivity to, See ODOR DIAGNOSIS CHECKLIST, PROCEDURE
Pungent odors may initiate avoidance reactions, a generalized feeling of discomfort, breath holding, and a burning sensation on the skin
Open skin sores and lacerations
open sores on head
organic dust toxic syndrome

P
Peripheral nervous system effects
personality changes
pets, sudden odd behavior, aggressiveness, disorientation, running in circles,
stumbling, falling, respiratory disorder, sudden death, incl8uding death of pets due to pulmonary hemorraging [area of ongoing research by DJF - web author]

See: circling disease in sheep. See "The Toxic Effects of Mycotoxins on Humans, Sheep, & Possibly on Pets" discussed at MOLD EXPOSURE STANDARDS
Pets, Cryptococcosis of Cats; pet fatalities including pulmonary hemorrhaging, aberrant pet behavior similar to circling disease in sheep
poor appetite
puffy or droopy eyes


Pulmonary hemorrhaging:

Comments & OPINION on certain health risks associated with Stachybotrys chartarum - a specific "black mold"

Stachybotrys chartarum (S. atra) is a large sticky spore not easily made airborne. Stachybotrys mycotoxin was thought to cause acute pulmonary hemorrhage and death in infants, but the CDC has stated that the association has not been proved).

About 10 ng of mycotoxins are produced for every 1 million mold spores [Probably widely variable from zero to high numbers based on environmental variables as well as species variation--DF].

Assuming the mold exposure effect is cumulative, inhalation of 109 spores per hour would be required for toxic effects. This is a very low level and easily obtained in circumstances where occupants are exposed to moldy building materials during demolition or cleaning. We investigated a report of death of a large dog who breathed high levels of Stachybotrys-chartarum-contaminated air during a demoltion project.

The dog's owner informed us that the dog's veternarian reported that the animal died of acute pulmonary hemorrhage. [4] However the most common effect of high levels of exposure to this black mold among our clients has been the onset of a skin rash. We also have fielded reports of neurological effects of exposure to mycotoxins including where this fungus was present.

Therefore, [in the opinion of some experts--DF] it is unlikely that inhalation of fungal parts presumed to contain mycotoxins could produce significant human illness--particularly in a nonagricultural setting.


QR
Rashes - see Dermatitis (above) & Skin Rashes (below) and at FAQs at the end of this article.
redness of eyes
respiratory distress
Rhinitis
Ringing in ears
Runny nose

S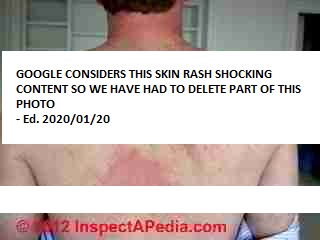 Seizures [Obseved also in animals/pets - DF]
smells, increased sensitivity to
spleen pain
shortness of breath (see Asthma, COPD, respiratory disorders)
sinus congestion
Sinusitis, cronic
Skin rashes or irritation (example of a mold-complaint-related skin rash is shown at left) - also see Dermatitis above and our FAQs below for more photographs of skin rashes reported by clients who associated the rash onset with mold exposure.
skin redness
sleep disorders (see Sleep Apathy Q&A at POST a QUESTION or READ FAQs)
slurred speech or verbal dysfunction (trouble in speaking)
sneezing fits
spitting up or vomiting mucous
swollen glands
swollen lymph nodes
Syndromes, mold-related

Chromoblastomycosis
Eye Infections
Lobomycosis
Mycetoma
Nail, Hair, and Skin disease
Onychomycosis (Tinea unguium)
Piedra
Pityriasis versicolor
Tinea barbae
Tinea capitis
Tinea corporis
Tinea cruris
Tinea favosa
Tinea nigra
Tinea pedi

Otomycosis
Phaeohyphomycosis
Rhinosporidiosis
Systemic candida infection

T
Throat irritation
Tightness in the chest (this can be a common symptom of many complaints including mold-triggered asthma attacks)
Tinea: most common fungal disease is this superficial mycosis, not linked to IAQ/building-related illness
Tremors (shaking)
Trichothecene mycotoxin poisoning symptoms & medical research
Trichothecene poisoning (Alternate names: Mycotoxins, T2, Yellow rain) - possibly related to mycotoxin exposure from some molds.
The US CDC offers lab criteria for diagnosis of Trichothecend poisoning including:

Biologic: Selected commercial laboratories are offering immunoassays to identify trichothecenes or trichothecene-specific antibodies in human blood or urine (2, 3). However, these procedures have not been analytically validated and are not recommended.
Environmental: Detection of trichothecene mycotoxins in environmental samples, as determined by FDA.
References for poisoning by mycotoxins, T2, Yellow Rain, or Trichothecenes:
Clinical Guide to Bioweapons and Chemical Agents, Vincent E. Friedewald, Springer, London, ISBN 978-1-84628-787-9 (online),
Trichothecene poisoning is discussed in depth at the US CDC website where the following references are also provided:
Wannemacher RW Jr, Wiener SL. Trichothecene mycotoxins. In: Zajtchuk R, Bellamy RF, eds. Textbook of military medicine: medical aspects of chemical and biologic warfare. Washington, DC: Office of the Surgeon General at TMM Publications, Borden Institute, Walter Reed Army Medical Center; 1997:655-77.
Croft WA, Jastromski BM, Croft AL, Peters HA. Clinical confirmation of trichothecene mycotoxicosis in patient urine. J Environ Biol 2002;23:301-20.
Vojdani A, Thrasher HD, Madison RA, Gray MR, Heuser G, Campbell AW. Antibodies to molds and satratoxin in individuals exposed in water-damaged buildings. Arch Environ Health. 2003;58:421-32.
Tuomi T, Reijula K, Johnsson T, et al. Mycotoxins in crude building materials from water-damaged buildings. Appl Environ Microbiol 2000;66:1899-904.
US CDC: "Case Definition: Trichothecene Mycotoxin", http://www.bt.cdc.gov/agent/trichothecene/casedef.asp 3/30/09 discusses the possibility of making weapons from Trichothecene mycotoxins.
Reader follow-up:
2016/11/12, Anna levis said:
The trichothecene mycotoxins produced by toxic black mold are neurotoxic. This means they can kill neurons in the brain and impair a person's mental ability. They also cause nervous disorders such as tremors and can cause personality changes such as mood swings and irritability.
Symptoms of trichothecene mycotoxin poisoning:
Aggression and other personality changes - we have observed this first-hand and also call readers' attention to sheep circling disease - Ed.
Anxiety
Brain fog
Confusion
Depression
Difficulty concentrating and paying attention
Disorientation
Dizziness
Hallucinations
Impaired learning ability
Memory loss and memory problems
Numbness
Seizure
Shaking
Shock
Shortened attention span
Slowed reflexes
Tingling
Trembling

This comment was posted originally at MOLD CLEANUP - WOOD FRAMING & PLYWOOD
Thanks, Anna,
The phrase "black mold" is very misleading.
First, not all "black molds" are toxic and that there are plenty of molds of other colors that are equally risky or health-hazards for people. See BLACK COSMETIC MOLD - not all black mold is harmful
Second, of the millions+ genera/species of molds found on earth, or even just the few hundred commonly-found in buildings, there are many mold genera/species that are not black, may be light colored, even white or light green or gray and that as harmful or even a greater health risk that the most-popular "toxic black mold" of Stachybotrys chartarum.

For example the very small and often pathogenic Aspergillus or Penicillium mold spores are very common in buildngs and probably cause far more illnesses than S. chartarum. We report and we blame what's easy to see, not necessarily what's present and most harmful.

S. chartarum is a comparatively large sticky spore that is not easily airborne, as much as 25 times larger than an Aspergillus or Penicillium mold spore. Aspergillus or Penicillium mold spores are easily airborne and can remain in the air for many hours, moving in a building more or less as would a gas riding on air currents.

Third,

Watch out

: the symptoms you listed... that you quoted from a website, are absolutely not restricted to trichothecene mycotoxin poisoning and could be caused by any of a large number of conditions, hazardous exposures, or by other health problems. People suffering from the symptoms you listed should consult with their doctor promptly and in extreme cases should seek immediate emergency medical care.
Research on trichothecene mycotoxin poisoning
MOLD ATLAS & PARTICLES INDEX - Index & photo-guide to indoor mold, pathogens, allergens, particles . Medical Health Effects of Mold, House Dust. Health Effects of Fiberglass, Animal Dander, Insect Fragments, Etc. Photographs of building mold are in this document
Rocha, O., K. Ansari, and F. M. Doohan. "Effects of trichothecene mycotoxins on eukaryotic cells: a review." Food additives and contaminants 22, no. 4 (2005): 369-378.
Sorenson, W. G., DAVID G. Frazer, BRUCE B. Jarvis, J. A. N. E. T. Simpson, and V. A. Robinson. "Trichothecene mycotoxins in aerosolized conidia of Stachybotrys atra." Applied and Environmental Microbiology 53, no. 6 (1987): 1370-1375.
Ueno, Y., N. Sato, K. Ishii, K. Sakai, H. Tsunoda, and M. Enomoto. "Biological and chemical detection of trichothecene mycotoxins of Fusarium species." Applied microbiology 25, no. 4 (1973): 699.
Krska, R., S. Baumgartner, and R. Josephs. "The state-of-the-art in the analysis of type-A and-B trichothecene mycotoxins in cereals." Fresenius' journal of analytical chemistry 371, no. 3 (2001): 285-299.
Yang, Gi-Hyeok, Bruce B. Jarvis, Yong-Joo Chung, and James J. Pestka. "Apoptosis induction by the satratoxins and other trichothecene mycotoxins: relationship to ERK, p38 MAPK, and SAPK/JNK activation." Toxicology and applied pharmacology 164, no. 2 (2000): 149-160.
Smoragiewicz, Wanda, Bruno Cossette, Armel Boutard, and Krzysztof Krzystyniak. "Trichothecene mycotoxins in the dust of ventilation systems in office buildings." International archives of occupational and environmental health 65, no. 2 (1993): 113-117.
Wannemacher, Robert W., STANLEY L. Wiener, Frederick R. Sidell, Ernest T. Takafuji, and David R. Franz. "Trichothecene mycotoxins." Medical aspects of chemical and biological warfare (1997): 655-676.
U
unexplained fevers
Upper respiratory symptoms (eg, nasal congestion, sinus headache, episodic dyspnea)
urinary tract infection (UTI)

V
Vaginal yeast infections - wee Women' health problems (below)
vertigo or dizziness
VOC sensitivity:

volatile organic chemicals may reach levels sufficient to produce central nervous system symptoms such as headache, inability to concentrate, or dizziness

vomiting (nausea)

WXYZ
Weakness, loss of strength
wheezing breath
women's health problems, nonspecific

yeast infections, vaginal, (other?) symptoms: Vaginal. Recurrent episodes of Candida vaginitis associated with the classic symptoms of pruritus, burning and abnormal discharge.

Gastrointestinal. Heartburn, bloating, diarrhea or constipation.
Respiratory allergy. Rhinitis, sneezing and/or wheezing.
Central nervous system. Anxiety, depression, memory deficits and/or loss of ability to
concentrate.
Menstrual abnormalities. Severe premenstrual tension and/or menstrual irregularities.
Other Systemic Symptoms.
Fatigue, headache and/or irritability.
Warning: this MOLD RELATED ILLNESS SYMPTOMS list is a complaint list, not a medical document. It has not been peer-reviewed by the medical profession, and this list is not in any medical sense authoritative, nor can any list of mold illness complaints or symptms be complete. Readers can not rely on this document for medical diagnosis and instead should consult with their physician or with a specialist such as a medical toxicologist.
...
Continue reading at MOLD CLEANUP GUIDE- HOW TO GET RID OF MOLD or select a topic from closely-related articles below, or see our complete INDEX to RELATED ARTICLES below.
Or see MOLD ATLAS & PARTICLES INDEX
Or see MOLD DOCTORS - ENVIRONMENTAL MEDICINE
Or see MOLD EXPOSURE STANDARDS.
Or see MOLD RELATED ILLNESS GUIDE
Or see MOLD RELATED ILLNESS FAQs - questions & answers posted originally at this article
Or see MOLD SPORES in the HOME - a Photo ID Library for detection and identification of mold allergens on indoor building surfaces and for an atlas of building molds.
Or see WHO MOLD BULLETIN
OR see these
Directories of 6 atlases or indices of building mold
Suggested citation for this web page
MOLD RELATED ILLNESS SYMPTOMS at InspectApedia.com - online encyclopedia of building & environmental inspection, testing, diagnosis, repair, & problem prevention advice.
Or use the SEARCH BOX found below to Ask a Question or Search InspectApedia
...
Frequently Asked Questions (FAQs)
Ask a Question or Search InspectApedia
Questions & answers or comments about possible symptoms of mold related illness & health complaints.
Use the "Click to Show or Hide FAQs" link just above to see recently-posted questions, comments, replies, try the search box just below, or if you prefer, post a question or comment in the Comments box below and we will respond promptly.
Search the InspectApedia website
Technical Reviewers & References
Click to Show or Hide Citations & References
[1] "Damp house linked to kids' risk of nasal allergies", New York Times, 1 Aug 2010 (Reuters Health). The New York Times reported that "Children who live in damp, water-damaged homes may be more likely than other kids to develop nasla allergies, a new study suggests." The Finnish study of 1,900 children over a six year period found that 16 percent of damp-home children were diagnosed with allergic rhinitis over the next 6 years compared with just under 12 percent of children whose parents reported no dampness problems. [NOTE: our field and lab experience indicate that homeowners are not accurate in reporting the presence of mold and dampness problems except when conditions are sufficiently severe that there is ample visible or odor evidence of mold or other contaminants.-DF]
[2] "Home Dampness and Molds as Determinants of Allergic Rhinitis in Childhood: A 6-Year, Population-based Cohort Study", Jouni J. K. Jaakkola*, Bing-Fang Hwang and Maritta S. Jaakkola, * Correspondence to Dr. Jouni J. K. Jaakkola, Institute of Health Sciences, Aapistie 1, P.O. Box 5000, 90014 Oulu, Finland (e-mail: jouni.jaakkola@oulu.fi), Accepted for publication April 8, 2010.,
The authors assessed the relation between exposure to dampness and molds in dwellings and the development of allergic rhinitis in childhood in a 6-year, population-based prospective cohort study of 1,863 children aged 1–7 years at baseline in 1991 (follow-up rate, 77%) from Espoo, Finland. The studied exposures were history of water damage, presence of moisture and visible mold, and perceived mold odor in the home, based on parent-administered questionnaire. A total of 246 (13.2%) children developed physician-diagnosed allergic rhinitis during the study period, resulting in an incidence rate of 440 cases per 10,000 person-years (95% confidence interval (CI): 387, 499). In logistic regression adjusting for confounding, any mold or dampness exposure indicator at baseline (adjusted odds ratio = 1.55, 95% CI: 1.10, 2.18), at follow-up (adjusted odds ratio = 1.62, 95% CI: 1.21, 2.18), or both (adjusted odds ratio = 1.96, 95% CI: 1.29, 2.98) was an important independent determinant of the risk of allergic rhinitis. Of the individual indicators, water damage and moisture on the surfaces were consistent determinants of allergic rhinitis. The results of this cohort study, which assessed exposure before the onset of allergic rhinitis, strengthen considerably the evidence of the role of indoor dampness problems as determinants of allergic rhinitis in children.
Keywords: air pollution, indoor; fungi; housing; rhinitis, allergic, perennial
American Journal of Epidemiology Advance Access published online on July 16, 2010
American Journal of Epidemiology, doi:10.1093/aje/kwq110
Oxford University Press
The American Journal of Epidemiology is the premier epidemiological journal devoted to the publication of empirical research findings, methodological developments in the field of epidemiological research and opinion pieces. It is aimed at both fellow epidemiologists and those who use epidemiological data, including public health workers and clinicians. ISSN: 1476-6256
[3] "Morgellons disease: managing a mysterious skin condition", The Mayo Clinic, web search 02/27/2011, original source: http://www.mayoclinic.com/health/morgellons-disease/sn00043
[4] P.I. "Onsite Mold Investigation including sick individuals, sick pets, skin rashes, death of one pe", Daniel Friedman, 6/1/2004, private investigation report, lab work, site photos, on file.
References Useful for Diagnosing Causes of Mold Related Illness
Sources for Mold Related Illness List Contents
https://InspectAPedia.com/sickhouse.htm - DJ Friedman's anecdotal reports of client's self-reported complaints
http://www.doctorfungus.org/ online mycology reference http://www.postgradmed.com/issues/2003/06_03/fung.htm
postgraduate medicine online http://www.moldinspector.com/ (informative site, sells books about mold)
http://www.cleanwaterpartners.org/mold/related-illnesses.html (Environmental Law Firm site)
http://www.dhs.ca.gov/ohb/HESIS/molds.pdf California DHS "Molds in Indoor Workplaces"
Books & Articles on Building & Environmental Inspection, Testing, Diagnosis, & Repair
Our recommended books about building & mechanical systems design, inspection, problem diagnosis, and repair, and about indoor environment and IAQ testing, diagnosis, and cleanup are at the InspectAPedia Bookstore. Also see our Book Reviews - InspectAPedia.
Environmental Health & Investigation Bibliography - our technical library on indoor air quality inspection, testing, laboratory procedures, forensic microscopy, etc.
Adkins and Adkins Dictionary of Roman Religion discusses Robigus, the Roman god of crop protection and the legendary progenitor of wheat rust fungus.
Kansas State University, department of plant pathology, extension plant pathology web page on wheat rust fungus: see http://www.oznet.ksu.edu/path-ext/factSheets/Wheat/Wheat%20Leaf%20Rust.asp
"A Brief Guide to Mold, Moisture, and Your Home", U.S. Environmental Protection Agency US EPA - includes basic advice for building owners, occupants, and mold cleanup operations. See http://www.epa.gov/mold/moldguide.htm
US EPA - Mold Remediation in Schools and Commercial Building [Copy on file at /sickhouse/EPA_Mold_Remediation_in_Schools.pdf ] - US EPA
US EPA - Una Breva Guia a Moho - Hongo [Copy on file as /sickhouse/EPA_Moho_Guia_sp.pdf - en Espanol
"A Brief Guide to Mold, Moisture, and Your Home", U.S. Environmental Protection Agency US EPA - includes basic advice for building owners, occupants, and mold cleanup operations. See http://www.epa.gov/mold/moldguide.htm
"Disease Prevention Program for Certain Vegetable Crops," David B. Langston, Jr., Extension Plant Pathologist - Vegetables, University of Georgia (PDF document) original source: www.reeis.usda.gov/web/crisprojectpages/209797.html
"Disease Prevention in Home Vegetable Gardens," Patricia Donald, Department of Plant Microbiology and Pathology, Lewis Jett
Department of Horticulture, University of Missouri Extension - extension.missouri.edu/publications/DisplayPub.aspx?P=G6202
"Management of Powdery Mildew, Leveillula taurica, in Greenhouse Peppers," Ministry of Agriculture and Lands, British Columbia - Original source: www.agf.gov.bc.ca/cropprot/peppermildew.htm
Fifth Kingdom, Bryce Kendrick, ISBN13: 9781585100224, is available from the InspectAPedia online bookstore - we recommend the CD-ROM version of this book. This 3rd/edition is a compact but comprehensive encyclopedia of all things mycological. Every aspect of the fungi, from aflatoxin to zppspores, with an accessible blend of verve and wit. The 24 chapters are filled with up-to-date information of classification, yeast, lichens, spore dispersal, allergies, ecology, genetics, plant pathology, predatory fungi, biological control, mutualistic symbioses with animals and plants, fungi as food, food spoilage and mycotoxins.
US EPA: Mold Remediation in Schools and Commercial Building [Copy on file at /sickhouse/EPA_Mold_Remediation_in_Schools.pdf ] - US EPA
Mycology, Fundamentals of Diagnostic, Fran Fisher, Norma B. Cook, W.B. Saunders Co. 1998, ISBN 0-7216-5006-6 (buy this book at Amazon)
...