Photos of Mold in Buildings
Appearance of in-situ Mold Contamination on 120 Different Materials & Surfaces
InspectAPedia tolerates no conflicts of interest. We have no relationship with advertisers, products, or services discussed at this website.
Photographs of mold growth in buildings:
Here is an extensive photo guide to fungi, mushrooms & mold growing on all kinds of surfaces of all kinds of materials found on or in buildings:
A photographic guide to the appearance of mold as it is found growing on more than 120 indoor building surfaces and materials such as building contents, furnishings, trim, walls, wood, and personal or even plastic items found in buildings. What genera & species of mold commonly grow on different building surfaces? Mold on artworks, paintings, cultural artifacts is included.
What does mold look like growing on various building & other material surfaces? Beginning here is an online reference photo library of various kinds of mold as it is found growing on a wide range of surfaces and materials found on or in buildings.
These photos of mold on indoor various materials or "mold growth substrates" may help you recognize mold in buildings, recognize probably-cosmetic mold, and recognize stuff that is not mold and does not need to be tested.
We also provide a MASTER INDEX to this topic, or you can try the page top or bottom SEARCH BOX as a quick way to find information you need.
Pictures of Mold on Various Building Surfaces and Materials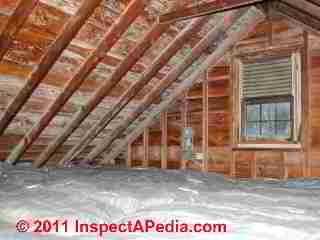 Here we provide a large collection of in-situ photographs of all types of mold growths found in buildings.
We illustrate what mold looks like on various building surfaces & materials as well as on items often found in buildings, including foods, fruits, vegetables, even water.
[Click to enlarge any image]
Directories of atlases or indices of building mold
Index to Photographs of & Notes on Mold Growing on Building Surfaces and Materials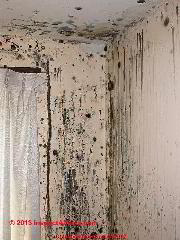 Links listed below provide photographs of mold that we have photographed, sampled, and tested on a wide range of surfaces and substances found on building surfaces or on items and contents found in buildings.
The very moldy walls, ceiling and curtain in our photo at left were observed in the home that inspired this mold-in-situ article. The home had suffered a burst heating pipe and remained wet for months. At our investigation there was mold growing on just about everything in the building including the building itself and all of its contents.
In fact it was more interesting to observe the few surfaces where there was no apparent mold growth.
Having the advantage of our own aerobiology lab and several rolls of adhesive tape, we collected many samples in this building in order to begin to learn what fungal genera/species prefer just what surfaces and materials commonly found in residential buildings.
CONTACT us to submit photographs of mold growth on other man-made or building-related materials.
Note: for page loading speed we have divided this article into several sections.
At the end of each of these mold-in-buioldngs photo collections just use the link
MOLD APPEARANCE on VARIOUS SURFACES INDEX - photo guide index

to return to this alphabetical index / list of photographs of the appearance of mold on various building materials & contents.
-- MOLD PHOTOS GROUP 1 --

-- MOLD PHOTOS GROUP 2 --

-- MOLD PHOTOS GROUP 3 --

-- MOLD PHOTOS GROUP 4 --

-- MOLD PHOTOS GROUP 5 --

-- MOLD PHOTOS GROUP 6 --

-- MOLD PHOTOS GROUP 7 --

-- MOLD PHOTOS GROUP 8 --

-- MOLD PHOTOS GROUP 9 --

-- MOLD PHOTOS GROUP 10 --

Photographs of mold found on the surface of items, materials, & surfaces found indoors
Mold on/in Air Ducts & in Air Handlers in HVAC systems
These photographs, courtesy of Florida home inspector and past ASHI President Mark Cramer illustrates mold growth in HVAC ducts and in or on an air conditioner air handler.
The most common particles found in the dust and debris in air ducts are fabric fibers and skin cells.
Dust mite fecals and insect fragments are allergens found there more often than mold. When we do identify mold in air conditioning or heating ducts it is most often found where water droplets were sprayed into the ductwork from a blower unit or where there were water leaks into or condensate in duct system.
The most common mold genera we find in this location is Cladosporium sp.
Mold on Fiberglass Air Ducts
Below: Photographs provided by an InspectApedia reader and by our own microscopy lab include a photograph of white or light gray mold growth on the interior surface of a fiberglass-lined air duct and a second photo of Pen/Asp spore chains found in this sample.
A study of this mold found Cladosporium sp., Aspergillus sp. and Penicillium sp. in heavy growth in the ductwork. Details of this air duct mold contamination study are found at FIBERGLASS AIR DUCT MOLD TEST
Also see more photos at MOLD on/in FLEX DUCT [photos]
Information about moldy air handlers and ductwork is

at PARTICLE & MOLD LEVELS in DUCTWORK
and

Mold in Air Handlers & Fan Blower Units of Air Conditioners & Furnaces
You will note that mold growth is present on the air handler insulation, on the metal surfaces of the blower assembly, on refrigerant and condensate piping, and even on the paper labeling on the blower cage.
When mold growth is on unpainted metal in an air handler it is most likely dining on organic dust and debris found on those surfaces.
Below we illustrate a dirty, mold-contaminated air conditioner blower squirrel cage fan.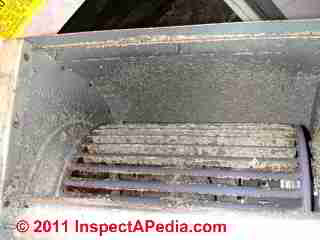 And just below we show what amounts to a small amount of mold contamination on and in the fiberglass insulation of a New York air conditioning system's blower unit.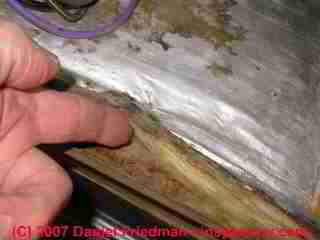 Below is our lab photo of mold collected from the air handler shown at above right - identifying this fungus as Cladosporium sp.
Important information about moldy air handlers and ductwork is at BLOWER LEAKS, RUST & MOLD.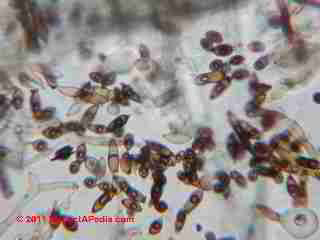 Mold on Aluminum surfaces such as building siding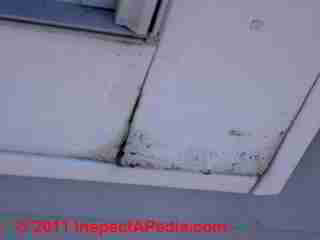 This photograph illustrates mold growth on aluminum siding and trim.
Mold on Appliances, refrigerators, etc
This photograph pair illustrates mold growth on a kitchen range fan hood (below left) and a refrigerator door surface (below right).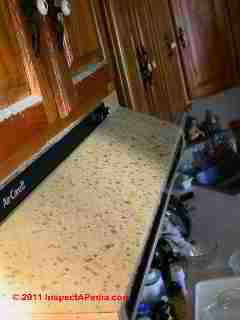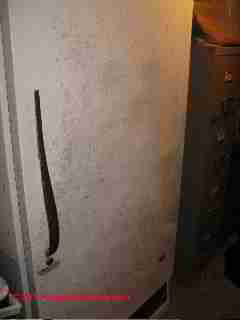 Below our pictures show mold growth on plastic controls for a kitchen stove and on the oven door handle, also a plastic component. This home had been subject to flooding that was undiscovered for weeks or longer.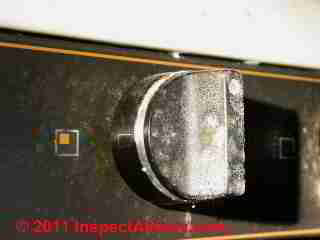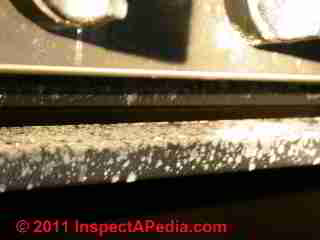 Mold on refrigerator and freezer door gaskets is common, is not likely to be a health concern in a building, should be handled by normal household cleaning, and is not illustrated here.
Mold on Art Works, paintings, painting substrates, other artworks or cultural artifacts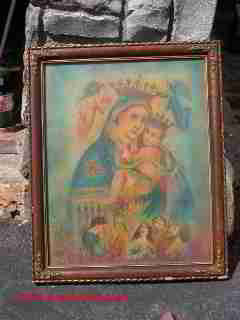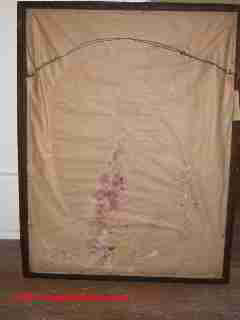 We assist museums & curators with mold diagnsosis, cure, & prevention on works of art.
Details and more illustrations of paintings or other artworks being examined for mold contamination are at MOLD on ART WORKS, TESTING FOR
At MOLD RESISTANT CONSTRUCTION we discuss methods to reduce the risk of mold growth not only on building surfaces but on and in the contents found in buildings, including works of artifacts and works of art such as paintings.
At  ART CONSERVATION - Cultural Heritage and Aerobiology we describe a text that offers some help in controlling mold and other sources of damage to paintings as well as other cultural artifacts.
Mold on Asbestos Pipe Insulation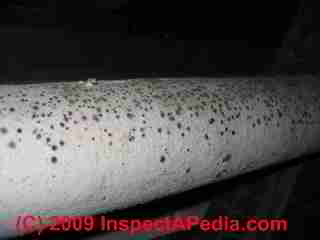 Our photo at right and our two moldy asbestos pipe insulation pictures below all show black and gray mold colonies as smaller "spots" growing on the painted surface of cloth covering asbestos pipe insulation.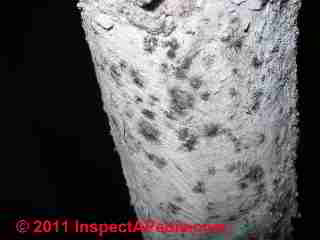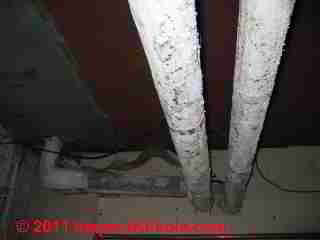 Mold on/in Attics and attic surfaces (roof sheathing)
The photographs below illustrate mold growth on plywood roof sheathing. At left is evidence of a serious roof leak or attic moisture condensation problem (black plywood) and at right a much smaller brown mold growth on the plywood roof sheathing of a newer home.
We may find mold growth like that shown at right just above a bathroom ceiling fan that vents directly into the attic space. These molds are very often Aureobasidium pullulans, C. cladosporoides, C. sphaerospermum, or Cladosporium sp. though other dark or brown molds (such as Taeoniella sp.) may be present too. Remember, mold identification by naked eye is unreliable; lab sample analysis is usually necessary.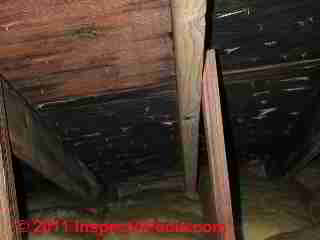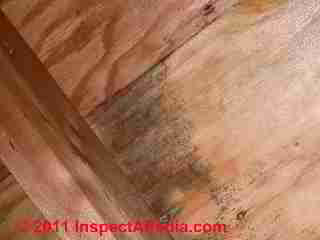 The photographs below illustrate mold growth on tongue and groove roof sheathing in an attic. These molds are often Aspergillus sp. or Penicillium sp.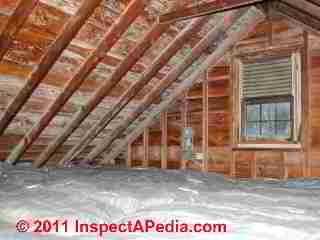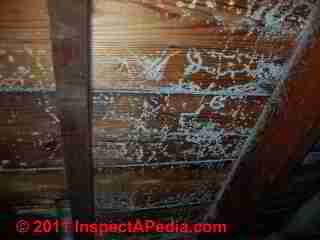 Mold on/in Attic Stairs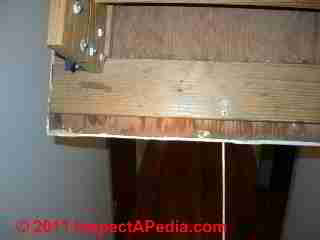 This photograph illustrates trivial, hard to spot mold growth on a pull-down attic stair.
We also have found mold growth concentrated on an attic floor around the attic stair entry opening.
We suspect that extra air movement leaking into the attic from below deposited extra moisture in that location, inviting mold growty.
Mold on/in Automobiles, boats, cars, RVs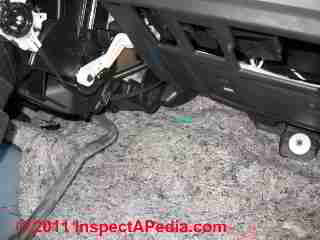 This photograph illustrates automobile floor carpet padding and sound insulation that smelled moldy even though mold was not easily visible to the naked eye. Leaks from the windshield pillars had soaked the automobile's carpet and carpet padding.
Extreme car mold contamination of most of the surfaces inside of the vechile is illustrated by our photo below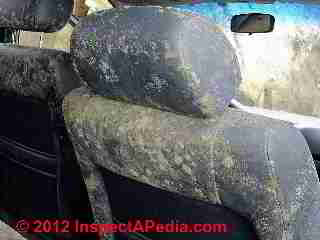 This photograph of car mold illustrates an extremely-serious case of car mold contamination - see CAR MOLD CONTAMINATION for details.
Mold on Barn Framing, new construction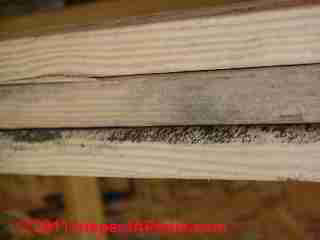 This photograph illustrates mold growth on framing lumber used in construction of a new barn.
The growth pattern and color and localization of the black mold to only individual framing members even though they were touching to form a built-up beam was compelling evidence that this mold was present on the lumber at the time of delivery - it was not growing in the structure.
Most likely this is a cosmetic mold such as Ceratocystis/Ophistoma - see Black cosmetic mold for details.
...
Continue reading at MOLD APPEARANCE on VARIOUS SURFACES_GROUP_2 to continue reviewing our photographs of mold growth on all sorts of items, building surfaces, building contents, or select a topic from closely-related articles below, or see our complete INDEX to RELATED ARTICLES below.
Or see MOLD APPEARANCE on VARIOUS SURFACES - INDEX to return to the full list of photographs of the appearance of mold on various building materials & contents.
Or see MOLD APPEARANCE - WHAT MOLD LOOKS LIKE - home
Or see MOLD by MICROSCOPE to see photos of mold under the microscope.
Suggested citation for this web page
MOLD GROWTH on SURFACES, PHOTOS at InspectApedia.com - online encyclopedia of building & environmental inspection, testing, diagnosis, repair, & problem prevention advice.
Or use the SEARCH BOX found below to Ask a Question or Search InspectApedia
...
Frequently Asked Questions (FAQs)
Try the search box below or CONTACT US by email if you cannot find the answer you need at InspectApedia.
Reader Comments:
(Aug 3, 2011) taz said:
thank you for your help! i've been trying to find out if i have mold on my window in the bedroom and looks like i do. so thanks for the pictures it really helped me.
Question: tests for mold
(June 8, 2012) Anonymous said:
Is there any tests that can be done?

Reply:
Yes you can see articles above at More Reading that list mold test resources. First I suggest seeing MOLD TEST vs. PROBLEM DIAGNOSIS
There are various "tests" for mold, but used without a thorough inspection of the building inside and out, air tests and even surface tests can be quite unreliable. Even when a test detects mold we can't know that the mold it detected is the mold that is a problem in the building unless the test was a surface sample that the investigator is confident accurately represents the dominant mold growth(s) in the building by area covered, location, etc. And by that time, by eye, you already know that mold is present.
Indeed when a careful building inspection does not immediately find a significant visible mold reservoir, we might decide to examine settled dust as well as air (much less reliable) as an additional screening test. Test results in that case are a helpful indicator that further inspection, perhaps using invasive methods such as making small test cut openings in most-suspect walls, ceilings, floors, could be in order.
Question:
(June 9, 2012) Manny said:
Can a humidifier cause mold growth in a building?
Reply:
Manny, mold is everywhere, always. High moisture conditions indoors are a gating factor in indoor mold contamination problems. So if the humidifier is not properly adjusted or is run to excess high indoor moisture would be the cause of indoor mold, not the humidifier itself.
Watch out: Failure to clean a humidifier can breed bacteria or other pathogens in the unit.
Question: black mold behind vinyl wall paper
(July 9, 2012) Lynz said:
Please help! :(
We are currently re-decorating my victorian end terrace house. The living room has dado rails and just above the rails we had powdery paint (?) settling on the dado. We brushed this off and applied a alkai-resistant primer ready to paint.
Can I just mention this was seen on the adjoining wall with next door, the external wall AND the internal archway to the dining room. When we tapped the plaster , parts sounded hallow , so then we hacked off the loose part and re-filled and plastered. This was all done weeks ago. This weekend weve started properly on the room and we took the dadorails off. This pulled off part of the plaster on the external wall where the powdery area was a problem .
Under the rail is an obvious water mark and where the plaster has pulled off theres a green/black and rough white material. Now I know in the hallway the people before use have plastered OVER existing wallpaper. Im assuming this material in the livingroom is a kind of mold/fungus? Im scared to hack off the surrounding loose plaster because I know some species can be hazardous! Im totally at the end of my sanity with this house :( Any suggestions on what I can do myself? Or who is best to contact ?
(Aug 1, 2012) diane said:
I was exposed to a aspergillus mold in my classroom for which I became very ill. I have found blue black mold on the back of vinyl wallpaper backing up to a restroom. Any suggestions on the type or pictures of mold on vinyl wallpaper?
Reply:
Diane, "black mold" on the back of vinyl wallpaper could be any of many genera/species, and furthermore the presence of "black mold" in a building should not be taken to mean that the mold you see is the biggest or most serious mold problem present - it is just what you can easily see. The presence of visible mold means that conditions are ripe for mold growth indoors - which means that a competent check of the building for the presence and extent of mold problems may be appropriate.
And no, just telling me you see mold on wallpaper is not enough to offer a reliable identification of what genera/species is present. It's true that my study of what molds grow on what surfaces in buildings indicates that certain molds prefer certain growth substrates, but there are 1.5 million genera species to choose from overall, so to determine the identity of a mold we'd need to examine a sample under a microscope.
Question: musty odor in metal filing cabinets
(Aug 14, 2012) Linda said:
I recently bought used metal filing cabinets. Once home, I noticed that they have a musty odor. It isn't noticeable unless I go very close to the inside of the cabinet drawers. These were from an architect and I believe were kept in a clean air conditioned office, but they are old so I don't know the history. What does the odor indicate? Could it be that they are just old? Have I brought something contagious into my home? Is there a way to get rid of the problem? I bought them to store artwork in, so I really don't want that odor to transfer. Thanks very much.
Reply:
Check the filing cabinets inside for signs of flooding; if the cabinets were insulated they may not be economically salvageable; if they are simple one-wall steel items they can be cleaned.
Question: Need to kill mold?
(Aug 19, 2012) ian watkins said:
we moved in to a bungalow six moths ago, every thing was bought,including the carpets. new, but we have just found the bedroom cupboards, cloths including shoes covered in a fluffy, raised and white mould/mildew,even under the carpet, the rest of the bungalow is unafected.
(Oct 13, 2012) Reyna said:
Hello, I am having a terrible allergic reaction to something and I'm not sure what, so I'm just trying to eliminate things. I built my own platform bed and when I took it apart the other day I noticed spots in the plywood where the layers had separated and there are dark spots in there. I'm not sure if this would make sense, since I have my allergy attacks everywhere (work, friends' places) and not just in my bed, but I'm just wondering if these spots are normal. They don't look like mold, they're hard and I'm not even able to scrape them off with something. Almost looks like the material tree bark is made of. I'm just confused. picture below:
(Oct 27, 2012) Gina Hansen said:
I have dark pumpkin colored growths on the outside of my refrigerator doors. It is in the pattern of mold but I don't think it is mold. I have cleaned it with comet, Tilex, bleach and even tried polish remover. It never completely removes the growth but makes it so light it isn't that noticeable unless you really get up close and inspect it. However, within a couple of days the dark growth is back and even looks worse. I can't get rid of it. Can anyone help me?! Please!!!
(Feb 7, 2014) gail mollin said:
How to kill mold on unfinished plywood in vanity under sink.
Had a water leak.

Reply:
search inspectapedia for
How to Clean Mold on Building Framing Lumber or Plywood Sheathing
to read our advice on this topic;
Basically, "killing" is not the best objective - as even dead spores can be harmful; you want to "remove" the mold by cleaning - any household cleaner is fine. If there are cosmetic objections to stains that remain (harmless) one can try cautious bleaching but otherwise it's the cleaning that is more important.
After the surface is cleaned, you can reduce the chances of new mold growth by using a sealant
Details are at MOLD ACTION GUIDE - WHAT TO DO ABOUT MOLD

Question: flooded basement, sewer backups, I'm worried.
(June 19, 2014) Danette said:
I have been renting a half house for 5 years now and have had water in the basement 3 times after the sewer pipe broke under the concrete floor in the basement. I just notices thes copper penny mushrooms growing all over the basement floor. Are they dangerous to our health? My landlord has not been over to do anything about them in 2 weeks now :( I am worried that they can cause my family and cats harm. Please any info?
Reply:
What you describe sounds like there could be serious bacterial hazards as well as mold contamination.
Detailed advice is at RENTERS & TENANTS: MOLD ADVICE
Question: hard brown foam like substance in the dog run
(Aug 1, 2014) Monica said:
I have been renting a house for 8 months and have just begun to notice a hard, brown foam-like substance that keeps appearing in the dog run. At first, I thought it was foam insulation that was coming up to the surface, since it seems to only appear against the side of the house; but since it keeps appearing even though I dig them up and throw them away, I'm starting to think they might be some kind of fungi. The dog run consists only of dirt and gravel. They are dark brown on the outside, but when broken open, they look like yellow insulation and are very light weight. Are these things harmful to my dogs and myself?
Reply:
Monica,
From just your text message I don't know what you are seeing at all. It might be a fungus or something else.
Question: mold on linoleum under the sink and at a toilet
(Nov 30, 2014) Michele said:
If I am seeing a darker color under my linoleum in the bathroom at the base of the toilet is that a sign that mold is under the linoleum? I also see the same darker coloration coming from under the linoleum that lines the bathroom sink.
Reply:
Michelle,
The dark colour could be mastic seeping upwards or stained sheet flooring from sewage water leaks OR it could be mold growing within the sheet flooring material. If wiping the surface is not fixing the trouble I suspect there is a leak or moisture problem to be found.

Question: black on styrofoam = mold?
(Jan 7, 2015) Diane said:
Why is everything that is plastic or Styrofoam is getting what looks to be black soot on them? Cups, trash bin. Some items are in the cabinets. I placed an envelope with a plastic address window on table and one day later is turning black
Reply:
Diane
We can hardly guess: there may be soil, dust, soot in the air in the area or something else. Use our CONTACT link to find our email and send me some sharp photos if you can - that may permit further comment.
Question: moldy rental property in Houghton MI
13 January 2015 Charlie said:
Hello,
Myself and three others live in a rental property in Houghton MI. There are two area i am concerned about one is a leak that was comming through the ceiling in one room and im concerned there is mold on the ceiling and in the attic (this wasn't fixed since fall), as well as i came home from a month vacation and there are grey spots in the bathroom on the ceiling and walls when we use a ceiling fan wondering if you can tell me which type of mold they are. i will send you some pictures.
Reply:
You are welcome to send us photos for comment using the email found at our CONTACT link at page top or bottom. But one cannot speciate mold from an in-situ photograph. You may need to look further or even more invasively to find where there is actionable mold contamination - follow the water.
Also see RENTERS & TENANTS: MOLD ADVICE
...
Ask a Question or Search InspectApedia
Try the search box just below, or if you prefer, post a question or comment in the Comments box below and we will respond promptly.
Search the InspectApedia website
Technical Reviewers & References
Click to Show or Hide Citations & References
Books & Articles on Building & Environmental Inspection, Testing, Diagnosis, & Repair
[1] Mark Cramer Inspection Services Mark Cramer, Tampa Florida, Mr. Cramer is a past president of ASHI, the American Society of Home Inspectors and is a Florida home inspector and home inspection educator. Contact Mark Cramer at: 727-595-4211 mark@BestTampaInspector.com
[2] Dictionary of the Fungi, 9th Ed., PM Kirk, PF Cannon, JC David, && JA Stalpers Ed., CABI Publishing 2001 ISBN 0 85199 377 X www.cabi.org UK
[3] Fifth Kingdom, The, 2nd ed., Bryce Kendrick, Mycologue Publications 1992, ISBN 0-941051-28-5
[4] Fungi From Utility Poles in the Eastern United States, Identification Manual for, CJK Wang & RA Zabel Ed., Allen Press, 1990, ISBN 0-93-0009-31-2
[5] Fungi, Identifying Filamentous, A Clinical Laboratory Handbook, Guy St-Germain, Richard Summerbell, Star Publishing, 1996, ISBN 0-89863-177-7 (English)
[6] Pictorial Atlas of Soil and Seed Fungi, , 2nd Ed., Tsuneo Watanabe, 2002 CRC Press, ISBN 0-8493-1118-7
[7] Fungus, The Whole, Vol. 1, Bryce Kendrick, Ed., National Museum of Natural Sciences (et als), 1979, ISBN 0-660-00146-2 (available from B. Kendrick, Waterloo, Canada)
Fungus, The Whole, Vol. 2, Bryce Kendrick,Ed., National Museum of Natural Sciences (et als), 1979, ISBN 0-660-00146-2 (available from B. Kendrick, Waterloo, Canada)
[8] Fusarium , Paul E. Nelson Memorial Symposium, Summerall et als. Ed., APS Press 2001, ISBN 0-89054-268-6
[9] Hyphomycetes their perfect and imperfect connexions, K. Tubaki, J Cramer 1981, ISBN 3-7682-1267-X
[10] Dematiaceous Hyphomycetes, , M.B. Ellis, CAB International 1971, ISBN 0-85198-027-8, Commonwealth Mycological Institute, Kew, Surrey, England, ABE-Print.com
[11] More Dematiaceous Hyphomycetes, M.B. Ellis, CAB International 1976, ISBN 0-85198-3650-, Commonwealth Mycological Institute, Kew, w:st="on">Surrey, England
[12] Illustrated Genera of Imperfect Fungi, 4th Ed., HL Barnett & Barry B. Hunter, American Phytopathological Society Press, St. Paul, 1998, ISBN 0-89054-192-2
[13] Microfungi on Miscellaneous Substrates, Martin B. Ellis & J.Pamela Ellis, Crook Helm, London & Sydney 1988, ISBN 0-88192-115-7
[14] Runeberg, Ulrik, "Staining and Microbiological Infestation of Acrylic Paintings on Hardboard", Ulrik Runeberg, Conservator (Dipl. Rest./M.A.), Museo de Arte Contemporáneo de Puerto Rico, San Juan Presented,April 2007 conference in Richmond Virginia, sponsored by the AIC (American Institute for Conservation), this paper discussed the staining and microbial infestation of acrylic paintings on hardboard. - private correspondence, ER <->DF 12 September 2006. The following quotation is from t
paper's abstract:
"Hardboard served as a common and popular support for many modern paintings that were carried out from the mid - 1920's, and still is used occasionally in contemporary art. Many artists rejected hardboard as an inferior industrial construction material of low aesthetical value, whereas others considered the processed and compressed wood fiber boards to be a stable, light and economic alternative to solid wood panels and other rigid supports.
"From the conservator's critical point of view, the many disadvantages of this type of support include:  high acidity, hygroscope characteristics, tendency of 'off-gassing', (>tendency of) warping, occasional flaking of painting material in the case of tempered hardboard. The deterioration of paintings on hardboard depends on a number of factors including:  the quality of the hardboard, prevailing storage conditions, and the preparation of the support by the artist. While there are many paintings on hardboard that are in very good condition, this paper will focus on those paintings that are heavily deteriorated and damaged.
"A very characteristic damage found on porous painting layers such as acrylic colour on hardboard, is the formation of stains. Generally, those stains are described without any differentiation as 'fox-spots'. The examination of various paintings concerned led to the conclusion, that there exist different kinds of stains that need to be discriminated against each other, to ensure an appropriate conservation and restoration treatment.
"This paper aims to characterize and differentiate the stains, and will provide preventive and practical treatment proposals for the conservation and restoration of affected paintings.  Questions such  as 'What are the stains composed of?' and 'Which may be the causes?' will be addressed.  Stains may consist of a variety of contents, such as: Ligneous residues, fungal infestation, bacterial activity, a combination of microbial and support induced discolouration [SID], a 'symbiotic relation' of 'SID' and fungal infestation, or the blooming of ingredients from the original painting materials. A range of microscopic analysis of the actual microbiological infestation of selected samples will be provided.  The paintings that were examined, sampled and treated, are part of the Puerto Rican heritage, and were all kept in excessive humid tropical conditions, before they entered the Conservation Department of the Museum of Contemporary Art in Puerto Rico.
"Conservation treatment options of stained paintings on hardboard will be discussed.  A high level of acidity (caused from SID and/or micro-organisms) may require measures of reduction, disinfection and neutralization. Treatment methods that reduce the ligneous stains and residues of micro-organisms, and neutralize affected areas in painting layers include stain removal through the application of soaking compresses (poultices), and de-acidification through alkaline material.
"Other aspects of deterioration, that do not have to do directly with the formation of stains, but also are typical for hardboard as painting support, will be mentioned briefly." - U.R
[15] Kuritsyna,D. S., Army Foreign Science & Technology Center, Charlottesville VA (Corporate Author), "Effect of Relative Humidity on Damage to Paintings from Mold Fungi (Vliyanie Otnositelnoi Vlazhnosti Vozdukha na Povrezhdayemost Zhivopisi Plesnevymi Gribami)," 04 Sept 1970, Accession Number : AD0719484, web search 6/2/12 original source: http://oai.dtic.mil/oai/oai?verb=getRecord&metadataPrefix=html&identifier=AD0719484 - Quoting:
Abstract : Data concerning the temperature and humidity conditions under which paintings will not be damaged by mold fungi are very limited. For this reason an investigation was made of the effect of relative humidity on the growth of fungi which damage paintings and murals. It was found that for the safeguarding of ancient Russian easel distemper paintings against damage by mold fungi they must be stored at a relative humidity of 60-70% with an admissible daily humidity fluctuation of 5%, since the level of critical relative humidity at which the growth of fungi on icons begins is above 75%. In painting galleries, where easel oil paintings constitute the majority of exhibits, the relative humidity should be kept in the range 60-65%, but not higher, since with an increase in relative humidity to 75% there is a real possibility of damage to the paintings by mold fungi. However, the storage of easel oil paintings at a relative humidity in the range 60-65% guarantees them against damage by mold fungi. In cathedrals with wall Paintingss an effort must be made to prevent relative humidity from rising above 60-65%, since even beginning with 66% there is some slight development of mold fungi. (Author)
Books & Articles on Building & Environmental Inspection, Testing, Diagnosis, & Repair
Our recommended books about building & mechanical systems design, inspection, problem diagnosis, and repair, and about indoor environment and IAQ testing, diagnosis, and cleanup are at the InspectAPedia Bookstore. Also see our Book Reviews - InspectAPedia.
The Home Reference Book - the Encyclopedia of Homes, Carson Dunlop & Associates, Toronto, Ontario, 25th Ed., 2012, is a bound volume of more than 450 illustrated pages that assist home inspectors and home owners in the inspection and detection of problems on buildings. The text is intended as a reference guide to help building owners operate and maintain their home effectively. Field inspection worksheets are included at the back of the volume. Special Offer: For a 10% discount on any number of copies of the Home Reference Book purchased as a single order. Enter INSPECTAHRB in the order payment page "Promo/Redemption" space. InspectAPedia.com editor Daniel Friedman is a contributing author.

Or choose the The Home Reference eBook for PCs, Macs, Kindle, iPad, iPhone, or Android Smart Phones. Special Offer: For a 5% discount on any number of copies of the Home Reference eBook purchased as a single order. Enter INSPECTAEHRB in the order payment page "Promo/Redemption" space.
Environmental Health & Investigation Bibliography - our technical library on indoor air quality inspection, testing, laboratory procedures, forensic microscopy, etc.
Adkins and Adkins Dictionary of Roman Religion discusses Robigus, the Roman god of crop protection and the legendary progenitor of wheat rust fungus.
Kansas State University, department of plant pathology, extension plant pathology web page on wheat rust fungus: see http://www.oznet.ksu.edu/path-ext/factSheets/Wheat/Wheat%20Leaf%20Rust.asp
"A Brief Guide to Mold, Moisture, and Your Home", U.S. Environmental Protection Agency US EPA - includes basic advice for building owners, occupants, and mold cleanup operations. See http://www.epa.gov/mold/moldguide.htm
US EPA - Mold Remediation in Schools and Commercial Building [Copy on file at /sickhouse/EPA_Mold_Remediation_in_Schools.pdf ] - US EPA
US EPA - Una Breva Guia a Moho - Hongo [Copy on file as /sickhouse/EPA_Moho_Guia_sp.pdf - en Espanol
Mold Contamination Testing, Cleanup, Prevention: references & products
The Mold Information Center: What to Do About Mold in buildings, When and How to Inspect for Mold, Clean Up Mold, or Avoid Mold Problems
Associations: Sick House, Sick Building, SBS - Air Quality, Government, Private Associations and Information Resources
Atlas of Clinical Fungi, 2nd Ed., GS deHoog, J Guarro, J Gene, & MJ Figueras, Centraalbureau voor Schimmelcultures, Universitat Rovira I Virgili, 2000, ISBN 90-70351-43-9 (you can buy this book at Amazon) - The Atlas of Clinical Fungi is also available on CD ROM
"A Brief Guide to Mold, Moisture, and Your Home", U.S. Environmental Protection Agency US EPA - includes basic advice for building owners, occupants, and mold cleanup operations. See http://www.epa.gov/mold/moldguide.htm
"Disease Prevention Program for Certain Vegetable Crops," David B. Langston, Jr., Extension Plant Pathologist - Vegetables, University of Georgia (PDF document) original source: www.reeis.usda.gov/web/crisprojectpages/209797.html
"Disease Prevention in Home Vegetable Gardens," Patricia Donald, Department of Plant Microbiology and Pathology, Lewis Jett
Department of Horticulture, University of Missouri Extension - extension.missouri.edu/publications/DisplayPub.aspx?P=G6202
"Management of Powdery Mildew, Leveillula taurica, in Greenhouse Peppers," Ministry of Agriculture and Lands, British Columbia - Original source: www.agf.gov.bc.ca/cropprot/peppermildew.htm
Environmental Health & Investigation Bibliography - our own technical library on indoor air quality inspection, testing, laboratory procedures, forensic microscopy, etc.
Fiberglass: Mold in Fiberglass Insulation© 2005 comments about a field study in process, & more about health hazards from fiberglass insulation - DJF
Fifth Kingdom, Bryce Kendrick, ISBN13: 9781585100224, is available from the InspectAPedia online bookstore - we recommend the CD-ROM version of this book. This 3rd/edition is a compact but comprehensive encyclopedia of all things mycological. Every aspect of the fungi, from aflatoxin to zppspores, with an accessible blend of verve and wit. The 24 chapters are filled with up-to-date information of classification, yeast, lichens, spore dispersal, allergies, ecology, genetics, plant pathology, predatory fungi, biological control, mutualistic symbioses with animals and plants, fungi as food, food spoilage and mycotoxins.
Fungi, Identifying Filamentous, A Clinical Laboratory Handbook, Guy St-Germain, Richard Summerbell, Star Publishing, 1996, ISBN 0-89863-177-7 (English) (buy at Amazon)
...
Publisher InspectApedia.com - Daniel Friedman