Mold MVOCs, Moldy or Musty Odors, Toxic Mold & Toxic Gas Testing Guide
MVOCs & MOLDY MUSTY ODORS - CONTENTS: Sampling methods to test for MVOCs & VOCs in buildings.What are MVOCs and mold smells or musty odors in buildings?What is the health risk of MVOC exposure? Mold Sniffing Dogs? How to test for and remove MVOCs from buildings.MVOC detection, & moisture detection as mold detection methods
POST a QUESTION or READ FAQs about testing methods for MVOCs & TVOCs or VOCs in buildings
InspectAPedia tolerates no conflicts of interest. We have no relationship with advertisers, products, or services discussed at this website.
MVOCs and mold:
This article explains MVOCs or mold volatile organic compounds, what makes MVOCs, the meaning of the presence or absence of moldy smells in buildings, and MVOC testing.
This article series lists and compares classes of mold, air, gas, test methods used in indoor air quality investigation methodology in searching for possible causes of respiratory illness, asthma, immune system disorders, rashes, skin disease, psychological and neurological disorders, eye infections, or other symptoms which may have a physiological and environmental component.
Green links show where you are. © Copyright 2017 InspectApedia.com, All Rights Reserved.
Sampling for Mold Volatile Organic Compounds - MVOCs and other Mold-Related Gases in Buildings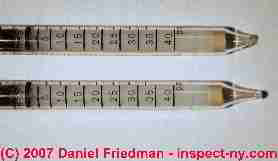 As we explain below in our comments about mold sniffing dogs, not all molds generate MVOCs, and even molds that do generate MVOC's don't do so all the time.
If the humidity, temperature, light, and other factors don't cause a particular MVOC-generating mold to release this gas, you're not going to detect it on the day of the inspection and test. Just later.
At MOLD ODORS, MUSTY SMELLS we discuss the variations in the indoor environment that can turn on or turn off mold smells in a building.
Production of toxins and microbial volatile organic compounds (MVOCs) by fungi in an environmental sample is dependent upon many factors, such as the substrate on which mold is growing, relative humidity and temperature in the moldy environment; the relative importance of each of these factors in toxin production is poorly understood.
But it is clear that the level of MVOCs in a building varies widely from none detected to high, even when the genera/species of mold present include MVOC-producing molds. That is, even an MVOC-producing mold species will not always produce detectable odors and gases.
Indoor and outdoor microbial environments are complex, dynamic and transient in nature, and sampling results will change with time. Viability of bacteria and fungi is influenced by environmental conditions such as relative humidity, available nutrients and temperature. Important microbial ecology factors, such as the presence of competing bacteria, fungi, production of anti fungal and antibacterial metabolites, and insects greatly influence viability.
According to a US EPA Mold and Water Damage Study, Some micro-organisms, including molds, also produce characteristic volatile organic compounds (VOCs) or microbial VOCs (mVOCs). Molds also contain substances known as beta glucans; mVOCs and beta glucans might be useful as markers of exposure to molds.
Some molds are capable of producing toxins (sometimes called mycotoxins) under specific environmental conditions, such as competition from other organisms or changes in the moisture or available nutrient supply. Molds capable of producing toxins are popularly known as toxigenic molds; however, use of this term is discouraged because even molds known to produce toxins can grow without producing them (6). Many fungi are capable of toxin production, and different fungi can produce the same toxin.
MVOC Testing Does Not Generally IDentify the Source of the mold smell or musty odor problem
Even if we detect MVOCs, is that the problem mold in the building? If we don't detect MVOC's does that promise there is no problem mold? No.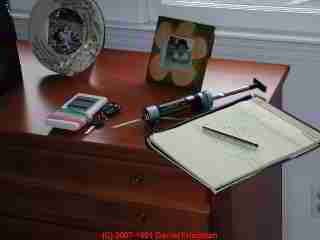 Toxic or irritating gases such as mold-produced VOC's, MVOC's, or other odors, toxic chemicals, and combustion products can be important as life-safety concerns may be involved. Unfortunately no single test or tool can detect all possible building contaminants.
We use methods and equipment which can test for common contaminants. If the identity of a specific contaminant is known in advance we can also test for a very large number of specific contaminant gases in buildings.
We use gas sampling equipment provided by the two most reliable companies in the world, Draeger-Safety's detector-tubes and Drager accuro™ bellows pump, the Gastec™ cylinder pump and detector-tube system produced by Gastec or Sensidyne, and we also use Sensidyne's Gilian air pump.
For broad screening for combustibles and a number of other toxic gases and for leak tracing we also use Amprobe's Tif8850. All of these instruments, their applications, and sensitivities (minimum detectable limits) for specific gases are described in our Gas Sampling Plan online document.
Our Indoor Gas Sampling Plan for Residential Buildings describes gas testing procedures, instruments, detection limits, and it lists some of the toxic (or other) indoor gases for which we can test, depending on the building complaint and building conditions.
Health Effects of MVOC Exposure
Depending on individual sensitivity and health, indoor air quality complaints about moldy odors or smells or MVOCs range from none to allergic or asthmatic reaction to complaints of disorientation and neurological effects.
Please see MYCOTOXIN EFFECTS of MOLD EXPOSURE.
We distinguish between building related complaints - reports from individuals that an illness appears to be related to spending time in a particular building, and scientific controlled-case studies which have documented certain relationships between exposure to various substances (such as mycotoxins) and illnesses in humans or other animals. Anecdotal evidence associating building related illnesses and mold is often compelling even when the medical research data remain incomplete.
See MOLD RELATED ILLNESS GUIDE and MOLD RELATED ILLNESS SYMPTOMS.
Mold Sniffing Dogs as a Building Screen for Mold
Client Comment on experience with mold-sniffing dog
I know you don't give much credence to the mold dog but he did point to the outer wall of the closet that was not remediated. (The inspector put a hole in the wall and tested the spot and it came out nothing.) The dog also pointed to the wall in the dining room but a little further away from where the remediation left off. (Again, the inspector did a test and found nothing.) It was uncanny that the dog identified the 2 spots that were very close to the remediation. The dog also pointed to the HVACs which were cleaned thoroughly twice (once by XXX and again by YYY.)
Mold sniffing dogs are unreliable, even though though they're fun. For details, see INEFFECTIVE MOLD PRODUCTS for an explanation of why mold sniffing dogs make poor mold detectives and why it's not good for them anyway.
There's no doubt that a dog can be trained to smell mold. Dogs have a very sensitive sense of smell and can detect very low levels of what they are trained for. What is the dog smelling? MVOCs. But there are a few shortcomings of relying on animals as mold investigators:
MVOCs often remain at low levels even in areas where mold remediation has been carried out; if our little buddy sniffs and points to a wall that has been remediated we're unsure if it's a new problem or a few molecules left from a remediated problem. There are no independent, peer reviewed studies demonstrating that we can relate a mold-dog's sniff-and-point to the completeness of a building survey for problematic mold reservoirs.
Not all molds generate MVOCs, and even molds that do generate MVOC's don't do so all the time. If the humidity, temperature, light, and other factors don't cause a particular MVOC-generating mold to release this gas, you're not going to detect it on the day of the inspection and test. Just later. Even if we detect MVOCs, is that the problem mold in the building?
Beagles & most other dogs are short as dogs go - certainlyh less than 6' 8" tall, and therefore, are not good at sniffing out MVOC's that telltale a mold problem high in a building wall or in a ceiling. Have you ever seen the mold-dog handler swing his/her partner through a loop to make a pass at a ceiling or at the top of a wall?
Beagles are cute, though.
MVOC Smell or Odor Removal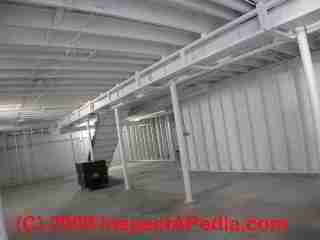 The steps in curing a moldy smell or MVOC odor complaint or getting rid of MVOCs from various sources in buildings have been moved to a separate article.
Please see MVOCs & MOLDY MUSTY ODOR REMOVAL.
Mold & MVOC & IAQ Articles
Readers should also see MOLD ODORS, MUSTY SMELLS and see MYCOTOXIN EFFECTS of MOLD EXPOSURE.
And because mold-related volatile organic compounds (MVOCs) are not the only source of VOCs in buildings, readers should also see VOCs VOLATILE ORGANIC COMPOUNDS.
...
Continue reading at MYCOTOXIN EFFECTS of MOLD EXPOSURE or select a topic from closely-related articles below, or see our complete INDEX to RELATED ARTICLES below.
Or see MOLD CLEANUP GUIDE- HOW TO GET RID OF MOLD
Or see MOLD CLEANUP - MISTAKES to AVOID
Or see MOLD / ENVIRONMENTAL EXPERT, HIRE ?
Suggested citation for this web page
MVOCs & MOLDY MUSTY ODORS at InspectApedia.com - online encyclopedia of building & environmental inspection, testing, diagnosis, repair, & problem prevention advice.
Or use the SEARCH BOX found below to Ask a Question or Search InspectApedia
...
Frequently Asked Questions (FAQs)
Try the search box below or CONTACT US by email if you cannot find the answer you need at InspectApedia.
...
Ask a Question or Search InspectApedia
Use the "Click to Show or Hide FAQs" link just above to see recently-posted questions, comments, replies, try the search box just below, or if you prefer, post a question or comment in the Comments box below and we will respond promptly.
Search the InspectApedia website
Technical Reviewers & References
Click to Show or Hide Citations & References
Mold Prevention Strategies and Possible Health Effects in the Aftermath of Hurricanes and Major Floods, by
Mary Brandt, PhD,1 Clive Brown, MBBS,2 Joe Burkhart, MS,3 Nancy Burton, MPH,3 Jean Cox-Ganser, PhD,3 Scott Damon, MAIA,2 Henry Falk, MD,4 Scott Fridkin, MD,1 Paul Garbe, DVM,2 Mike McGeehin, PhD,2 Juliette Morgan, MD,1 Elena Page MD,3 Carol Rao, ScD,1,5 Stephen Redd, MD,2 Tom Sinks, PhD,2 Douglas Trout, MD,3 Kenneth Wallingford, MS,3 David Warnock, PhD,1 David Weissman, MD3
1National Center for Infectious Diseases
2National Center for Environmental Health
3National Institute for Occupational Safety and Health
4Coordinating Center for Environmental Health and Injury Prevention
5Office of Workforce and Career Development
US EPA - original source: cdc.gov/mmwr/preview/mmwrhtml/rr5508a1.htm - this document includes a discussion of MVOCs.
Schleibinger H, Laussmann D, Brattig C, Mangler M, Eis D, Ruden H. Emission patterns and emission rates of MVOC and the possibility for predicting hidden mold damage. Indoor Air 2005;15:98--104.
HHE Report No. HETA-98-0235-2836, North View Elementary School, Eva Hnizeo, PhD., Greg Kullman, PhD, CIH, Peng-Fei Gao, PhD, CIH, June 2001 includes a description of five unique microbial volatile organic compounds (MVOCs) were detected in the basement area during investigation of mold contamination at this elementary school in Clarksburg WV. Orignal source: cdc.gov/niosh/hhe/reports/pdfs/1998-0235-2836.pdf
Kansas State University, department of plant pathology, extension plant pathology web page on wheat rust fungus: see http://www.oznet.ksu.edu/path-ext/factSheets/Wheat/Wheat%20Leaf%20Rust.asp
"A Brief Guide to Mold, Moisture, and Your Home", U.S. Environmental Protection Agency US EPA - includes basic advice for building owners, occupants, and mold cleanup operations. See http://www.epa.gov/mold/moldguide.htm
US EPA - Mold Remediation in Schools and Commercial Building [Copy on file at /sickhouse/EPA_Mold_Remediation_in_Schools.pdf ] - US EPA
US EPA - Una Breva Guia a Moho - Hongo [Copy on file as /sickhouse/EPA_Moho_Guia_sp.pdf - en Espanol
"IgG Food Allergy Testing by ELISA/EIA, What do they really tell us?" Sheryl B. Miller, MT (ASCP), PhD, Clinical Laboratory Director, Bastyr University Natural Health Clinic - ELISA testing accuracy: Here is an example of Miller's critique of ELISA http://www.betterhealthusa.com/public/282.cfm - Townsend Letter for Doctors and Patients
The critique included in that article raises compelling questions about IgG testing assays, which prompts our interest in actually screening for the presence of high levels of particles that could carry allergens - dog dander or cat dander in the case at hand.
http://www.tldp.com/issue/174/IgG%20Food%20Allergy.html contains similar criticism in another venue but interestingly by the same author, Sheryl Miller. Sheryl Miller, MT (ASCP), PhD, is an Immunologist and Associate Professor of Basic and Medical Sciences at Bastyr University in Bothell, Washington. She is also the Laboratory Director of the Bastyr Natural Health Clinic Laboratory.
Allergens: Testing for the level of exposure to animal allergens is discussed at http://www.animalhealthchannel.com/animalallergy/diagnosis.shtml (lab animal exposure study is interesting because it involves a higher exposure level in some cases
Atlas of Clinical Fungi, 2nd Ed., GS deHoog, J Guarro, J Gene, & MJ Figueras, Centraalbureau voor Schimmelcultures, Universitat Rovira I Virgili, 2000, ISBN 90-70351-43-9 (you can buy this book at Amazon) - The Atlas of Clinical Fungi is also available on CD ROM
"A Brief Guide to Mold, Moisture, and Your Home", U.S. Environmental Protection Agency US EPA - includes basic advice for building owners, occupants, and mold cleanup operations. See http://www.epa.gov/mold/moldguide.htm
"Disease Prevention Program for Certain Vegetable Crops," David B. Langston, Jr., Extension Plant Pathologist - Vegetables, University of Georgia (PDF document) original source: www.reeis.usda.gov/web/crisprojectpages/209797.html
"Disease Prevention in Home Vegetable Gardens," Patricia Donald, Department of Plant Microbiology and Pathology, Lewis Jett
Department of Horticulture, University of Missouri Extension - extension.missouri.edu/publications/DisplayPub.aspx?P=G6202
"Management of Powdery Mildew, Leveillula taurica, in Greenhouse Peppers," Ministry of Agriculture and Lands, British Columbia - Original source: www.agf.gov.bc.ca/cropprot/peppermildew.htm
Environmental Health & Investigation Bibliography - our own technical library on indoor air quality inspection, testing, laboratory procedures, forensic microscopy, etc.
Fifth Kingdom, Bryce Kendrick, ISBN13: 9781585100224, is available from the InspectAPedia online bookstore - we recommend the CD-ROM version of this book. This 3rd/edition is a compact but comprehensive encyclopedia of all things mycological. Every aspect of the fungi, from aflatoxin to zppspores, with an accessible blend of verve and wit. The 24 chapters are filled with up-to-date information of classification, yeast, lichens, spore dispersal, allergies, ecology, genetics, plant pathology, predatory fungi, biological control, mutualistic symbioses with animals and plants, fungi as food, food spoilage and mycotoxins.
Fungi, Identifying Filamentous, A Clinical Laboratory Handbook, Guy St-Germain, Richard Summerbell, Star Publishing, 1996, ISBN 0-89863-177-7 (English) (buy at Amazon)
US EPA: Mold Remediation in Schools and Commercial Building [Copy on file at /sickhouse/EPA_Mold_Remediation_in_Schools.pdf ] - US EPA
US EPA: Una Breva Guia a Moho - Hongo [Copy on file as /sickhouse/EPA_Moho_Guia_sp.pdf - en Espanol
Books & Articles on Building & Environmental Inspection, Testing, Diagnosis, & Repair