How to Perform Your Own Mold Inspection & Mold Cleanup
InspectAPedia tolerates no conflicts of interest. We have no relationship with advertisers, products, or services discussed at this website.
Do it yourself mold inspection & cleanup guide:
This article about looking for and dealing with indoor mold gives advice for an owner or occupant of a building who wants to start by doing their own mold investigation.
The steps in this document outline the procedures to find and fix a mold problem and will be sufficient for many building owners who want to do their own mold investigation, mold testing, mold cleanup, and mold prevention in their home or office.
We also provide a MASTER INDEX to this topic, or you can try the page top or bottom SEARCH BOX as a quick way to find information you need.
DO IT YOURSELF: How to Perform Your Own Mold Inspection, and Check for Mold-Causing Conditions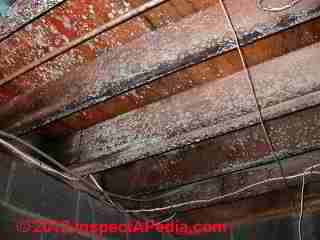 The steps in this document will be sufficient for many building owners who want to do their own mold investigation, mold testing, mold cleanup, and mold prevention in their home or office.
However do-it-yourselfers should pay close attention to what can go wrong. If you haven't already read HIRE A PROFESSIONAL? you should do so now
We encourage healthy, not-at-risk people to handle small mold problems themselves. You don't need to hire an expert to clean up moldy bath tiles or a square foot of moldy drywall. But if you are proceeding on your own, be alert for the discovery that the extent of the problem is large enough that you should stop and bring in a professional.
With these warnings made clear, continue by reviewing the next steps below - by scrolling down or by using the links at the left on any of our web pages.
If you're unsure whether to tackle mold yourself and want to know when to bring in a professional, see HIRE A PROFESSIONAL?
Reduce your exposure to mold: Examine living/working conditions for opportunities to reduce exposure to mold or other allergens.
This means don't move your sick mother into a damp moldy basement while you're painting her bedroom. More generally it means you don't need to prove that a specific mold in a building is making you sick to recognize that a problem mold is present and needs to be cleaned-up.
But if you are sick, finding out what you've been exposed to might be helpful to your doctor. I've had clients with severe mold-related illness which went unrecognized and mistreated. If you're ill, ask your doctor if there is any reason to suspect an environmental factor or if there is reason to be extra careful to avoid exposure to mold or indoor allergens.
The basic steps in dealing with any mold problem include these 3 measures
Find the mold, both visible and hidden mold reservoirs. If large areas of moldy material (more than 30 sq.ft. of contiguous moldy stuff) are present you should use a professional.
Remove the indoor mold by cleaning or disposal of moldy materials
Find and fix the causes of problem mold growth in the building so that you don't have to keep repeating this process.
Here are more details about how to proceed:
Step 1: find the problem mold reservoirs in the building
Find the Mold: Examine living/working conditions to find evidence of any mold or to determine the actual extent of mold problem in the building. Our website includes detailed articles on finding and recognizing mold both on visible surfaces and by invasive methods such as cutting small openings at areas where there is high risk of a hidden mold reservoir (such as where leaks into a wall or ceiling have occurred). See:
Step 2: remove the problem mold in the building
Clean-up the Mold: remove or clean up problem mold reservoirs. But don't be fooled into spending an outlandish sum on removing a "cosmetic" mold. Later below you'll read about stuff that is not mold or is only a cosmetic mold. We provide detailed articles on good procedures to clean up indoor mold. Don't forget that the key word in mold remediation is "remove" - we need to clean off moldy surfaces that can be cleaned and dispose of moldy materials (such as drywall and insulation) that cannot be cleaned. See:
Step 3: Fix the Cause(s) of INdoor Mold Growth
Find and Correct The Causes of the Mold: In addition to looking for reservoirs of existing mold, examine the building for evidence of leaks (current or old) or moisture problems as those often define the most-likely mold reservoirs. If there is mold in your attic, has there been a history of basement flooding?
Even if you don't see mold on exposed building surfaces, finding mold-producing conditions or events, like traces of leaks into a wall or ceiling, can tell you where a mold problem may be hidden.
Key technical articles at this website can help you find and correct the gating-factor that is most often associated with problem mold growth indoors: leaks or high moisture.
See WATER ENTRY in BUILDINGS- be sure to check this link for its extensive list of places to look for, find, & fix building water entry or moisture problems

Mold HEALTH RISKS for Building and Home Inspectors
Don't disturb mold. Bystanders and occupants have sued careless inspectors who cut openings or otherwise produced a burst of mold activity in a building.

Risks include contributing to illness of building occupants and contamination of building areas if substantial amounts of toxic mold are present and proper containment methods are not used.

This does not mean that invasive inspection techniques are prohibited--but methods of inspection need to be chosen based on the situation.
If you are in a seriously moldy area, wear a HEPA respirator. Repeated exposure to allergens can cause you to become sensitized even if you have not had problems in the past.
If appropriate, keep spectators calm by explaining that you wear the mask because you're entering buildings every day. But keep their noses out of the mold too. People who are at particular risk can get sick from a single exposure. (Examples: elderly, babies, people with compromised immune system.)
Other risks may be present, related to the same conditions which caused mold growth: Sewer backups - bacterial hazards; wet areas, damaged electrical or other mechanical components, even shock hazards.
...
Continue reading at MOLD CLEANUP GUIDE- HOW TO GET RID OF MOLD or select a topic from closely-related articles below, or see our complete INDEX to RELATED ARTICLES below.
This is a chapter of our MOLD ACTION GUIDE - WHAT TO DO ABOUT MOLD that provides an easy to understand step-by-step guide for dealing with toxic or allergenic indoor mold and other indoor contaminants: what to do about mold.
Or see MOLD APPEARANCE - WHAT MOLD LOOKS LIKE
Or see MOLD / ENVIRONMENTAL EXPERT, HIRE ?
Or see MOLD APPEARANCE - STUFF THAT IS NOT MOLD
Or see MOLD in BUILDINGS - home
Suggested citation for this web page
MOLD CLEANUP, DO IT YOURSELF at InspectApedia.com - online encyclopedia of building & environmental inspection, testing, diagnosis, repair, & problem prevention advice.
Or use the SEARCH BOX found below to Ask a Question or Search InspectApedia
...
Frequently Asked Questions (FAQs)
Try the search box below or CONTACT US by email if you cannot find the answer you need at InspectApedia.
Comments:
(June 15, 2011) spotter said:
thank you this was helpful
Question: how do we clean up mold in the bathroom?
I suspect we have mold in the bathroom of our apartment. I found your website in the course of trying to get information verifying my suspicion and to find how it might be possible to fix the problem myself (because we cannot afford to pay for commercial remediation services). I do hope that we qualify for Pro Bono assistance under your conditions for making it available.
I am 79 years old, my wife is 73. Both of us have COPD and are asthmatic, but she has emphysema and needs a humidifier and oxygen tank in the apartment (which she uses each night to be able to sleep); my breathing problems are much less severe, although I do have Apnea and have to sleep with a CPAP machine. Both of us have had cancer (in remission) and I have had a triple coronary bypass. I am living with other heart-related (valve and low EF) problems.
I'm not complaining, Daniel. Growing old is seldom easy unless one considers the alternative. But our situation is what it is, and I would like to make what is left of our lives as comfortable as possible.
I noticed recently that I have more difficulty breathing in the apartment than when I go outside (which is not really a good option because the high temperature and humidity does not represent a good tradeoff).
It is not clear to me what is the next step if we do qualify for your Pro Bono assistance. Please advise. - B.G. 7/14/12
Reply:
I would be glad to assist you but because we're working out of the U.S. I cannot offer onsite investigation nor testing for quite some time.
Do-it-yourself mold investigation advice: visual inspection for mold
It is entirely reasonable for a homeowner to make a first pass effort at tracking down a mold problem, principally by a visual inspection for obvious and visible mold contamination in the home and for visual evidence of past or current leaks or moisture problems that invite mold growth. See MOLD APPEARANCE - WHAT MOLD LOOKS LIKE.
Watch out: people who are elderly, immune impaired, asthmatic, allergic, or otherwise in fragile health are at extra risk from indoor mold and allergens or other air quality issues, and can be at still greater risks if such folks undertake their own cleanup project. From your description in my opinion you are at extra risk and should avoid disturbing mold nor other potential indoor dust, allergens, etc. And you should not let an amateur make a dusty mess in your home either.
Follow the water trail
A second level of such investigation is to look for evidence of leaks or moisture traps and investigate those areas of the building further.
For small areas of indoor mold, in my view less than 30 sq.ft., a DIY approach is also reasonable for people in good health and not sensitive or at extra risk to mold. See MOLD CLEANUP, DO IT YOURSELF
When to hire an expert
You'll see that because of potential health risks and also ultimate cleanup costs that can occur if an amateur attacks a larger indoor mold problem, I advise against tackling a larger problem - that would be when a professional service is needed.
See MOLD EXPERT, WHEN TO HIRE for help in deciding if you need to hire an expert. I'm not the only consultant who offers reduced fees or no fees whatsoever to people whose means are limited. So don't be afraid to ask others in your area for some help. It may be that local senior citizens aid associations in your community will also offer financial assistance should you need it. Check with your local office for the aging.
I also advise against superficial mold tests or screens using cultures or air tests alone, with no expert inspection. A negative mold contamination test result by itself can be quite unreliable (see MOLD TEST METHODS, ACCURACY) and even a positive mold test result is not very helpful as it may not point to the actual mold growing in the building but rather to the mold that liked the test media; even if such a test suggests that there is a mold problem it hasn't told you where to look nor what to do about it.
Question: how should I clean off moldy kitchen cabinets and shelving?
I have started to remodel my basement and in the interim my dehumidifier broke. It is a second home so it was several weeks before I replaced the dehumidifier. The contractor informed me y That there is mold growing on most of the unfinished surfaces. There are cabinets without the tops, doors, etc. how do I safely remove? Thank you, K.C. 8/15/2013
Reply: use a household cleaner, HEPA vacuum, and consider sealing wood surfaces to reduce moisture uptake & future mold growth
Any household cleaner should be fine. If you want to reduce the moisture uptake of wood and are ok with a coating, when the surfaces are clean and dry you can coat with an appropriate clear sealant or paint.

Watch out: as you'll note in our discussion above, large areas of mold generally merit cleanup by a professional.
Question: Repairs for laminate flooring that pops up and smells moldy
(Sept 5, 2014) Michele said:
Just purchased a property. Laminate popping. Looked un de rand smelled mold. What to do?
Reply:
Michele you'll need to remove the damaged flooring, clean the surfaces, find and fix the leak.
Question: fixing moldy broken shower tiles
(Jan 2, 2015) Anonymous said:
Have a tile shower with broken tiles and black color mold that continues to regrow. How do I fix this and is it safe to remove it yourself
Reply:
Anon if the mold is growing in tile grout, the total area is unlikely to be so great (more than 30 sqft of contiguous non-cosmetic mold) as to require professional cleaning (you can remove such areas yourself using normal household cleaners), nor likely to be the principal health risks in the building. It can be difficult to remove the residual mold stains in tile grout without using a bleaching cleanser or re-grouting those tiles with mold-resistant grout or caulk.
Watchout: I'm unclear what's going on with broken tiles however. I'd be worried that your bath is leaking into the wall cavity, risking a larger, more serious hidden mold problem.
Question: builder says painting prevents mold; says I should just bleach and paint it.
Victoria said:
my builder guaranteed me that the ordinary drywall (not blue board) would be effective against mold as long as it was painted first and I turned my fan on. A year later and I have a mold problem. He found that my fan wasn't properly vented (not punched thru the soffits), but said I just needed to kill mold with bleach then paint a mold-proof paint over it when completely dry. The bleach DID appear to get rid of the mold, but before I use that bathroom shower again, or paint with an anti-mold paint, am I sure I've gotten rid of the mold? Could some have gotten behind the drywall or inside it? I don't want harmful mold growing on the studs under those newly painted walls.
Reply:
"Killing" mold with bleach is the wrong approach, ineffective, potentially dangerous. If drywall is moldy it should be replaced and the cause of mold growth (moisture or leaks) repaired. If there is mold on the wood framing or in the wall cavity you'll want to clean those surfaces and you'll want to replace any insulation that was moldy or wet.
Doing a half-baked job means doing it over again later.
...
Ask a Question or Search InspectApedia
Try the search box just below, or if you prefer, post a question or comment in the Comments box below and we will respond promptly.
Search the InspectApedia website
Technical Reviewers & References
Click to Show or Hide Citations & References
Books & Articles on Building & Environmental Inspection, Testing, Diagnosis, & Repair
The Mold Information Center: What to Do About Mold in buildings, When and How to Inspect for Mold, Clean Up Mold, or Avoid Mold Problems
Aerobiology, Building Science, Microscopy, & Laboratory References, an extensive technical bibliography
Allergens: what they look like in buildings
Associations: Sick House, Sick Building, SBS - Air Quality, Government, Private Associations and Information Resources
Atlas of Clinical Fungi, 2nd Ed., GS deHoog, J Guarro, J Gene, & MJ Figueras, Centraalbureau voor Schimmelcultures, Universitat Rovira I Virgili, 2000, ISBN 90-70351-43-9 (you can buy this book at Amazon) - The Atlas of Clinical Fungi is also available on CD ROM
Atlas of Mold Related Illness: Index of Symptoms and health, physical, neurological, psychological, and other complaint which people suspect may be mold or building-related.
Atlas of Indoor Mold, Online Clinical Mold Atlas, Toxins, Pathogens, Allergens and Other Indoor Particles - Medical Health Effects of Mold (separate online document)
Black Mold that is Harmless Photos of recognizable, usually harmless black mold on wood, bluestain, ceratocystis, ophistoma
Building Floods: quick steps after a building flood or plumbing leak can prevent costly mold contamination
Classes of Mold: what types of cosmetic, allergenic, or toxic mold are a problem? Can mold be cleaned-up successfully?
Clinical Mold References - Detailed bibliography of mold reference texts
"A Brief Guide to Mold, Moisture, and Your Home", U.S. Environmental Protection Agency US EPA - includes basic advice for building owners, occupants, and mold cleanup operations. See http://www.epa.gov/mold/moldguide.htm
"Disease Prevention Program for Certain Vegetable Crops," David B. Langston, Jr., Extension Plant Pathologist - Vegetables, University of Georgia (PDF document) original source: www.reeis.usda.gov/web/crisprojectpages/209797.html
"Disease Prevention in Home Vegetable Gardens," Patricia Donald, Department of Plant Microbiology and Pathology, Lewis Jett
Department of Horticulture, University of Missouri Extension - extension.missouri.edu/publications/DisplayPub.aspx?P=G6202
"Management of Powdery Mildew, Leveillula taurica, in Greenhouse Peppers," Ministry of Agriculture and Lands, British Columbia - Original source: www.agf.gov.bc.ca/cropprot/peppermildew.htm
Environmental Health & Investigation Bibliography - our own technical library on indoor air quality inspection, testing, laboratory procedures, forensic microscopy, etc.
Fiberglass: Mold in Fiberglass Insulation© 2005 comments about a field study in process, & more about health hazards from fiberglass insulation - DJF
Fifth Kingdom, Bryce Kendrick, ISBN13: 9781585100224, is available from the InspectAPedia online bookstore - we recommend the CD-ROM version of this book. This 3rd/edition is a compact but comprehensive encyclopedia of all things mycological. Every aspect of the fungi, from aflatoxin to zppspores, with an accessible blend of verve and wit. The 24 chapters are filled with up-to-date information of classification, yeast, lichens, spore dispersal, allergies, ecology, genetics, plant pathology, predatory fungi, biological control, mutualistic symbioses with animals and plants, fungi as food, food spoilage and mycotoxins.
Fungi, Identifying Filamentous, A Clinical Laboratory Handbook, Guy St-Germain, Richard Summerbell, Star Publishing, 1996, ISBN 0-89863-177-7 (English) (buy at Amazon)
MOLD in BUILDINGS Procedure: what mold is often found where in buildings - simple technical presentation
Meruliporia: the house eating fungus or "poria"
MOLD ACTION GUIDE Step-by-Step Instructions, What to do about mold, mildew, and other indoor allergens
MOLD APPEARANCE - WHAT MOLD LOOKS LIKE Photos of what mold looks like in buildings
MOLD APPEARANCE - STUFF THAT IS NOT MOLD Photos of NOT-mold material that is sometimes mistaken for mold
MOLD ATLAS & PARTICLES INDEX, Pathogens, Allergens and Other Indoor Particles - Medical Health Effects of Mold (separate online document)
MOLD BY MICROSCOPE Mold under the microscope - photo identification of the most common indoor molds found in buildings
Mold FAQs Answers to Most Questions about Indoor Mold, Mold Related Illness, Mold Cleanup, Mold Prevention
US EPA: Mold Remediation in Schools and Commercial Building [Copy on file at /sickhouse/EPA_Mold_Remediation_in_Schools.pdf ] - US EPA
Mold spores in the Home - a Photo ID Library for detection and identification of mold allergens
Mold Test Kits - How to Collect and Send Your Own Mold Sample to our mold testing lab or to any mold lab you wish
Most Common Indoor Molds Found in buildings, A Table of
Mycology, Fundamentals of Diagnostic, Fran Fisher, Norma B. Cook, W.B. Saunders Co. 1998, ISBN 0-7216-5006-6 (buy this book at Amazon)
Ozone Warnings - Use of Ozone as a "mold" remedy is ineffective and may be dangerous.
Rot concerns in buildings-some building mold such as Meruliporia incrassata "Poria" risks serious rot and hidden structural damage
US EPA: Una Breva Guia a Moho - Hongo [Copy on file as /sickhouse/EPA_Moho_Guia_sp.pdf - en Espano
Books & Articles on Building & Environmental Inspection, Testing, Diagnosis, & Repair
Our recommended books about building & mechanical systems design, inspection, problem diagnosis, and repair, and about indoor environment and IAQ testing, diagnosis, and cleanup are at the InspectAPedia Bookstore. Also see our Book Reviews - InspectAPedia.
Environmental Health & Investigation Bibliography - our technical library on indoor air quality inspection, testing, laboratory procedures, forensic microscopy, etc.
Adkins and Adkins Dictionary of Roman Religion discusses Robigus, the Roman god of crop protection and the legendary progenitor of wheat rust fungus.
Kansas State University, department of plant pathology, extension plant pathology web page on wheat rust fungus: see http://www.oznet.ksu.edu/path-ext/factSheets/Wheat/Wheat%20Leaf%20Rust.asp
"A Brief Guide to Mold, Moisture, and Your Home", U.S. Environmental Protection Agency US EPA - includes basic advice for building owners, occupants, and mold cleanup operations. See http://www.epa.gov/mold/moldguide.htm
US EPA - Mold Remediation in Schools and Commercial Building [Copy on file at /sickhouse/EPA_Mold_Remediation_in_Schools.pdf ] - US EPA
US EPA - Una Breva Guia a Moho - Hongo [Copy on file as /sickhouse/EPA_Moho_Guia_sp.pdf - en Espanol
Allergies, Allergens, Allergy Testing in buildings - References & Products
Air Conditioning System Blower Fans & Filters Cascading for Optimum Indoor Air Quality
Allergen Tests in buildings advice about how to test, what to look for, in evaluating the level of dog, cat, or other animal allergens in a building
"IgG Food Allergy Testing by ELISA/EIA, What do they really tell us?" Sheryl B. Miller, MT (ASCP), PhD, Clinical Laboratory Director, Bastyr University Natural Health Clinic - ELISA testing accuracy: Here is an example of Miller's critique of ELISA http://www.betterhealthusa.com/public/282.cfm - Townsend Letter for Doctors and Patients
The critique included in that article raises compelling questions about IgG testing assays, which prompts our interest in actually screening for the presence of high levels of particles that could carry allergens - dog dander or cat dander in the case at hand.
http://www.tldp.com/issue/174/IgG%20Food%20Allergy.html contains similar criticism in another venue but interestingly by the same author, Sheryl Miller. Sheryl Miller, MT (ASCP), PhD, is an Immunologist and Associate Professor of Basic and Medical Sciences at Bastyr University in Bothell, Washington. She is also the Laboratory Director of the Bastyr Natural Health Clinic Laboratory.
Allergens: Testing for the level of exposure to animal allergens is discussed at http://www.animalhealthchannel.com/animalallergy/diagnosis.shtml (lab animal exposure study is interesting because it involves a higher exposure level in some cases
Allergens: WebMD discusses allergy tests for humans at webmd.com/allergies/allergy-tests
Animal Allergens: Dog, Cat, and Other Animal Dander - Cleanup & Prevention Information for Asthmatics and regarding Indoor Air Quality.
Atlas of Mold Related Illness Symptoms & Complaints - long list of both documented, studied mold related illness, and complaints ascribed to mold contamination or allergens in buildings
Cat Dander: how to inspect and test a building for past or current presence of cats, cat hair, cat dander, and cat allergens
Clinical Atlas of Mold Toxicity - An Online Description of Toxic, Pathogenic, Allergenic Fungi, Fungal Diseases
Fiberglass Insulation Contains Mold© 2005 comments about a field study in process, & more about health hazards from fiberglass insulation
Humidity: What indoor humidity should we maintain in order to avoid a mold problem?
Mold Action Guide detailed guide on finding, removing, and preventing indoor mold contamination
Odors, Odor Detection, Smells, & Gases how to find and identify sources of noxious or toxic odors and gases
Other environmental risks, Our much longer list: Asbestos, carbon monoxide, electromagnetic fields, etc.
Ozone: The Use of Ozone Indoors for Control of Odors and Mold Removal in buildings: A Summary of Hazards and False Claims.
Pollen Allergens: identification, plant pollen and indoor air quality
Products to Reduce Mold & Allergy Problems to reduce indoor mold or allergen levels: air cleaners, air purifiers, dust mite covers, vacuum cleaners, crawl space vents
Recognizing Allergens: What various indoor allergens look like - identification photos to help identify pollen, dust mites, animal dander, toxic or allergenic mold - Common Mold and other Allergens, Irritants, Remedies & Advice
Rodent control issues, including dander, fecal, and urine contamination of buildings and Building insulation are discussed at our
Sewage and Septic backup contamination in buildings: inspection, testing, remediation, & references to expert sources
Action Guide: What to do about mold, mildew, and other indoor allergens
...