Wet Moldy Carpet Contamination Response

Find, identify, test, remove or salvage rugs vs carpets
InspectAPedia tolerates no conflicts of interest. We have no relationship with advertisers, products, or services discussed at this website.
What to do with wet or mold-contaminated carpets or rugs.
Can wet or moldy carpeting and carpet padding be cleaned and retained? Area-rugs, maybe. Wall-to-wall: small-areas, maybe. Usually not.
Inspection & test procedures for wet, contaminated, moldy or smelly indoor carpeting & rugs.
This article describes how we inspect, test, and cure wet, smelly, or moldy carpeting or rugs. We discuss the risk of hidden mold under carpeting and in carpet padding and in walls around such floors.
We also provide a MASTER INDEX to this topic, or you can try the page top or bottom SEARCH BOX as a quick way to find information you need.
How to Handle Wet, Sewage- or Mold-Contaminated Carpeting & Rugs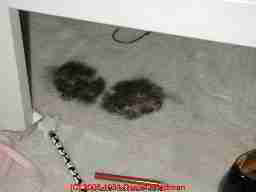 While you may see mold on carpeting in unusually severe cases, carpet, especially wall-to-wall carpeting can be a reservoir for hidden mold, mite fecal, pet dander, rodent dander, fecals, and dust, bacteria, and other allergens, pathogens, and irritants even though you cannot see anything suspicious on the carpet.
Warning signs that carpeting may be an IAQ problem source in a building:
Carpets which are visibly moldy such as in the photo above - these need to be discarded.

If only a section of carpeting has been wet and mold contaminated it might be possible to cut out the wet or moldy carpet and padding material and replace that section, seaming the replacement in place if it can be color matched, or changing it if the area is small, such as the interior of a closet.
Carpets that have been wet such as by basement water entry, a plumbing leak, roof leak, sewer line backup.

If wall-to-wall carpeting has been wet it should be removed and disposed-of along with its padding.

Small exceptions might involve a small corner are of a square foot or two that was wet by clean water and that can be pulled-back and, along with the padding and surfaces below, be completely dried in 24-48 hours.

There are services which will remove wet area rugs or carpets and clean them for reinstallation. If non-permanently-installed wet area rugs or wet area carpets are removed and cleaned and dried in 24-48 hours those might be salvageable.
If any rug or carpet was wet and stayed wet for days, regardless of whether the carpet was permanently-installed (eg tack strips or adhesive), it's history. Area rugs can often be professionally cleaned and salvaged.

If in a room where the entire floor is covered with a large area of wall to wall carpeting, and just a very small area of your carpeting has become wet or moldy, it may be more practical to cut out the damaged, wet, moldy section, plus 12" past all visible wet or damaged area, replacing or patching that section.
If you can live with the cosmetic defect of imperfectly matched carpeting the cost will be much less than a complete replacement.

Be careful: don't forget to check the entire room to be sure you're not leaving other areas of wet moldy carpeting in place. - Thanks to reader Eva for these suggestions.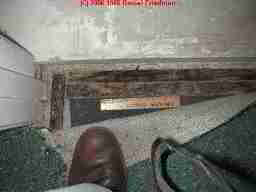 Carpets over wet padding or carpets, carpet padding, or carpet tack strips which are water stained or moldy indicating that water or condensation has been present below the carpet. The photo shown here is an example of a moldy carpet tack strip which offers a clue of a limited area of water entry in a basement although no staining was visible on the exposed top of the carpet.

Notice the small brown stain spots on the back side of this carpet? These are rust marks from the carpet tack strip - another indicator of wet conditions below this carpeting.
Carpets in basements or located on floors below grade such as in split level homes, particularly in areas where there are periods of high humidity or wide temperature swings in a building likely to produce condensation.
Carpets exposed to high pet traffic are likely to have a high level of animal dander and, depending on the building humidity history, almost always have a high level of mite fecals and other allergens - this is not a mold problem but is likely to be an IAQ problem especially for people who are asthmatic or allergic to pets.

I have tested carpets before and after home vacuuming, home HEPA vacuuming, and professional dry and wet process cleaning.
None of these methods can completely clean a carpet, though they might temporarily reduce the level of particles in the very top of the carpet nap.
Watch out: conditions that have wet a carpet or area rug may also have sent water into building wall or floor cavities. If so the risk of a significant hidden mold or bacterial hazard can justify further investigation. We discuss this concern below.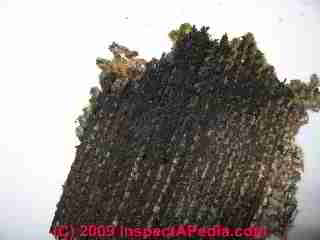 Carpet mildew diagnosis: carpeting that has light mold or smells like mold might be described by an inexperienced inspector or a building owner as mildewed carpeting. It's moldy.

Our photo of moldy carpet (left) was taken from a sample of carpeting that was the final target of a building mildew odor diagnosis procedure.

See MILDEW in BUILDINGS ?
and
see MILDEW ERRORS, IT's MOLD for details.
Carpet odors: carpeting that smells can be caused by a wide range of problems.

See ODORS GASES SMELLS, DIAGNOSIS & CURE
Carpet stains: can also be caused by a wide range of sources, some of which are harmless, others may diagnose other building problems such as a heating system that is not working properly, or building air leaks.

See CARPET STAIN DIAGNOSIS.
How to Look for Hidden bacteria, pathogens, or mold in or underneath wall to wall carpeting and carpet padding
Watch out: in our experience [DF] when a building has been wet enough to allow water to enter even just the very bottom of a wall cavity, there is a high risk of harmful and costly mold contamination of both the interior wall cavity surfaces as well as wall insulation. More advice on handling wall and floor cavities where the floors have been wet is at Step 6. FLOOD DAMAGED BUILDING CLEAN-UP for carpeting and rugs that have been wet by area or building flooding
Advice for Testing Indoor Carpeting for Mold, Bacteria, or other Pathogen Contamination
If carpeting has been wet and was not dried within about 24 hours after that event, it is likely to be moldy. If carpeting smells or looks moldy it also will almost certainly need to be replaced. But what if we don't know a carpet's history, we don't see mold on the carpet nor on it's underside, but we need to test the carpeting for mold?
If carpeting or rugs were wet by drain water or sewage backup they should be disposed-of along with their padding.
Details of our advice on testing carpeting for mold or other contaminants can be read at CARPET CONTAMINATION TEST PROCEDURE.
In addition to taking a careful case history of the leak exposure to which carpeting has been exposed, and in addition to making a thorough olfactory (subjective smell test) and visual (by eye) inspection, we on occasion test carpeting using a vacuum method, combining a vacuum pump with a sampling cassette.
Selection of the area of carpet to be tested is important: choose the most-suspect area of carpeting such as where leaks or water are likely to have been present or where there may have been cross-contamination from mold remediation in other areas of the building.
We advise against use of tape samples of a carpet upper surface to screen carpeting for mold since there is a significant risk that such methods will fail to detect problem mold that is in the carpet but not on its uppermost surface. This condition occurs, for example, when moldy carpeting has been HEPA vacuumed or cleaned.
However, if there is mold already visible on a carpet (such as is shown in the next section of this article) it may be appropriate to collect a surface sample using tape in order to identify the type of mold present when that data is needed for medical or post-remediation clearance test purposes.
How to Recognize Mold Visible on Exposed Carpeting Surfaces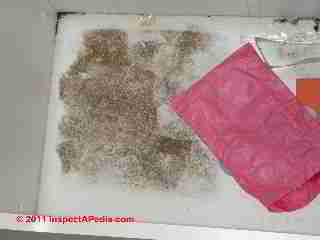 Mold visible on carpeting surfaces: As we also mentioned at CARPET PADDING ASBESTOS, MOLD, ODORS, carpets or even area rugs may not actually be mold contaminated but can smell moldy if the carpeting or padding have absorbed Mold-related Volatile Organic Compounds
( MVOCs).
In the case of the moldy carpet photo at left, we suspected that the visible carpet mold was the "tip of an iceberg" of hidden mold below.
Details about types of stains on carpeting, their cause, significance, and cure, are at CARPET STAIN DIAGNOSIS.
Watch out: carpets can absorb other odors besides mold.
And watch out for over-using ozone treatments that may oxidize building components and lead to a new and horrible chemical like smell.
See OZONE MOLD / ODOR TREATMENT WARNINGS.
Should I Test my Moldy Wall to Wall Carpeting?
Question: is a tape sample of my mold-suspect carpeting surface useful?
I took a clear tape sample of some mold on the carpet in my baby's bedroom, but I don't see any visible mold on the sample, even though I pressed fairly hard. Is that ok to send to you, or must I see the mold on the tape? I just don't want to waste anyone's time by sending an insufficient sample. S.P.
Reply: Testing a Moldy Carpet is Usually Not Needed
Thanks for asking. Our suggestions below, basically recommending that you do not have this carpet mold sample processed, are opinions based on ethics (don't peform unnecessary lab tests), and common sense, not out of a reluctance to be of service:
If the carpet is visibly moldy, smells moldy, got soaked, it almost certainly needs to be removed and disposed-of along with the padding. It is near impossible to completely clean mold from wall to wall carpeting, and trying to do so risks health issues as well as wasting money.

Toss out moldy carpet, being careful not to spread moldy dust throughout the building in the process, and clean the exposed surfaces, and of course, fix the cause of mold.
A carpet surface tape sample, unless there was visible mold, is too unlikely to represent the actual mold-condition of the carpet.

If we have a technical reason to actually determine what kinds of mold are present in carpeting, for example to allow a client to inform their doctor to what molds they've been exposed at high level, we use a vacuuming method that pulls particles from the carpet interior, under-side, top side, and carpet padding as well as checking the conditions of the subfloor below.

Details are at CARPET CONTAMINATION TEST PROCEDURE.
And if there is mold visible on the carpet surface, our first point pertains. Despite claims to wash and restore carpets, that approach has not done well in the field and lab tests we've conducted.
Some exceptions to this no-carpet-test advice / opinion
If there was only very small moldy spot caused by a limited-scope, well understood event - such as a child left a piece of apple wet-side down on the carpet- that's such a localized problem that ordinary cleaning should suffice, and replacing the carpet ought not be necessary.

That's because we know the cause, we know there was no extensive wetting nor mold growth, and we are not facing conditions that make further mold growth likely - at least not from the apple.
If occupants of the building where moldy carpeting is or has been installed need to inform their physician, pulmonologist, or allergist about the molds to which they have been exposed - in which case other building screening samples (such as settled dust) and a more thorough inspection may be in order, lest we focus on the "wrong mold" reservoir or miss something else important.
Carpeting that is not permanently installed - better called area rugs - can be removed and sent out for professional cleaning and drying and if appropriate, tested before it is reinstalled in the building.
...
Continue reading at CARPET FUNGICIDAL SPRAY or select a topic from closely-related articles below, or see our complete INDEX to RELATED ARTICLES below.
Or see MOLD CLEANUP GUIDE- HOW TO GET RID OF MOLD
Or see MOLD on/in CARPETS & Carpet Padding - more photographs
Or see CAR SMELL - Mold DEODORIZING - advice for vehicles that have been flooded or are mold-contaminated
Or see FIRE & SMOKE ODOR REMOVAL - advice for fire and fire-extinguishment-water-damaged buildings and their contents
Or see SALVAGE BUILDING CONTENTS - sorting & handling items that can or cannot be salvaged after flooding or sewage backup
Or see Step 6. FLOOD DAMAGED BUILDING CLEAN-UP for carpeting and rugs that have been wet by area or building flooding
Or see SEWAGE CLEANUP PROCEDURES & STANDARDS for carpeting or area rugs that have been wet by plumbing drain leaks or sewage backups
Or see STUDY CARPET TACK STRIPS for BUILDING WET FLOOR HISTORY
Or see these
Carpeting and IAQ Articles
Suggested citation for this web page
CARPET MOLD / ODOR TESTS at InspectApedia.com - online encyclopedia of building & environmental inspection, testing, diagnosis, repair, & problem prevention advice.
Or use the SEARCH BOX found below to Ask a Question or Search InspectApedia
...
Frequently Asked Questions (FAQs)
Try the search box below or CONTACT US by email if you cannot find the answer you need at InspectApedia.
Question:
(Dec 3, 2014) Katie said:
I want to prove that our carpet in the basement has mold. The carpet is old. Previous owner let her wet dogs in the house through the basement and it just smells musty and nasty. The carpet also is sticky even after shampooing it several times. I bought a mold testing kit from Home depot, but don't know how to go about getting a sample since the it seems that carpet is glued at all the edges to the cement floor!
Please help we have two young kids and my husband is stubborn and won't do anything without proof that it is moldy!

Reply:
Since 90% of molds won't grow on any culture whatsoever, if that's your test kit you might miss mold in the carpet. You'd want to vaccum-sample the carpet and have the particles examined for best results. Any forensic lab or particle identification lab should be able to help with particles. There are separate (expensive) tests for MVOCs. Or if the carpet is as horrible as you describe, not much is lost in cutting a sample and sending that to a lab - both carpet and its padding.
I'd add that there could be bacterial hazards, dust mite hazards, dog dander allergen hazrards for those sensitive to them or who are asthmatic, and so on.
But don't get me in between you and your husband on this one. My partner would just wait until I was out getting soused, put on a HEPA filter mask, rip up the carpet and toss it into the trash, mop and sanitize the floor, and on my return home she'd say - so Honey, what sort of new flooring would you like to put down over the concrete in the basement?
...
Ask a Question or Search InspectApedia
Try the search box just below, or if you prefer, post a question or comment in the Comments box below and we will respond promptly.
Search the InspectApedia website
Technical Reviewers & References
Click to Show or Hide Citations & References
Thanks to reader Eva R.H. for discussing the question of what percent of moldy carpet needs to be damaged to determine to replace all of it. Feb 2009
Thanks to reader S.P. for discussing carpet testing, September 2010
Daniel Friedman is retired a mold/indoor air quality investigator and home inspector who continues to work as journalist in Poughkeepsie, New York. He is a member of the American Industrial Hygiene Association and the American Society of Home Inspectors. His non-fiction articles and essays have appeared in The Journal of Light Construction, the Old House Journal, The ASHI Technical Journal, Progressive Builder and New Shelter. His news reporting and photography have appeared in the Journal of Light Construction, and in various newspapers including the New York Times, Richmond Times Dispatch, Richmond News Leader, and the Poughkeepsie Journal.
Books & Articles on Building & Environmental Inspection, Testing, Diagnosis, & Repair
Our recommended books about building & mechanical systems design, inspection, problem diagnosis, and repair, and about indoor environment and IAQ testing, diagnosis, and cleanup are at the InspectAPedia Bookstore. Also see our Book Reviews - InspectAPedia.
Environmental Health & Investigation Bibliography - our technical library on indoor air quality inspection, testing, laboratory procedures, forensic microscopy, etc.
Adkins and Adkins Dictionary of Roman Religion discusses Robigus, the Roman god of crop protection and the legendary progenitor of wheat rust fungus.
Kansas State University, department of plant pathology, extension plant pathology web page on wheat rust fungus: see http://www.oznet.ksu.edu/path-ext/factSheets/Wheat/Wheat%20Leaf%20Rust.asp
"A Brief Guide to Mold, Moisture, and Your Home", U.S. Environmental Protection Agency US EPA - includes basic advice for building owners, occupants, and mold cleanup operations. See http://www.epa.gov/mold/moldguide.htm
US EPA - Mold Remediation in Schools and Commercial Building [Copy on file at /sickhouse/EPA_Mold_Remediation_in_Schools.pdf ] - US EPA
US EPA - Una Breva Guia a Moho - Hongo [Copy on file as /sickhouse/EPA_Moho_Guia_sp.pdf - en Espanol
Mold Contamination Testing, Cleanup, Prevention: references & products
The Mold Information Center: What to Do About Mold in Buildings, When and How to Inspect for Mold, Clean Up Mold, or Avoid Mold Problems
Aerobiology, Building Science, Microscopy, & Laboratory References, an extensive technical bibliography
Allergens: what they look like in buildings
Associations: Sick House, Sick Building, SBS - Air Quality, Government, Private Associations and Information Resources
Atlas of Clinical Fungi, 2nd Ed., GS deHoog, J Guarro, J Gene, & MJ Figueras, Centraalbureau voor Schimmelcultures, Universitat Rovira I Virgili, 2000, ISBN 90-70351-43-9 (you can buy this book at Amazon) - The Atlas of Clinical Fungi is also available on CD ROM
"Disease Prevention Program for Certain Vegetable Crops," David B. Langston, Jr., Extension Plant Pathologist - Vegetables, University of Georgia (PDF document) original source: www.reeis.usda.gov/web/crisprojectpages/209797.html
"Disease Prevention in Home Vegetable Gardens," Patricia Donald, Department of Plant Microbiology and Pathology, Lewis Jett
Department of Horticulture, University of Missouri Extension - extension.missouri.edu/publications/DisplayPub.aspx?P=G6202
"Management of Powdery Mildew, Leveillula taurica, in Greenhouse Peppers," Ministry of Agriculture and Lands, British Columbia - Original source: www.agf.gov.bc.ca/cropprot/peppermildew.htm
Environmental Health & Investigation Bibliography - our own technical library on indoor air quality inspection, testing, laboratory procedures, forensic microscopy, etc.
Fiberglass: Mold in Fiberglass Insulation© 2005 comments about a field study in process, & more about health hazards from fiberglass insulation - DJF
Fifth Kingdom, Bryce Kendrick, ISBN13: 9781585100224, is available from the InspectAPedia online bookstore - we recommend the CD-ROM version of this book. This 3rd/edition is a compact but comprehensive encyclopedia of all things mycological. Every aspect of the fungi, from aflatoxin to zppspores, with an accessible blend of verve and wit. The 24 chapters are filled with up-to-date information of classification, yeast, lichens, spore dispersal, allergies, ecology, genetics, plant pathology, predatory fungi, biological control, mutualistic symbioses with animals and plants, fungi as food, food spoilage and mycotoxins.
Fungi, Identifying Filamentous, A Clinical Laboratory Handbook, Guy St-Germain, Richard Summerbell, Star Publishing, 1996, ISBN 0-89863-177-7 (English) (buy at Amazon)
US EPA: Mold Remediation in Schools and Commercial Building [Copy on file at /sickhouse/EPA_Mold_Remediation_in_Schools.pdf ] - US EPA
US EPA: Una Breva Guia a Moho - Hongo [Copy on file as /sickhouse/EPA_Moho_Guia_sp.pdf - en Espanol
OTHER IAQ ISSUES: How To Find and Address Other Indoor Air or Indoor Environment Contaminants Besides Mold
Mold or allergens may not be the only or even the main indoor environmental contaminant. Don't let media attention to mold cause so much enviro-scare fear that other, possibly more urgent hazards go un-addressed.
Publisher InspectApedia.com - Daniel Friedman