Advice for Using Bleach to Disinfect Building Surfaces or to Clean Moldy Surfaces
InspectAPedia tolerates no conflicts of interest. We have no relationship with advertisers, products, or services discussed at this website.
Bleach to kill mold? Bleach to remove stains? Bleach to disinfect surfaces or water?
This article explains the usual bleach solution used to clean or disinfect building surfaces and we describe how to use bleach to clean a moldy building surface. We explain when the standard bleach solution cleaning method is useful as well as when it's probably a big mistake.
Find here: advice on How to Use Bleach When Cleaning Moldy Building Surfaces. Mold Cleaning Mistakes to Avoid when cleaning Mold on Building Framing Lumber or Plywood Sheathing. Links to explanations of how to use bleach to disinfect water or a well.
We also provide a MASTER INDEX to this topic, or you can try the page top or bottom SEARCH BOX as a quick way to find information you need.
Green links show where you are. © Copyright 2017 InspectApedia.com, All Rights Reserved.
Guide for Using Bleach to Clean a Building Surface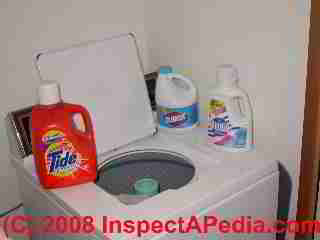 If you want to use bleach as a cleaning agent instead of other cleaners (household cleaners, or plain soap and water would work just fine for cleaning a moldy surface) here are some mold cleanup suggestions for homeowners from the Canadian Mortgage and Housing Corporation CMHC.
Watch out: Keep in mind that bleach is a powerful oxidant that is not only dangerous on skin or in eyes, but it will also bleach (whiten) the surface where you're using it, or your clothes or whatever is around if you're sloppy.
Dilute the household bleach with one part household bleach to four parts of clean water (do not add other cleaners to this solution as you may accidentally cause the release dangerous chlorine gas)
Ventilate the work area
Protect yourself: Wear rubber gloves and eye protection
Physically clean loose debris from the surface. Paper towels, rags, stuff you can wipe and throw away are ok, though if you use the same wet moldy rag to wipe everywhere you may be spreading more mold particles than you're removing. We wipe the surface using disposable materials.
Wipe or spray your bleach solution onto the surface: after physically cleaning and removing all loose mold, dirt, debris, from the surface being cleaned,
Bleaching time guide: Let the solution stand on the surface for 10-15 minutes.
Rinse the cleaned surface thoroughly
Dry: Be sure that the cleaned surfaces are totally dry before restoring any building insulation, drywall, etc.
Discard wiping rags, moldy fabrics, moldy drywall, flooded wall to wall carpet and carpet padding, or other similar materials that do not present a hard durable surface and thus cannot be surface-cleaned.
Using Bleach to clean, to disinfect, or to kill mold in buildings - Warning!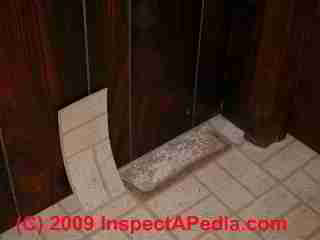 Bleaching mold in an effort to kill it, while psychologically understandable, is n ot the proper nor recommended approach to getting rid of a mold problem.
Here we explain why bleach may be satisfying, maybe even useful for cosmetic reasons, but it's not the right approach to mold remediation.
Our photo at page top shows a moldy home after flooding in Jasper Texas. The drywall and other soft materials needed to be removed, not "sprayed with bleach". But after all demolition and loose debris cleaning, use of a biocide as a final wash is common in this circumstance.
Our photo at left shows an area for further mold investigation in a basement: the cavity side of paneling in an area that has been damp or wet.
[Click to enlarge any image]
What about a small patch of mold on a bathroom wall or ceiling? This article explains the use of bleach on moldy surfaces.
Reasons Why Bleaching Mold is a Mistaken Approach to Mold Cleanup
Bleach, diluted bleach, or bleach sprays used in cleaning may be appealing but they are unnecessary, potentially dangerous (if you get bleach in your eyes), and the use of bleach tends to lead to improper and inadequate cleaning - if you substitute "spraying bleach" for actually cleaning or removing the mold your cleanup will not be successful.
Our photo (left) shows hard surfaced wall paneling and floor tiles that might be cleaned of light mold contamination using a household cleaner or a dilute bleach solution (described below). But before cleaning mold off of this wall we'd want to know about the wall cavity - if there have been leaks into the wall cavity itself, cleaning the surface alone is probably futile.
The object of mold removal is to clean the surface, to remove loose moldy material, not to try to sterilize the surface. The object of mold remediation is to clean, or remove, the majority of the mold particles (spores, conidiophores, hyphae, mycelia) from the target surface.
Certain mold-contaminated materials that cannot be cleaned (drywall, carpeting, curtains) should be discarded. Clothing and bedding linens or towels can be washed or dry-cleaned.
The operative word to fix in mind is to "clean" or "remove" the problem mold. "Killing" the mold is not the object - first of all because our lab work shows that you're unlikely to kill all of the mold on a surface using bleach, unless you use it at a concentration and duration which is so strong that you're likely to completely destroy the "bleached" material, and second of all because even if you could "kill" every mold spore, you are at risk of leaving toxic or allergenic particles in place - they may be dead but still toxic.
See MOLD KILLING GUIDE for details.
"Mold removal" by surface scrubbing only works if you're cleaning a relatively hard, non-porous surface such as finished wood, painted metal, or plastic. Soft materials like Sheetrock™ or drywall which have become moldy generally should be removed, the exposed surfaces cleaned, and then new drywall can be installed (after you've also corrected the reason for the mold growth in the first place).
Just spraying or painting-over mold with anything if spraying of fungicides or sealants is to be used in place of actual cleaning or removal of mold is an improper and inadequate practice which risks leaving a reservoir of toxic or allergenic particles in the building.
Using Bleach as a Water Disinfectant or to Shock a Well
The procedure for "shocking" a drinking water well to disinfect it as part of well servicing, repairs, or in response to bacterial contamination, is described in detail at WELL CHLORINATION & SHOCKING
The procedure for using bleach to disinfect water for drinking purposes, such as emergency purification of water in the field or following floods or storms, is described in detail at CHLORINE DISINFECTANT for Drinking Water.
How Bleach Works: Information about disinfectants & contamination cleanup procedures
How does bleach remove stains?
Household bleach is a mixture of sodium hypochlorite (0.5%) and mostly water (99.5%).
It's the sodium hypochlorite that's the active ingredient in bleach. Bleach is an oxidizing and a bleaching agent and a disinfectant. - Grant and Hackh's Chemical Dictionary, 5th ed.
The chemical formula for sodium hypochlorite is NaClO - or sodium (Na or salt), Chlorine (Cl) and Oxygen (O). In NaClO the chlorie atoms are very reactive, snagging electrons from other nearby molecules. Nearby hydrocarbons that comprise organic materials (mold) and stains (maybe dirt or food) give up electrons to the chlorine while the oxygen and chloride molecules in the bleach stick to the carbons.
Those modified carbon molecules are changed by their new passenge molecules to become highly soluble in water. Water, then, can flush those molecules away - removing the stains. Because the stain particles, now water soluble and now washed away, are physically removed from their original spot, the stain material is actually "gone" - in a favorable reaction.
How does bleach disinfect surfaces, materials, or water?
Bleach is also a really good oxidizer. Its easily-freed oxygen molecule oxidizes molecules that comprise bacteria, fungal spores (or "mold"), other organic materials (fungal hyphae or structures), and even viruses, or cells within those organisms, thus "killing" them.
The effectiveness of bleaching anything depends on the concentration of bleach and its exposure time. Higher concentrations and longer exposure increase the "kill rate" of bleach when attacking organisms.
Disinfecting water or surfaces does not necessarily physically "remove" the harmful pathogens being treated. Rather, it "kills" them.
Unlike "stain removal using bleach", to disinfect a material or surface you should first clean the surface to remove as much debris and dirt as you can.
To use bleach to disinfect dishes
For example, to disinfect dishes (not something that is normally necessary) you would first was them, then use two teaspoons of household bleach in one gallon of clean water to make a disinfecting soak. Immerse your dishes for two minutes or longer in this solutin, then drain the dishes and let them dry in the air. Don't wipe the "disinfected" dishes with your dishcloth as you'll probably be re-infecting them.
To use bleach to kill germs on surfaces
To disinfect a surface like the surface in your microbiology laboratory, use a mixture of household bleach and clean water in a ratio of 1:9, that is 1 part bleach to 9 parts water. This disinfecting solution remains usable for about 24 hours.
On very dirty surfaces such as the basement floor after you've cleaned up a sewage spill and washed the floor with detergents and rinsed it clean, you'd need a 20% solution of bleach - 1 part bleach to 4 parts clean water. That's because the high level of organics tend to neutralize the bleach by rapidly absorbing its chlorine and oxygen.
Watch out: from both field and lab experience I [DF] emphasize that bleach on very soiled, very infected, or very moldy building surfaces is not likely to kill every single organism - you would have to leave such highly-concentrated bleach on a building surface or material for so long to kill 100% of the organisms on the surface that you're likely to also oxidize and destroy the material itself.
Watch out also: do not use a stronger concentration of bleach than necessary. Aside from the safety hazards and the risks of damaging the bleached material I already cited, excessive bleach concentration (with less water) can actually make the solution less effective at disinfecting or at removing stains. Household bleach from the bottle should always be diluted with water before using ti.
Anyone (including myself) has ever experimented with over-dosing bleach on a pair of jeans only to find out that the newly-bleached jeans fell apart will know what I mean.
Bleach Concentrations to Use
Disinfecting bleach solution for hard surfaces: 1/2 cup concentrated regular bleach to 1 gallon of water, 5 minute exposure, rinse, dry. - Clorox®
Sanitizing bleach solution for hard, non-porous surfaces like dishes: 2 teaspoons of concentrated regular bleach to 1 gallon fo cool clean water; soak 2 minutes, drain, air dry - Clorox®
Disinfecting very dirty surfaces: On very dirty surfaces such as the basement floor after you've cleaned up a sewage spill and washed the floor with detergents and rinsed it clean, you'd need a 20% solution of bleach - 1 part bleach to 4 parts clean water. That's because the high level of organics tend to neutralize the bleach by rapidly absorbing its chlorine and oxygen. - Scripps.
Clorox®, "Making sure you dilute bleach", [Web article], Clorox Corporation, Tel: 1-800-292-2200, (2013), retrieved 2017/11/25, original source:
Ono, Mika, "Everything You Always Wanted to Know About Bleach But Were Afraid to Ask" [Web article], Scripps Research Institute, 10550 North Torrey Pines Road, La Jolla, CA 92037 USA, Tel: (858) 784-1000 (February 2006) retrieved 2017/11/25, original source: https://www.scripps.edu/newsandviews/e_20060213/bleach.html Author's email: mikaono[at]scripps.edu
Uses of Bleach Discussed at InspectApedia.com
At BLACK ROOF STAIN REMOVAL & PREVENTION we discuss cleaning of algae or mold stains on roof surfaces & what bleach solution formulas or other cleaners to use to remove roof stains
At BLEACH DISINFECTANT for DRINKING WATER we give the quantity or concentration of bleach needed for disinfecting drinking water in an emergency
At DISINFECTANTS & SANITIZERS, SOURCES we list suppliers of biocides, fungicidal sealants, and related mold sprays and sewage backup cleanup products.
At MOLD CLEANERS - WHAT TO USE we describe the basics of how to clean off moldy building surfaces and what simple products to use.
At MOLD SPRAYS, SEALANTS, PAINTS we provide a guide to buying and using fungicidal sprays and sealants, we describe mistakes in use of mold sprays, and we define biocide, disinfectant, sanitizer and related terms.
At FUNGICIDAL SPRAY & SEALANT USE GUIDE we provide a Guide to Use of Fungicidal Sealants on Wood Building Materials
At SEWAGE CLEANUP STANDARDS we include details of how to mix & use bleach & other disinfectants or sanitizers for building cleaning & disinfection
At SIDING, WOOD CLEANERS, STAINS, PAINTS we include formulas for bleach solution used to clean or remove stains on wood siding or trim
At WELL CHLORINATION & DISINFECTION we describe how to calculate the amount of bleach needed to disinfehttps://www.clorox.com/dr-laundry/making-sure-you-dilute-bleach/ct a well.
...
Continue reading at MOLD CLEANUP - MISTAKES to AVOID or select a topic from closely-related articles below, or see our complete INDEX to RELATED ARTICLES below.
Or see DISINFECTANTS & SANITIZERS, SOURCES
Or see FUNGICIDAL SPRAY & SEALANT USE GUIDE
Or see MOLD CLEANERS - WHAT TO USE and see MOLD PRODUCTS, INEFFECTIVE
Or see MOLD SPRAYS, SEALANTS, PAINTS
Or see SIDING, WOOD CLEANERS, STAINS, PAINTS - separate article on how to remove stains on siding & how to choose the proper paint or stain coating
Suggested citation for this web page
MOLD CLEANUP, BLEACH at InspectApedia.com - online encyclopedia of building & environmental inspection, testing, diagnosis, repair, & problem prevention advice.
Or use the SEARCH BOX found below to Ask a Question or Search InspectApedia
...
Frequently Asked Questions (FAQs)
Try the search box below or CONTACT US by email if you cannot find the answer you need at InspectApedia.
Question: I heard that using bleach straight will encapsulate the bacteria or virus
Dear friends, first of all I love your web site. It must have been a real labor of love to build. Good job. I was told a while back that one must dilute household bleach for it to disinfect a surface. I heard that by using it straight it will encapsulate the bacteria/virus' you are trying to clean. Would you know if this is true? Thank you very much for your time. B.S., Sparrow Bush NY
Reply: Nonsense. There are different reasons for diluting bleach but not the one you offer. But indeed some encapsulated pathogens such as Staphylococcus aureus are resistant to bleach disinfectants, diluted or in higher concentrations.
Bleach (hypochlorite) has been used as an effective disinfectant for more than 100 years [3] and interestingly some "environmentally safe" and "home remedies" used as alternatives are not government controlled and may be significantly less effective. (Ammonia, borax, baking soda, vinegar and one commercial antimicrobial spray product were evaluated.) [4].
We can find absolutely no basis for the claim that undiluted household bleach "encapsulates" and thus fails to treat bacteria or viral contaminants when used "full strength" as a cleaner, but there is a different reason that household bleach (laundry bleach) is diluted before use: out of the bottle, household bleach is strong enough to damage many surfaces and materials (as well as your eyes and skin) and used full strength it is also a bit difficult to rinse clean. That's the reason that for typical household cleaning uses bleach is diluted 1 part bleach to 4 parts water.
The term "encapsulation of bacteria" is, however, a real one and has been discussed among microbiologists in explaining why it is difficult to treat these pathogens in certain circumstances - but not household cleaning. [1] That may be where some confusion has arisen.
Bleach as an oxidizing biocide, at normal household cleaning dilutions, is common, widely used, safe, and effective against many pathogens.
The oxidizing biocide, ClO2, is a common disinfectant. It is safe (McDonnel and Russell 1999) and effective against a broad spectrum of bacteria, spores and viruses over a wide pH range from 2 to 8 (Huang et al. 1997; Young and Setlow 2003; Sy et al. 2005; Simonet and Gantzer 2006). The disinfection ability of ClO2 has also been reported for B. anthrax cells and spores (Canter et al. 2005), the severe acute respiratory syndrome-associated coronavirus (Wang et al. 2005) and the influenza A virus (H1N1) (Ogata and Shibata 2005).
ClO2 is a very reactive free radical molecule. Owing to its unique one-electron transfer reaction mechanism, it is also a highly selective oxidant (Gordon and Rosenblatt 2005). It attacks electron-rich centres in organic molecules (Gordon and Rosenblatt 2005) and kills micro-organisms through oxidizing their cell membranes (Berg et al. 1986) and denaturing their proteins (Ogata 2007). It breaks the inner membrane of spores preventing their proper germination (Young and Setlow 2003) and reacts with the viral envelope to cause irreparable damage and inactivation (Ogata and Shibata 2005).
ClO2 solution can be applied or sprayed directly onto the target surface for action. The disinfection ability, however, diminishes with time in terms of minutes as the ClO2 vaporizes. In enabling a longer lasting disinfection performance, ClO2 gas was generated from sodium chlorite salts stored in a polymer matrix through a reaction with an acid (Callerame 1989; Wellinghoff 1997), and the acid was either stored with the salt or formed as byproduct of polymer decomposition. This process is inevitably slow as the generation of ClO2 gas depends on the release or production of acid and its subsequent reaction with sodium chlorite. [2]
It is the case, however, that some pathogens such as Staphylococcus aureusare are indeed resistant to simple bleach as a disinfectant. Diluting or not-diluting the bleach is not pertinent to that problem nor its solution.
Staphylococcus aureus was the least susceptible to ClO2 among the tested vegetative species. Staphylococcus aureus also exhibited similar low susceptibility to a hypochlorite (i.e. bleach) solution (data not shown). This may be related to the presence of carotenoid pigments in Staph. aureus that are antioxidative and provide the bacteria with some degree of protection from oxidizing biocides. [2]
...
Ask a Question or Search InspectApedia
Questions & answers or comments about using bleach to "kill mold" or as a building surface cleaner or disinfectant.
Use the "Click to Show or Hide FAQs" link just above to see recently-posted questions, comments, replies, try the search box just below, or if you prefer, post a question or comment in the Comments box below and we will respond promptly.
Search the InspectApedia website
Technical Reviewers & References
Click to Show or Hide Citations & References
[1] Manzanera, M., S. Vilchez, and A. Tunnacliffe, "Plastic Encapsulation of Stabilized Escherichia coli and Pseudomonas putida", Applied and Environmental Microbiology, Appl. Environ. Microbiol. May 2004 vol. 70 no. 5 3143-3145, American Society for Microbiology, Abstract:
Escherichia coli and Pseudomonas putida dried in hydroxyectoine or trehalose are shown to be highly resistant to the organic solvents chloroform and acetone, and consequently, they can be encapsulated in a viable form in solid plastic materials. Bacteria are recovered by rehydration after physical disruption of the plastic. P. putida incorporated into a plastic coating of maize seeds was shown to colonize roots efficiently after germination.
[2] Leung W.K., A.P.S. Lau, K.L. Yeung, "Bactericidal and sporicidal performance of a polymer-encapsulated chlorine dioxide-coated surface", Journal of Applied Microbiology, Volume 106, Issue 5, pages 1463–1472, May 2009.

Canter, D.A., Gunning, D., Rodgers, P., O'Connor, L., Traunero, C. and Kempter, C.J. (2005) Remediation of Bacillus anthracis contamination in the U.S. Department of Justice mail facility. Biosecur Bioterror 3, 119–127.
Callerame, J. (1989) Process for the production of chlorine dioxide. US Patent 4877500, US Patent and Trademark Office.
Gordon, G. and Rosenblatt, A.A. (2005) Chlorine dioxide: the current state of the art. Ozone Sci Eng 27, 203–207.
McDonnel, G. and Russell, D. (1999) Antiseptics and disinfectants: activity, action and resistance. Clin Microbiol Rev 12, 147–179.
Huang, J., Wang, L., Ren, N. and Ma, F. (1997) Disinfection effect of chlorine dioxide on bacteria in water. Water Res 31, 607–613.
Ogata, N. (2007) Denaturation of protein by chlorine dioxide: oxidative modification of tryptophan and tyrosine residues. Biochemistry 46, 4898–4911.
Simonet, J. and Gantzer, C. (2006) Degradation of the Poliovirus 1 genome by chlorine dioxide. J Appl Microbiol 100, 862–870.
Sy, K.V., Murray, M.B., Harrison, M.D. and Beuchat, L.R. (2005) Evaluation of gaseous chlorine dioxide as a sanitizer for killing Salmonella, Escherichia coli O157 : H7, Listeria monocytogenes, and yeasts and molds on fresh and fresh–cut produce. J Food Prot 68, 1176–1187.
Young, S.B. and Setlow, P. (2003) Mechanisms of killing of Bacillus subtilis spores by hypochlorite and chlorine dioxide. J Appl Microbiol 95, 54–67.
Wang, X.W., Li, J.S., Jin, M., Zhen, B., Kong, Q.X., Song, N., Xiao, W.J., Yin, J. et al. (2005) Study on the resistance of severe acute respiratory syndrome-associated coronavirus. J Virol Methods 126, 171–177.

[3] W A Rutala and D J Weber, "Uses of inorganic hypochlorite (bleach) in health-care facilities.", Clin. Microbiol. Rev. October 1997 vol. 10 no. 4 597-610 - Summary:
Hypochlorite has been used as a disinfectant for more than 100 years. It has many of the properties of an ideal disinfectant, including a broad antimicrobial activity, rapid bactericidal action, reasonable persistence in treated potable water, ease of use, solubility in water, relative stability, relative nontoxicity at use concentrations, no poisonous residuals, no color, no staining, and low cost. The active species is undissociated hypochlorous acid (HOCl). Hypochlorites are lethal to most microbes, although viruses and vegetative bacteria are more susceptible than endospore-forming bacteria, fungi, and protozoa. Activity is reduced by the presence of heavy metal ions, a biofilm, organic material, low temperature, low pH, or UV radiation. Clinical uses in health-care facilities include hyperchlorination of potable water to prevent Legionella colonization, chlorination of water distribution systems used in hemodialysis centers, cleaning of environmental surfaces, disinfection of laundry, local use to decontaminate blood spills, disinfection of equipment, decontamination of medical waste prior to disposal, and dental therapy. Despite the increasing availability of other disinfectants, hypochlorites continue to find wide use in hospitals.
[4] Carole A. Parnes, "Efficacy of Sodium Hypochlorite Bleach and "Alternative" Products in Preventing Transfer of Bacteria to and from Inanimate Surfaces", Journal of Environmental Health, Vol. 59, 1997 - Introduction:

The use of environmentally "safe" products or "home mixtures" as alternatives for commercial products specifically manufactured for various home cleaning/disinfecting chores continues to be advocated in newspaper and magazine articles, in books, by environmental groups, and even by government agencies (Household Hazardous Waste Projects). By 1993, at least 35 states had issued guidebooks recommending the use of alternative products (1). Major reasons given by consumers for use of alternative products are: improving the environment, reducing hazards, reducing water pollution, and cost savings. At a recent environmental conference (October 1995), one participant, the author of a book recommending the use of alternative products, suggested that if one "uses fewer toxic chemicals," one's "lifestyle is healthier" and the use of "naturally sustainable ingredients" is better for the environment (2,3). However, unlike commercial products, "alternatives" and "home mixtures" are not controlled by federal safety regulations and have no precautionary labeling. They have no directions for use, nor for proper disposal. The preparations may be chemically unstable, and may degrade in the container in which they are stored. It is highly unlikely that the "alternatives" have been evaluated for environmental safety or compatibility, and they have not been registered by the Environmental Protection Agency as disinfectants.

[TABULAR DATA FOR TABLE 1 OMITTED]

Alternative products are usually recommended for cleaning kitchen and bathroom surfaces and glass, but some are suggested for disinfecting (4,5,6,7), without mention of anti-microbial efficacy. The object of disinfection is to reduce the spread of infection and disease by eliminating the causal organisms. Mechanical removal of organisms from any surface is important; however, if removal is not combined with disinfection, or if the organisms are removed from one surface only to be deposited onto another, the process has not been successful. Several studies have shown the role of surfaces in households, day care centers, and various institutions in the transmission of bacterial and viral diseases (8,9,10,11).

Two recent studies conducted to determine the antimicrobial activity of alternative products have shown that they may not be as effective as proclaimed by their advocates. A study at the University of Minnesota indicated the lack of antimicrobial efficacy of various alternative products on a plastic laminate surface in the presence of bathroom and kitchen soils (12). The "alternatives" used in these tests included those most commonly recommended for cleaning and for disinfection: ammonia, baking soda, borax, lemon juice, and vinegar. A commercial disinfectant containing bleach also was tested. The undiluted disinfectant and vinegar were most effective in reducing the number of organisms on the surfaces. The remaining alternative products showed little efficacy. No attempts were made to determine the number of viable organisms remaining on the sponges used to clean the surfaces.

Bauer et al. also utilized a single test surface (Formica[R]), which after being inoculated with bacteria, was sprayed with the test product solutions and then wiped with dampened sponges (13). Ammonia, borax, baking soda, vinegar and one commercial antimicrobial spray product were evaluated. These tests showed that only the antimicrobial product significantly reduced the number of viable organisms on the Formica[R] surface and on the sponges. None of the "alternatives" showed efficacy in either the Association of Official Analytical Chemists (AOAC) Use Dilution Test (which is required by the EPA to verify efficacy of dilutable products as disinfectants) or the EPA Non-Food Contact Sanitizer Test (in which a 3 log reduction in the number of contaminating organisms demonstrates efficacy as a sanitizer).
Books & Articles on Building & Environmental Inspection, Testing, Diagnosis, & Repair
Our recommended books about building & mechanical systems design, inspection, problem diagnosis, and repair, and about indoor environment and IAQ testing, diagnosis, and cleanup are at the InspectAPedia Bookstore. Also see our Book Reviews - InspectAPedia.
Environmental Health & Investigation Bibliography - our technical library on indoor air quality inspection, testing, laboratory procedures, forensic microscopy, etc.
Adkins and Adkins Dictionary of Roman Religion discusses Robigus, the Roman god of crop protection and the legendary progenitor of wheat rust fungus.
Kansas State University, department of plant pathology, extension plant pathology web page on wheat rust fungus: see http://www.oznet.ksu.edu/path-ext/factSheets/Wheat/Wheat%20Leaf%20Rust.asp
"A Brief Guide to Mold, Moisture, and Your Home", U.S. Environmental Protection Agency US EPA - includes basic advice for building owners, occupants, and mold cleanup operations. See http://www.epa.gov/mold/moldguide.htm
US EPA - Mold Remediation in Schools and Commercial Building [ copy on file as /sickhouse/EPA_Mold_Remediation_in_Schools.pdf ] - US EPA
US EPA - Una Breva Guia a Moho - Hongo [on file as /sickhouse/EPA_Moho_Guia_sp.pdf - - en Espanol
Allergies, Allergens, Allergy Testing in buildings - References & Products
"IgG Food Allergy Testing by ELISA/EIA, What do they really tell us?" Sheryl B. Miller, MT (ASCP), PhD, Clinical Laboratory Director, Bastyr University Natural Health Clinic - ELISA testing accuracy: Here is an example of Miller's critique of ELISA http://www.betterhealthusa.com/public/282.cfm - Townsend Letter for Doctors and Patients
The critique included in that article raises compelling questions about IgG testing assays, which prompts our interest in actually screening for the presence of high levels of particles that could carry allergens - dog dander or cat dander in the case at hand.
http://www.tldp.com/issue/174/IgG%20Food%20Allergy.html contains similar criticism in another venue but interestingly by the same author, Sheryl Miller. Sheryl Miller, MT (ASCP), PhD, is an Immunologist and Associate Professor of Basic and Medical Sciences at Bastyr University in Bothell, Washington. She is also the Laboratory Director of the Bastyr Natural Health Clinic Laboratory.
Allergens: Testing for the level of exposure to animal allergens is discussed at http://www.animalhealthchannel.com/animalallergy/diagnosis.shtml (lab animal exposure study is interesting because it involves a higher exposure level in some cases
Allergens: WebMD discusses allergy tests for humans at webmd.com/allergies/allergy-tests
...
Mold Contamination Testing, Cleanup, Prevention: references & products
The Mold Information Center: What to Do About Mold in buildings, When and How to Inspect for Mold, Clean Up Mold, or Avoid Mold Problems
Atlas of Clinical Fungi, 2nd Ed., GS deHoog, J Guarro, J Gene, & MJ Figueras, Centraalbureau voor Schimmelcultures, Universitat Rovira I Virgili, 2000, ISBN 90-70351-43-9 (you can buy this book at Amazon)
"Disease Prevention Program for Certain Vegetable Crops," David B. Langston, Jr., Extension Plant Pathologist - Vegetables, University of Georgia (PDF document) original source: www.reeis.usda.gov/web/crisprojectpages/209797.html
"Disease Prevention in Home Vegetable Gardens," Patricia Donald, Department of Plant Microbiology and Pathology, Lewis Jett
Department of Horticulture, University of Missouri Extension - extension.missouri.edu/publications/DisplayPub.aspx?P=G6202
"Management of Powdery Mildew, Leveillula taurica, in Greenhouse Peppers," Ministry of Agriculture and Lands, British Columbia - Original source: www.agf.gov.bc.ca/cropprot/peppermildew.htm
Environmental Health & Investigation Bibliography - our own technical library on indoor air quality inspection, testing, laboratory procedures, forensic microscopy, etc.
Fiberglass: Mold in Fiberglass Insulation© 2005 comments about a field study in process, & more about health hazards from fiberglass insulation - DJF
Fifth Kingdom, Bryce Kendrick, ISBN13: 9781585100224, is available from the InspectAPedia online bookstore - we recommend the CD-ROM version of this book. This 3rd/edition is a compact but comprehensive encyclopedia of all things mycological. Every aspect of the fungi, from aflatoxin to zppspores, with an accessible blend of verve and wit. The 24 chapters are filled with up-to-date information of classification, yeast, lichens, spore dispersal, allergies, ecology, genetics, plant pathology, predatory fungi, biological control, mutualistic symbioses with animals and plants, fungi as food, food spoilage and mycotoxins.
Fungi, Identifying Filamentous, A Clinical Laboratory Handbook, Guy St-Germain, Richard Summerbell, Star Publishing, 1996, ISBN 0-89863-177-7 (English) (buy at Amazon)
US EPA: Una Breva Guia a Moho - Hongo [on file as /sickhouse/EPA_Moho_Guia_sp.pdf - - en Espanol
OTHER IAQ ISSUES: How To Find and Address Other Indoor Air or Indoor Environment Contaminants Besides Mold
Mold or allergens may not be the only or even the main indoor environmental contaminant. Don't let media attention to mold cause so much enviro-scare fear that other, possibly more urgent hazards go un-addressed.
Rodents, Mice, Squirrel Control - I find high levels of mouse and rodent dander, fecal dust, and urine-contaminated dust in some buildings, and high levels of these materials in building insulation in those locations. If you have a mouse problem, particularly if mice and their waste (fecals or urine) are contaminating the building HVAC or building insulation, may need both steps to clean up or remove infected materials and steps to stop an ongoing rodent problem. If squirrels are a problem, the cleanup needs to include closing off entry openings into the building. Get some help from a licensed pest control expert.
...