History & Photo of Nails
Age of Antique Nails & Cut Nails Indicate Building Age
InspectAPedia tolerates no conflicts of interest. We have no relationship with advertisers, products, or services discussed at this website.
Antique & modern Nails, including wood treenails, hand-wrought nails, cut nails, wire nails, compared.
Here we describe antique and modern cut nails focusing on tree nails, wrought nails, and cut nails used in wood frame construction or interior finishing or carpentry work.
We include useful dates for the manufacture of different nail types.
The history, number and types of nails is both interesting and enormous, even if we confine our discussion to just those used in the construction of buildings. We continue to add examples and photographs here and welcome readers to CONTACT US with contributions or suggestions.
This article series describes and illustrates antique & modern hardware: door knobs, latches, hinges, window latches, hardware, nails & screws can help determine a building's age by noting how those parts were fabricated: by hand, by machine, by later generations of machine.
We also provide a MASTER INDEX to this topic, or you can try the page top or bottom SEARCH BOX as a quick way to find information you need.
History of Nails & Building Hardware - Nail Photographs & Nails as Indicators of Building Age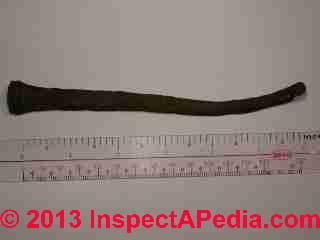 As a carpenter's nails are divided into wrought nails and cut nails; so mankind may be similarly divided. Little Flask was one of the wrought ones; made to clinch tight and last long. - Herman Melville, Moby Dick.
An examination of nails and fasteners and other building hardware is a complimentary effort useful in determining the age of a building and its components.
[Click to enlarge any image]
A close observation of the type of fasteners used in a building is one of the most popular means of estimating its age.
The three types of nails found in North American construction include hand wrought nails, machine cut nails, modern round "wire" nails.
Nelson (NPS) and other nail chronologists point out, however that a wealth other details can describe the date of production and use of each of those three general nail types. In turn, nail details can establish the time of original construction of a building and the time of modifications to the structure.
In addition to nails, building material, wood saw cut marks, and other hardware details can further assist in determining building age.
The nail shown above in the photo and detailed further below was hand-made in the Northeastern U.S. before 1800 but could be still earlier.
To provide a chronology of the production and types of nails we first describe wooden nails or "tree nails" followed by a chronological list of useful dates for iron nails.
Wooden nails - Tree Nails or Treenails, Post & Beam Construction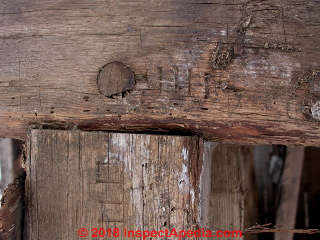 At AGE of a BUILDING, HOW to DETERMINE we note the following:
Post and beam construction (1700 - est. in North America): (timber framing) uses horizontal and vertical timbers that are connected (joined) using mortise and tenon joints pinned with wood pegs (treenails).
Timber frame construction initially used hand hewn beams, later manually or mechanically sawn beams cut by a pit saw. Later timber frame beams were sawn in mills using circular saws.
Timber framing using post and beam construction with mortise and tenon joint connections was used in Europe for at least 500 years before it was first employed in North America.
In our photo you can see the round sawn-off peg that secured the tenon of the lower vertical post into the mortise that had been cut into the horizontal beam.
The posts and beams were cut to size, mortises and tenons were cut, and the builders marked the corresponding joint components with numbers or letters - in my photo you can see the
I I I I
and
_
_
_
_
stamped into both the vertical post and horizontal beam to aid in assembly.
Below you can see the Treenail joining two rafters at the ridge of this 1790 home near Poughkeepsie New York.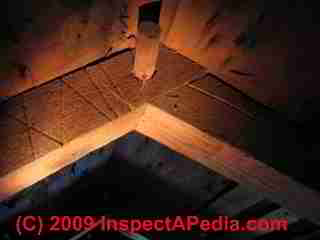 By 1650 a typical timber frame building used multiple bents and girt beams, may have been more than one story tall, and included an exterior made of horsehair-reinforced cement stuccoed over hand-split lath.
More examples of uses of wooden pegs or treenails are at
Below is a machine-made 3-inch cut nail spike produced by Tremont Nail Co.
A Tacky Little History of Iron Nails
Nail Head & Nail Body Details Help Set Nail Age
Photo: sprites, small headless hand-wrought nails, discussed in more detail
at NAILS & HARDWARE, AGE FAQs.
Adapting from various sources including Nelson's article cited below we give a rough chronology of types and uses of nails, focusing on North America but including other earlier nail production and use as well.
1600s - 1900s: hand wrought nails were used for construction and later more for decoration.

The scarcity of nails in colonial Virginia was reflected in a statute enacted in 1645 to prohibit settlers from burning down old buildings for their nails.

Some nails were made in the colonies in the seventeenth and eighteenth centuries, but despite this local production very large quantities of nails were imported during the same period. (Nelson NPS)

Details are at NAILS, HAND WROUGHT
1766 - Iron Including Nails as Barter

Although traditional Tahitian culture did not sanction extramarital sexual relations, within 48 hours of Wallis's arrival, Tahitian husbands and fathers were encouraging their wives and daughters to swim out to the Dolphin and offer the sailors sex in exchange for iron nails.

Aware of the brisk trade in iron, later explorers such as Captain James Cook brought supplies of nails and hoop iron with them to barter for freshwater, fish, pork, and vegetables.

Cook's visits [to Tahiti] in April 1769, August 1773, and August 1777 only heightened the islanders' desire for iron and other western goods. . (Denver, 2013 Tahiti, p. 682-683).

1775-1783 American Revolution: the colonists shifted to local production of nails and nail import from England was reduced or ceased altogether.
1790 - 1820: In North America early machine cut nails appeared between 1790 - 1820 with hand made heads.

Nelson notes the first generation of cut nail manufacturing involved cutting all nails from common sides with heads hammered on as a separate production step.

Details are at NAIL MAKING MACHINES 1790
1805 - present: Nails made completely by machine, including the nail head, appeared as sprigs and brads as early as 1805, and continue in use to the present. (Nelson US NPS cited below.)
1806 - Blanchard Tack Making Machine - 1806

Thomas Blanchard was born on June 24th, 1788, in Sutton, Massachusetts, near Worcester. His first invention was a tack making machine which he invented at age eighteen and perfected over the next six years.

This made production of tacks, which Thomas and his brother had been previously engaged in making, easier and more efficient at a rate of five-hundred per minute. - U.S. NPS cited below.

1810 - 1820: cut nails were made cut from opposing sides and used heads hammered on as a separate production step.

Cutting from opposing sides means that the shear cut that produced the nail was made from opposing sides of an iron or steel blank slab.

Take a look at the shear marks on your nail to see if they are both on one side or if they appear on opposing sides. See the "burrs" illustrated as adapted from Nelson in the citations at the end of this article.
1815 - 1830s: crude machine made or machine cut nails, first machine made heads.
1820s - 1830s: crude machine made heads

Before the 1830s the iron fibres in machine cut nails ran across the nail shank, causing the nail to break off if the user tried to clinch it's protruding end. For this reason, before the 1830s and where nail clinching was needed carpenters continued to use hand-wrought nails. (Nelson).

Cut nails made before the late 1830s will typically have:

- an irregular and possibly off-center head

- a head that may have been hammered to permit counter-sinking

- a shank of irregular width

- burrs that maybe on opposing sides of the nail shank depending on the cutting machine
1830 - present: Modern machine-cut nails that resemble nails still used today appeared in North America in the late 1830s. Cut nails were cut from opposing sides, improved or "perfected" machine made nail heads.

The presence of machine cut nails is a reasonable indicator that a building was constructed (or site occupied) in the 1830's or later. (Adams 2002).

Cut nails made after the late 1830s will typically have:

- nail heads that are uniform and are convex on both sides

- uniformly-tapered shank width or sides

- cutting machine burrs both on the same side of the nail

- were made of iron whose fibres ran lengthwise, so these nails can be clinched without breaking off

- will differ little from modern (2019) cut nails


1848 -Present - Original-use and currently reproduction of antique nails, Tremont Nail Company

Details are at TREMONT ANTIQUE NAIL REPRODUCTIONS
1850 - present: Modern wire-nails (nails that are round in cross-section) appeared in North America in the 1850s and continue to the present.

Round or "wire nails" are produced by cutting a round drawn wire into lengths to which a point and head are added by the machine.

Details and more images are at WIRE NAILS
1870 - Competition from Wire Nails (round) - 1870



The Birmingham industry expanded in the following decades, and reached its greatest extent in the 1860s, after which it declined due to competition from wire nails, but continued until the outbreak of World War I. (Sjögren 2013) - source: https://en.wikipedia.org/wiki/Nail_(fastener) retrieved 2018/06/15

Ezekiel Reed from Bridgewater Massachusetts developed the first machine that could cut a nail including its head in one operation.

In the U.S. the Parker Mills nail company was built in 1819 on the original site of the Parker Mills cotton mill that had been burned by the British during the War of 1812.
Above: Hardware Merchandising magazine article discussing a new English nail making machine, 7 February 1890. [Click to enlarge any image]
1890 - High Volume Production of Cut Nails Continues - 1890


By 1890 nail making machinery had advanced to produce cut nails at high volume and low cost and at improved reliability. (Hardware Merchandising 7 Feb 1890)

The Parker Mills nail company became the Tremont Nail company that continues to produce traditional machine-made "cut nails" today. [1]

The development of machine made nails that could be produced in high volume was critical to this change in construction methods. But even in the 1930's and 40's nails were a meaningful cost of construction.
Illustration above: Popular Mechanics, March 1950, p. 96 describing the new "nail gun".
1950 nail guns in use in wood frame construction. Modern round or wire nails dominate nail use in conventional framing and construction, actually replaced by nails formed to work in power nailers or "nail guns" for much wood-frame construction.

The nail gun was designed by Morris Pynoos, a civil engineer by training, for his work on Howard Hughes' Hughes H-4 Hercules (known as the Spruce Goose). The wooden fuselage was nailed together and glued, and then the nails were removed.

The first nail gun used air pressure and was introduced to the market in 1950 to speed the construction of housing floor sheathing and sub-floors.

With the original nail gun, the operator used it while standing and could nail 40-60 nails a minute. It had a capacity of 400-600 nails. - Wikipedia, Nail Gun, retrieved 2019/01/09, original source: https://en.wikipedia.org/wiki/Nail_gun

Illustration below: Paslode nail gun nails sold in strips are still "wire nails" but are no round in cross-section.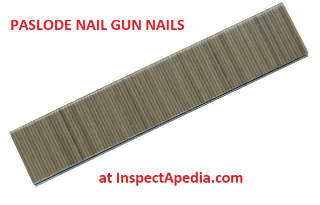 2019: modern nail guns. Modern nail guns are sold in models that operate by compressed air, electricity, or gas cartridges. Manufacturers of nail guns in 2019 include at least the following nailer brands: A.D.I. Atachi, aka ADACHI, AEG, AirPress, Bostitch, DeWalt, Heico,m Hitachi-Koki, Makita, Milwaukee, Paslode, Rigid, Senco, Spit-Impex (concrete nailers), Sumake,

Paslode, a division of Illinois Tool Works, is one of a number of manufacturers of modern nail guns, sold in both cordless and pneumatic (air powered) models. Paslode was founded by J.W. Leslie in the U.S. in 1935.


Hand Wrought Nail Details
Hand-wrought nails were used in North America in the 17th, 18th, and 19th century in American building construction.
When our friend Paul Galow worked as an assistant to his uncle who built homes in Pennsylvania in the 1930's and 40's, his job was to salvage nails and hammer each bent one straight. Nails cost more than his labor.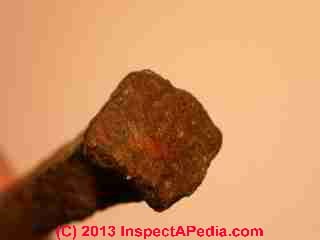 Here are some close-up details of the hand wrought spike we introduced earlier. Compare these details to the machine made nail photographs throughout this article.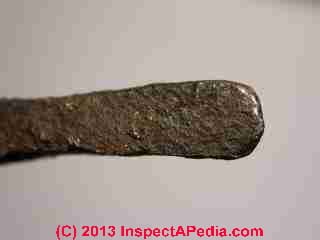 Just above are details of the hand-wrought iron spike-nail that we retrieved from a post and beam structure framed before 1830 in New York's Hudson Valley.
A close examination of iron nails and spikes can quickly indicate whether the fastener was hand wrought or machine made, both by the irregularity of surfaces of the hand wrought nails and the presence of die-cut stamping marks on machine made nails.
Withdrawal-Resistant Hand-Wrought Spike
[Click to enlarge any image]
The interesting hand-wrought spike shown here, contributed by InspectApedia.com reader TL, was accompanied by these comments:
Found this in an old town in Florida while metal detecting. Any idea how old? Looks hand forged.

Found in Lake Helen, fl. Not to far from an 1880 Indian head penny and an 1899 barber dime so yes I believe it is a period piece without a doubt. I just thought it may have been older than that era.
The town was incorporated in 1888. But like I said I have items dating back to 1880 while metal detecting. - T.L. by private email 2018/10/11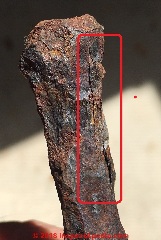 Our OPINON: I agree that the spike looks hand forged, with the off-set dents and waves so regular as to appear deliberate, perhaps to create a spike with great withdrawal resistance.
It is certainly possible to make such a nail today, by hand, but the laminar splits near the nail head (marked in the red rectangle) suggest old iron, likely to have been forged before 1900. Sorry but I don't have a more precise dating suggestion.
The fact that the delaminating or split in this nail run lengthwise (parallel to the nail shank) suggest that the nail was of iron whose fibers ran lengthwise, making the nail one probably made after the late 1830s.
First Nail Making Machines in North America - 1790 "Cut Nails"
The first nail making machines in North America appeared during the late 1700's - earlier than one might have guessed.
The slitting mill, introduced to England in 1590, simplified the production of nail rods, but the real first efforts to merchandise the nail-making process itself occurred between 1790 and 1820, initially in the United States and England, when various machines were invented to automate and speed up the process of making nails from bars of wrought iron.
These nails were known as cut nails or square nails because of their roughly rectangular cross section.
Cut nails were one of the important factors in the increase in balloon framing beginning in the 1830s and thus the decline of timber framing with wooden joints. (Kirby 1956)
Above are nails used to secure accordion lath - a plaster base found in a rural U.S. post-and-beam home in Wyoming County, New York.
More about the accordion wood lath in this building and our estimate of the building age are at WOOD LATH, TYPES.
Below: our green arrow points to the characteristic edge ridge that illustrates a machine made cut-nail.
The red arrow points to a split in the cut nail, characteristic of the effort to align the fibres of iron running down the length of the nail - discussed just below.
These photos of antique cut-nails were provided by an InspectApedia.com reader June 2018.
As I mentioned about a different nail in photos on this page, the fact that the delaminating or split in this nail run lengthwise (parallel to the nail shank) suggest that the nail was of iron whose fibers ran lengthwise, making the nail one probably made after the late 1830s.
For these nails, because it appears that the two cutting/stamping burrs appear on the same side of the nail suggest the nail may have been made after 1840.
Though still used for historical renovations, and for heavy-duty applications, such as attaching boards to masonry walls, cut nails are much less common today than wire nails. - source: https://en.wikipedia.org/wiki/Nail_(fastener) retrieved 2018/06/15
The cut-nail process was patented in America by Jacob Perkins in 1795 and in England by Joseph Dyer, who set up machinery in Birmingham. The process was designed to cut nails from sheets of iron, while making sure that the fibres of the iron ran down the nails.
Also see Pitt (2003) cited below,.
Modern Reproductions of Antique Hand-Wrought Nails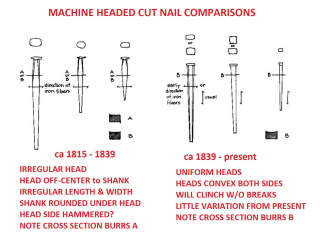 [Click to enlarge any image]
Above, adapted from Nelson (NPS) we summarize some observations that can help separate early cut nails from later cut nails used in North America.
If your cut nail is irregular in shank width and has the "A" type side burrs it's likely to have been made before the late 1830s.
Even most reproduction nails that simulate hand-wrought fasteners will show regularity: the same simulated-hand-hammered head will appear on every nail, and you may observe the straight--edged raised rib of die cut nails made by machine.
Below is a modern cut nail showing the uniformly convex head on both sides of the nail head.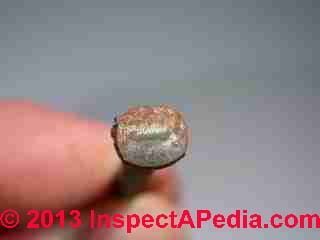 Above is the head of a modern machine-made cut nail.
Tremont Nail Company continues to manufacture reproduction nails which in appearance are quite like those made by hand more than 100 years ago.
The original factory was established by Issac and Jared Pratt in 1819 on the site of an old cotton mill which had been shelled and burned by the British in the War of 1812.
Known originally as Parker Mills Nail Company, it later became known as the Tremont Nail Company. - Tremont Nail, http://www.tremontnail.com/about.htm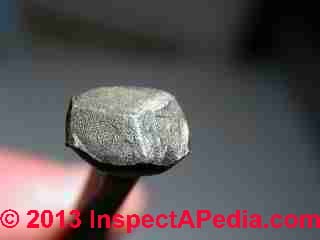 Above is a "hand wrought style" machine made cut nail, both produced by Tremont.

Shown at left is Tremont's standard Clout Nail: Similar in design to Shingle Nails, but made from lighter gauge steel. this nail was (and is) used for the application of thin siding and paneling.
It was and is also used for furniture repair, cabinet work, batten doors and counter tops. (Photo courtesy Tremont Nail Company).
Below, using a Tremont machine-made boat nail as an example we illustrate the sharp edge profile (below left) and the line left along the shank of the cut nail by the stamping machine (below right) that characterizes machine made "cut nails" appearing in widespread use as early as the 1830's in the Northeaster U.S. and appearing later in other locations.
More Images of Tremont's Modern Reproductions of Antique Nails
The ruled Tremont nail photo below is followed by four additional photographs of all four sides of this nail.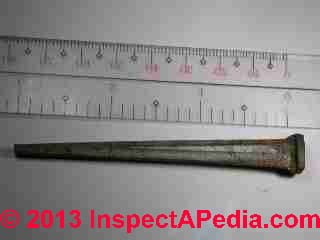 [Click to enlarge any image.]
Below is a close-up of the head of the cut nail spike described just above.
This view is important since if you are examining a completed structure, the nail head may be about all you can see of the fastener.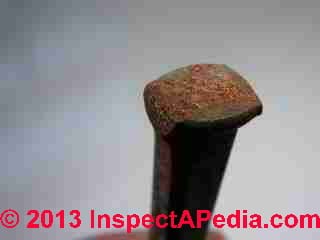 The Mansfield, Massachusetts Tremont Nail company's historical notes indicate that nails have been made (by hand) dating back to 300 B.C.
Tremont further explains that in North America nails were made by hand, often as a winter activity.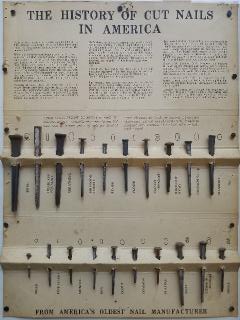 Tremont supplies restoration contractors and others working on historic buildings and for historians, Tremont offers a reference set of modern reproductions of old nails fasteners, shown above.
Tremont Nail Company, P.O. Box 31, Mansfield, MA 02048, Tel: 800-835-0121, 508-339-4500 Website: http://www.tremontnail.com/
Modern Round or Wire Nails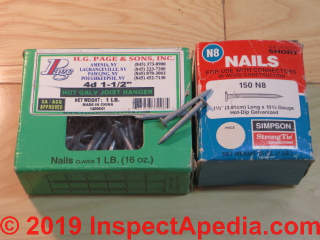 Above, an example of modern round or wire nails, galvanized fasteners. These 4d 1 1/2" galvanized nails are designed for use with steel joist hangers.
Wire nails were produced in North America from about 1850 to the present. Early wire nails were made first in smaller sizes.
If we exclude nails coated with a galvanized or other material, most modern wire-type nails will show parallel indentations across the top of the nail below the head, indicating the grip on the nail shank as the nail's head was formed.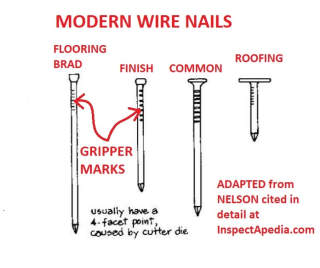 Research on History of Hand Wrought Nails, Cut Nails & Wire Nails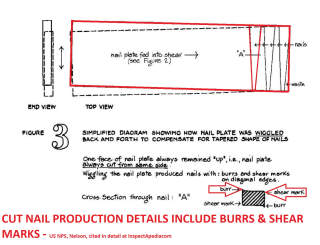 Drawing: details of cut-nail production explain why you will see shear marks and burrs on machine-cut nails or sprigs.
This image is adapted from the US NPS Nail Chronology article by Nelson cited in detail below. Some of these citations are from Nelson, NPS.
[Click to enlarge any image]
NAIL AGE DETERMINATION - web article
NAIL & HARDWARE CLEAN-UP - web article
Anonymous, "Adhesion of Nails, Spikes, and Screws in Various Woods, Experiments on the resistence of cut-nails, wire nails (steel), spikes, wood-screws, lag screws," Report of the Tests of Metals and Other Materials for industrial Purposes made with the U.S. Testing Machine at Watertown Arsenal, Mass., 1884 (Government Printing Office, Washington, 1886), 448-71.


Adams, W.H. Machine cut nails and wire nails: American production and use for dating 19th-century and early-20th-century sites, Hist Arch (2002) 36: 66. https://doi.org/10.1007/BF03374370

Abstract: The commonly cited sources used by archaeologists for dating nails have been rendered outdated by later research. Machine cut and headed nails date from 1815 onwards, while wire nails date from 1819 onward.

Historical archaeologists need to avoid the simplistic use of invention dates and patent dates and focus instead on the mass-production dates. There can be a significant amount of time between an invention and its first production, and even greater time until production figures are significantly high enough to affect the archaeological record.

Usually wire nails are ascribed an 1850s beginning date, but that date is both too early and too late. While some wire nails were produced in 1819, no significant quantities were produced in the United States until the mid-1880s.

Thus, we need to extend the manufacturing date back some 30 years with the caveat that the effective manufacturing date range begins in the 1880s. By examining production figures for wire nails, a model is generated for dating sites built of machine cut nails.

This model is then examined using data from dozens of sites in the USA and Canada. Just as important, the model provides clues to recycling activity and access to different manufacturing sources.

Excerpts:

Until the late-18th century, blacksmiths working independently or at naileries wrought virtually all nails.

These nails were wrought from nail rods or from nail splits cut from a plate. Smiths hammered the red-hot iron rods into a point and then placed them in a vise, hammering down to produce a head (Fontana and Greenleaf 1962:52).

By virtue of being made individually by hand, wrought nails show considerable morphological and metric variability.

Jeremiah Wilkinson of Cumberland, Rhode Island, in 1775 devised a way of producing nails from iron plates (Fontana and Greenleaf 1962:44).

The nails were hand headed and show variability in the heads but some uniformity in the shanks. Such nails "were made from rectangular strips of iron plate and tapered to a point by a single cut across the plate.

The thickness and height of the plate determined the thickness and length of the nail" (Fontana and Greenleaf 1962:52). This kind of nail generally dates from ca. 1790 to the mid 1820s (Nelson 1968:6), although a few examples can date as early as the 1775 invention date. More research is needed to clarify the spread of this technology and ascertain production figures.

Some of the rods for these nails were imported from England; for example, 2,307 pounds "in nail or spike rods, slit" were imported from England in 1824 (Secretary of the Treasury 1825:146-147).

Although the archaeological literature generally uses a date of ca. 1815 for the introduction of the early machine cut-and-headed nails following Lee H. Nelson (1968), later research has shown that the earliest such machines actually were in use was by 1794 near Boston:
Aytekin, Alper, Determination of Screw and Nail Withdrawal Resistance of Some Important Wood Species [PDF] Int. J. Mol. Sci. 2008, 9, 626-637 retrieved 2019/01/09, original source: https://www.ncbi.nlm.nih.gov/pmc/articles/PMC2635684/pdf/ijms-9-4-626.pdf
America's Favorite Homes, mail-order catalogues as a guide to popular early 20th-century houses, Robert Schweitzer, Michael W.R. Davis, 1990, Wayne State University Press ISBN 0814320066 (may be available from Wayne State University Press)
American Plywood Association, APA, "Portland Manufacturing Company, No. 1, a series of monographs on the history of plywood manufacturing",Plywood Pioneers Association, 31 March, 1967, www.apawood.org
" A New English Nail Machine". Hardware. 7 Feb 1890. HARDWARE MERCHANDISING, Jan 3, 1890 [PDF] weekly, full year of issues, retrived 2018.06/16, original source: https://archive.org/stream/hardwaremerch1890toro#page/n4/mode/1up
Text complete:

A New English Nail Machine

A new nail machine, known as the Copewell, has been tested in London. Each machine will produce over 600 pounds of average sized nails in the working day of ten hours, and one boy can fully attend to four machines.

The nails themselves are produced from the cold steel bar, and are, therefore, even in temper throughout and uniform, whilst it is claimed for them that in their finish, tensil strength, holding power in the chuck, and freedom from liability to fracture under the heads, they are withouit rival in the market.

Their cost is but little over half that of nails made by other processes. The process itself is very simple.

The end of a coil of steel bar or wire on a drum is put into a machine, which automatically cutting pieces of the required length, passes them down through a series of dies, which draw and bevel them;

they are then caught in slots in a revolving plate and pointed, and finally dropped - finished nails ready for use - without any hand labor whatever.

Should any failure take place in any of these operations with any nail blank, the fault instantly throws the machine out of gear, whilst a danger signal marks the exact spt where it occurrs.

To remove the faulty blank and restart the machine is the matter of seconds only.
Ball, Ephraim 1886 The Hand-made Nail Trade. In The Resources, Products and Industrial Historsof Birminsham and the Midland Hardware District, edited y Samuel t,mmins. Robert Hardwicke, London.
Bradley Smith, H.R., "Chronological Development of Nails," supplement to BlacksmitWs and Farriers' Tools, Shelburne Museum (Shelburne, Vermont, 1966)
Business Week 1953 Nailing Down their Market: Aluminum Nails. Business Week February 21:44
Chapin, J.R. 1860 Among the Nail-makers, Harperls New Monthly Magazine 21(122):145-164.
Danver, Steven (Ed.), Native Peoples of the World, an Encyclopedia of Groups, Cultures, and Contemporary Issues (3 Vols.), Routeledge, Taylor & Francis, London, 2013, 2015, ISBN 978-0-7656-8222-2
Didsbury, J, "The French Method of Nail-Making," The Chronicle of the Early American lndustries Association, Inc., Vol. XII, No. 4 (December, 1959), 47-48.

P. 48 illustration of a nail-heading tool.

Hening, Statutes, Vol. I, 291. Cf "Burning Buildings for Nails," American Notes, Journal of the Society of Architectural Historian . Vol. IX, No. 3, 23, showing that an early Kent County, Delaware, courthouse was ordered destroyed in 1691 "to gett the nailes."
Isham, Norman, "An Example of Colonial Paneling", Norman Morrison Isham, The Metropolitan Museum of Art Bulletin, Vol. 6, No. 5 (May, 1911), pp. 112-116, available by JSTOR.
Kirby, Richard Shelton. Engineering in history. 1956. Reprint. New York: Dover Publications, 1990. 325. ISBN 0486264122
Pitt, Ken, Damian M. Goodburn, Roy Stephenson , Christopher Elmers 18th- and 19th-CENTURY SHIPYARDS at the south-east entrance to the WEST INDIA DOCKS, LONDON [PDF] The International Journal of Nautical Archaeology (2003) 32. 2: 191–209doi:10.1016/j.ijna. 2003.02.001
Excerpt:

Evidence for the dock consisted of a large irregular feature dug through reclamation deposits; the onlydating evidence was a single pipe bowl dated to around 1730 to 1780.

Perpendicular to the edge of this cut was a line of three posts which may be a relict of an earlier timber structure, possibly part of Rolt's yard of the 17th century.

Tree-ring samples were taken but could not be dated.

These posts were reused decayed oak frame elements from a large carvel built ship, pierced with shaved 38 mm diameter oak treenails.
Poppeliers, John C., et als, What Style Is It?: A Guide to American Architecture [Book for sale at Amazon] Rev., John C. Poppeliers, S. Allen Chambers, Wiley; Rev Sub edition (October 6, 2003), ISBN-10: 0471250368, ISBN-13: 9780765682222
Salzman, Louis, Building in England (Oxford, 1952)
Smith, Mary Margaret, Heinz W. Pyszczyk, A SELECTED BIBLIOGRAPHY OF HISTORICAL ARTIFACTS: c. 1760-1920 [PDF] Archaeological Survey of Alberta, 8820 - 112 Street
Edmonton, Alberta, T6G 2P8 Canada retrievd 2019/01/09 original source: https://open.alberta.ca/dataset/ 8a3c8aab-f5f0-4a70-b9e4-456caf87253d/resource/ 4154f9e9-9ba7-4ae0-ae81-b3ee242a89ed/download/ 1988-selected-bibliography-of-historical-artifacts-c-1760-1920-manuscript-series-11-1988.pdf

P. 23-31 provided citations on nails.
Sjögren, G. (2013). "The rise and decline of the Birmingham cut-nail trade, c. 1811–1914". Midland History.
Tremont Nail Company, P.O. Box 31, Mansfield, MA 02048, Tel: 800-835-0121, 508-339-4500 Website: http://www.tremontnail.com/
Tisch, Arthur S. "Modern Wood Construction, only as good as its fastening!" reprinted as Bulletin No. 1, by the American Society of Precision Nailmakers, 630 Third Avenue, New York.
US NPS THOMAS BLANCHARD [PDF], National Park Service, U.S. Dept. of Interior, Springfield Armory, retrieved 2018/06/17, original source: https://www.nps.gov/spar/learn/historyculture/upload/Thomas-Blanchard.pdf
US NPS, Nelson, Lee H., NAIL CHRONOLOGY as an AID to DATING OLD BUILDINGS [PDF], U.S. National Park Service, Technical Leaflet No. 48. retrieved 2019/01/08, original source: http://npshistory.com/publications/nail-chronology.pdf

Excerpt:

Dating old buildings from their nails is not a precise technique, but when used with discretion, it has proved generally reliable and useful, for example, in Independence Hall which has been subjected to a complex series of alterations from 1750 to the present time.

If a sufficient number of samples are taken from all parts of the building they can be a good indication that

( 1) the building was built entirely at a given time, or

( 2) the building has been subjected to additions, alterations, or simple maintenance measures.

Nails can help to define the extent of these changes. For this reason we believe it worthwhile to discuss briefly the various nail types that arc generally found in American buildings.

They are

( 1) hand-wrought nails,

( 2) cut nails, and

( 3) wire nails.

Within these major groups there is a surprising variety with subtle differences in type which enable us to use nails as dating tools with some certainty.'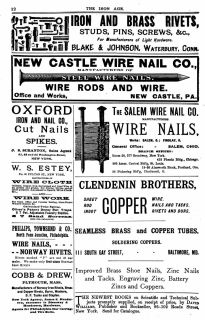 Williams, David, THE IRON AGE : Vol LII : No. 22 : November 30, 1893, [PDF] original from the University of Michigan, digitized by Google. Page example shown above.
Wells, Tom, NAIL CHRONOLOGY: THE USE OF TECHNOLOGICALLY DERIVED FEATURES [PDF], Historical Archaeology, Vol. 32, No. 2 (1998), pp. 78-99, retrieved 2019/01/08, original source (stable URL) http://www.jstor.org/stable/25616605 .

Note: Society for Historical Archaeology is collaborating with JSTOR to digitize, preserve and extend access to Historical Archaeology.

Abstract: A technology-based nail chronology is presented. This chronology is derived from a typology based on a combination of general information about the historical developments of the technology applied by the nail manu facturing industry and the periods of actual use for each of twelve basic nail types presently identified as having been used in Louisiana.

The author believes that the approach used to establish the Louisiana Nail Chronology can also be used to establish accurate nail chronologies in other regions.
...
Continue reading at NAIL AGE DETERMINATION questions & answers, or select a topic from closely-related articles below, or see our complete INDEX to RELATED ARTICLES below.
Or see NAILS & HARDWARE, AGE FAQs - questions & answers posted originally at this page and additional photos of old and newer nails
Or see these
Nail & Hardware Age Determination Articles
Suggested citation for this web page
NAILS & HARDWARE, AGE at InspectApedia.com - online encyclopedia of building & environmental inspection, testing, diagnosis, repair, & problem prevention advice.
Or use the SEARCH BOX found below to Ask a Question or Search InspectApedia
...
Ask a Question or Search InspectApedia
Try the search box just below, or if you prefer, post a question or comment in the Comments box below and we will respond promptly.
Search the InspectApedia website
Technical Reviewers & References
Click to Show or Hide Citations & References
Books & Articles on Building & Environmental Inspection, Testing, Diagnosis, & Repair
Our recommended books about building & mechanical systems design, inspection, problem diagnosis, and repair, and about indoor environment and IAQ testing, diagnosis, and cleanup are at the InspectAPedia Bookstore. Also see our Book Reviews - InspectAPedia.
...
Publisher InspectApedia.com - Daniel Friedman