Linoleum Flooring Materials
History, Components, Identification
InspectAPedia tolerates no conflicts of interest. We have no relationship with advertisers, products, or services discussed at this website.
Linoleum Flooring Materials
History, Components, Identification: this article provides information about linoleum flooring: the history of linoleum, linoleum ingredients, and the properties of linoleum resilient or sheet floor coverings.
We also provide a MASTER INDEX to this topic, or you can try the page top or bottom SEARCH BOX as a quick way to find information you need.
Linoleum Floor Covering Materials: history, ingredients, uses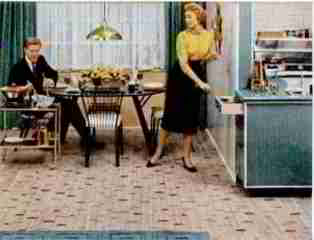 Linoleum was invented in 1860 by Frederick Walton and was intended for use first as a ship deck covering (battleship linoleum up to 1/2" thick).
Earlier, in the 1700s, non-woven floor coverings were made of oil cloth - heavy canvas coated with wax or oils (for water resistance and durability) that were then painted.
Previously, painted oilcloth floor covering was probably the most common non-woven floor covering for nearly two hundred years, or until Walton's linoleum entered production.
[Click to enlarge any image]
Article Series Contents
Inventor & History of Linoleum Flooring & Its Descendants Lincrusta & Anaglypta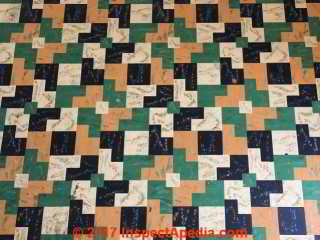 Our photo illustrates sheet flooring uncovered by reader JH in a 1920's apartment. JH was worried that this flooring might contain asbestos. Subsequent tests did not find asbestos in this floor sample.
Linoleum was the first modern, democratic floor covering.
This invention – patented in 1863 by a Scot, Sir Frederick Walton – had a revolutionary impact.
From the late 19th century right up until the 1950s, it was one of the few products which was simultaneously practical, hardwearing, non-flammable, low-maintenance and cheap.
Before the advent of linoleum, the only available floor coverings for homes or communal buildings were wood or tiles.
In the early 20th century, about one hundred factories were combining natural materials (linseed oil, jute, cork and pigments) to make linoleum by the square meter. (Tarkett ret. 2018)
Because of its durability and ease of production, Sir Walton's linoleum quickly found use as a floor coverings in buildings - a much larger application than battleships.
Linoleum's appeal rose from its properties as a durable, water-resistant sheet-type floor covering. Glued to a backer of jute or canvas to resist cracks and tears, this flooring has a long history of durability and service.
"Linoleum" was named by Walton from his observation that his original linoleum products were made using linseed oil as an ingredient (linseed oil forms a thick flexible skin when it dries), combined with ground cork dust, pigments, and resins, often with a jute, burlap or canvas fabric backing (see our antique linoleum photos just below).
Descendents of Linoleum include Anaglypta and Lincrusta (many writers spell it "Linocrusta or linacrusta"), an embossed patterned covering used on walls and ceilings.
Walton was also the inventor of a textured sheet product LINCRUSTA CEILINGS & WALLS,.
Thomas Palmer, who had worked for Walton, soon produced a similar but lighter
sheet product ANAGLYPTA CEILINGS & WALLS.
Besides linseed-oil based linoleum flooring, other sheet floorings backed with jute or asphalt-impregnated black paper typically were composed of mostly cellulose (wood fiber or paper products) (60%) with a bit of horsehair (5%) for strength, and tar.
While people often refer to those pre-vinyl sheet flooring products as "linoleum" in a true sense of ingredients they're not.
Watch out: some asphalt-felt or black tar paper-like backed sheet flooring products might contain asbestos, as we'll explain next.
Is there Asbestos in "Linoleum"?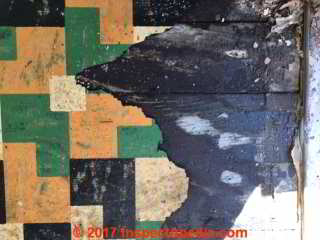 According to Rosato, "The original resilient floor coverings were developed during the latter part of the Nineteenth Century by Frederick Walton. The original covering was linoleum for use as a floor decking on British naval ships."
Perhaps confusing traditional linoleum formulas that did not contain asbestos with the asphalt-impregnated felt mounted sheet flooring that did, Rosato asserted that
"the composition of the original linoleum products included asphaltic binders to which an asbestos filler was added by mixing on a rubber mill."
This description fits asphalt-saturated felt backed sheet flooring but not traditional or "true" linoleum, as you will read below.
Wilson & Snodgrass, U.S. FPL (2007) note that saturated-felt based linoleum-like flooring appeared in the U.S. as early as 1910, and expanded by Armstrong's Linoflor beginning in 1937.
Asphalt-saturated felt-based sheet flooring was less expensive to produce and is [unfortunately] often referred to by the same term - linoleum - even though its constituents are different.
We warn below that many asphalt-saturated felts contained asbestos as either a strengthener (in fiber form) or as a filler (in both sheet flooring and asphalt or vinyl based floor tiles).
Those same authors note that cork flooring product names included Kencork, Linotile, and Corkoustic - of which Linotile may have added to the confusion about use of the term linoleum.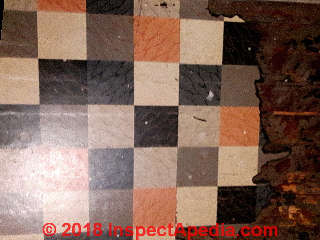 The photo above of a multi-colored square asphalt-felt-backed sheet flooring was provided by an anonymous reader who reported finding this flooring in a home built ca 1918 or before.
For the asphalt-paper backed sheet flooring above (widely described as "linoleum"), our advice was this:
True linoleum wouldn't be expected to contain asbestos, and felt-back linoleum lookalikes generally won't contain asbestos either; but some asphalt-paper-backed sheet flooring might, as asbestos was used as a reinforcement in some asphalt paper products and backings including for flooring.
Asbestos might also be in the black mastic flooring adhesive one sees in your photos.
If you are going to remove the flooring and adhesive I would treat it as presumed to contain asbestos: avoid making a dusty mess, wear protection &c. A good option is to leave such flooring in place and simply cover it over: less risk, less cost.
More about linoleum look-alikes backed by asphalt felt is at LINOLEUM "LOOKALIKES" ADHERED to FELT
Our reader had a sample of this flooring tested by Western Analytical who reported that there was no asbestos detected in this flooring nor in the adhesive mastic used below it.
Current Linoleum Products
Linoleum was produced and is still produced today in solid colors, in a wood-grain pattern, in jaspsé (colored streak patterns), in marble-like patterns, in floral designs, in brick patterns, and in both printed geometric and inlaid geometric designs.
There are modern linoleum products that still use these traditional (non-asbestos-containing) ingredients, there were asphalt-saturated felt-backed linoleum-like products, and today there are both traditional linoleum and modern non-linoleum lookalike sheet flooring products made of vinyl.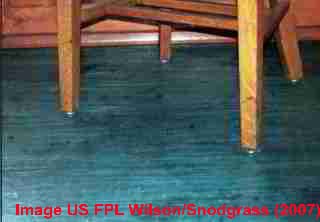 The "linoleum" photographs shown above and just below illustrate two traditional linoleum floor patterns. Source: Wilson & Snodgrass, U.S. FPL (2007).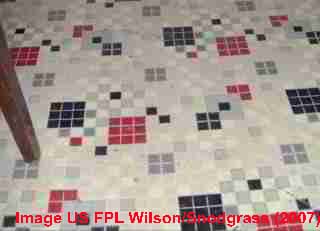 Below an illustration from the same authors is a beautiful example of a Congoleum "rug" still in use by the US FPL.
See CONGOLEUM-NAIRN FLOORING for more about this company and its floor covering products.
Watch out: But as we explain below, there are also sheet flooring products loosely referred to as linoleum that are adhered to a felt backer and that may contain asbestos in that backing material.
We noted at ASBESTOS FLOOR TILE IDENTIFICATION PHOTOS 1949-1959 that Linoleum may be used as a generic term for a variety of older sheet floorings (sometimes incorrectly or at least confusingly).
Older sheet flooring products in buildings that do Not Contain Asbestos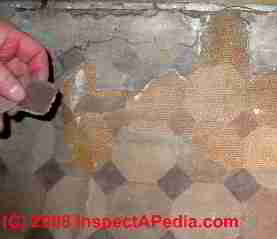 Here is a photograph of an early (pre-vinyl) continuous floor covering, ca 1900, in an 1840 historic Vermont house.
Note the fabric backing of the flooring material.
This sheet flooring covering backed with burlap fabric is probably more than a century old. We examined it in an non-public area of the Justin Morrill Homestead, a historic building in Vermont.
The material has not been tested for asbestos fibers, but where we see what is obviously a jute backing it's not likely that this sheet flooring product contained asbestos.
The possible origin of this product is discussed at ASPHALT & VINYL FLOOR TILE HISTORY - history, dates, and description of the production process and ingredients in asphalt floor tiles, asphalt-asbestos floor tiles, & vinyl-asbestos floor tiles 1900 to present.
Details about the history of Sheet and Tile Resilient flooring are
at FLOOR TILE HISTORY & INGREDIENTS.
According to Armstrong Flooring [1], in Portugal (no coincidence as you'll read below)
Linoleum is the only floor covering offered on the market that is predominantly made of natural renewable raw materials.
Linoleum is still in modern production (we describe the ingredients in linoleum just below), and it is a very durable product. Armstrong Portugal asserts that "Commercial reference projects laid with Armstrong DLW Linoleum are in use up to 90 years".
This age, combined with the observation that because of its constituent products linoleum is biodegradable, gives modern linoleum floor coverings a very low life-cycle cost. [1]
Linoleum's ingredients, both historical and modern, rug patterns & other designs
The reader-contributed photographs just below demonstrate Congoleum's Gold Seal™ linoleum in a braided rug design or pattern. [Click to enlarge any image]. Below we list the ingredients found in linoleum floor coverings.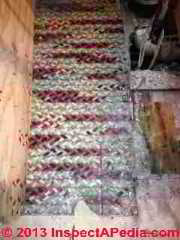 Because of its solid red color we wondered if this Gold Seal Congoleum product was a rubber-backed flooring product.
Help in distinguishing sheet flooring types is at RESILIENT SHEET FLOORING ID GUIDE and at SHEET FLOORING INSPECT / TEST.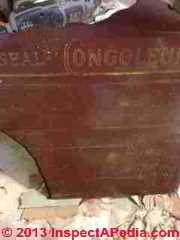 Here are the ingredients in true linoleum:
Natural resins: linseed oil (original linoleum), also balsam and copal resins or as a substitute dammar resin. Resins form the binder or "glue" that holds the product together. Linseed oil is made from flax seeds.
Jute is used as the flooring backer for strength and dimensional stability. As a kid we called jute "burlap" as it was commonly used also to produce burlap bags. Jute is a natural fabric. We also have found older linoleum floor coverings that used asphalt-impregnated paper ("tar paper" or roofing felt) as a backer.
Color pigments are used to form the patterns in the linoleum surface (see our photos here). Armstrong points out that their Armstrong DLW Linoleum, care was given to choice of pigments to protect the "natural" claim for this flooring material. Quoting:

In the Armstrong DLW Linoleum all the colour pigments are free of lead, cadmium and chrome.

The dark colours are produced for the most part with iron oxide pigments, the bright colours with pigments of organic origin. All pigments were examined by a toxicologist and are classified as being physiologically harmless.

Among other requirements Armstrong DLW Linoleum therefore meets the demands of the toy norm EN71 or better and the various legal requirements for the colouring of consumer goods. - [1]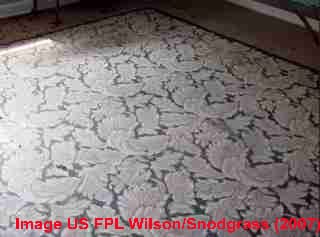 Cork powder is used in Linoleum to give body to the flooring flexible surface.

Armstrong uses cork powder waste. Readers familiar with the Iberian peninsula will recognize that cork is a long-standing and important export product from both Spain and Portugal.
The "linoleum" photo at left in rug pattern (notice that the sheet flooring does not extend fully to the room perimeter) illustrates a linoleum "rug". Source: Wilson & Snodgrass, U.S. FPL (2007).
This rug pattern sheet flooring is discussed in detail

at CONGOLEUM-NAIRN FLOOR TILES & LINOLEUM.

CORK FLOORING also uses ground cork, but in a more coarse form described in that article.
Limestone powder is used as a filler in the resilient linoleum floor covering body.

Really? Pending further research our GUESS is that some early forms of linoleum could have used asbestos powder as a similar filler material, just as asbestos powder was used as a filler in some floor tiles.

See ASBESTOS FLOORING IDENTIFICATION

where we pose 5 questions that can help make a reasonable guess at whether or not a specific flooring product contains asbestos before a lab test.
Wood powder (see cork above) is also used as a filler and body component of linoleum.
Canadian Linoleum Floor Coverings: Dominion Sheet Linoleum & Floor Tiles
This topic has moved to a separate page now found
at DOMINION SHEET & TILE FLOORING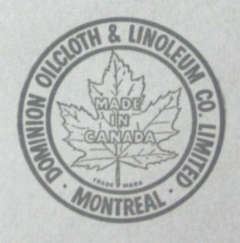 Linoleum "lookalikes" Adhered to Asphalt Felt Underlayment or green, red, or black backings
Identify Older Linoleum Rug or Black-Asphalt-Backed (dark felt underlayment-backed) Sheet Flooring
Photos above of saturated felt-backed "linoleum" flooring (installed on a bench top) were provided by reader C.W. In addition to use on floors, linoleum was a popular covering for workbenches and kitchen counters and sink draining areas.
Reader Question: linoleum sheet flooring in rug pattern used on work bench
I wanted to seek your advice on the attached images which is some sort of tiling that a previous homeowner put on a work bench as a covering. I looked through your website, but couldn't find a match. Does this look like asbestos tiles to you? If so, any idea on the brand? Thanks in advance! - C.W. 1/17/2014
Reply: forms of "linoleum" may include products glued to felt underlayment vs. glued to a jute backing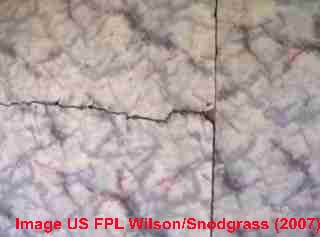 Our guide to identifying older types of sheet flooring, including products that may contain asbestos, is found
at RESILIENT SHEET FLOORING ID GUIDE. There we describe some simple tests that can often confirm the flooring type and basic materials.
From your photographs (the pair above and second pair given below) showing that the flooring product, now covering a workbench top, has a woven rug -patterned top layer over a black substrate or backer, I would guess that this is an asphalt felt paper-backed sheet flooring product resembling linoleum.
The "linoleum" photo at left in a "marbelized pattern" illustrates a similar example of black felt-backed sheet flooring referred to by some experts as "linoleum". Source: Wilson & Snodgrass, U.S. FPL (2007).
We explain in this article that the ingredients of true linoleum include natural resins, linseed oil, color pigments, cork powder and limestone, with a jute backing. Those products do not contain and never contained asbestos.
But other sheet flooring products loosely called "linoleum" may indeed contain asbestos. The US Forest Products Lab asserts that some forms of "linoleum" were glued to felt underlayment. (US FPL 2007).
The black backing and body of the flooring in your photos looks to me like an asphalt product, though I'd have to see and test a sample to know for certain.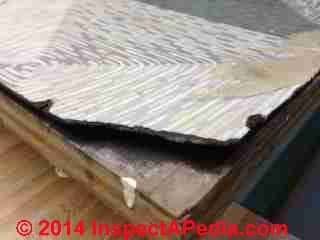 Photos above and below, show felt-backed "linoleum" provided by reader C.W.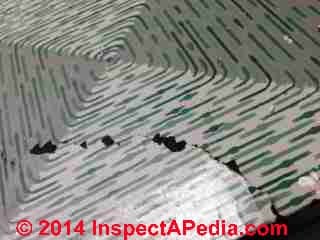 Watch out: some older felt underlayments and similar asphalt paper products used in flooring, roofing, and wall coverings or building papers contained asbestos. While I'm doubtful that the small quantity of flooring in your photo presents a measurable asbestos hazard (unless some fool grinds or rips it into shreds), it may thus contain asbestos.
If this asphalt-felt backed antique flooring sample were mine I'd preserve it, or a square of it, as it may be historically important.
Your second photo of the four (above right) seems to show a plastic or glass cover over this sheet flooring "rug" (as they were called). In that installation the material is protected and most likely completely harmless.
If you decide to dispose of the material as construction debris, I'd be glad to have you cut a pattern square and send it to me for lab examination pro-bono.
While we have expertise in asbestos and other material identification in our forensic lab, if you needed an asbestos certification (which in my opinion would be inappropriate for this case) you'd want to use a certified asbestos test lab.
Reader Question: Not sure if this rub-pattern sheet flooring contains asbestos or not. Rug pattern sheet flooring with green backing
They are old - the kind that last a long time! The fleck type one was under several layers of flooring in my grandparents home. I think they built it around 1935.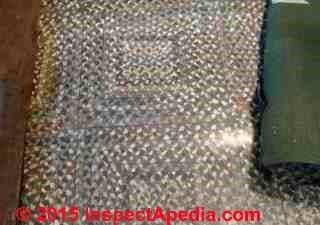 [Click to enlarge any image]
The second one, [shown immediately above] the rug pattern is the one I am most interested in finding out about. The backing is green but I cannot find a makers mark on it. Any idea if that means anything? - Anon [by private email] 23 Aug 2015
Reply:
The photo shown just above looks like a rug pattern linoleum and if the green rolled material in the right of your photo is the same flooring, it is more likely a Congoleum (or less likely Armstrong) sheet flooring product.
Some Congoleum sheet flooring and also some Armstrong sheet flooring included a red or possibly green rubber backing that is not an asbestos material.
If you can examine the backing of this sheet flooring there is a good chance you'll see an Armstrong or Congoleum imprinted logo - do send me a photo of what you see.
Red backed sheet flooring by Congoleum is a rubber backing (not asbestos); green-backed sheet flooring is probably a similar product; asphalt felt paper (some of which can contain asbestos) would normally be black (as it's an asphalt product).
IF you are faced with a requirement for demolition and if you are uncertain about the flooring's asbestos content and cannot identify it through our guides, then you have a sample tested.

See ASBESTOS TESTING LAB LIST and as it will help other readers, if you have this flooring tested please confirm the lab result with us and send me a copy of the lab report.
Reader Question: what is this sheet flooring from my home that was built in 1865?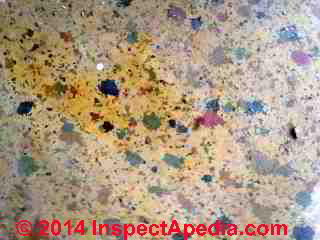 Can you give me an idea of date or asbestos?
House was built 1865.

Several layers.
This one is the last on top of tongue and groove.
Black felt backing. With asphalt type adhesive.
Thank you. - L.P. 6/3/2014

Reply:
LP this looks like a linoleum floor to me.
The spatter pattern was later picked-up and popularized in a similar (not identical) design that appeared in some of the Kentile flooring as its CARNIVAL PATTERN but those were individual floor tiles, not sheet flooring like yours.
See my warning above about some older felt backing and some flooring adhesives that contain asbestos.
Reader Question: Does this 1930's Vintage Linoleum Contain Asbestos?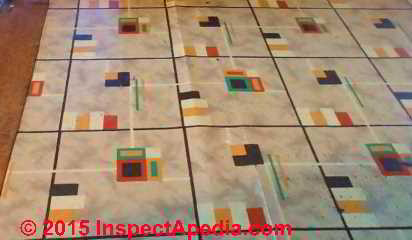 05/05/2015 E. wrote:
I am in need of flooring expertise. I have dibs on a large roll of (what the owner believes to be) 1930's linoleum.
Age is based off of newspapers pulled out of the wall, so dating method isn't all that scientific.
I am eager to snatch it up – but am concerned about asbestos.
The sheet was either never glued to the floor, (or the glue dissipated) allowing it to be rolled up and removed from the house. I realize the only sure way to know is to have it tested – but does this image and the owners description of the back give you any feeling one way or the other?
Based on the fact that this is rolled up and the backing is smooth, I would tend to think it's simply linoleum, but I did see a comment on your site that indicated that some smooth backed sheet flooring could contain asbestos.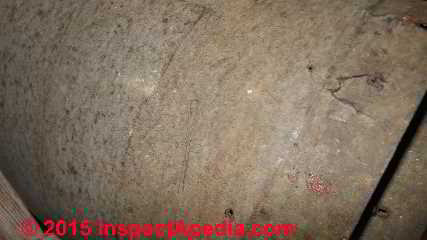 Here's a close up of the back of the linoleum. Somebody dropped a bobby pin on the floor when they laid the linoleum!
The linoleum has a hard backing with no loose fibers that I can see. This picture was taken at about 2 inches close.
Ultimately, anything I would use this for would require some cutting, which I am imagine could be done with a utility knife, as the flooring is still somewhat flexible. Based on what I've read, asbestos is only a hazard when it's crumbled, and/or airborn, and cutting can be fairly safe if you get it wet.
I certainly don't want to take it, find out it's a hazard, and then have to pay again to dispose of it – it's pretty huge. - E. 5/5/15
Reply:
You're right, it looks like real linoleum. In addition to reviewing this article (above) also
see CONGOLEUM-NAIRN FLOOR TILES & LINOLEUM - for more examples.
Here are two more photos of this a similar pattern "linoleum" sheet flooring provided by a reader who found it in a home in Nova Scotia, Canada.
You'll note the the red backer for this flooring differs from the product above. Red backer may indicate a rubber-based sheet flooring product.
That reader wrote:
My husband and I just started tearing up our kitchen floor when a friend warned us about asbestos. I feel the vinyl/cushion flooring I top is probably safe as it is after 1980's but under this is layer of mdf wafer board which covers up some sort of sheet flooring.
I'm guessing 1930's as it looks very similar to the image in the above article.
t has a dark red back and is very thin. It is not glued down but has. Ails here and there. I know you can't guarantee anything from just a message description but I am wondering how likely it is to contain asbestos.
We have stopped but now our kitchen is at an unusable standstill. The house is probably Circa 1900-1930's. It's located in Nova Scotia Canada.. - Anonymous by private email, 2017/12/10
We replied that this flooring might contain asbestos in its backer; that's more likely when the backer is a black asphalt-impregnated felt paper.
As we note in the first article, some of these sheet flooring products loosely called "linoleum" may indeed contain asbestos. The US Forest Products Lab asserts that some forms of "linoleum" were glued to felt underlayment. (US FPL 2007), and some felt underlayment contained asbestos. I suspect yours does not, but you're right, you'd need to test a sample.
Keep in mind that if the material is intact and is not ground, sawn, or broken up so as to release debris, even if its backing contains asbestos the airborne levels over an intact floor may be below the limits of detection.
If the cost of the material justifies a lab test - which I recommend - use a certified asbestos test lab and keep me posted on the results. Typical lab tests for asbestos in a material cost about $50.
To identify types of sheet flooring see RESILIENT SHEET FLOORING ID GUIDE
Modern Linoleum Floors
Comparing historic linoleum with current products
For the last 50 years or so, linoleum has been used almost exclusively in commercial settings, but it is making a comeback in residential settings, due largely to its use of all-natural ingredients and reputation for durability.
Our photo at below shows antique sheet flooring found in a home built in the 1800's.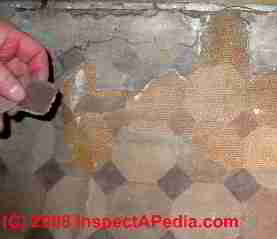 Below is a linoleum catalog snippet showing modern linoleum patterns from Fobo Linoleum, Inc. (contact information for the company is given below)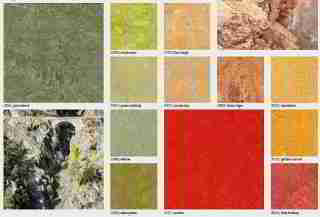 Linoleum in its traditional or original formula was and is still made by boiling oil to form a thick cement paste that is mixed with pine rosin, wood flour, and other fillers such as clay or limestone to make a durable, resilient sheet flooring that wears well and resists indentation.
Jute Backing on traditional linoleum
The traditional backing for linoleum sheet flooring was typically jute fabric, a natural fiber. Other than relatively minor initial off-gassing from the linseed oil base, linoleum is considered nontoxic by most healthy-house advocates.
Linoleum (jute backed) is also naturally antimicrobial and anti static, making it well suited for hospitals, schools, and rooms with electronic equipment. If well maintained, a linoleum floor can provide a 20- to 30-year service life.
Description of contemporary linoleum flooring products
In response to new demand for the product in recent years, manufacturers have responded with a wide variety of solid and marbleized colors and attractive checkered patterns, available in sheet form as well as 19x19-inch tiles that can be mixed to create borders and other designs.
Unlike vinyl, linoleum colors go all the way through the product, making scratches and wear spots less noticeable than on vinyl. Also, scratches, cigarette burns, and other surface wear can be removed with steel wool or a nylon abrasive pad and buffed out.
However, since linoleum does not have a separate wear layer like vinyl flooring and is slightly porous, it requires somewhat more maintenance than vinyl. Applying a sealer or polish to the new floor will help it resist stains and make it easier to clean.
Also, portions of a linoleum floor not exposed to light will tend to darken or yellow due to the natural oxidation of the linseed oil base. This coloration will disappear upon exposure to light, and the original linoleum color will be restored, or "bloom."
Where to Buy Modern Linoleum Flooring & Linoleum Flooring in Historic or Traditional Patterns
(also Rubber or Cork Flooring Alternatives)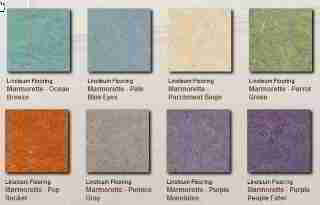 Most if not all new linoleum flooring is now manufactured in Europe. Our linoleum sample color & pattern example at left is from the Armstrong Corporation's online linoleum flooring selection catalog. Contact information for Armstrong linoleum flooring products is just below.
Some of the linoleum and related cork or rubber flooring product sources listed below were listed by Wilson & Snodgrass - US FPL (2007).
All of the current (2014) Armstrong Corporation linoleum colors and patterns are variations of the pattern type shown here. Older braided rug or facsimile patterns are not currently offered in that company's selection guide.
Armstrong Flooring Products also distributes nearly seventy colors & patterns of linoleum flooring. Contact the company at: www.armstrong.com/flooring/linoleum.html for a web page listing a store-finder by U.S. zip code.
Armstrong World Industries, Inc. Customer Relations and Technical Services P.O. Box 3001 Lancaster, PA 17604, Tel: 1-800-233-3823


DOMINION SHEET & TILE FLOORING - history of the Dominion Oilcloth & Linoleum Company, Canadian linoleum, sheet flooring, floor tiles, wall covering produced by Dominon & DOMCO, later Tarkett.
Expanko, Inc. 1129 West Lincoln Hwy. Coatesville, PA 19320 Phone: 800–345–6202 Web site: http://www.expanko.com (rubber and cork flooring)


Flexco, Corp. 1401 East 6th St. Tuscumbia, AL 35674 Phone: 800–633–3151 Web site: http://www.flexcofloors.com/rubber_retro.asp (rubber, retro rubber, & vinyl flooring)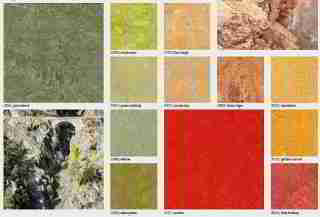 Image at left: example of Forbo linoleum in marbled pattern from the company's flooring catalog. Contact information for Forbo in North America and in the U.K. is just below.
Forbo Linoleum, Inc. - The largest linoleum flooring supplier in the United States is European-based Forbo Linoleum, Inc., Forbo's Flotex sheet flooring (and floor tiles) are available in a wide range of colours and in linear, marbled, solid and other patterns. Forbo also provides cork-linoleum flooring products.

Forbo Flooring Systems 8 Maplewood Drive Humboldt Industrial Park Hazleton, PA 18202. TEL: United States 1-800-842-7839, Forbo Flooring Systems Canada Office 3220 Orlando Drive Mississauga, ON L4V 1R5, TEL: Canada English: 1-800-268-8108, Francais: 1-800-567-9268, Website: www.forboflooringna.com/ Email: info.na@forbo.com

Forbo Flooring in the U.K. can be contacted at London EC1 showroom (commercial enquiries only) 79 St John Street, Clerkenwell, London, EC1M 4NR Tel: 0207 553 9300, Residential enquiries: 0800 0935 846 , Website: http://www.forbo-flooring.co.uk

Gerbert Limited, 119 South Tree Dr., P.O. Box 4944, Lancaster, PA 17604–4944
Phone: 800–828–9461, Website: http://www.gerbertltd.com/. Rubber & cork flooring


Linoleum City, 5657 Santa Monica Blvd. Hollywood, CA 90038 Phone: 800–559–2489 Web site: http://www.linoleumcity.com/products.htm (Historical patterns of linoleum, rubber, cork, & vinyl flooring)

Photo above: Nova cork plank flooring being installed.
Nova Distinctive Floors A unique floating linoleum plank floor that can be installed with or without glue is available from Nova Distinctive Floors.

Nova also produces cork flooring products, including an interesting Cork-Stone product, and leather flooring products (leather bonded to cork and high density fiber board). Forbo's Marmoleum linoleum flooring is provided in sheets or tiles.

Nova Distinctive Floors Address: 1710 E Sepulveda Blvd. Address: Carson CA, 90745 Phone: 866-576-2458 Fax: 310-830-9589 E-mail: sales@novafloorings.com Website: novafloorings.com/linoleumfloatingfloors.htm


Secondhand Rose, 138 Duane St. New York, NY 10013 Phone: 212–393–9002 Web site: http://www.secondhandrose.com/ (Used or "traditional" Linoleum)


Tarkett, Inc. 2728 Summer St. Houston, TX 77007 Phone: 800–877–8453 Web site: http://www.tarkett.com (Traditional or historic linoleum floor patterns, also vinyl flooring)
TARKETT, a TALE of ENTERPRENEURS, [PDF] Tarkett USA, 2728 Summer St. Houston, TX 77007 USA Tel: 800–877–8453 Website: http://www.tarkett.com (Traditional or historic linoleum floor patterns, also vinyl flooring)website: https://www.tarkett.com/ retrieved 2018/05/06, original source: https://www.tarkett.com/sites/default/files/Tarkett%20History%20Book.pdf
Website excerpt:

Tarkett Group leadership is the result of 130 years of flooring experience, thanks to the talent, values and commitment of generations of entrepreneurs. Initially known as Allibert and Sommer, the company's story begins with the ideas, energy and commitment of its founding entrepreneurs. - https://www.tarkett.com/en/content/history
Readers interested in other natural product resilient floor coverings should also see CORK FLOORING: Natural Alternatives to Vinyl Floors: Installing Cork or Cork Tile Floors.
How to Identify Armstrong, Congoleum, & other Asbestos-Containing Resilient Sheet Flooring
Details about identifying older installations of sheet flooring or sheet-forms of resilient flooring that may contain asbestos are now found at RESILIENT SHEET FLOORING ID GUIDE - live link is given just below.
Armstrong's sheet flooring is described at ARMSTRONG SHEET FLOORING
...
Continue reading at CONGOLEUM-NAIRN FLOOR TILES & LINOLEUM or select a topic from closely-related articles below, or see our complete INDEX to RELATED ARTICLES below.
Or see LINOLEUM & SHEET FLOORING FAQs - questions and answers posted originally on this page.
Or see ASBESTOS TESTING LAB LIST
Or see this
Article Series Contents
Suggested citation for this web page
LINOLEUM & SHEET FLOORING at InspectApedia.com - online encyclopedia of building & environmental inspection, testing, diagnosis, repair, & problem prevention advice.
Or use the SEARCH BOX found below to Ask a Question or Search InspectApedia
Or see
Or use the SEARCH BOX found below to Ask a Question or Search InspectApedia
...
Ask a Question or Search InspectApedia
Questions & answers or comments about linoleum floor coverings, age, history, safety, materials, contents.
Try the search box just below, or if you prefer, post a question or comment in the Comments box below and we will respond promptly.
Search the InspectApedia website
Technical Reviewers & References
Click to Show or Hide Citations & References
Richa Wilson, Kathleen Snodgrass, "Early 20th-Century Building Materials: Resilient Flooring" [Very large PDF], Richa Wilson, Intermountain Regional Architectural Historian Kathleen Snodgrass, Project Leader, United States Department of Agriculture Forest Service, Technology & Development Program, August 2007, 7300-0773-2322-MTDC. Contact Kathie Snodgrass at MTDC: Phone: 406–329–3922 Fax: 406–329–3719 E-mail: ksnodgrass@fs.fed.us
[1] Armstrong, Portugal: Ingredients of Linoleum, web search 03/31/2011, original source: http://www.armstrong.pt/commflreu/es-pt/ingredients.html
America's Favorite Homes, mail-order catalogues as a guide to popular early 20th-century houses, Robert Schweitzer, Michael W.R. Davis, 1990, Wayne State University Press ISBN 0814320066 (may be available from Wayne State University Press)
American Plywood Association, APA, "Portland Manufacturing Company, No. 1, a series of monographs on the history of plywood manufacturing",Plywood Pioneers Association, 31 March, 1967, www.apawood.org
Armstrong ® Residential Flooring - Website 05/15/2010 http://www.armstrong.com/ lists current flooring products provided by the Armstrong Corporation, including Armstrong's current vinyl floor tile products at http://www.armstrong.com/flooring/products/vinyl-floors
Armstrong Corporation, Corporate History - http://www.armstrong.com/corporate/corporate-history.html - Web Search 05/19/2010
Armstrong vinyl asbestos floor tiles: photos of asbestos floor tiles as catalog pages (PDF form) are at www.asbestosresource.com/asbestos/tile.html
Asbestos products and their history and use in various building materials such as asphalt and vinyl flooring includes discussion which draws on ASBESTOS, ITS INDUSTRIAL APPLICATIONS, ROSATO 1959, D.V. Rosato, engineering consultant, Newton, MA, Reinhold Publishing, 1959 Library of Congress Catalog Card No.: 59-12535 (out of print).
Thanks to reader Robin DiNunzio for contributing samples of cork flooring from a 1949 home M1y 2010
Books & Articles on Building & Environmental Inspection, Testing, Diagnosis, & Repair
Our recommended books about building & mechanical systems design, inspection, problem diagnosis, and repair, and about indoor environment and IAQ testing, diagnosis, and cleanup are at the InspectAPedia Bookstore. Also see our Book Reviews - InspectAPedia.
...
Publisher InspectApedia.com - Daniel Friedman