Low Toxicity Drywall?

Reader concerns about toxicity of "green" drywall products
InspectAPedia tolerates no conflicts of interest. We have no relationship with advertisers, products, or services discussed at this website.
Greeen or low-toxicity drywall: reader opinion:
This article discusses a reader question and opinions on environmentally friendly or low-toxicity drywall or gypsum board, "green" building products including green drywall, and green building product certifying agencies as well as green drywall suppliers.
We also provide a MASTER INDEX to this topic, or you can try the page top or bottom SEARCH BOX as a quick way to find information you need.
What are you getting if you buy the "Green" or "low toxicity" drywall or gypsum board panels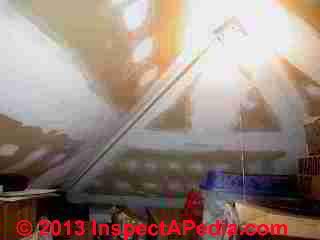 Reader Question:
Any thoughts regarding MagO walls?
Researching less toxic options since the walls we got from Certianteed (@$32 bucks a sheet) are coming apart just months after installation; don't think they're cleaning our air( 75 yrs pure air up to 25v coats of paint also made from COAL ASH GYPSUM + = yuk) as their commercials w/ Mike Holmes & Ty Pennington claim.
[Click to enlarge any image]
Hard to find precautionary principal rules to apply; takes a mortality rate for eons before affirmative actions.
Lots of lawsuits w/ china & american made; meanwhile people are negatively impacted. Your thoughts?
Is there such a thing as green drywall? If so, what alternatives to conventional drywall do you recommend? | Green Home Guide - cited by reader, http://www.greenhomeguide.com/askapro/question/is-there-such-a-thing-as-green-drywall-if-so-what-alternatives-to-conventional-drywall-do-you-recommend
Found a lot of info touting the miracle of MagO products like Dragonboard (China) & JetBoard (Texas) also found a company AmeriForm supplier near us in Cicero, ILLinois.
Quotes from various sites please refer to below; Youtube has many videos sing praises of MagO fire safety etc.
GeoBoard® - Decorative Cement Board | Ameriform
www.ameriformllc.com/geoboard.aspGeoBoard® is a decorative cement board used in both interior & exterior applications such as exterior ventilated rain-screen systems, exterior & interior cladding ...
The Most Innovative Building Product at the 2014 IBS – JetBoard by JetProducts......"Winners of the National Association of Home Builders (NAHB) second annual Best of International Builders' Show (IBS) Awards were selected in February at the 2014 International Builders' Show (IBS) in Las Vegas. Awards were given to exhibitors with a product or line that showed the best combination of design, functionality and innovation.
More than 250 exhibitors applied to be considered for the seven awards, including the Most Innovative Building Product Award."
....." Product Description: Calcium silicate board --- Magnesium oxide board
Magnesium Oxide Board has the features as follows:
(1)Non-flammability: Gemtreeboard is non-flammable and conforms to the national grade A1 standard (GB8624-2006 Grade A1). In case of fire, the board will not burn and not give off poisonous smoke, and is ideal in multi storey building such as offices and appartments for escape routes and shaftwall, or dividing walls in commercial units.
(2)Water-proofing and moisture-proofing: The product is allowed to long-term expose to moist environment. Test results prove that after this material has been immersed in water for one month,it keeps its original shape without deformation or expansion and its dry-wet deforming ratio is 0%.
(3)Problem-free: Gemtreeboard provides good insulation against bugs, fungus and corrosion. It can last for a long-time and will not corrode.
(4)High-Strength and Lightweight: Owing to the density is not high ,the board is light weight, in this case, it can decrease weight of building greatly. At the same time, the material is high-strength and not easy to be damaged.
(5)Easiness to construct: Gemtreeboard is easy to cut, saw nail, stick. Gemtreeboard has a smooth finish one side that can be taped and jointed ready for decoration including wallpapering, painting, texture coat and veneer, and a rougher side for tiling.
(6)Environment: Gemtreeboard does not contain any organic solvents, formaldehyde, asbestos, oils or other toxic substitances that can have a negative impact on the environment and waterways. As such, saw dust from Gemtreeboard can safely be disposed off in landfills. Off-cuts of Gemtreeboard can be reground and reused back at the production factory.
(7)Polywood substitution, particle board substitution and MDF substitution.
Performance:Testing Item Data Basis Apparent densitye 0.85-1.5t/m3 JC688-2006 Moisture content≤8%JC688-2006
Percentage of dry shrinkage≤0.3%JC688-2006
Percentage of water swelling≤0.6%JC688-2006
Screw_withdrawal force≥70N/mmJC688-2006
Dehalogenation resistanceNo water and no moisture createdJC688-2006Content of chloride ion≤10%JC688-2006
Fireproof performance
A1 non-flammabilityGB8624-2006Fire resistant time2hA 90mm-thick partition with 6mm mgo board on both sides of studs
Fire resistant time4hA 99mm-thick partition with 12mm mgo board on both sides of studs
Sound insulation42dB9mm MgO board+75 stud+50 rockwool
Bending strength16MPa9mmImpacting strength5.5Kj/m29mm
EnvironmentNo radioaction, asbestos or formaldehyde freeGB656-2001
Water permeability No moisture or water CECS9597
Alkali Resistance CECS9597
Thermal conductivity0.109
Average temperature: 30±5Kcal/m°chr
Suitable places for application:
Interlayer walls
2.External walls
3. Partitions
4.Sound-resistance structure
5. Fire-proof structures
6.Fire-proof doors
7.Water-proof doors
8.Ceilings
9.pillar wrapping
10. Cabinet board
12.Flue board
13.Addition structure
official website ---www .gemtreeboard .com "
- anonymous by private email
Reply:
Anon:
We've heard similar complaints about drywall and "green-certified" drywall performance as well as about other products from readers who've been to "Green" websites or sought and bought "green-labelled" products.
OPINION: Unfortunately for people with a particular levels of concern about various aspects of the terms "green" or "environmentally-resonsible" or "healthy home" products, the construction industry, as other industries, has recognized the marketing value of the "green" label. Meanwile "green-labeling" itself has become difficult to navigate as self-appointed, self-labeling, self-certifying agences spring up to fill the market need. Some of these may be serious players, others simply less-obvious industry-marketing agencies.
Even LEED building certification is confusing, as the point-system allows a builder to earn points on some areas of energy conservation while paying them or at least missing them on others, leaving a consumer confused about just what "certification" means to them.
We cannot and don't in general recommend any specific product and we are as stymied as you about green building product or energy-efficient product labeling and agencies.
Whether reading ratings by a certifying agency or reading online product reviews, kudos, or gripes, consumers have to read with care as producers and sellers are acutely aware of the possible impact of good or bad publicity as well as review and website and search engine gaming techniques.
Consumers are left having to read the fine print and think for themselves.
InspectAPedia is an independent publisher of building, environmental, and forensic inspection, diagnosis, and repair information provided free to the public - we have no business nor financial connection with any manufacturer or service provider discussed at our website.
We are dedicated to making our information as accurate, complete, useful, and unbiased as possible: we very much welcome critique, questions, or content suggestions for our web articles. Working together and exchanging information makes us better informed than any individual can be working alone.
If you agree, I'll post your comment and concern as well as our reply an an appropriate website page and give you that link; our default is to keep you anonymous unless you want to be identified.
Often allowing the sun to shine on a public concern can be helpful and it can also bring comments from more-expert readers, consumers, etc. F]
Green Building Products Certifying Agencies
Drywall & Green Drywall Suppliers
American Gypsum
CertainTeed Gypsum
Georgia-Pacific Gypsum.
National Gypsum
United States Gypsum (USG)
Drywall & Gypsum Board Associations
Gypsum Association Representing manufacturers of gypsum board in the US and Canada www.gypsum.org
Drywall Information Trust Fund of California www.drywallca.com
Drywall Recycling www.drywallrecycling.org
USG Installation and Application Guides www.usg.com
Drywall & Gypsum Board Standards
Design and Construction Guidelines and Standards, Division 9, Fnishes, 09-20-00 Gypsum Drywall Technical Standards[PDF], July6 2008
Excerpt: Gypsum board manufacturers have several different types of gypsum wall board including standard (white board), fire rated (type X), acoustically enhanced, water resistant (green board MR), plaster base gypsum board (blue board) and mold resistant.

All gypsum drywall panels come in standard sizes but custom sizes are available for large orders. Thickness of gypsum board varies from from ¼ to 1 inch. Most building codes mandate either 1/2 or 5/8 inch drywall for single-thickness applications. Thinner ¼ and 3/8 inch to be used to cover existing walls and ceilings. Standard drywall works well in most situations but codes may require Type X or Type MR for certain applications.

Moisture resistant type gypsum wall board (green board) is not recommended in bathroom and laundry areas. Use Densglass or Aquatech by Gold Bond in these areas. Use tile backerboard such as Wonderboard or Durock around tub and shower enclosures.
Gypsum Association Representing manufacturers of gypsum board in the US and Canada www.gypsum.org
Drywall Information Trust Fund of California www.drywallca.com
Drywall Recycling www.drywallrecycling.org
USG Installation and Application Guides www.usg.com
...
Continue reading at DRYWALL MOLD RESISTANT or select a topic from closely-related articles below, or see our complete INDEX to RELATED ARTICLES below.
Or see moisture resistant drywall discussed at INTERIOR FINISHES: BEST PRACTICES
Or see LEED GREEN BUILDING CERTIFICATION
Or see these
Drywall / Gypsum Board Articles
Suggested citation for this web page
DRYWALL GREEN LOW TOXICITY at InspectApedia.com - online encyclopedia of building & environmental inspection, testing, diagnosis, repair, & problem prevention advice.
Or use the SEARCH BOX found below to Ask a Question or Search InspectApedia
Or see
Or use the SEARCH BOX found below to Ask a Question or Search InspectApedia
...
Ask a Question or Search InspectApedia
Questions & answers or comments about mold-resistant drywall and other mold-resistant building products & methods
.
Try the search box just below, or if you prefer, post a question or comment in the Comments box below and we will respond promptly.
Search the InspectApedia website
Technical Reviewers & References
Click to Show or Hide Citations & References
Association of the Wall & Ceiling Industry - awci.org "AWCI represents 2,200 companies and organizations in the acoustics systems, ceiling systems, drywall systems, exterior insulation and finishing systems, fireproofing, flooring systems, insulation, and stucco contractors, suppliers and manufacturers and those in allied trades.  Our mission is to provide services and undertake activities that enhance the members' ability to operate a successful business."
Drywall Finishing Council "is a Not For Profit, Mutual Benefit Organization that seeks to represent the issues that are commonly faced by manufacturers of materials used in the finishing of drywall" - see dwfc.org and see this .PDF about the Drywall Finishing Council. The DFC website provides additional documents: "a visual evaluation method for inspecting joint treated gypsum panel surfaces", "Interior Job Condition Specifications For The Application Of Drywall Joint Compounds, Drywall Textures, And Paints/Coatings", and "guidelines for determining the visual performance expectations of a Level 5 finish" drywall systems.
Drywall Grid System Standards:

ASTM C635 Standard Specification for the Manufacture, Performance, and Testing of Metal Suspension Systems for Acoustical Tile and Lay-in Panel Ceilings
ASTM C636 Standard Practice for Installation of Metal Ceiling Suspension Systems for Acoustical Tile and Lay-in Panels
ASTM C645 Standard Specification for Nonstructural Steel Framing Members
ASTM C754 Standard Specification for Installation of Steel Framing Members to Receive Screw-Attached Gypsum Panel Products
CISCA Ceiling & Interior Systems Construction Association
DSA PA105 Division of the State Architect (California)
IBC International Building Code
ICC ESR-1289 International Code Council Evaluation Service
NOA 04-0716.03 Dade/Broward County, Florida Product Approval
RR25348 City of Los Angeles Research Report
UBC 25-2 Uniform Building Code Standard (section 25.210, exception 2)
UL Underwriters Laboratories Inc. Fire Resistance Directory
Also see the Armstrong Corporation's article on drywall grid system installation details at armstrong.com/common/c2002/content/files/4279.pdf or contact the company at 877-ARM-STRONG

Gypsum Association, www.gypsum.org - 810 First St. N.E. Suite 510, Washington D.C. 20002, 202-289-4550. A gypsum drywall trade association that includes the following corporations: American Gypsum logo, CertainTeed Gypsum, Inc., CertainTeed Gypsum Canada Inc., CGC Inc., Federal Gypsum Company, Georgia-Pacific Gypsum, Lafarge North America, National Gypsum Co., PABCO Gypsum, Temple-Inland, United States Gypsum. (Most of these companies also publish product installation and specifications guides.)

The Gypsum Association association provides quite a few online documents addressing the installation and assessment of gypsum board products, including

Gypsum Board Evaluation Report - ES Report ESR-1338, 12/1/2007, Division 09, Gypsum Board Assemblies, prepared by ICC Evaluation Service, Inc. (icc-es.org) provides an independent evaluation of contemporary drywall or gypsum board products with respect to building code compliance (2006 International Building Code IBC and the 2006 International Residential Code IRC) with respect to interior finish, fire resistance, sound control, structural considerations, thermal barrier, and exterior finish.
Assessing Water Damage to Gypsum Board - (GA-231-06), "general industry conditions for assessing gypsum board that has been exposed to water or elevated levels of moisture. Includes recommendations for drying conditions" - available for purchase in hard copy form at www.gypsum.org
"Recommended Levels of Gypsum Board Finish", available at www.gypsum.org
Fire Resistance Design Manual GA-600, The 18th edition includes fire-resistance ratings for over 370 gypsum-protected wall, ceiling, roof, column, beam, girder, and truss systems. available for purchase in hard copy form at www.gypsum.org
Recommended Levels of Gypsum Board Finish (GA-214-07), "jointly produced by the four leading associations in the industry, assists specifiers, owners, and contractors to precisely describe the desired finish of individual walls and ceilings to meet specific needs. Avoids non-specific terms like "industry standards" and "workmanlike finish" and the problems they can cause" available for purchase in hard copy form at www.gypsum.org
Repairing Screw or Nail Pops [in drywall or gypsum board] (GA-222-08), "the symptoms, causes, and repair methods for fastener pops in gypsum board surfaces." available for purchase in hard copy form at www.gypsum.org

MSDS Material Safety Data Sheets for various drywall products

FIBEROCK® Brand Gypsum Fiber Underlayment - (US Gypsum) MSDS
FIBEROCK® Brand Abuse-Resistant Gypsum Fiber Panels (US Gypsum) MSDS
FIBEROCK® Brand Gypsum Fiber Sheathing Panels (US Gypsum) MSDS
Fiberock® Brand Aqua-Tough™Interior Panels (US Gypsum) MSDS
Hamilton drywall products Sher-Tex® PremiumMSDS
Plaster - sample (US Gypsum) MSDS
SHEETROCK® Brand Gypsum Panels (US Gypsum) MSDS
SHEETROCK® Brand HUMITEK™ Gypsum Liner Panels (US Gypsum) MSDS
Additional pertinent product MSDS from US Gypsum are at www.cgcinc.com/home.asp?nav=38&mkt=30&bc=1.18.38
Thanks to Jamie S. for detailed link editing assistance 4/11/2009
Books & Articles on Building & Environmental Inspection, Testing, Diagnosis, & Repair
Our recommended books about building & mechanical systems design, inspection, problem diagnosis, and repair, and about indoor environment and IAQ testing, diagnosis, and cleanup are at the InspectAPedia Bookstore. Also see our Book Reviews - InspectAPedia.
American Plywood Association, APA, "Portland Manufacturing Company, No. 1, a series of monographs on the history of plywood manufacturing",Plywood Pioneers Association, 31 March, 1967, www.apawood.org
Animal Allergens: Dog, Cat, and Other Animal Dander - Cleanup & Prevention Information for Asthmatics and regarding Indoor Air Quality.
Asbestos: How to find and recognize asbestos in buildings - visual inspection methods, list of common asbestos-containing materials
ASHRAE resource on dew point and wall condensation - see the ASHRAE Fundamentals Handbook, available in many libraries. The following three ASHRAE Handbooks are also available at the InspectAPedia bookstore in the third page of our Insulate-Ventilate section:
Best Practices Guide to Residential Construction, by Steven Bliss. John Wiley & Sons, 2006. ISBN-10: 0471648361, ISBN-13: 978-0471648369, Hardcover: 320 pages, available from Amazon.com and also Wiley.com. See our book review of this publication.
Humidity: What indoor humidity should we maintain in order to avoid a mold problem?
Ice Dam Leaks in building attics and roof cavities, how to inspect for evidence of leaks, identify causes, and correct bad attic ventilation, improper roof venting, and these causes of attic mold or roof structure damage
"Insulation: Adding Insulation to an Existing Home," U.S. Department of Energy - tips on how to do your own check for the presence of absence of insulation in a home
The National Institute of Standards and Technology, NIST (nee National Bureau of Standards NBS) is a US government agency - see www.nist.gov

"A Parametric Study of Wall Moisture Contents Using a Revised Variable Indoor Relative Humidity Version of the "Moist" Transient Heat and Moisture Transfer Model [copy on file as/interiors/MOIST_Model_NIST_b95074.pdf ] - ", George Tsongas, Doug Burch, Carolyn Roos, Malcom Cunningham; this paper describes software and the prediction of wall moisture contents. - PDF Document from NIS

...