Door Age: Door Locks, Knobs, Hinges
Hardware as Indicators of Building Age
InspectAPedia tolerates no conflicts of interest. We have no relationship with advertisers, products, or services discussed at this website.
Building door & door hardware age:
Door & window hardware, knobs, latches, hinges, & screws & nails observed on historic and other older buildings in Argentina, Australia, Italy, New Zealand, the United States, Spain, the U.K.and other countries.
This article describes and illustrates antique & modern hardware: door knobs, latches, hinges, window latches, hardware, nails & screws can help determine a building's age by noting how those parts were fabricated: by hand, by machine, by later generations of machine.
We also provide a MASTER INDEX to this topic, or you can try the page top or bottom SEARCH BOX as a quick way to find information you need.
Hardware Age: Door Locks, Knobs, Hinges & Nails or Screws as Indicators of Building Age
Door Hardware: latches, knobs, hinges, key covers, keys, and fastening hardware as well as other door construction details may all be indicators of building age.
Here we provide a photo gallery and comments about door hardware from various countries, and where possible we include dates and historical information. [Click to enlarge any image]
Above: this brass door viewing opening in Buenos Aires, Argentina, permits the occupants to inspect the caller before deciding whether or not to open the door.
Antique Door Hardware in Genoa & Venice
Above: a studded iron door and ornate cast brass door knocker from a palacio in Genoa's Centro Storico, Genoa Italy. Below, a more-modern keyed door lock and an antique door pull on a door at the Palacio Pisani in Venice, Genoa's historic enemy.
Our second door photo below shows an elegantly-simple self-closing door hinge at a door in the Palacio Brandolini Rota, also in Venice. This hinge uses the weight of the door to swing the door shut.
Clicking any of the photos at this website will display a larger, higher resolution image.
United States: Suffolk Resolves House Door Hardware

Above is door hardware from the Suffolk Resolves house at 1370 Canton Ave. in in Milton, Massachusetts in the U.S. and dating from 1774. This door uses lock hardware and a brass turn handle and key opening.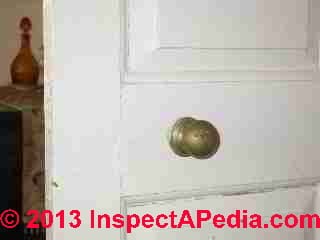 Notice in both the door hardware photos above and those shown below that unlike contemporary passage door locksets, the knob setback distance from the door edge is considerably greater.
Above and below are more examples of door hardware from the 1774 Suffolk Resolves house.
Below are a collection of antique door knobs in a shop in Boston's Boylston area and a ceramic door knob and ceramic keyhole cover from Locust Grove, an Italinate villa built in Poughkeepsie, NY for Samuel Morse in 1851.
Below: a glass door knob and painted-over, originally steel keyhole cover at the 1840 Justin Smith Morrill homestead house in Strafford, Vermont. More hardware from this home is at WINDOW HARDWARE AGE.
Our second photo (below) of door latch and locking hardware, also from the Justin Smith Morrill house most-likely date from two different epochs, with the cast-iron locking door latch added later.
Simple Cast Brass & Iron Door Knob & Lock, Hyde Park NY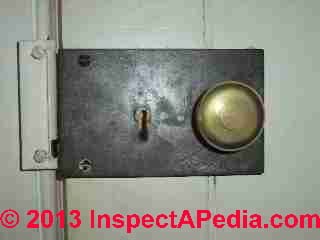 At above left is an interior passage door lock and door knob from a Hyde Park New York home built ca 1880.
Antique Door Hardware: Barcelona Spain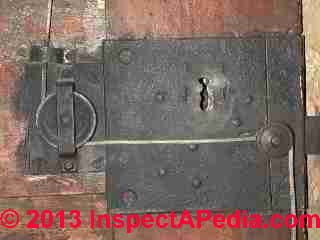 At above left is a string-operated entry door latch installed at the main floor entrance of an apartment building in the Barri Gotic in Barcelona, Spain. We estimate that this hardware may be more than 150 years old. The string permits occupants of any of the four floors of the building to open the entry door without having to descend the stairs.
Antique Doors in Mexico
The door shown in our first photo above is installed in Tlaxcala Mexico entering a hacienda that was constructed for Cortes. We estimate that the door and its hardware date from the 1850's. Our second photo above illustrates a lock and key in a hotel in Real de Catorce, Mexico.
This building, originally used to store silver mined from the surrounding hills of this once secret and difficult to access village, now functions as a hotel.
Below is a clinched-nail and studded exterior door using hand-wrought fasteners at el Charco, in San Miguel de Allende, Guanajuato, Mexico.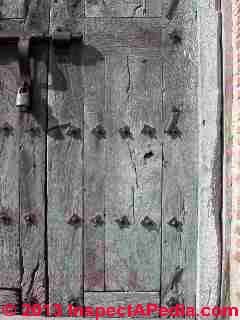 Below: in addition to barred iron inner doors with a brass lock, this doorway in Campeche, Yucatan, Mexico, relied on a working drawbridge for security.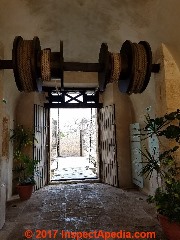 Antique Doors & Door Hardware in the U.K.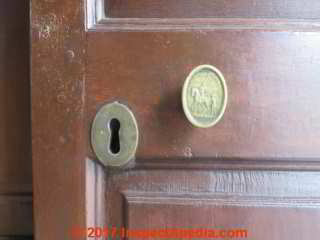 Above, Cast brass door pull and brass door lock keyhole cover from a London home in the U.K.
Below, in the Saxon Tower in Oxford one finds this historic door that was the entrance to the Bocardo Prison cell from which Archbishop Thomas Crammer and Bishops Hugh Latimer and Nicholas Ridley, the Oxford Martyrs were led to their death by being burned at the stake in 155 and 1556.
The Oxford Martyrs refused to embrace English Queen Mary Tudor's Roman Catholic faith. The second photo below illustrates massive strap hinges on a London church side-door.
Below: door details from Brinstone Farm, St. Weonards, Herefordshire U.K. Buildings in this area date from the 1600's. The simple farmhouse basement door and hinge shown below has served for at least 200 years. [Click to enlarge any image]
History of Door Hardware in Australia
Question: how old is this door hardware from Brisbane?
Hopefully you can help me, or know someone who can, date my door knobs please.

See photo attached. [Click to enlarge any image]

I've dug up two door knobs on the site here in Australia where a house was built in the 1870s, it was replaced by another house in 1936, but pretty much it's the original site. Is there any way that I can tell how old they are please?

Any help that you can give is greatly appreciated. - Anonymous by private email 2017/11/17 Brisbane, Australia
Reply:
Your door knob handles appear to be cast (metal poured into a mould), possibly of brass. The square cross-section knob shaft, now badly rusted and exfoliating, looks like iron. The round ring and cotter key look to me to have been fabricated out of iron and possibly copper or brass (for the pin).
I think I see hand-wrought components. If that's the case and if you were in North America these knobs could certainly be early eighteen-hundreds or older. In other countries such as Australia the age at which hand-wrought rings and cotter pins as well as cast iron doorknobs were in common production would be a bit later.
Reader follow-up:
The site the door knobs were founds was the site in Brisbane, Australia, of the original 1870s house that was replaced in 1936 by another house, which is the only indication that I have of the ages.

When you say hand-wrought components, what components are they please, what do you mean?

Reply:
Take a look at the round ring and cotter pin in your photo - to me it looks as if those may be hand -made. Look for hammer marks and surface or shape irregularities (beyond those ascribed to rust or corrosion or usage-wear) that may be from having been worked by hand tools such as a hammer.
You can see similar examples at NAILS & HARDWARE, Age, Types where I look at machine-made vs. hand-wrought nails.
Machine made rings or cotter pins were made from round wire. Hand made rings and cotter pins were, like nails, made from a rod forged by a blacksmith, then cut off, hammered to dimension, cut to size and for a ring, probably bent around an existing round standard.
A review of the history of iron work in Australia can be informative in understanding what form of metal objects might have appeared in different decades. These are resources of interest:
Southern, J.L.N., HISTORY OF IRON SMELTING IN AUSTRALIA [PDF] University of Wollongong, New South Wales, Australia, Email: research-pubs@uow.edu.au retrieved 2017/11/27, original source: http://ro.uow.edu.au/cgi/viewcontent.cgi?article=1725&context=ihsbulletin
Christon, Ray, "Fitzroy Iron Works Mittagong" High Ground Consulting, 116 Hassans Walls Road, Lithgow NSW 2790, (02) 6353 1812, for Fabcot Pty Ltd., retrieved 2017/11/27, original source: http://www.higround.com.au/docs/THFitzRoy.pdf
Day, L., "A selective History of the Fitz Roy Iron Works, Nattai (later Mittagong) from 1848 to 2006 (2006)
Bill Wallis, "The Architecture of Door Hardware in Australia" [PDF] Zanda Architectural Hardware, Perth (Head Office) 7 Bellows Street, Welshpool WA 6106 Australia, Email: sales@zanda.com.au, Tel: 1300 926 321 Zanda Press, website: www.zanda.com.au, retrieved 2017/11/26, original source: http://www.zanda.com.au/wp-content/uploads/2016/09/The-Architecture-of-Door-Hardware-v-12.pdf

This article notes that "Cast metal knobs were introduced around 1846.",
Restoration Online PO Box 26 Mt Victoria NSW 2786 Australia Tel: 02 6355 2003 Email: sales@esalesgroup.com.au Website: http://www.restorationonline.com.au/handles/door-handles

Antique door hardware for restoration projects in Australia Website
Wells, Kathryn, Historic Australian Houses - living museums - (website) (2013) http://www.australia.gov.au/about-australia/australian-story/historic-austn-houses might give access to someone who can specifically place your door knob.
Of course many door knobs and other door hardware were made of a range of materials including brass, bronze, china, copper, glass, wood, and later stainless steel and aluminum as well as zinc alloys.
Also try your own review of other search results for "history of iron work in Australia" and "history of metal work in Australia" - findings that are helpful .
But remember that the appearance of new technology across a huge continent is never simultaneous nor uniform. In North America in their outback (out-west) people were still forging nails by hand well after machine made nails were appearing in the Northeast. There is also some evidence that Australia had some metalworking going on before the arrival of Europeans, though that would not of course be likely to pertain to the door knobs in your photos.
Readers are welcome to use the page to or bottom CONTACT link or Comments Box to post observations and photographs about the age of these Brisbane Australia door parts or other antique or historic door hardware.
Door Manufacturers & Products Guide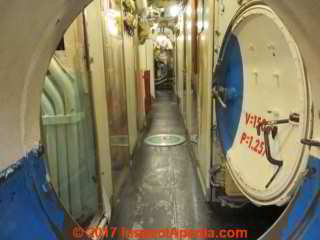 The (perhaps originally) water-tight round antique door shown in this photograph is in a Russian B-39 foxtrot-class diesel-electric submarine now docked as part of San Diego's naval musuem. San Diego, California. These subs served the Soviet Union between 1958 and 1984.
More components of this submarine can be found at MARINE TOILETS and at SINK TYPES & MATERIALS
Benchmark Entry Systems (division of Therma-Tru Doors) www.benchmarkdoors.com Steel and fiberglass entry doors
Jeld-Wen Windows and Doors www.jeld-wen.com Wood, wood composite wood, fiberglass, and steel entry doors
Kolbe Windows and Doors www.kolbe-kolbe.com Wood, steel, and fiberglass entry doors with LVL core and optional extruded-aluminum cladding on frame
Lamson-Taylor Custom Doors and Millwork www.lamsontaylor.com Custom pine and hardwood entry doors with foam insulation core
Masonite Corp. www.masonite.com Steel, wood-edged steel, and fiberglass entry doors
Peachtree Doors and Windows www.peach99.com Steel and smooth and textured fiberglass entry doors
Pella Windows and Doors www.pella.com Fiberglass and steel entry doors
Phoenix Door Manufacturing Company www.phoenixdoor.com Softwood and hardwood entry doors up to 8 ft. high and custom designs
Restoration Online PO Box 26 Mt Victoria NSW 2786 Australia Tel: 02 6355 2003 Email: sales@esalesgroup.com.au Website: http://www.restorationonline.com.au/handles/door-handles
Simpson Door Company www.simpsondoor.com Douglas-fir, hemlock, oak, and mahogany entrance doors, including custom doors; also primed MDF, particleboard, and composite wood doors
Stanley Door Systems (division of Masonite) www.stanleyworks.com Steel and fiberglass entry doors
Weathershield Windows and Doors www.weathershield.com Wood and steel entry doors, with wood, vinyl, aluminum clad, and vinyl-clad frames
Taylor Building Products www.taylordoor.com Steel (stainable finish) and fiberglass entry doors
Therma-Tru Doors www.thermatru.com Steel and fiberglass entry doors with optional vinyl-clad jambs
(Photos of antique & unusual door & door hardware components with age dating details wanted. CONTACT Us)
...
Continue reading at NAILS & HARDWARE, AGE or select a topic from closely-related articles below, or see our complete INDEX to RELATED ARTICLES below.
Or see AGE of a BUILDING, HOW to DETERMINE
Or see WINDOW HARDWARE AGE
Or see WINDOWS & DOORS, Age, Types
Suggested citation for this web page
DOOR HARDWARE AGE at InspectApedia.com - online encyclopedia of building & environmental inspection, testing, diagnosis, repair, & problem prevention advice.
Or use the SEARCH BOX found below to Ask a Question or Search InspectApedia
Or see
Or use the SEARCH BOX found below to Ask a Question or Search InspectApedia
...
Ask a Question or Search InspectApedia
Try the search box just below, or if you prefer, post a question or comment in the Comments box below and we will respond promptly.
Search the InspectApedia website
Technical Reviewers & References
Click to Show or Hide Citations & References
[1] Tremont Nail Company, P.O. Box 31, Mansfield, MA 02048, Tel: 800-835-0121, 508-339-4500 Website: http://www.tremontnail.com/
America's Favorite Homes, mail-order catalogues as a guide to popular early 20th-century houses, Robert Schweitzer, Michael W.R. Davis, 1990, Wayne State University Press ISBN 0814320066 (may be available from Wayne State University Press)
American Plywood Association, APA, "Portland Manufacturing Company, No. 1, a series of monographs on the history of plywood manufacturing",Plywood Pioneers Association, 31 March, 1967, www.apawood.org
"An Example of Colonial Paneling", Norman Morrison Isham, The Metropolitan Museum of Art Bulletin, Vol. 6, No. 5 (May, 1911), pp. 112-116, available by JSTOR.
Pergo AB, division of Perstorp AB, is a Swedish manufacturer or modern laminate flooring products. Information about the U.S. company can be found at http://www.pergo.com where we obtained historical data used in our discussion of the age of flooring materials in buildings.
Plank House Construction: weblog from plankhouse.wordpress.com/2009/01/25/plank-house-construction/ and where plank houses were built by native Americans, see
Large 1:6 Scale Plank House Construction / P8094228, Photographer: Mike Meuser
06/12/2007 documented at yurokplankhouse.com where scale model Museum quality Yurok Plank Houses are being sold to raise money for the Blue Creek - Ah Pah Traditional Yurok Village project.
The Stairway Manufacturers' Association, (877) 500-5759, provides a pictorial guide to the stair and railing portion of the International Residential Code. [copy on file as http://www.stairways.org/pdf/2006%20Stair%20IRC%20SCREEN.pdf ] -
The Staircase, Ann Rinaldi
Weaver: Beaver Board and Upson Board: Beaver Board and Upson Board: History and Conservation of Early Wallboard, Shelby Weaver, APT Bulletin, Vol. 28, No. 2/3 (1997), pp. 71-78, Association for Preservation Technology International (APT), available online at JSTOR.
What Style Is It?: A Guide to American Architecture, Rev., John C. Poppeliers, S. Allen Chambers, Wiley; Rev Sub edition (October 6, 2003), ISBN-10: 0471250368, ISBN-13: 978-0471250364
Books & Articles on Building & Environmental Inspection, Testing, Diagnosis, & Repair
Our recommended books about building & mechanical systems design, inspection, problem diagnosis, and repair, and about indoor environment and IAQ testing, diagnosis, and cleanup are at the InspectAPedia Bookstore. Also see our Book Reviews - InspectAPedia.
...