Common Defects in Kitchen or Bathroom Cabinets & Countertops

Guide to inspecting kitchen & bathroom cabinets for defects & safety hazards
Loose, falling wall-mounted cabinets
Un-secured kitchen islands that tip over
Loose cabinet doors & hinge hardware
Guide to inspecting kitchen & bath countertops for defects
Serious safety hazards: falling wall cabinets
POST a QUESTION or READ FAQs about inspecting, recognizing, and repairing defects in kitchen or bathroom cabinets & countertops
InspectAPedia tolerates no conflicts of interest. We have no relationship with advertisers, products, or services discussed at this website.
Kitchen & bathroom cabinet defects & safety hazards. This article describes common defects found in kitchen or bathroom cabinets - problems that can be found by visual inspection. We describe the hazard of falling wall mounted kitchen or bath cabinets, tipping kitchen islands, and we discuss less serious K&B hazards such as loose, falling off cabinet doors and defective cabinet hinges.
Green links show where you are. © Copyright 2014 InspectApedia.com, All Rights Reserved.
Guide to Inspecting for Defects in Kitchen or Bathroom Cabinets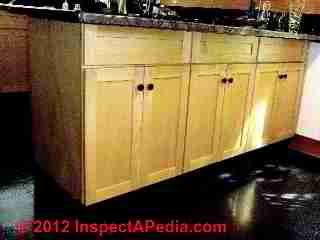 At Cabinet Quality, Bath / Kitchen and Countertops, Kitchen Choices, Properties in our article series discusses current best design practices for kitchens and bathrooms, including layout, clearances, work space, and accessible kitchen and bathroom layout, clearances, turning space, grab bars, controls, etc. This article includes excerpts or adaptations Carson Dunlop AssociatesHome Reference Book and from Best Practices Guide to Residential Construction, by Steven Bliss, courtesy of Wiley & Sons.
Very serious kitchen or bath cabinet hazards include wall-mounted cabinets that are not adequately secured to the building wall. A falling cabinet can cause serious injury. A second class of kitchen cabinet hazards are un-secured islands and island cabinets that tip over onto a child playing by swinging from the counter edge.
As explained in Chapter 6 of Best Practices Guide to Residential Construction:Assessing a cabinet's quality is not always easy due to the large number of components involved and the fact that much of the material and joinery is concealed. One good indication of overall durability is certification by the Kitchen Cabinet Manufacturers Association, which has a rigorous testing and certification program that measures such things as structural integrity, shelf strength, hardware durability, and quality of finishes.
But here, adapted from Carson Dunlop Associates' Home Reference Book, we focus on defects in cabinet installation or condition, problems that can be found by visual inspection.
Kitchen or Bathroom Cabinets
Dangerous Falling Cabinet Hazards
Watch out: Beware of loose, falling wall-mounted cabinets. Inspect carefully before you touch or pull on a wall-mounted cabinet. At a home inspection D.F. gave a gentle tug to the under-lip of an array of wall mounted cabinets. Don't try this.
All six of the wall cabinets in a row crashed to the floor. Luckily no one was close by or someone could have been badly hurt.
Joints in cabinets in poor condition may be separating and shelves may be poorly supported, risking falling contents, sometimes including heavy or fragile items.
Clues for building inspectors that can suggest a loose falling-off wall cabinet include:
The cabinet is visibly askew - take a look from the side or end view such as is shown in Carson Dunlop's sketch at left.
The cabinets are out of plumb, out of square, apparently mounted by an amateur
There are few fasteners visible inside the cabinets securing them to the wall
The cabinets are empty, in an occupied home.
Quoting from Carson Dunlop Associates' The Home Reference Book:
Cabinets may be installed anywhere but are most common in kitchens and bathrooms.

Cabinets may be built of wood, although most today are veneer-covered fiberboard. Shelves and doors are commonly solid wood, veneered fiberboard or glass.

The quality of cabinets is a function of the materials, assembly techniques and hardware used on doors and drawers.
Water damaged & moldy Kitchen or Bathroom Cabinets
A small moldy patch on a particleboard cabinet base (below-left, less than 1 sq.ft.) is unlikely to be a significant health hazard in a building, though it could bother someone with sensitive mold allergies or who is asthmatic. There may be more hidden mold below the cabinet base. At below right we not in the same cabinet that the mice don't seem disturbed by water, leaks, and mold - though their droppings make the cabinet unsanitary for food storage.
Below we illustrate another minor mold contamination case, due to water that leaked from a nearby shower to beneath the vanity base. The vanity was replaced and the new unit first coated with a clear sealant on its hidden surfaces, then caulked at the floor and walls to keep water out of its hidden spaces.
But mold growth behind wall or base cabinets can be quite extensive, and totally hidden if a home has been flooded for any reason, as we illustrate with the photos below, showing mold on the previously-hidden sides of kitchen cabinets. More examples of mold growing on just about anything in buildings can be seen at MOLD GROWTH on SURFACES, PHOTOS.
It would have been a mistake to leave these cabinets mounted to the wall of the home where they were found, even though mold was not visible on the room side of exposed wall surfaces. And further investigation of the wall cavity behind where these cabinets had been mounted confirmed that the cavity side of the wall needed to be cleaned as well.
Leaks into kitchen or bath cabinets can occur in surprising places, as water can travel inside a building wall or along a floor where it passes into hidden spaces such as the interstitial space between a cabinet back and the building wall, or the cabinet base and the floor. A result can be hidden mold contamination.
Expect to find mold on hidden wall or floor cabinets on hidden surfaces if a building has been flooded or subject to extensive leakage or wetting due to extinguishment of a fire.
The most common location of water damage to cabinets is of course at sinks or at the sides and bottoms of base cabinets adjacent to a leaky dishwasher (our two photographs above).
Kitchen or Bathroom Countertop Defects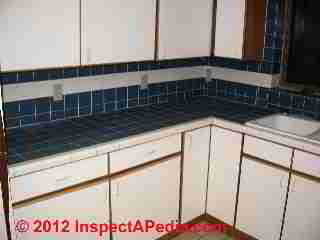 At left we illustrate a ceramic tile countertop. The uneven surface and grout joints make this countertop difficult to cle3an.
Quoting again from The Home Reference Book:
Countertops can be made of many materials.
Laminated plastic surfaces applied to fiberboard are common because they are inexpensive, water resistant, available in a huge selection of colors and patterns, and are easy to clean.
They are difficult to repair if cut by knives, chipped or burned. These are referred to as laminate countertops.
Other common countertop materials include granite, marble, stainless steel, ceramic tile, concrete, hardwood (butcher block), soapstone and a number of manufactured products including engineered stone and other solid surface materials.
The ideal countertop won't burn, crack, chip or break, is easy to clean, non-porous, and is resistant to rot, water damage, stains and knives.
Problems with Kitchen or Bathroom Cabinets, Cabinet Doors, & Drawers
Cabinet door and drawer operating problems
Cabinet problems may include improper operation of doors and drawers. Sticky drawers and doors that will not stay closed are common. Hardware may be missing, worn or inoperative.
Cabinets may be damaged or deteriorated due to wear and tear.
Cabinets, doors and drawers may be mechanically damaged or worn. Knobs may be loose, missing or broken.
Many of these are cosmetic or nuisance issues. The decision to replace cabinets and countertops is subjective.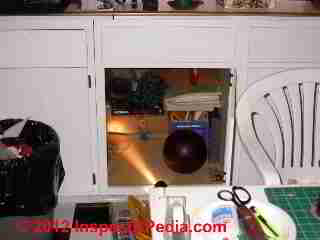 Our next-to-last cabinet damage photo (we're all getting sick of this issue but there are still hinges to discuss) illustrates the problem of hidden leaks, cabinet base damage, even rot, that we don't discover because of all the clutter stored in the cabinet base.
Our flashlight points to a puddle of water, but also notice that the whole cabinet base bottom shelf is falling apart. You often won't see this in a home until you start pulling out all that stuff crammed into the cabinet.
Problems with Kitche or Bathroom Countertop Damage
Countertops may suffer cosmetic damage, and fiberboard countertops often rot, especially damage around sinks and faucets.
Burns and mechanical damage are common on laminate countertops.
Cracked tiles and missing grout are common on ceramic tile countertops.
Problems with Kitchen or Bathroom Cabinet Hinges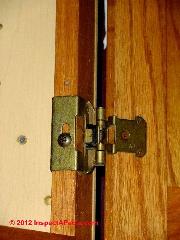 Common K&B cabinet hinge problems show up as
Loose or falling-off cabinet doors - check for hinges that have lost screws. This is a potential safety hazard.

If the screw opening in the cabinet door back or in the cabinet box or carcase has become stripped, an easy repair is to simply glue a small sliver of wood, perhaps a wooden matchstick in the hole before re-using the same screw.
Misaligned K&B cabinet doors - usually a cosmetic concern corrected by making appropriate adjustments at the door hinges.

Set the cabinet doors that are in pairs so that their meeting edges are parallel and have enough space between them to open and close without obstruction.
The photo below shows what happens when hinges or their mounting point are falling apart or are just loose.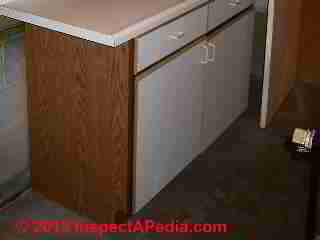 Loose, askew, falling cabinet doors are almost always due to hinge problems (discussed below), but keep in mind that particleboard cabinet carcases in which the hinges have become loose will require more effort (and glue) to repair.
At left we illustrate problematic cabinet doors. On a cabinet base such as this one, watch out for drawers that are falling apart as well.
Kitchen and Bath Product Manufacturers, Sources, Associations
Plastic Laminate Countertop Manufacturers List
Abet Inc. www.abetlaminati.com
Arborite www.arborite.com
Formica Corp. www.formica.com
Nevamar Decorative Surfaces www.nevamar.com
Pionite Decorative Surfaces www.pionite.com
Wilsonart International www.wilsonart.com
Solid Surface Countertop Manufacturers
Avonite Surfaces www.avonite.com
Centura Solid Surfacing www.centurasolidsurface.com
Dupont www.corian.com
Formica Corp. www.formica.com Formica solid surfacing, formerly Surell and Fountainhead
Halstead International www.e-topstone.com Topstone solid surface distributor
Lippert Corp. www.lippertcorp.com
Sansung Staron www.getstaron.com Swanstone www.theswancorp.com
TFI www.tficorp.com
Transolid Inc. www.transolid.com
Wilsonart International www.wilsonart.com
Engineered Stone Countertop Manufacturers
Cambria www.cambriausa.com Cosantino USA www.silestoneusa.com
Dupont www.zodiaq.com
Halstead International www.halsteadintl.com Granyte distributor
Technistone USA www.technistoneusa.com
U.S. Quartz Products www.caesarstoneus.com
Kitchen Exhaust Fan Companies
Amana www.amana.com Pop-up and traditional range hoods
Bosch www.boschappliances.com Chimney style, downdraft, and traditional range hoods, stainless steel and colors
Kitchenaid www.kitchenaid.com Retractable downdraft, slide out, island, and traditional range hoods
Broan-Nutone LLC www.nutone.com Nutone downdraft, island, and traditional range hoods
Dacor www.dacorappl.com Commercial-style, stainless-steel pop-up and overhead range hoods; hood liners for custom canopies
Gaggenau www.gaggenau.com/us Chimney-style, pop-up, slide-out, and island range hoods in stainless-steel, aluminum, and glass
Jenn Aire/Maytag Corp www.jennaire.com Pop-up, under-cabinet, wall, soffit, island, and fans and hood liners for custom canopies
Thermador www.thermador.com Updraft, downdraft, and island-range hoods
Wolf Appliance Co. www.wolfappliance.com Pop-up, chimney-style, wall, and island-range hoods in stainless steel
Kitchen & Bath Industry Associations
Association of Home Appliance Manufacturers(AHAM) www.aham.org
National Kitchen and Bath Association (NKBA) www.nkba.org
Ceramic Tile Institute of America www.ctioa.org
Home Ventilation Institute (HVI) www.hvi.org
Marble Institute of America www.marble-institute.com Porcelain Enamel Institute (PEI) www.porcelainenamel.com
Tile Council of America (TCA) www.tileusa.com
-- Adapted with permission from Best Practices Guide to Residential Construction and from Carson Dunlop AssociatesHome Reference Book
...
Frequently Asked Questions (FAQs)
No FAQs have been posted for this page. Try the search box below or CONTACT US by email if you cannot find the answer you need at InspectApedia.
Ask a Question or Search InspectApedia
Questions & answers or comments about inspecting, recognizing, and repairing defects in kitchen or bathroom cabinets & countertops.
Try the search box just below or if you prefer, post a question or a comment in the Comments box below and we will respond promptly.
Search the InspectApedia website
Technical Reviewers & References
Related Topics, found near the top of this page suggest articles closely related to this one.
Click to Show or Hide Citations & References
Books & Articles on Building & Environmental Inspection, Testing, Diagnosis, & Repair