Properties of Balsam Wool & Wood Product Building Insulation

InspectAPedia tolerates no conflicts of interest. We have no relationship with advertisers, products, or services discussed at this website.
Balsam wool insulation guide: this article illustrates and describes balsam wool and wood product insulation materials. We discuss the properties of balsam wool, what it is made from, its fire resistance, insect resistance, insulation properties (R-value). We address the frequent question: does balsam wool insulation contain asbestos and we give the history of use and manufacture of balsam wool. We added these examples because of frequent questions about these materials. This document assists building buyers, owners or inspectors who need to identify various insulation materials in buildings by simple visual inspection. We provide photographs and descriptive text of balsam wool insulation and other wood insulating products to permit identification of these materials in buildings.
Green links show where you are. © Copyright 2014 InspectApedia.com, All Rights Reserved.
Balsam Wool Insulation Properties, Composition, History, Photos, Tests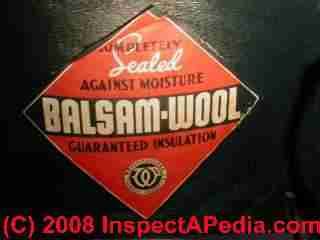 History of the Development & Production of Balsam Wool Insulation
"Balsam Wool" is a wood fiber product or "cellulose" insulation that was widely used in homes and in a variety of other applications in the U.S. from at least the 1930's.
Our Balsam-Wool insulation photo (above left) includes a Weyerhaeuser Forest Products logo in the bottom of the red diamond.
We learn from the Minnesota Historical Society [5] as well as from reviewing patents describing the history of production of balsam wool fiber insulation [4] that the Wood Conversion Company of Cloquet, Minnesota, incorporated in 1922 in Delaware.
The Wood Conversion Company of Cloquet was a Weyerhaeuser By-Products Division, and was a key participant in the development & production of Balsam Wool Insulation. Wood Conversion was the assignee of a variety of patents describing the production of balsam wool and other wood fiber (and even animal hair) insulation products.
The wood product insulating batts shown in these photos was produced by Weyerhaeuser corporation.
In the right hand (and page top) photo of this insulation (basically chopped wood fibers, probably treated with a fire retardant), you can see the brown/tan fibers of insulating material.
Properties of Balsam Wool Building Insulation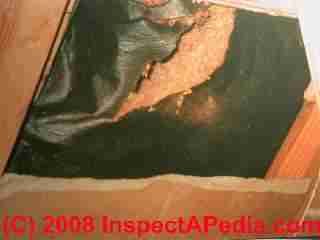 Balsam wool insulating blankets, also referred to as "wood cotton" in some patent literature, are shown in our photographs here. These insulating batts of "balsam wool" were produced using wood fibers from tree bark, wood pulp, or other lumber byproducts.
A review of some of the key patents, (described below in the references section of this article) a variety of tree species were described including tree bark and wood byproducts from redwood, [balsam] fir, and others. [4]
Various sprays were used to give desired properties including for adhesion, fiber control, sizing, and possibly insect and rodent resistance.
When inspecting balsam wool insulation we advise against cutting the kraft paper covering these insulation batts as if the paper is cut a large amount of the insulating material is likely to simply fall out.
If you must make a cut to test or confirm the material or its condition, the cut should be just an inch or so, and you should tape the cut closed after your inspection.
Does Balsam Wool Insulation Contain Asbestos?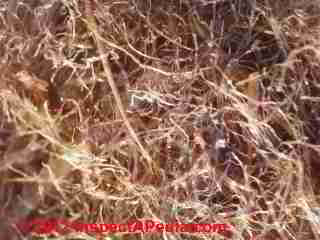 Balsam wool insulating blanket used wood fibers from tree bark, wood pulp, or other lumber byproducts. As such it is a wood or cellulose product and not an asbestos-containing material.
Watch out: however, from 1958 through 1974 asbestos was used in the production of other products at the Conwed Corporation (Wood Conversion Company) plant in Cloquet, Minnesota, including the production of ceiling tiles and other products.
Our photo at left illustrates a stereo-microscopic view of balsam wool fibers. You can see that the manufacturing process separated individual long wood fibers and that there was little extraneous material in this insulation product.
Fire Resistance of Balsam-Wool Insulation - lab test results
In 2012 we performed a simple combustion test of a sample of Balsam-Wool insulation from an older home. Our photos below illustrate the result. Using an alcohol lamp as a flame source in our lab, and holding a sample of balsam-wool insulation in the flame until its edges glowed, we found on removal from the flame that the insulation would not support combustion.
Insect Resistance of Balsam Wool Insulation
Balsam wool, depending on the wood species used to produce it, may be naturally insect resistant (Balsam) as are cedar, cypress, and some other wood products. It might have been treated with a fire retardant, I don't yet know (am researching the question). Some fire retardants (borate salts used in cellulose insulation) also seem to be mold resistant and may also be insect resistant.
R-Values of Balsam Wool Insulation
We estimate that balsam wool has an R value of about 2 to 3.5 in loose fill and about 2 to 3.25 in batts.
We have seen some estimates of an R value of 3.4 per inch for versions of insulation that contain a mixture of wood fibers and chopped paper.
To compare insulating material R-values see our Table of Properties of Insulating Materials
Blackweld Wood Fiber / Cellulose Insulation?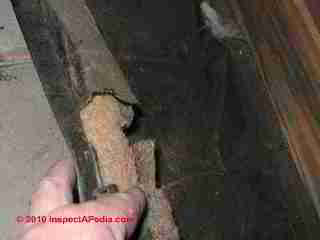 Professional home inspector Stephen P. Shockley sent along this excellent photo of 1940's vintage insulation found in a home below a more recent layer of fiberglass insulation.
We think this is "Blackweld Insulation", another wood-fiber insulation product similar to the Balsam Wool product described above, and we are looking for a positive ID, product label photos, or a sample to examine in our forensic lab. CONTACT us with feedback.
Had Mr. Shockley been able to send a small sample (a cubic inch or less would be sufficient) to our forensic lab we would have examined the material to identify its constituents.
...
Frequently Asked Questions (FAQs) about Balsam Wool Insulation: properties, R-values, Ingredients, Hazards, Fire Resistance
Ask a Question or Search InspectApedia
Questions & answers or comments about the properties & identification of balsam wool & other wood product insulation materials.
Try the search box just below or if you prefer, post a question or a comment in the Comments box below and we will respond promptly.
Search the InspectApedia website
Technical Reviewers & References
Related Topics, found near the top of this page suggest articles closely related to this one.
Click to Show or Hide Citations & References
[1] 3/07: thanks to Gary Randolph, Ounce of Prevention Home Inspection, LLC Buffalo, NY, for attentive reading and editing suggestions. Mr. Randolph can be reached in Buffalo, NY, at (716) 636-3865 gary@ouncehome.com
[2] 06/07: thanks for photographs of transite asbestos heating ducts, courtesy of Thomas Hauswirth, Managing Member of Beacon Fine Home Inspections, LLC and (in 2007) Vice President, Connecticut Association of Home Inspectors Ph. 860-526-3355 Fax 860-526-2942 beaconinspections@sbcglobal.net
[3] Thanks to home inspector Stephen P. Shockley, Shore-Footed Property Services, for discussing "blackweld" cellulose-based (probably) insulation, August 2010
[4] Patents describing the Production & Use of Balsam Wool, and assigned to the Wood Conversion Company of Cloquet, Minnesota
[5] Forest History Society, Comp., "Interviews with pioneer lumbermen, 1953-1957", Minnesota Historical Society, web search 6/19/2012, original source: http://www.mnhs.org/library/findaids/P2385.xml . Abstract: Transcripts (typewritten carbon copies) of interviews between pioneer lumbermen and relatives of lumbermen of the Upper Midwest and members of the Forest History Society staff. The interviewees are: Paul Caplazi, Leonard Costley, Walter Ernest Dexter, Maud Mullen Calgren, George W. Dulany, Herman Heitman, Julius Joel, James Arthur Mathieu, Hope Garlick Mineau, Wirt Mineau, George Neils, Walter Neils, L. J. Olson, Margaret Orr O'Neill, Hugo Schlenk, Orrin W. Sinclair, and James Stevens. and
"Origins of the Lumber Industry at Cloquet," by Hugo Schlenk. 3 leaves. Information is given on the Charles N. Nelson's Lumber Company's Cloquet mill which was built in 1880; on the operations of the Knife Falls Lumber Company (1883); the absorption of this firm by the George Shaw company of Davenport and by Frederick Weyerhaeuser (1883). This firm was then called Renwick, Shaw and Crossett Company, and later the Cloquet Lumber Company. Other companies organized were: Cloquet Water Power Company (1882); Johnson-Wentworth Company (1894); Northwest Paper Company (1898); Wood Conversion Company (1922); and the Northern Lumber Company (1911), the latter three being Weyerhaeuser interests. The paper ends with a description of the organization and early leaders of the Knife Falls Boom Corporation, which was incorporated in 1871.
Asbestos products and their history and use in various building materials such as asphalt and vinyl flooring includes discussion which draws on Asbestos, Its Industrial Applications, D.V. Rosato, engineering consultant, Newton, MA, Reinhold Publishing, 1959 Library of Congress Catalog Card No.: 59-12535 (out of print).
Building Research Council, BRC, nee Small Homes Council, SHC, School of Architecture, University of Illinois at Urbana-Champaign, brc.arch.uiuc.edu. "The Small Homes Council (our original name) was organized in 1944 during the war at the request of the President of the University of Illinois to consider the role of the university in meeting the demand for housing in the United States. Soldiers would be coming home after the war and would be needing good low-cost housing. ...  In 1993, the Council became part of the School of Architecture, and since then has been known as the School of Architecture-Building Research Council. ... The Council's researchers answered many critical questions that would affect the quality of the nation's housing stock.

How could homes be designed and built more efficiently?
What kinds of construction and production techniques worked well and which did not?
How did people use different kinds of spaces in their homes?
What roles did community planning, zoning, and interior design play in how neighborhoods worked

"Insulation: Adding Insulation to an Existing Home," U.S. Department of Energy - tips on how to do your own check for the presence of absence of insulation in a home
Insulation: Selecting Insulation for New Home Construction, U.S. Department of Energy - "Your state and local building codes probably include minimum insulation requirements, but to build an energy-efficient home, you may need or want to exceed them. For maximum energy efficiency, you should also consider the interaction between the insulation and other building components. This is called the whole-house systems design approach."
Weaver: Beaver Board and Upson Board: Beaver Board and Upson Board: History and Conservation of Early Wallboard, Shelby Weaver, APT Bulletin, Vol. 28, No. 2/3 (1997), pp. 71-78, Association for Preservation Technology International (APT), available online at JSTOR.
Books & Articles on Building & Environmental Inspection, Testing, Diagnosis, & Repair
The Home Reference Book - the Encyclopedia of Homes, Carson Dunlop & Associates, Toronto, Ontario, 25th Ed., 2012, is a bound volume of more than 450 illustrated pages that assist home inspectors and home owners in the inspection and detection of problems on buildings. The text is intended as a reference guide to help building owners operate and maintain their home effectively. Field inspection worksheets are included at the back of the volume. Special Offer: For a 10% discount on any number of copies of the Home Reference Book purchased as a single order. Enter INSPECTAHRB in the order payment page "Promo/Redemption" space. InspectAPedia.com editor Daniel Friedman is a contributing author.

Or choose the The Home Reference eBook for PCs, Macs, Kindle, iPad, iPhone, or Android Smart Phones. Special Offer: For a 5% discount on any number of copies of the Home Reference eBook purchased as a single order. Enter INSPECTAEHRB in the order payment page "Promo/Redemption" space.