Mobile Home Insulation Guide
Mobile home, trailer, doublewide energy savings & insulation types, R-values, installation
InspectAPedia tolerates no conflicts of interest. We have no relationship with advertisers, products, or services discussed at this website.
Mobile home & trailer insulation guide to selection, installation, inspection, troubleshooting, & improvement:
Here we outline steps to reduce heating, cooling, and electricity costs for manufactured homes, mobile homes or doublewides / trailers. While you might think that insulating is the top priority it might not be.
This article series discusses how to inspect, diagnose and correct problems in mobile home, doublewide, or trailer & camper insulation or ventilation systems.
We also provide a MASTER INDEX to this topic, or you can try the page top or bottom SEARCH BOX as a quick way to find information you need.
Mobile Home & Trailer Home Insulation & Ventilation Defects, Diagnosis, Repair, Improvement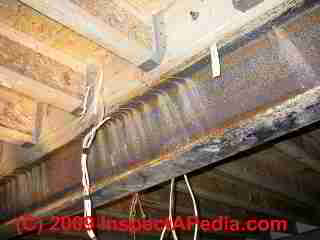 The photo shown here illustrates a manufactured home that has no insulation under the floor. Insulation may be omitted until after the home has been transported to the site - thus avoiding risking damage or soaking if transport of the home takes place in wet weather.
In fact those muddy streaks on the steel center beam tell us that this home was indeed driven down a wet highway.
[Click to enlarge any image]
So is this where we should first add insulation? No.
In a completed manufactured or mobile home you cannot normally see into the walls or roof to inspection insulation directly, leading renters or home owners to focus on insulation under the home's floor.
Actually the priorities of action to stop heat loss and thus reduce heating costs in cold climates are
stop air leaks or drafts, such as at leaky windows and doors and also stop gales of cold wind from blowing under the home if it is missing its skirting
insulate the roof space
Insulate the wall space and then
insulate the floor or belly-wrap area
Our page top photo, courtesy of Jeremias, one of our mobile home inspection and repair advice readers, shows a mobile home whose walls have been completely opened to permit:
Identification and correction of all leak points
Repair of rotted framing
Removal and replacement of wet, moldy wall insulation
Crawl space area ventilation below mobile homes : sq ft/150 = min area and must cross vent on at least 2 sides;
PVC plastic vapor barrier placed on soil below the mobile home is recommended to hold down moisture;
Attic venting (sloped shingled roofs) - often omitted, shorter shingle life, voids warranty, etc.
Attic venting (often none or just a few spot vents in flat roofs) - condensation, leaks, related damage.
Check dryer vent routing and materials for fire hazards (blocked overheats dryer; or may collect water)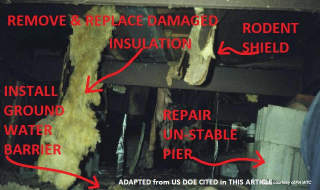 Shown above is a photo of a damaged rodent barrier and falling insulation below a manufactured home, adapted from U.S. DOE and cited in detail at MOBILE HOME INSULATION BELLY WRAP.
To understand the condition of mobile home insulation and thus to decide what steps are worth taking to reduce home heating or cooling costs for mobile homes, doublewides, and trailers, we need to inspect the structure focusing on leaks, water damage, and especially air leaks around windows and doors.
If we don't fix those problems first, efforts to add insulation in the ceiling, walls, or floor may be wasted.
Energy improvement choices for manufactured homes (mobile homes, doublewides, trailers)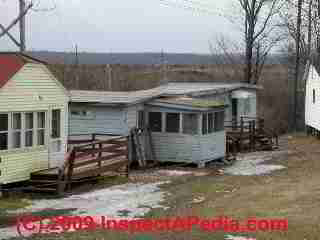 The first citation below offers these suggestions for improving the energy efficiency of mobile homes. For older mobile homes (built before 1976) the following list sets priorities for reducing heating & cooling costs for these older structures.
We have added comments, interpretation and suggestions to bring a dose of (in our opinion) reality to the government's advice and I've re-ordered the suggestions into a priority based on most return for least cost and effort. According to US HUD (energy.gov)
Experiments conducted on pre-1976 manufactured homes by the National Renewable Energy Laboratory (NREL) from 1988 to 1991 found that these retrofit measures resulted in a 31% reduction in heating fuel usage. [1]
Caulking & Sealing: inspect and seal air and water leaks around windows, doors, and the roof perimeter as well as any on-roof fittings.
Skirting: Add a skirt if none is provided, or inspect & repair the existing skirting to stop winds from blowing beneath the unit. In cold climates, install insulated skirting panels.

Most mobile home codes currently require a skirting around the unit as well as a moisture barrier on the ground below it.
Install a belly wrap or rodent barrier beneath the unit. Defer this step until after inspecting & improving insulation if that's in your plan (the next item below).
Add insulation to the mobile home belly. Inspect the existing insulation for visible mold, water stains, wetness, insect or rodent infestation.

If you find these conditions, remove the old insulation, clean the exposed surfaces, then re-insulate, adding a rodent barrier or belly wrap.

Details including several approaches to insulating and wrapping the floor under a mobile or manufactured home are at MOBILE HOME INSULATION BELLY WRAP

Our photo below shows plastic added under the belly of a mobile home or manufactured home as well as on the ground as a moisture barrier. Skirting has yet to be replaced.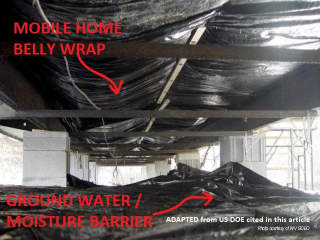 Install a roof cap and/or add insulation to the roof structure.



Blow in roof insulation: Insulation can be added to an existing mobile home roof IF the existing roof cavity is not already fully insulated by cutting openings to blow insulation from the exterior or interior. Cutting open the roof from the exterior or peeling back the roof covering may make sense if the existing roof is already leaky and needs to be repaired.

Watch out: Before blowing in insulation through drilled openings, inspect the roof cavity conditions for leaks and moisture - don't add insulation to a wet roof.


Mobile home roof cap: A mobile home roof cap is made up of insulating boards that are laid over the existing roof combined with a new metal or rubber roof exterior surface. This is a "hot roof" design - the roof cavity is not ventilated.

Watch out: don't add a roof cap over an existing roof cavity that is wet inside. The trapped moisture invites mold and possibly even rot problems in the structure. Explore the existing roof cavity first. If it's wet the wet materials should be removed from inside or from outside before proceeding.


Mobile Home "Roof Over" , a Gable roof add-on: An alternative to commercial roof-cap products for mobile homes and doublewides is the construction of a wood-framed gable roof over the existing home. The floor of that new attic can be insulated with fiberglass batts and the new roof structure may also be ventilated at overhanging eaves (soffit intake venting) and at the ridge (ridge vent exit venting).

Watch out: before constructing a gable roof over an existing mobile home flat roof explore the wall construction to be sure that the wall can carry the added weight.

Also see MOBILE HOME ROOF LEAKS, DEFECTS

Install energy-efficient windows and doors. This step is one of the most expensive steps in this list. If you cannot afford this step you can still make significant improvement in the condition of windows and doors by inspecting for and sealing air and water leaks.

Our inspections have found that on older mobile homes, leaks around windows and doors are one of the most common defects, leading not only to higher heating and cooling costs, but rot, insect damage, wet insulation, and even dangerously-rotted floors.
Add wall insulation. This step may require removal of interior or exterior wall cladding.

Before considering this improvement some judicious inspecting is in order to understand how the walls are constructed, the presence or absence of insulation, whether or not there is space for added insulation without complete wall reconstruction, and while you are exploring, check for rot and insect damage in the wall structures.

Watch out: there may be no room to add insulation in an existing mobile home wall. Pre-1976-built mobile homes may be framed with 2x2" wall studs whose cavity is already filled. Check the wall cavity for construction and open space. Don't blow insulation into a wall cavity whose interior is wet or exposed to leaks. Check carefully especially around windows and doors and in the crawl area below the exterior walls, to look for evidence of leaks.

Watch out for the spaghetti problem: Our page top photo shows a gutted mobile home where this procedure was in process.

Expect to encounter the "old-house spaghetti problem" (You can't pull out just one strand of spaghetti from an older cold bowl of the food. All of the spaghetti is stuck together and pulling on one strand is likely to pull many or all of the strands at once.)

What this means is that if you open walls for one purpose, say adding insulation, while the walls are open you may also want to review the condition of electrical wiring (adding circuits or receptacles as needed) and plumbing (replacing old, leaky or galvanized iron pipes, if any).

The effect of the spaghetti problem is that any building renovation often ends up costing double your original estimate.
Change to an energy-efficient heating/cooling source: alternative energy systems proposed by HUD/DOH, and energy.gov include geothermal heat pumps, passive solar sunspaces, solar water heaters, solar electric or photovoltaic systems, wind energy systems, or micro power systems powered by water flow such as a nearby stream.

Really?: our OPINION is that for older mobile homes built before 1976, the cost of these improvements may exceed the value of the home and will certainly be beyond the reach of many home owners.

If you are considering one of these improvements, check with your state or provincial energy authority to see if there are energy rebates or tax rebates that may reduce the net cost to the homeowner.
Manufactured & Mobile Home Insulation Standards & Codes
Full text of the manufactured and mobile home heating standards can be found in
PART 3280—MANUFACTURED HOME CONSTRUCTION AND SAFETY STANDARDS [PDF] newer copy retrieved 2017/07/13 - faster-loading
See Subpart F - Thermal Protection in that document.
That subpart includes these sections
Subpart F—Thermal Protection
§3280.501 Scope.
§3280.502 Definitions.
§3280.503 Materials.
§3280.504 Condensation control and installation of vapor retarders.
§3280.505 Air infiltration.
§3280.506 Heat loss/heat gain.
§3280.507 Comfort heat gain.
§3280.508 Heat loss, heat gain and cooling load calculations.
§3280.509 Criteria in absence of specific data.
§3280.510 Heat loss certificate.
§3280.511 Comfort cooling certificate and information
References for manufactured home (mobile home) insulation & energy conservation
MOBILE HOME INSULATION BELLY WRAP - how to repair or add insulation under a manufactured or mobile home or trailer.
[1] "Energy Efficient Mobile Homes", retrieved 5/15/14, original source http://energy.gov/energysaver/articles/energy-efficient-manufactured-homes
HUD Manufactured Housing Construction and Safety Standards, The Hud Code 24CFR 3280, available from the U.S. Government Printing Office, online at http://www.gpo.gov/fdsys/pkg/CFR-2001-title24-vol1/content-detail.html
HUD Code: 42 U.S.C. 17071 - Energy Code improvements applicable to manufactured housing [PDF], retrieved 5/15/14, original source: http://www.gpo.gov/fdsys/pkg/USCODE-2010-title42/pdf/USCODE-2010-title42-chap152-subchapIII-partA-sec17071.pdf
HUD Code: 62 FR 24337 - Manufactured Housing: Statement of Policy 1997-1, State and Local Zoning Determinations Involving... [PDF], retrieved 4/15/14, original source: http://www.gpo.gov/fdsys/pkg/FR-1997-05-05/pdf/97-11535.pdf
HUD Code: 70 FR 61178 - Manufactured Housing Dispute Resolution Program [PDF] , http://www.gpo.gov/fdsys/pkg/FR-2005-10-20/pdf/05-20953.pdf
*HUD Code: 78 FR 73965 - Manufactured Home Construction and Safety Standards [PDF] , "24 CFR Part 3280, Manufactured Home Construction and Safety Standards, Final Rule, (2013), * this is the key legislative rule from the U.S. Department of Housing and Urban Development, 24 CFR Part 3280, Docket No. FR-5221-F-)2, RIN 2502-!717, "Manufactured Home Construction and Safety Standards", 9 December 2013.
http://www.gpo.gov/fdsys/pkg/FR-2013-12-09/pdf/2013-28775.pdf
HUD Code: 3. Serial No. 112-96 (HOUSE Hearing) - Implementation of the Manufactured Housing Improvement Act of 2000k Hearing, [PDF] , http://www.gpo.gov/fdsys/pkg/CHRG-112hhrg75068/pdf/CHRG-112hhrg75068.pdf
Manufactured Housing Institute, Website: http://www.manufacturedhousing.org
Updated through January 2018 - Steve Vermilye, New Paltz NY and Daniel Friedman, Poughkeepsie NY, Hudson Valley ASHI Chapter Seminar, Newburgh NY, January 4, 2000, NY Metro ASHI Fall 99 Seminar, Holiday Inn Crowne Plaza, White Plains NY, October 2, 1999.
Add or Repair Manufactured Home or Mobile Home Belly Insulation
This topic has moved to its own page at MOBILE HOME INSULATION BELLY WRAP.
Watch out: when working under a mobile home, manufactured home, or any tight crawl space there may be serious health and safety hazards. More than one reader have reported getting an electrical shock while working under a mobile or manufactured home. Hazards in such tight spaces are outlined at MOBILE HOME CRAWL SPACES and also at CRAWL SPACE SAFETY ADVICE

...
Continue reading at MOBILE HOME INSULATION BELLY WRAP or select a topic from closely-related articles below, or see our complete INDEX to RELATED ARTICLES below.
Or see INSULATION AIR & HEAT LEAKS
Or see INSULATION LOCATION - WHERE TO PUT IT
Or see MOBILE HOME CRAWL SPACES - how to inspect the mobile home crawl space
Or see MOBILE HOME HEATING SYSTEMS
Or see WINTERIZE A BUILDING
Suggested citation for this web page
MOBILE HOME INSULATION at InspectApedia.com - online encyclopedia of building & environmental inspection, testing, diagnosis, repair, & problem prevention advice.
Or use the SEARCH BOX found below to Ask a Question or Search InspectApedia
...
Ask a Question or Search InspectApedia
Try the search box just below, or if you prefer, post a question or comment in the Comments box below and we will respond promptly.
Search the InspectApedia website
Technical Reviewers & References
Click to Show or Hide Citations & References
CRAWL SPACE MOISTURE CONTROL, [PDF] U.S. Department of Energy
Scott, Bob & Lyn M. Bartges, WEATHERIZING MOBILE HOMES" [PDF] Home Energy, July/August 2004, Website: www.homeenergy.org, copy provided by the U.S. DOE at the link cited below
U.S. DOE, MOBILE HOME BELLY RETROFIT [PDF] Midwest Weatherization BEST PRACTICES , WEATHERIZATION INSTALLER/TECHNICIAN MOBILE HOMES - CHAPTER 3: [PDF] U.S. Department of Energy, Office of Energy Efficiency & Renewable Energy, Retrieved 2018/07/22, original source: https://www.energy.gov/eere/wipo/downloads/weatherization-installertechnician-mobile-homes-chapter-3-mobile-home-belly
US DOE MOBILE HOME BELLY INSULATION RETROFIT [POWER POINT PRESENTATION], U.S. DOE, Website: eere.energy.gov, retrieved 2018/07/22, original source op. cit. file: PPT-3-mobile-home-belly-retrofit.ppt
US DOE WAP, Midwest Regional Field Office. Midwest Weatherization Best Practices Field Guide May 2007: 191-194.
Wikipedia provided background information about some topics discussed at this website provided this citation is also found in the same article along with a " retrieved on" date. NOTE: because Wikipedia entries are fluid and can be amended in real time, we cite the retrieval date of Wikipedia citations and we do not assert that the information found there is necessarily authoritative.
...
Books & Articles on Building & Environmental Inspection, Testing, Diagnosis, & Repair
Our recommended books about building & mechanical systems design, inspection, problem diagnosis, and repair, and about indoor environment and IAQ testing, diagnosis, and cleanup are at the InspectAPedia Bookstore. Also see our Book Reviews - InspectAPedia.
...