Icynene® Foam, Urethane Foam, Isocyanurate Foam
InspectAPedia tolerates no conflicts of interest. We have no relationship with advertisers, products, or services discussed at this website.
Spray foam insulation product properties, installation, R-values: how to identify spray type foam insulation products: this article illustrates and describes foam spray insulation materials in buildings such as icynene® foam insulation.
This document assists building buyers, owners or inspectors who need to identify foam insulation materials in buildings by simple visual inspection. Our photo (page top) shows icynene foam insulation that oozed into an attic space after being blown onto the building gable-end wall. Fiberglass insulation is also visible at the left foreground.
We also provide a MASTER INDEX to this topic, or you can try the page top or bottom SEARCH BOX as a quick way to find information you need.
Spray Icynene Foam Building Insulation Identification in buildings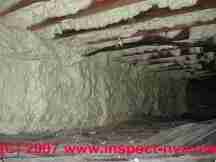 Icynene® foam insulation (and similar products) is a spray-in-place, injected through openings, or pour-in expanding-foam insulation product. Other water borne foam spray insulation products, including some latex-foams, are available.
[Click to enlarge any image]
Article Contents:
Properties of Icynene® Foam Insulation Systems
Spray foam insulation products such as icynene® foam and some polyurethane4 and isocyanurate foam insulation products have these properties:
Air seal: providing a very good air leakage seal (provided the spray is carefully applied)
Dimensional stability: this product does not shrink or settle
see CELLULOSE LOOSE FILL INSULATION
and UREA FORMALDEHYDE FOAM INSULATION, UFFI).

At How to Make a Sure Distinction Among UFFI, Icynene, and Latex Foam Insulations we demonstrate a compression test of this material to show its elasticity.
Fire safety protection: foam insulation products can be hazardous in a building fire and in general must be protected from direct exposure in occupied spaces (such as covering with drywall) in order to assure that potentially dangerous gases are not released into the living area during a fire. See the industry's fire safety guidelines for details, an example of which is provided in this FIRE SAFETY BULLETIN from the polyurethanes industry.
Icynene® foam and other water-borne foam insulation systems use a water-based solvent, not formaldehyde, or other chemicals associated with prior problem-foam products such as CFCs and HCFCs. Initial foam curing occurs in minutes. When these foams have fully cured (about a month) no VOCs should be detected associated with these foam products.

See UREA FORMALDEHYDE FOAM INSULATION, UFFI for an example of an earlier set of problems with UFFI.
Insulating in irregularly shaped areas where cutting fiberglass batts would be labor intensive
Insulating in hard-to-access building areas - a spray wand can be inserted into tight spaces to release the expanding foam product which will expand to fill the odd-shaped space.
Moisture resistance of Icynene foam insulation - "Thermal and Moisture Protection, Evaluation Subject: Icynene LD-C-50"
an ICC Evaluation Service evaluation report describes the thermal and fire resistant characteristics of this product but does not appear to comment on moisture resistance.

According to report Section 5.9: "A vapor retarder must be installed in accordance with the applicable code."
Mold growth resistance of Icynene foam insulation: Details are

at MOLD in FOAM INSULATION.

Quoting from Icynene Inc.:
A preemptive solution [to building mold growth] that would reduce the infiltration of moisture would be the application of a seamless, monolithic spray foam insulation and air barrier system that conforms to complex design shapes while sealing around penetrations such as pipes, windows, doors and electrical boxes.

Not only will this help in reducing potential sources of mold, it will also minimize the infiltration of outdoor pollutants and allergens.
R-value stability in urethane or polyurethane foam insulations -

see URETHANE FOAM Deterioration, Outgassing for details. R-values of icynene are discussed below.
Structural properties: some foam products are strong enough to actually add strength to the building structure; some building products use a wood-foam laminate to produce insulated building panels, for example for use in un-vented cathedral ceiling/roof structures.
Sound transmission resistance: spray foam insulation products, by filling building spaces completely and by the properties of both open and closed cell foams, resist sound transmission in buildings
Wind leakage resistance: both open cell foams and closed cell foam insulation products lose less of their R-value when exposed to wind than do some other insulating products such as fiberglass batts.

Spray Foam Systems asserts that the R-value of urethane foam (this is not an Icynene® product) drops from R 19 to R 18 while fiberglass batt insulating drops from R19 to R7 (presuming these are both applied in a 6" thickness). U.S. Department of Energy studies cite air infiltration in buildings as responsible for 40% of the energy lost in homes (surely varying depending on tightness of construction, house age, etc.)
Foam Insulation Products and Risk of Wood Destroying Insect Damage: termites, carpenter ants, etc
The following comments pertain regardless of whether the foam insulation products we are addressing are sprayed foam insulation or solid foam insulating boards or panels.
Wood destroying insect effects of foam insulation: foam insulation is not an insect barrier; while these materials do not provide food for termites, they are easily penetrated by termites or carpenter ants (as are other insulating materials).
For this reason our opinion is that it is bad design to bring foundation insulating foam panels up into contact with building wood framing materials unless an approved insect barrier has also been installed.
What can we do to improve the insect resistance of buildings where solid foam board or foam spray foundation insulation are being applied? See our recommendations at Insects & Foam Insulation.
R-values of Icynene® Foam Insulation & Polyurethane Foam Insulation
The poured-in formula for icynene® foam insulation has an R-value of R-4 per inch.
The spray-formula of icynene® foam insulation has an R-value of R-3.6 per inch. In new construction often this product is sprayed between joists or studs, allowed to expand and cure, and then trimmed flush with the wood framing surfaces.

This smooth application merits the full R-value claimed. If the spray is applied unevenly the R-value of the insulation blanket for the building may vary.
Spray polyurethane foam has an aged R-value of about R-6 per inch (varies by formula)
See URETHANE FOAM Deterioration, Outgassing for details about the R-value stability of urethane or polyurethane foam insulation.
Mold Resistance of Foam Insulation Spray or Foam Boards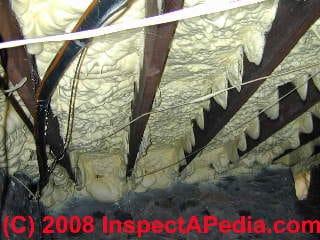 Please see our main article on this topic at MOLD in FOAM INSULATION. Excerpts are below.

Sprayed icynene® foam insulation is not mold though a few people taking a quick look where yellow foam insulation product has oozed out of a building sill or attic top plate people have mistaken this insulation product for mold.
Though we sometimes find fungal growth in buildings that looks a lot like our photo this substance, it would be very odd for it to appear so extensively and so uniformly as the foam insulation shown in this photo.
The photos provided here are of a sprayed-on icynene foam insulation project that was completed in a crawlspace.
Because the work area was tight, it was difficult for the foam spraying technician to work meticulously but s/he did a pretty nice job.
Using a combination of visual inspection and smoke testing we found only two openings in the foam blanket that were permitting air movement from the crawl space up into the living space. Overall it was an effective installation.
Open-celled foam insulation compared with closed-cell foam insulation products
Foam insulation products (such as urethane foam insulation) are produced in both open-cell and closed-cell forms.
Closed cell insulating foam, as it cures, forms bubbles or tiny cells that have solid un-broken cell walls (mostly), making this insulating material harder and resistant to moisture up-take. Closed cell foam provides more R-value per inch than open-cell foams and is the product of choice if the insulation is likely to be exposed to high moisture or to water.
Open cell insulating foam, as it cures, forms cell walls (from tiny bubbles) which are broken, permitting air to fill the cells, and typically having a density of .5 to .75 pounds per cubic foot. In our opinion an open celled foam is less resistant to moisture uptake than a closed cell foam, giving closed cell products and advantage where moisture is a concern in buildings.

This product is often used to protect items in shipping. Open-cell foam insulation should not be used below-grade such as below a concrete slab or outside of buried foundation walls.

Open celled spray or poured-in insulating foams may be better at permitting building moisture to escape during new construction.
Finally, readers considering adding insulation inside or outside a basement foundation wall should
see POLYSTYRENE FOAM INSULATION
as well as BUCKLED FOUNDATIONS due to INSULATION?
If you are insulating a crawl area not a basement, see CRAWL SPACE INSULATION RETROFIT.
Reader Question: Where can I get an install manual for the spray foam insulation Icynene 200
Do you know where I may download an install manual for the spray foam insulation Icylene 200 for research purposes. Thank-you for your time. - J.C., Illinois 6/18/2012
Reply:
I am guessing you had a typo and that for Icylene 200  you meant Icynene. The installation procedures for Icynene spray foams vary by product type and the particular installation location,  such as in an unvented attic, a cathedral ceiling, crawl space, basement, &c. There are two medium density foam products with this name:
Icynene MD-R-200 open cell spray foam (recycled plastics) insulation   (you'll want the ICYNENE MD-R-200™  Technical Data Sheet. from the company)
Icynene MD-C-200 closed cell spray foam insulation (waterproof)
You can find installation product information for these specific products from the manufacturer, Icynene - though you'll find that the company does not post complete, detailed Icynene®installation instructions online. Most likely that is because commercial equipment and dealer training are required and the product is installed only by Icynene licensed dealers.
Contact:
Icynene Corporation
6747 Campobello Road
Mississauga ON
L5N 2L7 Canada
In Canada and the U.S: 1-800-758-7325
Outside of North America: 1-905-363-4040
Fax Us From Anywhere: 905-363-0102
website: www.icynene.com
You'll see at that company's contact information http://www.icynene.com/contact-us that they want you to use different email links for different products.
Here is an excerpt from the company's 3-Part Specification document provided at the Icynene website:
------------------
EXECUTION [installation of Icynene MD 200 foam insulation]
EXAMINATION
Examine substrates and conditions, under which work is to be performed.  Do not proceed until unsatisfactory conditions have been corrected.
Review placement area to determine final location will not be within 3 inches of any heat source where the temperature will exceed 180 deg F per ASTM C 411 or in accordance with authorities having jurisdiction.
PREPARATION
Clean substrates and cavities of loose materials capable of interfering with insulation placement.
APPLICATION
Site mix liquid components manufactured by Icynene and supplied by Independent Icynene Licensed Dealer.
Apply insulation to substrates in compliance with manufacturer's written instructions.
Apply insulation to produce thickness required for indicated R Value.
Extend insulation in thickness indicated to envelop entire area to be insulated.
Water-Piping Coordination:  If water piping is located within insulated exterior walls, coordinate location of piping to ensure that it is placed on warm side of insulation and insulation encapsulates piping.
REPAIRS
Any repairs must be effected by an Icynene Licensed Dealer
PROTECTION
Protect installed insulation from damage due to harmful weather exposures, physical abuse, and other causes.  Provide temporary coverings where insulation is subject to abuse.
Reader Follow-up: Yes, I have queries to Icynene too, but they do not seem too anxious to send a researcher info, that's why I am looking for another source. I have contacted some installers as well. Joe
Reply: Try calling their marketing people, and convince one of them that you are a serious researcher, not someone out to steal trade secrets nor make trouble for them.
Reader Follow-up: A contractor contact did send me the install manual. Icylene customer service send me a nice e-mail saying that info not made avail to public. Pretty basic stuff, did not see any trade secrets, but helpful to me. I'm sure a liability issue, they don't want some rogue get their hands on leftover components and attempt install on own. Joe.
Reply: Was there a significant difference between what was in the manual and the excerpt [shown above?]
Reader Follow-up: No.
If you are having trouble determining what type of foam insulation product has been installed in a building,
see How to Make a Sure Distinction Among UFFI, Icynene, and Latex Foam Insulations for more detail on the identification of these products in the field.
And we discuss the reduced risk of mold where icynene is in crawl spaces
at Mold risk in Icynene Foam Insulation.
Readers concerned about termite damage associated with foam, fiberglass, or other building insulation materials should also
see TERMITE SHIELDS vs TERMITICIDE,
and Insects & Foam Insulation.
Readers may want to review UFFI, the older foam insulating product that looks a lot like Icynene but has a more problematic history and which we discuss at How to Identify UFFI Foam Insulation.
...
Continue reading at FOAM SPRAY INSULATION TYPES or select a topic from closely-related articles below, or see our complete INDEX to RELATED ARTICLES below.
Or see INSULATION CHOICES & PROPERTIES
Or see INSULATION LOCATION - WHERE TO PUT IT - home
Or see these
Foam Insulation Articles
Suggested citation for this web page
ICYNENE FOAM SPRAY INSULATION at InspectApedia.com - online encyclopedia of building & environmental inspection, testing, diagnosis, repair, & problem prevention advice.
Or use the SEARCH BOX found below to Ask a Question or Search InspectApedia
...
Ask a Question or Search InspectApedia
Try the search box just below, or if you prefer, post a question or comment in the Comments box below and we will respond promptly.
Search the InspectApedia website
Technical Reviewers & References
Click to Show or Hide Citations & References
Books & Articles on Building & Environmental Inspection, Testing, Diagnosis, & Repair
Our recommended books about building & mechanical systems design, inspection, problem diagnosis, and repair, and about indoor environment and IAQ testing, diagnosis, and cleanup are at the InspectAPedia Bookstore. Also see our Book Reviews - InspectAPedia.
...
Publisher InspectApedia.com - Daniel Friedman