What is the Difference Between Precision and Accuracy in Measurements or Environmental Tests?
InspectAPedia tolerates no conflicts of interest. We have no relationship with advertisers, products, or services discussed at this website.
What's the difference between accuracy and precision in measurements or data? Why is it important?
This article defines the terms accuracy and precision as they are used to describe measurements of all kinds.
Whether you are measuring electrical resistance, the comparative depth of stair treads, or the number of airborne mold spores per cubic meter of air, reporting the results without including an indication of the margin of error of the measurement can make very precise numbers dangerously misleading.
We also provide a MASTER INDEX to this topic, or you can try the page top or bottom SEARCH BOX as a quick way to find information you need.
What is the Difference Between Precision and Accuracy in Measurements
Watch out: don't confuse measurement precision with measurement accuracy. In the expression of measurements, precision refers to the number of decimal places or digits in a number obtained by the measurement, while accuracy describes the margin of error in the measurement.
Article Contents
People who do not understand this precision - accuracy distinction can be misled with regard to the reliability (accuracy) of numbers that are presented with much precision if the margin of error in the measurement was significant..
129.4 is a number that is less precise than 129.43939480
But if the possible range of error in our measurement is 10%, then our measurement of 129.4 OR our measurement of 120.2939480 both could be expressed as +/- 12 (since 12 is 10% of 120). This means that the range of accuracy of our measurement of 129.43939480 +/- 10% means that
at a 10% range of error (or for 129.4, +12.9V / - 12.9V)
the actual or "true" number could be anywhere between 133.43939480 and 108.43939480
which makes those extra decimal points meaningless, perhaps even misleading
To avoid presenting misleading results about the accuracy of our measurement, in most circumstances we would not report the measurement with all those decimal places. We would report 129.4 +/- 10%.
Typical Sources of Errors in All Measurements
Device accuracy: One source of error in making any measurement is the accuracy of the measuring device itself.
Procedural effects: A second source of error in making any measurement or really a collection of possible errors is found in the operation or use of the measuring device - human-induced errors or human variables (not all measurement errors are fairly called "mistakes")
Environmental effects: A third source of error in making any measurement are environmental or test condition variables such as temperature or air movement variations that affect the release of spores from a mold reservoir in a building into the building air
Errors when using a measuring tape or ruler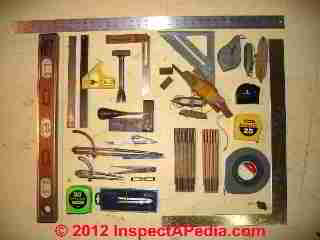 When using a typical carpenter's or engineer's measuring tape, the end tab on the measuring tape is left deliberately loose (by the manufacturer) in order to improve measurement accuracy by allowing for the thickness of the tab itself when making an inside measurement compared with making an outside measurement.
At left our photo shows some of the author's measuring tools used in general carpentry. The accuracy of measurements made with each of these devices depends on how carefully the device is used, placed, and read.
If you are measuring the length of a board a good approach is to hook the measuring tape tab over the end of the board at the starting corner, run the tape parallel to and along the same edge of the board as the starting corner, and read the measurement by looking straight down at the tape from the other end of the board.
Such measurements made with a measuring tape are easily accurate to 1/16" - that is the measured length is typically correct +/- 1/16" in the hands of most carpenters. The potential errors that this approach must address include:
Misplacement of the measuring tape's hook-tab at the starting end of the board. If a helper holds the starting point or "dumb end" of the tape with the tab pushed towards the carpenter who is pulling the "smart" end from which the measurement will be made, this introduces a small error of about 1/16" - not significant for wood frame construction but potentially important in other applications.
Misalignment of the measuring tape. A beginner who hooks the measuring tape at one corner of the starting end of a board and pulls the tape on a diagonal across to the other end of the board to obtain a length measurement is actually measuring the board's diagonal - introducing a length-error measurement that is more significant (as % error) over wider, shorter board measurements.
Mis-reading of the measuring tape. Measure twice, cut once, is a good adage especially when working with valuable lumber or when you are cutting the last piece with no extra material to cover up an embarrassing error. Working in a rush it's easy to make significant errors in reading the tape - by looking at an angle rather than straight down at the tape marking over the board edge or end, or by working too fast and simply mis-reading inches or feet.
Errors When Measuring Electrical Data: Volts, Ohms, or Amps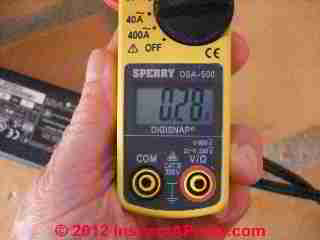 When using an electrical measuring instrument such as a DMM to measure amps, volts, or ohms, the instrument display window will indicate some number of decimal places in the result (precision) while the instrument's specifications will tell you the accuracy (typically +/- 1%) for the instrument function and varying depending on range settings.
When measuring the voltage level of an electrical circuit in our office in Mexico we find that from time to time the actual voltage level can vary by about 10%.
So while we might report that at a given measurement we measured the voltage level at 108V, that measurement should be presented as 108VAC +/- 10%, telling our client that over time voltage in that location typically varies between 98VAC and 118VAC (excluding periods of power loss when voltage is zero).
At left our photo illustrates the Sperry DSA-500 clamp-on multimeter/ammeter reading 0.28A (Amps) of current flow on an electrical circuit. The function dial has been set to the 0-40A range, the proper ampacity testing range in order to report with finer precision when measuring lower current levels than if we had used the 400A range setting. But what about accuracy differences in different DMM measuring ranges?
Sperry's documentation for this DMM indicates that the accuracy of the instrument when measuring AC current (Amps) is +/- 2.0% rdg+/-6dgt when making measurements at 23+/-5degC and 45-75% relative humidity. The company is in essence warning that at more extreme temperatures or humidity levels the accuracy of the instrument may vary from this level.
At DMM accuracy, typical specifications we provide a table describing typical DMM accuracy specifications for its different functions.
Details of the procedure for measuring amps are provided below at How to make current measurements.
Also see DMM DIGITAL MULTIMETER HOW TO USE.
Errors When Measuring or Counting Airborne Particle or Mold Spore Levels
Airborne Particle Sampling Procedure Errors or Inconsistencies
In addition to this catalog of sources of errors in airborne particle or mold spore test results, for more in-depth information on tihs topic please see ACCURACY OF VARIOUS MOLD TEST METHODS and the technical articles listed there.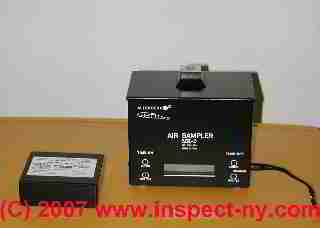 When measuring the concentration of airborne mold spores inside a building space using a spore trap, the laboratory reporting the sample analysis results may report that 1034 spores of Penicillium/Aspergillus mold were detected.
But our own careful study of spore traps and air sampling equipment and procedures found that the accuracy of that measurement can vary by one to three orders of magnitude depending on exactly how and when the sample was collected.
Effects of Site Activity During Airborne Particle or Mold Sampling
For example, walking across a carpeted floor during sampling can double or triple the airborne particle level, and turning on an overhead fan or an HVAC system can increase the airborne particle level by three orders of magnitude.
That means that our mold air test report result of 1034 spores of Penicillium/Aspergillus mold per cubic meter of air is a description of a mold level that in actual experience in the building could be as high as 100 times that number, or 103,400 spores of Penicillium/Aspergillus mold per cubic meter.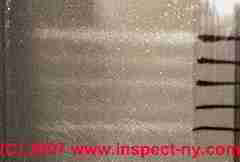 If the true airborne mold exposure level in the building is reaching that higher level the meaning of the mold test is completely reversed from "no problem detected" to "severe mold contamination detected".
There is normally high variation in the level of airborne particles from moment to moment in buildings. Actual field data easily demonstrates that particle presence in indoor air varies by orders of magnitude from minute to minute as our Allergenco impaction air sampler slide illustrates (photo at left).
Sampling identical quantities of air indoors just a few minutes apart regularly shows up in our data as enormous differences in particle density from interval to interval, as you can see in this photograph of parallel traces of airborne particles captured by an air sampler which collected these samples just minutes apart in the same location in a building.
We always see this phenomenon in buildings, since unless we are measuring airborne particles released at a fixed rate in a controlled test chamber there are quite a few site conditions that agitate airborne debris.
For details see Extent of Variation of Airborne Particle Counts. Also see Concentration Bursts of Mold Spores.
Effects of Type of Sampling Device Type, Sample Duration, Actual Particle Levels on Airborne Particle Level Detection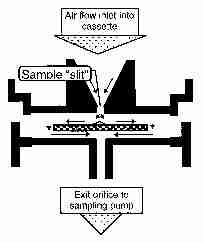 The most common airborne particle sampling devices in wide use for indoor air monitoring (such as the detection of airborne mold spores) rely on an inertial impaction sampling cassette or "spore trap" connected to a calibrated air pump that moves a specified volume of air through the sampling device over a short interval, typically just a few minutes.
These slit impactors rely on a venturi through which airborne particles accelerate and then impact and stick to a small slide that contains a sticky collection medium.
We have already explained that enormous variations in site conditions can produce orders of magnitude variation in the actual level of airborne particles there to be "detected".
But in addition, design presumptions and site conditions can have a significant effect on the ability of of these devices in the field to accurately collect airborne particles.
For example, if the level of airborne particles is very high and the measurement or collection interval too long, the collection slide becomes overloaded with particles.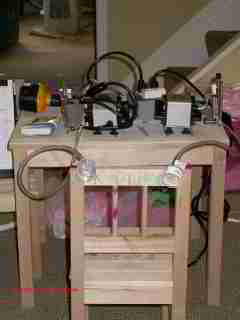 Not only is such a collection impossible to read accurately in the microscope, worse, no one will have the slightest idea how many particles arrived so late in the sampling interval that they just bounced off of the overloaded slide rather than sticking to it - as earlier particles have covered the sticky collection medium.
At AIR TEST SAMPLING CASSETTE STUDY we describe the use of typical spore trap sampling devices for indoor air measurements (photos above and at left).
Where greater accuracy is required we must therefore shorten the sampling interval enough that we are sure that we have not overloaded the collection medium - a decision that can be made subjectively in the field if the investigator is experienced in both field and lab procedures and if s/he takes the time and trouble to make an initial visual examination of the collection device at the end of the sample.
We suspect that among those mold test consultants who simply collect samples and send them to a lab (without an accompanying detailed site investigation) ever exercise such judgment.
Using a filter type collection device that captures 100% of the particles (in a given size range) during the sampling period can avoid the particle loss problem, though analysis of such samples may be more difficult, time consuming, and costly.
However we rarely find field reports of building investigations that make use of this latter method.
Effects of Sampling Methology In A Building on detected levels of airborne particles
Air sampler placement: Our photos below illustrate large differences in the number of airborne Aspergillus sp. particles collected at an indoor location. This variation occured when the only parameter we changed was the height of the sampler above the floor. The mold reservoir was on the under-side of a pool table at the sampling location. At below left is the particle density on the sample collected on top of the pool table, and at below right is the particle density on the sample collected on the floor below the pool table. Other test conditions were kept the same.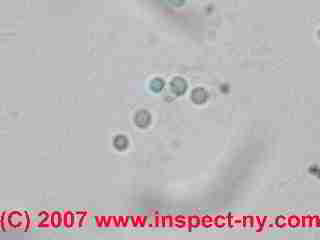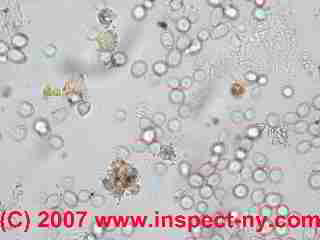 Details are at Particle Levels vs Sampler Height.
Opening a window or rapping on a heating duct: Below we illustrate a similar effect - a change in airborne particle levels caused by drafts ensuing after opening one window in a high-rise office building. Details are at Particle Levels vs Windows/Doors. Similar large changes can be observed when testing HVAC systems depending on whether or not the ductwork is disturbed. For full details of this topic see PARTICLE & MOLD LEVELS in DUCTWORK.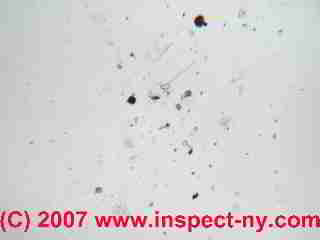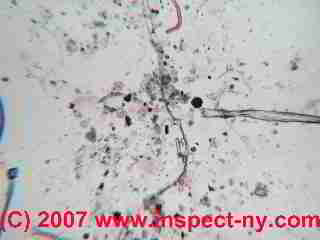 Effects of Sampling Interval: use of long term or continuous working level monitors for airborne particle levels
One approach to smoothing the variability in measurements of airborne particle levels over time is the use of continuous working level monitors, recording instruments, or for monitoring outdoor pollen, mold, and other particle levels, use of special sampling devices (Anderson cascade impactor, quartz crystal cascade impactor, or filtration type particle collectors) that collects airborne particles continuously, depositing them on a collection tape surface mounted on a revolving drum.
These approaches increase the short term accuracy of airborne particle studies but unless data is collected over a much longer interval than 24 hours, the results will not reflect important variations that occur during changes in season and weather (temperature, humidity, wind direction, etc.) as well as local events such as traffic and exhaust levels or trash / agricultural burning.[6]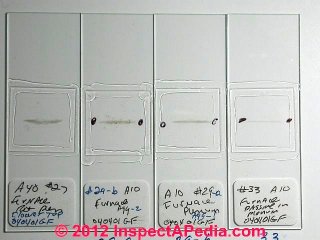 Effects of Laboratory Procedures on Airborne Particle or Mold Counts
The photograph shows four airborne mold trace samples collected inside the same hot air heating furnace plenum. We varied conditions from passive to more aggressive sampling methods during the brief one minute sampling interval.
Even before microscopic examination or counting the spores per cubic meter of air, it is visually obvious that there is very wide variation of particle collection level among these samples.
Laboratory "particle count" procedures may also vary among test labs, though ours and many other forensic labs regularly participate in "round robin" comparative sample analysis and other procedures that improve laboratory reporting procedures and accuracy.
See AIRBORNE PARTICLE ANALYSIS METHODS.
Field and laboratory data recording and even the most basic examination of the results demonstrate that very significant variability in field conditions and in particle behavior make airborne particle counts extremely inaccurate except under controlled conditions such as in a research chamber.
Similar technical shortcomings raise serious questions about the use of mold cultures, whether by settlement plate, swab, or Andersen sampler, to characterize an indoor mold level.
Absence of Reporting of Field Measurement Conditions Confounds the Meaning of IAQ Tests
Finally, the almost total absence of recording of site conditions at the time of such measurements adds another almost overwhelming degree of inaccuracy to this approach to characterizing mold exposure risk in buildings.
For example, simply turning on a fan or walking through a room during an air sampling procedure can completely change the results of the measurement. While there is a useful place for these tools, their application as simple tools to make a statement regarding mold exposure levels in buildings appears to be highly questionable.
Thus airborne mold exposure levels based on single-time-interval use of these tools are unlikely to be accurate.
Forensic Laboratory or Aerobiology Laboratory Airborne Particle or Mold Spore Count Procedural Inaccuracies
Additional inaccuracy in airborne particle counts or mold spore levels per cubic meter of air produced by a test lab can occur depending on both lab procedures and by normal and quite understandable human error.
Lab procedure variables include the percentage of spore trap particle trace that is counted and whether or not the lab analyst examines the entire trace at lower magnification to identify inconsistencies before beginning counting. Add procedure variation in how, for partial-trace-counts, the analyst moves the microscope slide on the stage, how the microscope has been calibrated and adjusted, and how the lab sample has been prepared and mounted - all factors that can affect the visibility of individual particles. More confusing, some analysts may count a cluster of spores as "one" particle while others (as we recommend) count or estimate the total number of particles in the cluster.
Articles Demonstrating Issues of Precision vs Accuracy
...
Continue reading at ACCURACY OF VARIOUS MOLD TEST METHODS - home, or select a topic from closely-related articles below, or see our complete INDEX to RELATED ARTICLES below.
Or see VISUAL PERCEPTION ERRORS
Suggested citation for this web page
ACCURACY vs PRECISION of MEASUREMENTS at InspectApedia.com - online encyclopedia of building & environmental inspection, testing, diagnosis, repair, & problem prevention advice.
Or use the SEARCH BOX found below to Ask a Question or Search InspectApedia
...
Frequently Asked Questions (FAQs)
Try the search box below or CONTACT US by email if you cannot find the answer you need at InspectApedia.
...
Ask a Question or Search InspectApedia
Use the "Click to Show or Hide FAQs" link just above to see recently-posted questions, comments, replies, try the search box just below, or if you prefer, post a question or comment in the Comments box below and we will respond promptly.
Search the InspectApedia website
Technical Reviewers & References
Click to Show or Hide Citations & References
Daniel Friedman - Publisher & Editor of InspectAPedia.com®
Steve Bliss's Building Advisor at buildingadvisor.com helps homeowners & contractors plan & complete successful building & remodeling projects: buying land, site work, building design, cost estimating, materials & components, & project management through complete construction. Email: info@buildingadvisor.com
Steven Bliss served as editorial director and co-publisher of The Journal of Light Construction for 16 years and previously as building technology editor for Progressive Builder and Solar Age magazines. He worked in the building trades as a carpenter and design/build contractor for more than ten years and holds a masters degree from the Harvard Graduate School of Education. Excerpts from his recent book, Best Practices Guide to Residential Construction, Wiley (November 18, 2005) ISBN-10: 0471648361, ISBN-13: 978-0471648369, appear throughout this website, with permission and courtesy of Wiley & Sons. Best Practices Guide is available from the publisher, J. Wiley & Sons, and also at Amazon.com
Mark Cramer Inspection Services Mark Cramer, Tampa Florida, Mr. Cramer is a past president of ASHI, the American Society of Home Inspectors and is a Florida home inspector and home inspection educator. Contact Mark Cramer at: 727-595-4211 mark@BestTampaInspector.com 11/06
Roger Hankey is principal of Hankey and Brown home inspectors, Eden Prairie, MN. Mr. Hankey is a past chairman of the ASHI Standards Committee. Mr. Hankey has served in other ASHI professional and leadership roles. Contact Roger Hankey at: 952 829-0044 - rhankey@hankeyandbrown.com. Mr. Hankey is a frequent contributor to InspectAPedia.com.
[5] Fluke Corporation, 6920 Seaway Blvd, Everett, WA 98203, USA, PO Box 9090 Everett, Washington 98206, Tel: +1(425) 347-6100, Technical support: 1(800) 44-FLUKE (1(800) 443-5853), Website: www.fluke.com,
Fluke Europe B.V, PO Box 1186 Eindhoven, The Netherlands, Tel: +31 (0)40 2 675 200 +31 (0)40 2 675 222, Website: www.fluke.eu

Fluke India: TTL India Pvt. Ltd. (A Fluke Company), Deodhar Center, 424, Marol Maroshi Road, Andheri (E), Mumbai, 400076, Tel: 1 800 209 9110, Email: info.india@fluke.com, Website: http://www.fluke.com/fluke/inen/products/Digital-Multimeters.htm
Digital 287/289 Digital Multimeter, Users Manual, retrieved 9/5/21, original source: http://assets.fluke.com/manuals/287_289_umeng0200.pdf, [copy on file as Fluke_287_289_umeng0200.pdf

[6] "Particulate Matter Sampling", ATPI 435: Atmospheric Sampling Course, U.S. EPA, retrieved 9/9/12, original source: http://www.epa.gov/apti/Materials/APTI%20435%20student/Student%20Manual/Chapter_4_noTOC-cover_MRpf.pdf [copy on file as Particulate_Matter_Sampling_USEPA.pdf.]
[7] Fifth Kingdom, Bryce Kendrick, ISBN13: 9781585100224, is available from the InspectAPedia online bookstore - we recommend the CD-ROM version of this book. This 3rd/edition is a compact but comprehensive encyclopedia of all things mycological. Every aspect of the fungi, from aflatoxin to zppspores, with an accessible blend of verve and wit. The 24 chapters are filled with up-to-date information of classification, yeast, lichens, spore dispersal, allergies, ecology, genetics, plant pathology, predatory fungi, biological control, mutualistic symbioses with animals and plants, fungi as food, food spoilage and mycotoxins.
[9] US EPA: Mold Remediation in Schools and Commercial Building [Copy on file at /sickhouse/EPA_Mold_Remediation_in_Schools.pdf ] - US EPA
[10] Mycology, Fundamentals of Diagnostic, Fran Fisher, Norma B. Cook, W.B. Saunders Co. 1998, ISBN 0-7216-5006-6 (buy this book at Amazon)
[11] McCrone Research Institute, 2820 South Michigan Avenue, Chicago, IL 60616-3292, Tel: 312-842-7100 Fax 312-842-1078, www.mcri.org
[12] Sergey A.Grinshpun, Atin Adhikari, Seung-Hyun Cho, Ki-Yon Kim, Taekhee Lee, & Tina Reponen, "A small change in the design of a slit bioaerosol impactor significantly improves its collection characteristics",
Sergey A. Grinshpun, J. Environ. Monit., 2007, DOI: 10.1039/b702743e
[13] S.A. Grinshpun1 A. Adhikari1, S.H. Cho1, T. Reponen1, G. Mainelis2, M. Yao2, "Factors affecting the performance of bioaerosol impactors", European Aerosol Conference 2007, Salzburg, Abstract T04A004
1 Center for Health-Related Aerosol Studies, University of Cincinnati, Cincinnati, OH 45267, USA
2 Department of Environmental Sciences, Rutgers University, New Brunswick, NJ 08901 USA
Keywords: bioaerosols, collection efficiency, inertial impactor, cut-off diameter, particle deposition.
Abstract: [Web search 06/29/2010, original source: http://www.gaef.de/EAC2007/EAC2007abstracts/T04Abstractpdf/T04A004.pdf
[14] "Allergenco Air Sampler MK3 Owner's Manual and User's Guide", Allergenco/Blewstone Press, 999 E. Basse Rd. Ste 180, San Antonio TX 78298-1854 [Obs]
[15] "Operating Instructions, Personal Volumetric Air Sampler for Glass Slides", Burkard Manufacturing Co., Ltd., Woodstock Hill Industrial Estate, Rickmansworth Hertfordshire WD3 IP, Great Britain Tel 01923 773134/5
[16] Daniel M. Baxter, "A New Screening Method for the Evaluation of Indoor Bioaerosols & Airborne Dust Contaminants", Environmental Test Associates, 5290 Soledad Rd., San Diego CA 92109 Tel: 619-272-7747, November 1998 (Draft, pre-publication)
[17] Daniel M. Baxter,1 Jimmy L. Perkins,2 Charles R. McGhee,2 and James M. Seltzer3
"A Regional Comparison of Mold Spore Concentrations Outdoors and Inside "Clean" and "Mold Contaminated" Southern California buildings", Journal of Occupational and Environmental Hygiene, 2: 8–18 ISSN: 1545-9624 print / 1545-9632 online Copyright c 2005 JOEH, LLC DOI: 10.1080/15459620590897523
1 Environmental Analysis Associates Inc., and Indoor Analytical Laboratories, Inc., San Diego, California
2 University of Texas Health Science Center at Houston, School of Public Health, Regional Campus at San Antonio, San Antonio, Texas
3 University of California, Irvine College of Medicine, Indoor Environmental Monitoring, Inc., San Diego, California
Web search 06/29/2010 - original source: http://www.ncbi.nlm.nih.gov/pubmed/15764519 and
http://www.jmsmd.net/images/Airborne_Mold_Interp.pdf
Abstract:
A total of 625 buildings and outdoor locations in the San Diego, California, area were monitored using the Allergenco Sampl-Air MK-3 impaction sampler or the Zefon Air-O-Cell slit bioaerosol cassette. Locations were classified by rigid criteria as clean commercial, commercial with mold growth, clean residential, residential with water staining, and residential with mold growth. In addition, coastal and inland outdoor locations were measured. Seven categories (total spores, Ascospores/ Basidiospores, Cladosporium, Smut/Myxomycetes like, Aspergillus/Penicillium (AS/PE), Alternaria, and Unidentified/ Other) were detected frequently enough that maximum likelihood estimate techniques could be used to determine distribution parameters and, thus, treat these as continuous variables. For total counts (no nondetectables) an analysis of variance was used to examine differences in location means. For the other categories Land's confidence limits were generated and visually compared for differences among locations. For 12 other categories (Curvularia, Dreschlera, Epicoccum, Fusarium, Mildew-like, Pithomyces, Rusts, Stachybotrys, Stemphyllium, Torula, Ulocladium, and Zygomycetes-like), detection generally occurred in less than 10% of samples. These genera were treated as dichotomous (detect/nondetect) data, and Chi-square analyses differentiated between locations. For total counts, values were significantly different on the order of clean < outdoor < moldy. There was a large difference between the moldy and other location classes. For AS/PE, moldy location means were clearly higher than those for clean buildings and outdoors, although the clean and outdoor means could not be differentiated. For all other genera the results tend to indicate little or no ability to discriminate location. For example, there were no differences in the probabilities of detecting Stachybotrys among the various locations. In our study only total counts, usually driven by AS/PE concentrations, had value in determining whether a building is mold contaminated employing our set of rigorous location classification criteria. - Keywords mold, comparison, airborne
...
Books & Articles on Building & Environmental Inspection, Testing, Diagnosis, & Repair
Our recommended books about building & mechanical systems design, inspection, problem diagnosis, and repair, and about indoor environment and IAQ testing, diagnosis, and cleanup are at the InspectAPedia Bookstore. Also see our Book Reviews - InspectAPedia.
...