Combination Wood-Oil or Wood Burning or Coal-burning Boilers, Furnaces & Woodstoves
Installation, inspection, troubleshooting
WOOD-OIL COMBINATION HEATERS - CONTENTS: How do we inspect and diagnose problems on combination wood and oil-fired heating boilers and furnaces? How are wood-burning furnaces controlled? How are wood-oil combination fuel boielrs and furnaces controlled? What special opeating concerns are faced by combination-fuel heating devicves?
POST a QUESTION or READ FAQs about combination fuel heating systems: wood + oil burning furnaces, boilers, other heating appliances: inspection, diagnosis, operation, maintenance, repair, safety
InspectAPedia tolerates no conflicts of interest. We have no relationship with advertisers, products, or services discussed at this website.
Wood & Oil Combination Heaters, boilers, furnaces:
This article describes combination or multi-fuel heating boilers that combine burning wood with oil.
We explain how a multi-fuel heating system works and we list the special considerations that such equipment needs such as attention to combustion air supply, draft regulation, combustion chamber design and cleaning, and general safety.
These articles on heating appliances and chimneys and chimney safety provide detailed suggestions describing how to perform a thorough visual inspection of chimneys for safety and other defects. Chimney inspection methods and chimney repair methods are also discussed.
We also provide a MASTER INDEX to this topic, or you can try the page top or bottom SEARCH BOX as a quick way to find information you need.
Combination Wood Burning Boilers, Furnaces, Fireplaces, Woodstoves - Special Considerations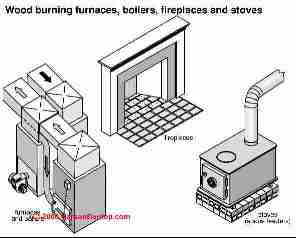 Especially when oil prices have increased dramatically in the 1970's and again during the 2008 Bush Presidency economic crisis, many homeowners found a renewed interest in alternative heating energy sources. By 2015 when oil prices were falling that interest may have taken a [probably] temporary dip.
[Click to enlarge any image]
Where firewood is available and economical, wood fired heating boilers and furnaces, and combination wood and oil heating systems that were first popularized in the 1970's oil embargo crisis still have renewed interest.
This article describes wood heat sources and special considerations in operation and safety of combination fuel wood and oil heating boilers and furnaces.
For a current comparison of the relative costs per BTU of heating oil, natural gas, firewood and electricity, readers should see HEATING COST FUEL & BTU COST TABLES.
Combination Wood & Oil Boilers & Furnaces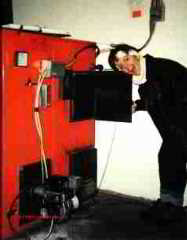 Shown at left is a combination wood-fired and oil fired heating boiler installed in a New York home and inspected by the author in 1999. Here are some basic properties of this combination wood/oil heating appliance:
- single combustion chamber wood furnace - the client has opened the upper door of the wood-side of this boiler.
- separate combuation chamber and heat exchanger for the oil fired half of the unit
- how wood or combination units regulate draft
- forced draft combustion system is used for oil while natural draft is used when the heater is burning wood
- dual combustion chambers, because they use different fuels, have different service requirements, different operating requirements and different draft and control requirements.
The air shutter on the oil burner and the oil burner motor provide foced draft when burnign oil. Boiler operation when burnign oil is controlled by an aquastat (the gray control box(es) seen on the front of the boiler. Boiler operation when burning wood is controlled by a thermostatically operated combustion air damper control that is opened or closed at the bottom of the wood side of the boiler.
We discuss the WOOD FURNACE COMBUSTION AIR DAMPER in more detail below.
Regarding concerns for chimney flues shared between oil and wood fired heaters, see exceptions to shared flue rules where Wood & Oil Fired Heaters are discussed
at SHARED CHIMNEY FLUES OK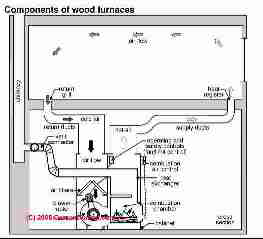 Here are the basic components of a wood-only warm air furnace, compliments of Carson Dunlop Associates.
Many of the components on a wood fired warm air heating system such as ductwork and the blower assembly are the same as on oil or gas fired furnaces but the heating system itself is quite different:
The combustion chamber location and construction are constructed to withstand a wood fire
The heat exchanger may be simplified, with fewer passages to reduce soot and creosote clogging
The wood fire burns continuously (rather than like a gas or oil burner that turns on and off in response to temperature controls).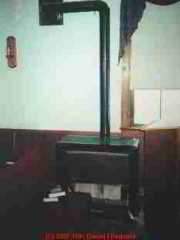 A back up heat source is usually provided either as a separate heating system (oil, electric, or gas). Controls on that heating equipment are designed to keep it turned off when the wood furnace is in operation. The backup heat lets the occupants leave the building without fear of total loss of heat (and frozen pipe damage).

Kerosene heaters: Our photo (left) shows a kerosene heater which an owner was using as their alternative heat source.

It did not prevent pipes from freezing in a remote corner of the building when the central heating was inoperative, and we also were concerned about the adequacy of its fire-clearance distances.
Also see KERONSENE HEATER DRAFT CONTROL
Combustion air is regulated to adjust the fire and thus the heat output of the wood furnace. Temperature controls in the occupied space and on the wood burning furnace adjust the combustion air flow in to the combustion chamber as the primary means of controlling the fire size and thus the heat output of the system

Immediately below we discuss WOOD FURNACE COMBUSTION AIR and following that

We discuss the WOOD FURNACE COMBUSTION AIR DAMPER in more detail below.
Firewood: Unless your system uses a processed wood fuel such as a wood pellet stove, heating fuel (firewood) is added by hand by the occupants as needed by opening a combustion chamber door.
Ashes from burned wood are also removed manually by the occupants by opening an ash pit cabinet door.
Pellet stoves feed processed wood pellets automatically from a feed hopper and thus require less frequent attention.
Pellet stove certifications and fire clearances are given
at FIRE CLEARANCES WOOD & COAL STOVES
Also
see PELLET STOVE DRAFT CONTROL
Provide Combustion Air, Ventilation, Cooling Air for the Wood Furnace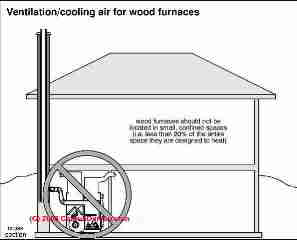 Before looking in greater detail at wood fired furnaces and combination wood-oil furnaces, we and Carson Dunlop emphasize this safety note.
Watch out: Because a wood-fired furnace operates at high temperatures and needs lots of combustion and cooling air it should not be located in a confined space. Otherwise the risk of fire or improper operation are increased.
Chimney inspection and cleaning will need to be frequent to reduce the risk of a chimney fire as well. Sketch courtesy of Carson Dunlop Associates.
How Combustion Air & Temperature are Controlled on a Wood-Oil Combination Boiler or Furnace
Here we discuss first the control of wood-oil combination fuel boilers and furnaces, and next we will discuss the control of wood-fired furnaces. Below is a photo of a combination wood and oil fired heating boiler that the author (DF) inspected in New York in 1997.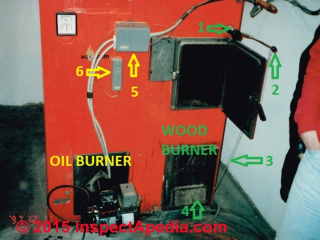 Using our photo at above right as an illustration of the temperature and draft controls on the wood-side of the combination wood-oil heating boiler shown: [Click to enlarge any image]
Wood burning controls on the dual-fuel boiler:
The boiler temperature or burn rate for wood is set by turning the adjustable thermostat knob at upper right in the photo - green arrown #1.
The thermostatic control monitors the temperature in the combustion chamber / heat exchanger on the wood side of the boiler. A bimetallic spring lifts the air shutter control arm (green arrow #2) to pull the combustion air shutter control chain (green arrow #3) which lifts open (more air) or falls to close (less air) the combustion air intake door at the bottom right of the boiler (green arrow #4).
A barometric damper draft control on the heating flue is not shown.
Watch out: if the wood-oil boiler uses a single chimney and flue and a common barometric draft regulator on that flue for both fuels (unsafe, and illegal in some jurisdictions) it will not be possible to adjust the draft regulator for optimum performance of both fuels. There may also be creosote fire hazards when burning different fuels in the same flue.
Oil burning controls on the dual wood-fuel boiler:
In our photo of a dual fuel wood-oil boiler at above right, the yellow arrow 6 points to the primary aquastat and yellow arrow 5 points to a second high limit aquastat control. Combustion air for the oil burner is provided through the oil burner air shutter and by a squirrel cage blower fan in the oil burner. Draft will be regulated by a barometric draft regulator on the flue vent connector (not shown).
How the Wood Furnace Combustion Air Damper Works
Sketches courtesy of Carson Dunlop Associates. Photo at below right - Daniel Friedman. [Click to enlarge any image]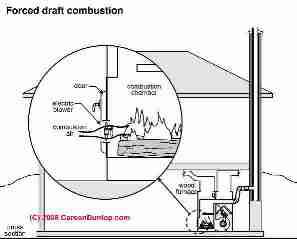 Forced draft wood furnace operation: As the sketch (left) shows, instead of relying on natural draft, a forced-draft combustion wood air furnace uses an electric blower fan to feed air to the wood fire.
Heater controls can turn off the blower fan and on some models adjust the airflow rate as needed.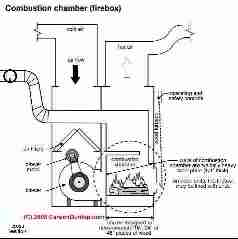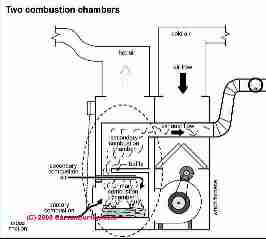 Wood Furnace combustion chamber details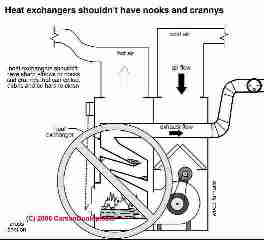 Wood Furnace combustion chamber cleaning details are shown in the sketches at left and below, courtesy of Carson Dunlop Associates.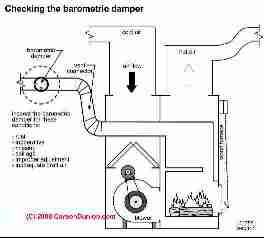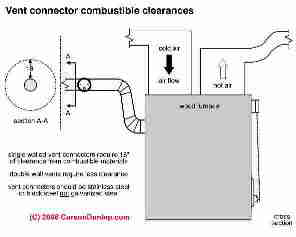 Wood Furnace barometric damper inspection
DRAFT REGULATOR, DAMPER, BOOSTER are devices used to regulate the draft on oil-fired heating equipment such as furnaces, boilers, or water heaters.
The barometric damper or draft regulating device we are discussing here is normally used only on oil-fired heating equipment, not on gas-fired equipment.
The inspection requirements such as assuring that the damper is level, properly located, and operating freely are provided in our heating section in the Draft Regulator article linked-to just above.

The equivalent draft control on gas fired heating systems is discussed
at DRAFT HOOD, GAS HEATER On gas fired equipment.
Wood Fired Heating Furnace & Boiler Control Operation
Reader Question: how to control an outdoor wood fired furnace
I have a outdoor wood furnace which has a thermostat on it out there it controls the blower! I want to run a thermostat in the house so when it get warm enough in house it will over ride the other thermostat? Where and how many wires will the 2nd thermostat need? I thought being just to turn blower on and off? - D.M. 11/19/2013
Reply:
I would like to help but don't know enough - I'm afraid that posing a solution without fully understanding the system is dangerous.
Reader follow-up:
I have a outdoor wood furnace and it has blowers on it that blows the heated air into our duct work! It has a thermostat on it that kicks the blowers on when temperature reaches 100 degree and  suits off when it hits 200 and I need to wire a thermostat in the house that will shut off the blowers when the house reaches the desired temperature!  I think I can do it but was wanting a second opinion!
Reply:
Any furnace depends on air flow through its heat exchanger and supply plenum to avoid cracking, holes, leaks and damage to the heat exchanger that otherwise are likely to occur if the exchanger is subjected to high temperatures. That's why the limit switch on a normal furnace will keep the blower fan running for some interval after the thermostat says the call for heat has been satisfied. So you would not want to add a control that by some other means turned off the warm air blower.
To be clear, the in-house thermostat talks to the fan limit switch. When you connect your thermostat to the furnace's own limit control, the thermostat will end the call for heat but the switch won't immediately shut off the air flow at the furnace, as I've explained.
Take a look at FAN LIMIT SWITCH if you want to read more about this topic.
In the special case of wood fired heating equipment there is a bit more to understand:
Because wood fired heating equipment might run at higher temperatures than say a gas fired furnace, and because we usually cannot absolutely and completely and suddenly "shut down" the wood fired furnace (that is you can't completely start and stop a wood-burning fire unless you douse it with water), wood fired boilers and furnaces operate a bit differently. Instead, during a heating cycle, the wood fired heater's controls will close down the combustion air supply to the fire, slowing the fire but not turning it off completely.
What this means to you is that it is possible that in order to protect the wood fired furnace from overheating, it may want to blow more air through its heat exchanger (and into the building) at times than the thermostat actually needs. It depends ... on the sophistication of the controls on the furnace.
Finally, we do not usually want to run wood-fired equipment always at its slowest, lowest heating settings because of the risk of dangerous creosote formation in the appliance and in the chimney.
...
Continue reading at FIRE CLEARANCES INDOORS or select a topic from closely-related articles below, or see our complete INDEX to RELATED ARTICLES below.
Or see FIRE CLEARANCES, WOOD & COAL STOVE FLUES
Or see HEATING COST SAVINGS METHODS - Heating Cost Savings Tips where we provide expert advice on how to significantly reduce your home heating
Or see COMBUSTION AIR for WOODSTOVES
Suggested citation for this web page
WOOD-OIL COMBINATION HEATERS at InspectApedia.com - online encyclopedia of building & environmental inspection, testing, diagnosis, repair, & problem prevention advice.
Or use the SEARCH BOX found below to Ask a Question or Search InspectApedia
...
Frequently Asked Questions (FAQs)
Try the search box below or CONTACT US by email if you cannot find the answer you need at InspectApedia.
Question:
(Nov 12, 2014) Rose said:
I knocked the bottom out of the metal chimney when its was being cleaned. Would that cause the chimney not to draw?
Reply:
Rose
Yes if you leave a cleanout or equivalent opening in a chimney you'll wreck the draft seen by any heating appliances connected to it - and the chimney is unsafe as well.

Question:
(Dec 21, 2014) Anonymous said:
Can seperate units such as a woodstove and a coal stove be hooked up side by side and vented inline on the same chimney?
BTW the chimney in question below is a stainless steel triple wall through the wall chimney

Reply:
It's common to see two heating appliances *on the same building level* sharing a flue, such as alternative heating wood stoves next to an oil fired heating boiler; but one needs a flue control to be able to isolate between the two or whichever unit is running may have trouble regulating its draft properly. There are also fire-safety issues such as the second heater igniting creosote deposited by the first one. So your approach needs on-site review by an experienced wood and coal stove installer as well as the appropriate building permit and safety inspection, as well as no less than annual chimney flue inspection and cleaning.
Reader comment:
(Dec 22, 2014) Anonymous said:
Thank you for the advice and for sharing your knowlegde.
Reply:
Thank you for the nice comment Anon. We work hard to provide accurate useful information and are thrilled when readers find it so. We also welcome questions, criticque, comments that improve the material. Working together makes us smarter.
InspectAPedia is an independent publisher of building, environmental, and forensic inspection, diagnosis, and repair information provided free to the public - we have no business nor financial connection with any manufacturer or service provider discussed at our website.
We are dedicated to making our information as accurate, complete, useful, and unbiased as possible: we very much welcome critique, questions, or content suggestions for our web articles. Working together and exchanging information makes us better informed than any individual can be working alone.
Website content contributors whether it is just a small correction or an in-depth article series (which of course invites more search engine attention), are, if they choose, cited, quoted, and linked-to from the appropriate additional web pages and articles - which benefits us both. Those who wish to remain anonymous can also do so.
...
Ask a Question or Search InspectApedia
Questions & answers or comments about combination fuel heating systems: wood + oil burning furnaces, boilers, other heating appliances: inspection, diagnosis, operation, maintenance, repair, safety
Use the "Click to Show or Hide FAQs" link just above to see recently-posted questions, comments, replies, try the search box just below, or if you prefer, post a question or comment in the Comments box below and we will respond promptly.
Search the InspectApedia website
Technical Reviewers & References
Click to Show or Hide Citations & References
Mark Cramer Inspection Services Mark Cramer, Tampa Florida, Mr. Cramer is a past president of ASHI, the American Society of Home Inspectors and is a Florida home inspector and home inspection educator. Mr. Cramer serves on the ASHI Home Inspection Standards. Contact Mark Cramer at: 727-595-4211 mark@BestTampaInspector.com
John Cranor is an ASHI member and a home inspector (The House Whisperer) is located in Glen Allen, VA 23060. He is also a contributor to InspectApedia.com in several technical areas such as plumbing and appliances (dryer vents). Contact Mr. Cranor at 804-747-7747 or by Email: johncranor@verizon.net
Thanks to Luke Barnes for suggesting that we add text regarding the hazards of shared chimney flues. USMA - Sept. 2008.
Arlene Puentes, an ASHI member and a licensed home inspector in Kingston, NY, and has served on ASHI national committees as well as HVASHI Chapter President. Ms. Puentes can be contacted at ap@octoberhome.com
Roger Hankey is principal of Hankey and Brown home inspectors, Eden Prairie, MN, technical review by Roger Hankey, prior chairman, Standards Committee, American Society of Home Inspectors - ASHI. 952 829-0044 - hankeyandbrown.com

NFPA 211 - Standards for Chimneys & Fireplaces, NFPA 211: Standard for Chimneys, Fireplaces, Vents, and Solid Fuel-Burning Appliances, 2006 Edition (older editions and standards are found at the same bookstore)
NFPA #211-3.1 1988 - Specific to chimneys, fireplaces, vents and solid fuel burning appliances.
NFPA # 54-7.1 1992 - Specific to venting of equipment with fan-assisted combustion systems.
GAMA - Gas Appliance Manufacturers' Association has prepared venting tables for Category I draft hood equipped central furnaces as well as fan-assisted combustion system central furnaces.
National Fuel Gas Code, an American National Standard, 4th ed. 1988 (newer edition is available) Secretariats, American Gas Association (AGA), 1515 Wilson Blvd., Arlington VA22209, and National Fire Protection Association (NFPA), Batterymarch Park, Quincy MA 02269. ANSI Z223.1-1988 - NFPA 54-1988. WARNING: be sure to check clearances and other safety guidelines in the latest edition of these standards.
Fire Inspector Guidebook, A Correlation of Fire Safety Requirements Contained in the 1987 BOCA National Codes, (newer edition available), Building Officials and Code Administrators International, Inc. (BOCA), Country Club HIlls, IL 60478 312-799-2300 4th ed. Note: this document is reissued every four years. Be sure to obtain the latest edition.
Uniform Mechanical Code - UMC 1991, Sec 913 (a.) Masonry Chimneys, refers to Chapters 23, 29, and 37 of the Building Code.
New York 1984 Uniform Fire Prevention and Building Code, Article 10, Heating, Ventilating, and Air Conditioning Requirements
New York 1979 Uniform Fire Prevention & Building Code, The "requirement" for 8" of solid masonry OR for use of a flue liner was listed in the One and Two Family Dwelling Code for New York, in 1979, in Chapter 9, Chimneys and Fireplaces, New York 1979 Building and Fire Prevention Code:
NFPA 211 - 3-1.10 - Relining guide for chimneys
NFPA 211 - 3-2 - Construction of Masonry Chimneys
NFPA 211 - 3-3 - Termination Height for chimneys
NFPA 211 - 3-4 - Clearance from Combustible Material
NFPA 54 - 7-1 - Venting of Equipment into chimneys
Brick Institute of America - Flashing Chimneys
Brick Institute of America - Proper Chimney Crowns
Brick Institute of America - Moisture Resistance of Brick
American Gas Association - New Vent Sizing Tables
Chimney Safety Institute of America - Chimney Fires: Causes, Effects, Evaluation
National Chimney Sweep Guild - Yellow Pages of Suppliers

"Top Ten Chimney (and related) Problems Encountered by One Chimney Sweep," Hudson Valley ASHI education seminar, 3 January 2000, contributed by Bob Hansen, ASHI
Chimney Inspection Checklist, Carson Dunlop, Associates, Toronto, Ontario
"Rooftop View Turns to Darkness," Martine Costello, Josh Kovner, New Haven Register, 12 May 1992 p. 11: Catherine Murphy was sunning on a building roof when a chimney collapsed; she fell into and was trapped inside the chimney until rescued by emergency workers.
"Chimneys and Vents," Mark J. Reinmiller, P.E., ASHI Technical Journal, Vol. 1 No. 2 July 1991 p. 34-38.
"Chimney Inspection Procedures & Codes," Donald V. Cohen was to be published in the first volume of the 1994 ASHI Technical Journal by D. Friedman, then editor/publisher of that publication. The production of the ASHI Technical Journal and future editions was cancelled by ASHI President Patrick Porzio. Some of the content of Mr. Cohen's original submission has been included in this more complete chimney inspection article: InspectAPedia.com/chimneys/Chimney_Inspection_Repair.php. Copies of earlier editions of the ASHI Technical Journal are available from ASHI, the American Society of Home Inspectors.
Natural Gas Weekly Update: http://tonto.eia.doe.gov/oog/info/ngw/ngupdate.asp Official Energy Statistics from the U.S. Government
US Energy Administration: Electrical Energy Costs http://www.eia.doe.gov/fuelelectric.html
Books & Articles on Building & Environmental Inspection, Testing, Diagnosis, & Repair
Our recommended books about building & mechanical systems design, inspection, problem diagnosis, and repair, and about indoor environment and IAQ testing, diagnosis, and cleanup are at the InspectAPedia Bookstore. Also see our Book Reviews - InspectAPedia.
Fireplace & Chimney Design, Repair Books - Fireplaces, Chimneys: design, repair
Fireplace & Chimney Inspection Books - Inspecting and diagnosing chimney problems, fireplace problems, chimney & fireplace standards
Ceramic Roofware, Hans Van Lemmen, Shire Library, 2008, ISBN-13: 978-0747805694 - Brick chimneys, chimney-pots and roof and ridge tiles have been a feature of the roofs of a wide range of buildings since the late Middle Ages. In the first instance this ceramic roofware was functional - to make the roof weatherproof and to provide an outlet for smoke - but it could also be very decorative.
The practical and ornamental aspects of ceramic roofware can still be seen throughout Britain, particularly on buildings of the Victorian and Edwardian periods. Not only do these often have ornate chimneys and roof tiles but they may also feature ornamental sculptures or highly decorative gable ends. This book charts the history of ceramic roofware from the Middle Ages to the present day, highlighting both practical and decorative applications, and giving information about manufacturers and on the styles and techniques of production and decoration.
Hans van Lemmen is an established author on the history of tiles and has lectured on the subject in Britain and elsewhere. He is founder member and presently publications editor of the British Tiles and Architectural Ceramics Society. Available at the InspectAPedia Bookstore.
Chimney Inspection Checklist, Carson Dunlop, Associates, Toronto, Ontario
Chimney & Stack Inspection Guidelines, American Society of Civil Engineers, 2003 - These guidelines address the inspection of chimneys and stacks. Each guideline assists owners in determining what level of inspection is appropriate to a particular chimney and provides common criteria so that all parties involved have a clear understanding of the scope of the inspection and the end product required. Each chimney or stack is a unique structure, subject to both aggressive operating and natural environments, and degradation over time. Such degradation may be managed via a prudent inspection program followed by maintenance work on any equipment or structure determined to be in need of attention. Sample inspection report specifications, sample field inspection data forms, and an example of a developed plan of a concrete chimney are included in the guidelines. This book provides a valuable guidance tool for chimney and stack inspections and also offers a set of references for these particular inspections.
Fireplaces, a Practical Design Guide, Jane Gitlin
Fireplaces, Friend or Foe, Robert D. Mayo
NFPA 211 - Standards for Chimneys & Fireplaces, NFPA 211: Standard for Chimneys, Fireplaces, Vents, and Solid Fuel-Burning Appliances, 2006 Edition (older editions and standards are found at the same bookstore)
Principles of Home Inspection: Chimneys & Wood Heating (Principles of Home Inspection), Carson Dunlop
Principles of Home Inspection: Chimneys & Wood Heating (Principles of Home Inspection), Carson Dunlop
NFPA 211 - 3-1.10 - Relining guide for chimneys
NFPA 211 - 3-2 - Construction of Masonry Chimneys
NFPA 211 - 3-3 - Termination Height for chimneys
NFPA 211 - 3-4 - Clearance from Combustible Material
NFPA 54 - 7-1 - Venting of Equipment into chimneys
Brick Institute of America - Flashing Chimneys
Brick Institute of America - Proper Chimney Crowns
Brick Institute of America - Moisture Resistance of Brick
American Gas Association - New Vent Sizing Tables
Chimney Safety Institute of America - Chimney Fires: Causes, Effects, Evaluation
National Chimney Sweep Guild - Yellow Pages of Suppliers
...