Line Voltage Thermostats for Electric Heating & Cooling
Buy, install, wire, troubleshoot, repair or replace a 120V or 240V thermostat used for heating or cooling
LINE VOLTAGE THERMOSTATS - CONTENTS: 120V or 240V room thermostats for control of electric heat, electric baseboard heat, convector heaters, fan heaters, radiant floor electric heat - LINE VOLTAGE 120V Wall Thermostat Wiring
POST a QUESTION or READ FAQs about line voltage thermostats
InspectAPedia tolerates no conflicts of interest. We have no relationship with advertisers, products, or services discussed at this website.
Guide to line voltage thermostats 120V or 240V room thermostats for electric heat, fan heaters, radiant floor heat, convector heaters.
This article describes types of line voltage wall or floor thermostats used to control heating or heating & cooling equipment where switching of 120V or 240V devices is required.
We also provide a MASTER INDEX to this topic, or you can try the page top or bottom SEARCH BOX as a quick way to find information you need.
Green links show where you are. © Copyright 2017 InspectApedia.com, All Rights Reserved.
Line Voltage Thermostats: choices, wiring, repair, replacement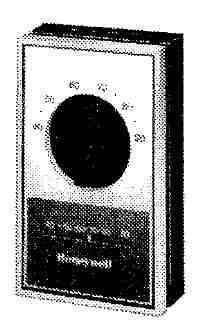 I have a two wire honey well thermostat T451A - I want to replace this thermostat with a programmable. Presently
there is a two wire ( black and White ) 120 volt line;

Any suggestions ? Thank you - M.S. 3/15/2013
Reply:
The Honeywell T451A room thermostat (illustration at left) is a line-voltage (120V) wall thermostat, a member of the product family including the T651 and T694 light duty line voltage wall thermostats.
These controls are widely used to directly control 120-V equipment such as valves, fans, motors, contactors, and electric heat systems as well as fan coil units in heating/cooling systems. Illustration at left of the Honeywell T415A and T651A from product literature. [4]
The T451 is a heat-only controller - I'm guessing yours may be controlling electric heat. I understand why you asked for help. Honeywell's own website includes a "thermostat finder" feature but is unable to give even one suggestion for a programmable line-voltage room wall thermostat. Happily the news is better than that.
Honeywell gives a succinct description of this class of wall thermostats:
Line voltage thermostats control the electricity directly, thus the name "line voltage." If you have a baseboard heater, electric wall heater, or resistive electric heater, you may require a line voltage thermostat. These thermostats are generally made for either 2 wires (SPST) or 4 wires (DPST - more common).  ...
These are NOT to be used with gas heating systems (gas heaters are generally single stage systems). Most line voltage systems are mechanical rather than digital programmable, and are almost always either 2 or 4 wires.... [however there are indeed some programmable line-voltage thermostats available as we list below ] [5]
Honeywell's newer replacement for the T451 includes the Honeywell TH114 which is also non-programmable and NOT what you want.
Programmable Line Voltage Heat-Only Hemostats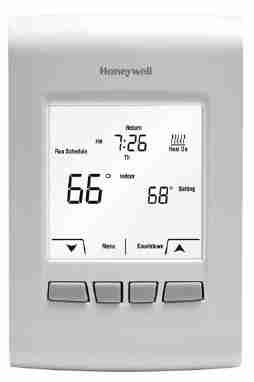 Other Honeywell line voltage thermostats and line voltage thermostats from other manufacturers, however should work fine where you want to add thermostat programmability, automatic setbacks, etc.
Examples of modern line-voltage programmable room thermostats include:
Honeywell TL8130A1005 - for electric baseboards and fan-forced heaters. (This is a single-function or "heat only" single-pole-single-throw (SPST) thermostat. Approximate Price: $50. U.S. designed to control 240V heating equipment.
Honeywell YTL9160AR1000 - line voltage, heat only, for electric baseboard or fan convector or fan-forced heaters, is an interesting development in wireless thermostats.
The kit includes a  Wireless EConnect programmable wall thermostat and one Electric Heating Equipment Interface Module (EHEIM). Each EHEIM can support a maximum load of 3000W at 240V - figure $150. U.S.
The Honeywell EConnect™ TL9160AR is shown at above-left.
Honeywell's EConnect™ wireless thermostats can accept up to 8 EIMs on a single thermostat - sketch below right.
[click any InspectApedia image to see an enlarged detailed version]
Honeywell EConnect™ wireless thermostats can control multiple electric heating baseboard units but only up to a total amperage load specified by the manufacturer, e.g. 12.5A - sketch, below left. [6]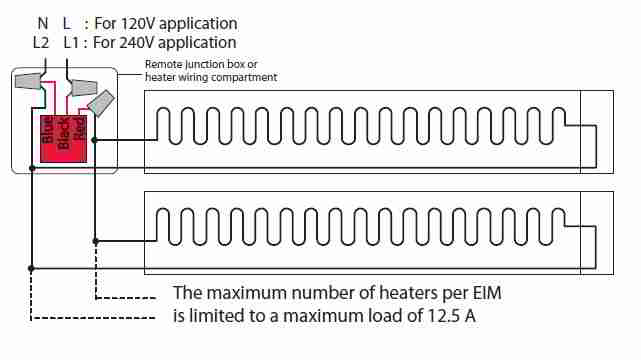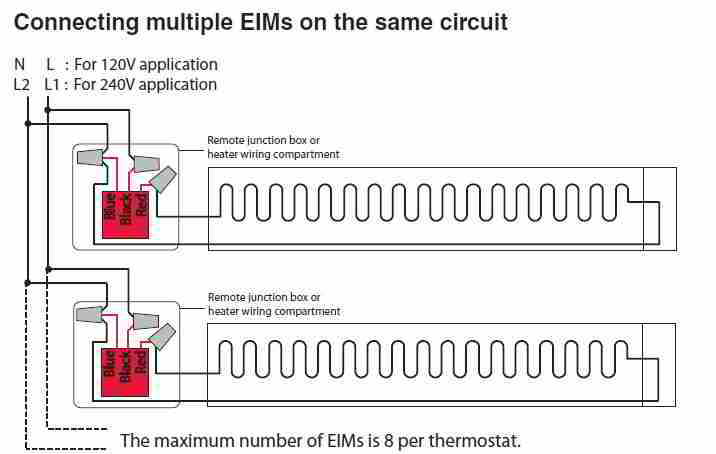 Honeywell
Line Voltage Thermostat, Heating Only Digital Programmable, Switch Type DPST, Switch Action Open on Rise, Number of Switches 1, Sensor Type Thermistor, Digital 7 Day Programmable, 15 Amps Max; 3600 Watts at 240 VAC, 3120 Watts at 208 VAC, For Use With Electric baseboards, convectors and fan forced heaters (resistive rated loads), Color White, Application Heating, 7 Programs per Week, Digital LCD Display, 208-240, 208-240, -, -, 15, 15, 15, 2, UL, CSA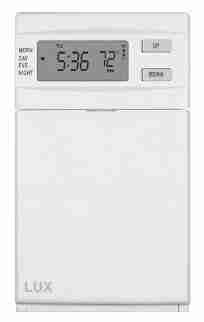 Lux PSPLV512 - 120V or 240V programmable wall thermostat intended for electric baseboard or radiant type electric heat, about $50. U.S.
Lux Luxpro Programmable Line Voltage Thermostat -( $70. U.S.) 120/240V SPST 1,900W at 120VAC (noninductive). 3,800W at 240VAC (noninductive).
[Illustrated above]
Radimo Radistat-Pro, line voltage 120/240V thermostat intended for electric radiant floor heating ($120) available through Sears
This thermostat, or its double, appears under a range of name brands, so we suspect they're all the same product sold with re-branding as Radimo. Laticrete, etc

Dayton's line voltage room thermostat shown at left is the Dayton 1UHG4 heating-only digital, programmable room thermostat suitable for electric heat control. About $57. U.S.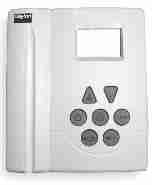 Specifications from granger.com include:
Line Voltage Thermostat, 5+1+1 Programmable, Switch Type SPST, Switch Action Open / Close on Rise, Number Of Switches 1, Control Range 41-95 F, Differential +/- 1 Deg F, Height 4 1/4 In, Width 3 5/8 In, Depth 1 1/4 In, Temp Sensitivity +/- 1 Deg F, Sensor Type NTC Thermistor, For Use With Heat Only, Color White, Application Programming 5+1+1, LCD Display, Enclosure Type PVC, Includes Screws and Mounting Plate
Trane also produces a range of line voltage thermostats (Trane Line Voltage Thermostat M TC126 004 NIB, Trane TX 126 004, Trane T4039M1095, Trane THT0567) and programmable thermostats (ComfortLink™II, Trane XL900-XL200 compatible with 24-V systems when a 24-V relay accessory panel is added), with more information from from Trane.
Trane's wide array of electric unit heaters (wall mounted, ceiling suspended & others) include some models that can be operated from a room thermostat (24V WD1 or WD2 controlling 240V heaters or WD3/WD4 120V control operating 240V heaters with additional line voltage and 600-volt controllers available). [7]
Line Voltage Thermostats for both heating & cooling
Honeywell T6052A1015 - heating or cooling, but not programmable, SPDT thermostat. About $140. U.S. Supports 2-stage heat and 2-stage cooling.
Instructions for Wiring of Line Voltage 120V Wall Thermostats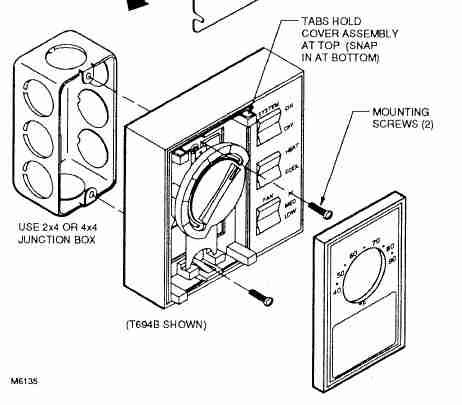 The typical wiring connections for older, non-programmable line voltage thermostats is described ain Honeywell's T451A, T651A, T694A,B,D,F Light Duty Line Voltage Thermostats from which we excerpt and adapt some advice from Honeywell:
Watch out: disconnect all electrical power before making any electrical connections, tests, or even touching wiring on line voltage thermostat systems.
While some old timers figure out wiring by shorting thermostat wires together, that is imaginable only for low-voltage thermostat systems.
Touching live line voltage wires risks death by electrocution as well as fire, shock, and equipment damage.
Use copper wire only with line voltage thermostats. All wiring must comply with the applicable electrical codes for your area.


Check specifications: Make sure that the line voltage thermostat electrical rating is sufficient for the current requirements of the equipment it will control. Check voltage, amperage, and wattage. For example,
Watch out: be sure to check the total wattage of heating equipment that you are going to be switching against the capacity limits of the programmable (or non-programmable) line voltage wall thermostat you plan to purchase and install. For example the Lux PLSPLV512 we recommended above is rated to control 1900 to 3800 watts.
Use a proper electrical box for mounting: because line voltage thermostats are using 120V or 240V wiring connections, don't just run wires through a wall into the thermostat. Line voltage thermostats usually include a suitable faceplate to cover the junction box mounted in the wall.

Illustration above left, showing typical mounting of a line voltage room thermostat onto an electrical box, courtesy Honeywell Corporation [5].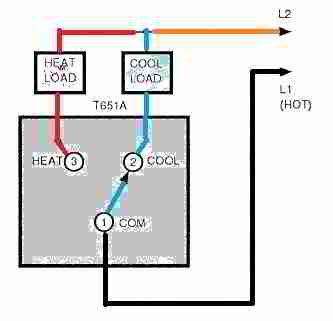 Connect the equipment wiring (the 120V 240V wires) to the proper terminals at the rear of the thermostat before trying to mount the thermostat to the wall.

For a heat-only application the wiring will be simple as there are just two wires, the L1-hot wire and the L2 heat or load wire.

For a heating + cooling application there will be a heat load wire and a cool load wire (see illustration above left) one of which will be fed by the thermostat depending on whether it is in heating or cooling mode.
See this 1949 Honeywell Control Handbook for an explanation of older line voltage (120-Volt) and 24-Volt thermostats and other controls such as the T40 series 4-wire 120V T44 Thermostat
The installation manual for your particular line voltage room thermostat will include connections for additional wires that may be necessary when the thermostat is being use in more complex installations such as connections to a winter-summer changeover switch, connections to control a separate blower fan motor, etc.
Hook up a wall plug on an electric heat circuit?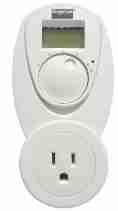 Reader question: I want to add a 120V electrical outlet and noticed that we already have wiring for electric baseboard heat. Is there a way to use that circuit to add a wall plug?
Reply: no but you can install a wall electrical receptacle to control a portable electric heater
Interestingly when first asked about this I said I didn't think so, out of concern that there may be no neutral wire or ground wire suitable for wiring an electrical receptacle or "wall plug" up to an electric baseboard heat circuit.

Watch out: and indeed, normally you would not be able to safely wire a 120V wall receptacle into the 240V circuit that controls electric baseboard heat since that circuit may be missing a suitable neutral and ground wire. See ELECTRICAL OUTLET, HOW TO ADD & WIRE.
But in researching wall thermostats we came across the combination line voltage wall thermostat for electric heat and wall receptacle combination shown in our photo (left).
This device is sold by Dayton, Model 1UHG6 and is intended to control electric heat as well as to provide an electrical outlet plug. Sold by grainger.com who includes these specifications:
Line Voltage Control, Outlet Plug Thermostat, Switch Type SPST, Switch Action Open On Rise, Number Of Switches 1, Control Range 40-95 F, Differential +/- 1 Deg F, Height 5 1/2 In, Width 2 7/8 In, Depth 2 5/8 In, Temp Sensitivity +/- 1 Deg F, Sensor Type NTC Thermistor, For Use With Portable Heaters [italics ours], Color White, Application Heating Only, LCD Display, Enclosure Type PVC - about $60. U.S.
So let's get clear just what this is: this is not an electrical outlet that you add to one leg of the 120V or 240V circuit that controls built-in electric baseboard heat. This is a device that is installed in the wall where a conventional electrical receptacle would have been installed. Dayton's 1UHG6 is, however a neat device. It is a wall thermostat that is intended to control a portable electric heater that is plugged into the wall where this device is installed.
You might note that the wall thermostat may be a bit low on the wall and you won't want it too close to the heater itself or it'll be dominated by heat local to the heater. Nevertheless it's a nice way to make your portable electric heater thermostatically controlled.
Reader Question: electric wall heater turned itself on when the thermostat was not calling for heat
My electric wall heater turned itself on last night. The thermostat was off or not set to a temp. During spring and summer I have my couch in front of it bc I don't use it. During the winter I arrange my apt accordingly to have proper clearance. But tonight I heard it running and I thought that was weird. I pulled my couch away and saw that the screen was literally red instead of white. I'm guessing it was too hot especially with my couch right up against it. So I turned it off from the breaker since at the point I couldn't turn the dial off anymore than it was.
To turn it on I have to turn it above 50 degrees. Under 50 means its off. And it has been off since the end of winter. My place stays warmer than by itself so it should never cut on. Not sure why this happened. Just looking for any help. Bc had I not checked on it it could have caught fire.
Reply:
Watch out: this sounds like a dangerous condition. If your electric wall heater came on while the thermostat was in the OFF position then your unit probably has either a bad internal switch, thermostat, or short circuit in the thermostat or control wiring. As you suggest, the unit is unsafe and should not be used before it is repaired or replaced.
And indeed, a couch, curtains, or other combustibles should never be placed in front of an electric heater exactly because of the overheating and fire risk that you observed. Thank goodness you detected the condition and turned off power to the heater. Had no one been at home, or had people been asleep the result could have been a fatal fire.

Can you tell me the brand and model of the heater?
And if you can send photos of the heater and any labeling on the unit, please do so using the CONTACT link found at top, left, or bottom of our web pages.
Reader Question: how do I connect the wires for a Honeywell Line Volt Pro 8000 thermostat?
I just the Honeywell line volt pro 8000.
Attached to the thermostat are two black wires and two red wires...however, coming out of my wall from my old thermostat are green, blue, white and red wires.
Can you help me with what I connect to what? - M.B. 6/18/2014
Reply: Honeywell LineVoltPRO™ wiring information
If you've lost the wiring instructions for the thermostat you're wiring let me know and we'll help dig up that information
Reader follow-up:
I have the instruction book, but I do not see how I am supposed to connect the two black wires and two red wires on the back of the thermostat and the green, blue, white and red wires coming out from the wall.

Reply: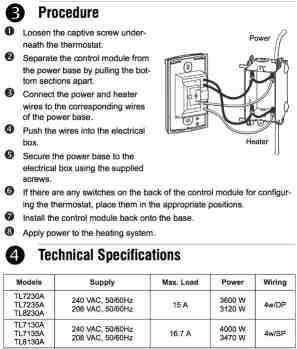 [Click to enlarge any image]
I attach an image from Honeywell's Line Volt Pro 8000 instructions (source cited below) - but I do NOT know if this is exactly the model of thermostat you purchased.
Generic thermostat wire codes are described at
https://InspectAPedia.com/heat/Thermostat_Tips.php
where G W R B are identified.
Watch out: Your reference to color codes makes me worry that you are trying to install a line voltage (120V or 240V AC) thermostat intended to control an electric baseboard heater where previously you had a low-voltage 24V wall thermostat that turned a heating boiler or furnace on and off,
BECAUSE the thermostat you are describing is used to wire electric baseboard heaters NOT to turn on and off a furnace or boiler.
The instructions for your line thermostat should identify each of the thermostat's wires.
Honeywell's instructions identify four wires, 2 black (connect to the LINE terminals of the electric baseboard heater - the incoming power) and 2 white wires (connecting to the LOAD terminals of the electric baseboard heater).
Honeywell says that the wiring hookup details are on the back of the unit's power module. If you don't see that data you can also call Honeywell's tech support line at
800-468-1502
Here are comments from a product review of the Honeywell LineVoltPRO™ electric heater thermosat control
Use a volt meter, your dealing with 240V!! Turn OFF breaker... read diagram on instructions carefully.. the wires on thermostat to connect to load are NOT top top to load but rather top and bottom to load. ... - 7/3/2014 retrieved from Amazon.com product reviews for this thermostat
Other product review comments warn that the device is very heat sensitive and its location should be chosen carefully.
Honeywell LineVoltPRO™ Installation Wiring Instructions for the TL8230A1003 - TL7130A/TL7135A/TL8130A/TL7230A/TL7235A/TL8230A Installation Guide - Power Base (Excerpts)
Watch out: Read the entire document
CAUTION:
Installation must be carried out by a certified electrician and must comply with national and local
electrical codes.
To prevent severe shock or electrocution, always cut the power at the service panel before working
with wiring.
Use this thermostat for resistive loads only.
Do NOT install the thermostat in an area where it can be exposed to water or rain.
Avoid locations where there are air drafts (top of staircase, air outlet), dead air spots (behind a
door), direct sunlight or concealed chimney or stove pipes.
For a new installation, choose a location about 5 ft. (1.5 m) above the floor.
Install the thermostat on an inside wall facing the heating system.
Install the thermostat onto an electrical box.
Use special CO/ALR solderless connectors if you connect the thermostat to aluminum wires.

Watch out: this statement from Honeywell is not the best advice. See ALUMINUM WIRING HAZARDS & REPAIRS for advice about proper and US CPSC recommended repairs for aluminum electrical wiring, and see these warnings about ALUMINUM WIRING REPAIR COALR & CU-AL

Keep the thermostat's top and bottom air vents (openings) clean and unobstructed at all times
Excerpt adapted from Honeywell's instructions for the Line Volt Pro - retrieved 7/3/2014, original source https://customer.honeywell.com/resources/techlit/TechLitDocuments/69-0000s/69-1804EFS.pdf
Replace a Line Voltage Thermostat with a Nest® or other Programmable Low-voltage Thermostat
We have moved this discussion to a separate article now found at CONVERT LINE to LOW VOLTAGE THERMOSTAT
Question: Troubleshooting a King ES230 thermostat for electric heat control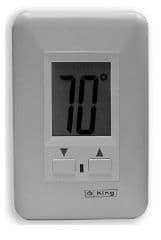 Carol said:
A few months ago we installed an ES230-R 240/208 Volt Digital Thermostat to control 2 King electric wall heaters. At bedtime we turn the thermostat down to 62 from 72.
Occasionally, when we go to turn the thermostat up for the day, it will be reading "88".
By pressing on the up button for a few seconds, I can turn it up to 72 and it will work fine. Can this happen if the house temperature went below 62 during the night?
This question and reply were posted originally at THERMOSTAT WON'T TURN ON
Reply:
The King ES230 electric heat thermostat, in default mode, should be displaying the currnent room temperature.
[Click to enlarge any image] Shown: the King ES-230 line voltage non-programmable wall thermostat used to controll electric heat.
When you press an up or down key, a thermometer appears in the display, and you can then further press up or down keys to change the SET temperature for the room.
If your thermostat is reading 88 degF before you touch it, it thinks that's the room temperature.
A thermostat might read higher than the actual room temperature for a number of reasons such as where it is located, exposure to sunlight or to another heat source.
I would start by making an independent check of the room temperature, maybe mounting a simple thermometer right next to your wall thermostat.
If you find that the thermostat is calling for heat and waming the room when you have it set below the current room temperature then I suspect either a wiring error or a defective thermostat.
Below is a wiring schematic for the King ES-230 line voltage thermostat along with links to more information about installing and wiring this eletric heat thermostat.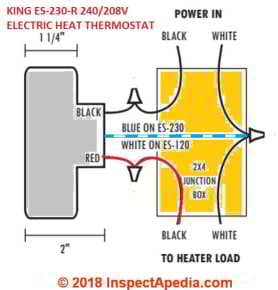 KING ES-230 208/240VAC Electric Heat Thermostat Specifications [PDF], King Electrical Mfg. Co., 9131 10th Ave. South, Seattle WA 98108, USA, Tel: 206-762-0400, Website: www.king-electric.com

This thermostat replaces King Thermostat models: CALV/ T4800/ T4700/ T4600/ 1A66/ D22/ S22/ M602/ T498/ T4398/ MD26/ WR661/ 1D22/ S2022/ TW242 /TD902/ T410/ TD942/ M7/ M402/ M512

Watch out: Danger of Electric Shock or Fire Hazard: read all wire sizing, voltage requirements, and safety data to avoid property damage and personal injury. Installation:
This line voltage device should be installed and serviced by a qualified electrician.
...
Continue reading at THERMOSTAT POWER & VOLTAGE or select a topic from closely-related articles below, or see our complete INDEX to RELATED ARTICLES below.
Or see CONVERT LINE to LOW VOLTAGE THERMOSTAT
Or see ELECTRIC HEAT
Suggested citation for this web page
LINE VOLTAGE THERMOSTATS at InspectApedia.com - online encyclopedia of building & environmental inspection, testing, diagnosis, repair, & problem prevention advice.
Or use the SEARCH BOX found below to Ask a Question or Search InspectApedia
...
Frequently Asked Questions (FAQs)
Try the search box below or CONTACT US by email if you cannot find the answer you need at InspectApedia.
Question: plug in themostat for a 220V AC unit
(June 13, 2014) Ray said:
I am looking for a plug in thermostat for a 220VAC wall A/C unit. do you have any or can recommend a location to get one?
e-mail info@kevlau.com
Reply:
Ray
Take a look at room thermostats used to control electric baseboard heaters for 220/240V rated models. They are available at your heating supplier as well as at most building supply stores such as Home Depot. Several models are described in the article above including the plug in thermostat you asked about.
Question:
8/21/2014 Duckly said:
I want to replace my current line voltage theromostat but our building is unique and the manager says they arent exactly replaceable with new programmable models. We have radiant heating/cooling where our boiler and chiller feed into the same loop system where fans force air accross the radiators.
There is a sensor on the piping leading to the main unit of the condo that feeds the thermostat to tell it what mode to be in, heating or cooling. Apparently it is this summer/winter changeover that makes finding a replacement tough. The thermostat also controls 3 seperate fan units off 1 thermo pipe sensor. My email is blueduck3285@gmail.com
Reply:
Duckly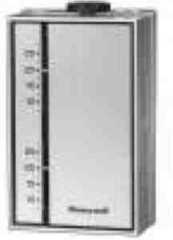 I don't know details about the specific installation you describe but it's a fair guess that it's not a unique design and that among the huge number of thermostats for sale (Grainger lists more than 100) there is either a suitable model or a pair of models that would suffice.
Honeywell lists at least 6 line voltage thermostats that are in the right "ballpark" for your application.
The Honeywell T4159A is for electric inductive/resistive heating.
Possibly more appropriate for your application:
The Honeywell T4051 and the Honeywell T6051 "Heavy Duty Line Voltage Thermostats are used to control fan coils, fans, motor starters, valves, contactors, and circulator motors in heating and/or cooling systems."
The Honeywell T4051 line voltage wall thermostat is shown at left.
The company also provides a Honeywell Q651 used for manual switching between two T6051 units.
It may help to point out that basically a wall thermostat is an "on-off" switch that calls for heat or calls for cooling based on room temperature.
...
Ask a Question or Search InspectApedia
Use the "Click to Show or Hide FAQs" link just above to see recently-posted questions, comments, replies, try the search box just below, or if you prefer, post a question or comment in the Comments box below and we will respond promptly.
Search the InspectApedia website
Technical Reviewers & References
Click to Show or Hide Citations & References
[1] Proliphix Corporate Headquarters, 3 LAN Drive Suite #100, Westford, MA 01886 Phone: +1.978.692.3375 Toll Free (U.S.): 866-IP-LIVING (866.475.4846) Fax: +1.978.692.3378 - Sales: sales@proliphix.com Marketing: marketing@proliphix.com Customer support: support@proliphix.com http://www.proliphix.com/ - quoting from the company's website:
All Proliphix Network Thermostats come with our free Uniphy Remote Management Service. This unique offering lets you monitor and control your HVAC systems by simply pointing your Browser to our secure Proliphix Web Site. Enjoy the convenience of programming a thermostat from any location, using a simple graphical interface. No computer equipment or software is required. And since Proliphix takes care of the network configuration for you, you'll be up and running in no time. We'll even proactively monitor your thermostats and send you an immediate email or SMS message when an HVAC problem is detected.

[2] "The Nest Learning Thermostat", Nest Thermostat, 900 Hansen Way Palo Alto, CA 94304, Tel: 855-4MY-NEST, Email: info@nest.com, website http://www.nest.com/, retrieved 1/24/2013.
[3] Honeywell Controls, the company wants you to use their contact form at this web page: http://www51.honeywell.com/honeywell/contact-support/contact-us.html
Honeywell Consumer Products, 39 Old Ridgebury Road Danbury, CT 06810-5110 - (203) 830-7800
World Headquarters, Honeywell International Inc., 101 Columbia Road, Morristown, NJ 07962, Phone: (973) 455-2000, Fax: (973) 455-4807 1-800-328-5111
[4] Honeywell Corporation, Honeywell T451A, T651A, T694A,B,D,F Light Duty Line Voltage Thermostats, [installation, troubleshooting manual], 1992, Honeywell Consumer Products, 39 Old Ridgebury Road Danbury, CT 06810-5110 - (203) 830-7800 copy on file as Honeywell_Line_Voltage_T651A.pdf
World Headquarters, Honeywell International Inc., 101 Columbia Road, Morristown, NJ 07962, Phone: (973) 455-2000, Fax: (973) 455-4807 1-800-328-5111 copy on file as Honeywell_Line_Voltage_T651A.pdf
"T451, T651, T694 Thermostats provide on-off control of valves, fans, motors, contactors, electric heat elements, duct furnaces and fan coil units in heating/cooling systems. Switching sub-bases provide manual control of heating, cooling and fan."
[5] Honeywell Corporation, "Honeywell Thermostats", website http://www.honeywell-thermostat.com/line-voltage.html retrieved 3/16/13
[6] Honeywell EConnect™ Wireless Thermostat Kit TL9160AR System Installation Guide, retrieved 3/15/13, copy on file as Honeywell_EConnect69-2474EFS.pdf
[7] Trane, Ingersoll Rasnd Residential Solutions, Trane PO Box 9010, Tyler TX 75711, Website www.trane.com
[8-10 pending]

[11] White Rodgers Thermostats and HVAC controls,
Homeowner information: http://www.emersonclimate.com/en-US/brands/white_rodgers/Pages/wr-homeowner-info.aspx
Contractor information: http://www.emersonclimate.com/en-US/brands/white_rodgers/wr_contractor_info/Pages/white-rodgers-contractor-info.aspx
White Rodgers Product Catalog (don't misspell the company's name as White Rogers Thermostats) -
http://www.emersonclimate.com/Documents/thermostats.pdf - Thermostat Catalog
[12] Domestic Central Heating Wiring Systems and Controls, 2d Ed., Raymond Ward, Newnes, ISBN-10: 0750664363, ISBN-13: 978-0750664363, Quoting from Amazon.com:
This unique A-Z guide to central heating wiring systems provides a comprehensive reference manual for hundreds of items of heating and control equipment, making it an indispensable handbook for electricians and installers across the country. The book provides comprehensive coverage of wiring and technical specifications, and now includes increased coverage of combination boilers, recently developed control features and SEDBUK (Seasonal Efficiency of Domestic Boilers in the UK) boilers ratings, where known.
In addition to providing concise details of nearly 500 different boilers fuelled by electric, gas, oil and solid fuel, and over 400 programmers and time switches, this invaluable resource also features numerous easy-to-understand wiring diagrams with notes on all definitive systems. Brief component descriptions are provided, along with updated contact and website details for most major manufacturers.
[13] "Automatic Oil Burner Controls - Thermostats", Domestic and Commercial Oil Burners, 3rd Ed., Charles H. Burkhardt, McGraw Hill, 1969 (and later editions), ASIN B0000EG4Y8
[14] Hunter Fan 2500 Frisco Ave. Memphis, TN 38114 888-830-1326 www.hunterfan.com
[15] Trane TCONT800 Series Touch Screen Programmable Comfort Control Ownes Guide, American Standard, Inc., Troup Highway, Tyler TX 75711, January 2005, Telephone: Customer Service: 1-877-3381, website: www.trane.com
[16] Boilers, Boiler Conversions, James E. Brumbaugh, ISBN 0-672-23389-4 (v. 1) Volume II, Oil, Gas, and Coal Burners, Controls, Ducts, Piping, Valves, James E. Brumbaugh, ISBN 0-672-23390-7 (v. 2) Volume III, Radiant Heating, Water Heaters, Ventilation, Air Conditioning, Heat Pumps, Air Cleaners, James E. Brumbaugh, ISBN 0-672-23383-5 (v. 3) or ISBN 0-672-23380-0 (set) Special Sales Director, Macmillan Publishing Co., 866 Third Ave., New York, NY 10022. Macmillan Publishing Co., NY
Books & Articles on Building & Environmental Inspection, Testing, Diagnosis, & Repair
Our recommended books about building & mechanical systems design, inspection, problem diagnosis, and repair, and about indoor environment and IAQ testing, diagnosis, and cleanup are at the InspectAPedia Bookstore. Also see our Book Reviews - InspectAPedia.
...