Radiant Heat Temperatures
InspectAPedia tolerates no conflicts of interest. We have no relationship with advertisers, products, or services discussed at this website.
Proper operating temperatures for radiant heating systems.
This article discusses the maximum, minimum, & recommended operating temperatures for radiant heated floor systems, including typical temperatures used in different types of radiant-heated floors: tile, wood, laminate, carpeting, etc.
We describe the normal or correct radiant heat setting temperatures and we explain what happens if the radiant heat temperatures are set too low or too high.
We discuss: Radiant heat temperature settings at the boiler. Radiant heat temperature settings in the tubing. Maximum temperature for radiant-heated floor surfaces. Energy efficiencies of radiant floor heating. Heat loss rates into earth below radiant heated floor slabs. Operating temperature comparisons for types of radiant heating.
We also provide a MASTER INDEX to this topic, or you can try the page top or bottom SEARCH BOX as a quick way to find information you need.
What are the Normal Operating Temperatures for Radiant Heat Systems?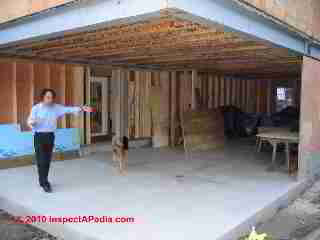 Our page top photo shows the output temperature of an electric boiler used to heat tubing in a radiant-heated tile floor set over concrete in a Minnesota home.
Unfortunately that system never worked satisfactorily, as we explain at RADIANT HEAT FLOOR MISTAKES.
Question: what is "normal" and what is "too hot" for radiant heat water circulating in the piping?
I just inspected a complex combine forced air (hydronic) heating system combined with a several circulating radiant floor heating components.
My question is what is normal and what is "too hot" for the water circulating through the piping distribution under ceramic tile floors installed over wood framed floor systems.
When I took the Watts® Regulator course they emphasized that temperatures should not exceed 130 degrees.
During my inspection the water leaving the boiler was 167.8 degrees (going into the heating distribution system for hydronic radiant, hydronic forced and also potable (yeah, I know that part is a problem!). - Ron Wells (ASHI#515) Wells Inspection Services, Inc.
Reply: It depends ..
The high temperature effects of too-hot radiant heat under wood flooring, and the effect on finished wood flooring are cited at WOOD FLOOR DAMAGE,
and some radiant heat design specs are at RADIANT HEAT FLOOR MISTAKES.
Here we add details about different operating temperatures for radiant heating systems.
Typical Radiant Heat Floor System Operating Temperatures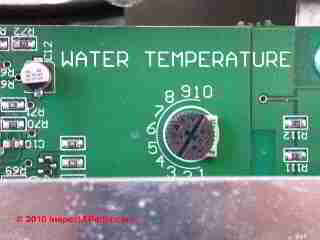 Typical radiant floor systems operate at 85 - 125 °F water temperature entering the tubing, and put the floor surface temperature about 5 degrees above the room thermostat set temperature.
Similarly other sources such as the Oregon state energy conservation department gives the typical operating temperature range for radiant heating systems at 85-140 °F (30-60C) though we agree that 140 deg.F. is a bit higher than suggested by other sources.
A radiant heat system manufacturer, Radiant Floor Company, opines that 120 to 135 deg F is "ideal" and most sources we have found discuss typical radiant heat operating temperatures in the 115-135 degree range.
Where PEX tubing is used for radiant-heat under-floor tubing, 125 to 130 °F is typical operating temperature used for water entering the tubing.
Most radiant floor heating systems we've examined run at around 115F water temperature entering the tubing of the radiant section, and you'll see by the temperature gauge at the top of this article that 115 °F was the factory default set temperature on the control of an electric radiant heat boiler we installed.
The control on that boiler's circuit board is shown just above.
But as we explain below, the optimum operating temperature for radiant heat floor systems will vary depending on the insulating or heat-conducting properties of the flooring material itself.
Typical Temperatures at the Upper Surface of Radiant-Heated Floors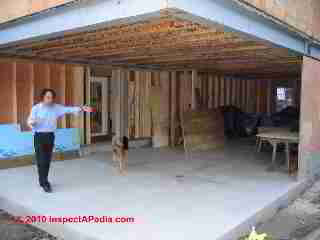 Our photo (above) shows our friend Steve and his dog explaining the radiant heat tubing layout in the new garage floor slab of a Minneapolis MN home. Radiant heat tubing was installed under the concrete floor to provide a heated garage.
The open corner garage door design permitted cars to turn into the garage from a narrow alley.
Unless you have a black crayon and an infrared thermometer it may be a bit more difficult to measure the finished-floor surface temperature (what your bare feet would feel when walking on the floor) than it is to just look at a temperature gauge on the hot water heating pipes or heating boiler themselves, but looking at the finished floor surface is one important temperature to note.
The finished floor surface temperature is what the building occupants feel when walking on the floor, affects the rate of heat radiating into the air above the floor, and if too high, can also become a safety concern.
According to CMHC (Canadian Mortgage and Housing Corporation) the finished floor temperature should never exceed 85 F (29 C).
Watch out: Note that for special installations such as a driveway de-icing installation the radiant heat system operating temperatures will be higher than used in an in-building heating system. Be sure that the tubing you select is rated for use at that operating temperature.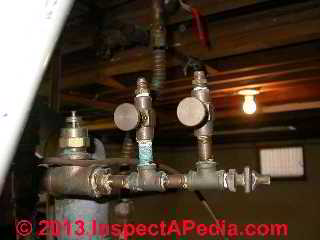 Our photo (left) shows an abandoned driveway de-icing radiant heat system that has been abandoned. Only the mainfold remains in place near the home's heating boler.
Watch out: if you saw 167.8 F at the boiler, that sounds too hot for normal circumstances on a radiant heating system. Running a radiant heat system hotter than necessary can have a range of harmful effects including:
Shorter heating boiler life
Shorter radiant heat tubing life
Oxygen diffusion problems [discussed below]
Uncomfortably hot or even dangerously hot floor surfaces
Unnecessarily high heating system operation costs
See PEX PIPING INFORMATION for more details about temperature ratings of plastic tubing. It may be useful to ask why someone has set the temperature of this radiant heating system so high. It could be
Simply a mistake
A control not functioning properly
An improperly installed or designed radiant heat system that is not delivering adequate heat into the occupied space
A misunderstanding of the controls or a misread of the temperature at the wrong location. See "Where to Check the Temperature ..." at the end of this article.
Typical Radiant Heat Temperatures Under Ceramic Tile
Under ceramic tile a higher temperature might be allowed without risking floor damage (we don't have wood shrinkage for example) and/or might have been set by a homeowner who likes a really warm bathroom floor.
But since ceramic tile is a *better* heat conductor than wood flooring, if anything, one would expect the temperature setting for that floor to be lower, not higher than otherwise.
Radiant under ceramic tile or vinyl tile, lower end of the temp;
Typical Radiant Heat Temperatures Under Finished Wood Flooring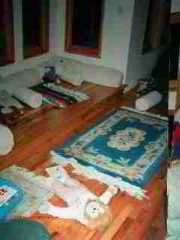 Under wood floors nailed right to the subfloor and tubing below, radiant heat temperatures are typically at the middle of our 85-135 °F. temperature range, or about 105-115 °F.
The radiant heated wood floor shown in our photo (left) was installed in a New York home.
Attempting to "drive out" tubing odors the installer pushed the floor temperature up a bit too high, taking the blame for gaps that appeared in the flooring as a result discussed at at WOOD FLOOR DAMAGE.
Radiant Heat Temperatures Under Laminate Flooring
Under laminate type finish flooring, keep the temperature under 82 °F or risk floor damage (per http://www.shawfloors.com/)
Radiant Heat Floor Temperatures Under Carpeting
Under carpet over subfloor, radiant heat will need to operate at the higher end of its temperature range to overcome the insulating effect of the carpeting and carpet padding.
Typical Temperatures for Radiant Heat Ceilings
Question: What should my my hot water temperature be so I don't crack my ceilings?
(Oct 15, 2018) Ronald Tabellione said:

I have radiant heat hot water system in my plaster ceilings. What should my my hot water temp be so I don't crack my ceilings.
I have 2 zone heat and a brand new furnace. House built in 50's
Reply: 150-170 degF in the ceiling or wall panels
Radiant heat ceilings generally run in the 150-170 degF. range - thus delivering more BTUs pe square foot than radiant floor heating.
Radiant heated ceilings and possibly radiant heat wall panels can operate at significantly-higher temperatures than radiant heated floors, probably because we need to be able to walk on the floor without getting a hot-foot.
The wiring in some electrical radiant heat gypsum board (drywall) panels is rated for 250 degF but doubtless operates well below that.
Here are some details and information sources. I'm collecting more and will add that to this page.

Floor heat temperatures, in comparison with radiant heatd ceiling panel temperatures
typical operating temperature range for radiant floor heating systems at 85-140 °F (30-60C) though we agree that 140 deg.F. is a bit higher than suggested by other sources.
The US DOE notes that
Radiant floor heating systems are significantly different from the radiant panels used in walls and ceilings. - www.energy.gov/energysaver/home-heating-systems/radiant-heating#307668-tab-0
Regrettably the DOE doesn't give any different temperature ranges for radiant panel heat in walls or ceilings.
Radiant heat ceiling product manufacturers
Note that some of these radiant heat ceiling or wall panels are entirely electric; other radiant heat panel systems use hot water from a boiler or from a solar heating system.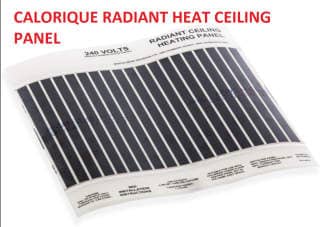 Calorique Perfectly Warm Radiant Ceiling Heat, 2380 Cranberry Highway West Wareham, MA 02576 USA Tel: 800-922-9276 Email: info@calorique.com Website: https://www.calorique.com
Enerjoy Radiant Heating Systems, SSHC, Inc. P.O. Box 769 Old Saybrook,CT 06475 USA, Tel: 800-544-5182 or 860-399-5434
SSHC, Inc. 1244 Old Clinton Road Westbrook, CT 06498 Email: info@sshcinc.com

Enerjoy produces radiant heat modules - electrical panels that can be installed on a ceiling or possibly a wall.
Messana Radiant Cooling and Heating ceiling solutions Messana Radiant Cooling 4105 Soquel Dr, Suite B Soquel, CA 95073 USA
Tel: (855) RAY MAGIC (729-6244) Email: info@radiantcooling.com Website: https://radiantcooling.com/

radiantcooling.com/messana-radiant-cooling-products/ray-magic-radiant-panel/

Products include an EPS radiant panel built into sections of drywall that can be installed on walls and ceilings.
Thermaray Therma-Ray Inc. 670 Wilsey Road, Unit 6 Fredericton, New Brunswick Canada E3B 7K4 Tel: 866-457-4600 Website: thermaray.com/radiant-ceiling-electric-radiant-heating-system/

Thermaray produces electric radiant heating systems for floors, ceilings, and other applications such as driveway de-icing systems and snow melting.
I am collecting more operating temperature specifications for those radiant heat panels and will add that information, product specifications, etc. here.
Oxygen Diffusion in Too-Hot Radiant Heated Floors
Radiant Floor Company, a radiant heating system manufacturer, raises another interesting point, indirectly: at temperatures over 140 °F can cause an oxygen diffusion problem and require special "oxygen barrier" tubing in some cases (depending on the boiler design) - otherwise system life may be reduced or the boiler damaged.
Where to Check the Temperature of A Radiant Heated Floor System
Mixed Radiant & Hydronic Baseboard or Radiator Heating Systems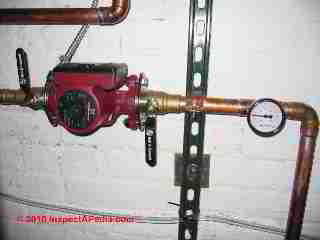 Watch out: often there are mixing and flow controls on the radiant system that limit the actual temperature in the radiant tubing, typically by only introducing new hot water into the loop when temperature requires it - otherwise recirculating most of the loop water without returning it to the boiler.
You will particularly see this if the boiler is serving a mixed-design system, including some heating baseboards and other radiant floor heated sections.
That's because we want the hotter temperatures in the baseboards (hotter is more efficient heat transfer), and cooler temps in the radiant flooring.
So: was this a mixed design system with some baseboards and some radiant? and were there mixing controls on the radiant loop section ?
Question: how can I boost the temperature of our radiant-heated floors?
I have radiant heat floor throughout my house and I have some questions about boosting its output. I'd love to enlist the serves of someone from your team who can answer questions about heat exchangers, optimal temperates, max temperatures, etc.
The sooner the better as we are feeling chilly at the moment. - Anonymous by private email 2017/12/11
Reply: (Mod) said: take care not to over-boost radiant heat floor temperatures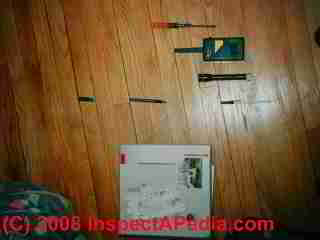 I may be able to answer specific questions or I may have a few suggestions but you will be best served by an on-site expert who can look at your equipment, controls, house and its design and points of heat loss.
Watch out: In general, if you boost temperature too high with a radiant heat floor you can find the floors too hot to walk on comfortably; and of course adding rugs to make walking comfortable block the heat output.
I would take care to keep your radiant heat temperatures in the heating loop under 135°F (57°C).
The finished floor temperature should never exceed 85°F (29°C).
That is typically managed by adjusting the temperature controls at the mixing valve that maintains the floor temperature by mixing in return loop water with outgoing water from the circulator/boiler.
Too much heat can also damage floors if they're wood, and too much heat may exceed the rating of the radiant tubing that was used, leading to a tubing failure - costly leaks.
My photo shows gaps that developed in a wood floor installed over radiant heat tubing after the radiant heat was driven to temperatures above those recommended by the radiant floor heat system manufacturer.
Start by finding the operating temperature of your system as it is.
Consider also looking over the home to reduce its heat loss, particularly if there are drafts.
I cannot assist on a for-pay consulting basis. We do not sell anything. In order to absolutely assure our readers that we write and report without bias we do not sell any products nor do we have any business or financial relationships that could create such conflicts of interest.
For reducing your home's heat loss these articles might be useful
...
Continue reading at RADIANT HEAT CONTROLS or select a topic from closely-related articles below, or see our complete INDEX to RELATED ARTICLES below.
Or see RADIANT HEAT TEMPERATURE FAQs - questions & answers about radiant heat temperatures in walls, floors, ceilings, posted originally at this page.
Or see these
Radiant Heating System Articles
Suggested citation for this web page
RADIANT HEAT TEMPERATURES at InspectApedia.com - online encyclopedia of building & environmental inspection, testing, diagnosis, repair, & problem prevention advice.
Or use the SEARCH BOX found below to Ask a Question or Search InspectApedia
...
Ask a Question or Search InspectApedia
Try the search box just below, or if you prefer, post a question or comment in the Comments box below and we will respond promptly.
Search the InspectApedia website
Technical Reviewers & References
Click to Show or Hide Citations & References
FloorHeat 3130 Sovereign Drive, Lansing, MI 48911, 888-265-5455, Email: info@FloorHeatCompany.com) radiant floor heating panels,
Heatshield Panels, 27354 Valley Center Road, Valley Center, California 92082 USA, 800-750-3978
Nuheat Industries 3105 - 6900 Graybar Road, Richmond, BC Canada V6W 0A5, electric radiant heat systems for use under tile, stone, and laminate flooring, 800-778-WARM (9276) Email: info@nuheat.com
ASHRAE 25 Heating, Refrigeration, and Air Conditioning engineering standards
ASHRAE 90.1-2004 User's Manual, <!z-- http://www.scribd.com/doc/40143853/ASHRAE-90-1-2004-User-s-Manual --> instructions for the design of commercial and high-end residential buildings "to ensure their compliance with ANSI/ASHRAE/HESNA Standard 90.1-2004 including the application of principles of effective energy conserving design..."
CarbonicHeat radiant heat flooring products, 866.786.1806 sales@carbonicheat.com, [no mailing address]
Entran radiant heat:
Passive Solar Design Handbook Volume I, the Passive Solar Handbook Introduction to Passive Solar Concepts, in a version used by the U.S. Air Force - online version available at this link and from the USAF also at wbdg.org/ccb/AF/AFH/pshbk_v1.pdf
Passive Solar Design Handbook Volume II, the Passive Solar Handbook Comprehensive Planning Guide, in a version used by the U.S. Air Force - online version available at this link and from the USAF also at wbdg.org/ccb/AF/AFH/pshbk_v2.pdf [This is a large PDF file that can take a while to load]
Wikipedia provided background information about some topics discussed at this website provided this citation is also found in the same article along with a " retrieved on" date. NOTE: because Wikipedia entries are fluid and can be amended in real time, we cite the retrieval date of Wikipedia citations and we do not assert that the information found there is necessarily authoritative.
Books & Articles on Building & Environmental Inspection, Testing, Diagnosis, & Repair
Our recommended books about building & mechanical systems design, inspection, problem diagnosis, and repair, and about indoor environment and IAQ testing, diagnosis, and cleanup are at the InspectAPedia Bookstore. Also see our Book Reviews - InspectAPedia.
Carson Dunlop, Associates, Toronto, have provided us with (and we recommend) Carson Dunlop Weldon & Associates' Technical Reference Guide to manufacturer's model and serial number information for heating and cooling equipment
Special Offer: Carson Dunlop Associates offers InspectAPedia readers in the U.S.A. a 5% discount on any number of copies of the Technical Reference Guide purchased as a single order. Just enter INSPECTATRG in the order payment page "Promo/Redemption" space.
...
Publisher InspectApedia.com - Daniel Friedman