Oil Burner Tests & Adjustments: Measure & Set Oil Burner Smoke & CO2 Levels

Guide to oil burner operating tests: Bachrach or Bosch Smoke Numbers, Carbon Dioxide Level measurements
How to measure oil burner smoke level and CO2 level to evaluate system efficiency and operation
What is the correct smoke level for oil burners
How to Diagnose Oil Burner Noise, Smoke, Odors
Diagnose & repair oil burner soot, puffback, rumbling, hard-starting
How to diagnose loss of heat, heating boiler noises, leaks, odors, or smoke
How to inspect & repair oil fired central hot water heating boilers or warm air furnaces
Questions & Answers about oil burner performance tests and measurements
InspectAPedia tolerates no conflicts of interest. We have no relationship with advertisers, products, or services discussed at this website.
Oil burner tests & adjustments: this article explains how to inspect and test oil burners for proper & efficient operation using a smoke tester and carbon dioxide level test equipment. We include a description of common oil burner adjustment and operating problems and we illustrate some of the basic oil burner tests and measurements made in servicing and adjusting the equipment for safe, efficient operation. We illustrate oil burner smoke testing and oil burner carbon dioxide level measurement. This website answers most questions about central hot water heating system troubleshooting, inspection, diagnosis, and repairs. We describe how to inspect, troubleshoot and repair heating and air conditioning systems to inform home owners, buyers, and home inspectors of common heating system defects.
Green links show where you are. © Copyright 2013 InspectAPedia.com, All Rights Reserved. Author Daniel Friedman.
Oil Burner Smoke Test - Indicates Proper Combustion Air, Draft, Burner Adjustment
If the oil burner is not working, start your diagnosis at OIL BURNER INSPECTION & REPAIR.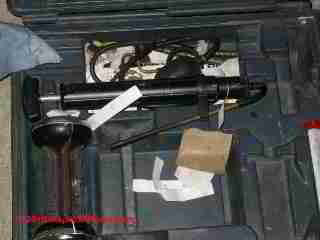 The articles at this website describe how to recognize common oil-fired heating appliance operating or safety defects, and how to save money on home heating costs. Readers should see HEATING SYSTEM INSPECTION PROCEDURE. There we explain an organized approach to inspecting the entire heating system, beginning outdoors, continuing indoors, and ultimately in most detail in the boiler or furnace room. Also see CHIMNEY INSPECTION DIAGNOSIS REPAIR for details of chimney inspection, diagnosis, and repair, including blocked chimney flues, chimney backdrafting, leaks, and odors from flues.
The basic measurements made by any competent oil heat service technician include the stack temperature, draft, smoke level, and carbon dioxide level.
These data tell us whether or not the equipment is properly adjusted and operating safely and economically. Here we explain how we measure the Bachrach or Bosch smoke numbers - a slightly subjective evaluation of the level of smoke or "soot" found in oil burner exhaust flues.
One of these most basic tests performed by an oil heat service technician is the "smoke test" using a strip of filter paper and a pump to sample the oil burner exhaust, measuring the level of smoke in the exhaust.
Our photo (left) shows a traditional smoke testing pump (the black cylinder with a handle at its right end) used for decades. This equipment was produced by Bachrach, an oil burner test equipment manufacturer.
The technician allows the oil burner to reach normal operating temperature (perhaps after it has been on for five minutes),
A clean white strip of filter paper is inserted into the end of the smoke testing pump.
The nozzle of the smoke tester is inserted into a 1/4" diameter hole in the flue vent connector pipe, typically just a few inches above the top of the oil-fired heating boiler or furnace.
The pump is operated
The filter strip is removed and the "blackness" of the sample spot is compared with a scale that rates the soot level. An experienced oil heat service technician simply looks at the black or gray spot on the filter paper.

Watch out: as we have written in several articles, it is impossible to do a good job cleaning and servicing oil fired heating equipment without getting dirty. But if you put your sooty fingers all over the filter paper before or after conducting a Bachrach / Bosch smoke test, then soot from your hands will get onto the filter paper and you may mistake a 0 smoke reading as a 1 or 2 level smoke. Don't touch the smoke sample test area with your dirty fingers.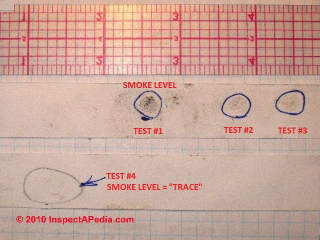 Zero-level smoke in a Bachrach / Bosch test is actually "too clean" for most oil burners, and means that there is too much air entering the oil burner, causing the burner to operate too hot, and sending too much heat (and thus the money the homeowner spent on heating oil) up the chimney.
The correct smoke level is just a "trace" of smoke on the filter paper, a level of 1 is good.
A smoke level of "1" or "2" is normal. In our oil burner smoke test results photo (at left) you can see four smoke test samples. Sample #1 is certainly too dirty, sample #2 and sample #3 are a bit high, though we might accept sample #3. Sample #4 is just slightly above zero and is a good setting.
Watch out: sorry for the labels in our photo at left: Don't mix up our sample numbers #1 - 4 with smoke level values = 0,1,2,3, etc. A smoke level of 0 means there is no black soot visible on the filter paper.
The Bachrach or Bosch smoke number scale ranges from 0 (no detected smoke) to 9 (solid black). In addition to using the hand operated smoke pump illustrated here, some electronic combustion analyzers can also produce a smoke level number. [Click any image or table to see an enlarged, detailed version.]
Higher smoke levels indicate that the system is operating too "dirty" or smoky. High levels of soot in the oil burner exhaust mean that the system will deposit soot more rapidly inside of the furnace or boiler heat exchanger, interfering with heat transfer into the building heating air or water, and thus increasing system operating cost - meaning higher heating bills and more frequent oil burner service needed.
Very high smoke levels may indicate or even cause plugging up of the furnace or boiler, leading to improper oil burner operation, an unsafe system, and possibly other malfunctions, even a "puffback".
Setting an Oil Burner for Zero Smoke?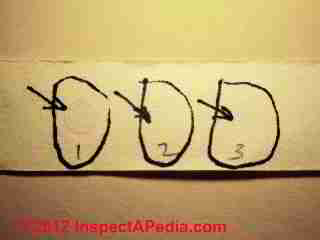 Technical note: on some modern oil fired heating systems the oil burner combustion air and oil pressure are adjusted to a standard of zero smoke rather than a trace of smoke.
To perform this adjustment correctly and to avoid over-firing or overheating the boiler, as well as to avoid an inefficient set-up that sends too much heat up the chimney, the heating service tech will first set the oil burner for just a trace of smoke (#1 in our photo at left), then s/he will slightly increase combustion air until the trace just vanishes to a zero smoke reading (#2 and #3 in our photo) with the test filter paper and smoke gun.
Watch out: Don't come at zero smoke from a position of too much combustion air or you won't know what you've got and you may be wasting fuel and overheating the equipment.
Also see COMPLETE COMBUSTION, Stoichiometric for an explanation of complete fuel combustion and boiler or furnace maximum efficiency.
Thanks to Bob, a heating service technician at Bottini Oil, for this service tip.
Oil Burner CO2 Test - Carbon Dioxide Level Indicates System Efficiency
The second common test performed by an oil heat technician evaluates the oil burner efficiency by measuring the carbon dioxide level or CO2 level in the oil burner exhaust. While there are electronic sensors used by some technicians for this purpose, many oil heat service tech's continue to use the time-tested Bachrach Fyrite™ oil burner tester shown below.
Our photos above show the rubber bulb and tubing used to pump oil burner exhaust gases into the CO2 level tester (the bulb and tubing atop the smoke tester, above left), and a closeup of a well-used CO2 tester (above right).
Measurement is made at the same flue vent connector location as we discussed above.
In fact when the author (DF) attended oil burner school we were taught to make two openings into the flue so that smoke level and CO2 measurements could be made through one opening while a thermometer or draft gauge monitored those two additional data points at the second opening.
The CO2 tester is filled with a red fluid that changes volume in response to carbon dioxide level. The Fyrite test unit is inverted, returned to upright, tilted at 45 degrees, to prepare it for use and to calibrate or set the "zero point" on the CO2 gauge. A cap on the unit is depressed to vent the unit to the atmosphere and the zero point is set on the adjustable gauge.
Exhaust gas is pumped into the CO2 tester, the tester is treated with flue gas exhaust for the required number of strokes (18) to purge the tubing and bulb and analyzer (tester). Why so many puffs of the rubber bulb? Remember you have to purge ambient air out of the tubing, the bulb, and the test instrument to be sure your sample in the instrument is of flue gas.
The analyzer is inverted, then returned to upright, tilted 45 degrees, returned to upright, and the CO2 scale is read.
The Carbon Dioxide vs Oil Burner Efficiency chart below explains how the percent of carbon dioxide in oil burner exhaust gases translates into oil burner efficiency. Bachrach Fyrite instructions and Oil Burner efficiency chart below, source: Audel's Oil Burner Guide.
[Click any image or table to see an enlarged, detailed version.]
...
Frequently Asked Questions (FAQs)
...
Ask a Question or Search InspectApedia
Questions & answers or comments about oil burner performance tests and measurements
Ask a Question or Enter Search Terms in the InspectApedia search box just below.
Technical Reviewers & References
Related Topics, found near the top of this page suggest articles closely related to this one.
Books & Articles on Building & Environmental Inspection, Testing, Diagnosis, & Repair
The Home Reference Book - the Encyclopedia of Homes, Carson, Dunlop & Associates Ltd., Toronto, Ontario, 2010, $69.00 U.S., is available from Carson Dunlop, and from the InspectAPedia bookstore. The 2010 edition of the Home Reference Book is a bound volume of more than 450 illustrated pages that assist home inspectors and home owners in the inspection and detection of problems on buildings. The text is intended as a reference guide to help building owners operate and maintain their home effectively. InspectAPedia.com ® sup> author/editor Daniel Friedman is a contributing author. Field inspection worksheets are included at the back of the volume.
Audels Oil Burner Guide, Installation, Servicing, Repairing, Frank D. Graham, 1940's edition (obsolete). Updated versions of this guide are available in various editions, 1947, 1950, 1955, 1958, 1959, 1962, 1965, 1967, and at prices from around $3.00 to nearly $70.00 - useful for simple, clear, but not current, explanation of how heating equipment works. The original retail price was $1.00. Used copies are available at Amazon.com
Domestic and Commercial Oil Burners, Charles H. Burkhardt, McGraw Hill Book Company, New York 3rd Ed 1969.
National Fuel Gas Code (Z223.1) $16.00 and National Fuel Gas Code Handbook (Z223.2) $47.00 American Gas Association (A.G.A.), 1515 Wilson Boulevard, Arlington, VA 22209 also available from National Fire Protection Association, Batterymarch Park, Quincy, MA 02269. Fundamentals of Gas Appliance Venting and Ventilation, 1985, American Gas Association Laboratories, Engineering Services Department. American Gas Association, 1515 Wilson Boulevard, Arlington, VA 22209. Catalog #XHO585. Reprinted 1989.
The Steam Book, 1984, Training and Education Department, Fluid Handling Division, ITT [probably out of print, possibly available from several home inspection supply companies] Fuel Oil and Oil Heat Magazine, October 1990, offers an update,
Principles of Steam Heating, $13.25 includes postage. Fuel oil & Oil Heat Magazine, 389 Passaic Ave., Fairfield, NJ 07004.
The Lost Art of Steam Heating, John Doe [Dan Holohan], 516-579-3046 FAX, at Amazon.com and the InspectAPedia bookstore
Principles of Steam Heating, Dan Holohan, technical editor of Fuel Oil and Oil Heat magazine, 389 Passaic Ave., Fairfield, NJ 07004 ($12.+1.25 postage/handling).
Principles of Home Inspection: Steam, Electric & Wall/Floor Heating, Carson Dunlop, at Amazon.com and the InspectAPedia bookstore
"Residential Steam Heating Systems", Instructional Technologies Institute, Inc., 145 "D" Grassy Plain St., Bethel, CT 06801 800/227-1663 [home inspection training material] 1987
"Residential Hydronic (circulating hot water) Heating Systems", Instructional Technologies Institute, Inc., 145 "D" Grassy Plain St., Bethel, CT 06801 800/227-1663 [home inspection training material] 1987
"Warm Air Heating Systems". Instructional Technologies Institute, Inc., 145 "D" Grassy Plain St., Bethel, CT 06801 800/227-1663 [home inspection training material] 1987
Heating, Ventilating, and Air Conditioning Volume I, Heating Fundamentals,
Boilers, Boiler Conversions, James E. Brumbaugh, ISBN 0-672-23389-4 (v. 1) Volume II, Oil, Gas, and Coal Burners, Controls, Ducts, Piping, Valves, James E. Brumbaugh, ISBN 0-672-23390-7 (v. 2) Volume III, Radiant Heating, Water Heaters, Ventilation, Air Conditioning, Heat Pumps, Air Cleaners, James E. Brumbaugh, ISBN 0-672-23383-5 (v. 3) or ISBN 0-672-23380-0 (set) Special Sales Director, Macmillan Publishing Co., 866 Third Ave., New York, NY 10022. Macmillan Publishing Co., NY
Installation Guide for Residential Hydronic Heating Systems
Installation Guide #200, The Hydronics Institute, 35 Russo Place, Berkeley Heights, NJ 07922
The ABC's of Retention Head Oil Burners, National Association of Oil Heat Service Managers, TM 115, National Old Timers' Association of the Energy Industry, PO Box 168, Mineola, NY 11501. (Excellent tips on spotting problems on oil-fired heating equipment. Booklet.)
...