Heating System Inspection, Troubleshooting, Repair Guide
Step by Step Heating System Inspection & Service Procedure Guide
InspectAPedia tolerates no conflicts of interest. We have no relationship with advertisers, products, or services discussed at this website.
How to inspect, service, & repair heating systems:
This heating system diagnosis and repair website answers most questions about central heating system troubleshooting, inspection, diagnosis, and repairs. We describe how to inspect, troubleshoot and repair heating and air conditioning systems to inform home owners, buyers, and home inspectors of common heating system defects.
The articles at this website describe the basic components of a home heating system, how to find the rated heating capacity of an heating system by examining various data tags and components, how to recognize common heating system operating or safety defects, and how to save money on home heating costs.
We also provide a MASTER INDEX to this topic, or you can try the page top or bottom SEARCH BOX as a quick way to find information you need.
How to Inspect Heating Systems - Example of An Approach to the Forensic Inspection of Any Complex System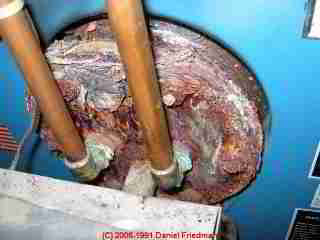 We include product safety recall and other heating system hazards. The limitations of visual inspection of heating systems are described. We continue to add to and update this text as new details are provided. Contact us to suggest text changes and additions and, if you wish, to receive online listing and credit for that contribution.
This document presents a detailed methodology for inspecting, diagnosing, & repairing defects on residential heating systems with attention to inspection methods selected to assure completeness, accuracy, and the maximum level of defect detection.
The heating system inspection methodology described here serves as a guide to the forensic diagnostic inspection of any complex system where the highest probability of detecting important safety or operating defects is important.
The photograph shows a severely rusted tankless coil mounted on a steel heating boiler. If the coil-mounting surface on the boiler itself is severely rusted it may be necessary to replace the entire heating boiler. While a welder could weld on a new mounting surface for a new coil, none of the repairmen are likely to warrant such a "fix" and further, the welder, knowing that the owner is facing the cost of a whole new boiler, is likely to set a high fee for even attempting the repair.
It is important to recognize and report the significance of rust like this on a heating boiler. At this website we describe organized procedures for inspecting complex systems for defects, using the organized step by step method to assure inspection heating system inspection completeness and accuracy but without losing the ability to discover unexpected problems as well.
© Copyright Daniel Friedman 2008-1993 all rights reserved -- Tri-State ASHI Home Inspection Education Seminar - Initial Presentation November 6-7, 1993 -- Last update 11/10/2007
How to Relate Heating System Inspection Procedures to Home Inspection Standards of Practice
This presentation follows a procedure for inspecting, using heating system operating sequence as a method to assure that all important system components are considered. A version of the ASHI Standards of Home Inspection Practice (readers should check most recent Standards version for changes) is mapped into this heating system inspection procedure but does not guide the actual inspection sequence. \
The organization of home inspection standards is not intended as a guide to an inspection sequence nor as a guide to heating system inspection reports. Home Inspection Standards requirements during the inspection of a home heating system are identified in italics in the text below.
HEATING INSPECTION CONCEPTS - How to Select an Inspection Methodology for Heating System Inspection & Diagnosis
Step 1: Select a Heating System Inspection Road Map to Guide the Inspection Sequence
In order to be as thorough, accurate, and safe as possible, a heating system inspector should use a well-defined order of discovery which assures that s/he examines all important heating system components. Several possible heating system inspection "road maps" can be used for this purpose. Two approaches inspect the heating equipment by physical layout of components, or by inspecting the heating system in the detailed order that it will operate during the heating system operating cycle.
Of these "heating system inspection road maps", the first of these inspection methods is physically convenient, that is: inspect each heating system component where each is located in each building area, and this is the most common approach in use in the field. But but it is the second option, heating boiler or furnace operating sequence, that best assures that the inspector considers proper system operation and that s/he identifies all of the system components.
Thinking thorough the sequence of steps in operation of a home heating system requires that the inspector understand how heating systems work. An inspector who cannot follow this sequence does not understand heating system operation and is rather likely to miss important system defects.
So how should a heating system be inspected? For efficiency the inspector may decide to examine each system component as s/he enters the area of the building where that component resides. So all heater components in the basement or crawl space are examined in one pass while the inspector is in that area, and so on.
But in thinking about the completeness and accuracy of the heating system check the inspector should also think through the system's operating sequence, using the components identified in that sequence to assure that s/he has not omitted something important.
Why is this second thought pattern needed? Because it is always easier to inspect and think about a building component that we see than to think about a component that is simply absent. In other words, if there is no temperature or pressure relief valve to see On a boiler, the inspector may fail to think about whether or not this is a serious safety hazard for the particular installation.
How to Inspect a Heating System using Physical Location of Components
This approach broadens the scope of the heating system inspection and it may aid in heating system defect recognition or problem diagnosis, for example by observing that a heating boiler is located in a small, air-tight room (possible combustion air problems), or that the furnace is quite close to the oil storage tank.
Identify the heating system components in each building area.
At the heating boiler or furnace, identify the fuel source and follow fuel supply piping to its source (an oil tank, LP gas tank, or gas meter, for example).
At the boiler or furnace, identify the heat distribution method and follow the delivery of heat (warm air or hot water) leaving the furnace or boiler, and returning to it. Failure to consider this whole path logically risks failing to notice potential problems such as return air taken at a furnace itself or the absence of adequate return air.
At the boiler or furnace identify each of the controls and safety devices and observe their condition. Those devices that are intended for normal operation by the home owner are usually also operated and tested by the inspector. Other devices such as temperature/pressure relief valves are not normally operated but are visually inspected for evidence of a problem.
How to Inspect a Heating System Using the Sequence of Heating System Operation
This approach to heating system inspection Identifies most components of heating systems or of other mechanical systems and is most likely to give the most complete list system parts. It helps assure that all critical components are considered. Actual observation of heating system operation is important in enabling the inspector to identify malfunctions. The heating boiler or furnace inspector's field procedure should include this aid.
A detailed example of the steps in the sequence of operation of a heating system along with a detailed list of heating system components is provided below at Sample Inspection Procedure for Heating Equipment.
The Importance of Reporting to the Client the Significance of Heating System Defects
A superficial heating system inspection may simply identify the type of system present and perhaps the presence of obvious visual anomalies such as leaks. But an astute inspector understands more thoroughly the implications for safety or function of the defects that s/he observes and thus is more likely to inspect the heating system more thoroughly and is more likely to report the inspection findings in a meaningful way to the client.
It is essential that a heating system inspector clearly communicate to the client the significance of the inspection results. In other words, the client should be given to understand the need for action, or urgent action, the presence of unsafe conditions, or the indications that costly repairs or replacement are likely to be needed immediately or in the coming year or before next heating season.
The Importance of Thinking about the Possible Significance of Home Inspection Observations
Here are two examples of the difference between simply reporting a home inspection observation neutrally and thinking about the significance of a home inspection observation in a way that might lead to discovery of something important about a heating system.
Example Outdoor Inspection Observation: drip lines below roof eaves
Observation: The heating system inspector, before entering the home, observes outside that there are deep drip lines in the soil below the home's roof eaves. Drip lines indicate that there has been long term poor control of roof runoff.
Interpretation: there may have been a history of wet basement conditions.
Implications: especially if the home is heated by a furnace located in the basement or crawl space, watch out for signs of rusting of the furnace heat exchanger, particularly in steel hot-air furnaces. A rusted and thus leaky furnace heat exchanger is a possibly dangerous condition, risking high Carbon Monoxide CO levels in the building - a condition that can lead to a fatality - someone could die.
Action: look inside for corroborating clues first of water entry and second of rust on the furnace or its components. Test or recommend testing of heat exchanger for leaks and safety.
An Example of Neutral (irresponsible) home inspection reporting of heating system condition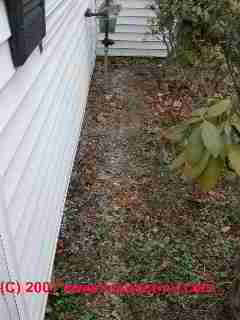 Outside we observed roof overflow or drip lines below the house eaves.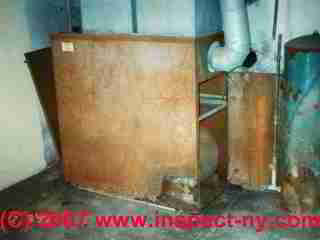 Inside, A BrandX natural-gas fired 90,000 BTUH steel hot air furnace heating system is installed.
The system appears to be 20 years old. In response to turning up the heat we observed that the system operated normally: heat came out of the air supply registers. (Our inspection excludes heating system disassembly and therefore cannot examine the condition of the furnace interior components. You should have the system inspected by a qualified technician.)
What's wrong with this heating system inspection report is that it does not explain that drip lines under gutters mean that there has been a history of gutter overflow, poor maintenance, and a risk of water entry in the building. Worse, the report make clear that there are special reasons to be concerned about the reliability and safety of this heating system and there is no clue that costly replacement could be needed.
An Example of More-responsible home inspection reporting of heating system condition
Outside we observed roof overflow or drip lines below the house eaves. This means that water has been spilling by the house foundation for a long time, that roof gutters and downspouts are needed, and that the home may have been exposed to a history of water entry or leaks which in turn could cause problems indoors.
Inside, A BrandX natural-gas fired 90,000 BTUH steel hot air furnace heating system is installed. In response to turning up the heat we observed that the system operated normally: heat came out of the air supply registers. (Our inspection excludes heating system disassembly and therefore cannot examine the condition of the furnace interior components. The system appears to be 20 years old and based on age alone is likely to be at or near the end of its useful life - significant expense will be involved when furnace replacement is needed.
In response to turning up the heat we observed that the system operated normally: heat came out of the air supply registers. Our inspection excludes heating system disassembly and therefore cannot fully examine the condition of the furnace interior components.
However, we observed heavy rust on the bottom of the furnace and other evidence of a history of water entry in the basement. A furnace exposed to these conditions is at extra risk of hidden rust damage such which could include a leaky heat exchanger. If the heat exchanger is leaking this heating system would be unsafe, should not be used, and would almost certainly require immediate replacement - a significant expense.
We recommend that before completing purchase of the home, and certainly before using the system in the coming heating system, you should have the furnace inspected and tested by a qualified technician, and you should specifically ask the technician to make a thorough inspection and test of the furnace heat exchanger for leaks and safety.
For effective examination of any complex structure, the professional uses all of these tools
Addressing the question of completeness of coverage of components, for a thought-guide to inspecting heating equipment we selected Sequence of Operation as a model. (See BOILER OPERATION DETAILS for step by step boiler operation sequence details.
It is the possible significance of a home inspection observation that leads a good inspector to examine the property further for confirmation or refutation of the presence of a possibly serious building defect.
We discuss this concept of thinking carefully about and pursuing possible implications of home inspection observations as a way to assure that an inspection is thorough and as a means to minimize the chances of missing an important condition at a property, in these articles:
Heating System Inspection Procedure Articles
also see
...
Continue reading at HEATING INSPECTION CONCEPTS or select a topic from closely-related articles below, or see our complete INDEX to RELATED ARTICLES below.
Or see BUILDING INSPECTION CURRICUM & CHECKLISTS
Or see DEFECT CLUSTERS at HOME INSPECTIONS
Or see HEATING SYSTEMS - home
Suggested citation for this web page
HEATING SYSTEM INSPECTION at InspectApedia.com - online encyclopedia of building & environmental inspection, testing, diagnosis, repair, & problem prevention advice.
Or use the SEARCH BOX found below to Ask a Question or Search InspectApedia
...
Frequently Asked Questions (FAQs)
Try the search box below or CONTACT US by email if you cannot find the answer you need at InspectApedia.
Reader Comments on Heating Inspection Procedures & Courses
(Apr 4, 2015) vicky m. said: thank you - this was a GREAT help
Question: how can I learn to service and repair my own heating system? What is included in annual heating system service?
I think I have finally reached the last straw with my home heating oil/service company—I intend to purchase oil without any contract with them and in fact will call shortly to ask them to refund the $200 we paid for a service but have not yet received.
With regard to servicing the furnace, can you tell me what should be included in a proper annual service and the best way to identify people in my area who can do this? My background is marine engineering and I started my career working on tankers with boilers 100 times the size of a home heating furnace.
I am not against paying someone for a good service at a fair price, but would not rule out doing it myself if I could learn the subtleties of the home heating furnace. We installed a propane fireplace as part of a kitchen renovation that provides significant supplemental heat and I am leaning towards putting in a wood burning insert into our fireplace since I have adequate wood supply access
Your thoughts on any and all of this are more than welcome Thanks - S.N.
Reply: List of typical steps in oil fired heating system service or maintenance, recommendations for DIY home heating service
Stephen,
I appreciate the frustration that can arise when you have trouble obtaining good service from your oil heating service company. Even a qualified and well-intended heating service technician is faced with over-work and over-scheduling during the heating season. Being given a large number of service calls to perform during a single 8-hour shift can lead the tech to skip some service steps that s/he thinks can be passed over even though system performance and economy may have been better if they were performed. I've even seen techs who skipped system cleaning entirely, just changing out the nozzle and oil filter and "calling it it a day".
Watch out: cleaning and servicing oil fired heating equipment is a dirty messy business, and it takes some time. If your "annual heating service call" takes just fifteen minutes, or if the service tech looks as clean at the end of the job as s/he did when they knocked on your door, I would suspect that the heating system was not adequately cleaned.
If my service tech was not planning to take down the flue, open and clean the boiler or furnace, then if necessary I would offer to pay extra to have those steps performed. You'll more than earn back the service call cost in heating system reliability and economy over the heating season. Also see HEATING COST SAVINGS METHODS

And I've run into the "bad heating service" problem myself when an oil company sent out a heating service tech whose inexperience and bad attitude were matched only by his sloppy rushed job and the heating system operating problems he left behind.
But a polite call to the oil company's service manager was able to solve our problem - an experienced, well qualified, and polite service technician was dispatched to our building and we were happy with the result.
How to Learn to Service & Repair Your Own Heating System
Nevertheless, especially with your technical background, if you want to service your own heating system you can certainly learn to do so. But considering that there are both cost and life-safety issues involved, you'll want to
Take a heating service course from your local continuing education facility or trade school in your area. Figure three to six months of one or two evening classes a week to obtain a rudimentary understanding of heating system operating and basic annual maintenance. The course should include an understanding of how the heating systems work, their safety and operating controls, basic wiring, annual service procedures, and common problems and solutions (BOILER OPERATING PROBLEMS).
Purchase the necessary heating system test equipment. Old timers who serviced oil fired heating equipment would eyeball the smoke level in the combustion chamber, blow a puff of cigar smoke at the oil burner to assess the draft, and they would then spit on the flue vent connector (stackpipe) to test system operating temperature. If the spit immediately puffs away the stack temperature is too high (over 450 degrees F); if the spit drools down the flue pipe the stack temperature is too low (under 300 degrees F), and if it sits in place and sizzles the stack temperature was about right - say 400 to 450 degrees F.

But as cigar smoking and spitting during service calls became an issue with some homeowners, and as oil fired heating equipment has become more energy efficient it also has become more sophisticated and it requires more precise adjustment than smoking and spitting.

We can no longer adequately tune oil burners or gas burners "by eye" alone. You'll need a test kit such as the combustion test kit made by Bachrach [1] that can measure draft, stack temperature, smoke level and CO2 or CO levels. You will probably also want a nozzle wrench, some cleaning brushes, a HEPA vacuum cleaner you can dedicate to sucking up oil burner or gas burner soot and debris, and you probably already have the other basic tools (screwdrivers, wrenches, VOM) you'll need.
Watch out: what is missing from even the dedicated smart DIY approach to heating service is experience, as well as having the back-up of a still more experienced expert back at the heating service company who remains on call to the on-site service techs. A service tech with experience has come across a variety of heating system operating defects. S/he can often recognize and fix a problem quickly while a beginner, fresh out of oil burner service school, will have a more difficult time figuring out what to do when something has gone wrong.
Typical annual service of oil fired heating equipment includes
a visual inspection of the system and its safety controls for leaks, burn marks, soot, corrosion, other signs of trouble
disassembly and removal of the flue vent connector
removal of part of the boiler cover
cleaning by brush and vacuum to remove soot from the flue vent connector and if needed, the chimney
cleaning by brush and vacuum to remove soot and debris from the boiler heat exchanger and if needed the combustion chamber
cleaning of the oil burner nozzle assembly
replacement of the oil burner nozzle
replacement of the oil filter screen inside the fuel unit (this step is too often skipped by some service techs)
replacement of the oil filter cartridge in the oil filter canister
reassembly of the burner assembly, check/set electrode gap
check/set combustion air
check/set draft at the air inlet shutter and barometric damper, confirm adequate combustion air supply for the system
confirm operation of the safety controls and cad cell switch
return system to operation and run to observe proper operation, flame, noise, soot, etc.
measure CO2 and smoke and stack temperatures (before and after service) and adjust the system draft if needed
inspect for oil or air leaks
clean up the mess you've made
In sum, even though I am trained and experienced in heating and air conditioning system installation, service, and repair, and although I research and write about a wide variety of HVAC system inspection, diagnosis, and repair procedures, I prefer to have our home oil fired heating boiler serviced and repaired by an experienced heating service technician whose experience is more extensive than mine, and who has the backup of senior service experts in his home office. In fact I gave away my Bachrach Fyrite® combustion test kit a few years ago.
Followup comment
You make an excellent case for having an experienced technician perform the service—now that I have severed, at least temporarily, my relationship with the heating oil/service company I need to find the right person to do the job—the fee I actually paid was $317 for the service that I had not yet received—does this sound like the going rate?—your list of tasks certainly will help me discuss the scope of the service with them—do you have a recommendation on how to locate an experienced  tech not with the heating oil company? - S.N.
Reply:
Good point - when I was in the HVAC service business, we were an independent heating and A/C service company - we didn't sell heating oil - and as a result our clients believed (reasonably IMHO) that we were selling and delivering a genuine effort to clean tune and adjust the system to peak operating efficiency and reliability.
Now many if not most HVAC service people take pride in their work and they are going to do their best to properly clean, tune, and adjust your heating system even though their home company is in the business of selling heating oil.
But if you prefer, you might be able to find an independent heating service company in your area. If not, you may want to develop a better relationship with a large company that has a big enough service staff that they actually conduct training for their people and employ one or more senior experts in the home office as service manager or consultant for the men and women in the field.
...
Ask a Question or Search InspectApedia
Try the search box just below, or if you prefer, post a question or comment in the Comments box below and we will respond promptly.
Search the InspectApedia website
Technical Reviewers & References
Click to Show or Hide Citations & References
[1] Bachrach Fyrite, Bacharach Sales/Service Center 621 Hunt Valley Circle New Kensington, PA 15068-7074 Tel: 724-334-5051 Fax: 724-334-5704 E-mail: Help@MyBacharach.com, Website: bacharach-inc.com. The Bachrach Fyrite combustion test kit (for oil or gas fired heating equipment) contains:

Fyrite® Carbon Dioxide Indicator measures the percent CO2 in a flue gas sample.
True Spot®Smoke Tester and Oil Burner Smoke Scale With the True Spot Smoke Tester and Smoke Scale, you can get a accurate indication of smoke content in flue gas.
Fire Efficiency Finder/Stack Loss Slide Rule The Fire Efficiency Slide Rule is a quick and easy way of determining combustion efficiency and stack loss from the results of the CO2 and stack temperature tests.
Tempoint High stack temperatures are cause for special concern and may indicate a serious condition.
Model MZF Draft Gauge The intensity of draft determines the rate at which combustion gases pass through the boiler or furnace. With the MZF Draft Gauge, you can determine if draft is excessive or insufficient.
Draftrite In some Bacharach Oil Burner Combustion Testing Kits, the hand-held Draftrite replaces the Model MZF Draft Gauge for measuring overfire and draft.
Carrying Case Instruments for Bacharach Oil Burner combustion Testing Kits come in a rugged, plastic carrying case.

Information on Hydronic (hot water) Heating Boilers:
Information on Steam Heating Boilers & Steam Radiators
Information on warm air furnace heaters
Information on Radiant Heating: RADIANT HEAT FLOOR MISTAKES
Information on Electric Heat: ELECTRIC HEAT
Information on chimneys flues, vents, combustion air
Information on Heat Pumps - HEAT PUMPS
Books & Articles on Building & Environmental Inspection, Testing, Diagnosis, & Repair
Our recommended books about building & mechanical systems design, inspection, problem diagnosis, and repair, and about indoor environment and IAQ testing, diagnosis, and cleanup are at the InspectAPedia Bookstore. Also see our Book Reviews - InspectAPedia.
Carbon Monoxide Gas Toxicity, exposure limits, poisoning symptoms, and inspecting buildings for CO hazards
DUST, HVAC CONTAMINATION STUDY An Investigation of Indoor Dust Debris Blamed on a Heating/Cooling System Reveals Carpet Dust
Fuel Oil & Oil Heating Magazine, 3621 Hill Rd., Parsippany, NJ 07054, 973-331-9545
Home Heating System Should Be Checked[for proper venting and for CO Carbon Monoxide Hazards - DJF]
Inspection Procedures for Oil-Fired Heating Systems Detailed step by step approaches for inspecting complex systems]
Oil Tanks - The Oil Storage Tank Information Website: Buried or Above Ground Oil Tank Inspection, Testing, Cleanup, Abandonment of Oil Tanks
Oil Tanks Above Ground, UL Standards, guidance for home owners, buyers, and inspectors
Domestic and Commercial Oil Burners, Charles H. Burkhardt, McGraw Hill Book Company, New York 3rd Ed 1969.
National Fuel Gas Code (Z223.1) $16.00 and National Fuel Gas Code Handbook (Z223.2) $47.00 American Gas Association (A.G.A.), 1515 Wilson Boulevard, Arlington, VA 22209 also available from National Fire Protection Association, Batterymarch Park, Quincy, MA 02269. Fundamentals of Gas Appliance Venting and Ventilation, 1985, American Gas Association Laboratories, Engineering Services Department. American Gas Association, 1515 Wilson Boulevard, Arlington, VA 22209. Catalog #XHO585. Reprinted 1989.
The Steam Book, 1984, Training and Education Department, Fluid Handling Division, ITT [probably out of print, possibly available from several home inspection supply companies] Fuel Oil and Oil Heat Magazine, October 1990, offers an update,
Principles of Steam Heating, $13.25 includes postage. Fuel oil & Oil Heat Magazine, 389 Passaic Ave., Fairfield, NJ 07004.
The Lost Art of Steam Heating, Dan Holohan, 516-579-3046 FAX
Principles of Steam Heating, Dan Holohan, technical editor of Fuel Oil and Oil Heat magazine, 389 Passaic Ave., Fairfield, NJ 07004 ($12.+1.25 postage/handling).
"Residential Steam Heating Systems", Instructional Technologies Institute, Inc., 145 "D" Grassy Plain St., Bethel, CT 06801 800/227-1663 [home inspection training material] 1987
"Residential Hydronic (circulating hot water) Heating Systems", Instructional Technologies Institute, Inc., 145 "D" Grassy Plain St., Bethel, CT 06801 800/227-1663 [home inspection training material] 1987
"Warm Air Heating Systems". Instructional Technologies Institute, Inc., 145 "D" Grassy Plain St., Bethel, CT 06801 800/227-1663 [home inspection training material] 1987
Heating, Ventilating, and Air Conditioning Volume I, Heating Fundamentals,
Boilers, Boiler Conversions, James E. Brumbaugh, ISBN 0-672-23389-4 (v. 1) Volume II, Oil, Gas, and Coal Burners, Controls, Ducts, Piping, Valves, James E. Brumbaugh, ISBN 0-672-23390-7 (v. 2) Volume III, Radiant Heating, Water Heaters, Ventilation, Air Conditioning, Heat Pumps, Air Cleaners, James E. Brumbaugh, ISBN 0-672-23383-5 (v. 3) or ISBN 0-672-23380-0 (set) Special Sales Director, Macmillan Publishing Co., 866 Third Ave., New York, NY 10022. Macmillan Publishing Co., NY
Installation Guide for Residential Hydronic Heating Systems
Installation Guide #200, The Hydronics Institute, 35 Russo Place, Berkeley Heights, NJ 07922
The ABC's of Retention Head Oil Burners, National Association of Oil Heat Service Managers, TM 115, National Old Timers' Association of the Energy Industry, PO Box 168, Mineola, NY 11501. (Excellent tips on spotting problems on oil-fired heating equipment. Booklet.)
...
Publisher InspectApedia.com - Daniel Friedman