How to Diagnose & Repair No Heat - Loss of Heat for Warm Air Furnaces

DIAGNOSE & FIX HEATING PROBLEMS-FURNACE - CONTENTS: No heat service procedures for warm air furnaces: how to diagnose loss of heat and how to get the furnace working again; when do you need to call a heating service company? What to check first. How to diagnose loss of heat in a building with warm air heating equipment. Troubleshooting heating system furnace, burner, controls, or heat distribution problems. How to inspect & repair hot air heating systems - Furnaces. Duct system inspection, defects, repairs.
POST a QUESTION or READ FAQs about how to fix a warm air heating furnace that is not working - how to diagnose the loss of heat in a building when the heat source is an oil or gas fired furnace.
InspectAPedia tolerates no conflicts of interest. We have no relationship with advertisers, products, or services discussed at this website.
Warm air heating furnace troubleshooting:
How to diagnose & fix hot air furnace heating system problems. This article series answers most questions about hot air or warm air heating system troubleshooting, inspection, diagnosis, and repairs.
This article explains the diagnosis and correction of no heat conditions for warm air or hot air furnace and air duct heating systems. We describe how to inspect, troubleshoot and repair heating and air conditioning systems to inform home owners, buyers, and home inspectors of common heating system defects.
We explain how to recognize and fix common heating system operating or safety defects and how to save money on home heating costs.
Green links show where you are. © Copyright 2015 InspectApedia.com, All Rights Reserved.
How to Diagnose Loss of Heat with Hot Air Furnace Systems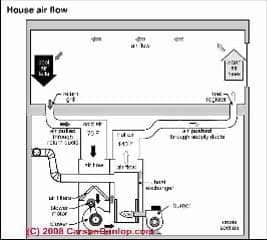 This article explains how to diagnose and fix warm air or hot air furnace heating systems that are not working. Carson Dunlop Associates' sketch (left) shows the main layout of a basic warm air heating system.
[Click to enlarge any image]
If you don't know whether your heat is provided by a furnace (hot air) or boiler (hot water), or whether your fuel is oil, gas, or electric, and whether your heat is hot water, steam, or warm air,
see HEATING SYSTEM TYPES.
If your heating system uses water or hydronic or hot water or radiator or baseboard hot water heating systems, instead of the article found here you should
see HEATING LOSS DIAGNOSIS - BOILERS.
Note: some hybrid or mixed heating systems combine both hot water and hot air to heat a building, such as water to air systems which use a heating boiler (oil, gas, or electric) to heat water which circulates through (and inside of) a heat exchanger (that looks like a car radiator) - described
at HEATING SYSTEM TYPES.
How to Diagnose Loss of Heat with a Warm Air or Furnace Heating System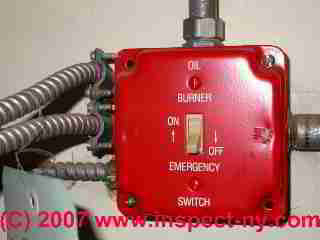 If the furnace oil burner or gas burner is not turning on at all check these points first:

Electrical power to circuits powering the heater (or air conditioner or heat pump) may be turned off: at the main electrical panel and sub panels, check the circuit breaker or fuse supplying power to the unit; check the service switch at the furnace or air handler, and if the system is air conditioning or a heat pump, check the service switch outside at the compressor/condenser unit to be sure it is "on".

Don't forget to check for loose or corroded electrical connections. A bad connection at power or at a control connector can cause total loss of heat or intermittent or on-off heater operation.
Check Furnace Electrical Switches and Live Power: Is the furnace turned on? Check the electrical service switch at the furnace as well as others that may be present in the home. Is there electric power to all of the heating system components such as an oil burner at the furnace and power to the blower fan?

Has someone left the inspection or furnace access door open on the furnace? (Modern furnaces have a switch which forces the furnace to turn off if the inspection door is opened - to avoid injury to someone working on the blower assembly.)
Oil Burner safety reset switch is off: the heating or air conditioning system may have been turned off on reset - see our "off on reset" and other advice
at  CAD CELL RELAY SWITCH (modern equipment) and

also STACK RELAY SWITCH (older oil fired furnaces and boilers).

Cad cell control or stack relay buzzing or jamming trouble: if you hear or have ever heard buzzing from any heating system control that includes a relay switch, watch out for a control cover that is in contact with a relay switch in the unit. If the cover is lightly touching the relay switch the control may simply buzz when the relay is trying to move.

But a too-tight control cover can also prevent a relay from operating, leading to loss of heat. Simply pulling off the cover to let the relay move freely can immediately discover and "fix" this problem. Details and an explanation are
at HEATING SYSTEM NOISE DIAGNOSIS.

Where are all the heating system reset buttons? If you are looking for the main reset button on oil fired heating equipment you'll want to see:
CAD CELL RELAY SWITCH or

on older oil fired furnaces, Stack Relay Switch on older oil fired boilers and furnaces.

For gas fired furnaces
see GAS REGULATORS for APPLIANCES

and SPILL SWITCH, FLUE GAS DETECTOR (gas fired equipment),

At ELECTRIC MOTOR OVERLOAD RESET SWITCH we discuss the thermal overload switch and reset button that is found on many electric motors including those operating air conditioning fans, heating system oil burners, and furnace blowers and motors.
Check the heating fuel supply for the furnace: if it is a gas furnace, is the gas turned on? If your gas is from bottled or LP gas, is the tank empty? Check that no one has shut the gas supply valves.

If it is an oil fired heating furnace, check the gauge on the oil tank. Are you out of oil?
See OIL TANK GAUGES for details

An oil or gas fired heating furnace may go off on safety reset even if there is a good fuel supply. And at an oil furnace, even if there is plenty of heating oil in the tank if the oil filter has become blocked the system will try to start but won't run - this will require a service call.

Check for a broken or slipping coupling (or a frozen coupling) between the oil burner motor and the fuel unit. In this case the burner starts in response to a call for heat, but there will be no ignition whatsoever because no oil is being delivered to the nozzle assembly.

Check these additional causes of no oil flow to the oil burner: an oil safety valve that has been "closed" (someone turned it the wrong way), low oil or no oil in the heating oil tank (the tank may not be completely empty but oil may be below the oil pickup line if the oil lines are exiting at the top of the tank), a clogged oil filter or fuel unit strainer, a clogged oil burner nozzle, a air leak in the heating oil supply piping, or a crimp or clog or restriction in the oil piping.

If you recently ran out of oil and then got a delivery, and if your system uses a single oil line between tank and burner, the line or fuel unit may be air bound and needs to be bled. [8]

Once you have assured that you have heating fuel and that electrical power is turned on to the heating unit check these controls:

Heating Thermostat is in the "off" position or is set to a temperature that does not call for heating (or cooling) See FAN AUTO ON THERMOSTAT SWITCH for details about what turns the blower fan on and off.

Condensate tray overflow switch: If the fan blower unit combines heating and air conditioning, an air conditioning condensate pan float switch could be in the "shut off" position due to water in the condensate overflow pan or because the switch has been damaged or moved.
See DRIP TRAY DEFECTS

Fan limit switch may be damaged or inoperable.
See FAN LIMIT SWITCH the flue gas spillage switch: If your furnace is gas-fired, a flue gas spillage switch may have shut the system down after sensing possibly dangerous flue gases (that can contain fatal carbon monoxide).

See SPILL SWITCH, FLUE GAS DETECTOR to check the flue gas spillage sensor found at gas fired heating equipment draft hoods or near gas burners
Stack relay switch may be installed on the flue connector of an oil fired furnace and may be in the "safety - off" position. To identify and reset this control see STACK RELAY SWITCH
Loose electrical connections: Here is an example:

Then the furnace draft fan began to pulse several times upon starting. After making sure the control module showed a steady green, I asked a friend and he suggested that I wiggle all the spade connectors to be sure there is good contact between the copper and aluminum. It seems that there only needs to be a little corrosion to cause problems. That seems to have done the trick. . - M.F. 12/24/2014

No heat or not enough heat or not enough warm air volume from the Furnace: is any air coming out of the supply registers? Is it warm or cool?

No warm air comes out: If no air is coming out of supply registers, is this true throughout the building (the blower is blocked or not running) or just in some areas (some registers or duct sections are closed or blocked)?

Heating air comes out but it is too weak or slow: check for a dirty clogged air filter
see AIR FILTERS for HVAC SYSTEMS , a dirty-clogged blower fan, blocked, disconnected ductwork.
Check the warm air heat thermostats: is the thermostat(s) turned up above ambient air temperature in the occupied space? Is the thermostat set to "heat" position (if a heating/cooling/off switch is present on the thermostat). See the discussion of thermostat switches
at FAN AUTO ON CONTROLS.
Check furnace blower operation: Does the furnace cycle on, the oil burner or gas burner runs, but the blower never comes on? If so the fan limit switch will turn off the oil burner when the heating supply plenum temperature limit is reached. Normally the blower fan comes on when the fan limit switch senses that supply plenum temperature has reached the "cut on" point, and the moving air keeps the plenum from getting much hotter. This sounds like a problem with the blower fan assembly.
See FAN LIMIT SWITCH.

Check the blower compartment. If the blower motor is running and the system uses a fan belt to drive the blower fan, perhaps the belt is loose or broken. If the blower fan motor just won't start on its own but the fan will start and continue to run if given a manual "spin" , also see FAN MOTOR START CAPACITORS.

An open blower compartment door or bad blower compartment door switch will also keep the blower from running.

Watch out: working in the blower compartment is dangerous - if power is on you can lose a finger if the fan starts! Modern air handlers have a safety switch in the blower compartment door that should turn the blower off when you open the door.
On gas fired heaters check for flue gas spillage at the heater or for a bad flue gas spillage switch: If your furnace is gas-fired, a flue gas spillage switch may have shut the system down after sensing possibly dangerous flue gases (that can contain fatal carbon monoxide).
See SPILL SWITCH, FLUE GAS DETECTOR for details.


On oil fired boilers or furnaces check for a bad automatic draft damper switch. If the draft damper does not open in response to a thermostat's call for heat the heating appliance will not start.
Not enough warm air volume from the furnace and duct system: check for a dirty air filter at the return register or furnace. Check for blocked, crimped, leaky, or disconnected air ducts.
See AIR FILTERS for HVAC SYSTEMS and

see DUCT SYSTEM & DUCT DEFECTS
Details of Hot Air Heat Furnace Controls and Switches
For details about the setting, re-setting, or function of the controls and switches commonly found on hot air heating systems
see FURNACE CONTROLS & SWITCHES and

also FURNACE OPERATION DETAILS

Definition of Water to Air Heat Exchanger Heating Systems
Some heating systems combine both hot water and hot air to heat a building, such as water to air systems which use a heating boiler (oil, gas, or electric) to heat water which circulates through (and inside of) a heat exchanger (that looks like a car radiator).
For a detailed guide to inspecting, diagnosing, maintaining & repairing mixed, hybrid, water to air heating systems
see FAN CONVECTOR HEATERS - HYDRONIC COILS
Dual hot water and warm air heating systems: as we explain
at
HEATING SYSTEM TYPES
, some buildings are heated by a combination of separate hot water systems (circulating hot water through radiating devices like baseboards or radiators in some areas)
and
hot air systems (circulating warm air through ductwork into the occupied space in other areas).
These buildings will have both a hot air furnace and a completely separate hot water heating boiler installed. In this case these are completely separate heating systems and usually each serves different building areas.
Continue reading at FAN LIMIT SWITCH TROUBLESHOOTING or select a topic from the More Reading links shown below.
Or see HEAT WON'T TURN ON

Or see FURNACE DIAGNOSTIC CHECKS, GAS for a gas furnace homeowner checklist
Suggested citation for this web page
DIAGNOSE & FIX FURNACE PROBLEMS at InspectApedia.com - online encyclopedia of building & environmental inspection, testing, diagnosis, repair, & problem prevention advice.
More Reading
Green link

shows where you are in this article series.

...
Frequently Asked Questions (FAQs)
Question: furnace burners don't ignite
Furnace fan powers up, ignitor coil heats up, but burners don't ignite. I have four (4) limit switches on the furnace. If I flick the switch on each one to reset them and restart the furnace, it works fine again for about half a day. However, when the furnace attempts to power up for a second cycle, the same thing happens again (burner don't ignite) unless I reset the switches again. Any help? (This is getting old and I'm not looking forward to the trip to the basement to reset the limit switches every 12 hours.)

Thanks - Jerry 1/31/12
Reply:
Jerry,
Check the control wiring connections first; As you are describing a gas furnace, it sounds as if the gas valve is not opening.
Question: electric heating elements in our Lennox Elite Series 29 Furnace are not coming on
have a lennox elite series 29, blower comes on but heater doesnt and i have continuity on all four heating elements. any idea whats wrong - Mark 10.28/12
Reply:
Search InspectAPedia for "Electric Backup Heat Repair, or go to Diagnose & Repair Electric Heat and you'll see our diagnostic procedure. The home page for that topic is at ELECTRIC HEAT.
Question:
I HAVE A LUXAIRE TWO VENT PIPE 90%afue downflow/horizontal gas furnace HI EFFICIENCY HEATER.The intake sucked in a leaf or leaves during the hurricane into the burner box, or they leaves are either stuck in the intake pipe or somehow is blocking the proper flow of vent air thru the system.My diagnosis view port is showing a 3 flash led pattern.The secondarary vent blower continues to run but will not allow system to start.Is their anyway to clear the debris and restart the system - Tom 10/29/12
Reply:
For safety you need service by a trained technician.
Question: Kerr furnace keeps going off on reset
Hello my friend (a newly graduated hvac technician) and I have been trying to help a local woman with heating troubles. She has a 'Kerr' Oil Fired Warm Air Furnace. We have tried on several occasions to help by troubleshooting in order to make it/ keep it functional. It seems to work for a heat cycle or two and even though it starts, each time the system has needed to be reset. The things that have been done so far include cad cell tested and cleaned, air flow adjusted, tested/ adjusted limit settings and changed over to new thermostat. Can you direct us as to what could be the source of the problem? We really can not afford to hire a technician...and would sincerely appreciate any assistance you can provide. - M.D. 12/28/2013
Reply:
A competent onsite inspection by an expert usually finds additional clues that would permit a more accurate, complete, and authoritative answer than we can give by email alone. You will find additional depth and detail in articles at our website. That said I offer these comments: Hi Mary, I'd like to help diagnose the Kerr furnace you discuss, but with so little information I'm not confident about what specific details I can recommend by email. I'll make a few suggestions, then you may be able to tell me more and I may be able to comment further.
While there is nothing harmful in the steps you've taken so far, they sound a bit random to me. I'm doubtful, for example, that changing a thermostat would have much to do with a furnace going off on reset - except for a very odd case of a furnace that kept switching the call for heat on and off very rapidly.
And your cleaning the cad cell is a fine idea, but doesn't consider that if the cad sell was dirty then the flame is probably running smoky and there is an adjustment or fuel or nozzle problem, nor does it consider the possibility of a bad cad cell that needs replacement.
When a heating system keeps going off on reset usually there is a problem with fuel or combustion: dirty oil filter, defective fuel unit, air in oil lines, cracked or improperly set electrodes etc. You can take a look at two diagnostic pathways at InspectApedia, one for furnaces and the second focused on oil burners. See
where we include diagnostic flowcharts and very thorough debugging steps.
You should also have at hand the installation and set-up instructions for the Kerr oil fired furnace you mention - though you didn't give me a model and serial.
Kerr oil furnaces are produced by Granby Industries, of which Kerr Energy Systems produces both forced warm air heating furnaces and heating boilers. Contact information: http://www.granbyindustries.com - for furnaces is Granby Furances Inc., 12118 Hwy 209, PO Box 637 Parrsboro NS B0M 1S0 Phone: 902-254-2543 Fax: 902-254-3863 gfisales@GranbyIndustries.com
I would contact the company with the furnace model and serial number to obtain installation instructions if you don't already have them. There are several Kerr furnace models: Gemini, Eclipse, Compact, Paradigm (High efficiency), Summit, Scotty, & Scotsman - so you can see that you'll need your model and serial number to obtain the right installation and maintenance instructions.
But most often a problem with an oil fired furnace that keeps going off on reset will be traced to a fuel, electrode, cleaning, or adjustment problem that is more generic to oil burners rather than to the specific furnace model.
Question: buzzing furnace control
(Feb 17, 2014) sandy said:
I have a Chrysler air temp gas heater that won't heat the house has a new thermostat but need to move it way up and then there is buzzing and never enough heat. please help it is 15 degress here
Reply:
Sandy, what is buzzing? If it is a control on the heater the control may replacement; if it is the low voltage thermostat that's buzzing that may need to be replaced; Have you called for service?

Question: not enough warm air delivered
(May 21, 2014) Marty said:
I recently finished a basement. The customer is complaining that they are not getting any warm air in the basement. We confirmed that air flow to the basement was low and complete a camera assessment of the trunk lines that were installed. They are free of obstruction and there are no misaligned trunks. Outside of normal degree variation of below grade space, do you have any ideas on root cause? Would you agree that the issue is most likely in the furnace and/or blower versus the trunks we installed? What solutions might you suggest? x
Reply:
Marty
Let's look at things that would obstruct air flow. Don't forget to include
- dirty air filter
- dirt, even a little dirt, on those blades of the squirrell cage fan
- inadequate return air
- defective fan, blower drive belt, blower assembly, voltage
Question: DIY limit switch snafus
(Jan 7, 2015) jimmy said:
I installed a limit switch with the bypass tab on.now nothing works.what would be the most
Likely thing that I burned up .I replaced the switch and still nothing.
Reply:
Sorry to read that aggravation Jimmy. Check fuses at the furnace and also check to see if the blower motor has a reset button tripped.

Question: controlling the thermostat from a cellphone
(Jan 23, 2015) Tom said:
Hello, I recently installed a new T-stat for a customer who wanted to control their T-Stat with their cell phone. They have hot water radiant heat along with forced air that works in conjunction with the boiler. They have several zones that are just two wire stats. They had one upstairs that controlled the ac unit and the furnace. They had your normal R,W,Y,G wires all hooked up to the appropriate terminals. They had an additional wire that I hooked up for the common so the T-Stat could be powered up. Everything seemed fine when I was there but I received a call from the customer stating that their heat hadn't shut off and it was 94 degrees when they got home...yikes.
Not sure what happened here so any thoughts would help. I had taken apart one of their two wire stats so maybe that thing wasn't working right...although it was just an old mercury stat so not sure what can go wrong with that. When I hooked up the common I followed what I believed to be the common side of the transformer and followed the wire to a group of wires nutted together. It powered up the stat so I thought it was correct. My thoughts are its maybe the old stat downstairs, as that is a heat only. I have to find out what stat is keeping it on first. Not too familiar with these systems working with a furnace so I'm not sure what I did but maybe it will be apparent once I look at it. Thanks
Reply:
Hi Tom
Just last weekend in Chicago we helped a brother-in-law install another Nest thermostat. Nest has a website and cellphone app that gives nice remote control of the thermostat as well as providing data on house temperature when you're away.
We lucked-out: the thermostat wires (there were four, two cooling, two heating) plugged right into where we thought they should by following the color codes.
In your case I'm not sure what that additional wire was; some thermostat models require an additional power or voltage wire to operate or power the thermostat. You might check that with your DMM or VOM. But it does sound as if something is calling for heat.
Don't forget to check for shorted or crossed thermostat wires (or an un-wanted jumper) anywhere in the circuit. That can leave you permanently calling for heat.
Tom
More details on thermostat wiring are in our article series on that topic - see
inspectapedia.com/heat/Thermostat_Diagrams.php
Question: Trane gas furnace not igniting
12 Feb 2015 Hoodoo said:
I have a Trane model bld080e936b1 gas furnace that is not igniting. The thermostat seems fine and if I jumper the R and W wires together I get nothing. It has a standing pilot light that stays lit just fine. The thermocoupler seems to be ok. When I tested the R to G with a multimeter I get 27 volts. Same with R to Y but R to W gives only 2.4 volts. I checked the R and C connections on the transformer and I have 27 there too. Any thoughts?
marc santora said:
my garage heater. it was clicking on but not firing up.i made sure i bled system,i replaced tip and adjusted the electrode,replaced transformer, cad eye too.i got it fierd up and ran it for few hrs. then turned off power because it was 30* out and thermostat only went down to 50*. next day went to start up and nothing. reset button won`t reset when pushed in. i checked rest button on motor and wasn`t popped. i replaced relay switch brand new. and it wont even kick engine over. i have electric which i test witha testergoing to every thin including thermostst . scratching my head and cold can u help me
Reply:
If wiring is correct and nothing is inadvertently grounded I usually suspect a bad igniter or a bad igniter control module.
...
Ask a Question or Search InspectApedia
Questions & answers or comments about how to fix a warm air heating furnace that is not working - how to diagnose the loss of heat in a building when the heat source is an oil or gas fired furnace.
Use the "Click to Show or Hide FAQs" link just above to see recently-posted questions, comments, replies, try the search box just below, or if you prefer, post a question or comment in the Comments box below and we will respond promptly.
Search the InspectApedia website
Technical Reviewers & References
Publisher's Google+ Page by Daniel Friedman
Click to Show or Hide Citations & References
Carson, Dunlop & Associates Ltd., 120 Carlton Street Suite 407, Toronto ON M5A 4K2. (416) 964-9415 1-800-268-7070 info@carsondunlop.com. The firm provides professional home inspection services & home inspection education & publications. Alan Carson is a past president of ASHI, the American Society of Home Inspectors. Thanks to Alan Carson and Bob Dunlop, for permission for InspectAPedia to use text excerpts from The Home Reference Book & illustrations from The Illustrated Home. Carson Dunlop Associates' provides:

Commercial Building Inspection Courses - protocol ASTM Standard E 2018-08 for Property Condition Assessments
Home Inspection Education Courses including home study & live classes at eleven colleges & universities.
Home Inspection Education Home Study Courses - ASHI@Home Training 10-course program.
Special Offer: Carson Dunlop Associates offers InspectAPedia readers in the U.S.A. a 5% discount on these courses: Enter INSPECTAHITP in the order payment page "Promo/Redemption" space. InspectAPedia.com editor Daniel Friedman is a contributing author.
The Home Reference Book, a reference & inspection report product for building owners & inspectors.
Special Offer: For a 10% discount on any number of copies of the Home Reference Book purchased as a single order. Enter INSPECTAHRB in the order payment page "Promo/Redemption" space. InspectAPedia.com editor Daniel Friedman is a contributing author.
The Home Reference eBook, an electronic version for PCs, the iPad, iPhone, & Android smart phones.
Special Offer: For a 5% discount on any number of copies of the Home Reference eBook purchased as a single order. Enter inspectaehrb in the order payment page "Promo/Redemption" space.
The Illustrated Home illustrates construction details and building components, a reference for owners & inspectors.
Special Offer: For a 5% discount on any number of copies of the Illustrated Home purchased as a single order Enter INSPECTAILL in the order payment page "Promo/Redemption" space.
The Horizon Software System manages business operations,scheduling, & inspection report writing using Carson Dunlop's knowledge base & color images. The Horizon system runs on always-available cloud-based software for office computers, laptops, tablets, iPad, Android, & other smartphones.

[8] Suntec Model A-7400 Fuel Unit Solenoid Dumping Pump,
Suntec Industries Inc., 60 Aberdeen Drive - PO Box 5000 Glasgow, KY 42142-5000 - USA Tel : 270 651 7116 - Fax : 270 651 9276 e-Mail : info@suntecpumps.com and
Suntec Industries France, 1 Rue Lavoisier - B.P. 102 F-21603 LONGVIC Cedex - FRANCE Tel : +33 (0)3 80 70 60 70 - Fax : +33 (0)3 80 70 61 11 e-Mail : information@suntec.fr, [copy on file as /heating/Oil pumps fuel units/Sunted_Solenoid_DumpingPPump.pdf] ,
Also /Suntech_Solonoid_Safety_Valves.pdf (brochure)
web search 4/19/12, original source: http://www.suntecpumps.com/Suntecus/PDFs/Form%202740%20
-%20Solenoid%20Dumping%20Pump.pdf
Domestic and Commercial Oil Burners, Charles H. Burkhardt, McGraw Hill Book Company, New York 3rd Ed 1969.
National Fuel Gas Code (Z223.1) $16.00 and National Fuel Gas Code Handbook (Z223.2) $47.00 American Gas Association (A.G.A.), 1515 Wilson Boulevard, Arlington, VA 22209 also available from National Fire Protection Association, Batterymarch Park, Quincy, MA 02269. Fundamentals of Gas Appliance Venting and Ventilation, 1985, American Gas Association Laboratories, Engineering Services Department. American Gas Association, 1515 Wilson Boulevard, Arlington, VA 22209. Catalog #XHO585. Reprinted 1989.
"Warm Air Heating Systems". Instructional Technologies Institute, Inc., 145 "D" Grassy Plain St., Bethel, CT 06801 800/227-1663 [home inspection training material] 1987
Heating, Ventilating, and Air Conditioning Volume I, Heating Fundamentals,
The ABC's of Retention Head Oil Burners, National Association of Oil Heat Service Managers, TM 115, National Old Timers' Association of the Energy Industry, PO Box 168, Mineola, NY 11501. (Excellent tips on spotting problems on oil-fired heating equipment. Booklet.)
...
Books & Articles on Building & Environmental Inspection, Testing, Diagnosis, & Repair
The Home Reference Book - the Encyclopedia of Homes, Carson Dunlop & Associates, Toronto, Ontario, 25th Ed., 2012, is a bound volume of more than 450 illustrated pages that assist home inspectors and home owners in the inspection and detection of problems on buildings. The text is intended as a reference guide to help building owners operate and maintain their home effectively. Field inspection worksheets are included at the back of the volume. Special Offer: For a 10% discount on any number of copies of the Home Reference Book purchased as a single order. Enter INSPECTAHRB in the order payment page "Promo/Redemption" space. InspectAPedia.com editor Daniel Friedman is a contributing author.

Or choose the The Home Reference eBook for PCs, Macs, Kindle, iPad, iPhone, or Android Smart Phones. Special Offer: For a 5% discount on any number of copies of the Home Reference eBook purchased as a single order. Enter INSPECTAEHRB in the order payment page "Promo/Redemption" space.
Carson Dunlop, Associates, Toronto, have provided us with (and we recommend) Carson Dunlop Weldon & Associates' Technical Reference Guide to manufacturer's model and serial number information for heating and cooling equipment
Special Offer: Carson Dunlop Associates offers InspectAPedia readers in the U.S.A. a 5% discount on any number of copies of the Technical Reference Guide purchased as a single order. Just enter INSPECTATRG in the order payment page "Promo/Redemption" space.

Links to our list of additional information on heating system inspection, repair, maintenance
...