High Efficiency & Condensing Heating Boilers & Furnaces
POST a QUESTION or READ FAQs about high efficiency heating boilers & condensing boilers: inspection, diagnosis, maintenance, & repair advice
InspectAPedia tolerates no conflicts of interest. We have no relationship with advertisers, products, or services discussed at this website.
High efficiency & condensing heating boilers guide:
Here we explain the installation, operation & maintenance as well as defect inspections for high efficiency oil and gas fired heating boilers & furnaces, condensing boilers, and similar energy-saving equipment.
We discuss: how to inspect a high efficiency heating boiler or furnace. How to diagnose loss of heat, cold radiators, cold furnace air, noises, smells, all other heating problems. Condensing or High Efficiency Furnace and boiler hazards, safety recalls. Plastic Condensing Boiler/Furnace Chimney and vent safety, product recalls, inspection; chimney soot & draft problem diagnosis, repair. Direct vent chimneys & flues - through wall venting for heating appliances can eliminate the vertical chimney
Our page top sketch of a gas-fired high efficiency heating furnace is provided courtesy of Carson Dunlop Associates.
We also provide a MASTER INDEX to this topic, or you can try the page top or bottom SEARCH BOX as a quick way to find information you need.
High Efficiency Heating Boiler or Furnace Inspection Methods, Diagnosis, Safety, Repairs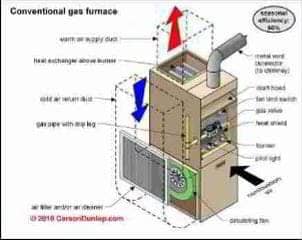 The three heating furnace illustrations, one at page top and two more just below, provided courtesy of Carson Dunlop Associates, offer a quick comparison of conventional, mid-efficiency, and high-efficiency gas-fired heating furnaces.
Reader Question: advice on deciding to replace an old gas furnace with anew high efficiency unit
I thought you might have some advice on the new gas furnace I'm considering buying.
I checked your mobile site quickly via the search engine but didn't see anything right away and so I thought I would send you a quick note. In summary. The heat flame sensor has been serviced a couple times (last year and then this January and now last week it was cleaned off / rubbed surface of sensor). Each time the furnace was trying to ignite but just cycling until it turned itself off bc it didn't ignite.
It works intermittently now but doesn't sound good and then is not always reliable. Last week the repairman determined there was a faulty sensor panel/board (? I'm on the road in Maine at a client and don't have his paperwork right in front of me to recall the exact characterterization).
He said to repair the board and sensor (he thought I might need both if sensor is faulty as well as the sensor panel which he'd find out once the new panel is in) would cost about 400+ for the sensor panel and 100+ for the sensor. The carrier furnace (63000 BTU I think) is 12 years old.
A number of others in our condo association have been replaced in the last couple years (I sit on the board and so have heard about the issues) and we had the same sensor issue last year.
So I called about replacements and they estimated a 60000 btu at 80% efficiency would be $1600 and the 95% efficiency one would be 2600. I looked quickly online at energy.gov and they said the cost saving on a $100 of gas going from an 80 % to a 95% would be about $15 (or more), plus some other added benefits like less co2 emissions.
I can do the math to see when the costs would break even but thought I'd ask you your opinion given all that you know.
The repairman said they typically last 15-20 years and so mine Is approaching the early part of that but not quite. Do you have any general advice or articles you would recommend regarding new gas furnaces? - D.C. 4/1/14
The gas furnace is a Carrier M: 58PAV070 - 12 Series 130 S: 4001A606017 The repairman's notes were: "found a bad board and flame sensor, both must be replaced".
He went on to tell me that he couldn't tell for sure whether the flame sensor was bad b/c of the bad board, but would order both just in case once the new board was in he determined that the flame sensor was bad as well.
I'm leaning toward getting the high efficiency furnace but of course would love to hear if you have any other thoughts based on the make / model. D.C. 4-2-14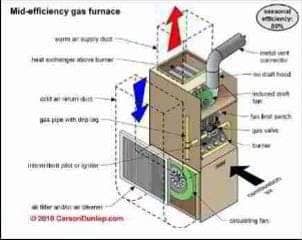 Reply:
You're ahead of me on this one D.C. and we both understand there's the option of spending for a new part vs. spending more to replace an older gas furnace.
I suspect the total cost for the sensor and panel (which is an OPM - other people's money - problem) includes a bit of shot gunning at your expense, though to be fair, the service tech is also going to charge for time and labor - sometimes, and depending on the obvious variables (skill, & problem difficulty for example) it's cheaper to guess and replace parts than to spend more diagnostic time.
Decoding the Carrier Furnace Data Tag
Let's see what we might be starting with.
From your data "Carrier M: 58PAV070 - 12 Series 130 S: 4001A606017" I checked Carson Dunlop's Technical Reference Manual that indicates that your current unit is a 66,000 input BTUH model (that 070 in the model), perhaps a 1200 CFM blower unit (I'm not sure as your format didn't match the manual exactly).
Scott LeMarr's chart (found at InspectApedia) claims that the A606016 decodes to:
A = January (production month)
6 = (production year) probably lazy for 1996 which makes your unit a little older than thought (or 2006 which makes it newer than thought). Scott's chart is a little foggy to me on this point. the rest of the numbers are production sequence - we don't care.
See AGE of HEATERS, BOILERS, FURNACES )
Repair vs Replacement Costs for a Gas Furnace
If we could repair the existing unit for $100 total that'd be appealing as it'd take the pressure off of the decision and timing of installing a new unit.
I'm not clear that the $2,600. cost of a new high efficiency Carrier brand gas furnace includes the labor and full installation or if there are additional costs. I often see quotes at $5,000. to as much as three times that amount.
But even at $2,600. (or the less costly $1,600. unit) an actual true-total repair cost that at the end of the day is going to be close to half the cost of a new system would give me pause on doing the repair, even before doing the fuel cost savings analysis.
Unless I were planning on selling my home in the next few years I'd install the same unit you like - the more costly higher efficiency unit.
You didn't give me the replacement Carrier model but the lowest currently-sold gas units may run at an AFUE of 78% and a top model should run at 95%. (AFUE DEFINITION, RATINGS), and Consumer Reports asserts that overall the repair costs of newer gas furnaces is about 1/5 that of the older models. This is an important concern because reliability was certainly an issue with some of the earlier high efficiency furnaces and boilers I came across.
If your unit's air handler is also going to run an air conditioning summer you'll probably want a variable-sped blower fan which can improve not only comfort but dehumidification in the building.
Finally, I'd want to look at reviews or repair data for the particular model that interests you.
What are the Current Top-Rated High Efficiency Gas Furnace Manufacturers (based on repair record) ?
I read in 2014 that Consumer Reports ranked the "top ten best high efficiency gas furnace brands" based on repair frequency as 1. Rheem, 2. Trane, 3. Amana, 4. American Standard, 5. Ruud, 6. Carrier, 7. Bryant, 8. Lennox, 9. Heil, 10 York.
My understanding from more broad reading is that Ruud and Carrier have good reliability records for current equipment lines. Scanning for product reviews I found kudos from someone for almost everything, which is typical for our modern electroworld. American Standard, Bryant, Frigidaire, Maytag, Rheem, Trane, Janitrol , Westinghouse, and even Home Depot's Hamilton furnaces were in that club, very roughly in that order. (15 web articles scanned 4/3/2014 - Ed.)
Watch out: I agree with just about every HVAC writer that new furnace installation snafus will easily overwhelm the quality of the product. If your heating guy's work has been sloppy I might insist that a senior technician supervise the installation.
Watch out: don't forget to look into an energy savings tax credit to see if a rebate or tax credit applies to this improvement.
Reader follow-up:
his is very helpful. I've been waffling back/forth between repair/replace the last 48 hours. Now, I'm probably going to go the new furnace route after I follow up with the company and see what the replacement brand is.
The costs I was quoted were for unit and installation (plus he indicated he would give a 5% discount which I'm going to try to increase). The 95% efficiency for 60,000 BTU is either $2900, or $4000 for a a "2-stage blower" which I'm assuming is your "variable speed" reference above. Not sure I want to spend the extra $1100 for a 2 stage blower when we've been fine with the single stage unit to date. Will dropping from 68000 BTU to 60,000 be any concern? - D.C. 4/3/143
Reply: more opinions about gas furnace BTUH capacity & blower speeds
The BTU drop is probably not a concern unless you live in a poorly insulated very high condo exposed to freezing winds off the lake such that your older system was running most hours of the coldest days.
The variable speed fan is more important, IMO necessary, if you're going to also be using the blower for air conditioning, as we need different speeds for heat than for cooling. There are still more costly blowers that are actually variable speed that claim to be more comfortable. If you're doing heat only, a single speed would normally be OK. BUT if you or your service tech had the slightest doubt about heating capacity of the newer unit you might want a higher speed blower. It's a fair question to ask.
In my experience even an under-sized unit is not a catastrophe, it means that on the absolutely coldest day of the year under the worst conditions you can't get as warm as you'd like - say not over 66 when you want 70F. The rest of the year you'll never notice the difference.
In fact putting in a system that is over-sized (too many BTU) wastes energy so badly (it's inefficient) that it's illegal to oversize in many states. - DF
High Efficiency Heating System Reference Manuals, Inspection & Diagnosis Articles
Images courtesy of Carson Dunlop Associates.
Watch Out for These Unsafe Side-Wall Venting Errors for High Efficiency Gas Appliances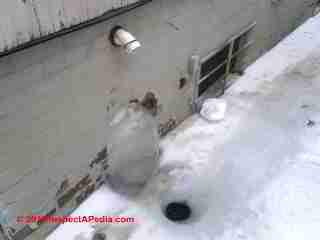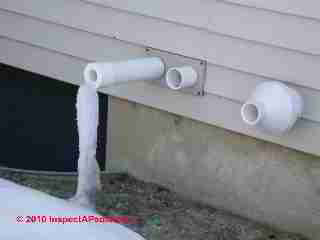 All direct-vented or sidewall vented heating appliances have safety guidelines about placement of the wall-vent.
Our photos show ice formation below a direct vented appliance - you can see what happens if the vent is not properly pitched or located: ice can block the vent completely - an unsafe condition.
Our gas appliance vent condensate freeze up shown in the second photo above may be a more serious safety concern in the making.
Pulse Combustion & High Efficiency Heating Furnaces or Boilers - Visual Inspection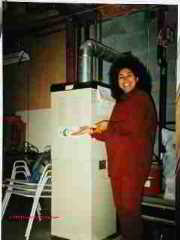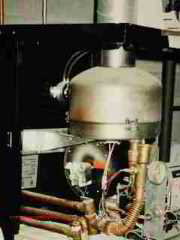 OK so the homeowner was thrilled to see a high-efficiency heater in her new home. But just removing the covers for an inexpert visual inspection raised a question: what about that burn mark? Below, the two images, courtesy of Carson Dunlop Associates, describe how a pulse furnace works.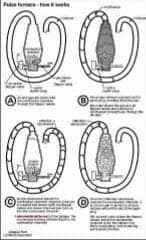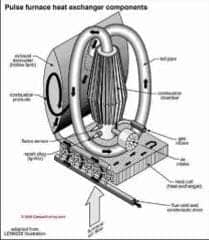 The sketch at below left applies to both conventional and high-efficiency gas fired heating appliances, and does not permit vents to extend outside where combustion gases can re-enter the building through a window, nor too close to the ground where venting could be blocked.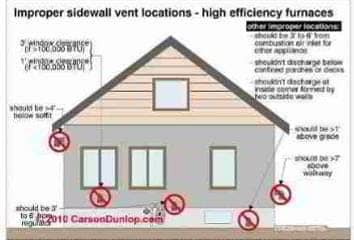 The Carson Dunlop Associates at right adds unsafe sidewall vent locations peculiar to high efficiency heating furnaces.
Images courtesy of Carson Dunlop Associates.
Hazards at Direct Vent or Through Wall Vent Chimneys & Flues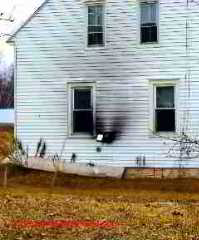 Avoid a building fire with do-it-yourself through-wall chimneys & flues
Our soot stained wall photo (photo at left ) shows what happens at a direct-vented oil-fired heating system when there are multiple errors and unsafe conditions including:
The heater is not working properly and needs immediate service as it is blowing thick dense sooty smoke
The through-wall metal flue vent and "chimney" appears to be a home-made adaptation rather than a listed and approved direct-vent device.
The effects of this home made direct-vent "chimney" are quite visible: the siding on the building has been thickly coated with soot. If you (click to) enlarge the photo you 'll also see some interesting reverse thermal tracking effects marking the wall studs. This is an unsafe installation that needs immediate repair.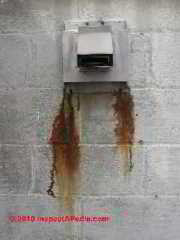 Our stained wall photo shows what happens at a direct-vented high-efficiency oil-fired heating boiler if the vent is not properly sloped through the wall.
Condensate accumulates in the vent pipe, dissolves flue gas deposits, and ultimately leaks both outside and back into the equipment.
Here is an inside-view of the same Energy Kinetics High Efficiency Heating Boiler System 2000 from inside.
Click to enlarge the photo and look for leak stains on the induced draft fan.
To repair this mistake the installer will have to disassemble the entire vent system, and either remove a bit of masonry block from the bottom of the present wall opening or change the interior flue vent connector piping to slightly raise the inside end of the through wall vent - one or the other - to obtain proper condensate slope and condensate handling on this equipment.
Details about direct venting heating appliances such as those shown above are
at DIRECT VENTS / SIDE WALL VENTS
Details about general clearances or distances around gas furnaces are at FURNACE CLEARANCE DISTANCES.
Venting Requirements & Effects of Long Heat Exchangers & Condensation in High Efficiency Heating Equipment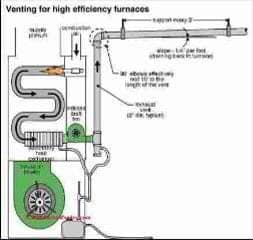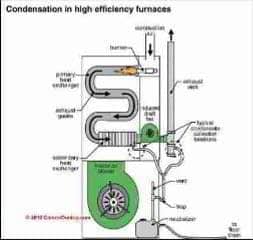 Images courtesy of Carson Dunlop Associates.
Condensing Boiler Reference Manuals
Special Safety Devices Found in High Efficiency Heating Equipment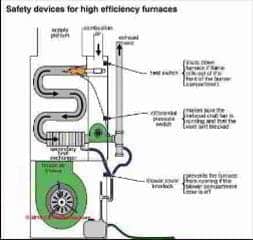 Images courtesy of Carson Dunlop Associates.
Text in process.
Duct Sizing & High Efficiency Heating Furnaces or Boilers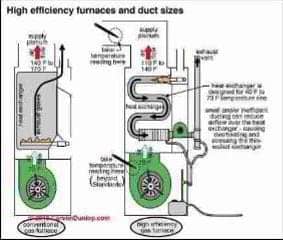 Images courtesy of Carson Dunlop Associates.
The heating system articles provided at this website explain how to inspect and detect defects and hazards on heating systems, boilers, furnaces, and other equipment.
Condensate Drain Specifications for High Efficiency & Condensing Gas Heating Equipment
Reader Question: proper piping materials for condensate from condensing furnaces or boilers
2017/01/11 Greig said:
Can a brass fitting be used to connect a condensing boiler flue condensate or will this corrode?
This question and answer were posted originally at CHIMNEY WET TIME & CORROSION

Reply: use corrosion-resistant piping for condensate disposal
Condensate from condensing boilers is quite corrosive, a view shared by experts (Xinqiao 2006). That's why plastic is a good drain material. Stainless steel might be acceptable in some situations. I'd be careful about using brass, iron, copper, galvanized pipe.
While the manufacturer of the boiler would be the an authority on what is acceptable piping material for condensate disposal, model building codes say this, using ICC model building codes adopted by Virginia in the U.S. as an example:
SECTION 314 - CONDENSATE DISPOSAL
[M] 314.1 Fuel-burning appliances. Liquid combustion byproducts of condensing appliances shall be collected and discharged to an approved plumbing fixture or disposal area in accordance with the manufacturer's installation instructions.
Condensate piping shall be of approved corrosion-resistant material and shall not be smaller than the drain connection on the appliance.
Such piping shall maintain a minimum horizontal slope in the direction of discharge of not less than 1/8 unit vertical in 12 units horizontal (1-percent slope).
[M] 314.2.1 Condensate disposal. Condensate from all cooling coils and evaporators shall be conveyed from the drain pan outlet to an approved place of disposal.

Condensate shall not discharge into a street, alley or other areas so as to cause a nuisance.
[M] 314.2.2 Drain pipe materials and sizes. Components of the condensate disposal system shall be cast iron, galvanized steel, copper, cross-linked polyethylene, polybutylene, polyethylene, ABS, CPVC, or PVC pipe or tubing. All components shall be selected for the pressure and temperature rating of the installation.

Condensate waste and drain line size shall not be less than 3/4-inch (19 mm) internal diameter and shall not decrease in size from the drain pan connection to the place of condensate disposal.

Where the drain pipes from more than one unit are manifolded together for condensate drainage, the pipe or tubing shall be sized in accordance with an approved method.

All horizontal sections of drain piping shall be installed in uniform alignment at a uniform slope.
Research on corrosion in condensing boiler condensate systems
CONDENSATE DRAINS, CODES - home
Chen, Qun, Karen Finney, Hanning Li, Xiaohui Zhang, Jue Zhou, Vida Sharifi, and Jim Swithenbank. "Condensing boiler applications in the process industry." Applied Energy 89, no. 1 (2012): 30-36.

Abstract excerpt:
Two technical barriers for the condensing boiler application are corrosion and return water temperatures.
Moskovits, Peter. "Low-temperature boiler corrosion and deposits—a literature review." Industrial & Engineering Chemistry 51, no. 10 (1959): 1305-1312.
PLUMBING CODE, General Regulations, Chapter 3, ICC MODEL PLUMBING CODE, [PDF], Virginia 2006 Plumbing Code, retrieved 2017/01/11, original source: https://www2.iccsafe.org/states/Virginia/Plumbing/PDFs/Chapter 203_General Regulations.pdf
Excerpt: The provisions of this chapter shall govern the general regulations regarding the installation of plumbing not specific to other chapters.
Xin-xin, P. A. N., and W. E. I. Dun-song. "Anti-corrosion of Condensing Gas Water Heater [J]." Gas & Heat 8 (2005): 002.
Xinqiao, Zhang, Kou Guangxiao, Ye Yongjun, and Sun Shaochen. "Condensate Characteristic of Condensing Boiler and its Treatment [J]." Building Energy & Environment 1 (2006): 016.

Abstract excerpt:
Potential component of condensate from condensing boiler is analyzed in theoretic method.Combined the internal and overseas experimental result, the characteristic of condensate is analyzed from the point of quantity. For achieving sevage emission standard, three treatments are put forward: dilution, oil absorption and medicament treatment, of which applied effect is analyzed.
...
Continue reading at CONDENSING BOILERS/FURNACES DAMAGE or select a topic from closely-related articles below, or see our complete INDEX to RELATED ARTICLES below.
Or see DIRECT VENTS / SIDE WALL VENTS
Or see DIRECT VENT INSTALLATION, SNAFUS & SPECS
Or see FURNACE CLEARANCE DISTANCES clearances or distances around gas furnaces
Or see SAFETY RECALLS CHIMNEYS VENTS HEATERS
Or see these
Condensing Heater Inspection Articles
Suggested citation for this web page
CONDENSING BOILERS/FURNACES at InspectApedia.com - online encyclopedia of building & environmental inspection, testing, diagnosis, repair, & problem prevention advice.
Or use the SEARCH BOX found below to Ask a Question or Search InspectApedia
...
Ask a Question or Search InspectApedia
Questions & answers or comments about high efficiency heating boilers & condensing boilers: inspection, diagnosis, maintenance, & repair advice
Try the search box just below, or if you prefer, post a question or comment in the Comments box below and we will respond promptly.
Search the InspectApedia website
Technical Reviewers & References
Click to Show or Hide Citations & References
"Top Ten High Efficiency Gas Furnaces Based on Repair Frequency", in "#1 rated A/C & Heating System in the industry today? ", Merchantcircle.com, retrieved 4/3/12, source: http://www.merchantcircle.com/answers/q/91715/In-your-opinion--what- -would-you-say-is-the--1-rated-A-C---Heating-System-in-the-industry-today-
Carrier Model BW9 Gas-Fired Condensing Boiler - Gas Fired Direct Vent Condensing Boiler - Example Installation & Operating Manual
Mark Cramer Inspection Services Mark Cramer, Tampa Florida, Mr. Cramer is a past president of ASHI, the American Society of Home Inspectors and is a Florida home inspector and home inspection educator. Mr. Cramer serves on the ASHI Home Inspection Standards. Contact Mark Cramer at: 727-595-4211 mark@BestTampaInspector.com
John Cranor is an ASHI member and a home inspector (The House Whisperer) is located in Glen Allen, VA 23060. He is also a contributor to InspectApedia.com in several technical areas such as plumbing and appliances (dryer vents). Contact Mr. Cranor at 804-747-7747 or by Email: johncranor@verizon.net
HEATING SYSTEMS (see master list of heating articles at the "More Reading" links at the bottom of this article )
[1] "Instructions for Installing FIELD Type AF Barometric Draft Controls," Form No. 31 DC 30666, Field Corporation, Mendota, IL 61342, web search 04/02/2011, original source: http://www.fieldcontrols.com/pdfs/04592700.pdf, Field Controls, Kingston, North Carolina 28501, Tel: 919-522-3031
[2] Tjernlund Draft Controls, A Series (single action for oil, solid fuel, and fan-assisted gas burners) and B Series (double action for gas heating appliances), web search 04/02/1011, original source: http://www.tjernlund.com/Tjernlund_8500490.pdf , Tjernlund Products, Inc., 1601 Ninth Street, White Bear Lake MN 55110-6794, Tel: 651-426-2993 or 800-255-4208 website: www.tjernlund.com Email: fanmail@tjfans.com
Books & Articles on Building & Environmental Inspection, Testing, Diagnosis, & Repair
Our recommended books about building & mechanical systems design, inspection, problem diagnosis, and repair, and about indoor environment and IAQ testing, diagnosis, and cleanup are at the InspectAPedia Bookstore. Also see our Book Reviews - InspectAPedia.
Carbon Monoxide Gas Toxicity, exposure limits, poisoning symptoms, and inspecting buildings for CO hazards
DUST, HVAC CONTAMINATION STUDY An Investigation of Indoor Dust Debris Blamed on a Heating/Cooling System Reveals Carpet Dust
Fuel Oil & Oil Heating Magazine, 3621 Hill Rd., Parsippany, NJ 07054, 973-331-9545
Home Heating System Should Be Checked[for proper venting and for CO Carbon Monoxide Hazards - DJF]
Domestic and Commercial Oil Burners, Charles H. Burkhardt, McGraw Hill Book Company, New York 3rd Ed 1969.
National Fuel Gas Code (Z223.1) $16.00 and National Fuel Gas Code Handbook (Z223.2) $47.00 American Gas Association (A.G.A.), 1515 Wilson Boulevard, Arlington, VA 22209 also available from National Fire Protection Association, Batterymarch Park, Quincy, MA 02269. Fundamentals of Gas Appliance Venting and Ventilation, 1985, American Gas Association Laboratories, Engineering Services Department. American Gas Association, 1515 Wilson Boulevard, Arlington, VA 22209. Catalog #XHO585. Reprinted 1989.
The Steam Book, 1984, Training and Education Department, Fluid Handling Division, ITT [probably out of print, possibly available from several home inspection supply companies] Fuel Oil and Oil Heat Magazine, October 1990, offers an update,
Principles of Steam Heating, $13.25 includes postage. Fuel oil & Oil Heat Magazine, 389 Passaic Ave., Fairfield, NJ 07004.
The Lost Art of Steam Heating, Dan Holohan, 516-579-3046 FAX
Principles of Steam Heating, Dan Holohan, technical editor of Fuel Oil and Oil Heat magazine, 389 Passaic Ave., Fairfield, NJ 07004 ($12.+1.25 postage/handling).
"Residential Steam Heating Systems", Instructional Technologies Institute, Inc., 145 "D" Grassy Plain St., Bethel, CT 06801 800/227-1663 [home inspection training material] 1987
"Residential Hydronic (circulating hot water) Heating Systems", Instructional Technologies Institute, Inc., 145 "D" Grassy Plain St., Bethel, CT 06801 800/227-1663 [home inspection training material] 1987
"Warm Air Heating Systems". Instructional Technologies Institute, Inc., 145 "D" Grassy Plain St., Bethel, CT 06801 800/227-1663 [home inspection training material] 1987
Heating, Ventilating, and Air Conditioning Volume I, Heating Fundamentals,
Boilers, Boiler Conversions, James E. Brumbaugh, ISBN 0-672-23389-4 (v. 1) Volume II, Oil, Gas, and Coal Burners, Controls, Ducts, Piping, Valves, James E. Brumbaugh, ISBN 0-672-23390-7 (v. 2) Volume III, Radiant Heating, Water Heaters, Ventilation, Air Conditioning, Heat Pumps, Air Cleaners, James E. Brumbaugh, ISBN 0-672-23383-5 (v. 3) or ISBN 0-672-23380-0 (set) Special Sales Director, Macmillan Publishing Co., 866 Third Ave., New York, NY 10022. Macmillan Publishing Co., NY
Installation Guide for Residential Hydronic Heating Systems
Installation Guide #200, The Hydronics Institute, 35 Russo Place, Berkeley Heights, NJ 07922
The ABC's of Retention Head Oil Burners, National Association of Oil Heat Service Managers, TM 115, National Old Timers' Association of the Energy Industry, PO Box 168, Mineola, NY 11501. (Excellent tips on spotting problems on oil-fired heating equipment. Booklet.)
...