Blueray Heating Boiler or Furnace Safety Recall Notice
History of Blue ray recall
Difference in model, safety, and concerns among Blueray, Blueray II, and Blueray 3 heating systems
POST a QUESTION or READ FAQs about carbon monoxide hazards and the safety of Blueray heating systems.
InspectAPedia tolerates no conflicts of interest. We have no relationship with advertisers, products, or services discussed at this website.
Safety and carbon monoxide warnings regarding Blueray heating systems:
This document contains the recall notice for unsafe Blueray heating equipment, and continues to add additional history, technical details, and photographs to aid consumers and home inspectors in identifying this equipment. Blueray blueflame furnaces and boilers have been recalled by the US CPSC as unsafe equipment which can cause fatal carbon monoxide poisoning. In an earlier, now obsolete notice, the U.S. Consumer Product Safety Commission, in October 1987, warned that lack of proper maintenance of Blueray "Blue Flame" furnaces or boilers could lead to carbon monoxide poisoning. Blueray Systems, Inc. of Schuylkill Haven, Pa., issued an alert to oil heat technicians, distributors, and to homeowners of the importance of careful maintenance of the units..
Green links show where you are. © Copyright 2017 InspectApedia.com, All Rights Reserved.
Blueray Safety Recall Notice from CPSC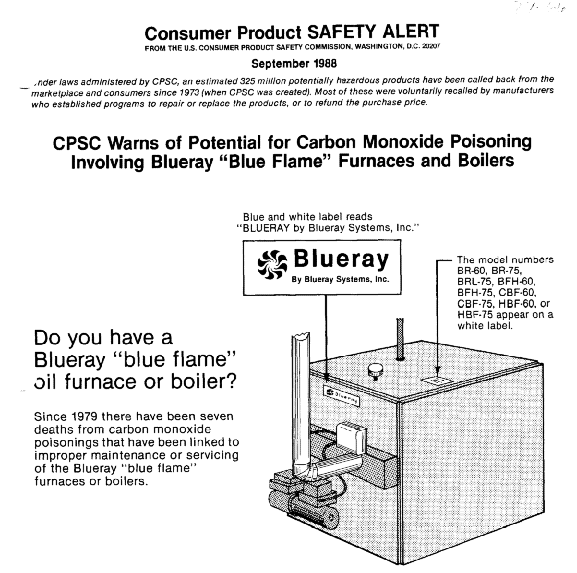 [Click to enlarge any image]
WASHINGTON, DC -- In voluntary cooperation with the U.S. Consumer Product Safety Commission, Blueray Systems, Inc., of Schuylkill Haven, Pennsylvania, has initiated a program to alert oil heat service technicians, oil heat distributors and home owners of the importance of strict service and maintenance of the Blueray "blue flame" furnace or boiler. A total of nearly 21,000 of such furnaces and 14,500 boilers were produced between 1974 and 1983.
The US CPSC included this identifying sketch and list of model numbers of the recalled Blueray heating equipment.
(Click the image for a larger version that shows Blueray model numbers and tips on identifying this equipment.)
According to the Commission, since 1979 there have been seven deaths from carbon monoxide poisonings that have been linked to improper maintenance or servicing of the Blueray "blue flame" furnaces or boilers.
The firm is working through oil heat distributors and organizations servicing these distributors, to notify all persons living in homes where these furnaces have been installed, Consumers are being reminded that annual maintenance of the equipment is necessary for safety and efficiency.
The need for this specialized maintenance is due to the design of the equipment for high-efficiency heating which requires annual servicing. Each household is also being supplied with a label to permanently attach to the furnace/boiler which alerts the home owner and the servicer of the necessity for strict adherence to all service and maintenance procedures prescribed by the firm.
Consumers can determine if their furnace/boiler is one involved in this alert program by looking for a blue and white label on the equipment which reads "BLUERAY by Blueray Systems, Inc."
The model number, BR 60/75, appears on a white label. Consumers having these furnaces should immediately contact Blueray Systems, Inc., to receive their free safety label, as well as copies of publications which describe the proper procedures for maintenance and service. Blueray can be reached by calling collect on 215-789-6224 or by writing to: Blueray Systems, Inc., 8301 Lansdowne Avenue, Upper Darby, Pa 19082.
To report unsafe consumer products or to receive safety information, call the CPSC toll-free hotline number at 800-638-CPSC. A teletypewriter number for the hearing impaired is 800-638-8270.
Wanted: photographs of BlueRay heating systems & field failure case reports. CONTACT us.
Additional Data about Blueray Heating Equipment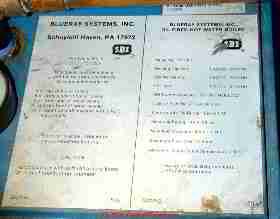 During the U.S. heating oil shortage in the 1970's many heating companies began marketing "high efficiency" heating equipment to allow homeowners to save on heating oil costs. One model, the Blueray boiler, marketed by Blueray systems, the "blue flame" boiler (or furnace) was particularly tricky to tune. In adjusting the air mixture one had to follow a very precise procedure specified by the manufacturer.
If the procedure was not followed in the right order, even though the ending system setup appeared the same and test measurements appeared proper, the system would produce carbon monoxide - a potentially lethal hazard. Heating technicians didn't necessarily know that it made a difference to adjust to the proper combustion air mixture by coming up from lean to rich rather than from rich to lean.
By 1979 at least seven people had died from carbon monoxide poisoning (I believe deaths occurred on Long Island, in New York), A safety recall notice was issued by the U.S. CPSC.
In a move that seemed too little too late, a special safety warning label was provided by Blueray. I include that safety warning label image here in the off chance that it may help readers identify a Blueray or "Blue Ray" Blue Flame heating boiler or furnace.
The Thermodynamics Boiler Company's Version of Blueray or Blue Ray Blue Flame Heating Equipment
Later models of the Blueray heating boiler (Blueray furnaces were also manufactured) attempted to correct these safety concerns but the company did not survive its image as dangerous.
The Thermodynamics Boiler Company purchased the remains of the defunct "Blueray Systems", redesigned the heating equipment, and marketed it under several names which included the "Blueray" appellation. Those service people "in the know" realized that the Thermodynamics version of Blueray was a different animal and did not have the same safety concerns as the original.
But many home inspectors and home owners saw only the "Blueray" label and immediately called for replacement, even if it was a "Thermodynamics" Blueray heater.
Most Blueray's are now long gone from most homes as they were steel boilers most of which have by now rusted out of service, regardless of which model. But occasionally you may come across one of these which has been preserved in use. If the boiler is a Blueray manufactured by Blueray Systems, it is dangerous and should not be used.
List of Blueray Model Numbers Recalled
These model numbers appeared on a white label such as the Blueray label shown above.
Blueray Model # BR-60 was recalled by the US CPSC
Blueray Model # BR-75 was recalled by the US CPSC
Blueray Model # BRL-75 was recalled by the US CPSC
Blueray Model # BFH-60 was recalled by the US CPSC
Blueray Model # BFH-75 was recalled by the US CPSC
Blueray Model # CBF-60 was recalled by the US CPSC
Blueray Model # CBF-75 was recalled by the US CPSC
Blueray Model # HBF-60 was recalled by the US CPSC
Blueray Model # HBF-75 was recalled by the US CPSC
More Details about Blueray Heating Boilers and Furnaces and the Safety Recall
The following was a consumer handout which we provided to home inspection and heating system clients from 1975 to present.
CPSC Original Warning Issued on Blueray Boilers
The notice which follows is obsolete - this equipment has since been recalled. This information is provided below for technical research only.
The U.S. Consumer Product Safety Commission, in October 1987, warned that lack of proper maintenance of Blueray "Blue Flame" furnaces or boilers could lead to carbon monoxide poisoning. Blueray Systems, Inc. of Schuylkill Haven, Pa., issued an alert to oil heat technicians, distributors, and to homeowners of the importance of careful maintenance of the units. Even if the model number of your system is different from the specific ones for which the warning was issued you should have your service person check this system for proper operation promptly. The check itself should be an inexpensive service call.
Annual Service Important
The CPSC reminds consumers that annual maintenance of these units is necessary. The units can be identified by a blue and white label reading "Blueray by Blueray Systems Inc." The model number BR 60-75 appears on a white label.
Long Island home-heating industry sources said the more complex Blue Flame system requires special adjustment equipment. It also employs a more sensitive fuel consumption method more likely to produce the deadly gas if regular maintenance is ignored. According to CPSC seven deaths from carbon monoxide poisoning have been linked to poor maintenance of these systems. Blueray sold 21,000 of these systems between 1974 and 1983.
Consumers who have these furnaces or boilers can obtain additional information by calling Blueray collect at 215/789-6224 or by writing Blueray Systems Inc., 8301 Lansdowne Ave., Upper Darby, PA., 19082. Sources: Nassau County Office of Consumer Affairs, reported in Newsday, 10/30/87; Blueray Systems, Inc. Safety Notice letter indicates that copies of Blueray's Operation, Maintenance and Installation Procedures, its Technical Training Guide, and its recent Field Service Bulletin may be obtained free of charged by calling Blueray Collect at 800/338-9681.
Blueray Field Service Bulletin Notes
Service departments receiving calls from Blueray owners complaining of odors and/or pulsation should instruct homeowners to turn the emergency switch off until a serviceman arrives.
Hand held carbon monoxide analyzer should show no measurable carbon monoxide in the flue gases. (CO2 should read 12.5-13.5%). The bulletin offers added detail for assuring that measurements and adjustments are done properly.
When setting the unit for proper air mixture always start with the air band fully open, close it until proper CO2 reading is reached. Close it further - if CO2 continues to climb you are on the "right side of the curve" and should then re-open the air band to proper CO2 reading. If it does not continue to climb you are on the "wrong side of the curve" in air-starved mode and are producing carbon monoxide (CO).
The unit should not be operated until corrective steps have been taken and there is no measurable CO in the stack.
Blue Ray or Blueray Safety Warning Update (January 2007)
OPINION: the following comments are provided in response to correspondence from some readers who have observed that the original US CPSC warnings regarding this equipment are difficult to locate at the US CPSC website:
It is possible the US Government has decided to remove some of its product safety recall information (regarding Blueray Heating Systems) from the market, either because of the age of the issue and the relatively few original BlueRay heaters which remain in use or perhaps for other more obscure reasons such as industry pressure - after all, a dangerous boiler is bad press for the heating equipment industry and the heating fuel folks too.
The reason we have the listed data such as model numbers (see above) is that we have been tracking this issue and keeping all of the information that was originally released.
Heating service technicians don't want to service your BlueRay furnace or boiler, if it's one of the problem ones (originals) because they know about the hazards and don't want the responsibility of touching a system that is tricky to tune, has a dangerous reputation, and is vulnerable to modification by an untrained person after the heating service technician has left the site.
In use of the words "recall" versus "safety warning" it is possible that in our original description (and repetition of the original text) a "CPSC Product Recall" was never put into effect, and instead, a safety warning was issued. For example, it is possible that the CPSC and companies involved agreed that the two CPSC consumer warning notices were sufficient.
When Blueray systems were in widespread use, people working in the heating industry as independent service and repair contractors were in agreement that the boiler had to be replaced, or had to be serviced and adjusted ONLY by someone who was well trained and who followed the service procedure precisely.
A real fear among heating service people is that even if they do precise and correct work, nothing prevents a homeowner or someone else from coming along after them and changing a setting or component to make the system unsafe. The additional level of care needed and the risk of a possible fatality was enough to cause most service people to refuse to service the boiler at all, and to call for its replacement.
Building owners who have one of the original Blueray boilers or furnaces installed (which should be rare given their present age) should replace the boiler. For ethical reasons however, we can't however, recommend a specific replacement brand of heating boiler or furnace.
Other Blueray Boiler Service Notes and Contact Information
For information about Blueray systems more than 5 years old contact Blueray Corporation, 1/800-338-9681. (Jim Salls is one of the engineers there.)
For information about more recent Blueray Systems, for example the VTF models made by Thermodynamics Corp. contact that company at 717/385-0745. (John Minchoff is one of the engineers there.) These newer boilers are referred to in the trade as having a "yellow flame" burner rather than the "blue flame" units mentioned above, and generally use burners provided by Beckett(TM).
According to the CPSC's compliance officer consumers can also try contacting Thermo-Dynamics Boiler Company (Blueray or Blue Ray Blue Flame Heating Equipment) Rob Glinskas, Route 61 - P.O. Box 325, Schuylkill Haven, PA 17972, Phone: (570) 385-0731, Fax: (570) 385-5304, http://www.thermodynamicsboiler.com/ [Email T/D Potts to DJF 9/29/2006]
On some Blueray VTF models we've found (Daniel Friedman) sooting and burnout or burn marks inside jacket covers (not always visible without disassembling the system). This problem may be caused by loss of an internal cap seal at top of the fire chamber and may be evident only if the system is run dirty or improperly adjusted so as to have positive backpressure in the fire chamber. It can be checked for by removing covers during service. Repair, provided the fire chamber is not damaged, should not involve significant expense, but can be important for fire safety.
Heating System Safety Articles
...
Continue reading at SAFETY, HEATING INSPECTION or select a topic from closely-related articles below, or see our complete INDEX to RELATED ARTICLES below.
Or see CARBON MONOXIDE - CO
Suggested citation for this web page
BLUERAY Recall at InspectApedia.com - online encyclopedia of building & environmental inspection, testing, diagnosis, repair, & problem prevention advice.
Or use the SEARCH BOX found below to Ask a Question or Search InspectApedia
...
Frequently Asked Questions (FAQs)
Try the search box below or CONTACT US by email if you cannot find the answer you need at InspectApedia.
Question: we added a CO detector for our BlueRay system after carbon monoxide was detected
(Oct 7, 2011) MIMI. said:
I just bought a house with a Blue Ray 3 and when the inspector turned it on (after a long period of dormancy) his carbon monoxide detector beeped like crazy. It needed a tune up and we also added a CO detector at the basement to be extra safe.
Reply:
MiMi,
Thanks for this feedback. Fortunately the later models of BlueRay heating systems were modified to be more safe than the original model. Nevertheless, detecting CO in the building is normally an indication of a dangerous condition that needs correction.
Was your BlueRay3 oil fired or gas fired? It's easier for a misadjusted gas-fired heater to produce CO.
Also, was the inspector performing his/her test immediately after the system was turned on? It is common, especially for gas fired heaters, for there to be a brief burp of flue gas leakage out of the draft hood when the appliance is first turned on and before the chimney and flue vent connector have heated-up. A proper test for flue gas leakage is performed after the system has reached full operating temperature.
In any case, adding a CO detector is a smart move that I'd have recommended too.
- What did the service tech find at tune-up time? Was the chimney blocked?
- Has your CO detector sounded off since the service call?
(Oct 8, 2011) mimi said:
This is an oil fired boiler that was off for some time as the lady died a year back. The inspector turned the boiler on, it started mildly smoking,he read the CO meter and made us all evacuate the basement. It never got better, it did need service, and the tech that serviced it wrote this on the card, "VAC Boiler-chimney base F-N-S." I don't know what that means. I wish I had been there to ask questions but I didn't own the house just yet. The CO detector hasn't gone off since and I'm glad it isn't one of the faulty boilers. I found this site when looking as to why the boiler was so wildly inefficient. When I went down to find the service card I discovered my hot water was heated to an incredibly expensive 160 degrees.
Mimi:
Agree that the boiler needed service.
VAC boiler chimney base means the tech found the chimney was clogged with debris; Search InspectAPedia for "Dead end chimneys" for more on that possible concern.
I don't know what F-N-S means - I'd call and ask them - and please let us know too. "found no soot" - who knows?
About wild variations in efficiency, a dirty oil fired appliance can have a huge deterioration in efficiency. I've seen efficiency increase from 65% up to 79% on an old appliance following cleanout - that's 14 points or a 21% improvement.
Heating your hot water (is this a separate appliance or a tankless coil on the boiler) to 160 is not necessarily inefficient if your water system uses a tempering valve to mix cold in with outgoing hot. Otherwise it's a dangerous scald risk.
Comment:
(Nov 13, 2011) David Shaker said:
F-N-S means Filter Nozzle and Strainer were replaced.
Reply:
Thanks
Question: My boiler isn't working
My boiler isn't working - e heat
Reply:
eHeat
We've got fuel, air, electrical power to check;
I'd start by checking that the fuel flow is good - change the oil filter and pump screen; look for and change a clogged nozzle.
Detailed help is at OIL BURNER INSPECTION & REPAIR
Comment on BlueRay heaters:
(Apr 20, 2015) Vicky Keener said:
I know a 78 year old individual living in Brevard NC whose home when he purchased it came with a Blu Ray heater.
When he needed a ignition part for this furnance we contacted the above contacts and never heard a word this was about 2 years ago and when I looked again this last year in 2014 I contacted these addresses again and never was responded two this was after I read the recall.
I glad we checked for he could of breathed in carbon monoxide without knowing it. I glad he has had it removed and replaced but think Blu Ray should of been back in touch at least to inquire about the system he had.
...
Ask a Question or Search InspectApedia
Questions & answers or comments about finding, using, diagnosing, repairing, or replacing water pressure gauges on private well systems.
Use the "Click to Show or Hide FAQs" link just above to see recently-posted questions, comments, replies, try the search box just below, or if you prefer, post a question or comment in the Comments box below and we will respond promptly.
Search the InspectApedia website
Technical Reviewers & References
Click to Show or Hide Citations & References
Carbon Monoxide Gas Toxicity, exposure limits, poisoning symptoms, and inspecting buildings for CO hazards
Home Heating System Should Be Checked[for proper venting and for CO Carbon Monoxide Hazards - DJF]
Domestic and Commercial Oil Burners, Charles H. Burkhardt, McGraw Hill Book Company, New York 3rd Ed 1969.
National Fuel Gas Code (Z223.1) $16.00 and National Fuel Gas Code Handbook (Z223.2) $47.00 American Gas Association (A.G.A.), 1515 Wilson Boulevard, Arlington, VA 22209 also available from National Fire Protection Association, Batterymarch Park, Quincy, MA 02269. Fundamentals of Gas Appliance Venting and Ventilation, 1985, American Gas Association Laboratories, Engineering Services Department. American Gas Association, 1515 Wilson Boulevard, Arlington, VA 22209. Catalog #XHO585. Reprinted 1989.
The Steam Book, 1984, Training and Education Department, Fluid Handling Division, ITT [probably out of print, possibly available from several home inspection supply companies] Fuel Oil and Oil Heat Magazine, October 1990, offers an update,
Principles of Steam Heating, $13.25 includes postage. Fuel oil & Oil Heat Magazine, 389 Passaic Ave., Fairfield, NJ 07004.
The Lost Art of Steam Heating, Dan Holohan, 516-579-3046 FAX
Principles of Steam Heating, Dan Holohan, technical editor of Fuel Oil and Oil Heat magazine, 389 Passaic Ave., Fairfield, NJ 07004 ($12.+1.25 postage/handling).
"Residential Steam Heating Systems", Instructional Technologies Institute, Inc., 145 "D" Grassy Plain St., Bethel, CT 06801 800/227-1663 [home inspection training material] 1987
"Residential Hydronic (circulating hot water) Heating Systems", Instructional Technologies Institute, Inc., 145 "D" Grassy Plain St., Bethel, CT 06801 800/227-1663 [home inspection training material] 1987
"Warm Air Heating Systems". Instructional Technologies Institute, Inc., 145 "D" Grassy Plain St., Bethel, CT 06801 800/227-1663 [home inspection training material] 1987
Heating, Ventilating, and Air Conditioning Volume I, Heating Fundamentals,
Boilers, Boiler Conversions, James E. Brumbaugh, ISBN 0-672-23389-4 (v. 1) Volume II, Oil, Gas, and Coal Burners, Controls, Ducts, Piping, Valves, James E. Brumbaugh, ISBN 0-672-23390-7 (v. 2) Volume III, Radiant Heating, Water Heaters, Ventilation, Air Conditioning, Heat Pumps, Air Cleaners, James E. Brumbaugh, ISBN 0-672-23383-5 (v. 3) or ISBN 0-672-23380-0 (set) Special Sales Director, Macmillan Publishing Co., 866 Third Ave., New York, NY 10022. Macmillan Publishing Co., NY
Installation Guide for Residential Hydronic Heating Systems
Installation Guide #200, The Hydronics Institute, 35 Russo Place, Berkeley Heights, NJ 07922
The ABC's of Retention Head Oil Burners, National Association of Oil Heat Service Managers, TM 115, National Old Timers' Association of the Energy Industry, PO Box 168, Mineola, NY 11501. (Excellent tips on spotting problems on oil-fired heating equipment. Booklet.)
Books & Articles on Building & Environmental Inspection, Testing, Diagnosis, & Repair