Banging Pipes & Radiators
How to cure banging, clanging, hammering pipes & radiators
InspectAPedia tolerates no conflicts of interest. We have no relationship with advertisers, products, or services discussed at this website.
Steam & Hot Water Heating Pipe, Boiler or Radiator Noise Diagnosis & Repair:
This article explains the causes and cures of noisy or banging heating pipes and radiators in steam heat systems. We describe different noises made by heating steam or hot water heating systems, how to track the noise to its cause, & how to cure the problem.
We discuss the following: Banging Noises at the Steam Boiler, pipes, or radiators. Causes of noise problems in hot water and steam heating systems: air bubbling, banging, clanking, creaking, hissing sounds and what they mean, how they are fixed. How to shim the one pipe steam radiator to cure banging, clanging, pistol shot noises at the steam radiator.
Banging radiators, clanging heating pipes, bubbling noises, creaks, hisses, pops, and the like are diagnosed & fixed by these procedures.
We also provide a MASTER INDEX to this topic, or you can try the page top or bottom SEARCH BOX as a quick way to find information you need.
Steam Heat Piping or Radiator Banging or Pounding Noise Diagnosis & Cure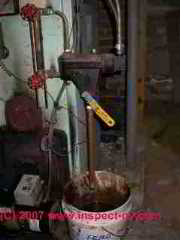 Steam Heat Piping or Radiator Banging or Pounding Noise Diagnosis & Cure
Article Contents
Categories of Noises Traced to Heating Equipment & Building Piping
Both steam and hot water heating system pipes can be a source of loud irritating noises in buildings: banging, creaking, and bubbling sounds may be traced to heat piping. Some of these sounds are just annoying, others can spell more serious trouble.
We divide banging or pounding pipe & radiator noises in building heating equipment & piping systems into these categories:
Also see SOUND CONTROL for PLUMBING for an extensive list of causes and cures of building plumbing noises.
Also see NOISES COMING FROM WATER HEATER for the diagnosis and cure of clanking or thumping noises that may be coming from your water heater or heating boiler.
Noisy Banging Pounding Steam Radiators
Steam Radiators Sloped the Wrong Way Cause Banging Noises
A steam radiator whose low-end is opposite the entering steam pipe can cause steam condensate (water) to fail to flow properly back to the heating boiler.
Steam radiators, in particular one-pipe steam radiators, should slope towards the one steam pipe found entering one side of the radiator at its bottom. That is, the high end of the radiator should be at the opposite end as the end where the steam pipe enters.
Why does a radiator sloped the wrong way cause banging noises?
Condensate blocking the movement of steam through the radiator can cause a "hammering" or banging sound (sometimes described as a pounding noise) when steam pressure builds enough to break through this water blockage or "water dam" in the radiator bottom.
Our photo (above-left) shows a one pipe steam radiator that was shimmed at its "high" end - the end that includes the steam vent. Notice the small wooden square shims? Some people use a metal washer or coins in this location. You can see the one pipe entering at the radiator bottom right.
So Should I Level the Radiator to Stop Banging Noises?
No. A steam radiator needs to pitch slightly downwards towards the end that connects to its condensate return line.
Watch out: some "banging clanging radiator noise" repair articles we've read advise that you should fix a banging hammring radiator by making sure it's level. For steam radiators, devices that need to return condensate to the boiler, that's incorrect, as we explain here.
How to add shims under the radiator at the end that should be high: You may be able to cure this radiator noise source or even fix a radiator that doesn't get hot simply by installing shims under the end of the radiator that needs to be raised so that there is just a little slope towards the steam pipe. You don't need an excessive amount of slope, just enough that any condensate in the radiator bottom will drain towards the outlet or steam pipe.
Try placing a level on the radiator top and take a look at the radiator's slope. Shim the end of the radiator opposite the steam pipe so that it is just elevated higher than the steam pipe end.
Your heating service technician should be someone familiar with steam heating systems and the proper layout and function of condensate return lines in your home. The tech will look for a problem that is blocking condensate return to the heating boiler, such as a clogged strainer in the system piping, a steam trap clogged with rust, minerals, or sediment, or a similar problem.
Other Causes of Banging, Clanging or Pounding Noises at Steam Radiators
Pounding or banging in radiators installed on a one-pipe steam heat system can also be caused by [2]

the radiator supply valve is too small or has been left partly shut - if this is the problem it will have always been present or present since the valve was closed
Radiator sloped away from the supply valve (discussed above)
Steam vent port or air vent that is over-sized, allowing steam to enter the radiator too rapidly. If this is the problem it will have been present ever since the vent or valve was installed.
A separate problem: failure of individual steam radiators to get hot, could also be due to blocked condensate return.
If a radiator's steam vent is not working, or if a one-pipe steam system's radiator has settled so that it is no longer properly tipped to send condensate back into the steam pipe (and back to the boiler), that radiator will stop working. Individual radiator heating troubles can explain banging or pounding noises.
Details about steam radiators that are not warming up are
at COLD STEAM HEAT RADIATORS.
Watch out: If your heating boiler does not have an automatic water feeder and you've been putting makeup water into the boiler manually, a blocked condensate line and low water in the boiler will eventually lead to total loss of heat when the low water cutoff switch
(see LOW WATER CUTOFF CONTROLS) , a key boiler safety device, simply shuts down the boiler.
Banging pipes on a combination steam and hot water heat system:

At INDIRECT FIRED WATER HEATERS we quote an HTP indirect water heater manual:

Banging and steam bound traps will occur if the boiler water supplied to the heat exchanger [of the indirect water heater or Superstor] has steam or is slightly above the low water cut-off.
Pounding or banging pipes or zone valves on a hot water heating system may be caused by
Avoid this Bad Advice about Steam Pressure Adjustments
Watch out: we noticed some "how to" articles on steam heat at other websites that advise homeowners to adjust the steam heating system pressure by adjusting the water fill valve on the steam heating boiler or by draining water out of the boiler. That incorrect advice could cause heating system malfunction or loss of heat or damage to the equipment!
Drain valves on heating boilers, hot water or steam, are not pressure control devices.
Air bleeder valves found on hot water radiators (not steam radiators) are opened to bleed air out of an airbound hot water radiator, but are certainly not pressure control devices.
See AIR BLEEDER VALVES
On a steam heating system the pressure is controlled by a pressure control device:
see PRESSURE & TEMPERATURE SETTINGS, CONTROLS
Typically residential steam pressure is less than 1 psi (low pressure steam systems).
If we see that someone has set pressure higher than that on a residential steam boiler we suspect someone was trying to "force" steam heat to rise in a system where there are actually problems with radiators, steam vents, or steam piping. Consult with an experienced steam heat technician, and don't change your steam boiler pressure on your own.
On a steam boiler makeup water is needed frequently as steam heat systems always consume some water. Makeup water is provided either manually by a fill valve, using a sight glass,
see SIGHT GLASS, STEAM BOILER, on the steam boiler,
or more often by an automatic water feeder
see WATER FEEDER VALVE, STEAM.
Consult with an experienced steam heat technician if you are not sure how your boiler's makeup water is provided.
Banging Hammering Steam Heating Pipe Noises: Causes, Cures
If it sounds as if someone is down in your basement or cellar banging on the heating pipes with a hammer, and particularly if your building is heated with steam radiators, the noise you hear may be due to water hammer in the steam piping system. Other terms we hear from readers describe this problem on steam heating systems as
Banging clanking heating pipes
Clanging heating pipes
Hammering noises in heating pipes
Knocking noises at the heating piping
Pounding sounds from heating pipes
Pistol shots in the heating system pipes
All of these noises may be due to the same steam heating system problems, as we explain here. Different heating system noises occur on hot water heating system pipes and radiators (hydronic heating systems): creaking or air bubbling - also discussed here.
In both one-pipe and two-pipe steam heat systems steam rises into the building's heating radiators, forcing air out of the radiator's steam vent , then making the radiator hot. Inside the hot radiator steam condenses back to water as heat is radiated (by the "radiator") into the room -
see STEAM VENTS.
This steam condensate must drain back into the steam boiler where it is subsequently re-heated to steam to continue the heating cycle. But if the condensate is having trouble returning to the steam boiler your heating pipes may become waterlogged.
This happens because when the steam boiler water level drops and is not replenished by returning condensate, the automatic water feeder will just send more water into the boiler.
Condensate accumulating in the steam piping (when it should be returning to the boiler) not only water-logs the system, it also means that cooler condensate (water) comes into contact with hotter rising steam in the piping. This contact can cause rapid expansion/contraction in the heating pipes and produces the loud "pipe banging" noise we are discussing.
Banging Steam Pipes Caused by Improper Slope
Steam pipes themselves, particularly in a one-pipe steam system, are designed to slope continuously back to the boiler from every steam radiator. Sometimes in an older home with one-pipe steam heating someone changes or relocates a steam pipe for convenience or remodeling, or building settlement causes pipes to lose their proper slope.
Typically the steam pipes on an individual floor will slope about one inch from high to low point, assuring that condensate can drain back to the steam boiler. If your pipes have lost slope, condensate blockage in the piping can cause the same banging or horrible pistol shot sounds that we described above at our discussion of steam radiators.
Banging steam heat pipes are usually heard at the beginning of the heating cycle.
Banging heating pipes that are heard at the end of the steam heating cycle may mean that the steam heat system pressure is incorrectly set or that a condensate return line near the boiler has become clogged.
A partly closed gate valve or a valve whose internal components are broken could also be the cause of this noise. We check to be sure that our steam radiator valves are fully open as part of diagnosing this noise. In an emergency it may be possible to temporarily diagnose or even temp-fix this radiator valve problem by turning off the heat, and when the system is cool, open the gate valve to remove the valve's bottom component that actually closes the valve, replacing the remaining components to leave this valve "fully open".
Other writers assert out that air trapped in steam pipes can also cause banging noises. Air in the steam piping and radiators should be venting out of the steam system through the system main line and individual radiator steam vents as the system is heating up during each heating cycle.
Banging Steam Pipes or Radiators - Check the Radiator Valves
If the steam radiator valve has been partly closed in an attempt to regulate the heat output of the steam radiator, that can cause banging as condensate may become trapped in the valve body. Try opening the valve fully.
You can regulate heat among steam radiators using a different method: timing how quickly individual radiators get hot, using adjustable steam radiator vents.
See RADIATOR STEAM VENTS, 1-PIPE SYSTEMS.
A second cause of banging steam pipe or radiator noises can be a worn or damaged radiator valve seat. Your heating service technician can remove, disassemble, inspect, and replace the valve or valve parts if necessary.
A third radiator valve problem is actually broken parts: Sometimes we find that the valve internal parts are actually broken inside, perhaps by someone forcing a valve that was corroded into a stuck position.

Watch out: a valve stem can become broken and fool you. You may feel that the valve knob turns and you think you are opening or closing the valve, but actually the valve knob and stem are just spinning freely.
Steam Vent Hissing
Hissing sounds from the steam radiator's steam vent are normal as heat is rising in the building, but the hissing should stop when the radiator is hot. See these steam vent articles for details:

Banging Noises at the Steam Boiler: diagnosis & cure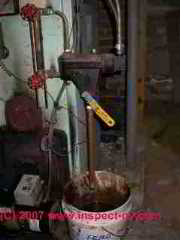 Banging noises at the steam boiler may be occurring in the steam boiler itself or in its controls, especially if the boiler is not being properly maintained.
Sludge that accumulates in the boiler and/or in the boiler low water cutoff switch (a critical safety control) needs to be flushed out of the boiler periodically. Typically the low water cutoff control includes a drain valve that is opened weekly to spill hot dirty sludgy water into a bucket.
Example Recording of Banging Noise at a Steam Radiator
Here is a RECORDING OF BANGING PIPES at a STEAM BOILER [2MB .m4a sound file recoreded 2015/11/29] provided by a reader whose comments follow. Play this file with iTunes or Quicktime or Windows Media player.
Reader Question: wierd banging sound, metal on metal, coming from our steam boiler
2015/12/01 Brad said:
About a week or so ago, we discovered a weird banging sound that sounds like metal on metal coming from our steam boiler. Sure, we get lots of small bangs in the pipes throughout the house, which we had always assumed to be just air in the pipes.
But this sound is different. It doesn't come from the pipes--it seems to be just in the unit in the basement. It only makes the noise when the boiler fires up and the flames turn on. The sound is always louder in the beginning, and it gets slightly quieter over the following minutes.
The speed varies--sometimes it is an irregular rhythm, and sometimes it is very steady. The banging goes off when the flames turn off. The banging appears to be coming from one specific corner of the unit. I'm worried that it is a pump or fan of some sort. I took a video in one of the quieter moments and uploaded it to Youtube [... link omittted here ] just in case it helps
Reply:
Often steam boiler noises showing up as banging pipes or radiators are traced to a condensate return problem.
Please take a look at the suggestions on this page. If the boiler has at least a few years of previously soundless operation and the banging / clanking at the boiler is recent I suspect that the horizontal portion of the condensate return or steam supply line is debris-clogged.
Ask your heating service technician to take a look at the system.

Watch out: ask your heating service technician to show you when and how to safely flush the steam boiler.
Failure to perform this step can lead to loss of heat; doing it wrong can lead to scalding or even boiler damage. Details are
at LOW WATER CUTOFF CONTROLS .
Watch out: If your heating boiler does not have an automatic water feeder and you've been putting makeup water into the boiler manually, a blocked condensate line and low water in the boiler will eventually lead to total loss of heat when the low water cutoff switch , a key boiler safety device, simply shuts down the boiler.
See LOW WATER CUTOFF CONTROLS.
Other causes of heating system noises are discussed
at HEATING SYSTEM NOISE DIAGNOSIS.
Creaking Clanking Hot Water Heating Pipe Noise Diagnosis & Cure
Hot water heating pipes that distribute heat through a building often make creaking or even clanking sounds at the start and again at the end of a heating cycle.
These sounds are usually due to expansion of the piping and movements as the piping shifts, especially where it passes through an opening in building framing, floors, or walls.
Clanking heating system pipes or sharp snapping noises may be heard as a normal consequence of expansion of metals during the heating cycle.
These noises can often be eliminated or reduced by careful routing of piping and by allowing room around heating pipes for expansion, but probably not eliminated in the case of hot water baseboards.
Often we can eliminate these sounds by these steps:
Make sure that heating pipe passage openings through framing, walls, floors, etc. are large enough and not binding against the heating pipes. Use foam insulation or similar products to avoid unwanted air leaks around these openings, while permitting the pipes to move
Review the pipe mounting points to be sure that pipes are adequately supported
Check for an improperly-mounted zone valve - BANGING HEATING ZONE VALVES
Bubbling Sounds from Hot Water Heating Pipes: Diagnosis & Cure
Bubbling or rumbling heating system noises in hot water heating piping can be caused by air in the heating lines.
If the amount of air becomes excessive the heating system may be unable to circulate hot water and extra steps to bleed unwanted air will be required.
See AIRBOUND HEAT SYSTEM REPAIR by WATER FEED VALVE

Air trapped in hot water heating pipes, convectors, baseboards, or radiators, can cause a variety of problems:
Air bound radiators or baseboards simply won't get hot.
Less air, not enough to totally block hot water flow through the hot water piping may still make annoying gurgling or bubbling sounds. Most likely you'll notice these noises late at night when the building is otherwise more quiet.
See these articles on how we get rid of unwanted air in a hot water heating system:
...
Continue reading at WATER HEATER NOISE DIAGNOSIS, CURE or select a topic from closely-related articles below, or see our complete INDEX to RELATED ARTICLES below.
Or see BANGING HEATING PIPE RADIATOR FAQs - questions & answers about heating system noises, posted originally at this page.
Or see BANGING HEATING ZONE VALVES - noises in heating pipes traced to zone valves
Or see WATER HAMMER NOISE DIAGNOSE & CURE for other banging pipe noise diagnosis help.
Suggested citation for this web page
BANGING HEATING PIPES RADIATORS at InspectApedia.com - online encyclopedia of building & environmental inspection, testing, diagnosis, repair, & problem prevention advice.
Or use the SEARCH BOX found below to Ask a Question or Search InspectApedia
...
Frequently Asked Questions (FAQs)
Try the search box below or CONTACT US by email if you cannot find the answer you need at InspectApedia.
These questions & answers about banging or clanging radiators or heating pipes posted originally at this article are now found at BANGING HEATING PIPE RADIATOR FAQs
...
Ask a Question or Search InspectApedia
Questions & answers or comments about troubleshooting noises in steam heating system pipes or radiators: hissing, banging, creaking, clanging.
Try the search box just below, or if you prefer, post a question or comment in the Comments box below and we will respond promptly.
Search the InspectApedia website
Technical Reviewers & References
Click to Show or Hide Citations & References
[2] The Steam Book, 1984, Training and Education Department, Fluid Handling Division, ITT [probably out of print, possibly available from several home inspection supply companies] Fuel Oil and Oil Heat Magazine, October 1990, offers an update,
[3] Principles of Steam Heating, $13.25 includes postage. Fuel oil & Oil Heat Magazine, 389 Passaic Ave., Fairfield, NJ 07004.
[4] The Lost Art of Steam Heating, Dan Holohan, 516-579-3046 FAX
[5] Principles of Steam Heating, Dan Holohan, technical editor of Fuel Oil and Oil Heat magazine, 389 Passaic Ave., Fairfield, NJ 07004 ($12.+1.25 postage/handling).
[6] "Residential Steam Heating Systems", Instructional Technologies Institute, Inc., 145 "D" Grassy Plain St., Bethel, CT 06801 800/227-1663 [home inspection training material] 1987
[7] "Steam Boiler Operations" (Program 4, booklet & video), Weil-McLain H.E.A.T. (Hydronics Education and Training), Blain St., Michigan City Indiana 46360 Tel: 219-879-6561
[8] Oatey Plumbing, website: http://www.oatey.com/ Oatey U.S., 4700 W.160th Street Cleveland, Ohio 44135, PH: (800) 321-9532, and Oatey Canada: 218 Wilkinson Road Unit 3, Brampton, Ontario Canada L6P 4M4, PH: (800) 321-9532 email: customerservice@oateyscs.com
[9] Insulation Systems Used as External Treatment for Control Valve and Regulator Noise, Steve Boyle, FCI, Fluid Controls Institute, web search 02/08/2011, Tech Sheet #CV$#401, 12/20/2003 original source: http://www.fluidcontrolsinstitute.org/pdf/resource/control/CVR401Noise.pdf
Quoting:
[10] FCI is a trade association comprising the leading manufacturers of fluid control and conditioning equipment. FCI Tech Sheets are information tools and should not be used as substitutes for instructions from individual manufacturers. Always consult with individual manufacturers for specific instructions regarding their equipment.
[11] "Valve Noise Prediction vs. Velocity Head Limitations in Gas Applications", Joseph Shahda, principal engineer, Masonelian-Dresser, Inc., Feb. 2004 [PDF] [copy on file as /heat/Valve_Noise_VelocityHeadLimits.pdf ]
Fuel Oil & Oil Heating Magazine, 3621 Hill Rd., Parsippany, NJ 07054, 973-331-9545
Domestic and Commercial Oil Burners, Charles H. Burkhardt, McGraw Hill Book Company, New York 3rd Ed 1969.
National Fuel Gas Code (Z223.1) $16.00 and National Fuel Gas Code Handbook (Z223.2) $47.00 American Gas Association (A.G.A.), 1515 Wilson Boulevard, Arlington, VA 22209 also available from National Fire Protection Association, Batterymarch Park, Quincy, MA 02269. Fundamentals of Gas Appliance Venting and Ventilation, 1985, American Gas Association Laboratories, Engineering Services Department. American Gas Association, 1515 Wilson Boulevard, Arlington, VA 22209. Catalog #XHO585. Reprinted 1989.
"Residential Hydronic (circulating hot water) Heating Systems", Instructional Technologies Institute, Inc., 145 "D" Grassy Plain St., Bethel, CT 06801 800/227-1663 [home inspection training material] 1987
"Warm Air Heating Systems". Instructional Technologies Institute, Inc., 145 "D" Grassy Plain St., Bethel, CT 06801 800/227-1663 [home inspection training material] 1987
Heating, Ventilating, and Air Conditioning Volume I, Heating Fundamentals,
Boilers, Boiler Conversions, James E. Brumbaugh, ISBN 0-672-23389-4 (v. 1) Volume II, Oil, Gas, and Coal Burners, Controls, Ducts, Piping, Valves, James E. Brumbaugh, ISBN 0-672-23390-7 (v. 2) Volume III, Radiant Heating, Water Heaters, Ventilation, Air Conditioning, Heat Pumps, Air Cleaners, James E. Brumbaugh, ISBN 0-672-23383-5 (v. 3) or ISBN 0-672-23380-0 (set) Special Sales Director, Macmillan Publishing Co., 866 Third Ave., New York, NY 10022. Macmillan Publishing Co., NY
Installation Guide for Residential Hydronic Heating Systems
Installation Guide #200, The Hydronics Institute, 35 Russo Place, Berkeley Heights, NJ 07922
The ABC's of Retention Head Oil Burners, National Association of Oil Heat Service Managers, TM 115, National Old Timers' Association of the Energy Industry, PO Box 168, Mineola, NY 11501. (Excellent tips on spotting problems on oil-fired heating equipment. Booklet.)
Books & Articles on Building & Environmental Inspection, Testing, Diagnosis, & Repair
Our recommended books about building & mechanical systems design, inspection, problem diagnosis, and repair, and about indoor environment and IAQ testing, diagnosis, and cleanup are at the InspectAPedia Bookstore. Also see our Book Reviews - InspectAPedia.
...