Identify Types of Resilient Flooring or Sheet

Flooring that May Contain Asbestos
InspectAPedia tolerates no conflicts of interest. We have no relationship with advertisers, products, or services discussed at this website.
Asbestos-containing sheet flooring or resilient flooring product identification:
This article describes sheet flooring products known to contain significant levels of asbestos.
We describe sources of asbestos in older forms of sheet flooring including felt-backed flooring, rubber-backed flooring, and vinyl cushion-backed resilient flooring products. We include research citations on asbestos use in sheet flooring backer materials.
We also include photographs for identification of known asbestos-containing resilient sheet flooring as well as unknown flooring submitted for identification. The article gives safety and asbestos testing advice for sheet flooring products.
We also provide a MASTER INDEX to this topic, or you can try the page top or bottom SEARCH BOX as a quick way to find information you need.
How to Identify Armstrong, Congoleum, Linoleum & other Brands of Resilient Flooring or Sheet Flooring that May Contain Asbestos (or not)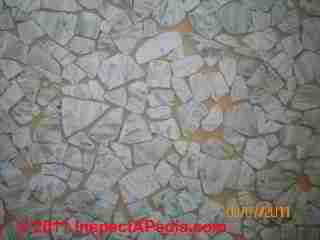 Bottom line: asbestos-containing sheet flooring in good condition in a residential environment is not a high risk of causing airborne asbestos hazards as the material is not friable. The safest as well as least-costly course of action is to leave such flooring in place, and to cover it over with other flooring material.
However if such flooring installed in North America before the early 1980's is in very poor condition or if it must be demolished as part of building renovations, it should be treated as presumed to contain asbestos and handled accordingly.
Flooring adhesives or mastics also may contain asbestos.
[Click to enlarge any image]
Article Series Contents
The sheet flooring shown above and illustrated further just below was identified by a reader in a 1964 home. She found remnants in the bottom of a kitchen cabinet on which was imprinted "Armstrong".
The reader asked "Is it linoleum?" A closer look at the product including its backing would be needed. It could be, but this pattern looks more modern to us and is very probably an Armstrong vinyl sheet flooring product. More information about this marble chip pattern sheet flooring is given just below.
Vinyl Sheet Flooring Known to Contain Asbestos
Known-Asbestos-Containing Vinyl Based Sheet Flooring: Product Photos, both branded and un-known sheet flooring brands.
Asbestos test lab results have been obtained by readers or by InspectApedia.com confirming that the sheet flooring shown in this section contains asbestos.
[Click to enlarge any image]
The sheet flooring photograph shown above, provided to us by a reader, was tested for asbestos content. Our reader reports:
The house where this sheet flooring is installed was built in 1966 to 1967. We assume this was the original flooring put down by the previous owner who built the house - we are the second owners of this home.
There was no other flooring under or on top of this, and there is no sign of other layers of flooring below it, so I think it's safe to assume they put it down in 1967. There is no way to know brand since its on bottom, and we haven't removed the floor covering.
We did have the linolium tested and it was positive for 15% chrysotile. Just thought you may want to add this for your catalog. As such we will just leave it undisturbed and cover over with hardwood. - Anon, by private email 10/21/2015
Note: Although many people refer loosely to resilient sheet flooring as "linoleum", the sheet flooring above is a vinyl product and is distinct from true linoleum floors. Linoeum floors do not contain asbestos.
See LINOLEUM & SHEET FLOORING for details about that product.
If the vinyl resilient sheet flooring backing material were dry-sanded or scraped during building demolition, for example, or if the sheet flooring is worn through so that foot traffic continues to damage the backing material, it is possible for unsafe levels of asbestos fibers to be released in a building. --EPA Guidance
During demolition or removal, this material should be disturbed as little as possible. Additional demolition, renovation, and installation advice for dealing with resilient sheet flooring materials can be obtained from the Resilient Floor Covering Institute, by obtaining their publication on the topic.
Asbestos in Armstrong Sheet Flooring 1930's - 1980's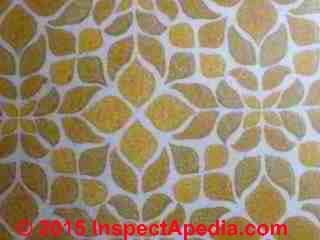 At ASBESTOS FLOOR TILE IDENTIFICATION PHOTOS 1949-1959 we include a reader report of lab testing performed on the sheet flooring shwon here and confirming that it contained "70% asbestos".
While the reader referred to this as "Armstrong Congoleum sheet flooring", Armstrong and Congoleum are separate individual companies.
The flooring shown just above is identified as an Armstrong World Industries resilient flooring product.
Armnstrong sheet flooring products that contained asbestos included products sold under the Solarian name at least prior to 1980.
It is possible that "new old stock" asbestos-containing Armstrong sheet flooring was sold later into that decade.
Also see Armstrong asphalt-asbestos and vinyl-asbestos floor tiles discussed beginning at ARMSTRONG FLOOR TILE IDENTIFICATION.
Armstrong Sheet Flooring Identification & Brand Markings
Below are two more identification photographs of the same flooring contributed later by reader R.B. who shows us the Armstrong® imprint on the reverse side of this product [photo at below right]. This confirmed the flooring brand: Armstrong.
Don't mix up product names. Armstrong is a separate company from Congoleum-Nairn.
Both companies produce several types and many patterns of sheet flooring.
As we discuss at CONGOLEUM FLOORING HISTORY, Linoleum flooring advertised in 1955, the Congoleum Gold Seal series, was sold in both sheet and tile forms.
Shown below is very similar but more rectangular marble-chip type sheet flooring contributed by a reader - August 2015.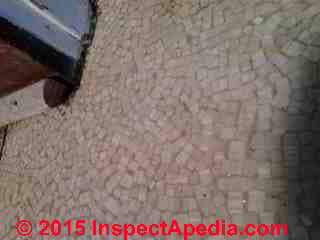 Sorting out types of flooring, sheet vs. tile, and brand names: is it "Linoleum"?
Armstrong tile flooring in the company's wide range of floor tiles (12x12" 9x9" or smaller rectangular glue-down floor tiles) is discussed & identified in detail at ARMSTRONG FLOOR TILES - 1950's.

Armstrong's sheet flooring is described at ARMSTRONG SHEET FLOORING (this article)

Armstrong and Congoleum, Linoleum sheet flooring are different products: these are different companies, although the word "linoleum" was widely used generically and some people will apply it (incorrectly) to vinyl sheet flooring or other products.
Older Armstrong-Brand "Rug Pattern" Red-Backed Sheet Flooring Photographs: more Linoleum Rugs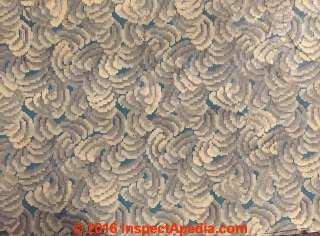 [Click to enlarge any image]
Reader question:

Attached are photos of some tile removed from my basement. I believe the backing says it is Armstrong brand tile.
I can't find anything in your database about whether this contains asbestos but I have a small child in the house ... I wanted to check. Any information would be greatly appreciated. - Anonymous by private email 2016/06/21 Jake Barrett jakebarrett78@yahoo.com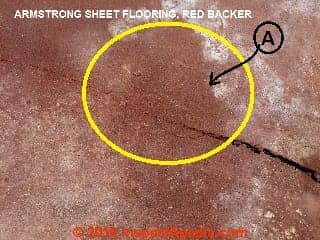 [Click to enlarge any image] and you can just make out the Armstrong A in a circle that we point to with the black A and arrow in the photo above.
Reply:
This flooring may be a rubber-backed product and may contain asbestos. Our research, cited below, confirms that some Armstrong flooring products included an asbestos-containing rubber-backing material. (Whitman 1975 et als). I have also seen older asphalt-backed sheet flooring products in similar designs.
Lab test results for asbestos in the Armstrong red-backed (probably rubber) flooring shown above are pending (June 2016). This floor covering was found in a U.S. home dated ca 1900.
If you avoid making a dusty mess such as by vacuuming with a non-HEPA-rated vac, chopping, grinding, sanding, chances are you're not stirring up measurable dust, asbestos or not.
If you search InspectApedia.com for ASBESTOS FLOORING HAZARD REDUCTION you'll see more suggestions for minimizing risk.
We speculate that this Armstrong rug-pattern red-backed sheet flooring dates from the 1940's. Below: a view of the red-colored back of this floor covering. This may be a rubber-backed sheet flooring product similar to some red-backed Congoleum flooring of the same era.
Research on Asbestos in Armstrong Rubber-containing Flooring Products or Rubber-Backed Flooring
Armstrong World Industries, earlier Armstrong Cork Co., has a long history in the production of an enormous range of types and designs of floor coverings. Armstrong's flooring literature including for its current commercial flooring products and floor cleaning products includes "rubber tile" and stair treads, rubber wall base, as well as "linoleum" in product descriptions. Armstrong points out in the company's current floor maintenance instructions:
It is important to know the type of floor before cleaning. Rubber or linoleum could be confused with vinyl or luxury vinyl tile (LVT) could be confused with wood or laminate. - Armstrong World Industries, "Maintenance Recommendations and Procedures, Commercial Resilient / Hardwood / Laminate", [PDF], Armstrong Corporation, retrieved 2016/06/21, original source: http://www.armstrong.com/assets/commflooringna/literature/downloads/F8663.pdf
Feigley Jr David, A. "Beater saturation of asbestos fibers." U.S. Patent 2,759,813, issued August 21, 1956. Original Assignee: Armstrong Cork Co.
Excerpt:

After the slurry has been treated with the selected polycarboxylic acid or water-soluble salt thereof, a synthetic rubber latex is then added and the mass is slowly agitated. As the slurry is agitated, the rubber content of the latex coagulates and evenly deposits upon the asbestos fibers.
...
A method of rnaking a rubber-bonded asbestos sheet comprising forming a slurry of asbestos fibers in water; adding a cornpound of the group consisting of ...
Lewicki Jr, Walter J. "Mechanically embossed resilient laminar floor material." U.S. Patent 3,953,639, issued April 27, 1976., Original Assignee: Armstrong Cork Company.
Excerpt:

The above plastisol was applied on a coated beater-saturated asbestos sheet having a thickness of 0.303 inch. The plastisol was applied with a reverse roll coater in a wet thickness of 10 mils. The plastisol-coated backing was gelled in a hot-air oven for one minute to an exit temperature of 270° F.
Rainar, Robert J., "Method of making resilient smoothsurfaced floor covering materials." U.S. Patent 2,961,029, issued November 22, 1960. Original Assignee: Armstrong Cork Co.
Excerpt:

The fibers from which the felt is made may be of various kinds. Rag furnish is preferred, but there may also be used asbestos, cotton linters, and other long fibers commonly used in the manufacture of felt as a supporting layer in flooring materials.
...
The filler may include a preponderant portion by volume of fibrous filler such as wood flour, cork particles, asbestos and other mineral fibers, and the like.
Witman, Jack H. "Dimensionally stable, flexible plastic surface coverings." U.S. Patent 3,870,591, issued March 11, 1975. Original Assignee: Armstrong Cork Co.
Excerpt from patent disclosure:

The backing would be one suitable for use as a surface covering, for example, a felt, perferably a rubber-bonded asbestos backing, a vinyl sheet backing, a cellulosic felt or other backing which lendsitself to surface covering applications.
Examples of Armstrong Linoleum Flooring & Linowall Wall Covering
Below: two pages advertising Armstrong "Linoleum" sheet flooring from 1961.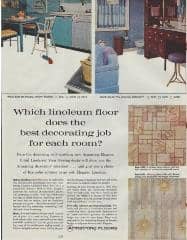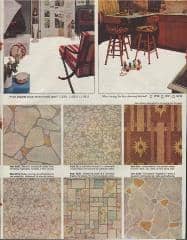 True Linoleum sheet flooring is discussed in detail at LINOLEUM & SHEET FLOORING

Also see FLOORING MATERIALS, Age, Types. (separate article)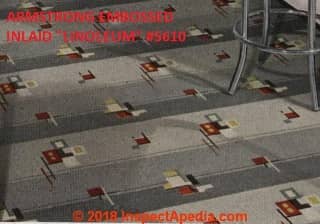 Above" Armstrong embossed linlaid "linoleum" #5610 from the catalog below. Other popular patterns included brick, solid colors, and Marbelle that we illustrate below.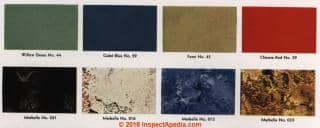 Above and below: examples of Armstrong's "Linoleum" sheet flooring products.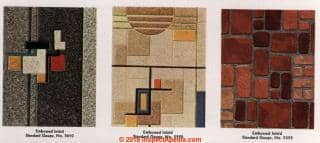 Above and below: Embossed Inlaid Armstrong "Linoleum" flooring patterns.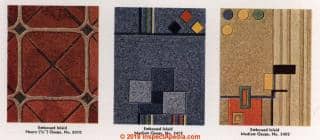 Below: Armstrong's straight line inlaid "linoluem patterns"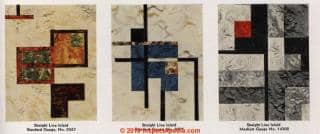 and more straight inline inlaid linoleum.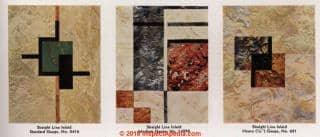 Armstrong Linoleum & Linowall Catalog
Adding to the confusion about use of the term "linoleum" is this Armstrong Cork Co. Catalog:
ARMSTRONG'S LINOLEUM LINO WALL ASPHALT TILE, [PDF], using product names including Armstrong Embossed Inlaid Linoleum Pattern 5610 (above) and Armstrong's DoveGray Linowall No. 732 wall covering.

The company's catalog lists sevent "types" of linoleum, Plain, Jaspe, Marbelle, monobelle, Embossed Inlaid, Straight Line Inlaid, and Printed. This sheet flooring was sold in five thicknesses, 6mm (1/4"), 3/8", Heavy (1/8"), Medium (3/32"), and Standard (5/64") gauge or thicknesses.

The catalog above was retrieved 2018/02/07, original source: https://ia800605.us.archive.org/9/items/ArmstrongCorkCo.0001/ArmstrongCorkCo.0001.PDF
Armstrong Sheet Flooring Post 1968
Above: Armstrong sheet flooring that matches the Armstrong Excelon Swirl Chip vinyl asbestos floor tile pattern released in 1968 and shown as a small tile image above.
[Click to enlarge any image]
We think that the sheet flooring in these photos is probably of similar age.
Watch out: tests of similar-age Armstrong sheet flooring products with similar backing have found 70% asbestos content in the flooring backer layer.
It would be prudent to treat this white-backed sheet flooring as presumed to contain asbestos. If any readers have tested this flooring for asbestos we would be grateful to receive the test results - use the page top or bottom CONTACT link.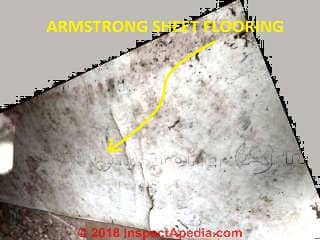 Click to enlarge the photo of the underside of this Armstrong flooring to see the company's imprint there.
Many tile patterns were also sold as a sheet flooring pattern, often in later years.
Other brands and patterns of sheet flooring begin at RESILIENT SHEET FLOORING ID GUIDE - (sheet flooring) organized by year and manufacturer.
Armstrong Bradford Brick / Congoleum Red Brick or White Brick Pattern Vinyl Sheet Flooring Asbestos Content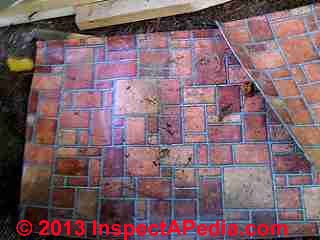 OK so we ran out of space and had to move the details of this topic.
Please see SHEET & TILE FLOORING BRICK PATTERN ID (separate article)
If the flooring has what looks like burlap - a jute backing - on its reverse it's probably very old and not an asbestos-containing product.
If it has a smooth, non-fabric backing it may contain asbestos and should be treated as PACM - presumed asbestos containing material. From your photo (above left) this looks like a very-widely used sheet flooring with an impregnated asphalt felt backer - let me know.
Some such felt backers included asbestos. As we report below, a reader obtained an asbestos test lab report on a sample of flooring that looks like that above: the lab did not report finding asbestos in that sample.
Don't panic, just don't create a dusty mess by using power tools, saws, grinders;
Watch out that the mastic used to adhere old sheet flooring may also contain asbestos. After trying various solvents on a black mastic years ago I discovered that it was water soluble and came up easily once I let it sit wet for a few hours. Try that.
J.W. Indeed I've found other similar flooring patterns to those in your photo that by date, records, tests, were confirmed as having asbestos in the vinyl backing; it would be prudent to treat the material as presumed-asbestos-containing material.
Don't panic; non-friable materials like this can usually be handled with a minimum of dust and debris - provided the floor was not glued down.
The flooring shown at above left, installed in the 1980's did not contain asbestos.
Details about brick pattern sheet flooring are at SHEET & TILE FLOORING BRICK PATTERN ID

The flooring shown at above right in a white brick pattern (these are tiles not sheet flooring) contained asbestos.
If you are facing a large cost or have other reasons to be concerned about asbestos contamination in the building it would not be costly to have a small sample of the floor tested. The advice at these 3 articles should be helpful.

Armstrong Craftlon & Solarian Sheet Flooring Asbestos Content
Without a close look it can be difficult to distinguish between sheet flooring and floor tiles that used essentially the same flooring pattern.
Shown here is Armstrong's Solarian Devonport White floor tiles that were also matched by some sheet flooring products.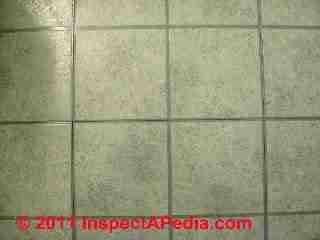 Similarly, this White Romford Brick sheet flooring pattern (below, Armstrong but not a Solarian product) was sold also as vinyl-asbestos floor tile.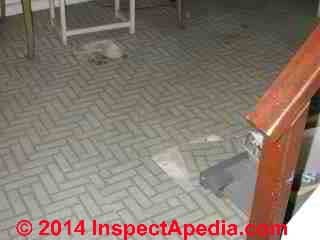 See ARMSTRONG FLOOR TILE IDENTIFICATION 1974-1979 for more examples of this flooring type.
Does Armstrong Sheet Flooring or Armstrong Solarium Contain Asbestos? Yes, depending on the specific product and age or time of manufacture, as we discuss below.
Question: Test Results for Armstrong Sheet Flooring - 70% Asbestos

The resilient flooring shown above was a popular pattern and has been confirmed as containing asbestos. This is an Armstrong brick pattern sheet flooring product.
More images of this floor pattern are at ARMSTRONG BRADFORD BRICK SHEET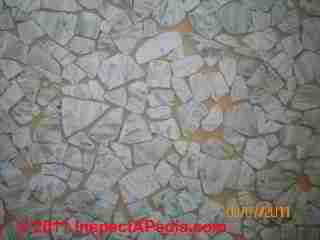 In one of the asbestos pages of your site ( this page - Ed.), your second photo is of a sheet layment. The text about the photo clarifies that the person who sent the photo was confused about Armstrong and Congoleum.
I wanted to let you know that I have that exact same sheet layment and had it tested. It's 70% asbestos. Thought you may want to let readers know so they can save the cost of testing and just deal with the issue accordingly.
I appreciate your site. Thank you for taking the time to put together all the information. - D.H. 10/11/2012
Reply:
Thank you so much D.H. for the floor covering test result confirming asbestos content in this material.
We a welcome critique, questions, or content suggestions for our web articles, and as your feedback illustrates, working together and exchanging information makes us better informed than any individual can be working alone.
Also see Old Pebble-pattern Floor tile for discussion of a similar product image.
Watch out: confusion among sheet flooring names and terms can make it difficult to sort out which products contain asbestos.
For example we've read websites claiming that "in 1980 asbestos in linoleum was already banned" but in fact true linoleum, a type of sheet flooring discussed at LINOLEUM & SHEET FLOORING is not and never was an asbestos-containing product.
The confusion stems from the use of the word "linoleum" as a generic term for "sheet flooring". Linoleum does not contain asbestos.
But many sheet flooring products do contain asbestos in a white or light colored core or in a black asphalt-impregnated felt backer.
Some readers have reported that their test of 1980-era Armstrong Solarian sheet flooring contained asbestos. Without confirming that the floor was properly identified and without seeing the lab report such reports may be true and accurate but still they're anecdotal.
Congoleum Sheet Flooring Identification & Brand Markings
Details about identifying Congoleum and its properties are in this separate article: CONGOLEUM-NAIRN FLOOR TILES & LINOLEUM; excerpts and photos of Congoleum "linoleum" rugs are below.
At below left is Congoleum Gold Seal Jackstraw pattern, and below right, Congoleum "Square Dance" sheet linoleum sold in a 9" x 9" tile pattern. Congoleum also marketed linoleum sheet flooring in color flecks or scatter such as their SEQUIN PATTERN [photo of flooring].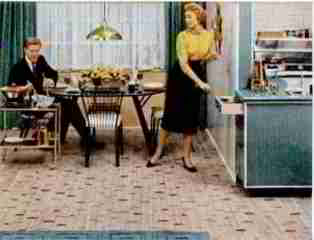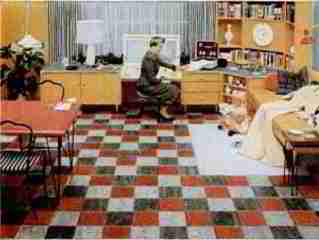 The reader-contributed photographs below illustrate Congoleum's Gold Seal™ linoleum in a braided rug design or pattern. [Click to enlarge any image].
At LINOLEUM & SHEET FLOORING where these photos also appear (though this is not true, classic jute-backed "Linoleum"), we list the ingredients found in linoleum floor coverings.

Identify the Type of Sheet Flooring: Linoleum, Vinyl, Other
This discussion has moved to IDENTIFY SHEET FLOORING TYPE, HOW TO
See LINOLEUM & SHEET FLOORING for a description of linoleum products that do not contain asbestos.
See SHEET FLOORING NON-ASBESTOS EXAMPLES - separate article
For identification guides to all brands of asphalt asbestos, vinyl asbestos, and similar flooring products see FLOOR TILE / SHEET FLOORING PHOTO GUIDES - list of photo guides

To identify unknown floor tile products: at ASBESTOS FLOOR TILE PHOTO ID REQUESTS we include additional photographs of both tile and sheet flooring products submitted by readers with requests for more information.
Examples & Submissions of Pre-1988 Installations of Sheet Flooring & Resilient Flooring that Might Contain Asbestos
We moved this material to VINYL SHEET FLOORING POSSIBLE ASBESTOS - 1920-1988

Finland Sheet Flooring Products that May Contain Asbestos
The discussion of Finland or Finnish flooring that may contain asbestos has moved to FINLAND VINYL SHEET FLOORING POSSIBLE ASBESTOS - separate article.

Swedish Flooring Products that May Contain Asbestos
This discussion has moved to SWEDISH TARKETT FLOORING POSSIBLE ASBESTOS - separate article
Older sheet flooring that Does Not or is Unlikely to Contain Asbestos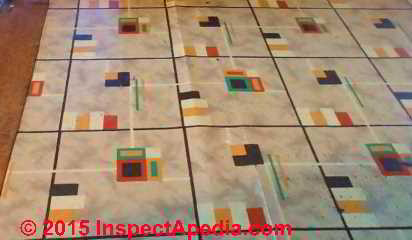 This discussion has moved to SHEET FLOORING NON-ASBESTOS EXAMPLES - separate article
Shown above: traditional linoleum flooring.
Continue reading at SHEET FLOORING INSPECT / TEST or select a topic from closely-related articles below, or see our complete INDEX to RELATED ARTICLES below.
Or see ASBESTOS SHEET FLOORING ID FAQs Q&A posted originally at this page
Or see ASBESTOS TESTING LAB LIST
Or see this
Article Series Contents
If you are facing a large cost or have other reasons to be concerned about asbestos contamination in the building it would not be costly to have a small sample of the floor tested. The advice at these 3 articles should be helpful.

Suggested citation for this web page
RESILIENT SHEET FLOORING ID GUIDE at InspectApedia.com - online encyclopedia of building & environmental inspection, testing, diagnosis, repair, & problem prevention advice.
Or use the SEARCH BOX found below to Ask a Question or Search InspectApedia
...
Ask a Question or Search InspectApedia
Try the search box just below, or if you prefer, post a question or comment in the Comments box below and we will respond promptly.
Search the InspectApedia website
Technical Reviewers & References
Click to Show or Hide Citations & References
Womble, Charlotte, "EC72-2015 A Resilieint Floor for Every Use, Taste, and Budget", [PDF] North Carolina Agricultural Extension Servcie, Raleighg NC USA, (May 1972), retrieved 2016/06/28 original source: http://digitalcommons.unl.edu/cgi/viewcontent.cgi?article=5436&context=extensionhist
Richa Wilson, Kathleen Snodgrass, "Early 20th-Century Building Materials: Resilient Flooring" [Very large PDF], Richa Wilson, Intermountain Regional Architectural Historian Kathleen Snodgrass, Project Leader, United States Department of Agriculture Forest Service, Technology & Development Program, August 2007, 7300-0773-2322-MTDC. Contact Kathie Snodgrass at MTDC: Tel: 406–329–3922, Email: ksnodgrass@fs.fed.us or Richa Wilson, author; USDA Forest Service, Intermountain Region, 324 25th Street, Ogden, UT 84401. Phone: 801–625–5704; fax: 801–625–5229: e-mail: rwilson@fs.fed.us
Resilient Floor Covering Institute, 401 East Jefferson Street, Suite 102, Rockville, MD 20850, Tel: 301–340–8580, Website: http://www.rfci.com
Books & Articles on Building & Environmental Inspection, Testing, Diagnosis, & Repair
Our recommended books about building & mechanical systems design, inspection, problem diagnosis, and repair, and about indoor environment and IAQ testing, diagnosis, and cleanup are at the InspectAPedia Bookstore. Also see our Book Reviews - InspectAPedia.
...
Publisher InspectApedia.com - Daniel Friedman