How to Identify Resilient Flooring or Sheet Flooring that May Contain Asbestos

RESILIENT SHEET FLOORING ID GUIDE - CONTENTS: aids in identification of older resilient flooring or sheet flooring products that may contain asbestos: how to identify Armstrong, Congoleum, & other asbestos-containing and non-asbestos-containing resilient sheet flooring floor coverings. Asbestos content in rubber-backed flooring products.
POST a QUESTION or READ FAQs about sheet flooring products that might contain asbestos
InspectAPedia tolerates no conflicts of interest. We have no relationship with advertisers, products, or services discussed at this website.
Asbestos-containing sheet flooring or resilient flooring product identification:
This article describes sheet flooring products known to contain significant levels of asbestos. We describe sources of asbestos in older forms of sheet flooring including felt-backed flooring, rubber-backed flooring, and vinyl cushion-backed resilient flooring products. We include research citations on asbestos use in sheet flooring backer materials.
We also include photographs for identification of known asbestos-containing resilient sheet flooring as well as unknown flooring submitted for identification. The article gives safety and asbestos testing advice for sheet flooring products.
Green links show where you are. © Copyright 2015 InspectApedia.com, All Rights Reserved.
How to Identify Armstrong, Congoleum, Linoleum and other Brands of Resilient Flooring or Sheet Flooring that May Contain Asbestos (or not)
Article Series Contents
[Click to enlarge any image]
The sheet flooring shown above and illustrated further just below was identified by a reader in a 1964 home. She found remnants in the bottom of a kitchen cabinet on which was imprinted "Armstrong". The reader asked "Is it linoleum?" A closer look at the product including its backing would be needed. It could be, but this pattern looks more modern to us and is very probably an Armstrong vinyl sheet flooring product. More information about this marble chip pattern sheet flooring is given just below.
Asbestos in Sheet Flooring 1930's - 1980's
At ASBESTOS FLOOR TILE IDENTIFICATION PHOTOS by YEAR we include a reader report of lab testing performed on this flooring and confirming that it contained "70% asbestos". While the reader referred to this as "Armstrong Congoleum sheet flooring", Armstrong and Congoleum are separate individual companies. The flooring shown just above is identified as an Armstrong resilient flooring product.
Armstrong Sheet Flooring Identification & Brand Markings
Below are two more identification photographs of the same flooring contributed later by reader R.B. who shows us the Armstrong® imprint on the reverse side of this product [photo at below right]. This confirmed the flooring brand: Armstrong.
Don't mix up product names. Armstrong is a separate company from Congoleum-Nairn. Both companies produce several types and many patterns of sheet flooring. As we discuss at CONGOLEUM FLOORING HISTORY, Linoleum flooring advertised in 1955, here the Congoleum Gold Seal series, was sold in both sheet and tile forms.
Shown below is very similar but more rectangular marble-chip type sheet flooring contributed by a reader - August 2015.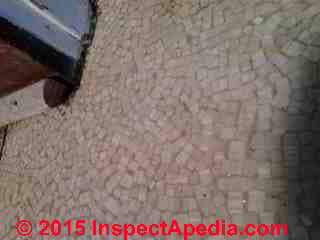 Sorting out types of flooring, sheet vs. tile, and brand names
Armstrong Bradford Brick / Congoleum Red Brick or White Brick Pattern Vinyl Sheet Flooring Asbestos Content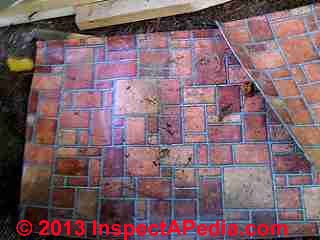 OK so we ran out of space and had to move the details of this topic.
Please see SHEET FLOORING BRICK PATTERN ID (separate article)
If the flooring has what looks like burlap - a jute backing - on its reverse it's probably very old and not an asbestos-containing product.
If it has a smooth, non-fabric backing it may contain asbestos and should be treated as PACM - presumed asbestos containing material. From your photo (above left) this looks like a very-widely used sheet flooring with an impregnated asphalt felt backer - let me know. Some such felt backers included asbestos. As we report below, a reader obtained an asbestos test lab report on a sample of flooring that looks like that above: the lab did not report finding asbestos in that sample.
Don't panic, just don't create a dusty mess by using power tools, saws, grinders;
Watch out that the mastic used to adhere old sheet flooring may also contain asbestos. After trying various solvents on a black mastic years ago I discovered that it was water soluble and came up easily once I let it sit wet for a few hours. Try that.
J.W. Indeed I've found other similar flooring patterns to those in your photo that by date, records, tests, were confirmed as having asbestos in the vinyl backing; it would be prudent to treat the material as presumed-asbestos-containing material. Don't panic; non-friable materials like this can usually be handled with a minimum of dust and debris - provided the floor was not glued down.
The flooring shown at above left, installed in the 1980's did not contain asbestos. Details are at SHEET FLOORING BRICK PATTERN ID

The flooring shown at above right in a white brick pattern (these are tiles not sheet flooring) contained asbestos.
If you are facing a large cost or have other reasons to be concerned about asbestos contamination in the building it would not be costly to have a small sample of the floor tested. The advice at these 3 articles should be helpful.

Older Armstrong-Brand "Rug Pattern" Red-Backed Sheet Flooring Photographs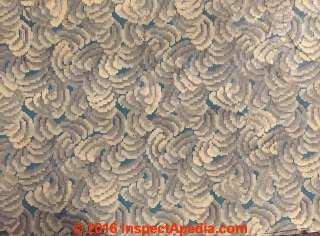 [Click to enlarge any image]
Reader question:

Attached are photos of some tile removed from my basement. I believe the backing says it is Armstrong brand tile. I can't find anything in your database about whether this contains asbestos but I have a small child in the house ... I wanted to check. Any information would be greatly appreciated. - Anonymous by private email 2016/06/21 Jake Barrett jakebarrett78@yahoo.com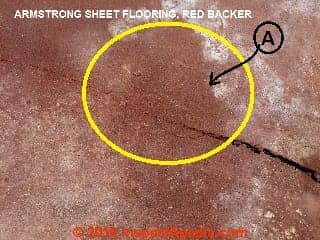 [Click to enlarge any image] and you can just make out the Armstrong A in a circle that we point to with the black A and arrow in the photo above.
Reply:
This flooring may be a rubber-backed product and may contain asbestos. Our research, cited below, confirms that some Armstrong flooring products included an asbestos-containing rubber-backing material. (Whitman 1975 et als). I have also seen older asphalt-backed sheet flooring products in similar designs.
Lab test results for asbestos in the Armstrong red-backed (probably rubber) flooring shown above are pending (June 2016). This floor covering was found in a U.S. home dated ca 1900.
If you avoid making a dusty mess such as by vacuuming with a non-HEPA-rated vac, chopping, grinding, sanding, chances are you're not stirring up measurable dust, asbestos or not.
If you search InspectApedia.com for ASBESTOS FLOORING HAZARD REDUCTION you'll see more suggestions for minimizing risk.
We speculate that this Armstrong rug-pattern red-backed sheet flooring dates from the 1940's. Below: a view of the red-colored back of this floor covering. This may be a rubber-backed sheet flooring product similar to some red-backed Congoleum flooring of the same era.
Research on Asbestos in Armstrong Rubber-containing Flooring Products or Rubber-Backed Flooring
Armstrong World Industries, earlier Armstrong Cork Co., has a long history in the production of an enormous range of types and designs of floor coverings. Armstrong's flooring literature including for its current commercial flooring products and floor cleaning products includes "rubber tile" and stair treads, rubber wall base, as well as "linoleum" in product descriptions. Armstrong points out in the company's current floor maintenance instructions:
It is important to know the type of floor before cleaning. Rubber or linoleum could be confused with vinyl or luxury vinyl tile (LVT) could be confused with wood or laminate. - Armstrong World Industries, "Maintenance Recommendations and Procedures, Commercial Resilient / Hardwood / Laminate", [PDF], Armstrong Corporation, retrieved 2016/06/21, original source: http://www.armstrong.com/assets/commflooringna/literature/downloads/F8663.pdf
Feigley Jr David, A. "Beater saturation of asbestos fibers." U.S. Patent 2,759,813, issued August 21, 1956. Original Assignee: Armstrong Cork Co.
Excerpt:
After the slurry has been treated with the selected polycarboxylic acid or water-soluble salt thereof, a synthetic rubber latex is then added and the mass is slowly agitated. As the slurry is agitated, the rubber content of the latex coagulates and evenly deposits upon the asbestos fibers.
...
A method of rnaking a rubber-bonded asbestos sheet comprising forming a slurry of asbestos fibers in water; adding a cornpound of the group consisting of ...
Lewicki Jr, Walter J. "Mechanically embossed resilient laminar floor material." U.S. Patent 3,953,639, issued April 27, 1976., Original Assignee: Armstrong Cork Company.
Excerpt:
The above plastisol was applied on a coated beater-saturated asbestos sheet having a thickness of 0.303 inch. The plastisol was applied with a reverse roll coater in a wet thickness of 10 mils. The plastisol-coated backing was gelled in a hot-air oven for one minute to an exit temperature of 270° F.
Rainar, Robert J., "Method of making resilient smoothsurfaced floor covering materials." U.S. Patent 2,961,029, issued November 22, 1960. Original Assignee: Armstrong Cork Co.
Excerpt:
The fibers from which the felt is made may be of various kinds. Rag furnish is preferred, but there may also be used asbestos, cotton linters, and other long fibers commonly used in the manufacture of felt as a supporting layer in flooring materials.
...
The filler may include a preponderant portion by volume of fibrous filler such as wood flour, cork particles, asbestos and other mineral fibers, and the like.

Witman, Jack H. "Dimensionally stable, flexible plastic surface coverings." U.S. Patent 3,870,591, issued March 11, 1975. Original Assignee: Armstrong Cork Co.
Excerpt from patent disclosure:
The backing would be one suitable for use as a surface covering, for example, a felt, perferably a rubber-bonded asbestos backing, a vinyl sheet backing, a cellulosic felt or other backing which lendsitself to surface covering applications.
Congoleum Sheet Flooring Identification & Brand Markings
Details about identifying Congoleum and its properties are in this separate article: CONGOLEUM-NAIRN FLOOR TILES & LINOLEUM; excerpts are below.
At below left is Congoleum Gold Seal Jackstraw pattern, and below right, Congoleum "Square Dance" sheet linoleum sold in a 9" x 9" tile pattern. Congoleum also marketed linoleum sheet flooring in color flecks or scatter such as their Sequin Pattern.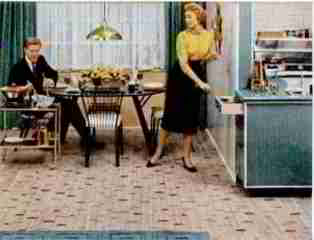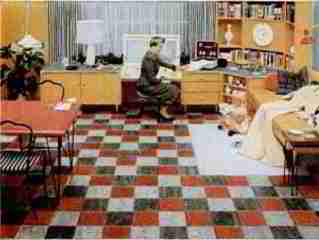 The reader-contributed photographs below illustrate Congoleum's Gold Seal™ linoleum in a braided rug design or pattern. [Click to enlarge any image].

At LINOLEUM & SHEET FLOORING where these photos also appear (though this is not true, classic jute-backed "Linoleum"), we list the ingredients found in linoleum floor coverings.


For identification guides to all brands of asphalt asbestos, vinyl asbestos, and similar flooring products see FLOOR TILE / SHEET FLOORING PHOTO GUIDES - list of photo guides


To identify unknown floor tile products: at ASBESTOS FLOOR TILE PHOTO ID REQUESTS we include additional photographs of both tile and sheet flooring products submitted by readers with requests for more information.

IdentifyThe Type of Sheet Flooring: Linoleum, Vinyl, Other
Check the Sheet Flooring Material to Identify Linoleum or to Check for Sheet Flooring Likely to Contain Asbestos
This topic has been moved to SHEET FLOORING INSPECT / TEST. There we explain that simple visual inspection can often distinguish among linoleum (jute or burlap backed), asphalt saturated felt-backed flooring, vinyl sheet flooring (white or light colored backing), and cork (simple visual appearance). We also describe using odorless paint thinner to detect asphalt-based floor types - an important consideration as some saturated felt flooring backers contained asbestos.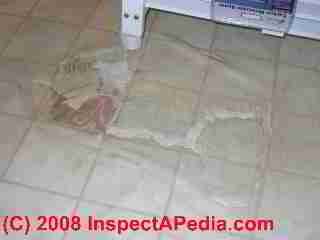 The resilient sheet flooring shown above is a modern product and does not contain asbestos.
But before about 1978, in products that looked like this same material, asbestos fibers were used as a strengthen material on vinyl sheet flooring backing.
Vinyl-Asbestos Sheet Flooring
Known-Asbestos-Containing Vinyl Based Sheet Flooring: Product Photos, both branded and un-known sheet flooring brands.
Asbestos test lab results have been obtained by readers or by InspectApedia.com confirming that the sheet flooring shown in this section contains asbestos.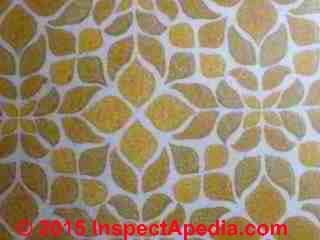 [Click to enlarge any image]
The sheet flooring photograph shown above, provided to us by a reader, was tested for asbestos content. Our reader reports:
The house where this sheet flooring is installed was built in 1966 to 1967. We assume this was the original flooring put down by the previous owner who built the house - we are the second owners of this home. There was no other flooring under or on top of this, and there is no sign of other layers of flooring below it, so I think it's safe to assume they put it down in 1967. There is no way to know brand since its on bottom, and we haven't removed the floor covering.

We did have the linolium tested and it was positive for 15% chrysotile. Just thought you may want to add this for your catalog. As such we will just leave it undisturbed and cover over with hardwood. - Anon, by private email 10/21/2015
Note: Although many people refer loosely to resilient sheet flooring as "linoleum", the sheet flooring above is a vinyl product and is distinct from true linoleum floors. Linoeum floors do not contain asbestos.
See LINOLEUM & SHEET FLOORING for details about that product.
If the vinyl resilient sheet flooring backing material were dry-sanded or scraped during building demolition, for example, or if the sheet flooring is worn through so that foot traffic continues to damage the backing material, it is possible for unsafe levels of asbestos fibers to be released in a building. --EPA Guidance
During demolition or removal, this material should be disturbed as little as possible. Additional demolition, renovation, and installation advice for dealing with resilient sheet flooring materials can be obtained from the Resilient Floor Covering Institute, by obtaining their publication on the topic.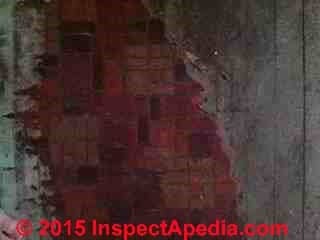 The resilient flooring shown above was a popular pattern and has been confirmed as containing asbestos. This is an Armstrong brick pattern sheet flooring product. More images of this floor pattern are at ARMSTRONG BRADFORD BRICK SHEET
Three Backer Types Used with Vinyl Sheet-Flooring Products
Adding confusion to flooring terminology, sheet vinyl flooring referred to in some product literature and other mateirals as "vinyl flooring" or "sheet vinyl flooring" contained asbestos-containing backers that may have been solid vinyl (sometimes containing asbestos) that is typically white or cream colored, or asphalt-impregnated felt (sometimes containing asbestos) that is virtually always black in color but that may have been coated on its underside with red material, possibly rubber (sometimes containing asbestos).
Vinyl resin-based sheet flooring was produced with these different backing materials and properties:
Properties of Various Sheet Vinyl Flooring Types

Flooring Material
Flooring Properties
Recommended Use
Wear Layer Thickness
(Inches)
Installed Price per Sq.Ft. U.S.A. 1972
Vinyl Resin Sheet Flooring Asbestos Backed, Medium or Heavy Gauge

Excellent quality. Long-wearing. Inlaid design. Highly resistant to grease and alkalies. Easy to keep clean. Resists scratches. Many colors and designs. The thicker the vinyl wear layer thickness the longer the material will be expected to wear. little waxing needed.

[Note: backer contains asbestos - Ed.]

All grade levels 1
0.025 - 0.50 "
$0.55 - 1.40
Vinyl Resin Sheet Flooring Asbestos Cushion Backed

Same quality vinyl resins as above, plus foam cushion for comfort. Easy to stand on, low noise level.

[Note: backer contains asbestos - Ed.]

All grade levels
0.030 - 0.050"
$1.10 - 1.25
Vinyl Resin Flooring Asphalt Felt Backed

Quality vinyl. Medium wear layer thickness. Will last many years with proper care.

[Note: backer may contain asbestos - Ed.]

Suspended 2
0.025"
$0.45 - 0.55
Rotovinyl Sheet Flooring Asbestos Back-cushioned

Durable viny coating. Easy to clean. Resists grease and alkalies. Many colors and design, low cost.

[Note: backer may contain asbestos - Ed.]

All grade levels
Vinyl covering over printed design
$0.55 - 0.65
Rotovinyl Sheet Flooring Asphalt Felt Paper-Backed

Durable viny coating. Easy to clean. Resists grease and alkalies. Many colors and design, low cost.

[Note: backer may contain asbestos - Ed.]

Suspended
$0.45 - 0.55

Notes:

1. Grade level was defined by Womble as the physical location of the floor in relationship to the ground under or around the building. The three grade levels in building construction are suspended (or "above grade"), on-grade, and below grade. An on-grade level floor is at or very slightly above ground level with no ventilated air space below. A below-grade level subfloor is all or partly below ground level and is in direct contact with the ground or with a fill that is in direct contact with the ground. A concrete "slab on grade" is a grade-level subfloor or floor.

2. Suspended floor was defined by Womble as at least 18" above the level of surrounding soil. It may be over a basement or a well-ventilated space. Currently builders refer to this level as "above grade"

Source: excerpted from

Womble, Charlotte, "EC72-2015 A Resilieint Floor for Every Use, Taste, and Budget", [PDF] North Carolina Agricultural Extension Servcie, Raleighg NC USA, (May 1972), retrieved 2016/06/28 original source: http://digitalcommons.unl.edu/cgi/viewcontent.cgi?article=5436&context=extensionhist

This article also describes properties of asphatl tile, vinyl-asbestos tile, and linoleum or "battleship linoleum" (basically a heavy-grade or thicker linoleum product). Details about this older non-asbestos floor covering material are at LINOLEUM & SHEET FLOORING
(Additional vinyl asbestos, linoleum, & other sheet flooring photos wanted - CONTACT US))
Examples & Submissions of Pre-1988 Installations of Sheet Flooring & Resilient Flooring that Contain or Might Contain Asbestos
Identify Older Linoleum Rug Pattern or Black-Asphalt-Backed Sheet Flooring
The flooring above produced on a black substrate (asphalt impregnated felt paper) is asphalt-felt backed linoleum; similar products, typically by Congoleum may have a red or green backing and sometimes a rubber backing that is not an asbestos material.
Watch out: some asphalt-impregnated felt products used in roofing, siding, and flooring contained asbestos.
The sheet flooring shown above in two views was installed in a home in northern Minnesota, dates from the 1960's to 1970's. I would treat this floor as "PACM" - Presumed Asbestos-Containing Material.
The sheet flooring shown above at left was installed in a home in Hyde Park, NY and (we think) dates from the 1970's. This popular pattern was widely used. I would treat this floor as "PACM" - Presumed Asbestos-Containing Material.
At above right a reader opioned that the stone-rectangle sheet flooring dated from the 1970's - a basis for treating the floor as "PACM". To me the floor looked much newer.
Question: Test Results for Armstrong Sheet Flooring - 70% Asbestos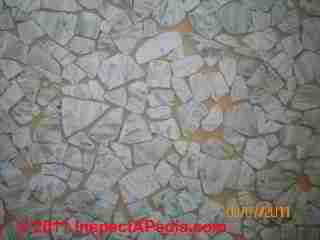 In one of the asbestos pages of your site ( this page - Ed.), your second photo is of a sheet layment. The text about the photo clarifies that the person who sent the photo was confused about Armstrong and Congoleum.
I wanted to let you know that I have that exact same sheet layment and had it tested. It's 70% asbestos. Thought you may want to let readers know so they can save the cost of testing and just deal with the issue accordingly.
I appreciate your site. Thank you for taking the time to put together all the information. - D.H. 10/11/2012
Reply:
Thank you so much D.H. for the floor covering test result confirming asbestos content in this material. We a welcome critique, questions, or content suggestions for our web articles, and as your feedback illustrates, working together and exchanging information makes us better informed than any individual can be working alone.
Also see old pebble-pattern floor tile for a similar product image.
Reader Question: Is this rug-pattern floor covering asbestos tile or sheet flooring Linoleum?
I wanted to seek your advice on the attached images which is some sort of tiling that a previous homeowner put on a work bench as a covering. I looked through your website, but couldn't find a match. Does this look like asbestos tiles to you? If so, any idea on the brand? Thanks in advance! - C.W. 1/17/2014
[Shown in the two photographs above - click to enlarge any image]
Reply: forms of "linoleum" may include products glued to felt underlayment vs. glued to a jute backing
From your photographs showing that the flooring product, now covering a workbench top, has a woven rug -patterned top layer over a black substrate, I would guess that this is an asphalt paper-backed sheet flooring product resembling
LINOLEUM & SHEET FLOORING but not using the traditional or pure linoleum ingredients nor using linoleum's jute fabric backing.
In that article we discuss your photographs in more detail and there we explain that the ingredients of true linoleum include natural resins, linseed oil, color pigments, cork powder and limestone, with a jute backing. Those products do not contain and never contained asbestos. But there, in a more detailed reply to your inquiry, we also explain that some sources, including experts at the US FPL describe felt or asphalt-backed sheet flooring as "linoleum" - products like that shown in your photos. At least some of these older felt underlayments contained asbestos.
Reader Question: Not sure if these contain asbestos or not. Rug pattern sheet flooring with green backing
They are old - the kind that last a long time! The fleck type one was under several layers of flooring in my grandparents home. I think they built it around 1935.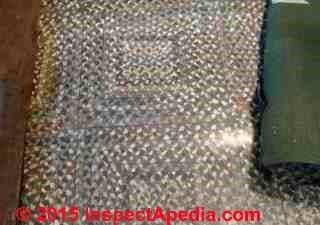 The second one, [shown immediately above] the rug pattern is the one I am most interested in finding out about. The backing is green but I cannot find a makers mark on it. Any idea if that means anything? - Anon [by private email] 23 Aug 2015
Reply:
The photo shown just above looks like a rug pattern linoleum and if the green rolled material in the right of your photo is the same flooring, it is more likely a Congoleum (or less likely Armstrong) sheet flooring product. Some Congoleum sheet flooring included a red or possibly green rubber backing that is not an asbestos material.
Armstrong, Congoleum, Linoleum sheet flooring is also discussed at LINOLEUM & SHEET FLOORING
IF you are faced with a requirement for demolition and if you are uncertain about the flooring's asbestos content and cannot identify it through our guides, then you have a sample tested.
See ASBESTOS TESTING LAB LIST and as it will help other readers, if you have this flooring tested please confirm the lab result with us and send me a copy of the lab report.

Identify Older Armstrong Sheet Flooring that Might Contain Asbestos: check the backing material
Reader Question: does this old Armstrong brand sheet flooring contain asbestos?
Hi - I'm so happy to have found your site. I would so appreciate your help identifying the Armstrong sheet flooring (photos attached) in our 140 year old house.
Weirdly (at least to me), this flooring was laid directly on top of the sub-floor. I do not know why the original hardwood is missing, if in fact it ever existed (our little town has a history of flooding, so perhaps it was damaged and removed). We discovered this flooring when we pulled up the carpet. We were hoping to find the original hardwood, but found this Armstrong sheet flooring over the subfloor instead.
Reply: a quick review distinguishing linoleum from vinyl sheet flooring
Your first two photos show what looks to me like Armstrong sheet vinyl flooring in a woven, fabric, or carpet pattern. The backing of your flooring product (above right) is not jute (a coarse brown fabric) and is not asphalt felt (a black thick paper like product impregnated with asphalt). Rather I see a white or light colored backer. Some white sheet flooring backers contained asbestos.
Indeed adding to the confusion of identifying traditional-formula true linoleum is that many people just call all flexible resilient sheet flooring "linoleum". Armstrong corporation, itself a long-time flooring manufacturer produced floor tiles, self adhesive floor tiles, and sheet flooring that the company identifies as linoleum as well as separate products that are identified as vinyl sheet flooring.
Linoleum: is made from linseed oil, resins, recycled wood flour, cork dust, limestone & mineral pigments. A quick and reliable way to identify linoleum is to observe that the walk-on surface is mounted on jute backing. On the under-side of linoleum you'll see a coarse brown fabric (jute) that looks like what some folks call "burlap".
Details are at LINOLEUM & SHEET FLOORING
Vinyl sheet flooring is made from plastic-like materials. Vinyl is a synthetic resin made of polyvinyl chloride or similar chemical polymers (originating typically as univalent chemical radical CH2CH, derived from ethylene and fabricated into a very large range of products besides flooring, such as vinyl phonograph records, windows, building siding, containers, etc. Details are in this article at VINYL ASBESTOS SHEET FLOORING
In sum, your two photographs of Armstrong sheet flooring shown above include both the clearly-marked Armstrong brand on the flooring underside and a view of the white backing material characteristic of vinyl sheet flooring. The pattern of the exposed surface of the flooring is an older-style that I have not yet found in various product catalogs but one that from appearance I would guess could be more than 30 years old.
Advice for Handling this Flooring
Without knowing anything more about your floor covering, it would be prudent to treat this material as "PACM" or "Presumed Asbestos Containing Material" given its appearance, age, and lack of product specifics. (Sometimes we have success sending a flooring photo to Armstrong for identification.) If we knew when this sheet floor covering had been installed we'd be able to make a good guess about the chances that it contains asbestos - or not. Otherwise a lab test or confirmation from Armstrong would be required.
Typically sheet flooring that has not been glued to a subfloor can be simply rolled-up. You may have to remove edge trim strips to gain access to the material. Where the flooring is damaged you'll want to see the suggested articles below and certainly avoid using a vacuum cleaner unless it's a HEPA-rated unit.
If you were facing a costly dusty messy renovation that means following the dust control and asbestos risk reduction advice from expert sources. See
From your second pair of photos (shown below) the composition of your flooring could be confusing. What I see looks like a pine subfloor over which masonite-type hardboard may have been installed as a smoothing underlayment (to prevent telegraphing the original lines of subfloor up through the sheet floor covering).
Indeed I doubt that your home is missing a hardwood floor. In many homes sheet flooring, at least in many rooms linoleum was installed directly atop the tongue-in-groove pine subfloor.
Reader Question: how to identify resilient sheet flooring - does this resilient flooring contain asbestos? how can I identify its brand or manufacturer? - Tests confirmed Asbestos content for this sheet floor product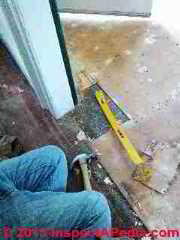 I recently purchased a 180 year old home and found some mystery resilient flooring under two layers of linoleum. We have sent off samples for asbestos testing but I am also interested in figuring out the vintage of floor.
Would you be able to provide your expertise in possibly identifying this product? I have been through your pictures and wonderfully helpful ID guide but just can't seem to make a positive identification, even of brand. We have not yet seen any identifying marks on the product either. I thought at first that it might be an Armstrong spatter
Your help would be much appreciated - I am researching the history of the neighborhood.
Figuring out when the first major kitchen renovation happened in this house would really help to complete some of that research. I'm also just incredibly interested in finding out what it is now that I've done so much research on the history of floor coverings!
If you are willing to help, here are the vital stats:
The product is in sheet form, with a width of of 72.5 inches. It goes the entire length of the kitchen floor (at least 14 feet) so must have been laid from a larger roll.
It has a black paper-like backing and sticky, tar-like adhesive. I have attached pictures.
Thank you very much and best wishes, L. P-F. 8/12/2013
Reply:
The article above as well the following two articles on resilient and sheet flooring
may be helpful to you. I will look through our library and will also publish your photos [above and left] and invite comments from other readers - keeping your identity private unless you ask otherwise.
The flooring in your photo looks like products I've seen dating from the 1970's and later. Some of these contain asbestos in the backer.
Based on the age of the home and the multiple of layers of flooring above the one about which you ask, I would treat the material as PACM (presumed asbestos containing material) until we identify it or you have a lab test result on the flooring's asbestos content.
Lab test results on the above flooring: no asbestos content.
We got our test results back and both the flooring and the backing were negative for asbestos. The results showed the flooring was 45% cellulose material and 55% non-fibrous material. The backing was 90% cellulose and 10% non-fibrous. Does this mean that the flooring is newer than we originally thought?
Probably but not necessarily for sure; certainly there have been some sheet floorings that did not contain asbestos. But from the combination of the lab results and your photo one would think the material is post 1986.
Reader Question: possible asbestos in vinyl sheet flooring from 1977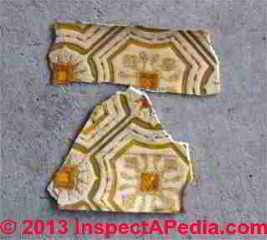 I have a house that was built in 1977 - not the first owner. In late December, one the kitchen wall cabinets fell off the wall causing me to push up remodeling efforts.
The kitchen floor had to come up. It has an initial layer of, I believe, vinyl sheet flooring. A self adhering tile floor was laid over top in 1988 or 1989 my an interim owner. Don't know what it is.
Photo at left: top view of 1977-era sheet vinyl flooring.
There are not markings as to the manufacturer on either (the self sticking tile may have some but getting them removed from the first floor is difficult).
I only had one thought - get the kitchen back to normal quickly. So in preparing for new cabinets, I decided to remove the floor. Not until it was (almost) up - needed to get some adhesive off - did I go to the internet. There I found out about asbestos. A little(?) late.
Included are some pictures of the floor's first layer of vinyl. Is it possible to tell me if it contains asbestos? I don't want to dump the floor inappropriately or subject my friends to "bad" air. - J.N. 1/10/2014
Reply:
J.N. Given the age of the home and its initial vinyl sheet flooring as well as the presence of a light-colored vinyl backing shown in your edge view of this material, it would be reasonable to treat the flooring as PACM - Presumed Asbestos Containing Material. I've posted your photos in case other readers can name the specific decorative pattern while we research the image further. I'm guessing this is an Armstrong vinyl sheet flooring product. The backer has been tested on some of that product line and confirmed as asbestos-containing from flooring of the age you indicate.
At
ARMSTRONG Asphalt-Asbestos & Vinyl-Asbestos Floor Tiles Identification Photos - 1975-1979 
you will see some flooring patterns that are not identical but quite similar to your photographs.

Usually sheet flooring is easily removed intact and is not a source of significant particulate debris as long as it is not ground, sanded, or similarly damaged. But to be extra careful you may want to follow asbestos flooring wetting - removal guidelines and to use a HEPA vacuum for jobsite cleanup. If you were facing a costly renovation or cleanup of a mess someone already made it might be cost-justified to have a certified asbestos testing lab test the material.
The disposal of removed vinyl flooring that may contain asbestos is regulated as asbestos-waste in some jurisdictions while I have found that in others the material is disposed-of as construction debris. Check with your local building department.
Reader Question: sheet flooring identification for possible asbestos content?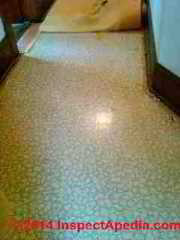 We have a 1910 house that we are renovating. Under the carpet in a hallway is sheet linoleum. It does not exactly match any of your photos. We do not want to pull up a piece, so we don't know what brand it is or what the backing looks like.
Is the flooring in the photo attached an asbestos-containing floor?
[We found this when removing flooring in an older home. We don't want to pull the flooring up so we don't know if it has markings on its back or not. ] - D.M. 7/28/2014
Reply:
I've not see this exact pattern but it's similar to some 1970's patterns that did contain asbestos. It would be prudent to assume the flooring contains asbestos. If you are able to leave it in place and cover it the risk of asbestos release is most likely below the limits of detection. If it must be removed and can be removed in one piece (not glued down) risks are similarly small.
See these InspectApedia articles
ASBESTOS FLOORING HAZARD REDUCTION
and
ASBESTOS FLOORING REMOVAL GUIDE

if flooring removal is needed.
Reader follow-up:
It does resemble the Armstrong pebble pattern on your website. It was glued down at the entrances to the doors but does not seem to be glued all over. An electrician was working in the house and made a hole through the entire floor, which is how we first discovered this flooring under the carpet. Other than that spot and one missing chunk at a doorway, it is completely intact.
We had planned to peel it off using hot water and sand the floors. We have done that with 1980s era vinyl tile, but have not attempted any removal of older flooring.

Swedish Flooring Products That May Contain Asbestos
This discussion has moved to SWEDISH TARKETT FLOORING POSSIBLE ASBESTOS - separate article
Older sheet flooring that Does Not or is Unlikely to Contain Asbestos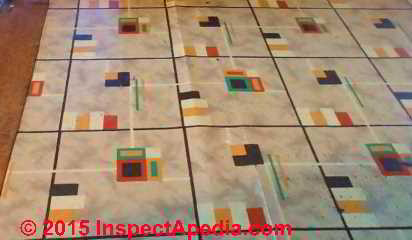 This discussion has moved to
Shown above: traditional linoleum flooring.


Continue reading at SHEET FLOORING INSPECT / TEST or select a topic from the More Reading links or topic ARTICLE INDEX shown below.
Suggested citation for this web page
RESILIENT SHEET FLOORING ID GUIDE at InspectApedia.com - online encyclopedia of building & environmental inspection, testing, diagnosis, repair, & problem prevention advice.
More Reading
Green link

shows where you are in this article series.

OR use the Search Box found below at Ask a Question or Search InspectApedia

...
Frequently Asked Questions (FAQs)
Ask a Question or Search InspectApedia
Use the "Click to Show or Hide FAQs" link just above to see recently-posted questions, comments, replies, try the search box just below, or if you prefer, post a question or comment in the Comments box below and we will respond promptly.
Search the InspectApedia website
Technical Reviewers & References
Publisher's Google+ Page by Daniel Friedman
Click to Show or Hide Citations & References
ID="Citations" CLASS="hidden">
Womble, Charlotte, "EC72-2015 A Resilieint Floor for Every Use, Taste, and Budget", [PDF] North Carolina Agricultural Extension Servcie, Raleighg NC USA, (May 1972), retrieved 2016/06/28 original source: http://digitalcommons.unl.edu/cgi/viewcontent.cgi?article=5436&context=extensionhist
Richa Wilson, Kathleen Snodgrass, "Early 20th-Century Building Materials: Resilient Flooring" [Very large PDF], Richa Wilson, Intermountain Regional Architectural Historian Kathleen Snodgrass, Project Leader, United States Department of Agriculture Forest Service, Technology & Development Program, August 2007, 7300-0773-2322-MTDC. Contact Kathie Snodgrass at MTDC: Tel: 406–329–3922, Email: ksnodgrass@fs.fed.us or Richa Wilson, author; USDA Forest Service, Intermountain Region, 324 25th Street, Ogden, UT 84401. Phone: 801–625–5704; fax: 801–625–5229: e-mail: rwilson@fs.fed.us
Resilient Floor Covering Institute, 401 East Jefferson Street, Suite 102, Rockville, MD 20850, Tel: 301–340–8580, Website: http://www.rfci.com
Books & Articles on Building & Environmental Inspection, Testing, Diagnosis, & Repair