Catalog of Celotex® Insulating & Sheathing products that contain asbestos or that are asbestos-free
InspectAPedia tolerates no conflicts of interest. We have no relationship with advertisers, products, or services discussed at this website.
Asbestos-containing products made by the Celotex corporation.
The following list names and comments on building products such as ceiling tiles and many other Celotex® brand building products & articles listed by some sources as believed to contain asbestos.
This article series assists building buyers, owners or inspectors who need to identify asbestos materials (or probable-asbestos) in buildings by simple visual inspection. We provide photographs and descriptive text of asbestos insulation and other asbestos-containing products to permit identification of definite, probable, or possible asbestos materials in buildings.
Green links show where you are. © Copyright 2017 InspectApedia.com, All Rights Reserved.
Alphabetical list of Celotex™ insulating & other building products believed to contain or not contain asbestos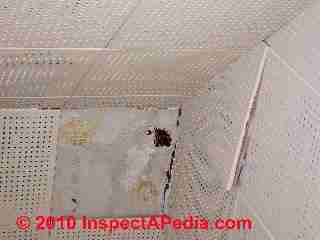 [Click to enlarge any image]
Acoustical Systems & Sound Control Systems [1]

Acoustical ceiling panels. Notes: Asbestos fibers were used in some acoustic asbestos ceiling tiles, often amphibole asbestos such as amosite, crocidolite, anthrophylite, tremolite, and actinolite, with amosite among the most commonly-found. Modern ceiling products do not contain asbestos.
See ASBESTOS CEILING TILES .
Insulating panels.
See ASBESTOS INSULATION.
Celotex Brand ceiling tiles - [Suspended ceiling tiles of the 2'x2' or 2'x4' dimension, and manufactured by Armstrong, Celotex, Conwed, LoTone, and USG and made before the late 1970's are listed by several attorney-sponsored "mesothelioma websites" as often containing asbestos to add fire-resistance.

On that basis, if the age of your ceiling is in that range it would be prudent to treat it as PACM.[9] Confirmation of asbestos content use & dates pending - Ed.]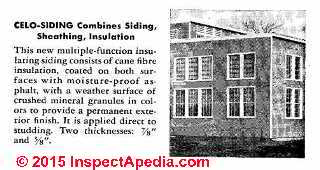 Cane fiber products [Cane products were not an asbestos-containing product, though some may have been manufactured at facilities where asbestos was present - Ed.] Citation [2] at REFERENCES

Celotex sheathing [See Cemesto below]
Celotex insulating lath (board) [this is probably a cellulose fiber insulating board; separately a gypsum based rock-lath was also produced]
Celotex interior finish
Celo-Siding [a cellulose fiber insulating board product]
Details about cane board are at CANEBOARD PANELS
Below: photo of Celotex cane-board insulating sheathing along with packabge labeling, provided by an InspectApedia.com reader . [Click to enlarge any image]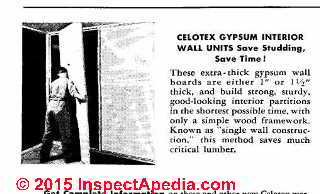 Celo-Rok Gypsum products - gypsum based sheathing boards used on walls & roofs both as finished surface produccts and as a base for plaster application. [some gypsum-based drywall as well as drywall compound may contain asbestos]: Citation [2] at REFERENCES

Celo-Rok anchor lath,
Celo-Rock wallboards,
Celo-Rok plasters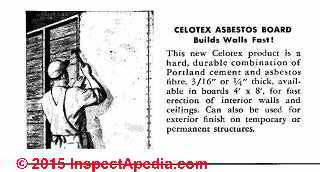 Insulating building panels or "fiberboards - [Fiberboard is generally a wood-fiber productd
See FIBERBOARD SHEATHING, Celotex Homasote & Other , but someproducts listed here include fiber-cement materials, probably due to confusion among attorneys who have erroneously lumped these materials together - Ed. ] Also
see ASBESTOS INSULATION.

Celotex Cemesta products [2] - properly spelled Celotex Cemesto - see the Cemesto advertisement below. At least some Cemesto sheathing boards incorporated a layer of cement-asbestos board for both exterior and interior finish purposes. See the Cemesto advertisement and properties illustrated below.
Thermo-board
Carey Flex Board
Carey Millboard
See ASBESTOS CEMENT MILLBOARD
also
see ASBESTOS CEMENT PRODUCTS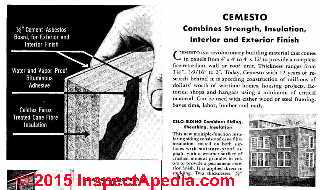 Carey Asbestos Mine Celotex Products: Other Building insulation products including products directly associated with the Celotex-owned Carey Asbestos mine in Canada and containing asbestos include the following:
Carey 7-M Asbestos Shorts
Carey Block Insulation
Carey Cemesto board [appears in some citations as"Carey Cenesto board"]
Carey firefoil board & panels
Careyflex board
Careytemp masonry block insulation and blocks
Carey Industral A/C boards
Carey Insulating Cement
Carey Marine Panels
Carey Stone corrugated sheets used for roofing & siding
Carestone roofing & siding, Careystone wall sheathing & baffles
Carey Thermalite
CareyTemp insulating cement
Carey MW-50 Insulating Cement
Celobric insulating brick siding & Celobric "buff blend textured"
Vitricel asbestos sheets

Building plumbing products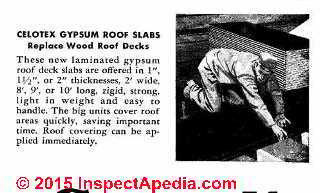 Building roofing products
Building interior products
What is Celotex Insulating Lumber? Did it contain asbestos?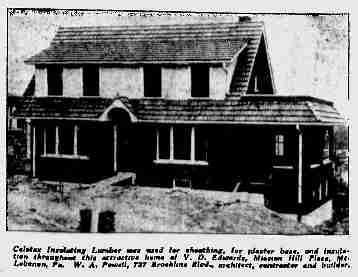 Reader question: I have a home built in 1940 that used a brown fiber board called "Celotex Insulating Lumber" looks like is was designed to be used as sheathing and lath. Made in either Chicago on Louisiana. Anyone familiar with this? Or know if it contained asbestos? - Dan Theisen 1/30/12
Reply:
Dan, Celotex, a Chicago company, has been a producer of a wide variety of insulating sheathing boards for a long time and the company continues to produce modern insulating board products as well.
Our illustration (left) shows Celotex insulating lumber on the exterior of a Lebanon PA home. This insulating board is a wood-fiber product (actually made of bagasse fibers obtained from sugar cane, that is, cellulose) that we document in detail at SHEATHING, FIBERBOARD.
Asbestos was not among the product's ingredients. Only if such products were produced at a manufacturing facility that also produced asbestos-containing products might there have been a risk of cross-contamination that could result in the detection of asbestos in the cellulose-based materials.
Asbestos in Celotex Gypsum Board (drywall) 4X8 panels?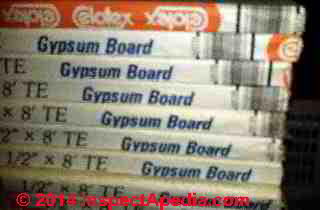 This topic has moved to CELOTEX DRYWALL ASBESTOS where we illustrate Celotex gypsum board products, labels, and where we discuss possible asbestos content in Celotex brand gypsum board.
Also see see DRYWALL ASBESTOS CONTENT
Also see ASBESTOS TESTING LAB LIST if you need to demolish asbestos-suspect drywall or joint-compound or other asbestos-suspect materials.
Question: was asbestos used in Celotex Thermax foam core insulating board sheathing?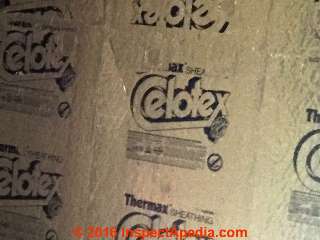 Jason Wojnowiak said:
I have a picture of some Celotex. IMG_5620.JPG
Would you know if this has asbestos?
Reply: some Celotex Thermax™ laminate insulating board products contained asbestos at least in patent disclosures
Jason,
Celotex Thermax™ was (and is currently as a Dow Thermax™ product) a foil-faced insulating board comprised chiefly of foam insulation, laminated with aluminum foil or possibly kraft paper.
Asbestos appeared in some, probably not all, foam insulating boards made up to the early to mid 1980's, particularly or more likely in fire-resistant products that incorporated a layer of asbestos paper.
Looking at photos you sent by email, I think your Thermax sheathing is a later polyisocyaurate foam insulating board reinforced with fiberglass and faced with aluminum foil, though of course an expert inspection of your material might find something different. Please see details about Celotex Thermax and its successor Dow insulating sheathing board, now found
at POLYISOCYANURATE FOAM BOARD
History of the Celotex Corporation: Background on Celotex & Asbestos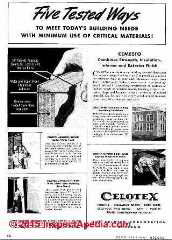 1921: Celotex Corporation Founded in the U.S. with Celotex Company of Great Britain established in the same decade. Importer of bagasse fibergoard used to make a variety of wood-cellulose-based insulating sheathing products.
1938: Celotex assumes control of Certain Teed building products
1943: Celotex wood fiber board and gypsum board products saw increasing use in construction due to the scarcity of building materials during WWII. At Left: advertisement for various Celotex sheathing board products as appearing in Architectural Record, October 1943, p. 16.
1944: in proxy fight R.W. Liazars takes control of CertainTeed from Celotex.
1964: Celotex purchased by Jim Walter & reincorporated as Celotex Corporation of America.
1970: The Celotex Corporation of America introduced an isocyanurate foam ceiling tile [11] (not an asbestos-containing product). By this year, asbestos was widely used as fireproofing in roofs, floors, ceilings.[28]
1986: Celotex-owned Carey Canada Inc., asbestos mine closed.
1989: U.S. Jury award to Marion George in lawsuit concerning her husband who worked as an asbestos insulation contractor/distributor
1990: Celotex bankruptcy filing, 12 October 1990
1996: Celotex Corporation reorganized, 9 December 1996
1997: Celotex Corporation reorganized
1998: Celotex trust fund created ($1.246 million). Claims against Celotex and its asbestos mining subsidiary Carey Canada for asbestos exposure and mesothelioma claims.
1999: US EPA Asbestos Materials Bans: Clarification. This document makes clear that EPA has no existing bans on asbestos-containing products other than items listed in this document: ACM ceiling tiles were not banned. Note: however because of public resistance to purchase or use of ACM products, many manufacturers discontinued of asbestos in various products, particularly after 1976. Check the individual product MSDS for confirmation of its content. - Ed. In this year Great Britain banned the sale or re-use of white asbestos. [26]
2000: BPB PLC of the U.K. purchased the Celotex ceiling and wallboard operations
2000: CertainTeed acquired Celotex Roofing.
2001: Dow Chemical Corporation acquired Celotex's rigid foam insulation business In July 2001. See CELOTEX THERMAX ASBESTOS? for details.
2012: Celotex Corporation continues operations in the U.K. selling foam board (polyisocyanurate foam) insulation.
See ASBESTOS MATERIAL REGULATIONS for a history of asbestos bans, regulations, laws
While an expert lab test using polarized light microscopy may be needed to identify the specific type of asbestos fiber, or to identify the presence of asbestos in air or dust samples, many asbestos-containing building products not only are obvious and easy to recognize, but since there were not other look-alike products that were not asbestos, a visual identification of this material can be virtually a certainty in many cases.
See ASBESTOS FIREPROOFING SPRAY-On Coatings for photos of dangerous tremolite asbestos ceiling panels and photos of spray-on asbestos fireproofing coatings.
Also see CEILING FINISHES INTERIOR
and see ASBESTOS DUCTS, HVAC a field identification guide to visual detection of asbestos in and on heating and cooling system ducts and flue vents.
Also see Micro-Photographs of Dust from the World Trade Center collapse following the 9/1
References & Research on Asbestos in Celotex Products
Bruce, Daniel C., "Composition of matter." U.S. Patent 1,804,245, issued May 5, 1931. The putty described by this invention was comprised of water, flour, borax and glycerine as well as a hydrocarbon such as gasoline or kerosene or benzene to form a preservative soap emulsion.
Abstract:
This invention relates to a composition of matter and it is an object of the invention to provide a composition of a soft putty consistency and which is particularly intended to be used as a filler in connection with the application of commercial wall board manufactured from fibres obtained from cane, asbestos, wood, flax, straw, or other absorbitant fibres such as, and including, the wall 1 board now used and manufactured and known as Celotex, Beaver board, Sheetrock, Best-wall, Masonite, Insolite, Gypsolite, Rockboard, Cornell, or Upson wall board, and other boards made from cane, asbestos, wood, flax, straw, or gypsum. Another object of the invention is to provide a composition of this kind which is particularly intended for use in the filling of joints, covering nail heads and coating the surface of wall board, etc. An additional object of the invention is to provide a composition of this kind which is adapted to produce an invisible joint; to take the place of plaster, coating, or paint; and upon the omission of fibrous matter to produce a liquid composition for sizing walls before the application of paint or wall paper. ...

There is then added one pound of comminuted fibres taken from cane fibre or Celotex wall board fibres obtained from asbestos, wood, straw, or other absorbitant fibres. These fibres are thoroughly mixed with the admixture and kneaded until it forms a putty-like product.

In order to match the Celotex Wall board in color when cane fibres are used, suitable coloring matter soluble in water may be added to the first named admixture to obtain desired tints although ordinarily the composition when dry, owing to the action of the whiting or powdered chalk, causes the fibres to dry light in colorand thus prevent water stain[s].
Celotex, "Cemesto, Five Tested Ways to Meet Today's Building Needs with Minimum Use of Critical Materials", The Celotex Corporation, Chicago, Architectural Record, October 1943 p. 16 [Advertisement] The ad describes several Celotex wallboard and sheathing products including:

Celotex Asbestos Board builds walls fast. This new Celotex product is a hard, durable combin ation of portland cement and asbestos fibre, 3/16" or 1/4" thick, available in boards 4' x 8', for fast erection of interior walls and ceilings. Can also be used for exterior finish on temporary or permanent structures.
Celotex gypsum interior wall units save studding, save time. These extra-thick gypsum wall board are either 1" or 1 1/2" thick, and building strong, sturdy, good-looking interior parttions in the shortest possible time, with only a simple wood framework. Known as "single wall construction" this method saves much critical lumber.
Celotex insulating board sheathing comprised of 1/8" Cement-asbestosboard for exterior and interior finish, a water and vapor proof bituminous adhesive, Celotex Ferox-treated Cane-Fibre Insulation.
Cemesto, Cemesto combines strength, insulation, interior and exterior finish, sold in panels from 4' x 4' to 4' x 12'. "Cemesto is a revolutionary building material that comes in panels from 4' x 4' to 4' x 12' to provide a complete fire-retardant wall or roof unit. Thickness ranges from 1 1/8", 1 9/16" to 2". Today, Cemesto with 12 years of research behind it is speeding construction ofmillions of dollars' worth of wartime homes, housing projects, factories, shops and hangars using a minimum of critical material. Can be sued with either wood or steel framing. Saves time, labor, lulmber and nails.
Celo-Siding combines siding, sheathing, insulation. This new multiple function insulating siding consists of cane fibre insulation, coated on both sides with moisture-proof asphalt, with a weather surface of crushed mineral granules in colors to provide a permanent exterior finish. It is applied direct to studding. Two thicknesses 7/8" and 5/8".
Celotex Gypsum Roof Slabs replace wood roof decks. These new laminated gypsum roo9f deck slabs are offered in 1", 1 1/2" or 2" thicknesses, 2' wide, 8, 9', or 10' long, rigid, strong, light in weight and easy to handle. The big units cover roof areas quickly, saving important time. Roof covering can be applied immediately.

Hipchen, Donald E., Michael J. Skowronski, and Joseph R. Hagan. "Structural laminate and method for making same." U.S. Patent 4,118,533, issued October 3, 1978.
Ohashi, Takashi, Toru Okuyama, Akira Suzuki, and Katsuhiko Arai. "Asbestos-metal surfaced urethane modified polyisocyanurate foam." U.S. Patent 4,292,361, issued September 29, 1981.
Sandberg, Lynn, "Celotex in Upper Michigan", Forestry Division, The Michigan Tech Forester, Forestry Club, Michigan College of Mining and Technology, Houghton MI, Vol XII (1961) pp. 16-17. [No mention of asbestos in this article.]
Excerpt:
For commercial installation, Celotex markets the well known line of Acousti -Celotex acoustical ceiling tile and suspension systems including economical fiberboard tiles, incombustible mineral fiber panels [possibly containing asbestos - ed] and efficient steelbase sound-absorbing tiles. The firm manufactures asphalt shingles, roll roofing and asphalt roofing felts.
Celotex is also a major manufacturer and supplier of Celo-Rok gypsum wall board, sheathing and plaster; mineral wood insulating blankets and Handi-Pak home insulation; insulating siding; decorative interior hardboard panels and exterior hardboard siding; and indus rial fiberboard for a wide range of other applications such as packaging of delicate or irregularly shaped items and as a component of other products.
Tuscaloosa News, 14 June 1944, p. 7, classified ads, Excerpt: " For Sale - Make your own fan, limited lot ... Celotex celling tile board, Celotex insulation board, Celo-rock wall board for walls and celling, plaster, plaster lath. Kern-tone Miracle paint, ... All kinds of building materials. J. Oviatt Bowers Co., Phone 4456 14-3tp"
Also see the REFERENCES of this article for more citations
...
Continue reading at ASBESTOS CEILING TILES, Asbestos-Containing or select a topic from closely-related articles below, or see our complete INDEX to RELATED ARTICLES below.
Or see
ASBESTOS-SUSPECT CEILING COVEROVER
POLYISOCYANURATE FOAM BOARD - more about Celotex and Dow insulating sheathing
Suggested citation for this web page
CELOTEX ASBESTOS PRODUCTS at InspectApedia.com - online encyclopedia of building & environmental inspection, testing, diagnosis, repair, & problem prevention advice.
Or use the SEARCH BOX found below to Ask a Question or Search InspectApedia
...
Frequently Asked Questions (FAQs)
Try the search box below or CONTACT US by email if you cannot find the answer you need at InspectApedia.
Question: Do some Celotex® ceiling tiles contain asbestos?
We bought a house that was built in the 50's - it has what I THINK is a Celotex ceiling (or some copy of Celotex) - it's in horrible shape and needs to be taken down - what are your thoughts on it containing asbestos, considering the age? - Saundra
Reply: Yes. In the article above we provide a list of Celotex® fiber-board, ceiling covering, acoustical, sound control & other products that may contain asbestos
Saundra,
Keep in mind that Celotex and other insulating board panel and ceiling tile and panel manufacturers produced a range of products, many of which may contain asbestos, but others made of organic fibers, wood fibers, cane fibers may not contain asbestos. The Celotex ceiling products division was sold to Certainteed Saint-Gobain beginning in 1999. Certainteed continues to produce and sell both fiberglass and mineral-fiber ceiling products, as well as gypsum based ceiling materials. You may find look-alike products by searching that company's product catalogs.
Modern ceiling products do not contain asbestos. Using Certainteed as an example, [www.certainteed.com] you can obtain an MSDS (Material Data Safety Sheet) for each of the company's products. Common modern ceiling product ingredients include fibrous glass wool, urea formaldehyde resin, and fiberboard products contain slag wool, starch, cellulose [wood fibers], perlite, crystalline silica, and clay. It's worth noting that even modern building products can present health hazards if they are not handled properly. For example crystalline silica can cause nose, throat, and lung irritation. [6]

If you are not sure of the product brand and age of the ceiling covering, and are not sure whether or not the product contains asbestos, and if we accept as a "given" that your ceiling covering needs to be removed, there are two reasonable ways to proceed:
Dampen and remove a small sample of the material (about 1 sq.in.) and send it to a certified asbestos testing lab for identification. Typically the test is inexpensive (less than $100), and the result can close any argument about how to proceed with handling the material.
or
Assume based on age (for example an acoustical ceiling installed before 1973) that the material may contain asbestos and handle its removal accordingly. To be safe, I'd assume that an acoustical ceiling product made before 1981 contains asbestos, and I'd keep in mind that a ceiling installed even in the few years after 1981 could have made use of old stock made before that date.

Follow recommended procedures for wetting, dust control, bagging, personal protection of workers, and disposal. See ASBESTOS REMOVAL, Wetting Guidelines.

For most projects and certainly any area as large as a basement ceiling, we recommend hiring a professional company who knows proper demolition and cleaning procedures. An amateur job of asbestos removal, even if it is legally permitted in your area, risks not only health hazards to the workers, but also the creation of a still more costly cleanup job if proper dust and debris control procedures are not followed.
To elaborate your question about asbestos-containing products made by Celotex, the company produced a wide range of fiber-based insulation products such as insulating boards and panels and the company continues to produce modern (non-asbestos-containing) versions of those products today.
At FIBERBOARD SHEATHING, Celotex Homasote & Other we include identifying photographs of some Celotex products.
Question: is it safe to clean Celotex board ceilings in our 1935 church?
Is it safe to clean the ceiling of our Church which has celotex boards and believed to have been installed in 1935? - Len Taylor 10/25/12
Reply:
"Safe" depends - the greatest hazard of cleaning a church ceiling is falling off of a ladder. I don't know what kind of cleaning you are talking about, nor what the concern was; But if you avoid aggressive cleaning that damages the material and creates fibers and dust, you should be ok. Celotex fiberboard insulating panels are not an asbestos product - as you can read at SHEATHING, FIBERBOARD
Question: Asbestos in paper HVAC duct wrap
(May 24, 2015) Anonymous said:
What kind of asbestos was used in paper duct wrap in 1908? Was it chrysotile or another form?

Reply:
Please see ASBESTOS PAPER DUCT INSULATION and also see ASBESTOS DUCTS, HVAC - where we cite research on these materials as well as advice on action plans when they're present in a building.
Question: asbestos in Louisiana-Made Ceiling Tiles from 1971?
(Aug 5, 2015) Melanie said:
I need to find out if our ceiling tile contains asbestos. They were manufactured in Marrero, LA in 1971. Numbers found on the box are: 32286 and 270. Can you help? Thank you.
Reply:
Check with Louisiana Acoustical & Drywall Materials is a subsidiary of GMS, 2601 Samford Ave Shreveport, LA 71103 318-459-2944 louisianamaterials.com
Question: need to know if Celotex mineral wool contains asbestos
(Nov 9, 2015) homeowner said:
I need to know if Celotex mineral wool contains asbestos. This is loose fiber insulation in walls and attic found in home that was renovated with this product in 1959. There is a package that says "Celotex Mineral Wool,fire retardant" in the home.
Reply:
Mineral wool is not an asbestos product. Only if yours was cross-contaminated might we expect to find asbestos in it.
See inspectapedia.com/insulation/Rock_Wool_Insulation.php for details.

Question: 1940's Celotex ceiling tile board asbestos?
(Jan 30, 2016) jane said:
We are rehabbing a house that has Celotex tile board as the ceiling in the upstairs. I'm guessing it was put up in the early 1940's. I have a box with a label and wondered if you could tell me if they contain asbestos. Type No.91 Joint Es Size 1/2x16"x16" sq. Ft.88.89 No.Pieces 50
Reply:
Jane, please use the page bottom CONTACT link to send some pictures of the box labeling on all sides and the tile bith sides and we can comment further as well as researching further.
Question: Realtor says ceiling panels are made of sugar cane not asbestos
(May 28, 2016) tclark said:
I'm looking at purchasing a home built in 1929. All of the walls and ceilings are finished with panels that our realtor is calling Celotex panels. She states that they are a by product of sugar cane which would not be surprising as the town in which it is located produces sugar cane. I see on this site that this product does not contain asbestos. How can I be sure that this is actually the product that was used vs one of the others that do contain asbestos? Also, how is this material repaired when needed? I can post photos if it will help
Reply:
TClark
Your realtor may or may not be correct as cellulose-based (wood-based) insulating board panels were made from a variety of products, not just sugar cane.
But as you may read in the article above, she is right that some Celotex was made of that material. Or perhaps she was sugar coating the sale for you. Did you ask the realtor how she knew for sure what the material was, who made it and what were its constituents and how she knew that it was made at a plant that was not at risk of asbestos cross-contamination.
To know for certain if a product contains no asbestos, with no more data than your question, you'd have to have a sample tested by a certified asbestos test lab (about $50.) though it may not be justified in this case.
You can use our page top or page bottom CONTACT link to send me photos. The Comment Box software does not yet let readers post photos, though many of us have asked for that feature.
...
Ask a Question or Search InspectApedia
Use the "Click to Show or Hide FAQs" link just above to see recently-posted questions, comments, replies, try the search box just below, or if you prefer, post a question or comment in the Comments box below and we will respond promptly.
Search the InspectApedia website
Technical Reviewers & References
Click to Show or Hide Citations & References
3/07: thanks to Gary Randolph, Ounce of Prevention Home Inspection, LLC Buffalo, NY, for attentive reading and editing suggestions. Mr. Randolph can be reached in Buffalo, NY, at (716) 636-3865 or email: gary@ouncehome.com
06/07: thanks for photographs of transite asbestos heating ducts, courtesy of Thomas Hauswirth, Managing Member of Beacon Fine Home Inspections, LLC and (in 2007) Vice President, Connecticut Association of Home Inspectors Ph. 860-526-3355 Fax 860-526-2942 beaconinspections@sbcglobal.net
[1] Celotex 1973 Celotex Acoustical Systems catalog, January 1973
[2] Celotex Home Building Materials, 1947 catalog, lists: Cane fiber products: Celotex sheathing, Celotex insulating lath (board), Celotex interior finish, Celo-Siding, Celo-Rok Gypsum products [may contain asbestos]: Celo-Rok anchor lath, Celo-Rock wallboards, Celo-Rok plasters, and Other Products: Celotex rock wool, Celotex roofing, Celotex hard boards, Celotex Cemesta, Celotex Corporation, Chicago IL
[3] Celotex Insulating Cane Board, product catalog
[4] Celotex Building Insulating Materials, 1948 Catalog, listing: Cemesto insulation, Cemesto roof decks, Cemesto exterior wall coverings, Cemesto interior wall coverings [we believe the Cemesto lines refer to cement-asbestos products - ed. ]
[5] Celotex Sound Conditioning, 1948 Catalog, including perforated asbestos board sheets
Celotex ceiling products division was purchased by Ceiling Products & Gypsum Wallboard (BPB) of the U.K. beginning in 1999
Celotex roofing products division was purchased by Certainteed Corporation (Valley Forge PA) beginning in 1999
[6] Certainteed Ceilings, Adagio fiberglass/mineral fiber composite acoustical ceiling product MSDS, web search 11/22/2011, original source: certainteed.com/resources/Adagio_MSDS_2010.pdf
[7] "Board of Education for the School District of the City of Detroit v. Celotex, et al., Circuit Court of Wayne County, Michigan, No. 84-429634-ND"
[8] Armstrong Corporation, web search 6/22/12, original source: http://www.armstrong.rs/commclgeu/eu1/uk/rs/FAQ_other.html, [Copy on file as Armstrong_Ceil_Asbestos.pdf]
[9] Lipsitz & Ponterio, LLC, "Carpenters and Mesothelioma", Lipsitz & Ponterio, LLC, 135 Delaware Ave, 5th Floor, Buffalo, NY 14202-2415 (716) 849-0701. Web search 6/22/12, original source: http://www.mesotheliomacarpenter.com/carpenters-asbestos-exposure/ceiling-tile/ [Copy on file as LiIpsitz_Asbestos.pdf]
[10] INACHI forum discussion about asbestos ceiling tiles, web search 6/22/12, original source: http://www.nachi.org/forum/f18/asbestos-ceiling-tiles-14709/ [Copy on file as Inach_Ceil_Asbestos.pdf]
[11] Celotex [UK] History, Celotex Insulation Specialists, web search 6/30/12, original source: http://www.celotex.co.uk/celotex-history [Copy on file as Celotex_History_UK.pdf ]
[12] Wikipedia provided background information about some topics discussed at this website provided this citation is also found in the same article along with a " retrieved on" date. NOTE: because Wikipedia entries are fluid and can be amended in real time, we cite the retrieval date of Wikipedia citations and we do not assert that the information found there is necessarily authoritative. Web search 6/30/12: "Ceiling Tiles"
[13] Brian Greer, "History of Tin Ceilings", Brian Greer's Tin Ceilings, web search 6/30/12, original source: http://www.tinceiling.com/company/historytin.php
[14] Armstrong Corporation, "Corporate History: a Historical Summary", web search 6/30/12, original source: http://www.armstrong.com/corporate/corporate-history.html
[15] "Ceilings Pressed in Time", Old House Journal, web search 6/30/12, original source: http://www.oldhousejournal.com/ceillings_pressed_in_time/magazine/1070
[16] Steven Mlynarek, Morton Corn, Charles Blake, "Asbestos Exposure of Building Maintenance Personnel", Regulatory Toxicology and Pharmacology, 23, 213–224 (1996) ARTICLE NO. 0045, http://library.certh.gr/libfiles/PDF/GEN-PAPYR-4810-ASBESTOS-by-MLYNAREK
-in-RTAP-VOL-23-ISS-3-PP-213-224-Y-1996.pdf
[17] National Institute of Occupational Safety and Health (NIOSH) (1989). In NIOSH Manual of Analytical Methods (P. M. Eller, Ed.), Method 7400. NIOSH, Washington, DC.
[18] U.S. Environmental Protection Agency (USEPA—Green Book) (1990). In Managing Asbestos in Place: A Building Owners Guide to Operations and Maintenance Programs for Asbestos-Containing
[19] U.S. Department of Labor, Occupational Safety and Health Administration (USDOL) (1994). In Occupational Exposure to Asbestos: Final Rule, FR Vol. 59, No. 153:40964–41162. Materials, Report 2OT-2003. USEPA, Washington, DC.
[20] U.S. Department of Labor, Occupational Safety and Health Administration
(USDOL) (1986). In Occupational Exposure to Asbestos: Tremolite, Anthophyllite, and Actinolite: Final Rule, FR Vol. 51, No. 119:22631–22644.
[21] U.S. Environmental Protection Agency (USEPA) (1990). In Environmental Asbestos Assessment Manual, Superfund Method for the Determination of Asbestos in Ambient Air, Part 2, Technical Background Document, Report EPA/540/2-90/005 b. USEPA, Washington, DC
[22] Ceiling - Frequently Asked Questions, Armstrong Corporation, web search 6/30/12, original source: http://www.armstrong.com/resclgam/na/ceilings/en/us/article17697.html
[23] BPB America Inc., 5301 West Cypress St., Suite 300, Tampa, FL 33607, Tel: 866-427-2872 E-mail: crc@bpb-na.com Web: www.bpb-na.com. Acoustic ceiling tile & accessories.
[24] Affa Tile Company No. 1116/8, Poonamalee High Road, Opposite Hotel Shan Royal, Koyambedu Chennai, Tamil Nadu - 600 107, India, E-Mail: affatiles@gmail.com website: http://www.affatiles.com Tel:044-24757498, 044 - 24757497
[25] Made-in-China.com, online sevice to connect buyers with product suppliers in China, web search 6/30/12
[26] "Directive 2003/18/EC of the European Parliament and of the Council of 27 March 2003 amending Council Directive 83/477/EEC on the protection of workers from the risks related to exposure to asbestos at work". Publications Office of the European Union. 27 March 2003 Web search 6/30/12, original source: http://eur-lex.europa.eu/LexUriServ/LexUriServ.do?uri=CELEX:32003L0018:EN:NOT,
[27] H. M. Murray, testimony before the Departmental Committee on Compensation for Industrial Diseases "Minutes of Evidence, Appendices and Index", 1907. p. 127
[28] D. Auribault, "Note sur l'Hygiène et la Sécurité des Ouvriers dans les Filatures et Tissages d'Amianté (On hygiene and security of the workers in the spinning and weaving of asbestos)" in Le Bulletin de l'Inspection du Travail, 1906, pp 120–132.

[29] Wikipedia entry on Asbestos and various citations from that article, web search 6/30/12, original source: en.wikipedia.org "Asbestos"
Asbestos Identification and Testing References

Asbestos Identification, Walter C.McCrone, McCrone Research Institute, Chicago, IL.1987 ISBN 0-904962-11-3. Dr. McCrone literally "wrote the book" on asbestos identification procedures which formed the basis for current work by asbestos identification laboratories.
Stanton, .F., et al., National Bureau of Standards Special Publication 506: 143-151
Pott, F., Staub-Reinhalf Luft 38, 486-490 (1978) cited by McCrone

Asbestos NESHAP Adequately Wet Guidance, EPA340/1-90-019, December 1990, U.S. ENVIRONMENTAL PROTECTION AGENCY, Office of Air Quality Planning and Standards, Stationary Source Compliance Division, Washington, DC 20460,original web source: http://www.epa.gov/region04/air/asbestos/awet.htm
Asbestos products and their history and use in various building materials such as asphalt and vinyl flooring includes discussion which draws on Asbestos, Its Industrial Applications, D.V. Rosato, engineering consultant, Newton, MA, Reinhold Publishing, 1959 Library of Congress Catalog Card No.: 59-12535 (out of print, text and images available at InspectAPedia.com).
"Handling Asbestos-Containing roofing material - an update", Carl Good, NRCA Associate Executive Director, Professional Roofing, February 1992, p. 38-43
EPA Guidance for Controlling Asbestos-Containing Materials in buildings, NIAST, National Institute on Abatement Sciences & Technology, [republishing EPA public documents] 1985 ed., Exposure Evaluation Division, Office of Toxic Substances, Office of Pesticides and Toxic Substances, U.S. Environmental Protection Agency, Washington,D.C. 20460
Books & Articles on Building & Environmental Inspection, Testing, Diagnosis, & Repair