Asbestos Used in Organs, Pianos & Piano Parts
When and in what forms was asbestos used in pianos, organs, and similar instruments?
POST a QUESTION or READ FAQs about what building products and common in-building products, appliances, mechanical components were produced using asbestos materials
InspectAPedia tolerates no conflicts of interest. We have no relationship with advertisers, products, or services discussed at this website.
Asbestos found in some piano and organ components:
This article describes the common forms in which asbestos was used in pianos, player pianos, and organs. The article lists common uses of asbestos in these musical instruments and gives the brands and dates of manufacture of asbestos-containing pianos using Starr pianos as a key example. Asbestos was used in some piano padding and may have appeared in several other forms such as fiber cement asbestos millboard in instruments built for use in humid climates.
We also provide a MASTER INDEX to this topic, or you can try the page top or bottom SEARCH BOX as a quick way to find information you need.
Asbestos Used In Pianos & Piano Parts & in Organs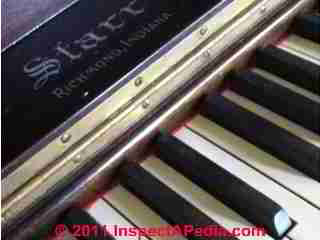 Reader Question: Did the Starr Piano company use any asbestos in any part / parts in there Star Remington Model?
Reply: Here are some example photos of standard, non-asbestos piano materials found in Starr pianos as well as advice on where to look for asbestos products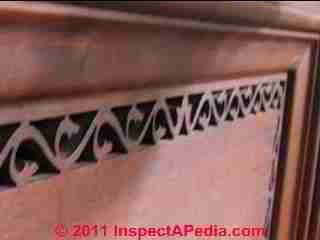 Thank you for the interesting Asbestos question about pianos. Certainly where asbestos is a general concern, an inspection onsite by an expert will provide far more assurance about asbestos risks than we can provide by web discussion.
[Click to enlarge any image] That said:
Asbestos was used in some piano padding. I have not found a referral to asbestos specifically used within pianos themselves. However it wouldn't surprise me if pianos made for humid climates didn't use asbestos millboard for some component parts.
According to our research, The Starr Piano Company was established in Richmond, Indiana in 1872. The pianos were manufactured and distributed under the labels of Cumberland, Duchess, Gennett, Krell, Minum, Tayser, Royal, Pullman, Remington, Richmond, Coronado, Schmoller & Mueller and Starr Pianos.
Some Starr piano owners and references refer to these labels as "models" of the Star piano line.
While asbestos was widely used in many products at that time, the Cumberland photos we've seen, at least of piano exterior, use the expected wood case and hard white and black keys that may be ivory and ebony or celluloid, typically glued over wood.
Some Places to Look for Asbestos Material in a Piano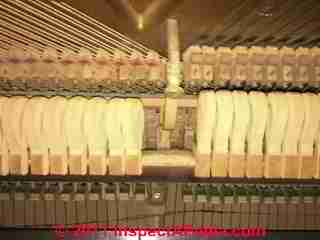 Piano key hammer felt: The white piano key hammers (photo at left of a Starr piano interior) could have been made of asbestos as that product was listed by Rosato. Key hammer felt in most pianos is more typically organic fibers. See Rosato's reference at REFERENCES. Note that most piano key felts are and were fabricated from wool.
Piano key hammer damper felt or cloth: the damper felt used under or behind piano keys may have contained asbestos, as cited above.
Cement asbestos millboard: Does your Starr Remington model piano include the lighted music well unique to the Starr piano line? Without having found details about the construction of the light well, I pose that a manufacturer might have used cement asbestos millboard as a light well liner for fire safety.
Dampness controls in pianos: including cement asbestos millboard components used for the construction of pianos intended to survive in damp envronments and dampness removing systems in pianos such as "Hydroceel" tubes. (Den Boer 1973 cited below).
Also see CEMENT ASBESTOS SHEET PRODUCTS
Insulation used in some pianos included vermiculite. Depending on where the vermiculite was mined it may contain asbestos. See VERMICULITE INSULATION
Light wells & light wiring: You'd want to look inside an antique piano for any questionable material such as asbestos millboard such as hidden structural components in a piano made for humid climates or around electrical components - look at the surrounding material used in the luminous music well if your Starr piano has that feature.
Because theatre wiring often used asbestos insulating jackets and because the light wiring on a piano light well might be subject to high temperature, that's another place to look.
Music racks on pianos: some piano music racks included asbestos in the 1940's, and other music racks that included lighting may include asbestos in electrical wiring insulation or heat shields. (McKenzie 1911 & Janssen 1942)
Player piano parts, incuding the piano suction turbine, discs, and other parts (Cushing 1964). Asbestos is cited as a component in the suction pump assembly of [presumably] some player piano brands and models. (Kinsler 2002)
If you have specific materials in mind from your piano then, can you send me [CONTACT] some sharp photos of the whole piano, its identifying marks/labels including inside the unit, photos of the parts in question. I can thus advise you about further sampling and testing as well as considering the question about whether or not testing is warranted.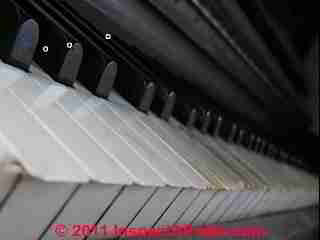 Do not disturb asbestos unnecessarily: Finally, as with many asbestos-containing materials, especially non-friable materials like asbestos cement millboard, the more significant asbestos hazard would arise if you were demolishing or grinding or cutting the material. Leaving it alone or coating it in place are usually advised.
References for Star Pianos and Star Piano photos
Web search 08/13/2011, sources:
www.waynet.org/facts/starr-piano.htm
www.bluebookofpianos.com/agess.htm#STARR and cgi.ebay.com/Starr-Piano-Company-Rare-Vintage-Upright-Piano-1926-/270784146638? pt=Keyboards_MIDI&hash=item3f0bfe2cce - where a photo series showed only conventional piano materials at both the piano exterior and interior
www.sellmypiano.com/uprights.aspx/509 who provided some photos of a Cumberland model Star piano from 1909-1910 vintage.
Reader Question: asbestos in 1920's Janssen Piano?
I am restoring an old Janssen piano circa 1920. I was reading your article on Asbestos in Pianos and wondering if you would please tell me if my piano may have asbestos? - Anonymous, by private email 2016/05/21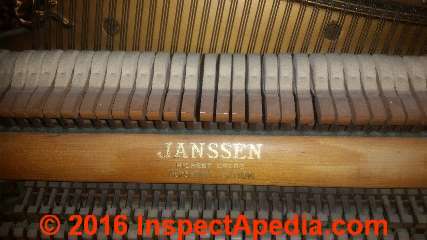 Reply:
I can't know just from your e-text. The article above lists some of the ways asbestos may have been used in pianos.
Asbestos was widely used in many brands of Pianos and may not have stopped in most countries until the late 1970's in North America or as late as the 1990's in the U.K. and some other countries.
However some piano manufacturers indicate that their pianos never contained asbestos.
If you can, send me some sharp photos of the piano and of asbestos suspect parts, I can comment further, and course know for sure you have to obtain a lab test. [Done, above].
Piano Manufacturers Who Did Not Use Asbestos
Yamaha Pianos [citation needed]
Piano Manufacturers Known to Have Used Asbestos in Piano Parts
Baldwin Pianos may have contained asbestos, as the Baldwin Piano factory in Cincinnati Ohio is listed among workplaces posing a hazard of jobsite asbestos exposure.
Bentley [citation needed]
Emmery [Uncertain, citation needed]
Kemble [citation needed] upright pianos
Research Citations: Asbestos Use in Piano Construction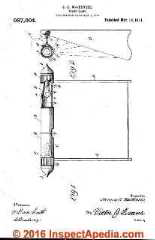 Shown: the McKenzie piano lamp that preferred use of asbestos for heat shielding.
[Click to enlarge any image]
Ahmed, A. Karim, Donald F. Macleod, and James Carmody. "Control for Asbestos." Environment: Science and Policy for Sustainable Development 14, no. 10 (1972): 16-28. cites the use of asbestos in "piano padding".
Archer, S. R., and T. R. Blackwood. Status assessment of toxic chemicals: asbestos. Vol. 1. Environmental Protection Agency, Office of Research and Development, Industrial Environmental Research Laboratory, 1979. In this text, table 4. U.S. Asbestos Uses (3) cites asbestos papers, felts, and millboard: Piano Padding
Cushing, William J. "Player piano system with replay and cut-off features." U.S. Patent 3,117,481, issued January 14, 1964.
Excerpt: It is further intended that the pouches be approximately one and one-half inches in diameter and made of imported pouch leather with an asbestos disk as 27 preferably being cemented to the center thereof.
Den Boer, J. "Device for regulating the humidity of the air in a musical instrument." U.S. Patent 3,719,033, issued March 6, 1973.
Abstract: A device for regulating the humidity of the air in a piano, comprising a container with apertures, filled with a moisture absorbing material, said material being a mixture of diatomaceous earth, asbestos powder and viscose sponge and being saturated with water by immersing the container in water, whereafter the container is mounted in the piano. The apertures are characterized by the presence of two larger openings connected by a slot of capillary size.
Dohner, V. Alton, Robert G. Beegle, and Walter T. Miller. "Asbestos Exposure and Multiple Primary Tumors 1, 2." American Review of Respiratory Disease 112, no. 2 (1975): 181-199. cites piano padding as an abestos source;
Goldberg, Persky, White P.C., "Baldwin Piano, Asbestos Exposure & Work History", [website], retrieved 2016/06/20, original source: http://www.gpwlaw.com/mesothelioma/mesothelioma-states/OH/cincinnati/2456/baldwin-piano/ Excerpt describing evidence of asbestos exposure:
Blueprints, diagrams, invoices from asbestos product manufacturers, revealing company memos demonstrating their knowledge of the risks, asbestos product packaging through the years, depositions from leading experts, depositions of other asbestos victims throughout Ohio and medical and scientific literature dating from the late 1800s to the current day.
Janssen, Webster E., "Illuminated music rack." U.S. Patent 2,282,135, issued May 5, 1942. Excerpt:
... The glass strip rear rabbet 44 of cross wall 31. I V V The light of the bulb 39 is additionally thrown upwardly and rearwardly by abent metaljre- 42 is -shownas also resting on a the ornamental front 45 of the 'flectorj46; forming about a semi-circle around its bottom and front. r To keep the heat of the bulb 39 away from the key levers and finely finished fall board i3, the cross board 41 above the fallboard |3is shown with its top covered by an asbestos mat 48.
Janssen, Thomas B., "Musical instrument illuminating system." U.S. Patent 3,079,491, issued February 26, 1963. [This patent does NOT cite use of asbestos]
Kinsler, Mark, "Asbestos in Player Piano Suction Turbine", [web article in PDF form] retrieved 2016/06/20, original source: http://www.mmdigest.com/Archives/Digests/200212/2002.12.01.07.html
Note: the author opines that concerns about asbestos hazards are "mostly bogus".
Mackenzie, James G. "Piano-lamp." U.S. Patent 987,004, issued March 14, 1911.
Excerpt: The body A is preferibly-lined with asbestos or equivalent material whieh being white serves as a light diffuser and also prevents excessive heating of the body
"16 CFR Chapter 11, Consumer Products Containin Asbestos, Advance Notice of Proposed Rulemaking", [PDF] U.S. Consumer Products Safety Commission, CPSC, U.S. Federal Register, Vol. 44. No 201, 17 October 1979, Proposed Rules, 60057. This document cites a long list of consumer products that contained asbestos including under the category of "Felt", Piano and organ felts.
Woodsides, Kenneth T. "A case of pulmonary asbestosis." Journal of Occupational and Environmental Medicine 9, no. 12 (1967): 627-629. cites employment in a piano factory as a source of asbestosis
...
Continue reading at ASBESTOS in GOOD CONDITION or select a topic from closely-related articles below, or see our complete INDEX to RELATED ARTICLES below.
Or see ASBESTOS IDENTIFICATION IN BUILDINGS - home
Suggested citation for this web page
ASBESTOS in PIANOS at InspectApedia.com - online encyclopedia of building & environmental inspection, testing, diagnosis, repair, & problem prevention advice.
Or use the SEARCH BOX found below to Ask a Question or Search InspectApedia
...
Ask a Question or Search InspectApedia
Try the search box just below, or if you prefer, post a question or comment in the Comments box below and we will respond promptly.
Search the InspectApedia website
Technical Reviewers & References
Click to Show or Hide Citations & References
Asbestos, its Industrial Applications, D.V. Roasato, engineering consultant, Newton MA, Reinhold Publishing Co., NY, 1959, Library of Congress Catalog No. 59-12535. We are in process of re-publishing this interesting text. Excerpts & adaptations are found in InspectApedia.com articles on asbestos history, production & visual identification in and on buildings.
Asbestos Asbestos: How to find and recognize asbestos in buildings - visual inspection methods, list of common asbestos-containing materials
Asbestos Asbestos HVAC Ducts and Flues field identification photos and guide
Asbestos Fiberglass: Indoor Air Quality Investigations: Health Concerns About Airborne Fiberglass: Fiberglass in Indoor Air from HVAC ducts, and Building Insulation
Asbestos Enviro-Scare: Electric Power Lines, Electromagnetic Fields, Cancer Risk, & "Enviro-Scare" - The Normal Curve Cycle of Public Fear of Environmental Issues
Asbestos Dust from the World Trade Center collapse following the 9/11/01 attack: the lower floors of this building contained spray-on fire-proofing asbestos materials.
Asbestos Asbestos Information Links: Asbestos Detection, Testing, Recognition, Hazards, Field Photos, and Information Sources, including health-related links such as legal services and information about mesothelioma and other cancers.
"Asbestos in Plastic Compositions", A.B. Cummins, Modern Plastics [un-dated, pre 1952]
"Asbestos in Your Home," Spokane County Air Pollution Control Authority, Spokane WA 509-477-4727 www.scapa.org provides a one-page image, a .pdf file drawing of a house warning of some possible sources of asbestos in the home. The sources are not ranked according to actual risk of releasing hazardous levels of airborne asbestos fibers and the list is useful but incomplete.
Chrysotile [asbestos] and Its Uses, Louis Perron, Minerals and Metals Sector, Canadian Minerals Yearbook, 2002, Natural Resources Canada, web search 03/01/2011, original source: http://www.nrcan-rncan.gc.ca/mms-smm/busi-indu/cmy-amc/content/2002/20.pdf
The US EPA provides a sample list of asbestos containing products epa.gov/earth1r6/6pd/asbestos/asbmatl.htm
Thanks to Susan Kimball, Argus Pacific Corp., Puget Sound, WA, for pointing out that some products are permitted to contain more than 1% asbestos fibers by current standards provided that the fibers are encapsulated in an appropriate binder. Argus Pacific, in Seattle, WA 98119, 206.285.3373, is an industrial hygiene firm who also provide OSHA and DOSH regulated training in Washington State, providing classes in asbestos, lead, mold, hazardous waste, emergency response, and other occupational health, safety, and professional development topics. -- September 2008.
" Work Practice for Window Removal and Window Putty Patching With Less Than Or Equal To 1% Asbestos Window Putty and Caulking" University of Washington, 2002 http://www.washington.edu/admin/asbestos/1putty.html
How do I Manage Asbestos in our House or Apartment Building?, Illinois Department of Environmental Conservation, provides this article at http://www.epa.state.il.us/small-business/asbestos-in-home/
Asbestos in buildings - employee notice, University of Washington dept. of Environmental Safety, http://www.ehs.washington.edu/ohsasbestos/index.shtm
Window putty to be exempted from asbestos removal by State of Maine - http://list.uvm.edu/cgi-bin/wa?A2=SAFETY;wYpdKg;20010307113643-0500A
EPA Region 6 identifies window putty as asbestos containing - http://www.epa.gov/earth1r6/6pd/asbestos/asbmatl.htm
June 1997 - Window Putty - OSHA case cites contractor for asbestos exposure during removal of window putty http://www.osha.gov/pls/oshaweb/owadisp.show_document?p_table=NEWS_RELEASES&p_id=1091
Environmental Health & Investigation Bibliography - our own technical library on indoor air quality inspection, testing, laboratory procedures, forensic microscopy, etc.
ASBESTOS IDENTIFICATION IN BUILDINGS How to find and recognize asbestos in buildings - visual inspection methods, list of common asbestos-containing materials
Asbestos Identification and Testing References

Asbestos Identification, Walter C.McCrone, McCrone Research Institute, Chicago, IL.1987 ISBN 0-904962-11-3. Dr. McCrone literally "wrote the book" on asbestos identification procedures which formed the basis for current work by asbestos identification laboratories.
Stanton, .F., et al., National Bureau of Standards Special Publication 506: 143-151
Pott, F., Staub-Reinhalf Luft 38, 486-490 (1978) cited by McCrone

ASBESTOS IN YOUR HOME U.S. EPA, Exposure Evaluation Division, Office of Toxic Substances, Office of Pesticides and Toxic Substances, U.S. Environmental Protection Agency, Washington,D.C. 20460
Asbestos NESHAP ADEQUATELY WET ASBESTOS GUIDANCE, EPA340/1-90-019, December 1990, U.S. ENVIRONMENTAL PROTECTION AGENCY, Office of Air Quality Planning and Standards, Stationary Source Compliance Division, Washington, DC 20460,original web source: http://www.epa.gov/region04/air/asbestos/awet.htm
Asbestos products and their history and use in various building materials such as asphalt and vinyl flooring includes discussion which draws on ASBESTOS, ITS INDUSTRIAL APPLICATIONS, ROSATO 1959, D.V. Rosato, engineering consultant, Newton, MA, Reinhold Publishing, 1959 Library of Congress Catalog Card No.: 59-12535 (out of print, text and images available at InspectAPedia.com).
Fiberglass: Indoor Air Quality Investigations: Health Concerns About Airborne Fiberglass: Fiberglass in Indoor Air from HVAC ducts, and Building Insulation
Asbestos Information Links: Asbestos Detection, Testing, Recognition, Hazards, Field Photos, and Information Sources, including health-related links such as legal services and information about mesothelioma and other cancers.
"Handling Asbestos-Containing roofing material - an update", Carl Good, NRCA Associate Executive Director, Professional Roofing, February 1992, p. 38-43
EPA Guidance for Controlling Asbestos-Containing Materials in buildings, NIAST, National Institute on Abatement Sciences & Technology, [republishing EPA public documents] 1985 ed., Exposure Evaluation Division, Office of Toxic Substances, Office of Pesticides and Toxic Substances, U.S. Environmental Protection Agency, Washington,D.C. 20460
Books & Articles on Building & Environmental Inspection, Testing, Diagnosis, & Repair
Our recommended books about building & mechanical systems design, inspection, problem diagnosis, and repair, and about indoor environment and IAQ testing, diagnosis, and cleanup are at the InspectAPedia Bookstore. Also see our Book Reviews - InspectAPedia.
...