Asbestos-Free Ceiling Tiles How to recognize or test to demonstrate asbestos free ceiling tiles or panels

InspectAPedia tolerates no conflicts of interest. We have no relationship with advertisers, products, or services discussed at this website.
Asbestos-free ceiling tiles:
How to recognize ceiling tiles by visual inspection to note clear evidence of non-asbestos materials such as fiberglass, and how to confirm that othe ceiling tiles or suspended ceiling panels are asbestos free by a simple lab test. Our page top photo shows an old acoustic ceiling tile that tests showed did not contain asbestos.
This article series assists building buyers, owners or inspectors who need to identify asbestos materials (or probable-asbestos) in buildings by simple visual inspection.
We provide photographs and descriptive text of asbestos insulation and other asbestos-containing products to permit identification of definite, probable, or possible asbestos materials in buildings.
Green links show where you are. © Copyright 2015 InspectApedia.com, All Rights Reserved.
How to Visually Recognize or Test for Ceiling Tiles or Suspended Ceiling Panels that do Not Contain Asbestos
Reader Question: Are These Asbestos Ceiling Tiles?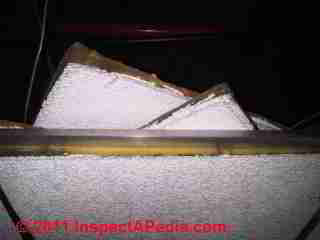 Greetings, I hope you could help us identify if this ceiling material used contains asbestos. Kindly validate. Thank you. [unsigned, sent from Blackberry]
[Click to enlarge any image]
Reply: Unlikely. The ceiling tiles in this photo look like plastic-coated fiberglass suspended ceiling panels
A competent onsite inspection by an expert usually finds additional clues that help accurately diagnose a problem or might find asbestos containing materials that you have not noticed.
That said, - no the material shown in your photo looks like fiberglass panels used in a suspended ceiling; the panels include a white plastic surface that faces down into the room, sometimes the surfaces may have been painted to cover stains.
Do not assume, based on a single item that has caught your eye, that there are no asbestos materials in the building, and of course there could be other environmental or even indoor air quality in the building.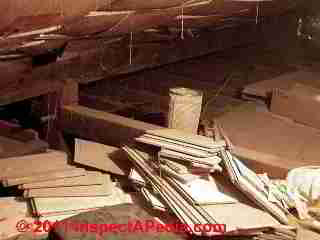 The presence of what looks like thermal tracking stains present on the edges of the fiberglass suspended ceiling panels in your photo and the fact that it looks as if the panels may have been painted could be clues about un-wanted air leakage and possible water leaks from above.
Watch out: normally asbestos-containing materials are not validated nor in-validated based on free emails sent to a stranger. But in this case the contents of the photo above are rather apparent.
At left we show a cache of older 9-inch ceiling tiles found in the attic of an older home.
These ceiling tiles might be an asbestos containing material. We expected to find multiple layers of ceilings in this pre-1900 home, some of which were likely to make use of 1960's era acoustic ceiling tiles like the ones in our photo.
How to Identify Non-Asbestos Acoustic Ceiling Tiles by Lab Test
Photos of acoustic ceiling tiles tested, found not to contain asbestos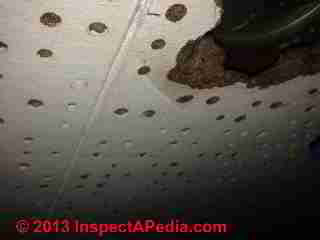 Reader comment: I live in a house built in 1954. I am worried that some of the materials in one room may contain asbestos.
The room in question appears to have been a garage carport that was enclosed a number of years after the home was built.
The ceiling in that room has acoustic tiles that resemble some of the tiles that have been known to have asbestos. I have taken a sample using the wetting methods I found on your site and elsewhere, but I wanted to check with you before I send them off to be tested.
The 12x12 floor tiles in the same room were recently covered with carpet and I never had a chance to take a sample.
The carpet was damaged by an clothing iron and I'm concerned that replacing the section of carpeting may disturb the tiles in question. However, I'd probably just take a sample once that work was done so I guess I don't actually have a question concerning that.
I've included pictures of the ceiling. I understand that you are a paid consultant but I'm not sure if this question requires a fee. Thanks for your help! - R.N. 10 Feb 2013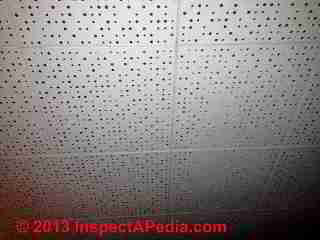 Reply:
Often ceiling tiles that look like the ones in your photos do contain asbestos so your choices are to treat them assuming that they are asbestos containing or if you want to send a sample to a laboratory then you just want to select a certified asbestos testing laboratory.
Most of your ceiling, at least from the two photos, looked as if it were in good condition.
If there were a concern with fiber or dust release from the ceiling I might have suggested a coating or sealant - giving up some of the acoustic properties by painting is not such a big loss on this ceiling; or it may have already been painted. One could tell by looking for paitn deposits in some of the acoustic holes in the tiles.
Certainly if you plan any demolition it makes sense to use appropriate dust control as if the material contained asbestos, not only to be safe (if you've not had testing done), but because high levels of dust can be a respiratory irritant or hazard whether or not there is asbestos present.
Reader Follow-up:
Thank you Mr. Friedman, I'll send my sample to one of those labs on Monday. I appreciate your help.
I just wanted to let you know that I had my ceiling tested and no asbestos was found. The lab was an accredited one so I trust I can assume there test to be accurate.. Thanks for your previous help!
Reply:
Thanks for the follow-up and the photos. As long as your asbstos testing lab was a certified one we can be confident in these interesting results: an indication that not all old acoustic ceiling tiles contained asbestos. Indeed some manufacturers assert that their ceiling products never did.
Reader Question: How do I test Ceiling Tiles for Asbestos?
A hardware store employee told me to use the lead paint test kit on one of the acoustic ceiling tiles. He said that, after all these years (since 1965) it would show positive for lead, if in fact the tiles contain asbestos. Is this true? - Deb.
Reply: visual inspection plus sample collection to send to a certified asbestos testing laboratory
Deb, a lead paint test has nothing to do with and is not capable of detecting asbestos in building products. The hardware store guy who told you to use a lead paint test to screen for asbestos was mistaken.
First make a visual inspection of the ceiling tile or panel. Some products can be positively identified as fiberglass or compact fiberglass - not an asbestos material, as you'll see illustrated in our photos in the next Q&A just below. Also
see ASBESTOS-FREE INSULATION MATERIALS.
Next, contact a local certified asbestos testing lab in your area or use one of the national labs that confirms that they are certified for asbestos testing. The lab can give you specific sample collection instructions. Also
see ASBESTOS REMOVAL, Wetting Guidelines.

Typically the asbestos test makes use of polarized light microscopy, is quick, and is not expensive. The result will tell you if your ceiling product contains asbestos and if so what type of asbestos (hazard levels vary) and at what level.
Watch out: dust from demolition of many building products can be irritating and even harmful regardless of whether or not the material contains asbestos fibers or particles. Good dust control measures can avoid spreading dust throughout the building during material removal or remodeling, and proper personal protection can protect workers as well.
Reader Question: Do These Ceiling Tiles Contain Asbestos - ... Tested = No they don't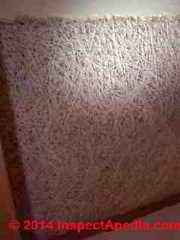 We just bought a home. It was updated extensively/an addition put on sometime in the 60's-70's we think.
And then again in the late 80's-early nineties. We are finding these "tiles" for lack of a better term EVERYWHERE.
From what I am finding online it looks like "wood cement acoustic tile?" We haven't disturbed it significantly yet, although we did begin to remove some wallpaper it is attached to, but then stopped when we found it.
Should this be cause for concern? Our home inspection did not cover asbestos. And we didn't realize this material could be hazardous. We are feeling a little foolish and a lot concerned, as we have two young children also.
Any info you have, or direction you could point us in would be greatly appreciated.
Thanks so much in advance, - A.M. 21 Oct 2014
Reply:
The brown colour looks to me as if this is a wood or cellulose insulating board product. Don't feel too foolish - unless you made a significant dusty mess the chances are that the dust exposure from what you've done so far is below measurement.
If you can remove the material without disturbing it do so. If it needs to be disturbed risking dust, I'd have a sample tested to be sure of its safety: the cost is around $50. U.S. See ASBESTOS TESTING LAB LIST [Link given below] and do keep me posted on results if you have this tested.
Reader Follow-Up:
I am calling a lab in Cincinnati tomorrow morning. I will certainly let you know!
... It was NOT asbestos. - A.M. 11/11/2014
...
Continue reading at ASBESTOS CEILING TILES, Asbestos-Containing or select a topic from the More Reading links or topic ARTICLE INDEX shown below.
Or see

ASBESTOS-SUSPECT CEILING COVEROVER
Suggested citation for this web page
ASBESTOS-FREE CEILING TILES at InspectApedia.com - online encyclopedia of building & environmental inspection, testing, diagnosis, repair, & problem prevention advice.
More Reading
Green link shows where you are in this article series.
OR use the Search Box found below at Ask a Question or Search InspectApedia
...
Frequently Asked Questions (FAQs)
No FAQs have been posted for this page. Try the search box below or CONTACT US by email if you cannot find the answer you need at InspectApedia.
...
Ask a Question or Search InspectApedia
Use the "Click to Show or Hide FAQs" link just above to see recently-posted questions, comments, replies, try the search box just below, or if you prefer, post a question or comment in the Comments box below and we will respond promptly.
Search the InspectApedia website
Technical Reviewers & References
Publisher's Google+ Page by Daniel Friedman
Click to Show or Hide Citations & References
3/07: thanks to Gary Randolph, Ounce of Prevention Home Inspection, LLC Buffalo, NY, for attentive reading and editing suggestions. Mr. Randolph can be reached in Buffalo, NY, at (716) 636-3865 or email: gary@ouncehome.com
06/07: thanks for photographs of transite asbestos heating ducts, courtesy of Thomas Hauswirth, Managing Member of Beacon Fine Home Inspections, LLC and (in 2007) Vice President, Connecticut Association of Home Inspectors Ph. 860-526-3355 Fax 860-526-2942 beaconinspections@sbcglobal.net
[1] Celotex 1973 Celotex Acoustical Systems catalog, January 1973
[2] Celotex Home Building Materials, 1947 catalog, lists: Cane fiber products: Celotex sheathing, Celotex insulating lath (board), Celotex interior finish, Celo-Siding, Celo-Rok Gypsum products [may contain asbestos]: Celo-Rok anchor lath, Celo-Rock wallboards, Celo-Rok plasters, and Other Products: Celotex rock wool, Celotex roofing, Celotex hard boards, Celotex Cemesta, Celotex Corporation, Chicago IL
[3] Celotex Insulating Cane Board, product catalog
[4] Celotex Building Insulating Materials, 1948 Catalog, listing: Cemesto insulation, Cemesto roof decks, Cemesto exterior wall coverings, Cemesto interior wall coverings [we believe the Cemesto lines refer to cement-asbestos products - ed. ]
[5] Celotex Sound Conditioning, 1948 Catalog, including perforated asbestos board sheets
Celotex ceiling products division was purchased by Ceiling Products & Gypsum Wallboard (BPB) of the U.K. beginning in 1999
Celotex roofing products division was purchased by Certainteed Corporation (Valley Forge PA) beginning in 1999
[6] Certainteed Ceilings, Adagio fiberglass/mineral fiber composite acoustical ceiling product MSDS, web search 11/22/2011, original source: certainteed.com/resources/Adagio_MSDS_2010.pdf
[7] "Board of Education for the School District of the City of Detroit v. Celotex, et al., Circuit Court of Wayne County, Michigan, No. 84-429634-ND"
[8] Armstrong Corporation, web search 6/22/12, original source: http://www.armstrong.rs/commclgeu/eu1/uk/rs/FAQ_other.html, [Copy on file as Armstrong_Ceil_Asbestos.pdf]
[9] Lipsitz & Ponterio, LLC, "Carpenters and Mesothelioma", Lipsitz & Ponterio, LLC, 135 Delaware Ave, 5th Floor, Buffalo, NY 14202-2415 (716) 849-0701. Web search 6/22/12, original source: http://www.mesotheliomacarpenter.com/carpenters-asbestos-exposure/ceiling-tile/ [Copy on file as LiIpsitz_Asbestos.pdf]
[10] INACHI forum discussion about asbestos ceiling tiles, web search 6/22/12, original source: http://www.nachi.org/forum/f18/asbestos-ceiling-tiles-14709/ [Copy on file as Inach_Ceil_Asbestos.pdf]
[11] Celotex [UK] History, Celotex Insulation Specialists, web search 6/30/12, original source: http://www.celotex.co.uk/celotex-history [Copy on file as Celotex_History_UK.pdf ]
[12] Wikipedia provided background information about some topics discussed at this website provided this citation is also found in the same article along with a " retrieved on" date. NOTE: because Wikipedia entries are fluid and can be amended in real time, we cite the retrieval date of Wikipedia citations and we do not assert that the information found there is necessarily authoritative. Web search 6/30/12: "Ceiling Tiles"
[13] Brian Greer, "History of Tin Ceilings", Brian Greer's Tin Ceilings, web search 6/30/12, original source: http://www.tinceiling.com/company/historytin.php
[14] Armstrong Corporation, "Corporate History: a Historical Summary", web search 6/30/12, original source: http://www.armstrong.com/corporate/corporate-history.html
[15] "Ceilings Pressed in Time", Old House Journal, web search 6/30/12, original source: http://www.oldhousejournal.com/ceillings_pressed_in_time/magazine/1070
[16] Steven Mlynarek, Morton Corn, Charles Blake, "Asbestos Exposure of Building Maintenance Personnel", Regulatory Toxicology and Pharmacology, 23, 213–224 (1996) ARTICLE NO. 0045, http://library.certh.gr/libfiles/PDF/GEN-PAPYR-4810-ASBESTOS-by-MLYNAREK
-in-RTAP-VOL-23-ISS-3-PP-213-224-Y-1996.pdf
[17] National Institute of Occupational Safety and Health (NIOSH) (1989). In NIOSH Manual of Analytical Methods (P. M. Eller, Ed.), Method 7400. NIOSH, Washington, DC.
[18] U.S. Environmental Protection Agency (USEPA—Green Book) (1990). In Managing Asbestos in Place: A Building Owners Guide to Operations and Maintenance Programs for Asbestos-Containing
[19] U.S. Department of Labor, Occupational Safety and Health Administration (USDOL) (1994). In Occupational Exposure to Asbestos: Final Rule, FR Vol. 59, No. 153:40964–41162. Materials, Report 2OT-2003. USEPA, Washington, DC.
[20] U.S. Department of Labor, Occupational Safety and Health Administration
(USDOL) (1986). In Occupational Exposure to Asbestos: Tremolite, Anthophyllite, and Actinolite: Final Rule, FR Vol. 51, No. 119:22631–22644.
[21] U.S. Environmental Protection Agency (USEPA) (1990). In Environmental Asbestos Assessment Manual, Superfund Method for the Determination of Asbestos in Ambient Air, Part 2, Technical Background Document, Report EPA/540/2-90/005 b. USEPA, Washington, DC
[22] Ceiling - Frequently Asked Questions, Armstrong Corporation, web search 6/30/12, original source: http://www.armstrong.com/resclgam/na/ceilings/en/us/article17697.html
[23] BPB America Inc., 5301 West Cypress St., Suite 300, Tampa, FL 33607, Tel: 866-427-2872 E-mail: crc@bpb-na.com Web: www.bpb-na.com. Acoustic ceiling tile & accessories.
[24] Affa Tile Company No. 1116/8, Poonamalee High Road, Opposite Hotel Shan Royal, Koyambedu Chennai, Tamil Nadu - 600 107, India, E-Mail: affatiles@gmail.com website: http://www.affatiles.com Tel:044-24757498, 044 - 24757497
[25] Made-in-China.com, online sevice to connect buyers with product suppliers in China, web search 6/30/12
[26] "Directive 2003/18/EC of the European Parliament and of the Council of 27 March 2003 amending Council Directive 83/477/EEC on the protection of workers from the risks related to exposure to asbestos at work". Publications Office of the European Union. 27 March 2003 Web search 6/30/12, original source: http://eur-lex.europa.eu/LexUriServ/LexUriServ.do?uri=CELEX:32003L0018:EN:NOT,
[27] H. M. Murray, testimony before the Departmental Committee on Compensation for Industrial Diseases "Minutes of Evidence, Appendices and Index", 1907. p. 127
[28] D. Auribault, "Note sur l'Hygiène et la Sécurité des Ouvriers dans les Filatures et Tissages d'Amianté (On hygiene and security of the workers in the spinning and weaving of asbestos)" in Le Bulletin de l'Inspection du Travail, 1906, pp 120–132.

[29] Wikipedia entry on Asbestos and various citations from that article, web search 6/30/12, original source: en.wikipedia.org "Asbestos"
Asbestos Identification and Testing References

Asbestos Identification, Walter C.McCrone, McCrone Research Institute, Chicago, IL.1987 ISBN 0-904962-11-3. Dr. McCrone literally "wrote the book" on asbestos identification procedures which formed the basis for current work by asbestos identification laboratories.
Stanton, .F., et al., National Bureau of Standards Special Publication 506: 143-151
Pott, F., Staub-Reinhalf Luft 38, 486-490 (1978) cited by McCrone

Asbestos NESHAP Adequately Wet Guidance, EPA340/1-90-019, December 1990, U.S. ENVIRONMENTAL PROTECTION AGENCY, Office of Air Quality Planning and Standards, Stationary Source Compliance Division, Washington, DC 20460,original web source: http://www.epa.gov/region04/air/asbestos/awet.htm
Asbestos products and their history and use in various building materials such as asphalt and vinyl flooring includes discussion which draws on Asbestos, Its Industrial Applications, D.V. Rosato, engineering consultant, Newton, MA, Reinhold Publishing, 1959 Library of Congress Catalog Card No.: 59-12535 (out of print, text and images available at InspectAPedia.com).
"Handling Asbestos-Containing roofing material - an update", Carl Good, NRCA Associate Executive Director, Professional Roofing, February 1992, p. 38-43
EPA Guidance for Controlling Asbestos-Containing Materials in buildings, NIAST, National Institute on Abatement Sciences & Technology, [republishing EPA public documents] 1985 ed., Exposure Evaluation Division, Office of Toxic Substances, Office of Pesticides and Toxic Substances, U.S. Environmental Protection Agency, Washington,D.C. 20460
Books & Articles on Building & Environmental Inspection, Testing, Diagnosis, & Repair