Photos to Identify 1960's Floor Tiles That May Contain Asbestos
Photo Gallery of 1960's Era Flooring ID Requests
POST a QUESTION or READ FAQs about how to identify asbestos-containing flooring materials and what to do when asbestos-containing floor tiles or sheet flooring are found in a building.
InspectAPedia tolerates no conflicts of interest. We have no relationship with advertisers, products, or services discussed at this website.
Photo ID guide to 1960's Asbestos-Containing floor tiles:
This article provides flooring identification requests and represeentative photographs of 1960's floor tiles to help identify flooring that contains asbestos.
This article series includes a photo-gallery of pictures of floor coverings submitted for identification along with comments on findings, recommendations, & asbestos content. Readers can use the page top or bottom CONTACT link to ubmit photos of flooring to get help in identifying floor tiles or sheet flooring that might contain asbestos. Asbestos is safe and legal to remain in homes or public buildings as long as the asbestos materials are in good condition and the asbestos can not be released into the air.
We also provide a MASTER INDEX to this topic, or you can try the page top or bottom SEARCH BOX as a quick way to find information you need.
1960's Floor Tile or Sheet Flooring Identification Requests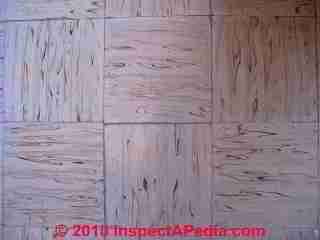 This article contains flooring identification requests for floor tiles or sheet flooring believed to date from the 1960's.
For a 1960's vintage asbestos-containing floor tile photo guide,
please also see 1960-1969 ARMSTRONG EXCELON FLOOR TILE GUIDE: VINYL PLASTIC ASBESTOS, 9" x 9" & beginning in 1960 available in 12" x 12" size

or see our complete list of flooring identification photo guides

at FLOOR TILE / SHEET FLOORING PHOTO GUIDES
Question on reducing asbestos floor tile health risks in a 1967 Spanish vinyl or asphalt floor tile
Asbestos is safe and legal to remain in homes or public buildings as long as the asbestos materials are in good condition and the asbestos can not be released into the air.
I live in Spain, in a house built in 1967, and I'm quite worried because I suspect that the floors of my house may contain asbestos. I have a baby is 9 month old crawling around the house.
In several rooms I have a flaming ground, looking quite similar to many of the photos seen on your site. In some areas has deteriorated and has holes that emit or accumulate dust.
I'm not sure my ground detected on your site, but I send two photos if you are able to recognize or catalog. I really did not even know if it is vinyl or other material, I can not distinguish.
What I know is that tiles are thick (about 3 cm), with a thin layer of material seen (a few millimeters) and then a mortar or something similar.
The tiles measure 25x25cm. I hope you can advise me on the matter, think that contain asbestos? If so, what I can do at home? -- I.B., Spain
Answer:
We have not seen this exact tile pattern before, but from our records it looks a bit like some of the Kentile flooring. Quite possibly it was produced by a European manufacturer and is none of the brands for which we have data.
Our opinion includes the consideration that while foremost it is important to avoid creating an asbestos hazard by improper handling, and while it is usually reasonable to cover over asbestos floor tiles with a new layer of flooring, it is also important that you proceed properly, with local expert advice, so as to avoid creating inappropriate fear on the part of other users of the building.

Question: how to identify Armstrong floor tiles that contain asbestos from 1950 to 1975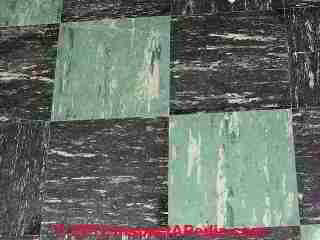 We have some asbestos floor tiles in our basement from the 1950s that I am trying to identify.
Our house was built around 1945 but we don't know for sure when these tiles were installed. I'm guessing anywhere between 1950 and 1975.
I believe them to both be Armstrong — from your site, I have determined that one is "Osage Green 780" but I can't figure out the black. I thought it was "Comanche Black 772" but it also has green in it.
Please see the below photo and let me know which brand, color and number you think these tiles are.
I can't afford to get these professionally tested for asbestos and am hoping you can help me identify them per your extensive documentation. - Anon
Reply:
In my OPINION there is no need to test these tiles, as the tiles in your photos are almost certainly from the Armstrong product series you've already identified.
I'll add your photo to the online examples, as I don't think ever published the green on black series asphalt asbestos floor tile series.
Reader Follow-up:
The reason I'm concerned about these tiles is that my daughters have been practicing irish dance in our basement for the past 6 months in their hard shoes (like tap shoes but wooden on the bottom instead of metal) and the tiles got pretty scuffed up from their dancing. I hate to admit this but it took me a while for it to hit me that the tiles were probably asbestos.
From your experience, how much should I worry about asbestos dust that may have been released into our lungs and home from these tiles? We have since laid self-stick vinyl tiles over the top of all the scuffed ones, but I'm still worrying about what damage has been done to our health. Do you have any thoughts/opinions? I would appreciate it.
Reply:
In my opinion, the chances are the quantity of asbestos removed and airborne from your kids dancing an Irish jig on the floor was below the ability to detect, especially considering that the tiles were most likely coated with floor wax.
What releases problem levels of fibers and particles from asbestos floor tiles is more likely demolition, sanding, grinding, or potentially, buffing with a power buffer that uses a steel scrubber attachment. If you need to make certain what has gone on you'll need to hire an expert to collect settled dust samples, not just air samples.
See ASBESTOS FLOORING HAZARD REDUCTION for suggestions.
Question: Can you identify this 1963 floor tile and tell me if it contains asbestos?
Thank you for providing a useful site about asbestos tile. Can you identify the tile I have and if it has asbestos in it? I did not see the exact picture on your site. Any assistance is greatly appreciated.
The house was built in 1963. The tiles are 12"x12" and are approximately 1.6 mm in thickness. The last picture shows the back of the tile. Regards, G.K., Cleveland OH
Reply: It's reasonable to presume that vinyl or asphalt floor tiles from the 1960's contain asbestos; only a certified lab can accurately state the actual asbestos content however.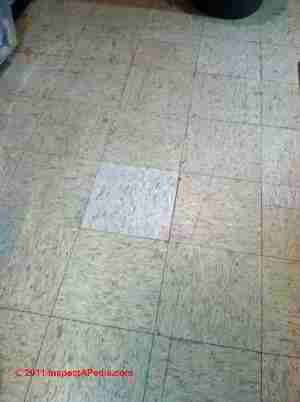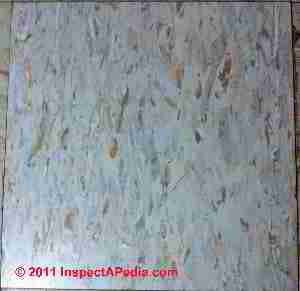 We are not certain of the manufacturer of the tiles shown above, and we publish them here to invite feedback from other readers. And of course only a certified asbestos test lab can say with certainty the tile asbestos composition.
But based on the floor tile age and pattern, it's reasonable to presume that these tiles contain asbestos fibers and filler.
The particle shape or pattern in your floor tiles is similar to the Armstrong floor tile Imperial pattern from 1963

see ARMSTRONG FLOOR TILES and scroll down to 1963). But the colors in your floor tiles (above left) resemble some hues found

in Kentiles (KENTILE KENFLEX ASBESTOS FLOOR TILE GUIDE
And while 9x9 floor tiles were common in the 50's and 60's there were indeed 12x12 floor tiles being produced and installed when your home was built.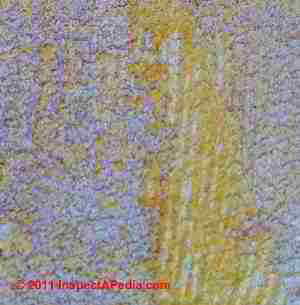 We think that the hues in your tiles, even though the pattern is different, point in that direction.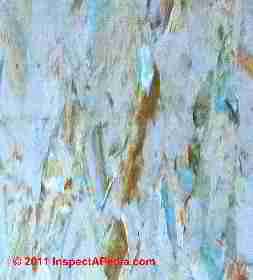 I can't make out much from the photo of the back surface of a floor tile (above right) though on some tiles we may find text or numbers that help trace the floor's origin.
Also compare your tile pattern to those shown at our article on Wards floor tiles

at MONTGOMERY WARD ASBESTOS FLOOR TILE IDENTIFICATION as the color pattern is similar to some Wards flooring.
Question: does this floor tile from a house built in 1963 contain asbestos?
I did not see this tile in the photo displays but I am sure it is old. The house was built in 1963. Any advice?
Photos attached. I will gladly cover but the two surfaces are not level so one will need to be disturbed to fix it. Thank you for any information you may be able to share. Much appreciated. First time home buyer. - F.A. 8/21/2013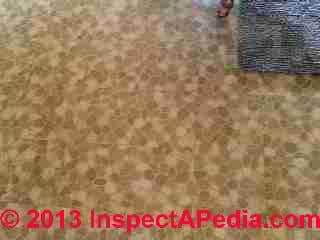 ...
Reply:
The photos are a bit blurry (I did some sharpening in our lab) - so I'm not sure if we can match to an existing file photo or not.

If you look through Armstrong tile photos of the era of your house's construction
1960 - 1969 Armstrong Excelon Floor Vinyl Plastic Asbestos Floor Tiles, 9" x 9" & beginning in 1960 available in 12" x 12" size

you'll see some similar but not matching patterns such as the Coda Bisque design or Nice Gold design.
I'd also look at KENTILE KENFLEX ASBESTOS FLOOR TILE GUIDE - whose Carnival pattern suggests your flooring as well.

Unless tests are performed (usually not necessary) and results indicate otherwise, I would treat this flooring as PACM presumed asbestos containing material and handle it accordingly.
We ask readers to let us know if you test the flooring and what you learn (a single asbestos test is not expensive, about $50. U.S.) - what we learn will help others.
Question: Can You Help Identify This Floor Tile from the late 1960's?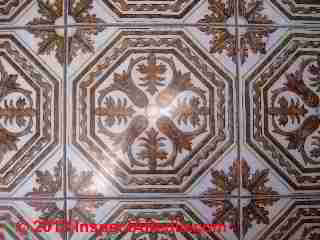 The attached photo shows some 12"x12" tile from a locker room (building built 1927, locker room renovated 1954-55).
Sections of the floor have been severely discolored by leaking steam pipes under the floor and the whole floor is probably going to be replaced. 
Would you be able to help point us in the right direction to help determine the original manufacturer of this tile?  The tiles are about 1/8" thick with beveled edges and don't show any kind of marking on the underside.  We're also not sure if it's vinyl asbestos tile or linoleum.
Any help you could provide would be much appreciated.
- M.O. 4/10/2013
Reply:
Linoleum is a separate product, sheet flooring, not tile.
I don't recognize this specific design, but it's detail suggest something more recent than the 1950's.
At 1960-1969 ARMSTRONG EXCELON FLOOR TILE GUIDE: VINYL PLASTIC ASBESTOS, 9" x 9"
you'll see a 12x12 with some fine line details (but a different pattern) that did contain asbestos.
You can try sending photos to Armstrong to see if (by luck depending on who answers your mail) they know the pattern. They made analagous patterns such as
Asb_Excelon_Craftl_Adel2_1974.jpg
Asb_Excelon_Cust_Burn_1974.jpg
Finally if you agree I'll publish your photo to solicit input from other readers.
Reader Follow-Up:
Thanks for your response!  Although the only dates I have for renovation of the locker rooms specifically are 1954-55 there was work on bathrooms elsewhere in the building in 1969.  They installed Armstrong Cushion Vinyl Corlon "Cambrian" in the other bathrooms so I'd be surprised if they had also installed a different tile in the locker rooms at that time as well. 
You have my permission to publish the photo on your site.  I'll also pass this photo on to the folks at Armstrong to see if I get anywhere and look back in my files to see if any renovations were done in the mid-1970s since the tile patterns from that era look more similar to what I have.
Reply: About Armstrong's Cushion Cambrian flooring
Armstrong introduced its Cushion Cambrian as a flooring with a foam vinyl backing to provide a "cushioned" surface. (Popular Mechanics September 1966) first as Cambrian Vinyl Corlon flooring, Catalog #80002) - but this was a sheet flooring product, not floor tiles. A product type the company still produces (see http://www.armstrong.com/flooring/site-search.asp?q=cushion%20step)
I take it from your original message that you quite sure the flooring you're asking about is individual tiles. We've posted your floor tile photo and invite reader comment.
Question: Pebble People Floor Tiles, Etched Design, 1968 - 1973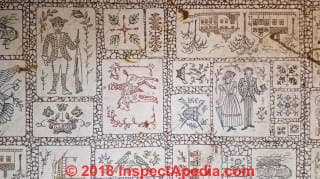 2019/01/26 Tammy said:
Can you please identify this tile? Home built 1968. 4 different tiles. Etched of some sort.
Reply:
We have seen that floor tile before, Tammy, identifed by a reader as a 1973 "Pebble Peoples" floor tile, treated as presumed to contain asbestos
That discussion appears just below.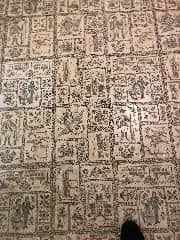 This floor is installed in Chicago Illinois USA in a home built in 1973
JL

When a seller refuses to permit a buyer to discover whether or not the buyer may face a significant cost should she purchase the seller's property,

then

the seller is in essence telling the buyer that the buyer should simply assume that she does, indeed, face those costs.

That should be your assumption.

The flooring is pattern I have seen posted by several readers, one referring to it as "Pebble Peoples Floor Tile"
It would help us research this floor design if you could tell us the country, city, state or province where the floor is installed.
Based on the age of the home and having no other information it would be prudent to treat the floor as presumed to contain asbestos.
This Q&A appeared originally at ASBESTOS FLOOR TILE ID REQUESTS 1970's-2

I need help to identify these [pebble people floor tiles shown above] as seller refuses to let me test them and denies knowledge of asbestos. they are damaged and breaking peeling apart. definitely one of a kind

I'm buying a house and am worried about tiles which are curling and broken containing asbestos. the seller will not allow me to test them,
Assuming if they were positive I'd d then they would need to disclose that or issue a credit. the tile is one of a kind. house was built in 1973. please email me at jlovgren83@gmail.com if u can identify
Question: Do you think this late 1960's pebble-pattern floor tile contains asbestos? (photo attached)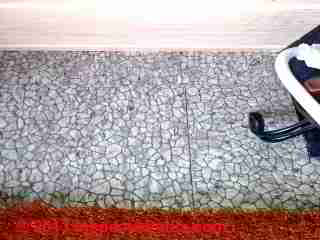 I'm wondering if you can tell me if this tile contains asbestos. 
We're pretty sure it was installed sometime in the late 1960s.  It is in fairly good condition so we were going to coat it with an epoxy and floor over it instead of remove it.  Any help with confirmation would be appreciated.- D.B. 4/17/2013
Reply:
Thank you for the interesting question and photo of your asbestos-suspect floor tile: - it helps us realize where we need to work on making our text more clear or more complete.
A competent onsite inspection by an expert usually finds additional clues that help accurately diagnose a problem or conditions that might change advice one can give by email. That apology said, here are some things to consider:
Probably yes this is an asbestos-containing floor; the pattern looks like both tiles and sheet flooring for which we've had other reports and lab tests confirming asbestos content.
If the material was installed before the early 1980's that adds to the probability that it should be treated as PACM (presumed asbestos containing material).
Similar or even matching patterns to your tile are
at ASBESTOS FLOOR TILE IDENTIFICATION PHOTOS 1949-1959
including my photo of sheet flooring near the top of that article. You can see a long history of similar flooring patterns back at least to 1965 and shown in our 1960-69 tile ID guide

at ARMSTRONG EMBOSSED PEBBLETTE in 1965
In that same 1960 - 1969 ARMSTRONG EXCELON FLOOR TILES page we show a similar floor pattern to yours in a FAQ
titled TEST RESULTS for ARMSTRONG SHEET FLOORING - 70% Asbestos
As your vinyl-asbestos (or asphalt asbestos in older products) floor in good condition, and this is a non-friable material, I'm not sure you need to epoxy over it before installing a new floor.
Typically a new floor would involve a base layer of rosin paper or similar product, then sleepers, and a new subfloor and floor above, OR simply a tile-over using mastic or sheet flooring.
In my OPINION the volume of asbestos-containing particles from the old floor that would rise into the occupied space up through the new floor in such an installation would be beneath the limits of detection. Just avoid making a dusty mess by drilling, grinding, breaking up flooring, and you should be OK.
If circumstances change and there were reason to have to tear up the floor, you would be smart to simply treat the material as asbestos containing (these articles would then be helpful:
And of course for around $50. you could have a sample tested by a certified asbestos test lab.
But frankly, unless facing a costly cleanup or a health worry I'd save my test money and handle the material as I've described.
Question: can you identify these cork pattern floor tiles as probably containing asbestos?
Great website you have, it's been a good resource for me. I suspect that these are asbestos tiles. Any idea? - G.M. 1/1/2013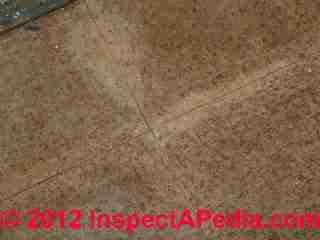 ...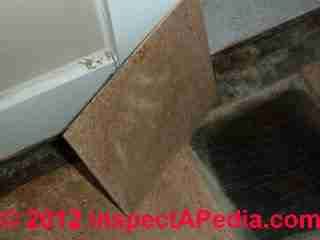 Reply: vinyl asbestos floor tiles in cork pattern compared with true cork flooring materials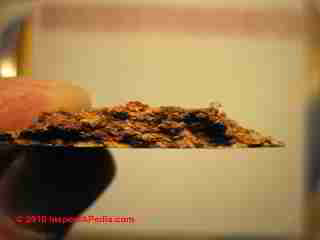 Your photos (above) look like vinyl-asbestos floor tiles in the cork pattern.

Actual cork floor tiles would be unmistakable as those would be actual cork material. Our photo above, for comparison, shows the cross-section of an actual true-cork floor tile. It's unmistakably a wood-product material even without microscopic examination.
More photos of true cork flooring are
at FLOORING MATERIALS, Age, Types and also

at FLOOR, RESILIENT VINYL or CORK
Take a look at ASBESTOS FLOORING HAZARD REDUCTION and also

see MASTIC, CUTBACK ADHESIVE, FLASHING CEMENT ASBESTOS
Reader follow-up:
My new plan is to replace the tiles I've already taken up with new tile, then put a floating wood floor over the top. According to everything I've read containment is the best way to go. Seeing as I have three other rooms with tile I think this is the easiest fix for me. What do you think?
Also, my tiles don't seem like vinyl to me. They're not plastic-y...if you know what I mean. Does vinyl get rigid?
Reply:
You can glue in floor tiles or use a leveling compound to make the floor smooth before installing a floating wood floor atop. Typically the floating floor will use a rosin paper or other underlayment as well. Makes sense to me.
Yes vinyl floor tiles can get very rigid and brittle; if the tiles are thick, say 1/8" and dark inside they may be asphalt based; else probably they're vinyl. I think that the cork pattern as well as other light-colored floor tiles will generally date back to early vinyl or "plastic" floor tiles. One of the reasons manufacturers liked vinyl is that lighter colored flooring was easier to produce when you don't start with (black) asphalt.
Reader follow-up:
Okay, that makes sense. They're not dark inside though. So they must be vinyl. So, I'm just going to cover them up.
Reader Question: Does this Applause Vinyl Floor Tile Contain Asbestos?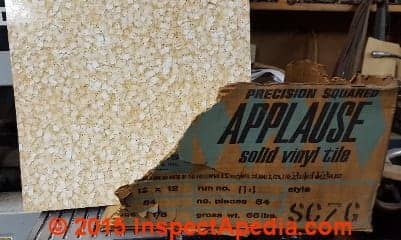 [Click to enlarge any image]
I've been searching within inspectapedia and on other web sites to find info on this tile I found in my grandpa's garage. I had been cutting it with a bandsaw over the last 4 or 5 days (without any kind of mask).
This morning, before I continued cutting, it dawned on me that it might contain asbestos. The attached picture is what's left of the box that the tile was in, alongside the tile in question.
Thank you, - Anon [by private email] 2015/12/06
Reply: patent research suggests this flooring may contain asbestos
Stop cutting the flooring with a saw; it is certainly possible, even likely that it contains asbestos, though only by a lab test will we know for certain.
I have not seen this specific pattern of flooring and the packaging photo you included did not mention asbestos - not all does even when the flooring contains that material. I'd like to see a photo of the back of the tile and to know its dimension and thickness.
The floor tile product style name Applause is still in use by Tarkett flooring but for newer sheet or carpet-type flooring products that would not contain asbestos.
The vinyl tile data on the original packaging in your photo is incomplete but we can see the tile style name (Applause vinyl floor tile), a fragment of text probably indicating that the supplier and perhaps manufacturer of this flooring was in Alabama, and some patent numbers. But your packaging and the patent numbers put the product in a significantly earlier time frame. We also see that this is a12x12" vinyl floor tile, Style No. SC7G made in manufacturing run No. 04.
I researched the patents cited on the box. The last one specifically refers to a process that used asbestos - supporting my caveat. And all of the patents date from 1955-1965 - an era where asbestos was commonly used as both a filler and as a reinforcing fiber in vinyl flooring products.
If you can give more photos of any other markings on the packaging that'd be helpful; I'm researching the product name further.
Don't panic, and don't cut more tile.
If you decide to have the flooring tested for asbestos see ASBESTOS TESTING LAB LIST for some suggestions. Typically a lab fee is about $50. for asbestos materials testing.
Watch out: do not clean up the dust you made using an ordinary or shop vacuum cleaner as you may increase the level of airborne dust that may contain asbestos. Instead use damp wiping and/or a HEPA-rated vacuum cleaner.
Below are the patents cited on the packaging and excerpts discussing asbestos in this flooring. In some cases, because patents cite earlier patented inventions the package-patent number shows up more than once in research.
Applause Flooring Patents Indicating Asbestos in Vinyl Floor Tile
Edward, Stanley Robbins. "Extrusion graining process." U.S. Patent 2,914,807, issued December 1, 1959.
Excerpts:

This invention relates to an improved process for the production of a marbleized or grained plastic sheet. Plastic sheetmaterial of this type has a background matrix of one color, in which one or more dilferently colored I portions of the same material'are distributed in a swirled, grained, or marbleized pattern.

This invention more particularly relates to a process for the manufacture of 'a grainedp'lastic sheet in which the density of thecolor in the grained 1 areas isflsfihstantially uniform throughout a given cross-section of the sheet.

This invention is particularly related to a process for producing uniformly grained plastic sheet material useful inthe production offiooring products, such as asphalt composition, rubber, and vinyl plastic floorocoverings and tiles;

There are a great [... text lost, probably "number of " ] processes now in use for the produvction of grained plastic sheets. In one such process, 2,914,807 Patented Dec. 1, 1959 rod-like multi-colored .memhers.

These multi-colored members are fed directly into a calender, which accumulates a mass of these rods in a random arrangement. in the nip of the calender and expresses the rods into a sheet In' this process the rods are attempted to be maintained in such a manner that the length of the mds [sic] is substantially parallel to the axes of the calender rolls.

... Where asphalt compositions are employed in this process, the added advantage is secured of orienting the asbestos fiber fillers in a desirable direction by the combination of compression in the extrusion apparatus and calendering. ...
Robbins, E. S. "Robbins Tile Sizing Machine and Method ." U.S. Patent RE 24,104, issued December 27, 1955. Original assignee: Robbins Floor Products. Original filing 16 March 1950.
Excerpt:
This invention relates to manufacturing and more particularly to a machine or apparatus and process for accurately squaring and sizing tile such as those formed of rubber, asphalt, wood, or other composition.
Slosberg, David K., Julian G. Clement, and Jr Walter Mutchler. "Conductive floor covering." U.S. Patent 3,386,001, issued May 28, 1968.
Excerpts:

This invention relates to conductive plastic sheet material, and more particularly to such material having an esthetically pleasing appearance in which the presence of the conductive material is minimized.

Conductive flooring materials have been made, either in sheet form or in tile form, comprising a plastic to which has been added a conductive material such as carbon black for the purpose of providing a path for electrical current in order to drain off any electrostatic charges that may have built up.

Such materials are used, particularly in industrial plants, where explosive materials or gases are present, in order to minimize or eliminate completely the buildup of such charges. As an example of such material, a conductive vinyl tile is made by marbleizing a non-conductive vinyl base with a conductive mottle.

The conductive mottle contains about of conductive carbon black. The marbleized material is then granulated to a 2 8 inch chip, and these chips are then consolidated by heat and pressure to form a slab which, with further treatment, will become the end product for use on floors as a covering.
"Applause III #02803", Tandus Centiva, a Tarkett Company, website page describing flooring products, retrieved 2015/12/06, original source: https://www.tandus-centiva.com/products/Applause-III-02803/color/28521

NOTE: this page describes floor covering for sale in 2016 and not asbestos-containing products.
Reader Question: How can I Submit a Floor Tile Photo for Identification
(Apr 3, 2014) Anonymous said:
How can I submit a photo of a tile to see if it might contain asbestos?
Reply:
Sure, Anon, just use the email found at our CONTACT link seen at the top or bottom of any InspectApedia.com page - but it may not be necessary.
If you've got vinyl or asphalt floor tiles installed before the early 1980's it would make sense to treat them as presumed to contain asbestos (PACM or "Presumed Asbestos Containing Material") - and to avoid making a dusty demolition, sawing, grinding mess.
If you have tried looking through our example flooring photos by year or flooring manufacturer and were unable to identify your flooring then feel free to CONTACT US to send along photos and a description (age, dimensions, building history) of flooring that you are unable to identify
Asbestos is safe and legal to remain in homes or public buildings as long as the asbestos materials are in good condition and the asbestos can not be released into the air
...
Continue reading at ASBESTOS FLOOR TILE ID REQUESTS 1970's or select a topic from closely-related articles below, or see our complete INDEX to RELATED ARTICLES below.
Or see ASBESTOS FLOORING ID REQUESTS 1960's FAQs - requests & questions posted originally on this page
Or see DOES THIS FLOOR CONTAIN ASBESTOS?
Or see ASBESTOS TESTING LAB LIST
Or see this
Article Series Contents
Suggested citation for this web page
ASBESTOS FLOOR TILE ID REQUESTS 1960's at InspectApedia.com - online encyclopedia of building & environmental inspection, testing, diagnosis, repair, & problem prevention advice.
Or use the SEARCH BOX found below to Ask a Question or Search InspectApedia
...
Ask a Question or Search InspectApedia
Questions & answers or comments about how to identify asbestos-containing flooring materials and what to do when asbestos-containing floor tiles or sheet flooring are found in a building.
Try the search box just below, or if you prefer, post a question or comment in the Comments box below and we will respond promptly.
Search the InspectApedia website
Technical Reviewers & References
Click to Show or Hide Citations & References
Thanks to reader Aaron Cramer for contributing photographs of Sears Roebuck vinyl asbestos floor tiles, August 2010. Mr. Cramer has worked in asbestos litigation defense work in Pittsburgh - related to hot-tops and generally steel mills and presently works with U.S. Patent Office procedures and litigation. He can be contacted at 34 Lodge Street, Pittsburgh, PA 15227, Tel: 412-207-7237 and email: arcramer@comcast.net
David Grudzinski, Advantage Home Inspections, is a professional home inspector in Cranston, RI. 02910. He can be reached at 401-935-6547, fax- 401-490-0607 or by email to contact/us@advantagehomeinspections.us 04/26/2009
Thanks to reader R.M. for the photo and test information documenting chrysotile asbestos in a vinyl-asbestos floor tile from a 1969 home. January 2011.
Thanks to reader Kim for the photo of black and white VAT resembling Armstrong Excelon from a 1952 home - January 2011.
EVER WEAR TILE CO is currently (2009) in the Terrazzo, Tile, Marble, and Mosaic Work industry in Fallon, NV. 775) 423-6221. [We do not know the company history nor whether there is an association with EverWear vinyl asbestos floor tiles discussed in this article.]
Thomas Hauswirth, Managing Member of Beacon Fine Home Inspections, LLC and (in 2007) Vice President, Connecticut Association of Home Inspectors Ph. 860-526-3355 Fax 860-526-2942 beaconinspections@sbcglobal.net 06/07: thanks for photographs of transite asbestos heating ducts
Gary Randolph, Ounce of Prevention Home Inspection, LLC Buffalo, NY, for attentive reading and editing suggestions. Mr. Randolph can be reached in Buffalo, NY, at (716) 636-3865 or email: gary@ouncehome.com 3/07
"Asbestos in your home or at work," Forsyth County Environmental Affairs Department, Winston-Salem NC 12/08
"Asbestos Floor Tile Removal", the University of Minnesota's advice on removing VAT (vinyl asbestos or asphalt asbestos floor tile) can be read in detail at www.health.state.mn.us/divs/eh/asbestos/floortile/index.html
Copy on file as ASBESTOS IN YOUR HOME - U.S. EPA, Exposure Evaluation Division, Office of Toxic Substances, Office of Pesticides and Toxic Substances, U.S. Environmental Protection Agency, Washington,D.C. 20460
Resilient Floor Covering Institute, 1030 15th St. NW, suite 350, Washington D.C.
ASBESTOS REGULATIONS FOR SCHOOLS (the Asbestos Hazard Emergency Response Act, "AHERA") [PDF] (96 pp, 589k), web search 08/17/2010, original source: http://www.epa.gov/asbestos/pubs/2003pt763.pdf,
Asbestos Regulations: State asbestos regulatory agencies (5 pp, 17k) (original source http://www.epa.gov/asbestos/pubs/statecontactsapril2009.pdf ) for information on how to find an accredited asbestos professional.
Asbestos products and their history and use in various building materials such as asphalt and vinyl flooring includes discussion which draws on ASBESTOS, ITS INDUSTRIAL APPLICATIONS, ROSATO 1959, D.V. Rosato, engineering consultant, Newton, MA, Reinhold Publishing, 1959 Library of Congress Catalog Card No.: 59-12535 (out of print).
EPA Guidance for Controlling Asbestos-Containing Materials in buildings, NIAST, National Institute on Abatement Sciences & Technology, [republishing EPA public documents] 1985 ed., Exposure Evaluation Division, Office of Toxic Substances, Office of Pesticides and Toxic Substances, U.S. Environmental Protection Agency, Washington,D.C. 20460
The ABCs of Asbestos in Schools (August 2003), U.S. EPA, Web search 08/17/2010, original source: http://www.epa.gov/asbestos/pubs/abcsfinal.pdf - aqui se encuenta la misma documenta escrito en Espan~ol: El ABC del Asbestos en las Escuelas, copy on file as /sickhouse/EPA_Asbestos_ABCs_Schools_Spanish.pdf, fuente original: http://www.epa.gov/asbestos/pubs/spanishabcs.pdf
How to Manage Asbestos in School buildings, AHERA Designated Person Self Study Guide, U.S. EPA 910-B-96-001, January 1996, web search 08/17/2010, original source: http://www.epa.gov/region2/ahera/e23.pdf
MANAGING ASBESTOS in PLACE: A Building Owner's Guide to Operations and Maintenance Programs for Asbestos-Containing Materials ("Green Book"), web search 08/11/2010, original source: http://www.epa.gov/asbestos/pubs/management_in_place.html
How to Develop and Maintain a Building Asbestos Operations and Maintenance (O&M) Program, This information is designed to assist building owners and managers in understanding how to develop and maintain an operations and maintenance program for asbestos-containing materials in their buildings.
"Asbestos Floor Tile Removal Guide & Instructions - copy on file as Asbestos_Floor_Tile_Removal_MDH.pdf ] - ", Minnesota Department of Health, retrieved 12/7/2010, original source: http://www.health.state.mn.us/divs/eh/asbestos/floortile/index.html
Asbestos Identification and Testing References

Asbestos Identification, Walter C.McCrone, McCrone Research Institute, Chicago, IL.1987 ISBN 0-904962-11-3. Dr. McCrone literally "wrote the book" on asbestos identification procedures which formed the basis for current work by asbestos identification laboratories.
Stanton, .F., et al., National Bureau of Standards Special Publication 506: 143-151
Pott, F., Staub-Reinhalf Luft 38, 486-490 (1978) cited by McCrone

ASBESTOS IN YOUR HOME U.S. EPA, Exposure Evaluation Division, Office of Toxic Substances, Office of Pesticides and Toxic Substances, U.S. Environmental Protection Agency, Washington,D.C. 20460
Asbestos NESHAP ADEQUATELY WET ASBESTOS GUIDANCE, EPA340/1-90-019, December 1990, U.S. ENVIRONMENTAL PROTECTION AGENCY, Office of Air Quality Planning and Standards, Stationary Source Compliance Division, Washington, DC 20460,original web source: http://www.epa.gov/region04/air/asbestos/awet.htm
Asbestos products and their history and use in various building materials such as asphalt and vinyl flooring includes discussion which draws on ASBESTOS, ITS INDUSTRIAL APPLICATIONS, ROSATO 1959, D.V. Rosato, engineering consultant, Newton, MA, Reinhold Publishing, 1959 Library of Congress Catalog Card No.: 59-12535 (out of print, text and images available at InspectAPedia.com).
Dust from the World Trade Center collapse following the 9/11/01 attack: the lower floors of this building contained spray-on fire-proofing asbestos materials.
Asbestos Information Links: Asbestos Detection, Testing, Recognition, Hazards, Field Photos, and Information Sources, including health-related links such as legal services and information about mesothelioma and other cancers.
"Handling Asbestos-Containing roofing material - an update", Carl Good, NRCA Associate Executive Director, Professional Roofing, February 1992, p. 38-43
EPA Guidance for Controlling Asbestos-Containing Materials in buildings, NIAST, National Institute on Abatement Sciences & Technology, [republishing EPA public documents] 1985 ed., Exposure Evaluation Division, Office of Toxic Substances, Office of Pesticides and Toxic Substances, U.S. Environmental Protection Agency, Washington,D.C. 20460
...
Books & Articles on Building & Environmental Inspection, Testing, Diagnosis, & Repair
Our recommended books about building & mechanical systems design, inspection, problem diagnosis, and repair, and about indoor environment and IAQ testing, diagnosis, and cleanup are at the InspectAPedia Bookstore. Also see our Book Reviews - InspectAPedia.
...