Asbestos-containing ceiling tiles: how to recognize ceiling tiles that may contain asbestos. We describe the appearance, ingredients, years of manufacture, history, and producers of various types of ceiling tiles & coverings as an aid in determining whether or not a particular ceiling covering or tile is likely to contain asbestos. This document assists building buyers, owners or inspectors who need to identify asbestos materials (or probable-asbestos) in buildings by simple visual inspection.
We provide photographs and descriptive text of asbestos insulation and other asbestos-containing products to permit identification of definite, probable, or possible asbestos materials in buildings.
Green links show where you are. © Copyright 2014 InspectApedia.com, All Rights Reserved.
Certainly not all ceiling tiles contain or ever contained asbestos. Knowing the the history of ceiling tiles and their various ingredients, combined with the size, brand (usually unknown), visual appearance and location of ceiling tiles, and adding the age of the building or of the ceiling tile installation itself can often quickly decide whether special handling or further investigation is warranted when demolishing, remodeling, or otherwise disturbing a ceiling.
But asbestos fibers were used in some acoustic asbestos ceiling tiles, often amphibole asbestos such as amosite, crocidolite, anthrophylite, tremolite, and actinolite, with amosite among the most commonly-found.
Modern ceiling products do not contain asbestos.
While an expert lab test using polarized light microscopy may be needed to identify the specific type of asbestos fiber, or to identify the presence of asbestos in air or dust samples, many asbestos-containing building products not only are obvious and easy to recognize, but since there were not other look-alike products that were not asbestos, a visual identification of this material can be virtually a certainty in many cases.
Our photo (left) shows an antique plaster and lath ceiling in a pre-1900 home.
Modern ceiling products do not contain asbestos. Using Certainteed as an example, [www.certainteed.com] you can obtain an MSDS (Material Data Safety Sheet) for each of the company's products. Common modern ceiling product ingredients include fibrous glass wool, urea formaldehyde resin, and fiberboard products contain slag wool, starch, cellulose [wood fibers], perlite, crystalline silica, and clay.
In these photographs of older square ceiling tiles the photo (below left) shows a smooth ceiling tile and the second photo (below right) an acoustic ceiling tile with its characteristic pattern of holes.
Both of these products might contain asbestos fibers, though the principal material is usually cellulose.
The larger suspended ceiling segment, 2'x4' in size (photo above right), was pushed aside to show the older layers of ceiling materials above.
The suspended ceiling tile, if made of fiberglass or cellulose is not a likely asbestos fiber source.
The remediation contractor removed all of these layers to expose (and clean) the concrete ceiling above prior to installing a new suspended ceiling.
Our perforated acoustic ceiling tile photo (below-left) shows that these particular asbestos-containing ceiling materials were also sometimes applied to a vertical wall. Below right we show a different pattern of asbestos-suspect ceiling tiles found in a government building we examined in Poughkeepsie, NY.
As you can see from the photographs shown here, these acoustic ceiling tiles over a wet area can support mold growth.
I have a recreation room that uses 2' x 4' Armstrong Ceiling Panels made in 1976 or later. They claim to be fire retardant, and are of the Scotch Pine variety. Do they contain Asbestos? - Mark Webb 2/1/12
Mark, unfortunately there were so many ceiling products, styles, and names that I've found it almost impossible to build a comprehensive list of asbestos and non-asbestos-containing products.
Reading opinions about asbestos-risks in ceiling tiles discussed at legal services websites and at some home inspection websites either leaves you convinced of a serious asbestos hazard, or delivered a disclaimer recommending testing, encapsulation, or other "safe" advice from inspectors. Let's sort through the question with a bit more specific or authoritative information:
Suspended ceiling tiles of the 2'x2' or 2'x4' dimension, and manufactured by Armstrong, Celotex, Conwed, LoTone, and USG and made before the late 1970's are listed by several attorney-sponsored "mesothelioma websites" as often containing asbestos to add fire-resistance. On that basis, since the age of your ceiling is in that range it would be prudent to treat it as PACM.[9]
We do, for one. Some ceiling tiles have been widely enough reported to contain asbestos that using some common sense is certainly appropriate: meaning don't make a dusty mess, don't demolish a ceiling of unknown materials without taking proper precautions, and if you are faced with a significant ceiling-renovation or cleanup expense, and if you can't tell for sure by visual inspection that ceiling tiles are asbestos free, have a sample tested.
Some home inspection clubs and open-associations focus almost entirely on using a disclaimer or on giving clients advice that is safe for the inspector and that may be safe for the client, though not necessarily safe for their walled.[10]
According to Armstrong Corporation, those attorneys and some home inspectors are mistaken. Armstrong commented as follows:
In general, for ceiling materials of the age you describe, for other brands and without other explicit information from the manufacturer, unless it is quite obvious by visual inspection that the materials are fiberglass or another non-asbestos material, the best answer is to be prudent: treat the material as presumed-asbestos-containing material (PACM) - which means don't make a dusty mess. 2'x4' ceiling tiles are usually drop-in panels in a suspended ceiling grid and are easily swapped out with minimal disturbance or dust if they are damaged, soiled, or need replacement.
We bought a house that was built in the 50's - it has what I THINK is a Celotex ceiling (or some copy of Celotex) - it's in horrible shape and needs to be taken down - what are your thoughts on it containing asbestos, considering the age? - Saundra
Our photo, left, illustrates a plaster ceiling in poor condition.
Our photo (left) shows tremolite asbestos panels glued to the ceiling over a basement of a commercial building in White Plains, New York.
Tremolite asbestos panels were used as a fire-proofing over a boiler room and where other heating equipment was installed.
...
Green link shows where you are in this article series.
...
Question: are homes ever condemned due to excessive asbestos?
Very useful article. Thanks. Wondering if homes are ever condemned due to excessive asbestos. - Anthony Kaskin 6/17/11
Reply:
Not that I know of personally, Anthony. Usually the cleanup cost is less than the value of the home; of course for a home that has been abandoned, beaten badly, in poor shape, finding the added cost of the need for an asbestos cleanup could push it over the edge.
Question: broken 1950's Homart Starspray Acoustical Ceiling Tiles
My home has broken Homart Starspray Acoustical Ceiling Tiles which were purchased and installed sometime in the 1950's or 1960's. How can I find out if this was asbestos? The product number is #8445. Help! - Anon 7/20/11
Reply:
I'd like to see some sharp photos of those ceiling tiles (see our CONTACT link at Related Topics or bottom or top). From the age of your ceiling tiles, that they are asbestos-containing is a reasonable assumption. If you need to know for sure, you can send a small sample to a certified asbestos testing laboratory - it's not expensive. (Best to check with the lab about what procedure they want you to use to collect a sample, basically you pick an unobtrusive area, avoid creating a dusty mess, wet down and remove 1/2" fragment).
of material and bag it)
Question: Is there probably asbestos in ceiling tiles in our home dating from the 1940's and 50's or later?
I have ceiling tiles 5028 MF4 9 REG on the back. Are they asbestos? - Patrick 8/30/11
1948 home. ceiling tiles in both bedrooms, how can we tell if they have asbestos tiles - Ron 9/5/11
There is a type of ceiling tile that I cannot identify. Is there anyway I can send you a link? - Jack 9/23/12
Hi there - we have a house from 1892, the previous owners installed brown acoustical tile on the basement ceiling - sometime in the early 1990's we believe. They are brown, and almost look like they are made from dense cardboard layers or some sort of fibre board. But I am concerned that they could contain asbestos. They are quite soft those and tear easily. - Christie 11/12/11
We bought a house that was built in the 50's - it has what I THINK is a Celotex ceiling (or some copy of Celotex) - it's in horrible shape and needs to be taken down - what are your thoughts on it containing asbestos, considering the age? - Saundra 11/22/11
Reply:
Ron and the others in the asbestos-suspect ceiling tile cases above: if you know the ceiling was installed before the early 1980's it's safe to assume it contains asbestos if it looks like the products shown in this article. If you need to know for sure you'll want to send a small sample to a certified asbestos testing laboratory. Otherwise, treat the material as "PACM" - presumed asbestos-containing-material.
Jack: to send us a photograph of ceiling tiles, which you are welcome to do, use the email link found at the CONTACT link you'll see at the top, left side, and bottom of all pages at InspectAPedia
Christie: a ceiling product purchased in the 1990's would not be expected to contain asbestos.
Saundra, thanks for the important Celotex ceiling tile asbestos question. I've prepared a detailed answer and posted it in the article above under FAQs - please take a look and ask if you have further questions. Thanks. DF

Question:
I am living in a duplex two level apartment on the bottom floor. The apartment has lead paint and the exact ceiling tiles above. I moved in 3weeks ago and the ceiling has been leaking every time it rains for the past 3 weeks. I need to know if this increases the health hazards dealing with asbestos and lead paint.

Thanks,
Joan 9/8/11

Reply:
Seems likely that the answer is yes, Joan if the materials you describe are softened, damaged, falling, or later just more easily disturbed due to changes in their stability and security.
Question:
We're looking at a house that was built in 1956. It has white ceiling tiles in the basement that are nailed to the studs. They are about 2-3 feet long and as wide as the space between the studs. They are not damaged and appear to be in good condition. They do not have perforations in them. They appear to be original. Is it likely that these tiles contain asbestos? Thanks you for your thoughts. Jim - 9/8/11
Reply:
There were indeed 9" and 12" non-perforated ceiling tiles that contained asbestos fibers as well as materials made solely of wood fiber product. It would be prudent to exercise care (not making a dusty mess, leaving them alone, treating such materials as presumed-asbestos-containing-material.
Question:
back in the 70's in grade school in north texas it was common for students to shoot paper clips at the ceiling to make it snow while the teacher was out of the classroom. Makes me nervous :-/ - Tom 9/19/11
Reply:
Tom, IMHO the chances are that shooting a paperclip at a ceiling that may have been covered with asbestos-containing ceiling tiles exposed the students to a detectable amount of asbestos contamination seem so low as to be beneath mention further.
Question: The hardware store employee told me I can use a lead paint test kit to check for asbestos. Is that true?
A hardware store employee told me to use the lead paint test kit on one of the acoustic ceiling tiles. He said that, after all these years (since 1965) it would show positive for lead, if in fact the tiles contain asbestos. Is this true? - Deb 9/22/11
Reply:
Deb, no, there is not one iota of truth in what you were told.
A lead paint test has nothing to do with and is not capable of detecting asbestos in building products.
The hardware store guy who told you to use a lead paint test to screen for asbestos was dangerously mistaken.
Question:
My father worked in hanging ceilings or gluing ceilings for 30 years. He died of cancer in 2000. I worked in the same field for 16 years. Am I next? - Frank 11/14/11
Reply:
Frank, Some factors that would affect the risk to both your dad and yourself include the level and duration of exposure to asbestos and to possibly carcinogenic VOCs that may have been present in some of the adhesives and glues you used, and the use that you made of protective gear such as a HEPA respirator that also was equipped with an MVOC filter.
There are plenty of causes of cancer besides asbestos and glue exposure, and way too many unknowns in the cases you describe for anyone to offer a credible answer about your own cancer risk from your question alone. You should discuss the details of your exposure, materials, time, use of protective gear, dust levels, your personal health, history, genetics, and complaints or concerns with your own doctor - or ask her for a referral to a physician who specializes in environmental medicine.
Question: Do You Think These Ceiling Tiles Contain Asbestos>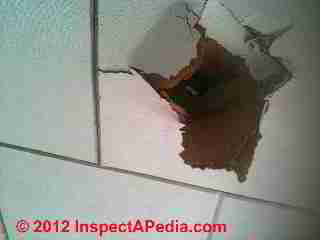 Do you think this contains asbestos? - Anonymous 
Reply:
Your photos show what look like 9-inch or possibly 12-inch brown fiberboard acoustic ceiling tiles. While the predominant material in these ceilings is usually wood fibers, indeed up to the 1980's many such ceilings contained asbestos as well.
A competent onsite inspection by an expert usually finds additional clues that help accurately find where there are asbestos containing materials (ACM), presumed-asbestos containing materials (PACM), or what might also be called "asbestos-suspect materials".
That said, here are some things to consider:
For safety it makes sense to treat presumed-asbestos materials or PACM as if they indeed contained asbestos, meaning apply the same guidelines: leave intact materials alone if possible, encapsulate the material for added protection, and if materials are damaged, friable, or are likely to be disturbed by normal building activities, bring in a professional asbestos abatement contractor who, after confirming that the materials are asbestos-containing, will handle the removal or encapsulation with professional dust control, removal, cleaning.
For a single damaged ceiling tile such as in your photo, I'm doubtful that calling a professional asbestos abatement company will be justified, but if you treat the material as Presumed Asbestos Containing Material (PACM) that means using appropriate methods for cleanup and then encapsulation or covering of the damaged section.
Question:
My grandparents have a home that was built in either 1958 or 1959 and the basement has the acoustic tiles on the ceiling. (they are white and look like they are made out of some type of fiber board.) My grandfather has decided that they might contain asbestos and has started taking them down wearing a mask and using a tarp only. He has taken them all down and I'm wondering if there is something that should be done to make the house safer since if they do contain asbestos the particles have been released all over the basement. - Debbie, 12/29/11
Reply:
If in doubt about potentially hazardous dust in the home it would make sense to clean up the work area, and if dust could have spread to other areas of the home, clean them too. Damp wiping and HEPA vacuuming are the typical cleaning methods used.
Question:
My parents have ceiling tiles that are 12x12 with gold stars. They were installed sometime before 1970. Asbestos? - Anon. 1/12/12
Reply:
Some brands of ceiling tiles made in the era you described are reported to contain asbestos.
Question:
How can i identify asbestos plaster and if material wrapping my duct is asbestos I am in a brick home that's about 100 years old - James Pitt 2/4/12
Reply:
James, for a definitive identification of asbestos material you will need to send a sample to a certified asbestos testing laboratory. However many insulating materials on ducts and piping are recognizable as asbestos materials by eye as in some cases there was no other product that looked the same that was not asbestos containing.

For pipe insulation see (links at Related Topics ) ASBESTOS PIPE INSULATION

For HVAC duct insulation photos see ASBESTOS DUCTS, HVAC and also
ASBESTOS DUCT INSULATION, Asbestos Paper
Question:
We are moving into a property with white ceiling tiles with a pebbly texture on them. I noticed a red, packed-earth like substance erupting from one point near the edge of the tiles - could this be asbestos? - Eamon 3/21/12
Reply:
Eamon what you describe does not sound like asbestos but please understand that from just a text comment like yours I can't really know what you're seeing.
Question: how should we deal with 1960's 12x12 ceiling tiles?
I think the ceiling tiles at the family farm home...house was built in 1961 has the 12 x 12 ceiling tiles. Would it be best to leave the tiles? and add new firring strips and cover with drywall. Or take down the tiles...They are not coming down but we want to update the room. - Barbara 3/26/12
Reply:
Barbara, I'd leave the ceiling tiles in place and fur over them as you suggest - it's better not to disturb asbestos-suspect material as long as you can avoid spreading it in the building. So yes, I like your solution.
Question: the 1970's acoustic tile ceiling fell in my apartment, I did some amateur cleanup work, now how do I make the area safe?
Last night about 20 ceiling tiles made well before the 70's fell in my bedroom in the middle of the night. They are made of a fibrous materials, and appear to be painted white. I probably breathed the dust and fumes for a good 10 minutes or more, and then, also regrettably, used my vacuum for clean-up. I presume from what you have stated that I 'may' have been exposed to quite a bit of asbestos. What ought to be my next steps to minimize the impact on me physically, and going forward in terms of speaking to the landlord for creating a safe environment? - Bill 6/22/12
Reply:
Bill, if the ceiling fell because it was wet, that may have minimized the particle release, but I agree that considering the age of the material it's prudent to treat it as "PACM" - presumed asbestos containing material. That means damp wiping & HEPA Vacuuming - more important to clean up dust on all surfaces than before, as you aerated dust with your conventional home vacuum. You are not obligated to nor expected to be an asbestos cleanup expert - so the mistake of household vacuuming is not IMHO a crime, but it would be smart to

- clean up thoroughly
- determine why the ceiling fell and fix that
- if necessary, install a new layer of ceiling that avoids a repeat of the trouble

In most leases the landlord is not required to give much to the tenants, but is expected to provide safe, habitable, functional living space. In my OPINION that includes dealing with the matter you've described and making sure that the building is safe and habitable, and if s/he's smart, reporting to you on what needs to be done or has been done.
Take a look at RENTERS & TENANTS GUIDE TO MOLD & INDOOR HAZARDS - as it gives advice for tenants and landlords about dealing with potential indoor air quality matters.
Question: Asbestos firm says ceiling tiles without brown spots should be tested
My basement ceiling has 16 x 16 white ceiling tiles. Two fell down today and I pickeed them up, moved them and walked around the room. Subsequently I moved thru the house completely. I called an asbestos firm (closed on Saturday) and asked a question. He said "Do they have brown spots?" No they don't. He said to break one and send him the piece which he would send for testing. The tiles were probably installed about 60 years ago. I now note that several more tiles are about to fall. Procedure? - Joan W 6/23/12
Reply:
Joan if you want to test a fragment for asbestos there is no reason you could not send it directly to a lab of your choice. Meanwhile to be cautious avoid a dusty demolition project. Often a simple staple or finishing nail can hold a ceiling tile in place pending a decision to act.
Question: Fiberboard stuff in my attic is tan and butterscotch colored - is it asbestos?
Hello. i live in Worcester Massachusetts in a home built in 1947. the attic has some fiberous board nailed in place, which there is not much of, but it looks like it was done by a previous homeowner. it is cut into various shapes. but the color is light tan on one side and a butterscotch on the other. i am worried this is Asbestos. i can see no identifying mark on the stuff. we also have an old drop ceiling in the basement, 2 x 4 foot panels fiberous material painted white on one side. both materials can be broken very easily into small pieces. - Jon 6/26/12
Reply:
Jon, look through the article above and also the Homasote article (link at Related Topics ) and you may have a better idea what wood fiber type insulating board looks like. Fiberboard insulation is not an asbestos product.
Question: 12x12 ceiling tiles are wet - is that an asbestos hazard?
i moved in with my fiance, he is living in his great grandparents old house. the house was built before the 1950's. the ceiling tiles in the house are acoustic white 12x12. they are turning brown like they have been wet and are falling. behind the tile that has fallen looks like mold. i am expecting a child and i need to know if i need to be worried or if its nothing. - Emily 8/1/2012
Reply:
Emily,

What you describe sounds to me as if it would be appropriate to

- find and fix the leaks that are causing ceilings to stain and collapse
- check for hidden or extensive problematic mold growth and contamination
- take care during cleanup in case the ceiling materials contain asbestos - not to create an asbestos dust hazard, and to use appropriate cleanup methods.
Question: Asbestos containing floor tiles, ceiling tiles glued to wood, can I paint it?
My parents' house, built in 1957 with basement finished in 1958, has asbestos tiles on the basement floor and some form of reddish layered fibreboard with white surface 9x9 tiles on the ceiling. The floor tiles are starting to come off - whole, fortunately - and I plan to get the floor sealed and linoleum laid over top. The ceiling is apparently attached (glued?) to wood - one tile has come down and I will reattach it, but the rest is solid. Should I be "encapsulating" the ceiling by some means? It is no longer gorgeous - apparently there were smokers down in the basement when my brother lived there. Can one paint such a ceiling? If so, what sort of paint would be light enough not to make the ceiling fall, and not so wet as to wet down the glue? Is there another method? Thank you very much - this page has been most helpful. - Audrey 10/5/12
Reply:
We cant say what is on your ceiling, but often a coating of lacquer based stain sealer will work well at killing stains and sealing a surface. Paints are not heavy enough to make a ceiling fall down, but leaks into the ceiling can cause that problem in a flash.
Question: Do acoustic tiles in a 1994 house in Canada contain asbestos?
We are looking at purchasing a house built in 1994 (in Canada)...the whole house has what appear to be square acoustic tiles. How certain can I be that these do not contain asbestos...is the age of the home enough of a reassurance? - Christina 10/24/12
Reply:
Christina,

to be CERTAIN that a material does not contain asbestos you'd need to have a sample tested by a qualified lab.

Certainly the age of the home is new enough that one would not expect asbestos ceiling tiles to have been used - someone would have had to get a hold of old materials.
Question: should I test a drop ceiling installed in 1976
My home was built in 1976. The basement has a drop ceiling that was installed at some point after that. Should I have the tiles tested? - Mike 10/31/12
Reply:
Mike,
Based on the age of the house, it's possible that your ceiling contains asbestos.
You can have a fragment of ceiling mateial tested for asbestos content at rather low cost, typically around $50. by calling any certified asbestos testing lab for instructions and fee schedules. (Don't send our forensic lab a sample - it'd be a conflict of interest).
Or you can treat the material as "Presumed Asbestos Containing Material" (PACM) and handle it accordingly.
Question: Possible asbestos content in popcorn ceilings in an older home - also mold & asthma worries
i live in san diego,ca in a 1936 old house that has mold inside as well as outside the home my friend was born in this house and he said the wall paper the popcorn ceiling carpet doors windows cabin ts still the same since he was a lil child he is now 50 yrs old i been gettin sick nausa headache been hospitalize for asthma attack me and my daughter - Trina 11/13/12
Reply:
Trina,

Check with your doctor, but I don't think asbestos exposure produces asthma. In an older home that has not been cleaned nor updated, there could certainly be various respiratory irritants, insect fragments, mold, animal allergens, dust mites etc.
However, popcorn ceilings that are old often used asbesos fibers and filler in the coating.

Search inspectApedia for MOLD EXPERT, WHEN TO HIRE for help in deciding ifit is appropriate to hire an expert to nspect your home.
Question: worry about remodeling fiberboard panels in a 1959 Pontiac Chief mobile home
I have an 1959 Pontiac Chief mobile home and the 4' fiberboard panels that run the width of the trailer need to be replaced. Is it possible that they would have asbestos? - Bill 11/14/12
Reply:
Bill,

If you are describing a cement board in a 1959 mobile home, yes there's a good chance that the board contains asbestos. It's not a friable material, so if you can replace the material without creating a dusty mess that's good. That means pulling nails or removing fasteners and removing the pieces whole;

DO NOT run power tools like saws or grinders on asbestos-cement suspect materials.

More advice on minimizing the asbestos hazard for a case like the one you describe is in our article ASBESTOS REMOVAL, Wetting Guidelines
If the fiberboard panels you are describing are a wood fiber product (see SHEATHING, FIBERBOARD) that's not an asbestos material.
Question: worry about asbestos in old square ceiling tiles - do we peek, remove, or cover-up the ceiling during restoration
My home has ceiling tiles similar to the those described as older square ceiling tiles with a smooth ceiling tile finish. The house was built in 1898, and only the two living rooms contain the tile ceiling. Do we dare peek underneath the tile and disrupt any possible asbestos while we under go the restoration or cover up the tile that may result in bigger problems down the road?? - Reno 11/23/12
Reply:
Home Reno,

Asbestos containing materials are not radioactive - that is, covered-up or encapsulated the material is not harmful.

In general, if conditions permit encapsulation or covering-over of asbestos containing materials (ACM), that is the approach that puts the property at least risk of asbestos contamination, since you're disturbing the marerial as little as possible, and certainly less than if you had it removed.

The asbestos-cover-over caveat that occurs to me is not so much with ceilings as with piping. If we encapsulate ACM covered heating pipes we might figure that some day over the life of the system someone is going to have to disturb that material to replace or repair a leaky pipe. (Though that's probably still less total asbestos disturbance than would be caused by removal).
Question: Do you think this Canadian acoustic ceiling tile is an asbestos material? I have chest pains since taking down this dusty mess.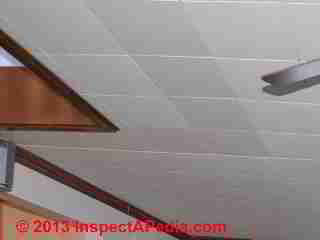 Hi i think these were installed in the mid 80's or even 90's. They are really dusty when removed them.
I removed them all about a month ago, sometimes i have some breathing chest mild problems but i think from painting and general reno dust. Are you familiar with these tiles in Ontario? - M. 11/28/12
Reply:
The tiles in your ceiling by dimension and general appearance could contain asbestos;
In my OPINION, even if the tiles didn't contain asbestos, exposing yourself to a high dose of dust can easily result in respiratory irritation and on occasion other health issues from rodent, insect, or other particles.
If you never checked with your doctor you should do so. I'd do that even before testing the material for asbestos.
Question: can we paint our asbestos-suspect ceiling tiles or do they have to be covered over?
We have square ceiling tiles in living room and bedroom that were probably installed in the 60's or 70's. The ceiling has been painted with a latex-type paint. There are no friable areas, everything seems intact and covered with a layer of paint. Does this painting effectively prevent presumed asbestos fibers in the tiles (based on age) from entering the air and creating a hazard? Or should the ceilings be furred out and covered? - Edward, 12/3/2012
Reply:
If the ceiling is painted, not friable, not damaged, not in an area likely to be damaged, it's best to leave it alone. You don't need to install a new ceiling layer over it.
Question:
Question: we burned some old tiles - does that mean they didn't contain asbestos
Some old tiles got into our burn pile. They burned very easily. Am I wrong to assume asbestos products don't burn easily? - Tony 1/3/2013
Reply:
Well yes, sort-of. Some asbestos containing materials include a mix of other fibers and contents too. In that case the asbestos itself would not burn but the other products could - leaving ash that contains asbestos. We did a literature search for asbestos content in ceiling tile ash but couldn't come up with a thing, suggesting perhaps no one has looked at this question with care. If you have any doubt and if you have ash remaining from your burn pile that you can pretty much bet is from ceiling tiles, I'd sure like to see the results of an asbestos test lab examination.
Question: do these suspended ceiling tiles contain asbestos?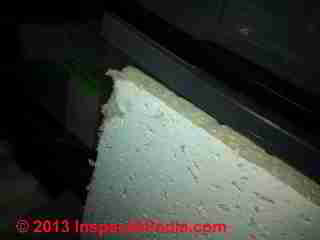 Was wondering if you could tell if these are likely asbestos ceiling tiles? The building was made in 1985 though I don't know the age of the tiles. They say "CON SAFE" on the back... They are in my workplace, a government building. - B.B.
Reply:
B.B.
While the current 1999 EPA notice basically retracted asbestos bans in the U.S., as we noted in the introduction to this article, because of consumer resistance to purchasing asbestos-containing material (ACM) for housing or office finish products, it's not likely that an office put up in 1985 used ACM. Unfortunately, a responsible and reliable reply is that one can't know for sure when a material was made nor what it contains simply from your photo - you'd need to have a little sample of the material tested by a certified asbestos testing lab for a definitive answer.
Question: is cleaning up dust after improper asbestos removal dangerous
How dangerous is it to clean up an area after asbestos tiles were removed without proper equipment or disposal? What is required to be safe during clean-up? - Darlene 1/21/2013
Reply: quite possibly
Darlene: in my OPINION the answer is at least potentially YES.
If asbestos containing material, particularly friable materials such as ceiling tiles, or any ACM that was removed in a manner that created dust was removed without proper dust containment and follow-up testing, there could be high enough levels of asbestos in remaining dust in the building to be a hazard to occupants.
For example, running an ordinary household (non-HEPA) vacuum cleaner, or even a HEPA rated vacuum if it leaks, would send that asbestos-containing dust into the air - where occupants may indeed breathe it.
In my own experience I've encountered this problem a number of times and often follow-up testing confirmed that further professional cleaning was needed. Provided that there is an established need (and thus justification of the expense) for an asbestos dust cleanup, a professional will set up dust containment to keep other building areas safe from dust, use a negative air machine as part of that containment, then typically s/he will HEPA vacuum and damp wipe the building surfaces. A follow-up test by a professional confirms that the cleanup was successful and that the containment sysetm also worked.
Question: do these 16x32" ceiling tiles in a 1941 home contain asbestos?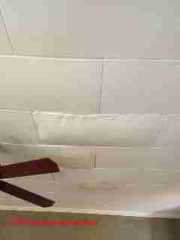 We are buying a house built in 1941 that has 16"x32" ceiling panels glued to the rafters in every room (photo attached). Leaks from the roof have damaged many of them and we need to know whether they contain asbestos before we disturb the area. Are asbestos testing kits from a hardware store a legitimate way to go? - C.H. 4/18/2013
Reply:
Dear C.H.
No one should pretend that they could reliably identify or exclude asbestos-containing material in your building or its ceiling from just your photo, but I certainly understand and appreciate the question.
There are certainly ceiling tiles that do contain asbestos, and others even of the same era (up to the 80's) that do not. Sometimes one can look at the material by eye and see that it is a wood fiber product; but if you don't know, leave it alone until you do.

From the dimensions you gave and from your photo, I'm not 100% sure you are looking at acoustic ceiling tiles, though I agree that the beveled edges in a closer look at your picture look like glue-up or staple-up ceiling tiles not plaster. For comparison see PLASTER BULGES & PILLOWS.

As you suspect possible asbestos I suggest:

First: do not make a dusty mess and don't perform demolition nor run vacuum cleaners (unless HEPA rated) before you know what materials are present
Second: as demolition is required, you might want to contact a certifed asbestos testing laboratory for sample collection advice and processing - typically it's a $50. or less cost. 
I can't comment on an over-the-counter asbestos test kit - as honestly I just don't know what you were looking-at. Identification of asbestos dust or fibers in materials requires two kinds of microscopic examination; if the test kit is simply a container for a sample, along with safe sampling instructions, and that  material is sent to a certified lab, perhaps that's fine.

At ASBESTOS TESTING LAB LIST we provide information on how to find a qualified, certified asbestos testing laboratory.
If there is access to the ceiling from above and if you can safely enter there and safely lift insulation for inspection, chec, to see if those bulged or pillowed segments of the ceiling are visible from their upper side as plasterboard. [If you find vermiculite ceiling in the area don't disturb it because that may be an asbestos hazard even if the ceiling proves not to be. Vermiculite building insulation (VERMICULITE INSULATION)was often poured into previously un-insulated ceilings of homes from the 1940's.]
Keep us posted if you have the material tested or if you are able to explore the extent of water-related damage above this ceiling - what you find will assist other readers.
...
Try the search box just below or if you prefer, post a question or a comment in the Comments box below and we will respond promptly.